When it comes to winter city breaks, Europe is awesome! With amazing places for winter sun in Europe as well as snowy wonderlands, there are a lot of places to choose from.
As a European and a lover of city breaks whenever I find cheap flights, I have compiled this list of what I consider the best winter city breaks in Europe so all you need to do is book your flight.
There is so much history and charm to European cities and even though I'm more of a nature person than a city person, I do love a Europe city break to any of these places. And I think you will love it too!
Whether you like shopping, sightseeing, having a cold beer in the winter sun in the south of Europe, or hiking to the best city views, there are things to do for anyone. You just gotta love Europe in winter.
Disclosure: This post may contain affiliate links. That means that if you make a purchase through one of those links, I will get a small commission at no extra cost to you.
Best winter city breaks in Europe
Copenhagen, Denmark
Copenhagen is such a wonderful city and definitely one you should visit in the wintertime. Make sure you drink a lot of gløgg, warm mulled wine with raisins and almonds in it.
Ice skating should also be on your Copenhagen itinerary in winter. If you happen to travel to Copenhagen around Christmas, there are plenty of cute Christmas markets to explore.
There are a lot of things to do in Copenhagen, like wander around Nyhavn, explore Christiania, and take a selfie with the Little Mermaid.
Go on day trips from Copenhagen to Malmo in Sweden or see the wonderful Roskilde Cathedral. However, if you get the time, go for a weekend trip from Copenhagen and explore the rest of the little country too.
Worth noting, Copenhagen has among other European countries become known as one of the leading sustainable tourism destinations too!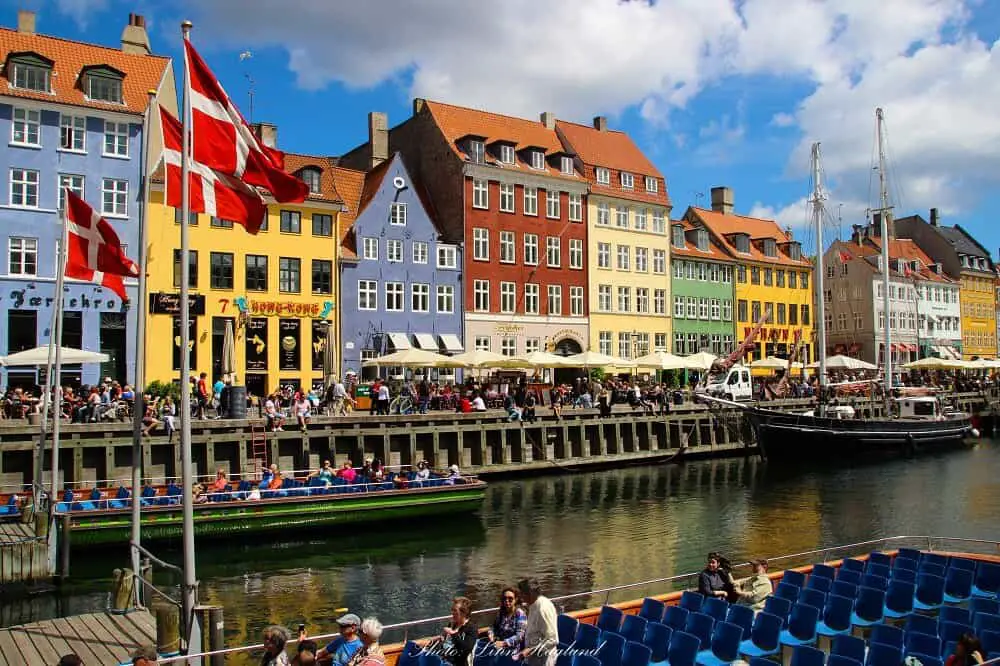 Krakow, Poland
My first meeting with Poland was Krakow, in winter. We even had snow one day. And I totally fell in love with the city! It's a wonderful place with friendly locals as well as a super cheap destination. I would say Krakow is one of the best weekend getaways Europe has to offer in winter.
While there are plenty of things to add to your Krakow itinerary, you should cuddle up inside the cozy cave bars and restaurants drinking mulled wine or try a pint of… beer infused with spices – heated up in the microwave. Noup. You're right. I wasn't tough enough to try that.
Between December and February, you should surely enjoy ice skating and get some street food at the food trucks. The Christmas Cribs here are also incredible, more like colorful fairy tale castles.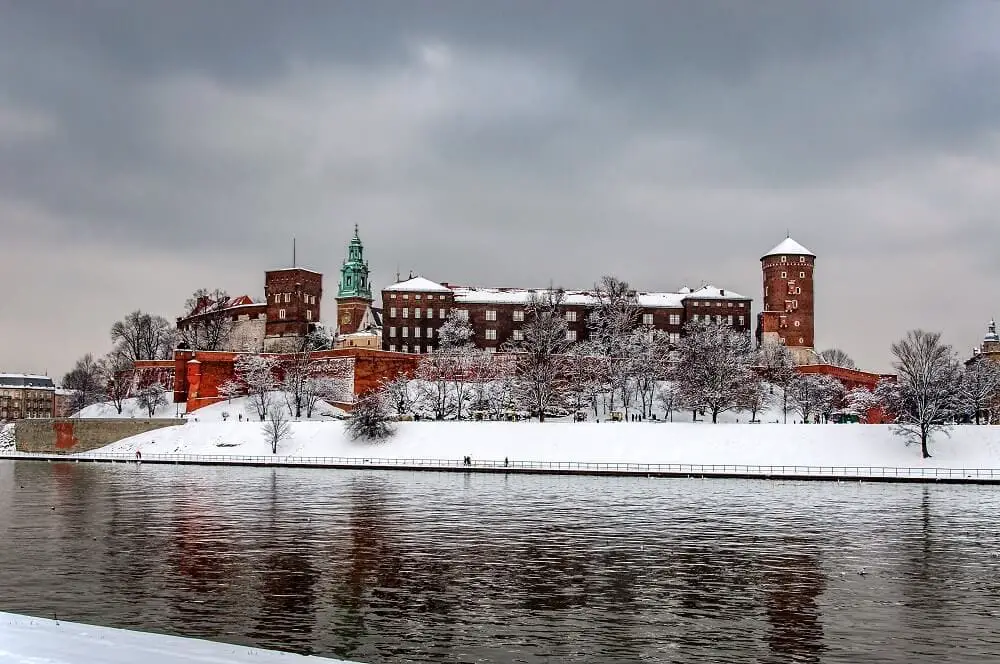 ---
YOU MIGHT ALSO LIKE: Wonderful places to visit in Poland in winter
---
Paris, France
Who doesn't want to visit Paris at any time of year? Probably one of the most famous cities in the world, Paris makes one of my favorite winter city breaks in Europe. In fact, France in winter is pretty underrated!
Among the best things to do in Paris in December is to visit the Christmas markets around Notre Dame and warm up with Vin Chaude, hot red wine infused with spices and raisins or orange slices.
Though you should spend at least 4 days in Paris to see all the main sites and get time for ice skating by the Eiffel Tower, there are a lot of great day trips from Paris by train to cute towns nearby.
Paris in winter is magical, so there is no excuse for not going, even if you're only spending one day in Paris, you will be bewitched by its charm.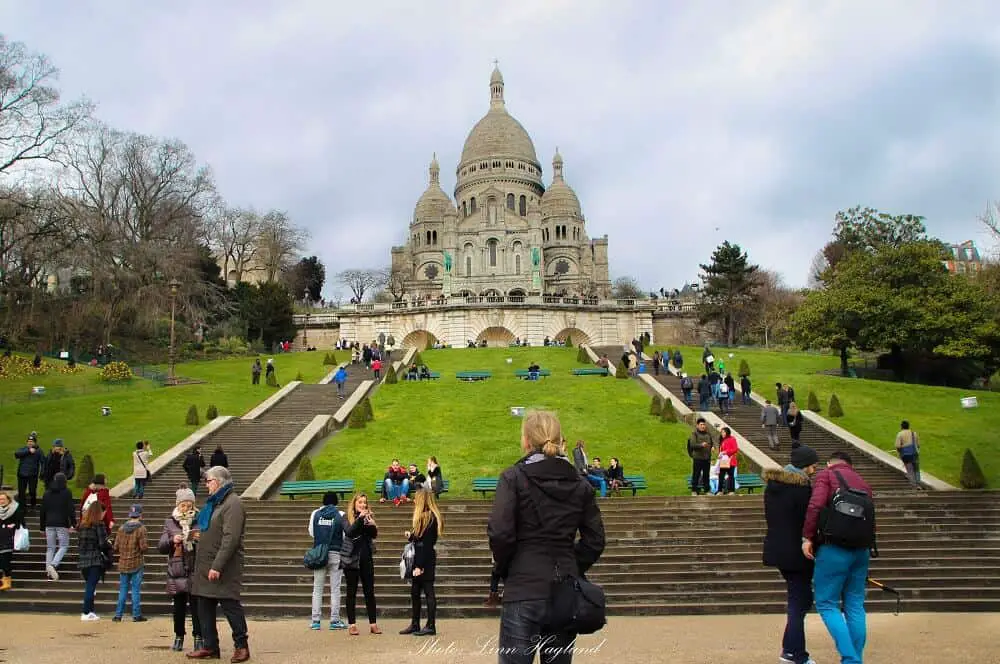 Valletta, Malta
One of the best places to go for a winter city break in Europe is the quintessential capital of Malta, Valletta.
The old, charming architecture, quaint bars and restaurants, underground city, and winter festivities speak for themselves. You won't be surprised that this is one of the most charming cities in Malta.
Take an evening trip to the Three Cities to see the sunset over Valletta, or watch them from the Upper Barrakka Gardens. Winter in Malta is highly underrated.
It's literally perfect for sightseeing in the city since it's not too hot which it usually gets in the summer months when most travelers seek the beach resorts.
If you have a long weekend, you might want to go for a hike in Malta, the Xemxija Hill Heritage Trail, for instance, is easily reached by bus and takes you past numerous Roman and Punic ruins which are fun to explore for big and small.
If you're not convinced, read my post Is Malta worth visiting?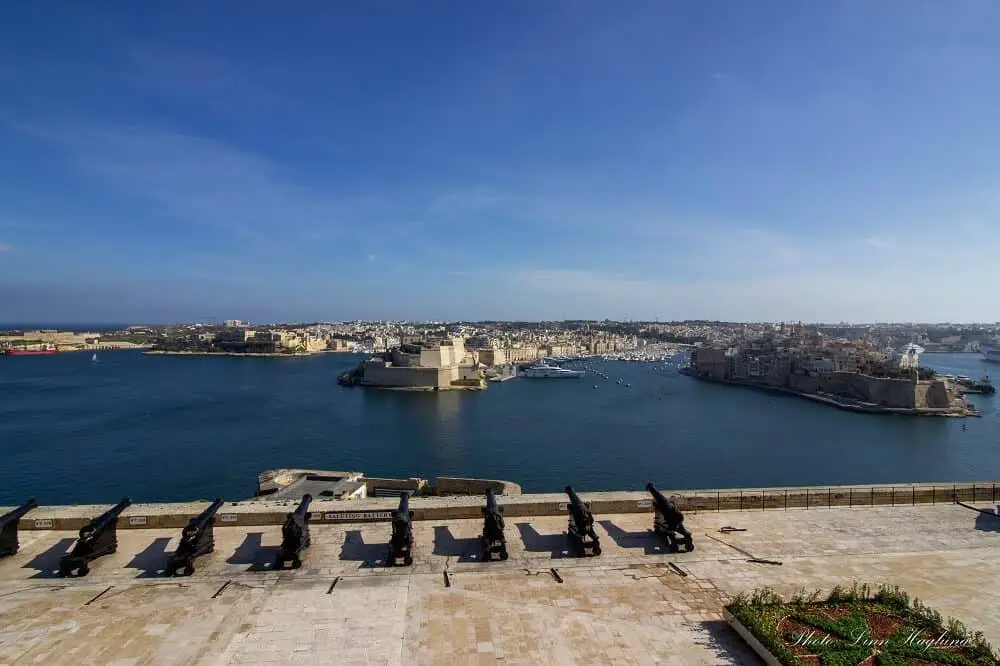 Bratislava, Slovakia
The underrated city of Bratislava is a beautiful winter city getaway in Europe. With temperatures around zero, you can get lucky bundling up for snowcapped streets that only add to the immense charm of the pastel-colored old town.
There you can cuddle up in any of the cozy cafes for a hot chocolate or something stronger whether you spend a day in Bratislava or a long weekend.
A visit to the beautiful Bratislava Castle is just one of many wonderful things to do in Bratislava. It's a great place to walk around to escape the cold if you like to dive into history. You also get some pretty amazing views of the city from the castle grounds.
The Bratislava Christmas market is also worth visiting to get a proper winter vibe after a day of exploring museums, castles, and cathedrals.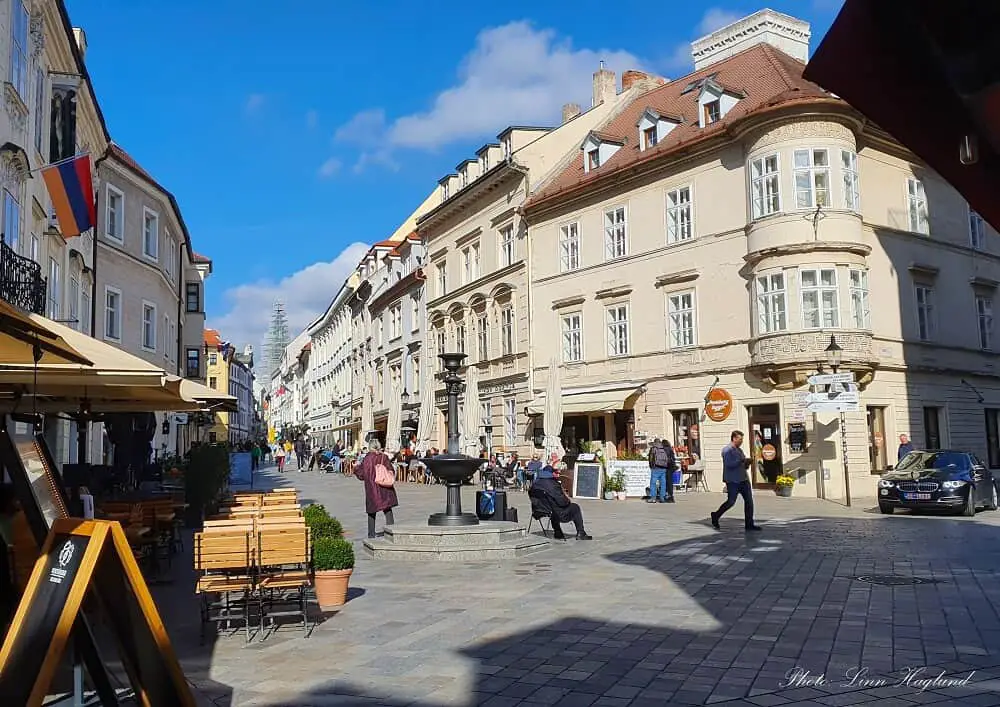 Seville, Spain
Seville is without a doubt one of the best Europe winter city breaks you can have. Being too hot to explore in the summer months, winter is a great time of year.
With a pleasant daytime temperature on sunny days, Andalusia's capital city boasts life and there's plenty to fill your Seville itinerary with.
The streets are filled with bar tables, people chatting loudly, having tapas, and drinking cold beer and wine in the sun makes you forget that it's actually winter in Seville.
Early winter is colored by oranges in the many orange trees along the streets and you can buy warm chestnuts at every corner. On the 5th and 6th of January, you can experience Spanish Christmas as processions fill the streets.
The Three Holy Kings throw sweets to the children and you can try Roscón de Reyes at the bars. A traditional Christmas cake with cream and dried fruit.
The city center is also filled with Christmas markets and stands selling pieces for Christmas Cribs. In late winter, the sweet scent of orange blossom fills the cobblestoned streets. Walking them is only one of many things to do in Seville.
Explore the Plaza de España, the UNESCO World Heritage sites, Seville Cathedral with its Giralda tower, and the Alcazar. There is no surprise that Seville is one of the best weekend breaks to Spain you can take.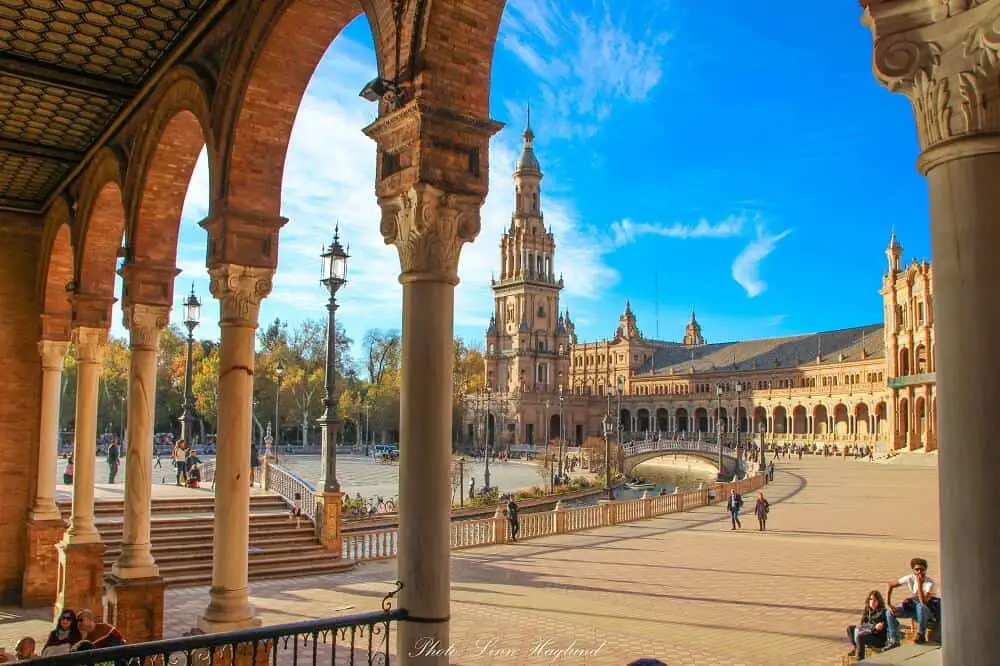 Lisbon, Portugal
The charming Portuguese capital makes the perfect winter getaway in Europe. The steep and narrow cobbled streets are far from packed with tourists in the winter months, which is why visiting Lisbon at this time is a great idea.
Cheaper accommodation and fewer tourists? That's my kind of destination. For being a city that normally is affected by overtourism, Lisbon is quite delightful in winter.
Include a few of the cute Christmas markets to your Lisbon itinerary and snuggle up inside a warm place experiencing a traditional Fado performance with a hot drink.
Daytime temperatures average at about 15°C, though it can sometimes drop to near zero at night, so bring layers so you're comfortable at all times.
Make sure you read up on the best neighborhoods in Lisbon to stay before you go.
If you have more time in the city, you can check out my favorite day trips from Lisbon.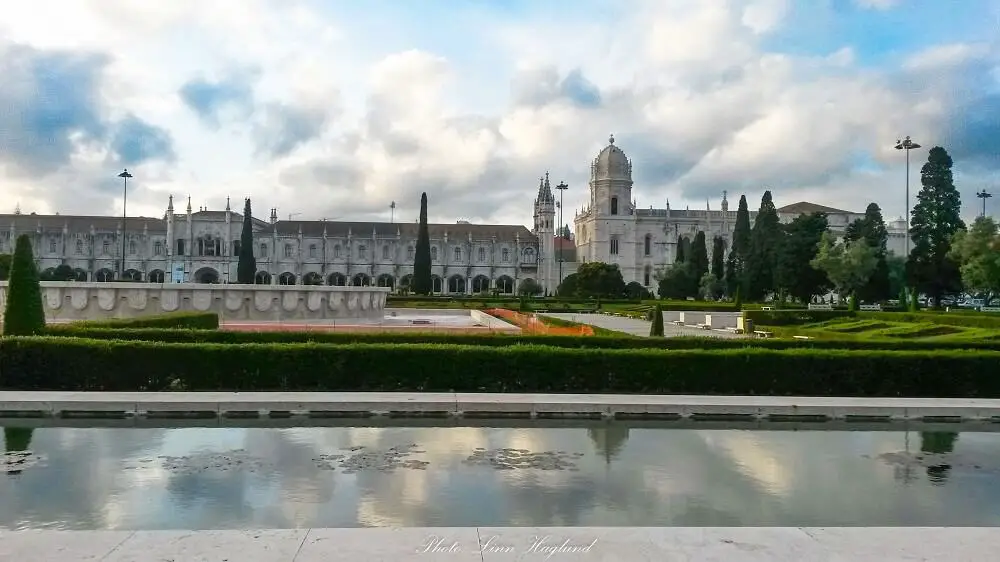 Plovdiv, Bulgaria
One of the most charming student cities in the Balkans and also a charming winter city break in Europe is the colorful and walkable city of Plovdiv. Usually, winter temperatures don't go much below zero, but it makes for the perfect snowfall. So make sure you dress for winter!
The charming streets of Plovdiv, cobblestoned streets with colorful houses are perfect for a stroll with a hot chocolate or coffee to go – especially with the fairytale air that the white snow gives them.
Winter is the perfect time of the year to visit all the historic houses and museums that the city has to offer.
The Bulgarian city also has a wide range of cafes and bars where you can cuddle up with a hot drink when you're not out exploring or browsing the Christmas Markets.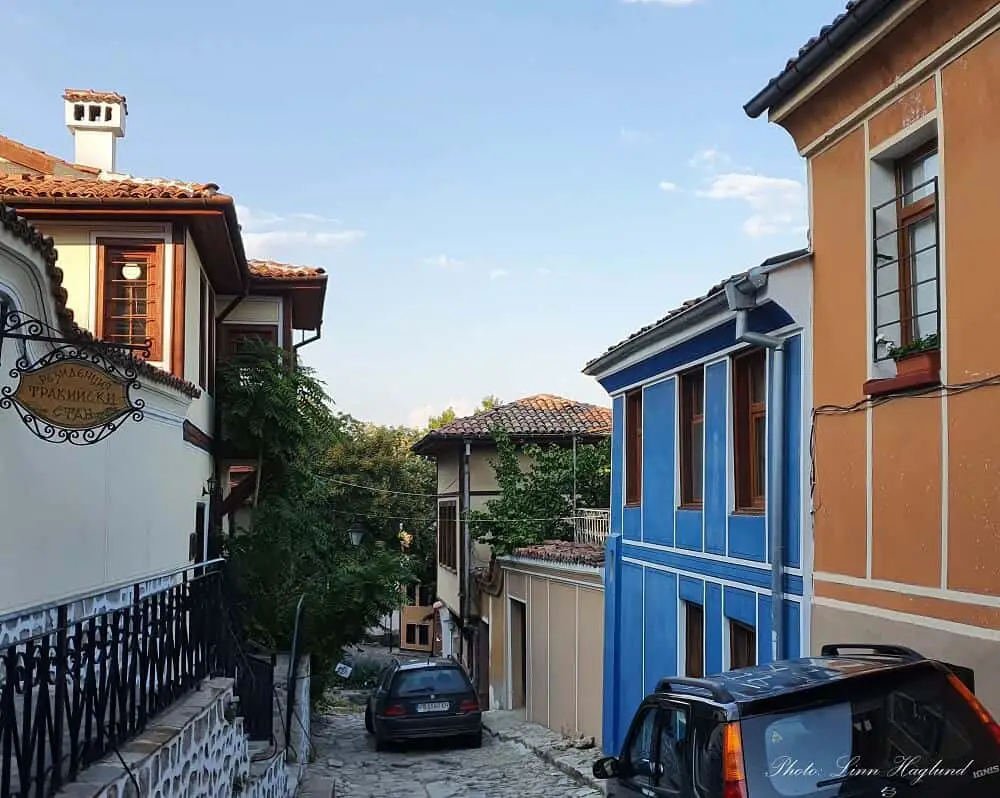 Rome, Italy
No list of winter city breaks in Europe is complete without mentioning Rome. My best childhood Christmas memories are from Rome, but that's not the reason why it's a great winter destination.
Rome is surely a great destination all year round, except in summer, let's be honest. It does get way too hot to walk around the streets. But Rome in winter lets you layer up to handle the biting cold that sometimes hit the city and get wonderfully lost.
There are endless things to do in Rome with bars on every corner where you can cuddle up with a hot drink and you can buy warm chestnuts on the street.
There is something magical in the air in Rome in winter making it one of the most popular weekend breaks in Italy.
While you want to pack your Rome itinerary with all the historical sites, winter is a great time to go shopping in Via del Corso, especially after Christmas, as you'll get all the sales. But it's a great excuse to warm up inside while checking out Italian fashion.
Rome is by far one of the most popular short breaks in Italy and winter is just as good a time as any.
If you have extra time, don't miss out on the best Rome off the beaten path sites.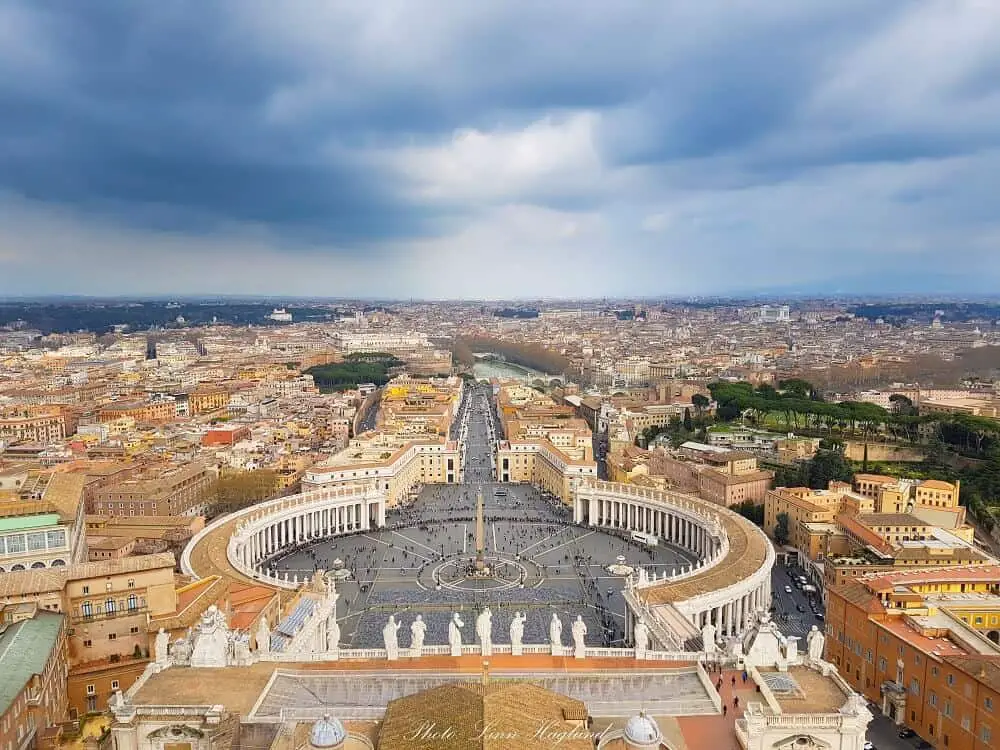 Gdansk, Poland
Gdansk in winter is a wonderful choice. Though it's usually thought of as a summer destination with its mesmerizing beaches, the city is packed with history and sights to keep you busy for days.
Gdansk was Ground Zero for the second World War and completely destroyed in the war. Most of what you see today has been rebuilt after the war, but some attractions, like Neptune's Fountain, are original, as it was taken apart and hidden.
Also the charming Mariacki street was totally destroyed by the war, but put together by debris from the neighborhood instead of using new material as they've done in most of the city.
Just outside Gdansk, you can visit the longest active concentration camp in the country, Stutthof concentration Camp. It's a truly strong experience, but something everyone should do to get a true picture of the horrors of the war.
In winter, you can also enjoy the Polish delicacy of hot beer with spices, mulled wine, or just hot cocoa if you want to play it safe. Go to the ice skating rink or check out the Christmas Markets. If you're lucky, it will even snow.
Read my complete guide to Gdansk here.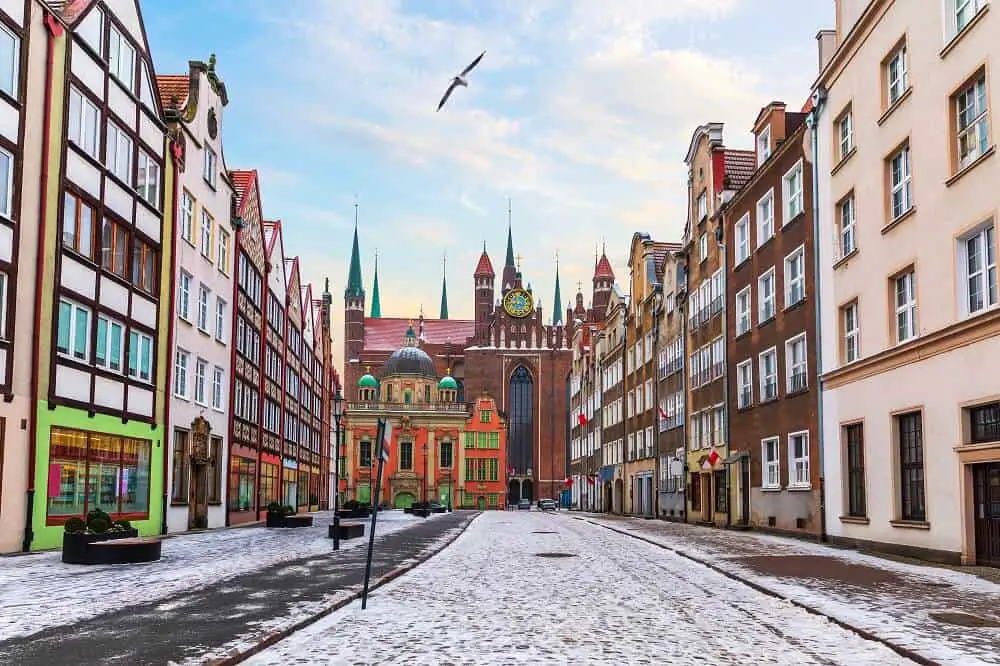 Toledo, Spain
If you like history, Toledo is your place. This amazing town just out of Madrid is packed with historic buildings and should not be missed. In fact, it's one of the easiest day trips from Madrid by train.
Get lost in the streets of the old town and snap away with your camera. Explore museums and the inside of the mesmerizing cathedral. You can even enjoy a thrilling zip line ride over the bridge.
Temperatures can be cold in winter, but as long as you dress in layers and bring mittens and a beanie, there is no reason not to enjoy your Toledo itinerary!
There are plenty of bars and restaurants to cuddle up for a hot drink or something to eat. And don't miss out on the local specialty, marzipan.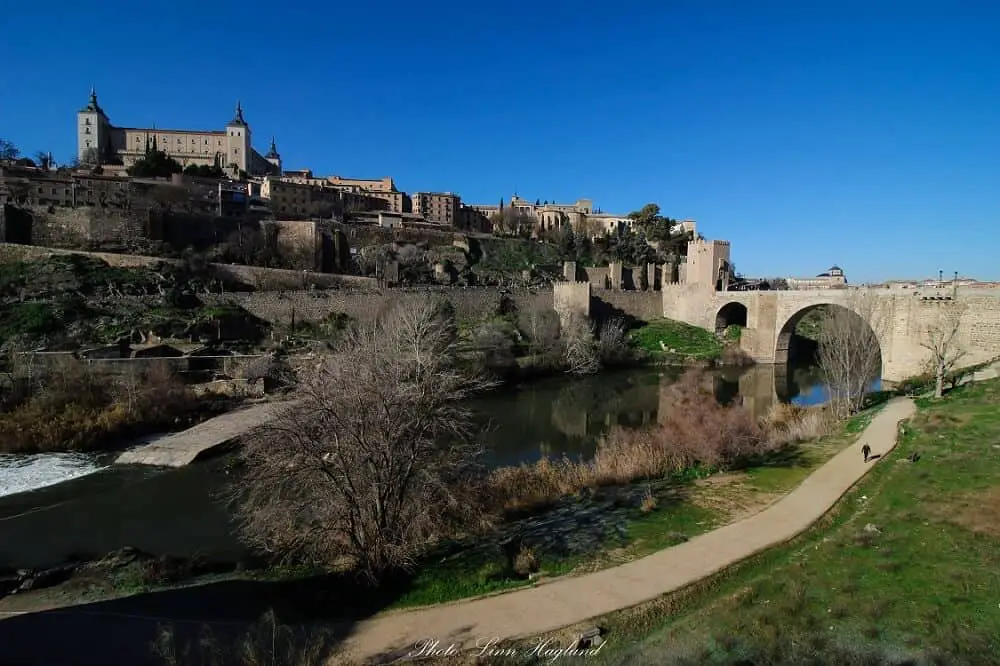 Sofia, Bulgaria
The beautiful city of Sofia in Bulgaria is the perfect winter city break in Europe. There are a lot of museums in Sofia that are perfect to visit in winter. Especially the Archaeological Museum and Sofia History Museum are of high interest if you ask me.
But Sofia has a lot of things to do especially in winter, like visiting Christmas markets like the German Christmas Markes, going to a board game bar, or going skating at the biggest ice skating rink in the Balkans.n You can even go skiing in the nearby Vitosha Mountains.
Sofia winter temperatures usually stay a few degrees above or below zero in the coldest winter months, which means that you might be lucky and enjoy a snowcapped Sofia. Make sure you dress up well with a warm winter coat and boots.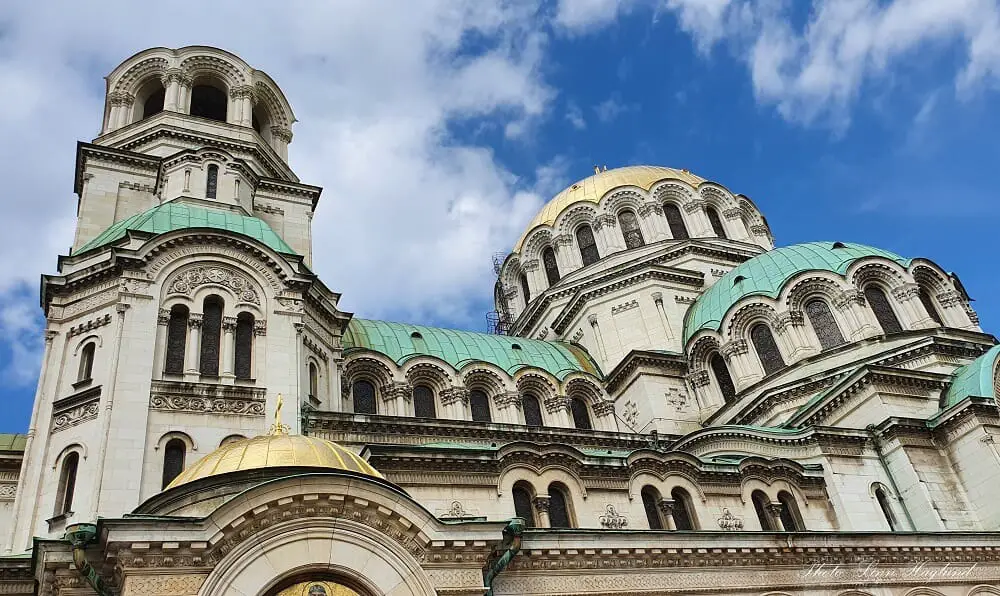 Metz, France
Metz is a wonderful city to visit in winter and there are a lot of things to do. The city's charming Christmas market takes place in Place Saint-Louis and should not be missed if you travel around Christmas.
You might be lucky and get a white winter in Metz too, so make sure you try the mulled wine to warm up.
There are many things to do in Metz. Visit the Cathedral, which is one of the tallest in Europe. Stroll through the Porte de Alemands and learn about the history of this part of town. Visit one of the oldest churches in France, Basilica of Saint-Pierre-Aux-Nonnains, or simply stroll along the river.
There you'll find the astounding Temple Neuf which sits elegantly on the island Petit-Saulcy in the Moselle River. You can cross the stone bridges to get there and you'll even find the oldest functioning opera in the country on Place de la Comedie.
The winter just makes Metz more romantic as you stroll around the snow-capped Esplanade. This is definitely one of the best winter city breaks in Europe!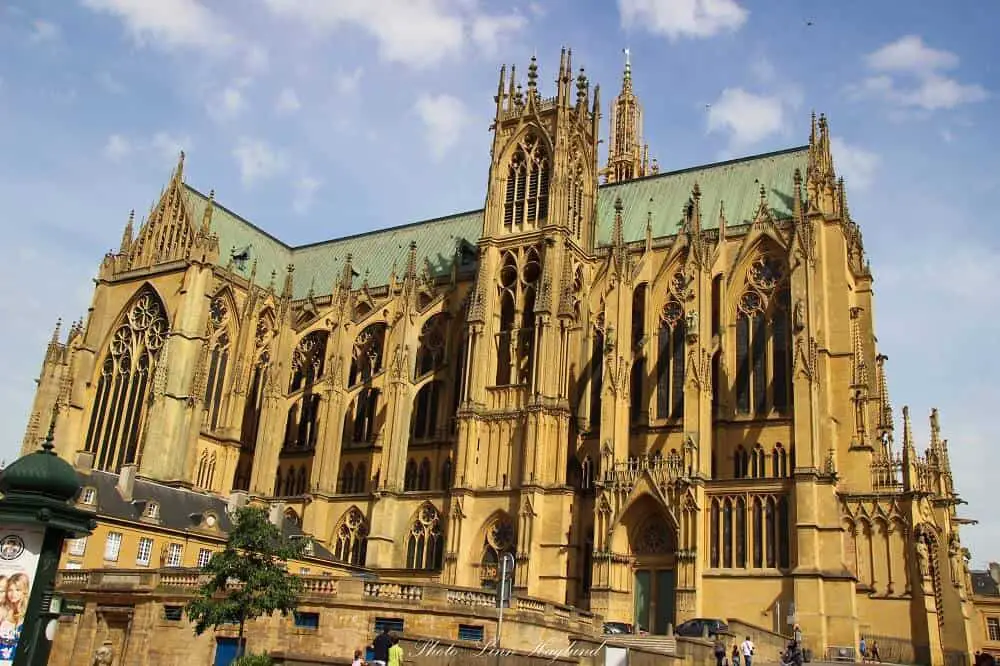 Jerez de la Frontera, Spain
As one of the most underrated cities in Spain, Jerez de la Frontera makes one of the best winter city breaks in Europe. Situated in the far south, it boasts an energizing atmosphere with winter sun, colorful orange trees, local sherry, and true Andalusian culture.
Late winter the oranges have been picked for making marmalade and the new blossom fill the streets with a sweet scent following you everywhere you go.
If you happen to be there on the 5th and the 6th of January, you will experience Spanish Christmas and processions through the streets as the Three Kings throw sweets to eager children.
The weather is usually nice, though you can experience rain. Night temperatures can get towards zero, but daytime can reach the high 20s (Celsius), so make sure you bring layers.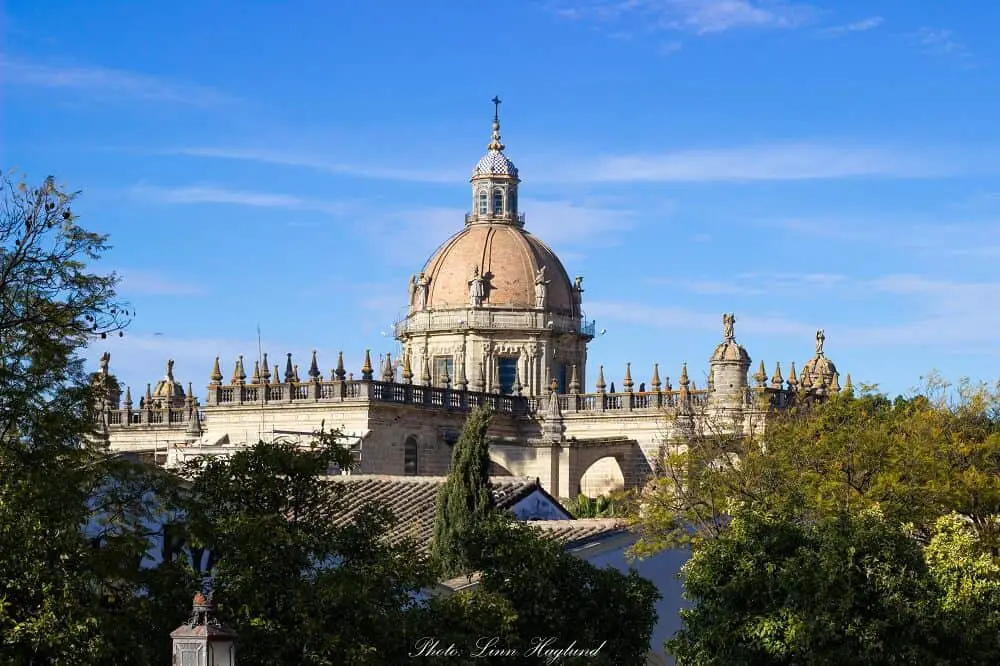 Vienna, Austria
Vienna is without a doubt one of the most stunning Europe city breaks in winter. With temperatures reaching 0 degrees celsius and below, you can expect white winters so make sure you bring your winter coat and warm winter boots.
There is so much to do in Vienna and winter makes it more charming and cuddling up in a café with a hot drink or browsing some of Europe's best Christmas Markets! Especially the one taking place in front of the Belvedere Palace is worthy of your time.
Vienna also boasts a number of ice skating rinks in the winter months where anyone can rent ice skates and enjoy the romanticism of a white winter in Europe.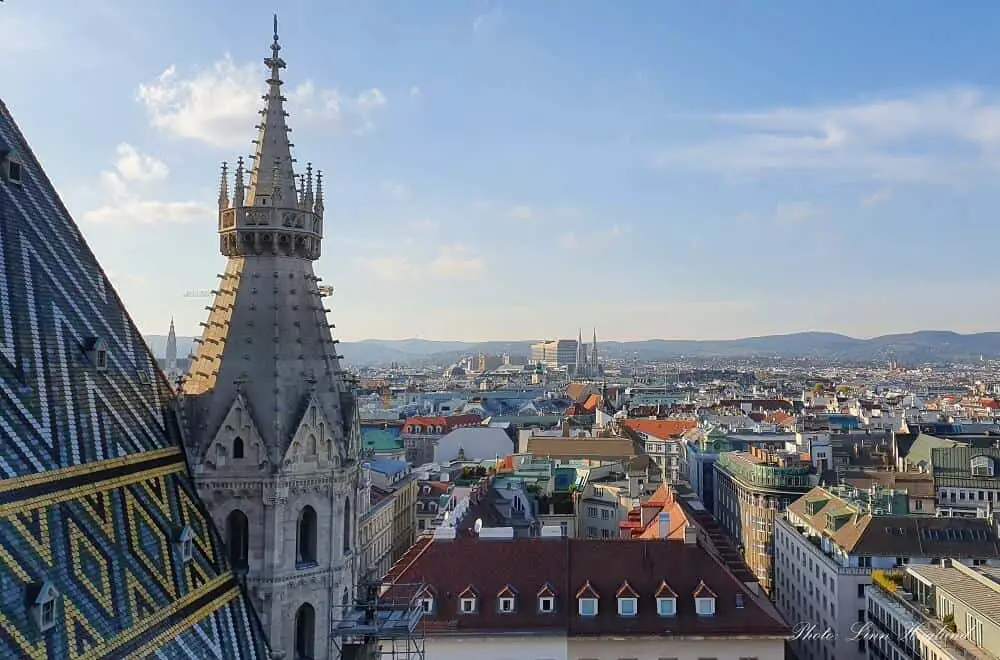 Florence, Italy
Florence is one of the most beautiful cities in Italy and a wonderful winter city break as there are in general much fewer tourists. Sometimes it even snows in the winter in Florence!
Winter is the perfect time to experience the city without the crowds and long lines. The highlights like the Duomo, Firenze's iconic cathedral, the many art museums, and other tourist attractions are so much better enjoyed in winter, also because you can escape the cold.
Drink hot drinks and warm up in cozy cafes whenever needed. Winter city lights in the cobblestone streets of the historic center warm do the job too.
Florence even has indoor ice skating rinks in Firenze Winter Park, which is definitely worth adding to your Florence itinerary!
The coldest months, December to February, sees daytime temperatures down to 1-12 degrees Celsius, while nighttime temperatures get close to zero.
You can also go on a day trip from Florence to Lucca, Siena, or other Tuscan towns if you have the time.
You might also want to read my complete guide to the best neighborhoods to stay in Florence.
If you're not completely convinced that Florence is for you, read my post: Is Florence worth visiting?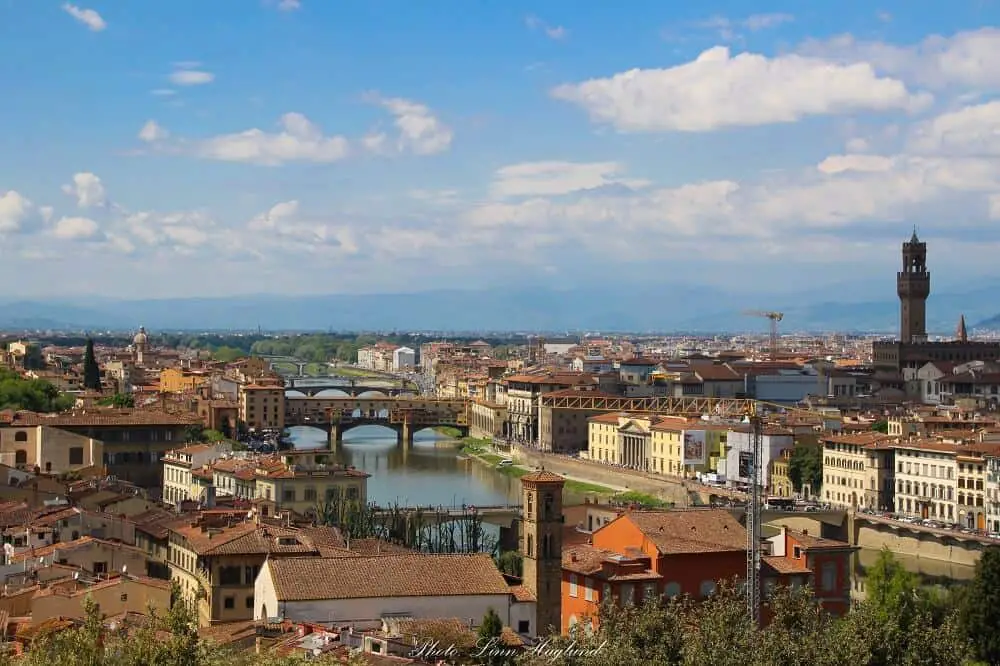 Budapest, Hungary
As one of the most beautiful cities in Hungary, Budapest is no other than the perfect choice for European winter breaks, especially to take in the spirit of Christmas!
On top of the Christmas markets and ice rinks that you'll find in most European cities in winter, Budapest's highlight is the Christmas light tram. Yes, you heard me right! The tram is beautifully lit up and runs throughout the city on regular tram fares to bring the Christmas spirit alive.
Also the spectacular light show taking place every night at St. Stephen's Basilica is amazing in winter and should not be missed.
To warm up, make sure you visit some of the thermal baths in Budapest. There are many to choose from, but especially spectacular are the Széchenyi thermal Baths, the Gellért Baths, and the Turkish-style Rudas Baths dating back to Ottoman rule in the 16th century.
Budapest can get pretty cold in winter with temperatures close to zero degrees Celsius. The city doesn't guarantee snow in winter, milder days can make for rain. But go prepared with adequate clothing and don't forget your umbrella. Budapest in winter will not disappoint!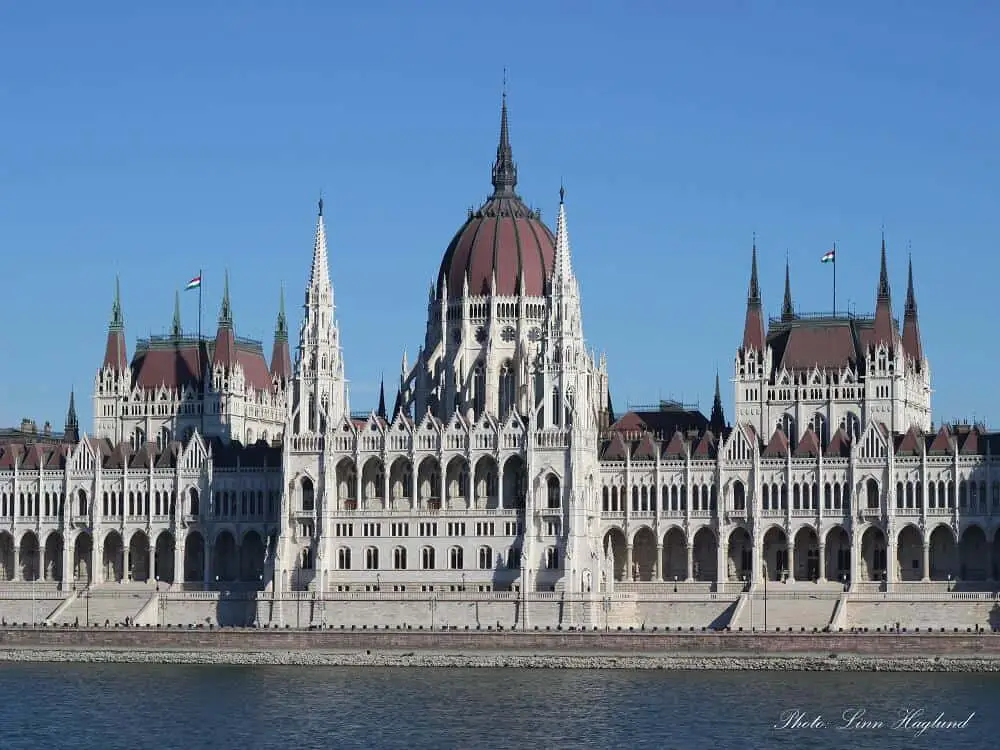 Stockholm, Sweden
Stockholm is without a doubt among the best Europe winter city breaks there is. The city usually gets covered in snow, and the beauty of the lit-up streets in the old town, the pastel houses, and all the canals make Stockholm magic.
Other than peaking into shop windows, going on river cruises, and visiting the islands, make sure you take advantage of Stockholm's winter charm.
Days are short, so you will get to enjoy a lot of the lit-up city. Go ice skating at one of the many ice skating rinks, drink hot chocolate, and people-watch through the window from the comfort of a warm, cozy cafe.
You can even add skiing to your winter Stockholm itinerary. Yes, you can! The city has its own little skiing slope, Hammarbybacken, where you can rent equipment.
Make sure you bring warm clothes because Stockholm gets cold in winter. Yet, as one of the most beautiful cities in Sweden, there's no doubt it's worth the trip!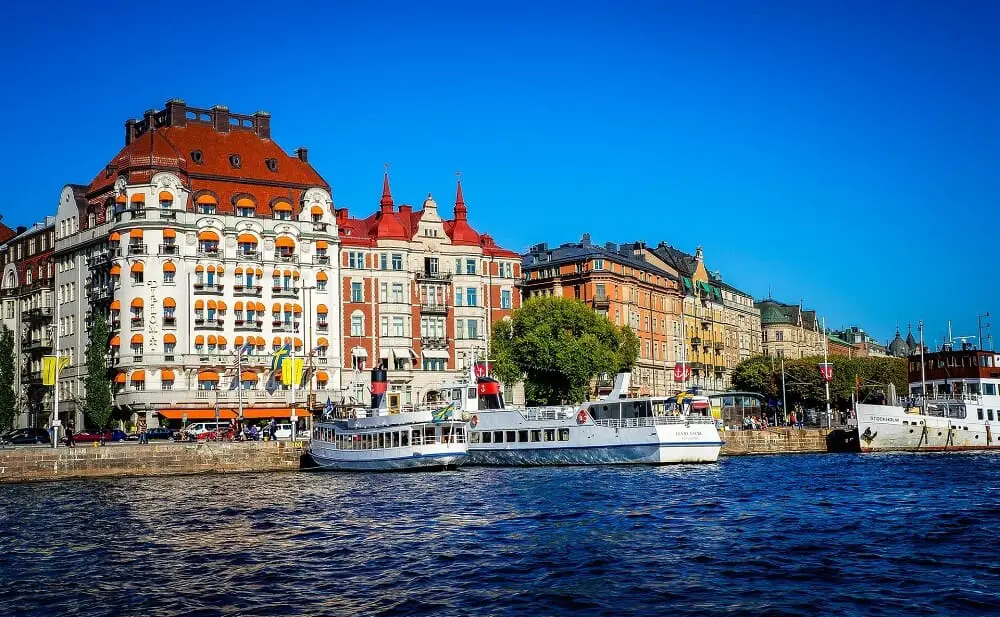 Malaga, Spain
As for winter city breaks in Europe, Malaga is a great choice! The sunkissed city boasts of life in the winter months and you can enjoy sightseeing, shopping, and outdoor terraces for tapas and drinks. You can even relax at some of Andalusia's most beautiful beaches.
The city is a hub for tourists and expats as Malaga airport is connected to most of Europe on a budget. However, the winter months are more relaxed than the summer months and it's a great time to explore the city as well as go on day trips from Malaga to nearby villages and beach towns.
There are cute Christmas markets in the city and you can enjoy Spanish Christmas traditions like the processions of the Three Kings on the 5th and the 6th of January.
The city is also known for its immense light show every night in Calle Larios in the month of December.
You might not be ice skating in Malaga, but you might want to go to the beach on a warm, sunny day.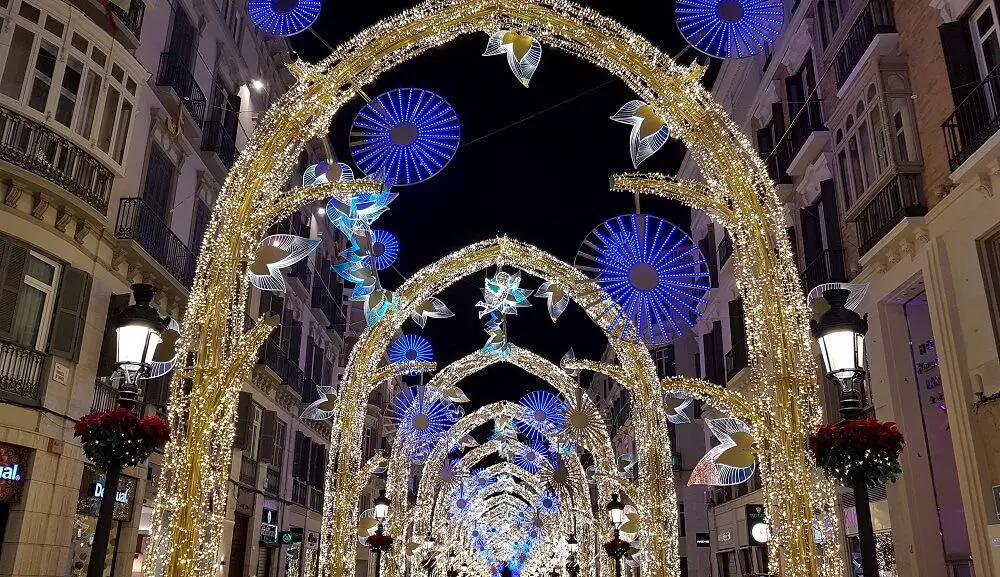 Amsterdam, The Netherlands
Another wonderful city to visit in Europe in winter is Amsterdam. Temperatures are usually between 0 and 5 degrees Celsius, which means that you have a big chance of getting snow.
And it's hard to imagine anything more magical than a snow-capped Amsterdam and glittering winter lighting reflecting in the canals.
There is a lot to add to your Amsterdam itinerary even in winter. First of all, the city is packed with interesting museums, like Anne Frank Museum and the Van Gogh Museum.
Some of the canals are converted to ice skating rinks in winter which makes an amazing setting for a winter wonderland.
In December and January, you can experience Amsterdam Light Festival which lights up the streets and canals with beautiful light sculptures.
If you have the time, there are many awesome weekend trips from Amsterdam too.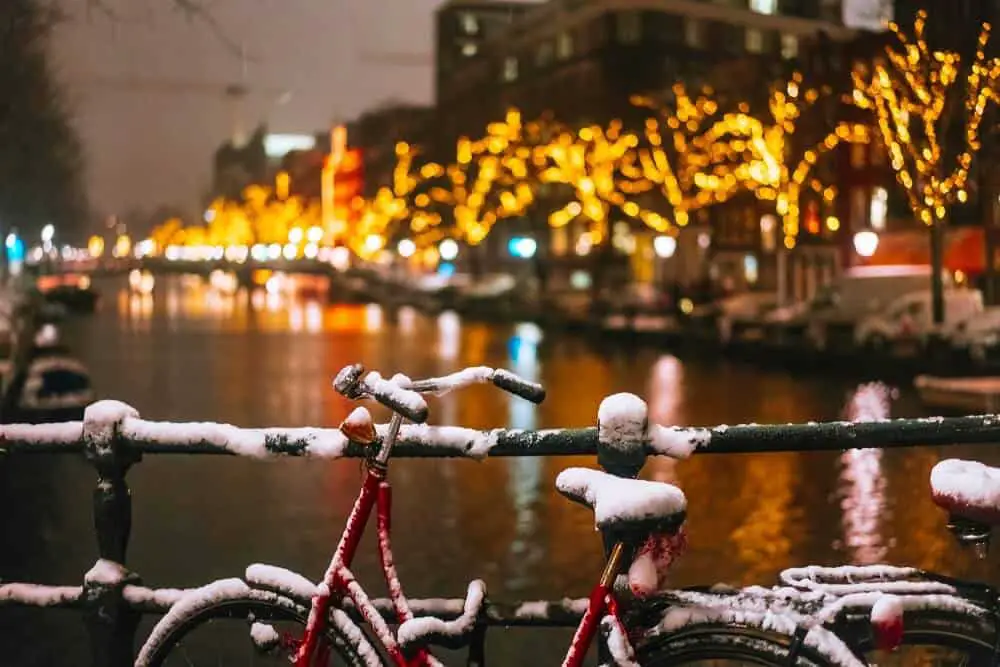 Edinburgh, Scotland
Edinburgh is a great city to visit in winter. It's cold but beautiful. The cold, dark winter nights make it even more intriguing with all the ghost stories you'll hear.
Though I haven't seen it, Edinburgh actually does get snow in winter which can bring some extra cuteness to the city's Christmas market and the amazing architecture in the old town.
There are plenty of pubs to heat up with a Scottish whiskey or a hot drink. This is also a great moment to soak in the local atmosphere in what might just be Scotland's most beautiful city.
Winter is also a great time to hike Arthur's Seat and enjoy the astounding city views.
Make sure you dress in layers when in Edinburgh, and bring a waterproof jacket. It will probably rain at some point if it doesn't snow.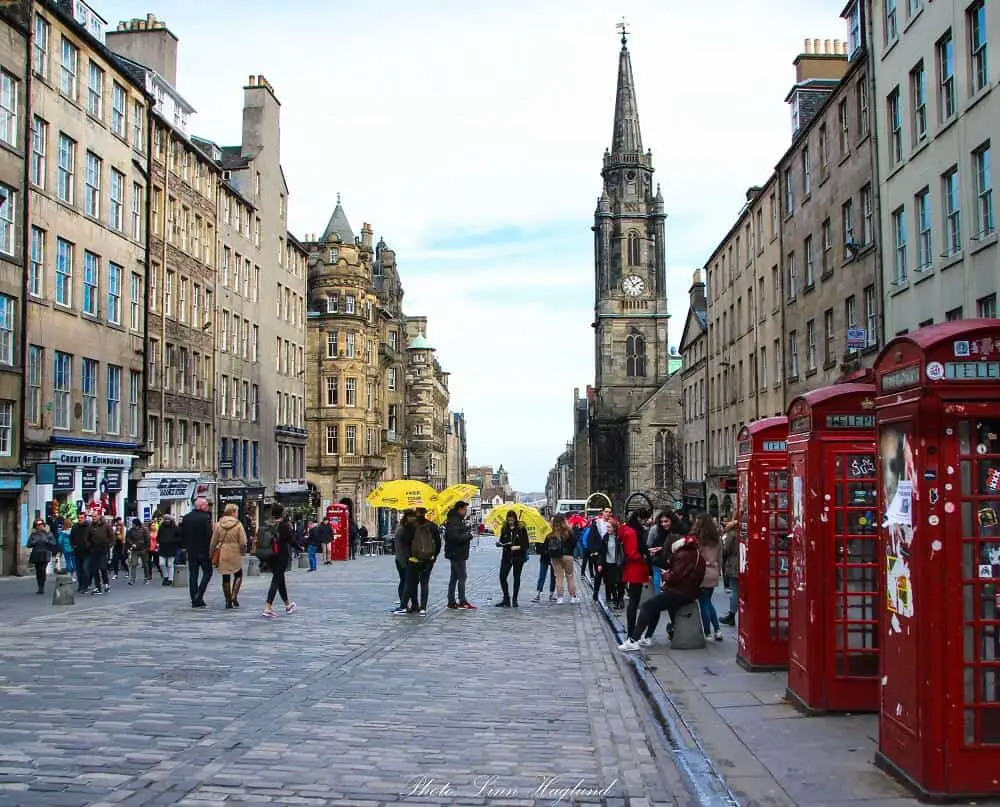 Final thoughts about winter city breaks in Europe
There is no doubt there are many awesome winter city breaks in Europe. From snow havens in the north to nice and sunny cities in the south, I'm pretty sure you'll find somewhere that you'll enjoy.
It's always good to get a change of environment in the winter months, so why not just book your flight straight away?
Pin it for later!