Camilo beach in Lagos is among Algarve's, if not among the world's most beautiful beaches. The small beach on the clear blue Atlantic Ocean is, as so many other beaches on the Algarve Coast, surrounded by rugged limestone rocks. Camilo beach makes the perfect postcard view, and with 200 steps to the bottom, there are plenty of photo opportunities.
Like so many other places on the spectacular Algarve coast, Camilo beach has a tunnel through the rock wall that takes you to a smaller beach next to it. Can you think of anything more charming?
Are you ready to explore this incredible beach?
Disclosure: This post may contain affiliate links. That means that if you make a purchase through one of those links, I will get a small commission at no extra cost to you. If you have any questions about these services or products, feel free to ask me.
How to get to Camilo beach
The closest airport is in Faro, about an hour's drive from Lagos. You can easily find direct flights to Faro from most major cities in Europe. Outside of Europe, there are direct flights to Faro from Toronto in Canada.
Camilo beach is only a 30-minute walk from Lagos towards Ponta da Piedade. However, if you're on an Algarve road trip, you can park at the top of the stairs. There is a large dirt parking lot with free parking.
If you are on a cycling tour in Portugal you can lock your bike at the top of the stairs so you don't have to carry it all the way down.
In the busy summer months between June and August, it can be hard to find parking unless you come early in the morning or late in the evening. The sunset is breathtaking from the beach!
If you have your own car or get a rental car, you can put 'Praia do Camilo' into your GPS and it will take you straight there. It is to the left just before you come to Ponta da Piedade.
There are also buses from Lagos that stop on the road nearby.
---
READ: The best towns in Algarve
---
What to bring to Camilo beach
Even though the beach is surrounded by cliffs that give some shade throughout the day, it is recommendable to bring a parasol for shade and reef-safe sunscreen. There is a quite pricy restaurant on the top of the stairs, so if you want to save some pennies, you should bring a lunch pack and enough water.
If you like snorkeling, bring your snorkeling gear for a relaxing underwater experience.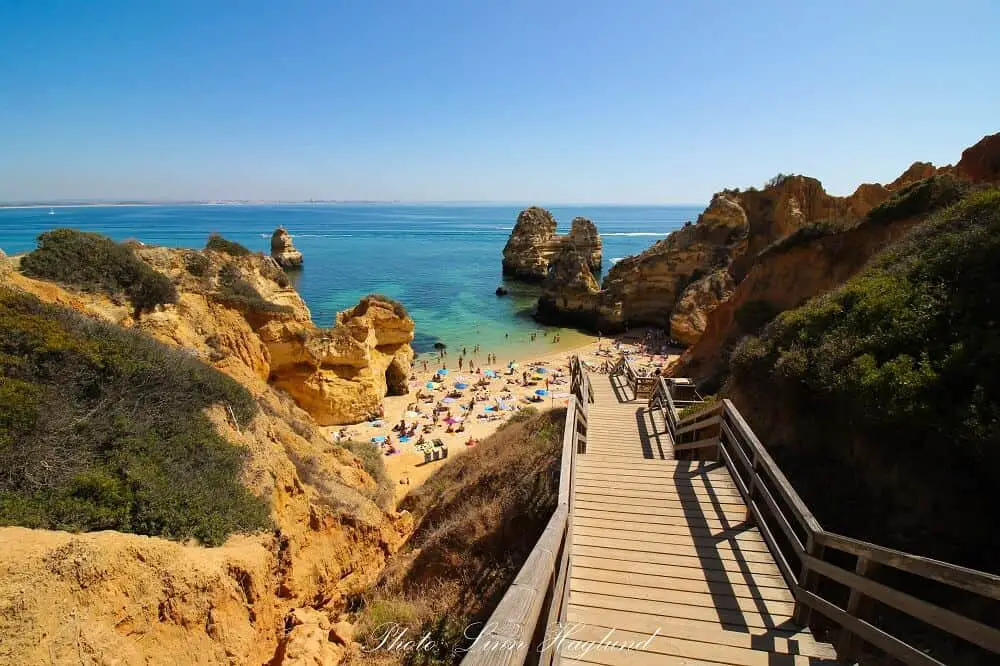 When is the best time to go to Camilo beach?
With its proximity to Lagos, Camilo beach is one of the most popular beaches in the area. As a result, the summer months can get quite busy.
To avoid peak season, but still enjoy warm sunny days and nice bathing temperatures, mid-May to mid-June and September are the best months to go. However, the Algarve is known for bathing most of the year, and even in the winter months, I've seen locals swimming in the ocean on a warm day.
If you have the opportunity, try to avoid weekends and go mid-week. It will naturally be fewer people fighting for the same space.
If you go to Camilo beach in the summer months between mid-June to August I recommend getting there early in the morning as it fills up quite quickly.
---
YOU MIGHT ALSO LIKE: The perfect Algarve road trip itinerary
---
Camilo beach
Camilo beach is not very large, though you can walk through the tunnel that is carved in the limestone on the left where you find another beach on the other side. It is the perfect place to be lazy on the beach, read a book, and enjoy the sun, the views, and the clear, turquoise water. The beach is easily recognized by the big arch on the left-hand side and one of the best places to visit in Lagos.
But if you like some adventure, you can rent a kayak at the beach to explore the surrounding cliffs in Ponta da Piedade. The snorkeling is also worth a go in the clear water.
There is a lifeguard in the summer months and you can get rid of your rubbish in large rubbish bins that are placed on the beach.
Responsible tourism at Camilo beach
It doesn't necesarily take much effort to be a responsible traveler. As mentioned above, there are rubbish bins at the beach, so there is no need to leave any waste behind. Also, if you happen to find any waste on the beach, why not pick that up and dump it in the bin too?
It is highly recommended to use reef safe sunscreen so you don't harm the underwater life when you go swimming (and of course, so you don't get a sunburn.)
Instead of buying water bottles and bring to the beach, you can get a reusable metal water bottle that actually keeps the water cold the whole day. This way you don't waste single-use plastic bottles.
Nearby places worth visiting
Dona Ana beach
Next to Camilo beach, you find Dona Ana beach that is also well worth a visit. Also this beach has a set of nearly 100 stairs and the walk down offer stunning views of the beach that is surrounded by limestone. There are great snorkeling opportunities here.
Meia Praia beach
Meia Praia beach stretches 4 kilometers and is fully equipped with all necessary tourist facilities. It is also a good place for water sports like surfing and bodyboarding. The beach is situated within walking distance from Lagos.
Ponta da Piedade
One of the most stunning natural beauties in Lagos is Ponta da Piedade with its incredible caves and towering rock formations. Only a 15-minute walk from the beach and you get to the rugged cliffs that reward you with astounding views. You can walk down a set of 182 stairs where you can go on a boat trip with a local fishing boat.
From the top of the cliffs, you can see all the way to Carvoeiro to one side and Sagres on the other. There is also a boardwalk along the cliffs that takes you all the way from Ponta da Piedade to Canavial beach.
You can read more about hiking opportunities in Portugal here.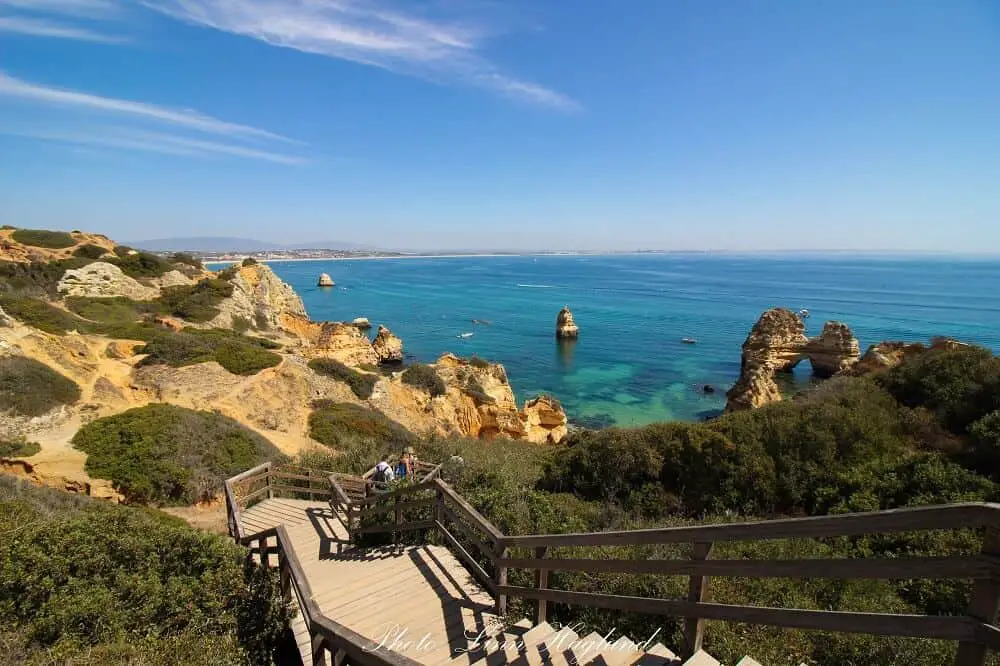 Reflections
Even though Camilo beach is one of the most popular beaches on the Algarve coast, it is 100% worth a visit. However, if you have the chance to go there off-season, you get the most out of it. Camilo beach is a pearl in the south of Europe we need to look after as travelers.
Have you been to Camilo beach before? I would love to know if you love it just as much as I do in the comments.
Read next: How to hike Algarve's Seven Hanging Valleys Trail the responsible way
Pin it for later!