On the breathtaking Algarve Coastline, connecting Nossa Senhora da Encarnação Fort and Algar Seco you find the spectacular Carvoeiro boardwalk. Stretching along the top of the seaside cliffs, the boardwalk looks straight down to the glimmering blue ocean.
An easy walk, though you should take the time to slip down the incredible getaways down the rocks through narrow tunnels and arches leading to hidden corners with unimaginable views. This boardwalk should definitely be on your itinerary whether you're on an Algarve road trip or traveling by public transport and make sure you stop by Carvoeiro too as it's one of the most beautiful towns in Algarve.
Find out how to get to Carvoeiro boardwalk and the best spots to explore along the way. If you want a longer adventure, this is the starting point of one of the many spectacular hikes in Portugal, the Seven Hanging Valleys Trail, which takes you all the way to Marinha beach.
Disclosure: This post may contain affiliate links. That means that if you make a purchase through one of those links, I will get a small commission at no extra cost to you. If you have any questions about these services or products, feel free to ask me.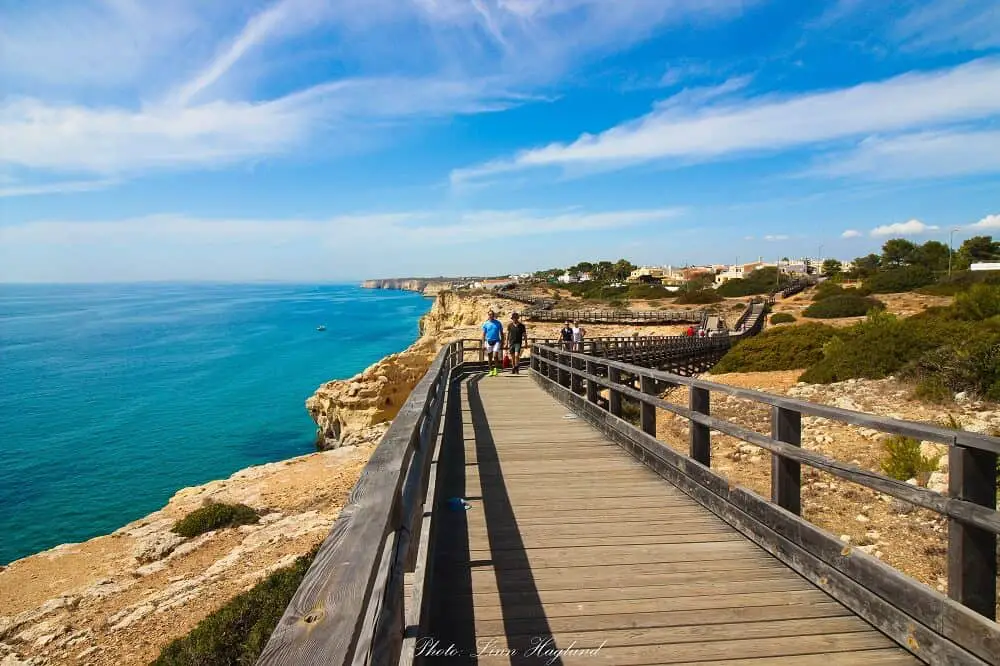 When is the best time to walk Carvoeiro boardwalk?
You can walk Carvoeiro boardwalk all year round, though the summer months from mid-June to the end of August can get extremely hot. Luckily, there is a natural pool where you can go for a dip when you get to Algar Seco.
If you choose to walk in summer, make sure you cover your head with a cap or a hat and bring a reusable water bottle. It is also a good tip to bring sunscreen so you don't get a sunburn. The best time to avoid both the crowds and the worst heat is early in the morning or at sunset.
May to mid-June and September are my favorite months to walk Carvoeiro boardwalk as it is off-season, yet warm enough to go for a swim in the natural pool.
October to April are the best months for hiking, though. You might not go for a swim, but you will most certainly have an incredible day out, and the winter in Algarve can offer beautiful weather!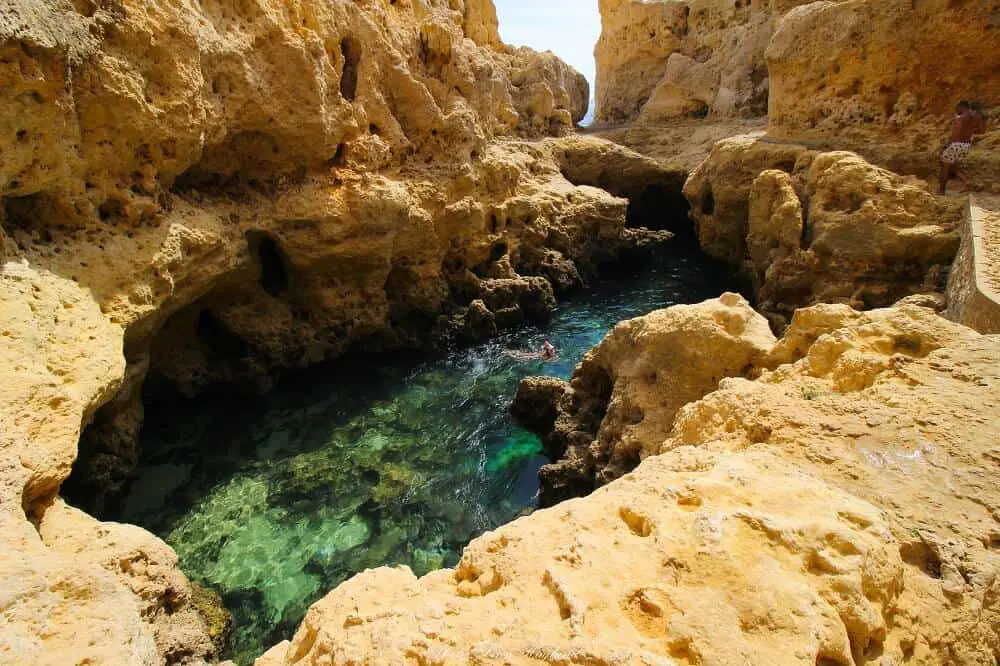 READ: 15 Fun things to do in Lagos Portugal
How to get to Carvoeiro boardwalk
To get to Carvoeiro boardwalk you first have to get to Carvoeiro. This is also a perfect little village to stay a few nights. The boardwalk starts by the Nossa Senhora da Encarnação Fort which is walking distance to the east from Carvoeiro beach.
If you are not staying in the village or you don't have a car, there are buses to Carvoeiro from Lagoa bus terminal. The bus station commutes with several large cities in the country.
Still not booked your flight to Portugal? What are you waiting for? Find the best deal and book here!
Bird spotting
Although Portugal's Algarve coast meets the Atlantic Ocean, the southern part of the country maintains the Mediterranean climate and vegetation. Due to the dry summers, Mediterranean scrublands dominate the coast.
While the steep karst landscape meets the ocean with unmanageable access for humans, a lot of bird species find safety there. Among others, the Rock Dove and the Yellow-legged Gull as well as birds of prey like the Peregrine Falcon and the Kestrel. Exactly because it is impossible to climb the cliff walls for any land predator, the birds nest and breed along this coastline.
Along Carvoeiro boardwalk, there are benches to watch the birds fly by. It is a perfect place to look out for the Peregrine Falcon. This is actually one of the fastest moving animals in the world with a recorded speed of 389 kilometers per hour. That's quite cool!
Tips! Bring your binoculars if you want to get the most of watching the birdlife.
Carvoeiro boardwalk
Nossa Senhora da Encarnação Fort
Carvoeiro boardwalk starts by Nossa Senhora da Encarnação Fort (In English: Fortress and Chapel of Our Lady of the Incarnation). Unfortunately, this is not a majestic fort to visit as it might sound, but rather a whitewashed building you pass by. It was built in 1670 to guard the coastline from pirates but mostly destroyed by a major earthquake in 1755. At the beginning of the 1800s, it was rebuilt to what you see today. Only the walls from the military building remain from the original fortress.
Carvoeiro boardwalk
The boardwalk itself is pretty short and flat. Only 600 meters to be precise. However, there is a path down to the limestone cliffs about midway which takes you to another world. It takes you down a set of stairs, through a tunnel, and out onto the cliff overlooking the deep blue Atlantic Ocean. If you follow the paths on the cliff, they will take you through arches, natural caves, and tunnels. You might even spot some locals fishing at the edge of the cliffs.
Once on the boardwalk again, continue until it takes you onto the road again. A few meters further down, you are in Algar Seco, and a new adventure awaits you.
Get your travel insurance with World Nomads. Easy, quick, and with no hidden costs.
Algar Seco
Once you walk off the road and down the stairs, you can choose to go right or left. If you want a drink, go to the right first, to the cave, though if you want to go for a swim first, take the left to the natural water hole.
Algar Seco Cave
Walking down the stairs to the right you find a restaurant where you can get a cold drink or something to eat. On the way down, you also see the famous pinnacle "Boneca" which means "the doll". It is said that it looks like a doll. Only a few steps further, you get to the famous tunnel leading to Algar Seco Cave. The cave has two large, natural windows looking out towards the deep blue Atlantic Ocean and the surrounding golden cliffs.
You will be rewarded with mesmerizing views walking outside the cave too. There are small paths you can follow around through arches and tunnels.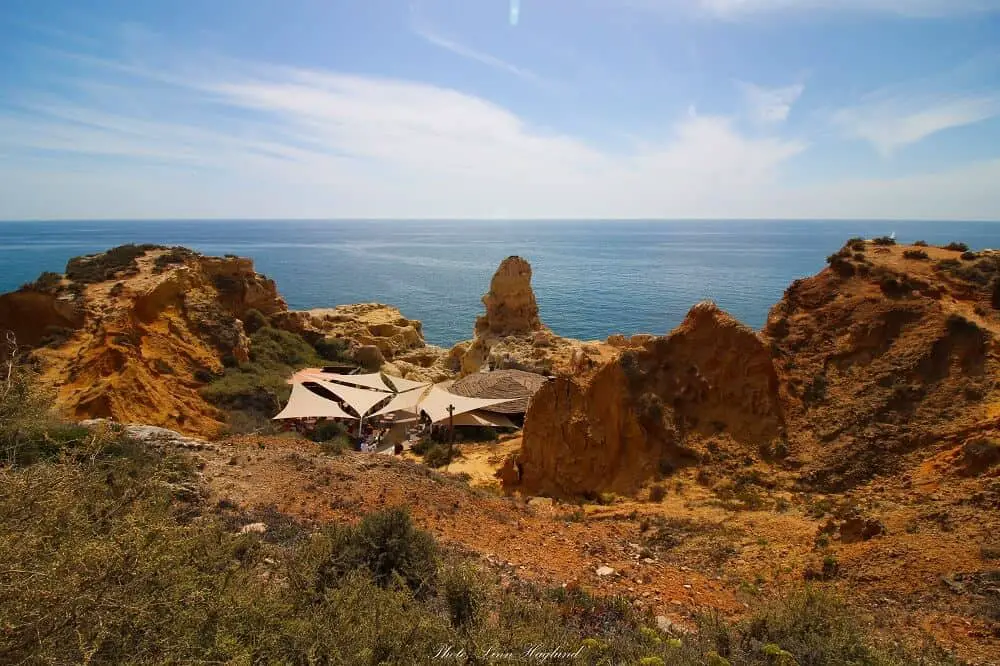 Algar Seco Natural Pool
Algar Seco Natural Pool is down the stairs to the left. Make sure you come here with high tide so you can go for a swim. The turquoise clear water is without a doubt tempting to cool down in. However, you can experience extreme swell and strong currents. For your own safety, you should not swim far from the stairs where you can hold on. In low tide, there is hardly any water in the water hole.
Continuing further past the natural pool, you can walk along the cliffs. Make sure you stay away from the cliff edges.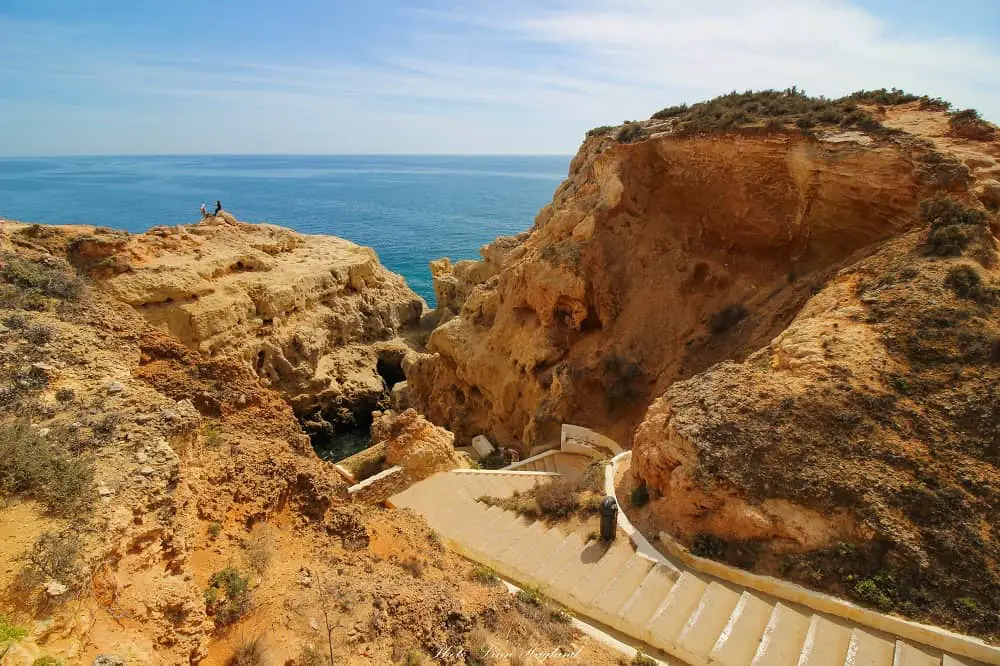 Get your Lonely Travel Guide for Portugal now!
3 Easy tips for a responsible day out on Carvoeiro boardwalk
There are always a few simple things you can adapt to make sure you are a responsible traveler, even on a short walk like this. I have listed up 3 tips for you that will not be a big effort for you while it will make a big difference for the environment.
Bring a reusable water bottle
You should always bring a reusable water bottle when you go for a walk. This way you don't only make sure to be hydrated on your walk, but you also avoid contributing to the single-use plastic waste problem. I have a metal water bottle that keeps the water cool all day, even on hot summer days. It's genius!
I also have a LifeStraw Go filtered water bottle that filters 99,9% of all waterborne bacteria from the water. This is my favorite travel partner. Though it is not necessary to filter the tap water in Portugal, filtering it will only make it better.
Buying a product from LifeStraw gives clean drinking water to communities in need of it through one of their many clean water projects.
You might also like: Ponta da Piedade – The most beautiful spot in Algarve?
Don't leave any waste behind
By making sure you don't leave any waste behind, you ensure that nothing will fly out in the ocean and contribute to the massive waste problem. There are plenty of rubbish bins along the boardwalk. However, the most popular spots for having a break with some snack are off the boardwalk either down the path on the middle of the boardwalk or at Algar Seco. These places don't have a rubbish bin.
Note: Natural waste like a banana peel or an apple core might seem harmless to throw into nature. However, these take much longer to decompose than you might think. Most of the time they are eaten by animals whose natural diet don't contain banana peel or apple. Especially not the non-ecological fruit most of us eat today. Throwing organic waste can lead to three things.
The animals eating it can get sick or change life span because they eat food they are not meant to (or that is intoxicated).
Wildlife can start relying on human food and start venturing into towns where they normally don't live. They can get hit by cars or become an annoyance that humans decide to kill because they come into their homes and look for food.
The seeds can grow and create an imbalance in the natural fauna. Often, plants that are not indigenous to a place kill the natural fauna and become a threat to the natural environment.
Respect the barriers
Respecting the barriers and staying on the boardwalk is not only for your own safety. It is also meant to protect the natural fauna surrounding the boardwalk. While it might seem harmless to walk on the dry shrub covering the cliffs, this is essential for the eco-system to function and we should be careful not to make any changes to it.
Read Next: Amazing things to do on the Algarve
Did you like it? Make sure you pin it for later!