Thailand has become one of the most visited countries in South East Asia and not without a reason. The land of smiles is extremely organized for tourism which makes it an easy country to travel to for anyone.
Unfortunately, this also makes large parts of the country strongly affected by overtourism. Tourism to Thailand is increasing each year and is expected to pass 40 million foreign tourists in 2019. Therefore, I want to highlight Thailand off the beaten track.
I want to give you the opportunity to experience this impressive country and its beautiful people without the masses. But most importantly, without putting more pressure on its inhabitants and natural resources.
Talking about Thai inhabitants, I refer to both humans and animals. That's why, before looking at Thailand off the beaten path, let's look at a major tourist attraction in Thailand that we should avoid as responsible travelers.
Disclosure: This post may contain affiliate links. That means that if you make a purchase through one of those links, I will get a small commission at no extra cost to you. If you have any questions about these services or products, feel free to ask me.
Avoid animal tourism
Thailand is popular for animal tourism. Exotic photos of tourists riding large elephants have become an iconic image of the country. And the growth of social media has increased the extent of such photos, which in turn increases the number of tourists that want exactly that photo themselves.
I must admit, it isn't that many years ago since I did the same thing. I went to an "ethical" elephant sanctuary in Thailand and rode an elephant through the jungle and bathed it in the river. It was only me and my boyfriend. No other tourists were there when we spent the day there.
It was me who initiated the activity. Because I love elephants and I honestly thought this was an ethical activity. I deeply believed that this was a good way of interacting with the giants and supporting "rescued" elephants. I was so wrong. Unfortunately, I can't change what I've done, but I can hopefully make others aware of why you shouldn't do this activity in Thailand.
I have studied the business for a couple of years now to increase my knowledge on the issue. Though I love traveling to Thailand and will return several times again, there are aspects of the tourism industry I would warn you against. This is, without a doubt, the widely extended elephant and tiger tourism the country has built up.
I will highlight elephant and tiger tourism because they are widely spread and I see it as necessary to get out knowledge about the negative effects these activities have on the animals.
This doesn't mean there is not excessively widespread tourism affecting other animal species in the country. This is of course also not acceptable, and any responsible traveler should stay away from all tours or activities that include visits to zoos, animal entertainment like cockfights or dancing monkeys, or photos with chained and unchained animals. In general, this applies to any country you visit.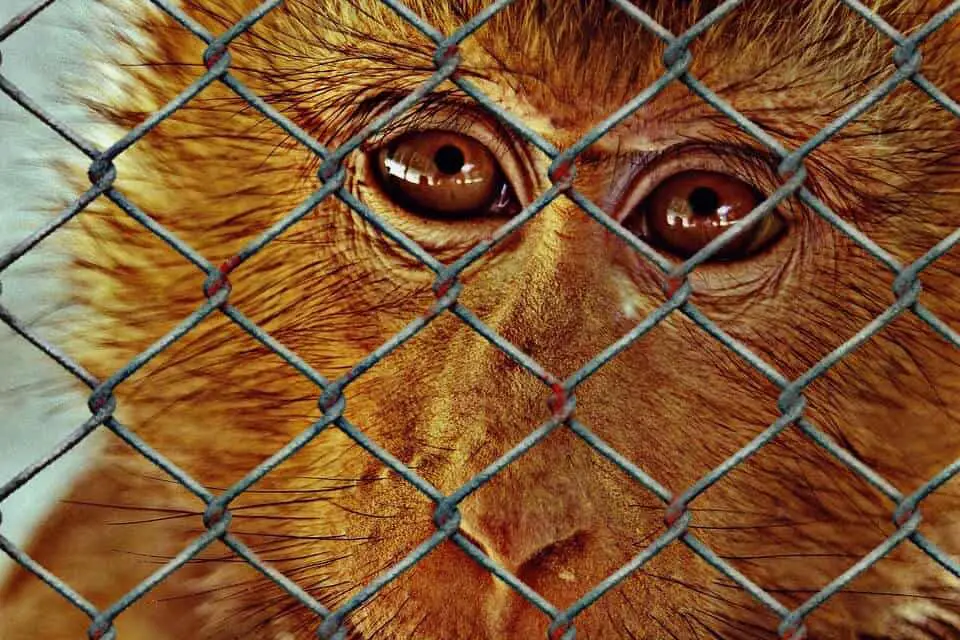 Elephant tourism
Before we go on to Thailand off the beaten track places, I want to emphasize the importance of not riding elephants while traveling in Thailand. Or anywhere else. The story behind the elephant tourism in Thailand shows a devastating truth. To tame the elephants to use them in the tourism business starts by taking the baby elephants from their mothers.
Once separated from their mother and the rest of the pack, the training begins. It is called Phajaan which means "the crush", the crush of the elephant's soul.
The animals are starved and chained up, often so they can't move at all. If that isn't enough, they beat the baby elephants repeatedly with bullhooks and hammers. These practices are repeated over and over again day in and day out until the elephant completely loses its will and gives in.
When the elephants are trained to do tricks, they use ropes, chains, bullhooks, nails, and hammers to make the elephants move the way they want. To make it do the tricks they want to show tourists.
All this happens before the tourists can go for a jungle riding tour on elephant back. It happens before tourists can bathe the elephants. It happens before tourists can take a perfect photo kissing the elephant of laying next to it or being lifted up by the elephant's trunk. I have a photo like that from 2007.
It seems like no one asks themselves why such a large, wild animal is accepting being petted by strangers. If I only knew what I know now back then.
Can riding elephants be ethical?
Another fact that I only learned last year, is that the elephants' spine is very different from other animals. It has sharp bony spikes pointing upward. This means that heavyweight on the elephant's backs physically harms the spine. They are not meant to carry weight on their backs.
Knowing this, there is no way that riding an elephant, even though it is rescued and now lives happily in a sanctuary, can be justified.
If you decide to go to an ethical elephant sanctuary where there is no riding, make sure you check it up closely before going. There are sanctuaries that are owned by the same owner as a different place where the elephants perform tricks and do take tourists for rides.
In reality, the same elephants are moved from one place to another serving the "ethical" travelers one day and serving the tourists that want to ride elephants or see them make a painting another day.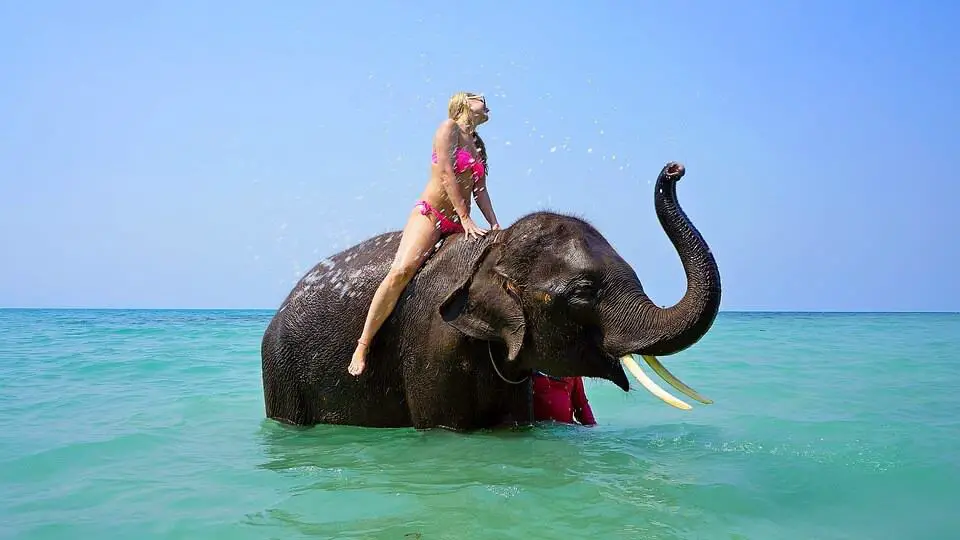 ---
Make a difference:
Plant trees to create habitat for animals from the convenience of your home!
---
Tiger Temples
Now, let us have a look behind the scenes of the Tiger Temples. It wasn't until a few years ago that I realized why you shouldn't visit them.
You will be told the temples are a safe place for the tigers, that the monks look after them and that the monks have some special spiritual connection with the animals that makes them so calm. I don't know what is not said to sell in the attraction to tourists. Who wouldn't love a selfie with a strong, powerful tiger?
The truth is that the Tiger Temples have become a business. The tigers are no longer there to be prepared to move back into the wild. Tiger cubs are malnourished to stay small longer so that they can be used for tourist selfies longer. Because people pay a lot for a photo with the small ones.
The "sanctuaries" use a domination method of spraying pee in the cubs' faces from they are small. This is a way tigers use to dominate in the wild.
Adult tigers get their claws cut off so they can't hurt tourists or keepers. At the same time, they are chained up so tightly that they are not able to stand up. These animals are used merely to attract tourists and the truth is that they will never get a worthy life.
It is widely said that tigers are sedated. If this is true or not doesn't really matter. The animals are being used for people's amusement.
While they are wild animals that need to hunt and run free. Travelers that have visited the Tiger Temples report that the animals look sedated, that they are chained up so they can't stand up, and hit in the face to make a perfect pose for a photo. Some also noticed that the animals are missing their claws.
In 2016 there were many revelations about Tiger Temples, but it doesn't seem like it stopped tourists from visiting such places. The thing is that as long as tourists visit the Tiger Temples, there will be someone making money on it and keeping them open.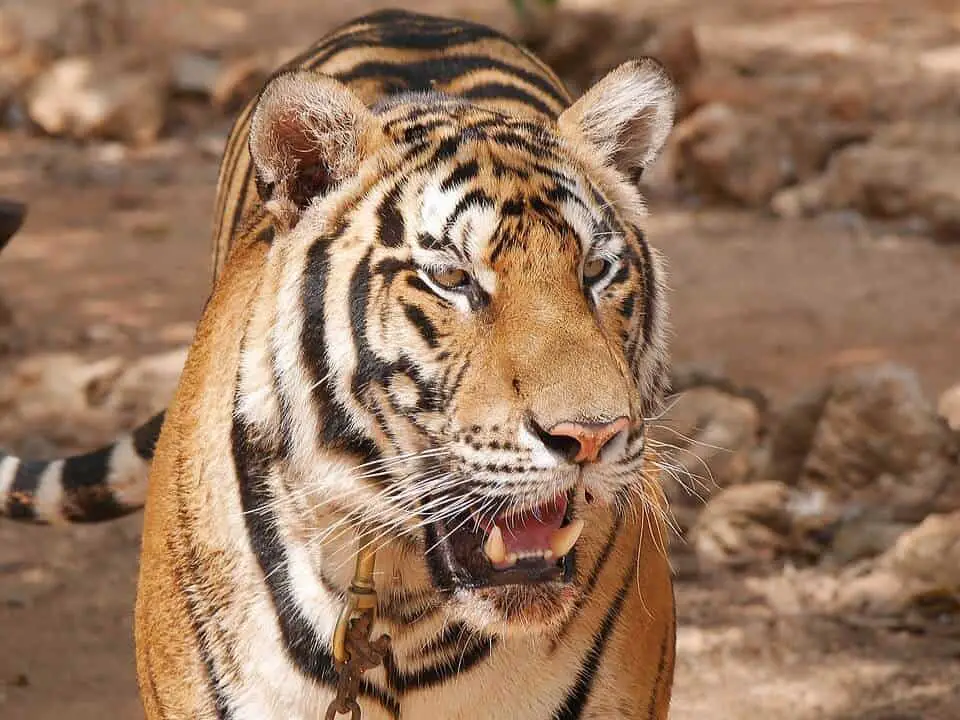 I hope this information makes you re-evaluate any visit to one of the above attractions and that you will help spread the information to more travelers. I have dedicated a whole post to sustainable tourism in Thailand if you want to dive further into it before you travel.
Now, let us have a look at the positive and exciting parts of Thailand.
---
READ: Off the beaten path countries that need to be on your bucket list!
---
Thailand off the beaten track
To make a complete list of the best Thailand off the beaten path destinations, I asked for some help from some fellow travel bloggers that know the country well. There is so much beauty in Thailand, and it doesn't have to be destroyed by overtourism.
Since I backpacked to the land of smiles for the first time until my last trip there, I have experienced so many offbeat places and enjoy them much more than the heavy touristy destinations like Phuket and Phi Phi Island.
Though the first time I went to Phi Phi, Maya Bay was not packed, and I stayed on a beach with four bungalows half an hour hike through the jungle. A true hidden gem in Thailand.
However, already back then this paradisiac part of the island expected massive foreign resorts to be built the year after. I have not gone back there as I want to keep the good memories of that once serene place.
So, check out what these Thailand experts have to say about traveling off the beaten track in Thailand.
Koh Mook
Koh Mook is mainly known for the mesmerizing Emerald Cave, which is mainly visited from the popular neighboring island of Koh Lanta.
However, only a few travelers take the time to stop by to explore Koh Mook itself. The island situated in the Andaman Sea just off the mainland of the Trang Province which makes it an epic stop on a Thailand island hopping itinerary.
If you want to experience a typical Thai village lifestyle, white beaches all by your self and excellent snorkeling, you should spend some time on Koh Mook. You will not regret adding this little paradise to your Thailand bucket list.
The island is just big enough to rent a bike or a scooter to explore the inland and beaches on the other sides of the island. To explore Emerald Cave before the tourists come you can rent a kayak and go early in the morning at sunrise. Emerald Cave is an absolutely breathtaking place to go. It requires that you either swim or kayak the 80 meters through the mountain until you get to an opening with a small beach surrounded by high cliff walls.
You can easily get to Koh Mook from Koh Lanta. Note that there is no ATM at the island, so bring enough cash. There is one shop, though that gives you the opportunity to buy "nothing" and gives you the money in cash. However, they will charge at least a 5% commission.
Koh Mook is truly a wonderful destination and one of the best places to visit in Thailand for first timers.
---
Book your stay at Koh Mook Coco Lodge
---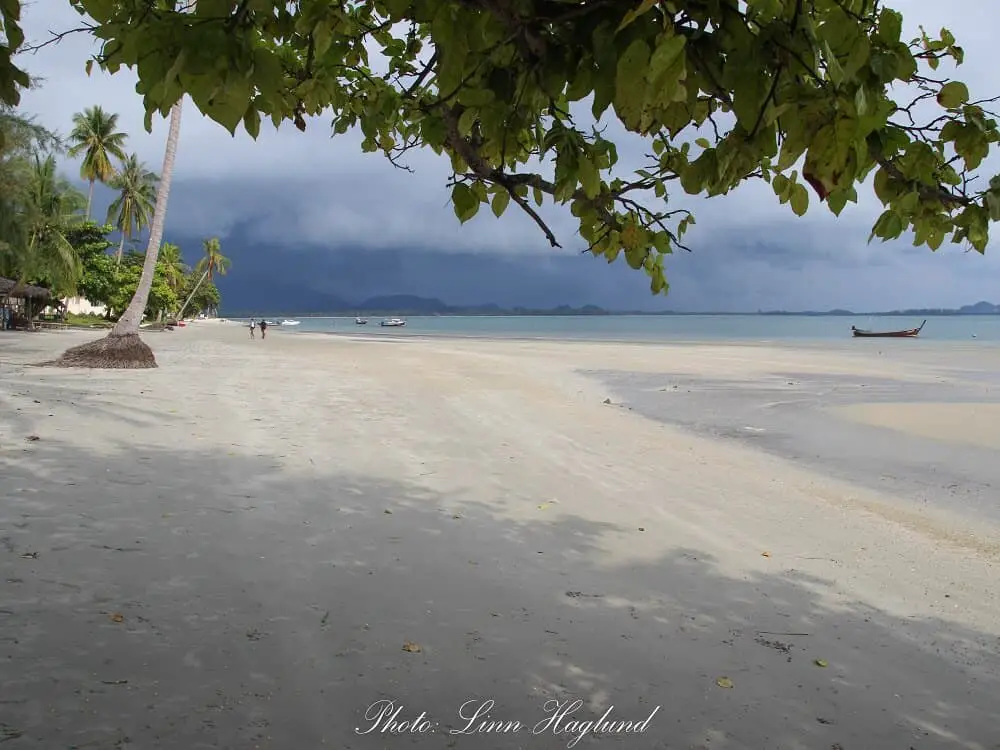 Unseen Cliff Temples of Lampang
By Heather of Raulerson Girls Travel
Wat Phutthabat Sutthamat is one of the unseen temples in Thailand making it a unique Asian landmark that many people are not even aware of. A true experience for anyone that wants to travel off the beaten path in Thailand!
The mountainous Lampang province is a 1.5-hour drive from Chiang Mai. You can take a day tour and visit the unseen temples along with Chae Son National Park nearby, where you can enjoy the Chae Son waterfall and the hot springs. 
To reach the top of the mountain, trucks will take you from the base up to half the mountain or you can opt to walk approximately an hour and a half to the 2nd level.
From there you have two choices, the shorter hike to see Buddha's footprint or the steep one (800 meters) to the top. To reach the peak, you have to climb steep rocky terrain on newly built wooden staircases with several scenic areas to rest along the way.
Reaching the top, you are treated to a 360-degree panoramic view that provides stunning views of the rice paddy fields in the Thung valley 1000 meters below.
The striking scenic rocky cliffs surrounding the temple make this a picture-perfect spot to capture the calmness and beauty of this hidden gem in Thailand.
And knowing that monks made this same trek to pray before there was a staircase and then hauling the materials to create the stupas and temples up here makes this a humbling and worthwhile experience that you will remember.
---
Book your stay at Le Naview @Prasingh in Chiang Mai
---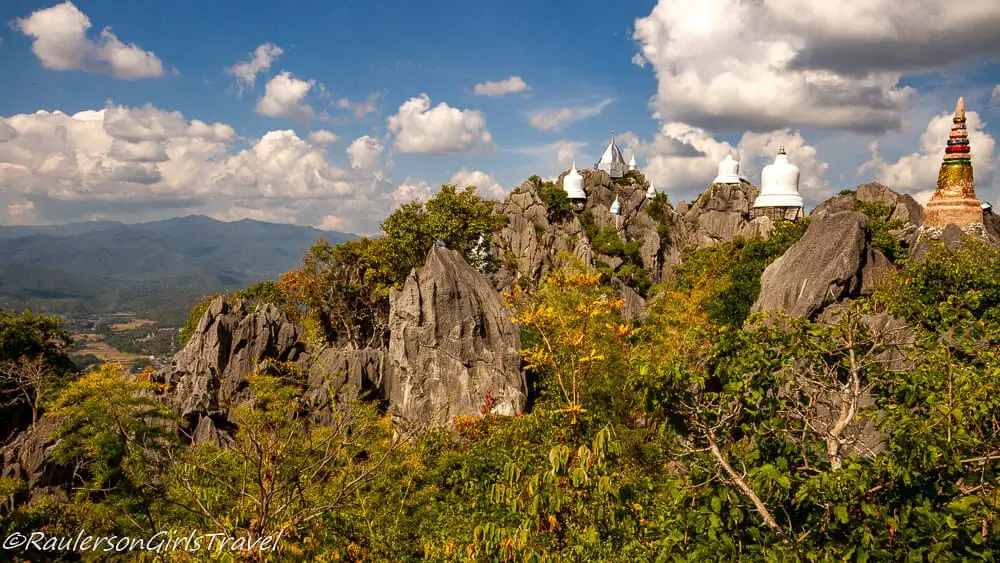 Koh Chang
By Nate of Travel Lemming
While Thailand's southern islands tend to get all the tourism love, those seeking out hidden gems in Thailand should consider heading to Koh Chang.
Koh Chang is Thailand's third largest island but, compared to the two ahead of it (Phuket and Samui), it receives only a fraction of the tourists. 
Part of the reason for this is the location: Koh Chang is situated in the east of Thailand near the Cambodian border, meaning it is a bit away from most of the country's other tourist sites.
But that doesn't mean Koh Chang is hard to access: modern clean buses ply the 5-hour route from Bangkok, and a quick hop on a ferry connects the mainland to the island. 
Once on Koh Chang, you'll be greeted by a lush, mountainous island with idyllic beaches, cascading waterfalls, and small Thai villages. Be sure to head to the south of the island to check out Bang Bao Pier, where you'll find a fishing village built entirely over the water.
Koh Chang also happens to be one of the best places for scuba diving in Thailand and whether you're a newbie or a seasoned diver, there is an amazing underwater world to explore.
Koh Chang is just developed enough to offer plenty of quality accommodation options. If you're the backpacker type, Pajamas Koh Chang is an incredible hostel with modern rooms and a large private pool near the beach. Whether you travel as a couple or solo to Thailand, this is a great place to stay!
For the more upscale crowd, check out the stylish VAYNA boutique hotel. Wherever you stay, you're sure to enjoy incredibly underrated Koh Chang.
---
Book your stay at Pajamas Koh Chang here
---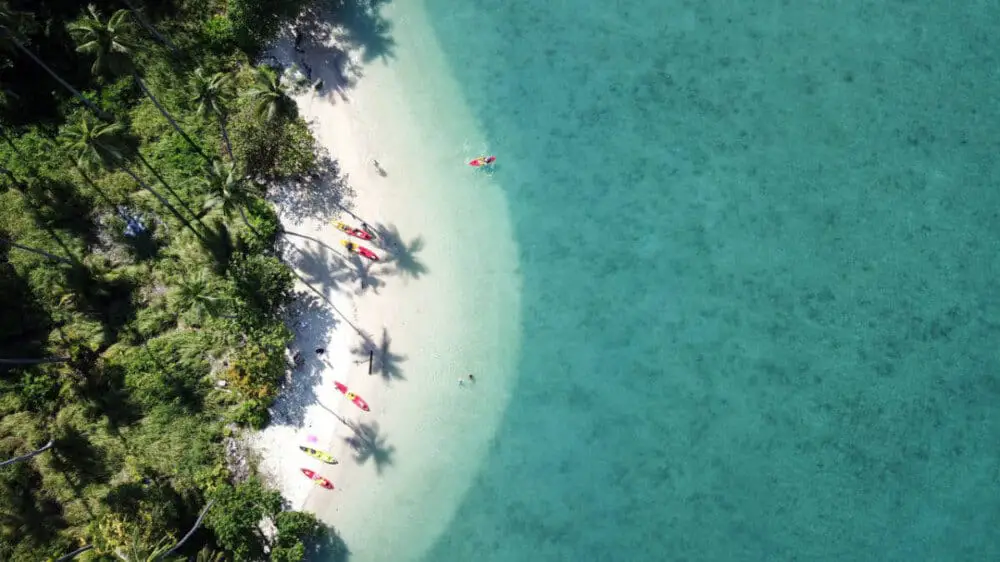 Koh Yao Yai
By Kerrie & Woody of Just Go Travelling
Situated in the Andaman Sea between Krabi and Phuket, Koh Yao Yai is a place to escape the hustle and bustle of Thailand's main cities.
It is a small secluded island perfect for relaxation. There are no tourist traps and no hassling; the locals welcome you to their day to day life with a smile.
Koh Yao Yai can be explored within one full day, but it has much to offer. The best way to travel this beautiful island is by renting your own scooter; drive yourself around the island enjoying the sizzling sun and cool sea breeze.
You can discover the many golden sand beaches and mouth-watering restaurants offering food with a view, providing you with absolute paradise.
Koh Yao Yai is easily accessible by boat from any of the surrounding islands such as Krabi from Thalane Pier (45 min by long-tail boat), Ao Nang Beach (20 min journey by speedboat) and Phuket, Bang Rong Pier (30 min speedboat). Prices will vary depending on whether you travel by a speedboat or a local long-tail boat.
Koh Yao Yai has arguably one of the best resorts in the whole of Thailand. Many tourist flock to Santhiya Koh Yao Yai Resort & Spa. It features 39 teakwood pool villas and 109 deluxe rooms, encompassed by a natural mountain landscape.
It has an amazing spa offering authentic Thai massages, face and body treatments as well as a waterfall pool to enjoy. If that wasn't enough, it also offers its own private beach.
---
Book your stay at Santhiya Koh Yao Yai Resort & Spa here
---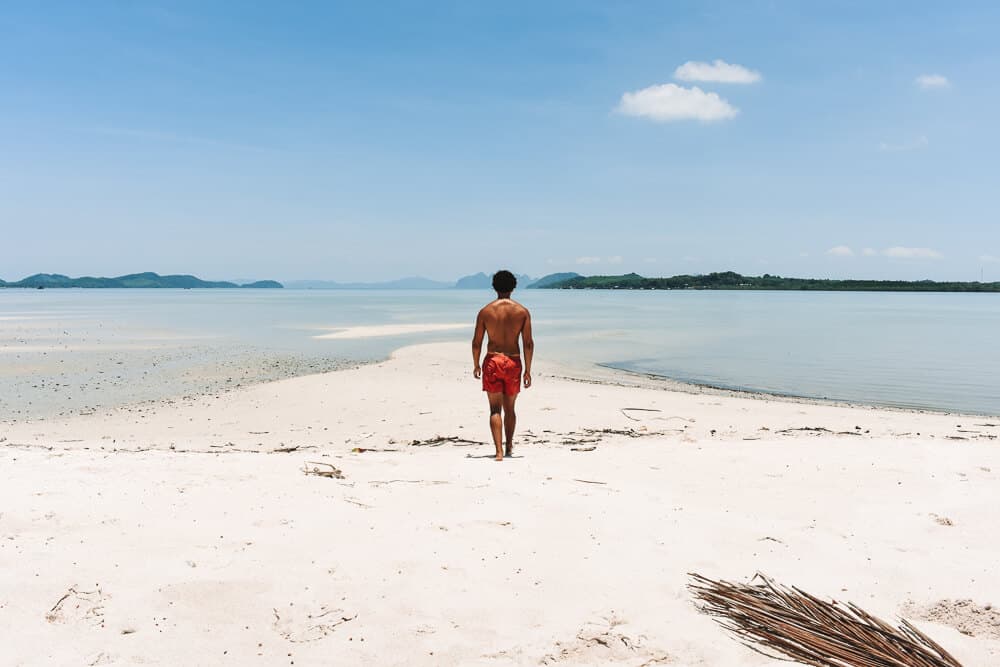 Chiang Dao
By Darren of Finding Beyond
Despite being a beautiful little town only 90 minutes from popular Chiang Mai, Chiang Dao remains a quaint, off the beaten path Northern Thailand destination.
The town center itself consists of not much more than a few eateries and shops along a single strip of road, so the better option is head east for a few more minutes to the area surrounding the bottom of Chiang Dao Mountain and Cave.
Here you'll find winding roads scattered with a handful of cute bungalow resorts, coffee shops and restaurants.
The best things to do in Chiang Dao include hiking the mountain, nature trails, bamboo rafting, temple hopping, Chiang Dao Cave, Pong Arng Hot Springs, Sri Sungwan Waterfalls and eating at one of The Nest's two award-winning restaurants!
One of which specializes in Thai cuisine while the other is more western focused. The Nest is also a wonderful place to stay in one of their garden wooden bungalows.
Hiring a moped is the quickest way to get to Chiang Dao from Chiang Mai but if that's not your thing then there are buses from Chang Phueak bus station which leave every 30 minutes for just 40 baht per person.
Chang Phueak bus station can be found just North of Chiang Mai's North Gate off Thanon Changpuak Road.
---
Book your stay at Chiang Dao here
---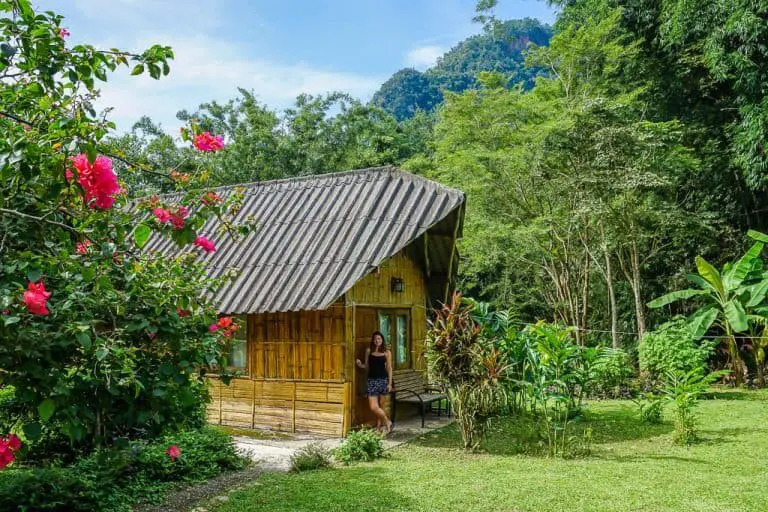 Ban Chiang Archaeological Site
By Joel of World Heritage Journey
The archaeological site of Ban Chiang is located near Udon Thani in Thailand's north-east. It was discovered in the 1960s when an American college student conducting research in Thailand tripped over a tree root and tumbled face-first into a shard of ancient pottery.
These shards were eventually dated to an astonishing 2000 BC, making them far older than any other known settled civilization in South-East Asia.
Further digging revealed Bronze Age burials, Iron Age tools, and thousands of pots. Many pots were decorated with intricate red circular patterns: dots, swirls, and waves. They're extraordinarily beautiful and genuinely enchanting.
Evidence of rice cultivation was discovered, showing that settled agriculture existed far earlier in South-East Asia than previously thought. Ban Chiang literally re-wrote the book on prehistory in the region and became a UNESCO World Heritage Site in 1992.
The best way to experience the archaeological site is the Ban Chiang National Museum. It's really well done and has some brilliant examples of the pottery that was discovered.
Make sure you don't miss the actual dig sites, located about 10 minutes from the museum (the staff can direct you there).
Ban Chiang is best accessed from Udon Thani, the hub of north-east Thailand. UT has an airport, trains from Bangkok and elsewhere, plus long-distance buses.
Ban Chiang is about 35km east of town and accessed via inter-village buses and songthaews. Though if you have the budget, I recommend hiring a driver to take you there and back. This is truly an off the beaten track Thailand experience.
---
Book your stay in Udon Thani here
---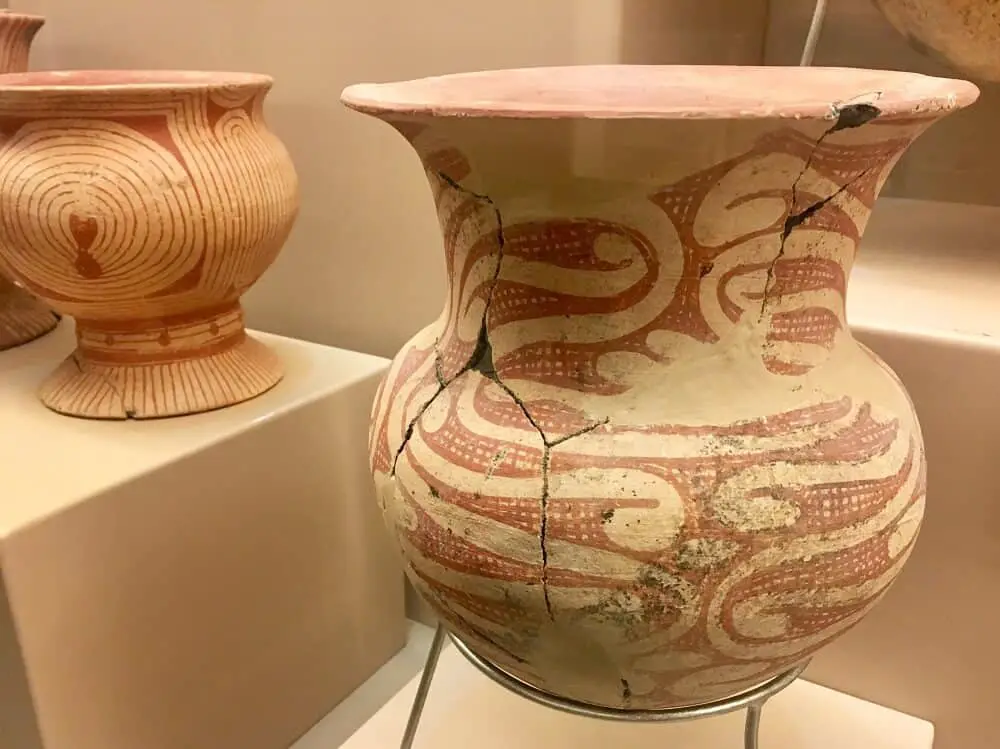 Mu Ko Chumphon National Park
By Clemens of Travellers Archive
Mu Ko Chumphon National Park in Thailand covers a huge area of ​​no less than 317 square kilometers, including about 70 km of coastline on the Gulf of Thailand. It is no wonder that it is a paradise for numerous plant and animal species.
Though a fairly small province, Chumphon has 220 kilometers of beaches along the Thai Gulf. Half of the province belongs to the Mu Koh Chumphon National Park, which in addition to the beaches also includes mangrove forests, mountains, and forty islands.
No wonder that Chumphon is hyped especially when it comes to snorkeling and scuba diving. The Mu Ko Chumphon National Park offers many opportunities for beginners and advanced, whether diving, snorkeling, kayaking or hiking.
So how to get to Mu Ko Chumphon National Park on your off the beaten track Thailand adventure? First of all, it's good to know that Chumphon is an important transfer point for travelers to Ko Phangan, Ko Samui, and Ko Tao.
The city is located almost 500 kilometers from Bangkok and has its own small airport 30 km north of Chumphon city. Arriving by train and bus from Bangkok to Chumphon is also a great option, for everyone that wants to include Mu Ko Chumphon National Park to their itinerary.
---
Book your stay at Loft Mania Boutique Hotel in Chumphon
---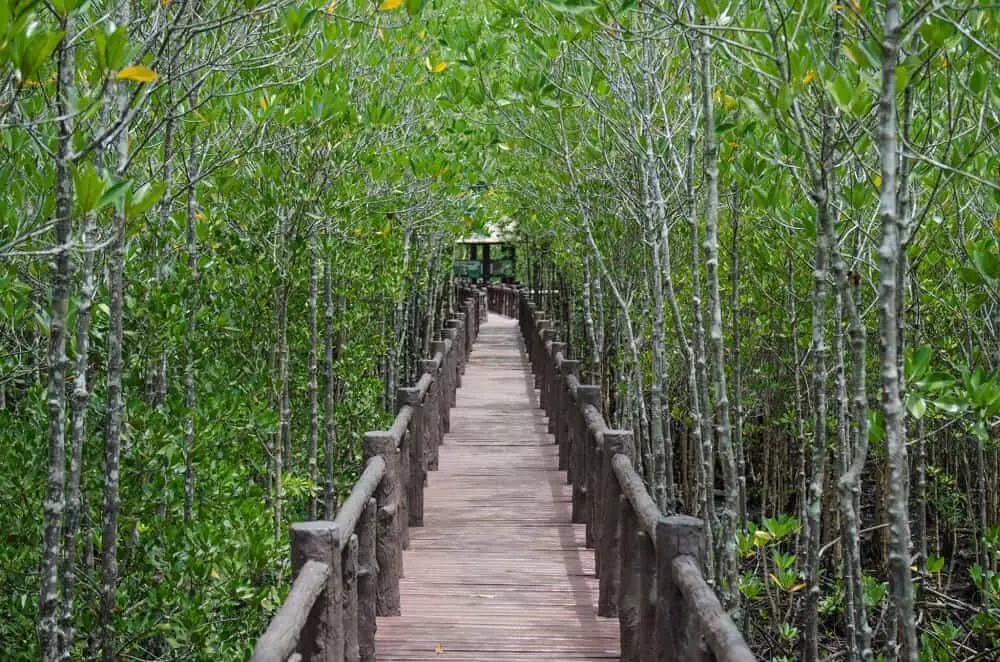 Hike to Lahu Hill Tribe village
By Oksana & Max of Drink Tea & Travel
Lahu Hill Tribe village is a remote community located in Northern Thailand. To reach the village, you'll have to go with a tour guide and hike 5 hours from the small town of Pai. This is a multi-day hike, but the trip is well worth it. 
The best part of the tour was not the hike itself but our overnight stay with one of the families from the tribe. We slept on mats right on the floor and shared a simple meal with a local family upon arrival. It was rice, vegetables and a serving of freshly harvested fried bamboo worms (a delicacy in the region) that we collected along the way. 
It was an eye-opening experience to see how the Lahu people went about their days with limited resources that many of us take for granted. There was no running water, no light, other than the faint gleam coming from the candles and headlamps yet the family we stayed with displayed generous hospitality. 
Life here was simple, peaceful and so far removed from the lives of those in the big cities. We walked away with a sense of gratitude for helping us see a different side of life and the simple ways to find happiness.
Hikes to hill tribe villages can be arranged from a number of towns in Northern Thailand.  However, be careful when selecting the tribe you want to visit.
There are many opportunities to visit "remote" communities from Chiang Mai but too many of these visits no longer offer truly authentic experiences.
Head to Pai instead, where you'll be able to book a trip to more remote communities like the Lahu Hill Tribe village that are not yet spoiled by tourism.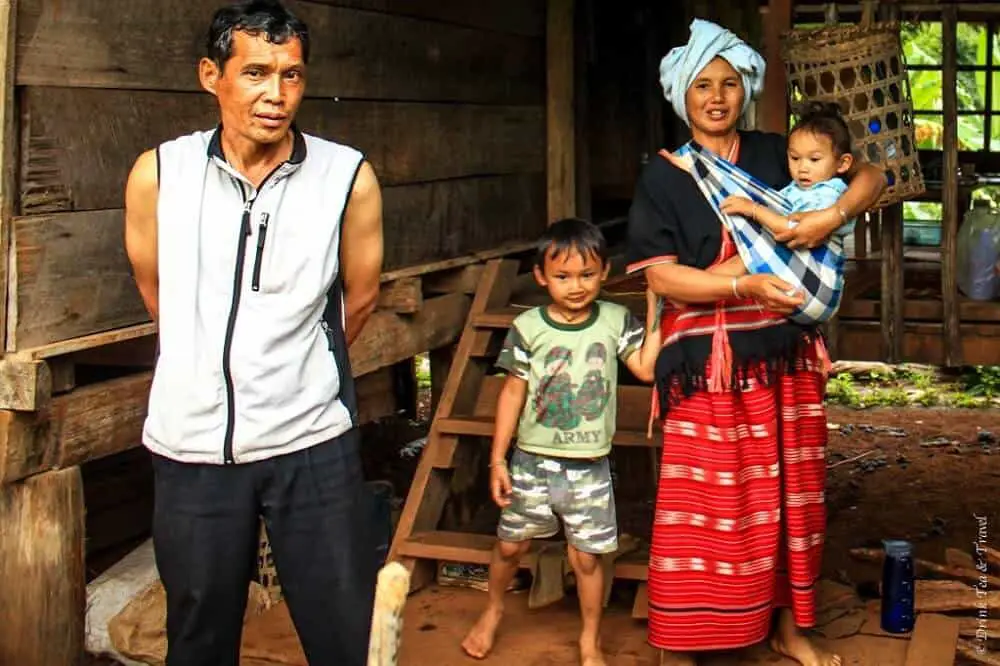 Koh Kood
By Jen and Ryan of Passions and Places
With white sandy beaches and sparkling turquoise waters, Thailand's picture-perfect islands are a major draw for visitors. But more than a few tourists have arrived at the popular islands and found themselves disappointed by the crowds, pollution, and over-development.
Fortunately, dozens of islands remain largely off the radar, so it's still possible to find hidden gems in Thailand. You find amazing offbeat islands protecting their eco-systems and making them quieter and more unique travel destinations.
The island of Koh Kood is one of the best places to get off the beaten path in Thailand, and it attracts primarily families and couples looking for a peaceful getaway.
You could easily spend the whole day on the beach at Klong Chao, dipping in and out of the water and popping into beachfront restaurants for meals and drinks.
For a little more activity, you can head out on diving, snorkeling, or kayaking trips. Or, rent a motorbike to explore the island independently, making sure not to miss the Secret Waterfall, the famed giant Makka trees, and the fishing village of Ban Ao Yai.
Koh Kood is part of Thailand's Eastern Seaboard, and ferries to the island leave from Laem Sok Pier, about 30km west of Trang, which has many daily buses. Ferry tickets also include transportation to your hotel once you arrive on Koh Kood.
The island's best-known hotel is perhaps Soneva Kiri (an eco-resort offering sustainable luxury to the tune of $1,500/night), but there are plenty of budget and midrange options as well, such as Cozy House and Neverland Beach Resort.
---
Book your stay at Neverland Beach Resort here
---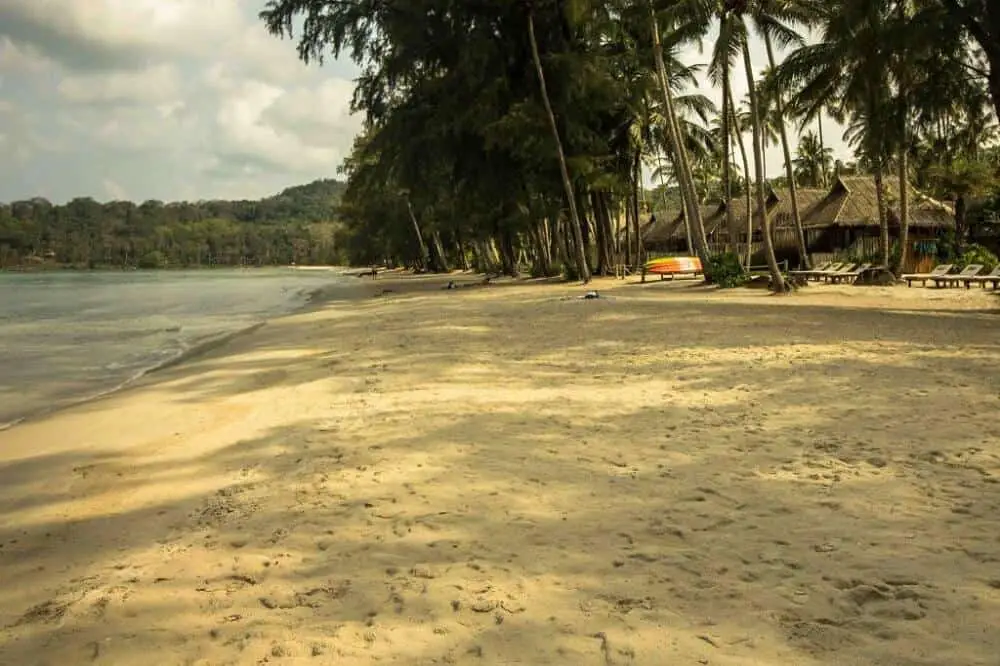 Ang Thong Marine National Park
By Adriana of Czech The World
Ang Thong National Marine Park is a group of 42 picturesque islands in the Andaman sea with white sandy beaches, turquoise water, and limestone cliffs. It's a perfect destination for those who want to escape crowds – this place still remains quite undiscovered. If there are any people, only a few of them stay overnight, which means that after the last boat leaves, you have the island pretty much to yourself.
Ang Thong is a perfect place for kayaking, which you can rent on the main beach. You can paddle to the other island with saltwater lagoon or find any other beach on any of Ang Thong's islands.
There is also a beautiful view of all 42 islands from the top viewpoint of the main island. It's quite a steep climb but well worth it. Adventure seekers can enjoy a local limestone cave called Bua Bok. There are also some snorkeling spots accessible by long-tail boat.
You can get there either from Koh Samui or Koh Phangan by boat. Those boats are "day trip boats" but you can arrange it so that they will pick you up a few days later. The Ang Thong campsite is beautiful! You can bring your own tent or rent one for a small fee. There is also a possibility to stay in a bungalow.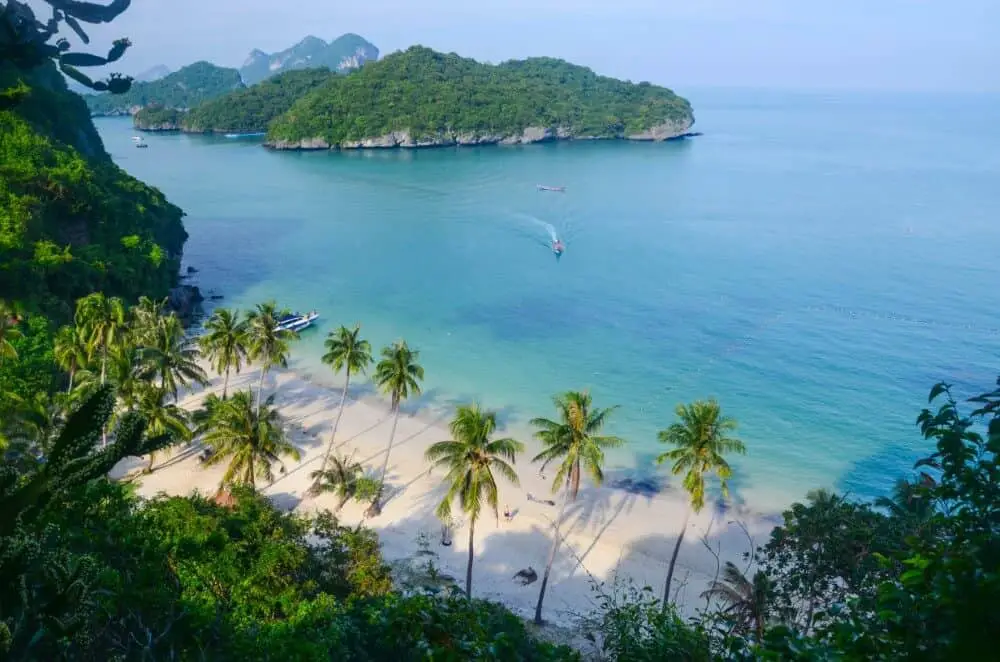 Koh Bulon Lae
By Jeanne from Learning to Breathe Abroad
Koh Bulon Lae is about as off the beaten path as an island in Thailand can get. This tiny paradise island is located in the Andaman Sea to the West of Saturn Province of Southern Thailand. Getting there will take a little extra effort but it will be worth every minute of your travel time.
Koh Bulon Lae lies in the middle of the ferry route from Koh Mook to Koh Lipe. Despite this being a popular ferry route, most people don't bother getting off here.
Probably because there isn't even a jetty. You simply plop off the side of the ferry, into the water and wade your way to the shore. The ferry passengers clearly don't realize they're missing one of Thailand's best-kept secrets!
Walking from one side to the other should take no longer than 20 minutes, as the island is really small. Where you stay doesn't really matter, as everything is easily accessible with a few minutes walk.
We applaud Koh Bulon Lae for being one of Thailands only eco-friendly islands! There is no electricity during the day and a solar powered generator provides electricity for a few hours in the evening – should you want to charge your electronics.
Everything is recycled and the island is spotlessly clean. There are only a handful of places to stay and in order to preserve the island, they will not allow more accommodation to be built.
There is as much or as little to do as you desire. Go snorkeling, explore the rubber plantation, go fishing or just put your feet up and completely relax. There is no better place to escape the maddening world than on the paradise tropical island of Koh Bulon Lae.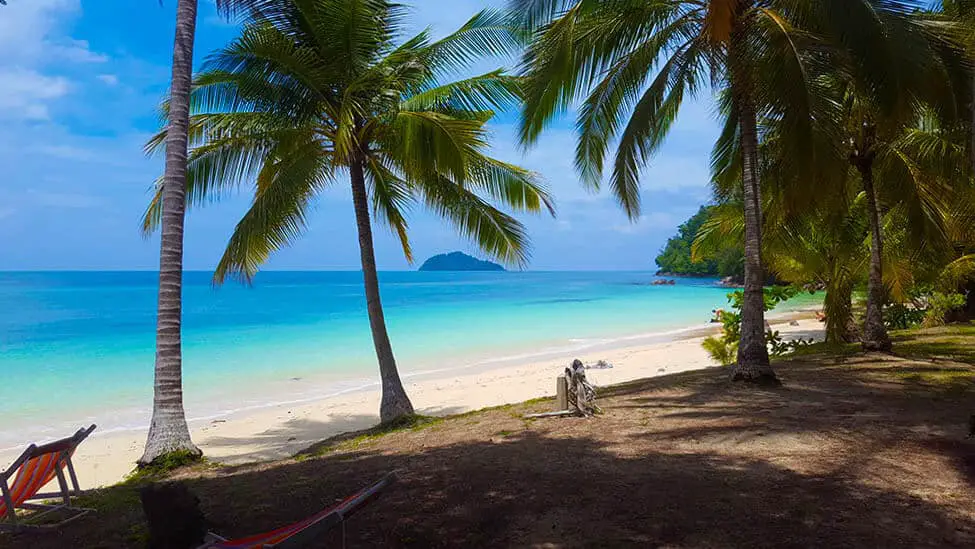 Phetchaburi
By Corritta of Itz A Family Thing
If you are looking for unique once and a lifetime experiences off the beaten path in Thailand, Phetchaburi is the perfect place for you. It is found two hours outside of Bangkok and is well worth the journey.
This is where Wildlife Friends Foundation Thailand is found. This organization is dedicated to caring for neglected, malnutritioned, mistreated and injured animals. Their largest project is their elephant sanctuary, which offers care for previously domesticated and abused animals throughout the country. If you have ever dreamed of interacting with elephants ethically, this is it.
If you are looking for a different fun adventure, the village offers a lot of different activities. You can spend the day getting your adrenaline pumping with flying banana boats, jet skis, and snorkeling.
For a more cultural experience, you can eat traditional Thai food in several different local restaurants.
The Wat Khao Look Chang temple is only a five-minute walk from the WFFT rescue center. This area is believed to be one of the areas where Big Buddha himself walked. Remember, cover your knees and shoulders before entering the temple as a sign of respect.
To finish off your evening be sure to head to the bat caves at sunset. The caves are 5 kilometers away in a beautiful hidden mountain. Over 10 million bats take flight from this cave and you can see them take off above your head, cutting the sky as the sun sets.
---
Book your stay at J-House Phetchaburi here
---
Sai Yok Noi National Park 
By Fiona from Passport and Piano
Sai Yak Noi National Park is a fantastic place to stay if you want to explore the attractions of the Kanchanaburi Province.  It makes an excellent base for a visit to this region, as its situated almost equal distance from Kanchanaburi and Erawan Waterfalls.
The area is famous for its connections with the film Bridge over the River Kwai, and the 7 waterfalls at Erawan are some of the best in Thailand.
It takes approximately 3 hours by minivan to get to Sai Yok from Bangkok.  The area is often visited by tourists on a day trip, but the region is stunningly beautiful and to explore it properly you need at least a few days.
You can catch the train from Thonburi station in Bangkok to Kanchanaburi and then continue along the death railway to Nam Tok station. From Nam Tok, it's easy to get a taxi to nearby hotels.
Staying on a floating raft hotel is a unique experience that I can personally recommend, but there are plenty of other good options if you prefer dry land.  You can find more information on the best hotels in Kanchanaburi here.
As well as trekking through the national parks, a visit to hellfire pass museum is worthwhile, as is visiting one of the many temple caves around the area. Sai Yok Noi also has its own waterfall which you can swim at and although it's not as impressive as Erawan falls you can have an enjoyable afternoon there.
---
Book your stay at Good Times Resort here
---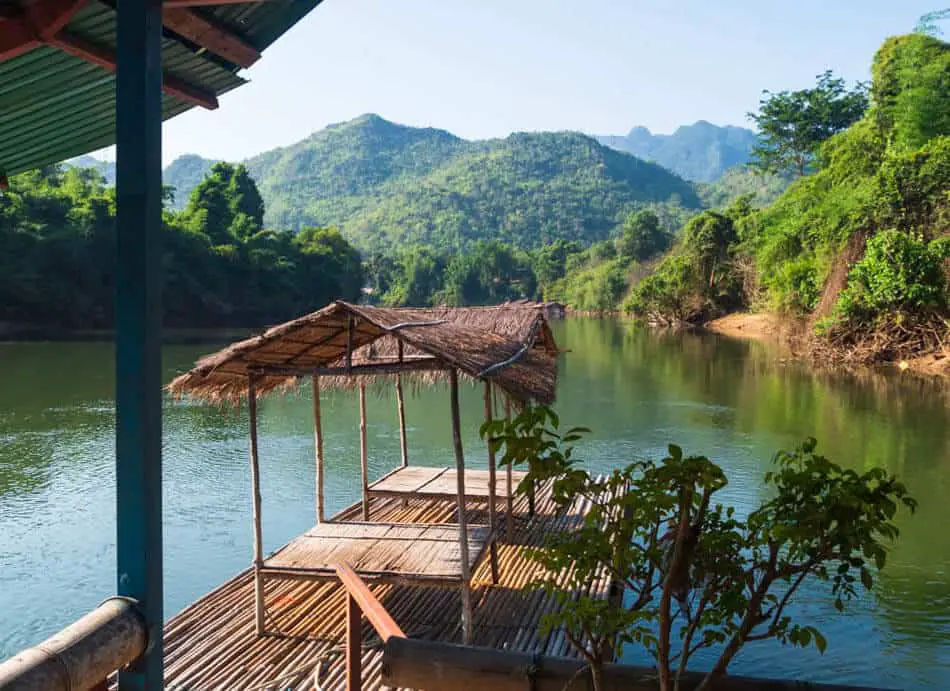 Ko Chang (Andaman Coast)
By Wendy from The Nomadic Vegan
If you are looking for a quiet and peaceful island where you can get away from the party scene that has taken over so much of Thailand, then the small, forested island of Ko Chang on the Andaman coast is an excellent choice.
There is a more popular island by the same name that's in Eastern Thailand and is the second largest island in the country, so be sure not to confuse the two! This Ko Chang is much smaller and is located near the Burmese border in Ranong district. It's very undeveloped, so it's perfect for getting away from it all, but don't expect a lot of facilities or infrastructure. There are no cars on the island, and the electricity supply is sporadic.
The only way to get to Ko Chang is by taking a long-tail taxi boat from Ranong. It's a pleasant journey and takes about two and a half hours. You won't find any big hotels here, just little bungalows made out of wood or bamboo. If you let the driver of the boat know where you are going, he'll drop you off at the bungalow of your choice.
If you're expecting a stereotypical paradise beach, you might be disappointed. The sand here is not bright white like on nearby Ko Phayam, which attracts more tourists. But if what you want is to swim in gentle, warm waters, eat yummy local Thai food and sip on a sundowner while gazing out at the ocean, Ko Chang is the place.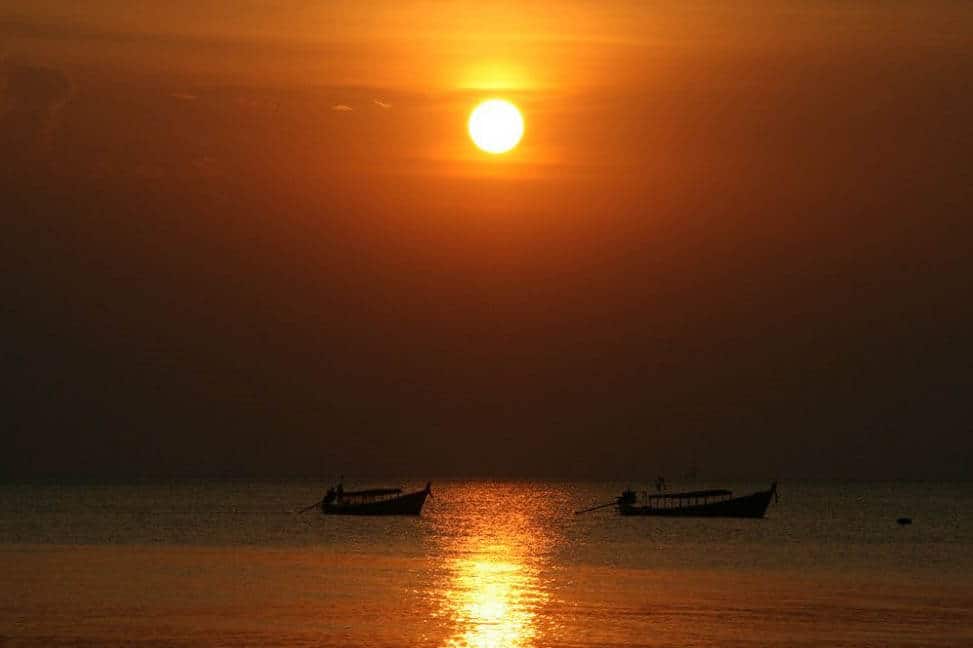 Chanthaburi
By Jenny from TraveLynn Family
Chanthaburi is a relatively unknown gem, which nicely breaks up the journey between the bright lights of Bangkok and the chilled out island vibes of Koh Chang (3.5 hours from Bangkok and 2.5 hours from Koh Chang).
This is a fantastic option if you are short on time and want to avoid an internal flight or overnight train. Although, this sleepy old gem town nestled on the banks of the River Chanthaburi, and oozing in history, is worthy of a couple of nights stay in its own right.
Spend day one wandering around the narrow streets, gem markets (open weekends), the temples and cathedral (the biggest in South East Asia). On day two, arrange a songthaew to take you to Namtok Phlio National Park for a jungle adventure!
Ensure you are all lathered in mossie repellent and pack drinking water. It's a 20-minute drive to the gates and then 1km loop walk around the river visiting various pools full of large nibbling fish, fed by cascading waterfalls. If you're brave enough, pop in for a dip with the locals!
---
Book your stay at Am2tree here
---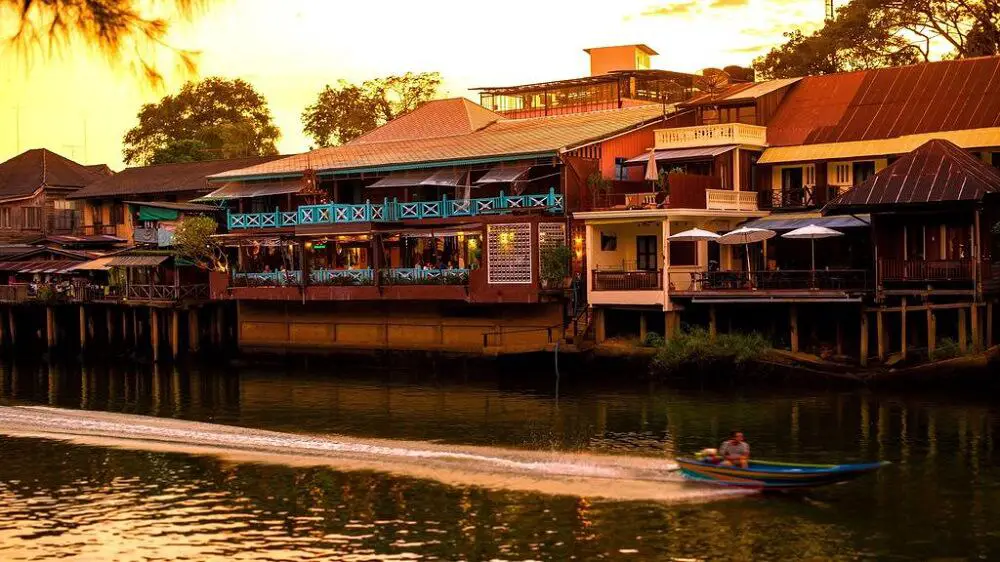 Mae Hong Son
By Jess from Unearth the Voyage
Thailand is a wonderful country to visit, but there aren't many places to go where there aren't a hoard of other travelers/tourists around every corner. When we were in Thailand, we were looking to spend some time in a town that felt like authentic Thailand, without all the other tourists.
That is why we found ourselves in Mae Hong Son, a town in the northwest corner of Thailand right by the border between Myanmar and Thailand. We found ourselves there after spending a week at a secret Meditation Retreat hidden in the Thai jungle between Pai and Mae Hong Son.
At first glance, it seems like there isn't a ton to do in Mae Hong Son, so we decided to rent a motorbike to explore the area surrounding the city. About 12 km outside of the city is a bamboo bridge built over rice paddies that leads you to a gorgeous temple perched on a big hill.
Besides exploring outside of the city, Mae Hong Son has a gorgeous lake with restaurants and places to eat street food surrounding it. If you are looking to get away from the hustle and touristy areas Mae Hong Son is a great place to spend some time just soaking up the local Thai life- without all the other tourists!
You can easily get to Mae Hong Son by minivan.
---
Book your stay at Sarm Mork Guest House here
---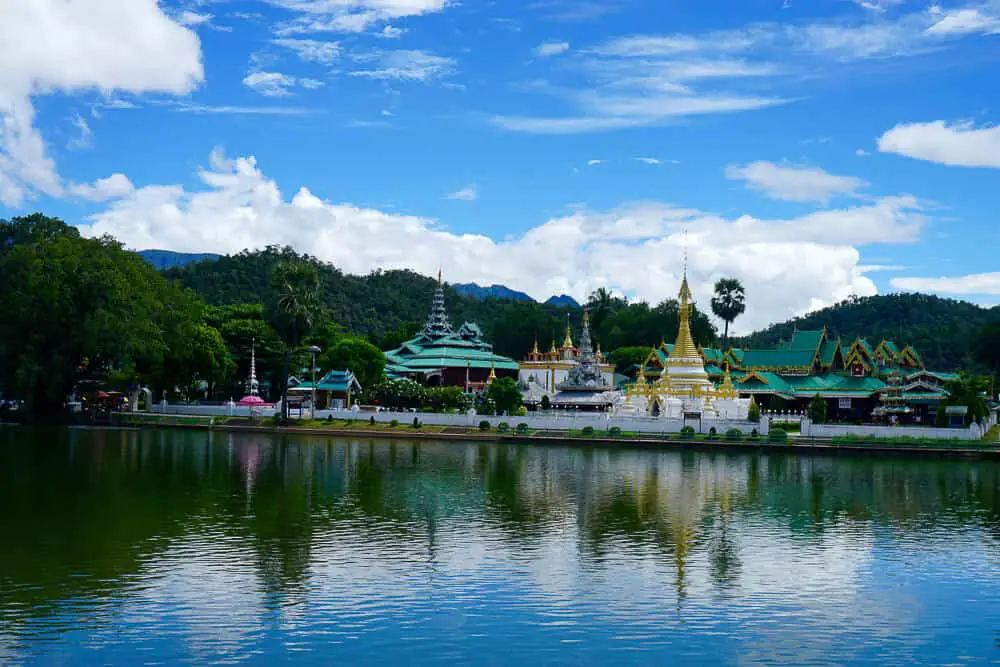 Sukhothai
By Karolina from Lazy Travel Blog
A refreshing change from the usual wats you can find around Bangkok, Sukhothai's ancient ruins is an off the beaten path destination that must not be missed when you visit the Land of a Thousand Smiles.
The cradle of Thailand's Golden Age, you will find yourself amazed by the magnificent structures and elegant Buddha statues that fill Sukhothai's, Historical Park.
Wat Si Chum, in particular, has a giant seated Buddha that is always featured in travel magazines and postcards from Thailand.
Sukhothai is located halfway between Bangkok and Chiang Mai. The best way to reach it is by catching one of the buses at Mo Chit Station. As it is a 7-hour journey, do spend the extra Baht for comfortable VIP seats. You can also take the train to Phitsanulok and take a bus from there.
And, in order to make the most of your stay there, do rent a bicycle to travel the long distances between ruins around the vast historical park as well as the museums and markets outside the park.
---
Book your stay at Smilingface Guesthouse here
---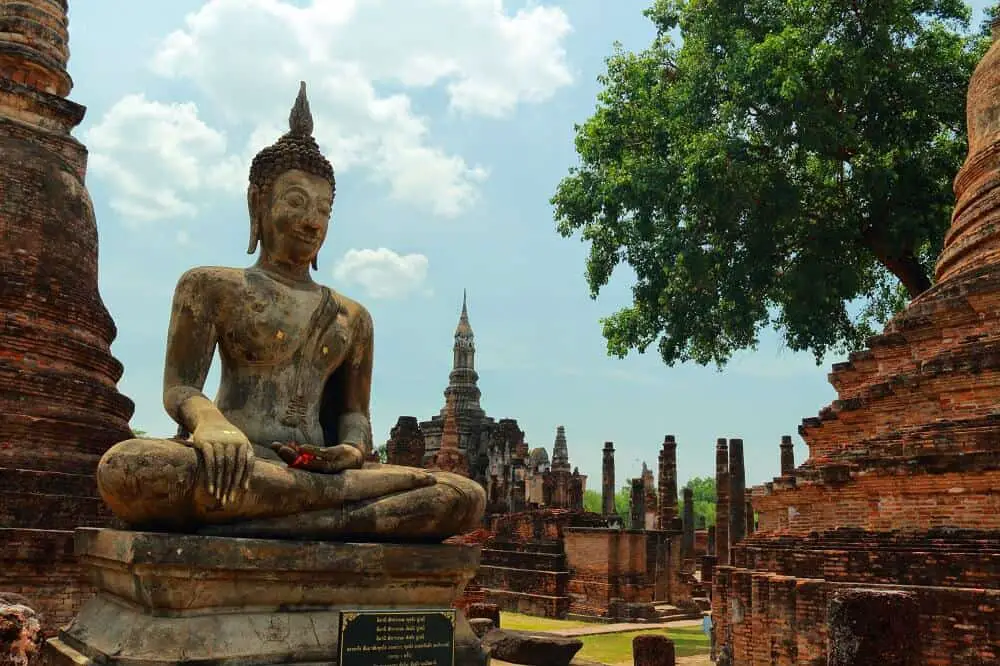 Koh Wai
By Claudia from My Adventures Across The World
Koh Wai is one of the best yet lesser visited islands in Thailand. It is located off the southern coast of Koh Chang, a significantly more crowded island, and it can be reached via a 25 minutes boat ride (on a fast boat) that departs from the pier of Bang Bao.
Koh Wai doesn't have roads and traffic: there is just a trail that goes around the island. This is the kind of place where you can really disconnect from the rest of the world.
The lack of reliable wifi (there is just one wifi hotspot at a small restaurant on the island) means you can really concentrate on relaxing and on enjoying what the island has to offer.
Koh Wai has two main beaches. Both of them have fine white sand and incredibly clear waters with an incredible variety of colorful fish, making it a real pleasure to snorkel.
There are no resorts but a few huts on the beach that don't even have regular electricity – so chances are you won't have air-con but will have to rely on the light marine breeze to cool down at night.
The island gets visitors who hop there on a day trip, but they usually leave at night. It may get a bit more crowded on certain days, but chances are that if you spend a few days on Koh Wai, you will share the beach with no more than 5 other people.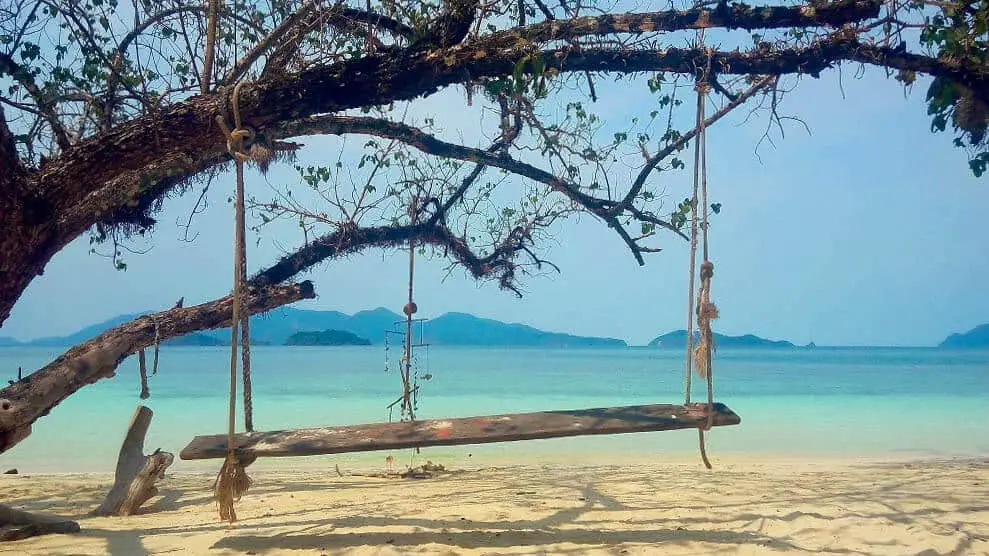 Hat Yai
By Marco from Penang Insider
Even if Hat Yai is the most important rail and transport link in the Deep South of Thailand, very few people linger longer than the time needed to catch onward transport.
Reason is, Hat Yai has received some bad rep in the past because of the spill of some unrest (read bombings) from the nearby provinces of Yala, Pattani, and Narathiwat, which harbor Thailand's Islamic separatist groups.
In reality, Hat Yai is pretty safe to visit these days and a major rail link for trains onward to Malaysia and Penang island. Many Malaysians come here for the shopping, and you should try, too: the Yongdee, Suntisuk, Phaeng Thong and Asia markets are all in walking distance from the train station, around which the old town of Hat Yai is centered.
The Kim Yong Market, located on the corner of Supasamrangsan Road and Phetkasem Road is also very interesting and full of different street vendors. But the best is the Khlong Hae Floating Market, only open on Fridays and Sundays — friendly people, good food, and not the crowds you'd find in Bangkok's floating markets, for sure.
When you get enough of shopping, the nearby town of Songklha, only 15 km away (catch a bus from Hat Yai's clock tower)offers nice beaches (Samilla beach, with a statue of a mermaid combing her hair, is the most famous), good seafood, and Sino-Thai shophouses covered in attractive street art.
Once back to Hat Yai town proper, the Municipal Park has some interesting statues and a cable-car. Before you leave, don't miss an off-the-beaten-path gem on the outskirts of Hat Yai town, the impressive Phra Maha Chedi Tripob Trimongkol, or Stainless Steel Temple.
Come at night, and the mixture of green lights and futuristic, needle-like metallic shape of this strange temple will blow your mind.
---
Book your stay at Bhava Residence here
---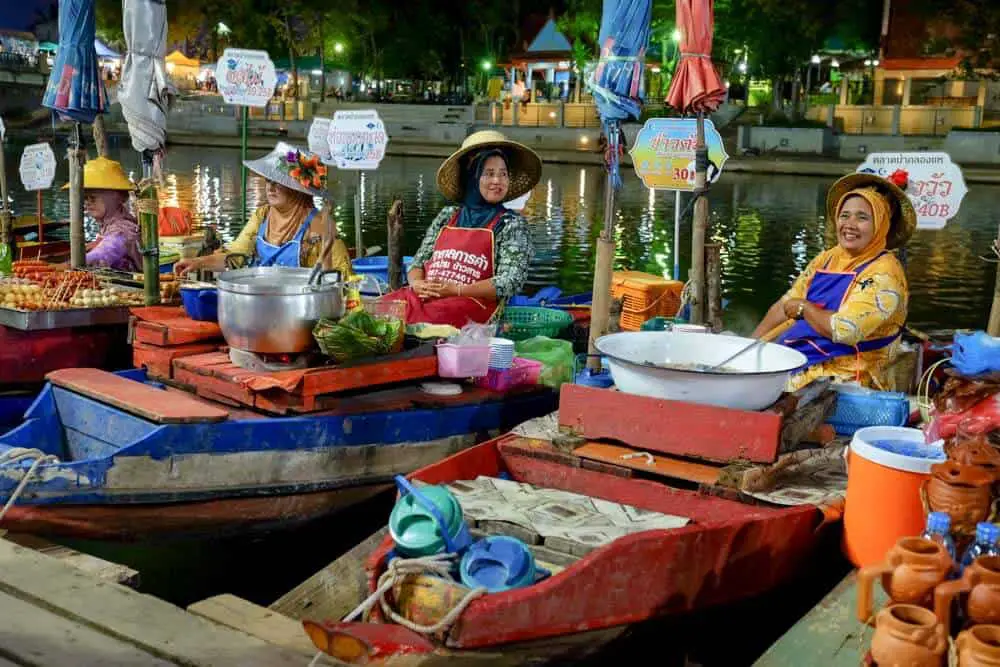 Cheow Lan Lake
By Darja from DeeGees
Thailand is known for its heavenly beaches and magical temples, so hardly anyone associates the kingdom with spending a weekend on a lake. And that's a shame! Khao Sok National Park and particularly the floating bungalows on the park's Cheow Lan Lake are one of the most unique yet less touristy places in Thailand.
Proud limestone karsts and lush greenery of the lively jungle surround Cheow Lan Lake making it a gorgeous getaway from the city. You can completely disconnect from the civilization while staying in one of the romantically rustic floating bungalows where you won't have any signal nor internet connection.
Digital detox in the middle of breathtaking nature. You can swim, go kayaking, chase waterfalls, trek in the jungle, visit the park's caves or simply enjoy the picturesque views while reading a book.
Khao Sok National Park lies in Southern Thailand's province of Surat Thani and is accessible from all popular destinations in the area (e.g. Phuket, Krabi, Koh Samui, and Surat Thani).
Consider traveling in the rainy season (e.g. October) or shortly after it finishes to experience waterfalls and more adventurous trekking through the jungle towards the caves. This period is also generally far less popular among fellow Thailand visitors.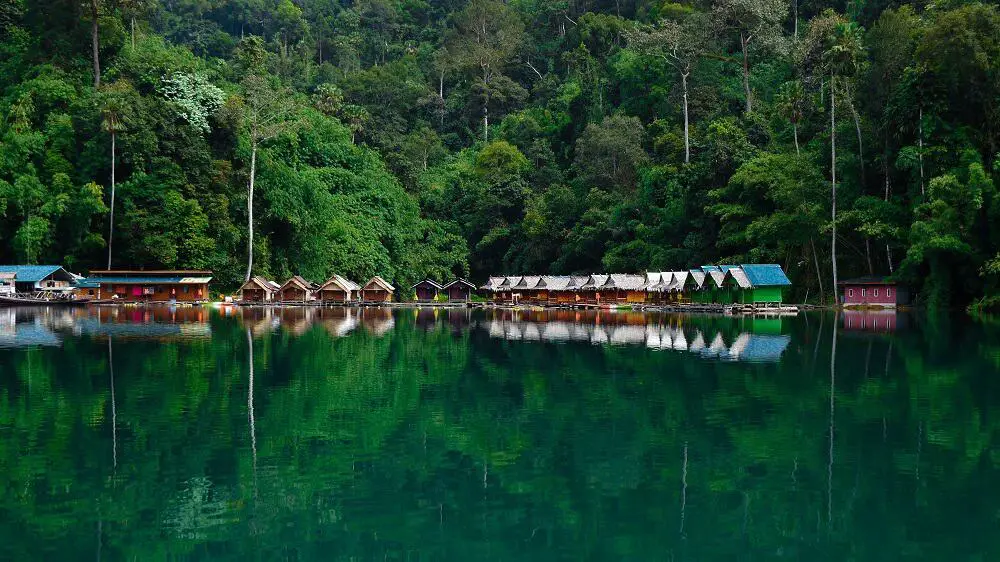 Buriram
By Allan from Live Less Ordinary
Buriram is a city and province in the Northeastern regions of rural Thailand, a region which is often overlooked by tourists and travelers, simply because it is hard to explore without personal or private transport.
At the same time, Buriram Province shares a wealth of attractions which to-date have gone relatively unnoticed.
This includes the Phanomrung Historical Park, a fascinating Khmer temple complex found along the ancient Khmer Highway which leads from over the border and through the better known Angkor temples of Cambodia. Only in Buriram, the ancient ruins are relatively tourist-free in comparison.
While Phanomrung is one of the more spectacular backdrops in the region, there are other ancient ruins nearby at Prasat Muang Tam, as well as the foundations of the more modern mountain temple of Wat Khao Angkhan. And all three of these attractions make the perfect day-trip from the city of Buriram itself.
Otherwise, Buriram City is an up-and-coming tourist attraction, known in the Kingdom as the City of Sports, where it hosts Thailand's largest football stadium and racetrack, and is not only home to Thailand's most successful football team (Buriram United) but now hosts the MotoGP.
For travel to Buriram, there is a local airport with direct flights from Bangkok, and buses leave regularly from Bangkok's Mor Chit Bus Terminal and take between 6 and 7 hours to the city center. From there it should be easy to source tours to the wider attractions in the Province.
---
Book your stay at T-REX BURIRAM BOUTIQUE HOTEL New Hotel in Buriram here
---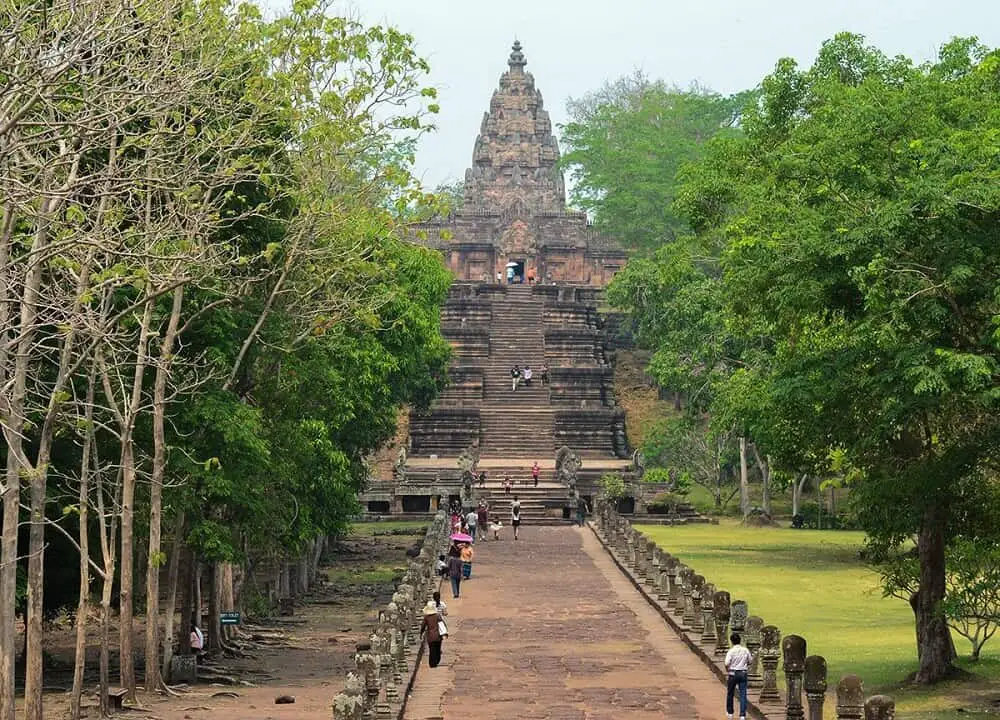 King Rama IX Park
By Ann Marie from Eco Conscious Traveller
If you're in Bangkok and want a little break from the madness of the city then a trip to King Rama IX Park is a must!
The park is actually the largest green space in the whole city and therefore a good break from the polluted air! Not many tourists to the city know about the park so it's great to find somewhere that's a lot less visited than all the major tourist spots!
The park is massive – it covers more than 200 acres of land! Wander around its beautiful lakes, structures and different gardens themed by country.
Head to the French garden (ooh la la!) or the Italian or American one! On a hot day, you can easily pick up some ice cream at one of the ice cream stalls!
The park isn't easily serviced by public transport and the easiest way to get there is to take the BTS Skytrain to Udom Suk station and then take a taxi to the park.
---
Book your stay in Bangkok at Chomm House here
---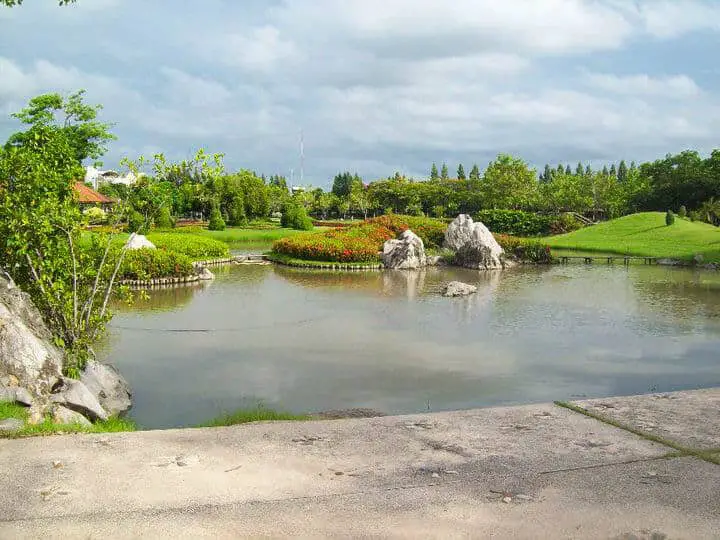 Chiang Rai
By Monique from MC Adventure Blog
Chiang Rai is an underappreciated gem in the north of Thailand. Often ignored in favor of Chiang Mai, it is definitely worth a visit for any off the beaten track traveler.
If you have seen pictures of the Blue or White Temples, or the Black House, you have been looking at Chiang Rai. These three beautiful sites are one of the core reasons to visit Chiang Rai and are also the reason that the area is slowly growing in popularity.
The Blue and White Temples are stunning pieces of art and design, while the Black House is a museum to all things dark and strange, definitely not your average museum!
Chiang Rai is also home to rolling rice paddies and tea plantations, as well as a variety of great coffee places. Chiang Rai is also the home of Elephant Valley, a wonderful ethical elephant sanctuary that you can visit and volunteer at.
If you're really looking for something to remember your trip, you can get a Sak Yant tattoo done in the traditional style by Ajarn Ton. The Ajarn is gentle and kind, and you will definitely have a unique (but not painless) experience to forever remember your journey to the north of Thailand.
Chiang Rai is easily accessible by bus from any of the major hubs, and also has its own airport.
---
Book your stay at Hop Inn Chiang Rai Clock Tower here
---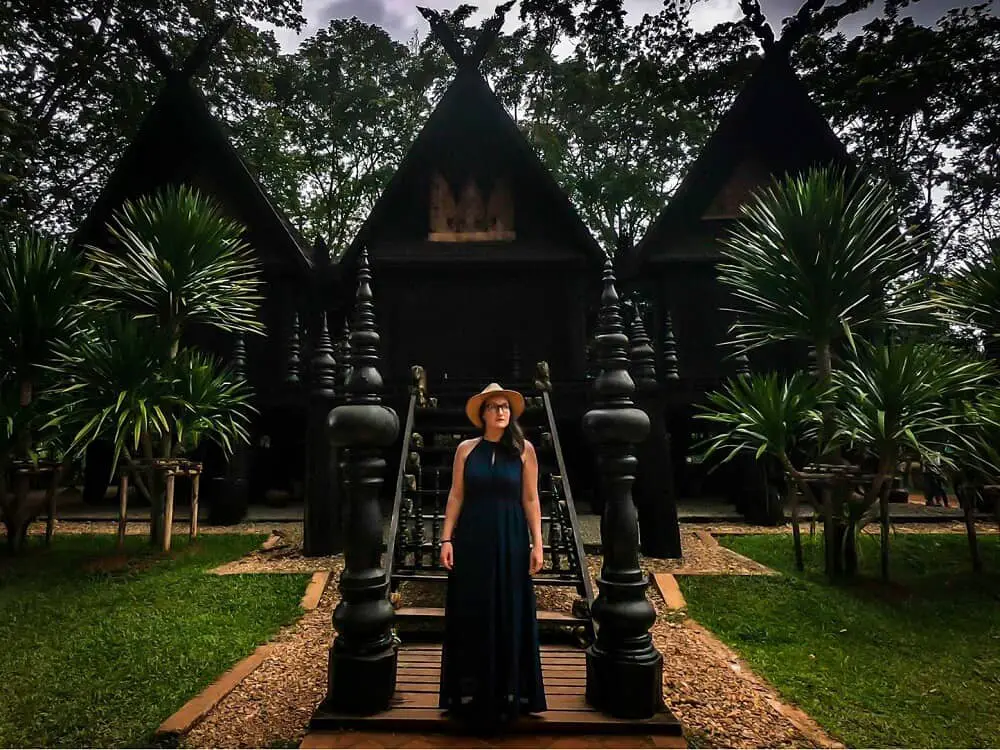 Erawan Museum outside Bangkok
By Neha from Two Flashpackers
The Erawan Museum is a hidden gem in Thailand, located just outside Bangkok that is often skipped by tourists. The museum was built by  Lek Viriyapant, a Thai millionaire who wanted a place to preserve some of Thailand's heritage artifacts.
Located in Samut Prakan province, around an hour outside Bangkok, it can be reached by the BTS Skytrain (station Chang Erawan) from where it is a short taxi ride away.
If you have any interest in beautiful buildings, amazing architecture, visually stunning interiors and lush grounds with plenty of sculptures, this is the place for you.
The construction of the building and its grounds has been done based on mythological stories and cultural history. The roof has a giant statue of a three-headed elephant that is visible from miles away.
Inside, there are three levels representing the underworld, earth, and heaven. The stained glass ceiling of the first level is eye catchingly beautiful and will take your breath away.
The interiors have been done up beautifully. The ground floor houses a collection of Chinese vases from the Ming dynasty along with photographs depicting the history of the museum.
Another beauty is the uppermost level with its psychedelic ceiling representing the cosmos. This level houses some relics of the Buddha along with old Buddha statues of different eras including Ayuttaya, Lopburi, Lanna, and Rattanakosin periods.
The grounds are filled with trees, gardens, sculptures, and ponds creating a harmonious environment. Souvenir shops and food stalls are available. 
It is best to rent an audio guide to understand the concept and the purpose behind each installation in the museum as well as the gardens.
For more cultural spots, check out our post on Chiang Mai here.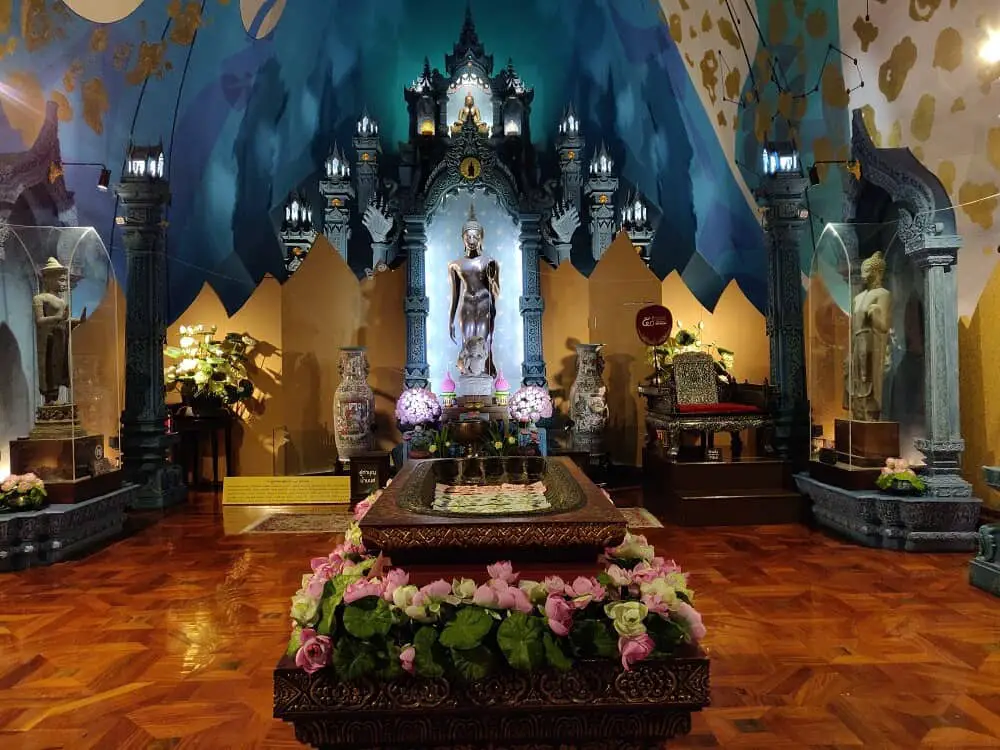 Mae Sai
By Mark from Wyld Family Travel
Mae Sai is the northernmost town in Thailand only an hour north of Chiang Rai. Mae Sai is popular with backpackers as one of the points where you can cross the friendship bridge in Tachelnik Myanmar and back to renew your Thai visa.
Right in the middle of the Golden Triangle with Myanmar and Laos Mae Sai deserves more than a stopover.
The Main Street of Mae Sai leads down to the border with lines of cars and trucks. The main Street resembles a market the closer you get to the border.
Stalls selling fake goods, clothes and souvenirs. After dark, the food carts move in and the street becomes a giant restaurant.
Mae Sai has lots of outdoor areas to explore and some important caves. There is a scorpion temple that is unique and worth a visit. Mae Sai excels as a shopping destination and border crossing point.
---
Book your stay at Orasa hotel here
---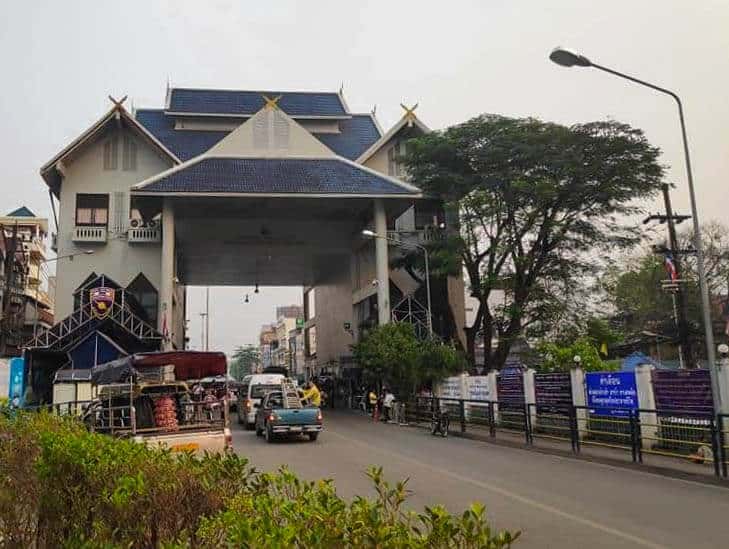 You might also like: Epic Morocco off the beaten track destinations!
Responsibility of exploring hidden gems in Thailand
It comes a lot of responsibility with exploring hidden gems in Thailand. Not only towards the animals as I talked about earlier in this post, but also towards the locals and the environment.
Common respect towards the locals is essential and you should always be humble towards the people that live in the place you're visiting. If language barriers become a problem, solve it with a smile and sign language.
Use a reusable filtered water bottle instead of buying water bottles. and don't leave any waste behind. It's even better if you pick up after others too. As a responsible traveler, you can even engage fellow backpackers in doing a beach clean up.
---
Get a filtered water bottle here
---
When is the best time to visit Thailand off the beaten path?
Thailand's weather can be divided into three seasons. The hot season, the cool season and the rainy season.
The hot season is from the middle of February to the middle of May, and the best time to visit southern and eastern islands for the best beach weather.
The rainy season starts in May. In the north and northeast of Thailand, the rain slows down in October and temperatures go colder. The south of Thailand will normally receive a lot of rain until December. Even though it is the rainy season, you can enjoy the country and even the beaches as rainfalls normally only last a short time. Also, swimming in the hot sea with fat raindrops falling down is a huge exotic experience that I am sure you will want to repeat.
The cool season continues until the middle of February. It is mainly in the northern part of the country that temperatures become really cool, especially in the high areas. This is a perfect time of year to go hiking.
In general, the average temperatures in Thailand will vary between 18 and 38 degrees throughout the year.
---
Book your flights to Thailand here
---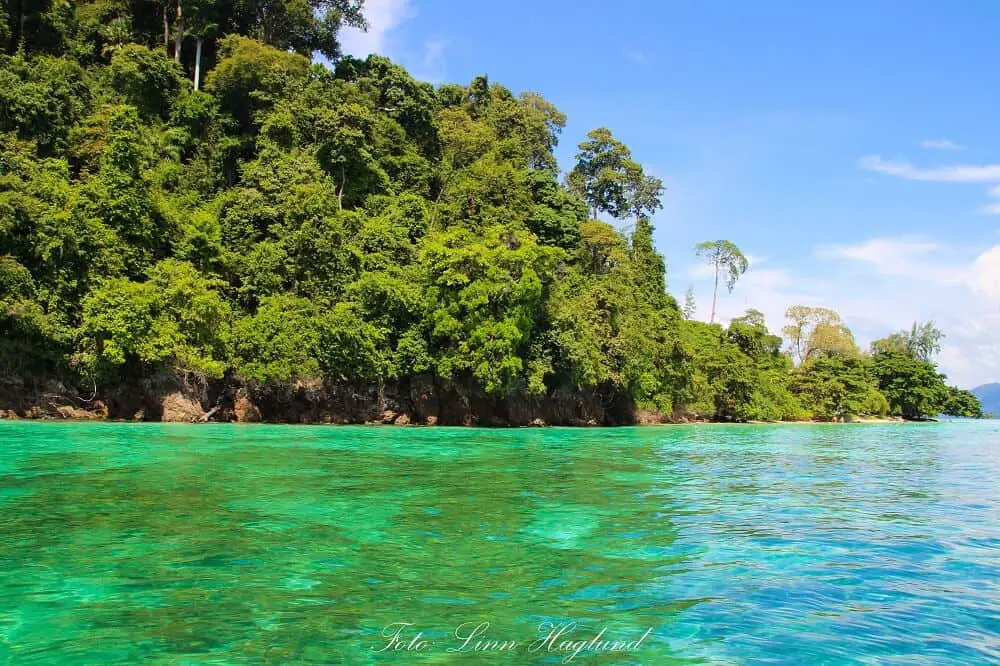 Plan your off the beaten track in Thailand trip
Hopefully, you already have a couple of new destinations on your bucket list. To start planning your trip to Thailand I recommend Lonely Planets travel guide. It has heaps of recommendations for Thailand off the beaten path. It is a great way to stay "offline" when you get to Thailand so that you can enjoy your journey even more.
You can book your accommodation directly on Booking.com. I use them regularly and they have a broad variety of accommodations all over the world with safe payment methods. I only experienced once that the hostel I had booked was overbooked (and this is over ten years ago). This was the hostels' fault, but Booking.com solved it professionally and I got my money back in less than two days.
---
If you haven't booked your flight yet, make sure you book it right here!
---
Make sure you get good travel insurance before you go. I always use World Nomads Travel Insurance. They also ensure extra gadgets as camera and laptop as well as adventure tourism. Get a quote today.
Have you experienced Thailand off the beaten track? I would love to hear about your trip in the comment section whether it is one of the above places or a different destination.
Did you like this post? Pin it for later!