If you're wondering if Krakow the winter is worth it, imagine warm cozy cellar bars, weird hot drinks, idyllic snow covered streets, colorful pastel buildings, ice skating rinks, and Christmas markets. Add historical buildings, old castles, a spectacular underground salt mine, and the horrors of World War Two. Krakow has so much to offer and the winter months are no exception. They just bring more magic and more chills to the experience. Here are my top picks for things to do in Krakow in winter.
Disclosure: This post may contain affiliate links. That means that if you make a purchase through one of those links, I will get a small commission at no extra cost to you.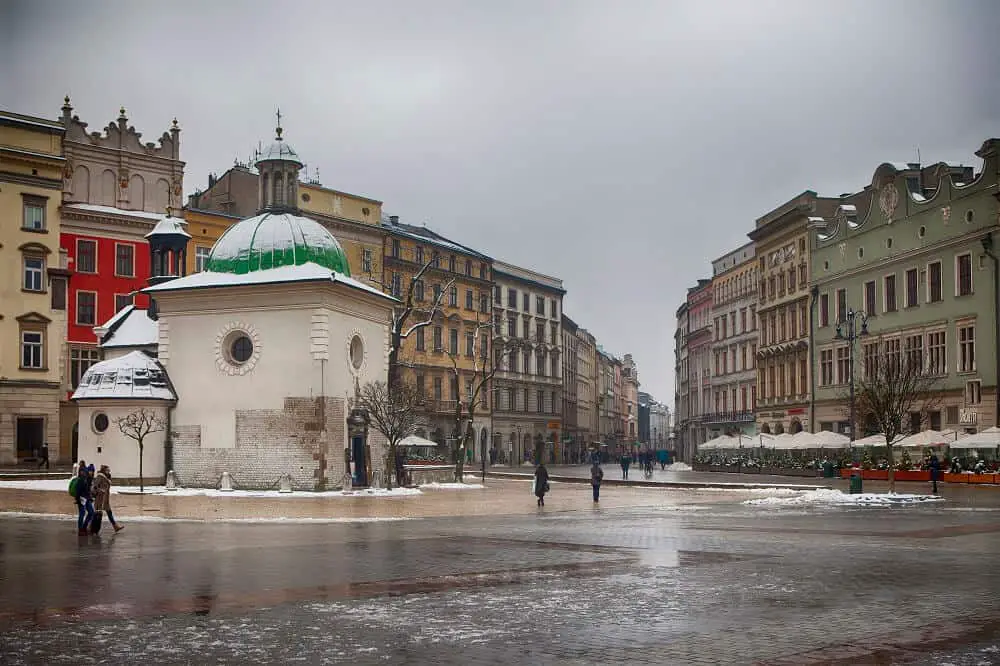 What to expect from winter in Krakow
I must say I was surprised the first time I went to Krakow in winter. I definitely didn't expect it to snow! But it did and it turned into this magical winter wonderland with beautiful structures everywhere, cute, charming bars underground with incredibly friendly locals.
So, was it cold? Yes. Krakow winter temperatures get between -5 and +5 degrees in average, which is perfect for snowfall, but it can also rain.
You should definitely bring your winter coat, mittens, beanie, and scarf. There are plenty of cozy places to warm up and weird hot drinks you can't even imagine.
Krakow gets fewer tourists in winter too, which makes it the perfect off-season vacation, yet it is one of the best day trips from Warsaw.
But if you're into Christmas Markets, Krakow in December is absolutely amazing, and despite the tourists, it's totally worth it and one of the best winter city breaks in Europe.
Krakow in January and February might not have the Christmas markets, but it's a wonderful time to visit for all the charm this Polish city has to offer. In general, Poland in winter is just amazing!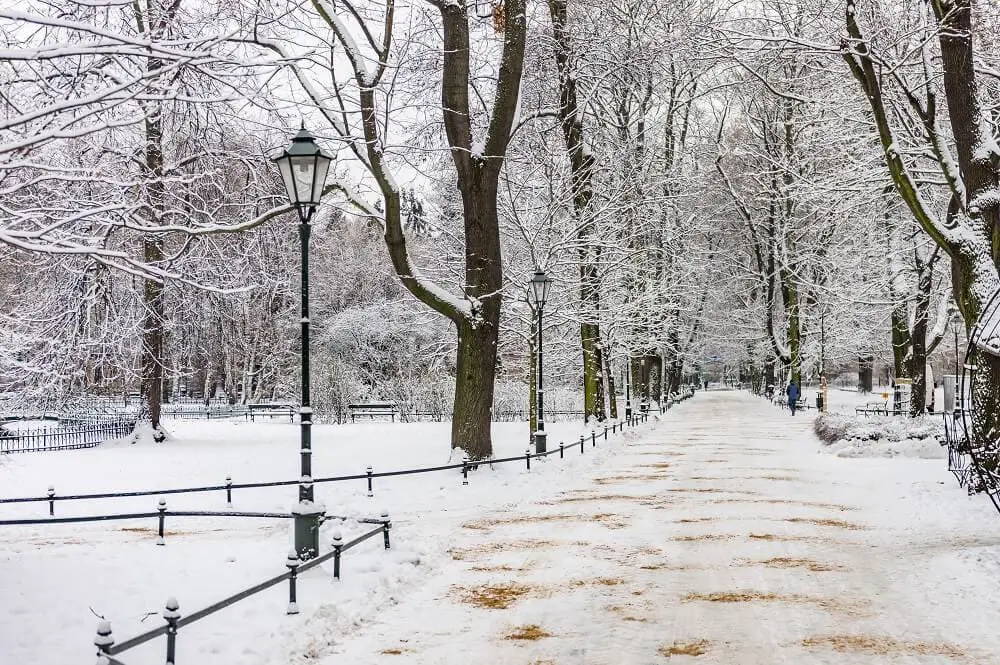 ---
RELATED: Things to do in Gdansk in winter
---
Things to do in Krakow in winter
Krakow in winter is pure magic and there are plenty of things to do no matter if you get snow or not. Truth is, Krakow with snow is breathtaking. Here are my top picks of things to do in Krakow in winter, including a visit to Auschwitz.
Visit Wawel Castle
No matter what time of the year you go. Wawel Castle needs to be on your Krakow itinerary. This is where you can learn about the legend of the dragon that lived beneath the castle. The dragon that commanded human sacrifice every week until two princes defeated it.
The castle is stunning and you can visit the royal apartments, state rooms, and the armory. The naked trees makes the place more mystical, especially if you get snow. Wawel Castle is definitely the highlight of all the Krakow winter activities.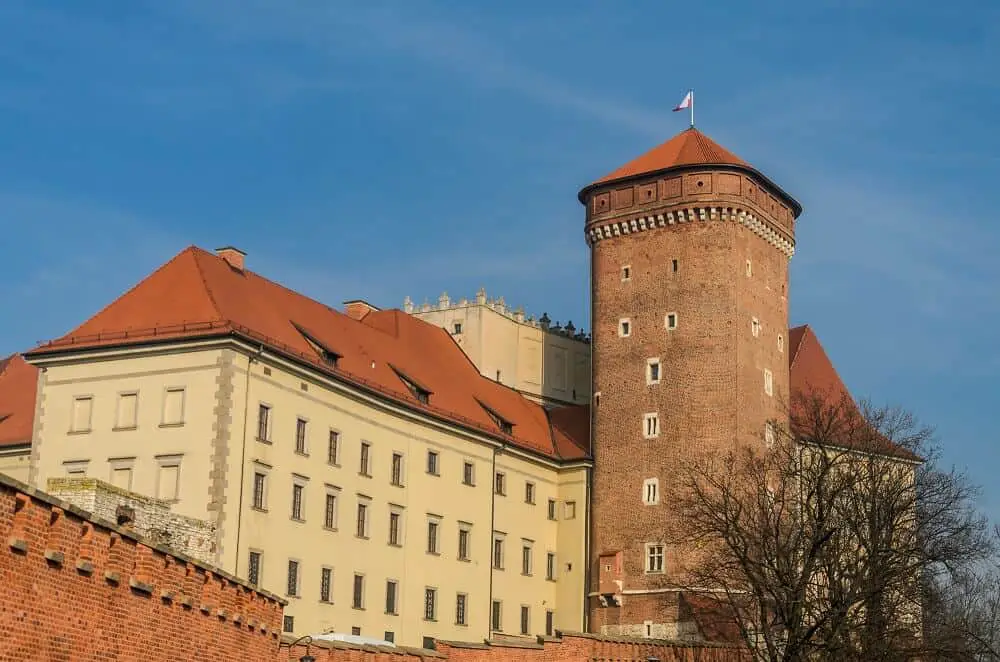 Visit Christmas Markets
Krakow is great for Christmas markets during December month and you can walk around Market Square looking for cute Christmassy things, home made ginger bread, and other Christmas treats. If you're lucky it will even snow!
It's hard to compete with a European Christmas Market, especially in the dark evenings and this is one of the best things to do in Krakow in December.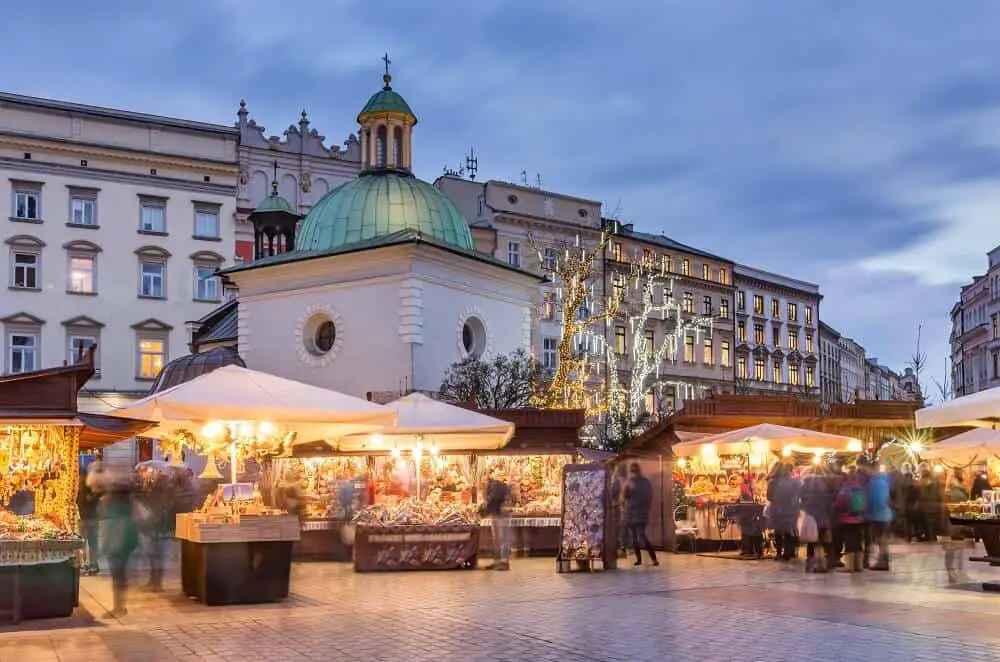 Juliusz Slowacki Theater
Why not get theater or opera tickets at Juliusz Slowacki Theater to escape the cold? The UNESCO World Heritage site is a true joy to the eye both outside and inside. It's an astounding architectural masterpiece from 1893 that was modeled after different European Baroque buildings.
There are only tours of the theater in the summer months, so you'll have to book a ticket for an actual play if you want to go inside in winter. But that makes it so much more unique. Walking inside takes you straight back in time, the details are incredible and it's definitely worth going and an excellent excuse to warm up inside with a bit of culture.
To get information about plays, check the official website here.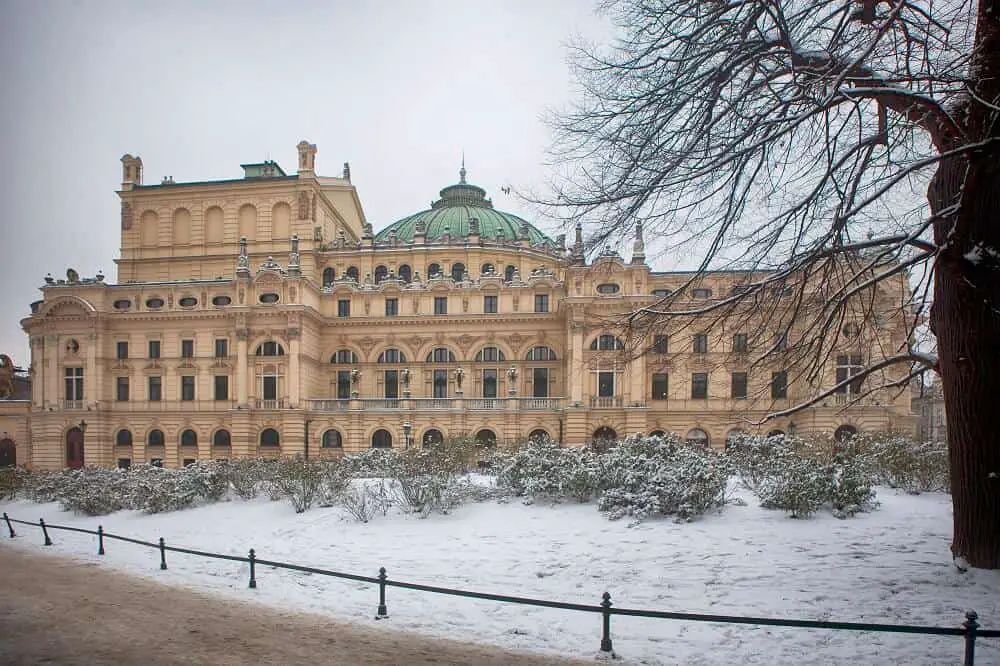 Warm up with mulled wine and other local hot drinks
What better than warming up with local mulled wine during your Krakow winter vacation? Krakow is famous for its warm winter drinks and not only mulled wine.
In Poland, it's popular to drink warm, spice-infused beer with floating fruit. Sounds peculiar? Yeah, maybe. But while in Poland you might as well give it a try!
The Polish are renown for their different hot drinks, so mingle with the locals and try out the different drinks over a laugh.
I can tell you that the hot beer wasn't at all my thing, but I'll never forget the laughs I had with locals over my disgusted expressions (that I totally failed to hide) when trying it!
When looking for something to eat with your drinks, you might be delighted to know that Krakow is rated one of the best cities for vegans.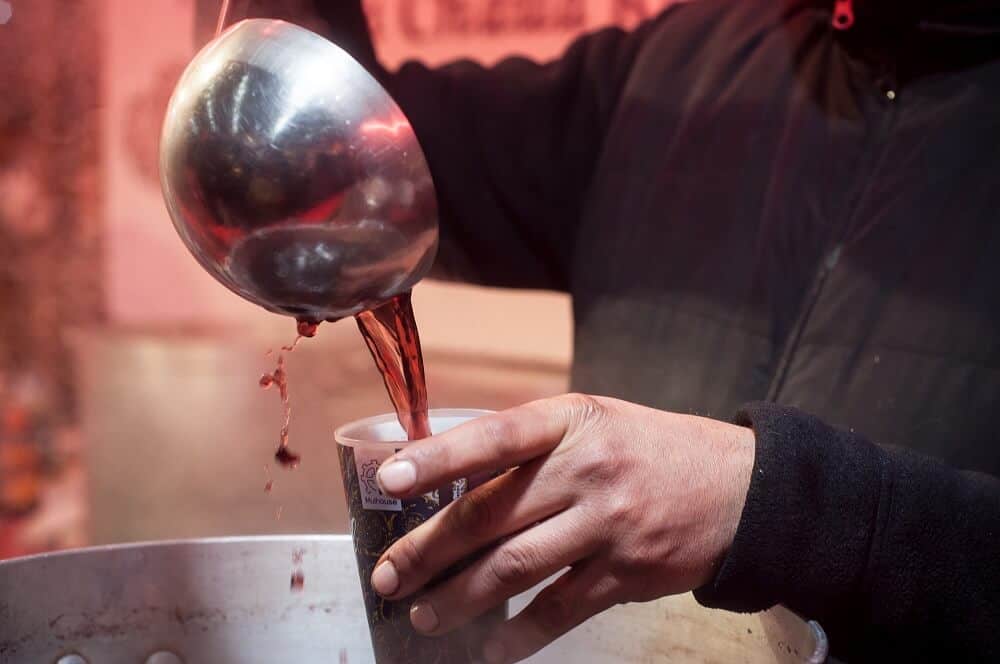 Go ice skating
There is nothing more romantic than going ice skating on the ice skating rink in Krakow. Between mid-December and the end of February you can enjoy the ice in Jordan Park not far from the old town.
You can of course rent skates there, so you don't have to carry them with you for your Krakow winter break.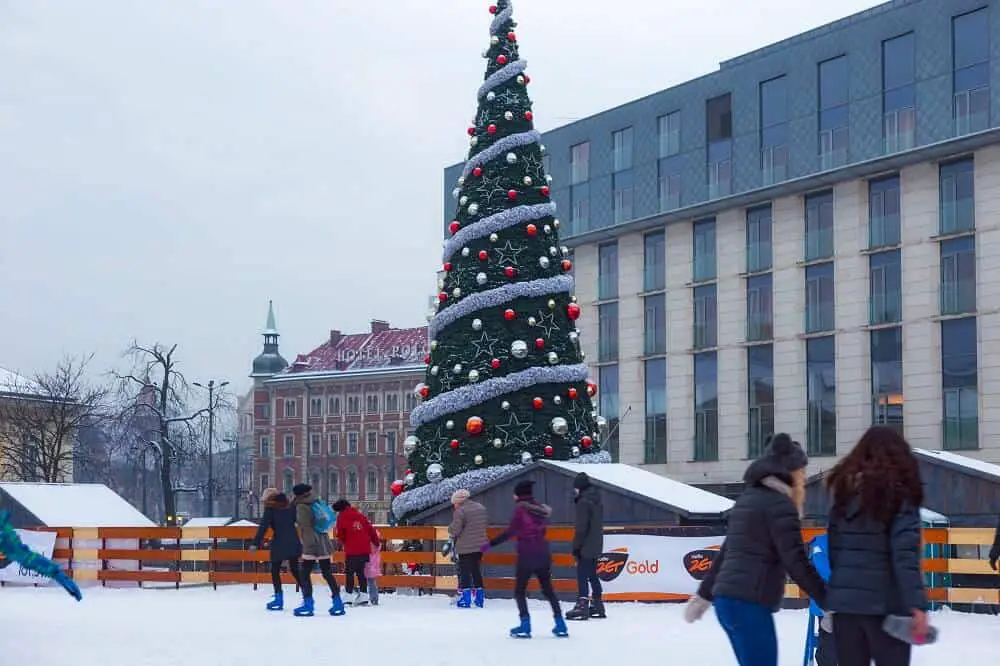 Saint Peter and Paul Church
Saint Peter and Paul Church is truly worth visiting during winter in Krakow Poland. With snow, the apostles on the outside of the church are so beautiful, but what I love the most are the statues inside the church, which are just incredibly fascinating.
The astounding baroque church dates back to the early 1600's and is a must when visiting Krakow!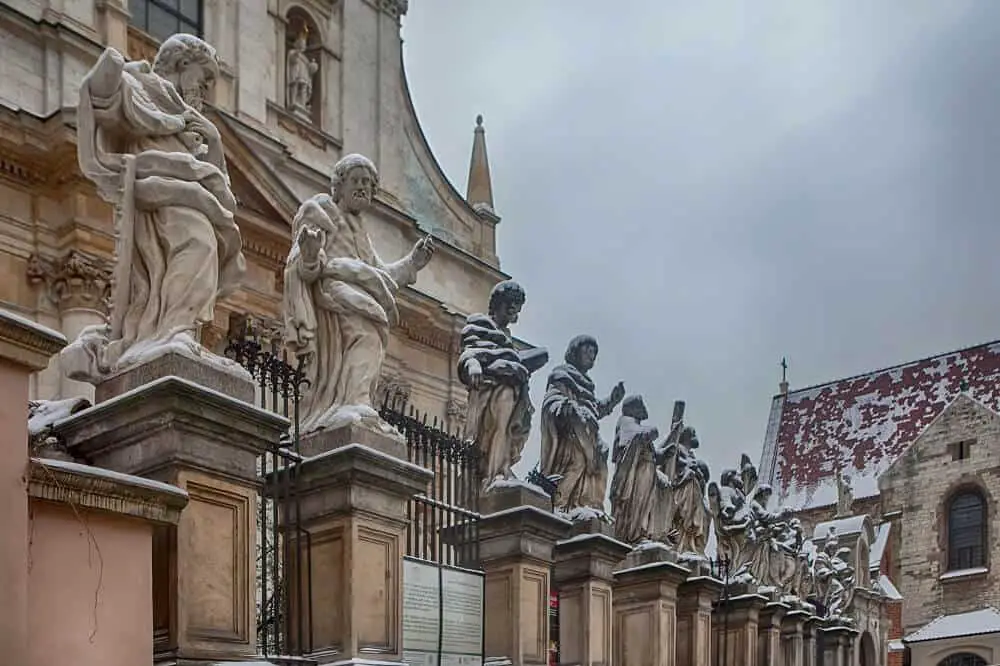 Take a day trip to Auschwitz
Visiting Auschwitz is truly a strong experience, yet I think it's a place everyone should go. Experiencing the concentration camp in winter adds to the experience as the crisp air and bare trees enhance the horrible chills of this place.
It's hard to enter Auschwitz without feeling devastated and shocked. Reading about the place just doesn't make it justice and a lot of people mentioned that they have felt the spirits and the darkness of this place when entering.
I surely felt a heavy load when entering the gas chambers and must say it was with mixed emotions that I left this horrific historical place. Nothing can really prepare you for what you'll meet, but it's an important historic site that truly gives you a history lesson in a way no history class at school can do.
Make sure you show full respect when visiting Auschwitz. You can get there either by bus or by private car (with driver if needed). It takes around one and a half hour. You can also get guided tours with pickup in Krakow and skip-the-line tickets here.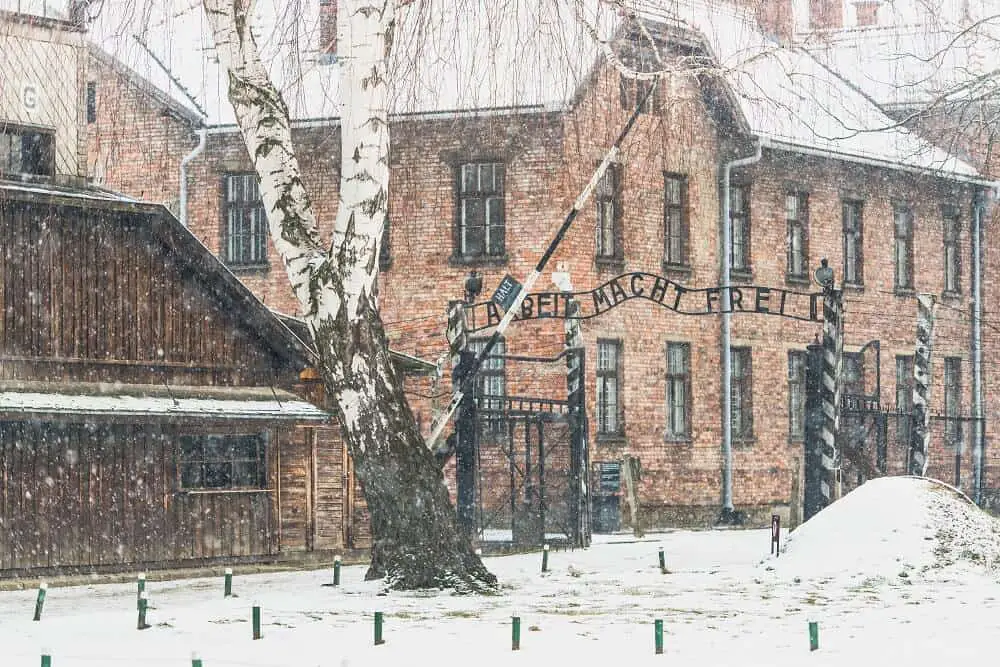 Visit the Wieliczka Salt Mine
Krakow is home to one of the world's oldest salt mines, Wieliczka Salt Mine, dating back to the 13th Century. And what better time to go underground than in winter?
You can expect 3 kilometers with corridors with spectacular chambers carved out of salt, incredible chandeliers, and green underground lakes. You can also visit the Krakow Saltworks Museum.
There is no doubt that visiting Wieliczka Salt Mine is one of the best things to do in Krakow in winter. You can book a guided tour here.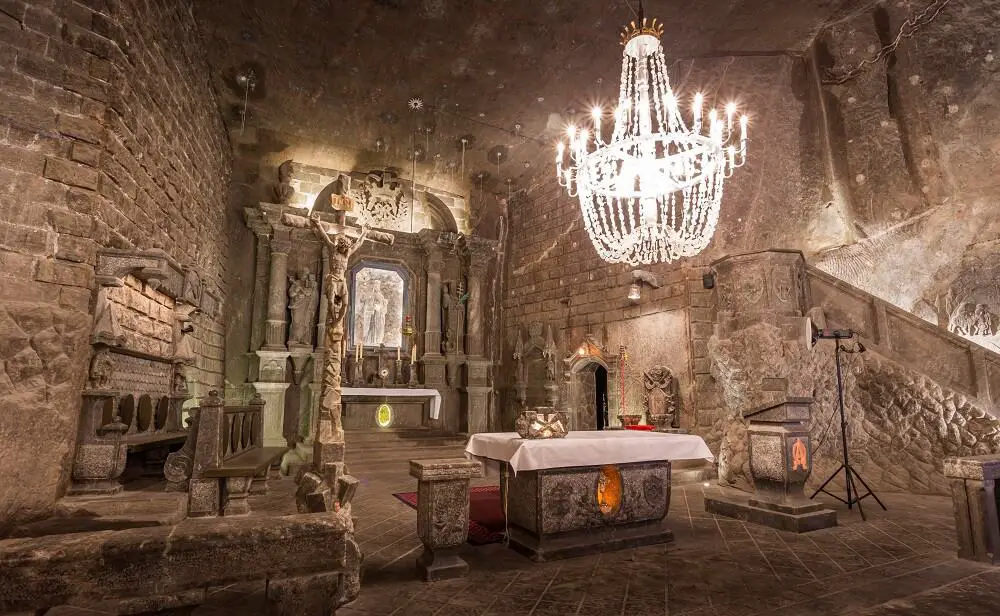 Reflections on winter in Krakow Poland
There is no doubt taking a vacation during winter in Krakow Poland is worth it. I've been several times and absolutely love it. With so much to do that you won't be able to enjoy in summer, this is a great destination off season.
Krakow is probably my favorite destination in Poland, mostly for the cozy underground cellar bars and restaurants and what better time to nest up there than in winter?
READ NEXT: Gdansk city guide
Pin it for later!