Welcome to Brainy Backpackers! My name is Linn Haglund. First of all, I want to say that I'm really happy that you are here because that means that you want to travel and make a positive impact.
I am originally from Norway but part Italian (and secretly part Finnish). For most of my adult life, I have been traveling or living abroad. It all started with a Bachelor's degree in Tourism and Communication that included a semester in Spain and a year in England. In between, I spent a 3 month-long summer break in Madagascar.
I was bitten by the bug and needed to explore more of this amazing world. I slow traveled for a few years in Australia, New Zealand, and Asia before trying a corporate job in Norway for a few years.
I quickly figured out I had grown out of "the box" and needed to get abroad again. So, in 2014, I moved back to Spain for the third time, where the box isn't as small.
There, I worked within customer service and sales for more than 7 years while traveling as much as I could – before I went nomadic again. And that's besides being the owner, writer, editor, photographer, SEO-expert, teck-chick, Social Media Manager, (and everything else that comes with a blog) of Brainy Backpackers and my niche blog, Andalucia Hiking.
My current project is to convert my 20-year-old Ford Transit to live in for Ayla and myself, as she really wants me to take her to Asia! (How can I possibly argue with that idea?)
To be honest, I can't think of a life without exploring new corners of this amazing world and photographing it all. When I travel locally, I always go with my little fury lady, Ayla, which has traveled to more than 10 countries without taking a single airplane (she is super-conscious about sustainable travel!).
As a nature lover, I always seek natural wonders and outdoor experiences, but I also enjoy ancient cultures, learning about the local customs, and getting off the beaten path.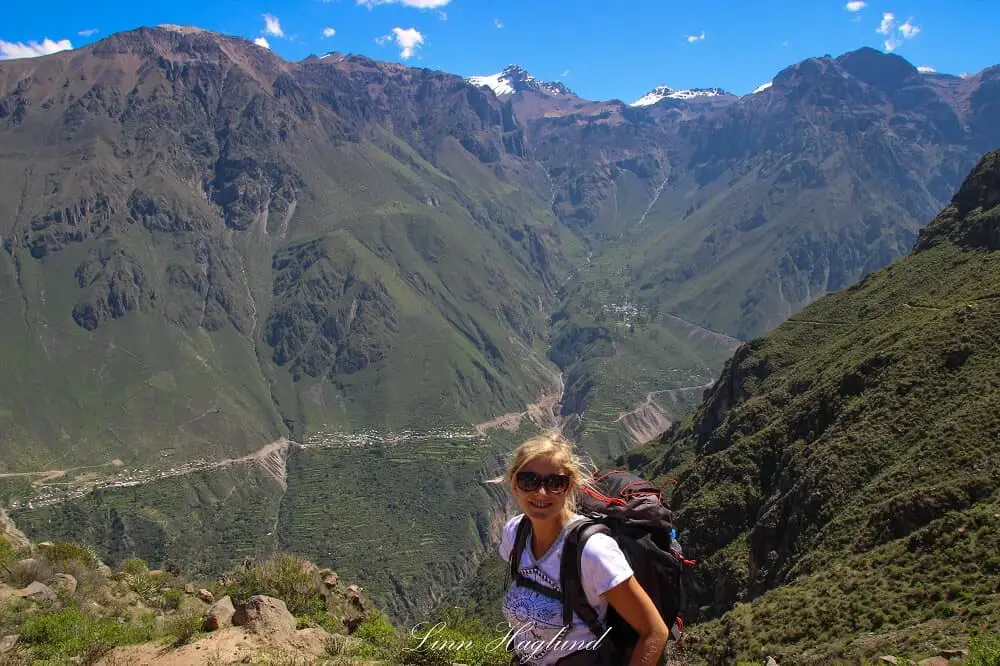 Traveling and spending longer time in different locations made me well aware of all the negatives of tourism. I don't know how many times I did things while traveling with the naïve intention to make a positive impact only to find out later that the consequences weren't as good as I had thought.
To mention a few, visiting a school in Cambodia to give away pens and books during class, riding elephants in "sanctuaries" in Thailand, and giving away sweets to children in Madagascar. Unfortunately, the ones that suffer from unthoughtful tourists are the locals, wildlife, and the environment. Traveling taught me a lot of things the hard way and that's why I created this blog.
Brainy Backpackers is meant to help you explore the world in a responsible way so that you don't have to regret anything later. This is the space where I will share everything I've learned about responsible travel so you can have a great travel experience without doing the same mistakes as I've done.
Luckily, responsible tourism is more widespread these days and most travelers are aware of a lot more than when I started traveling. But in my experience, there is always something new to learn.
I am not striving for perfection; I am striving for constant improvement. And so should you.
There is no shame in making mistakes. We all make them. The important thing is what we do with what we learn from them. Hopefully, my mistakes can help you in not doing the same.
Are you ready to explore the world with me and make a difference?