One of the most memorable trips in Myanmar was when we traveled from magical Bagan to Mandalay by boat. The journey started before sunrise and it is needless to say that the sunrise we were served on that boat was one of the most mesmerizing in my entire life!
There are many ways to travel from Bagan to Mandalay, and by boat is probably not the most efficient way. However, if you are up for an unforgettable river cruise while you get transported to your destination, then this is the best way without a doubt and a unique thing to add to your Myanmar itinerary.
Disclosure: This post may contain affiliate links. That means that if you make a purchase through one of those links, I will get a small commission at no extra cost to you. If you have any questions about these services or products, feel free to ask me.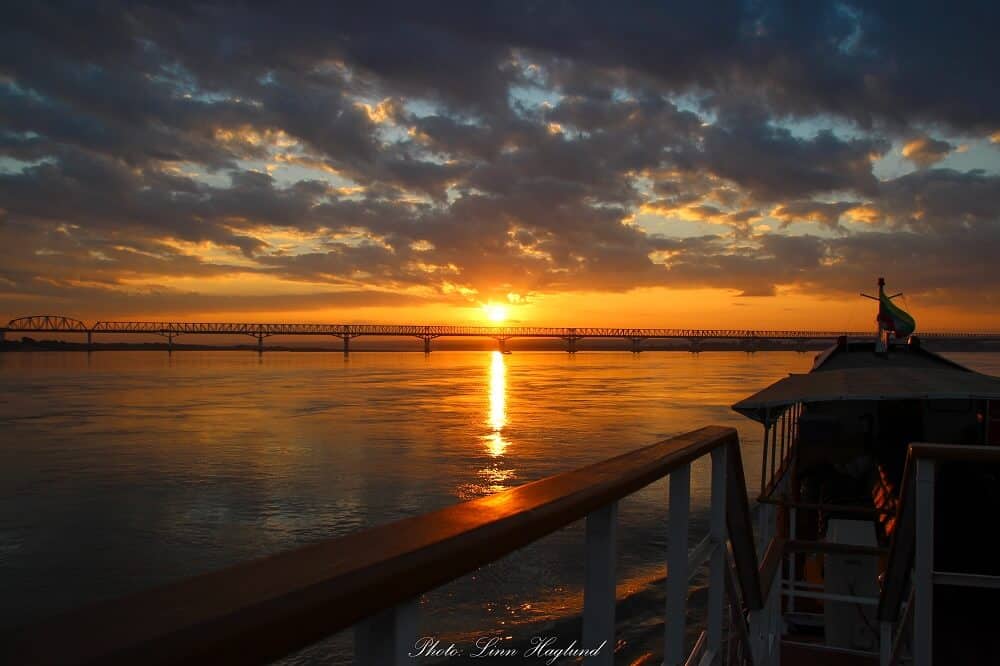 You might also like: Photos to inspire you to travel to Myanmar
The Irrawaddy River
The Irrawaddy River is the river that pretty much goes through the whole country of Myanmar, from the north to the far south where it flows into the Andaman Sea. The 2200-kilometer-long river passes both Bagan and Mandalay and is therefore used for transportation of more than just tourists.
Truth is, when I went on that boat trip, we were the only tourists there except a German couple. Otherwise, there were only locals crazy enough to embark on this small, wooden boat with wicker chairs for seating.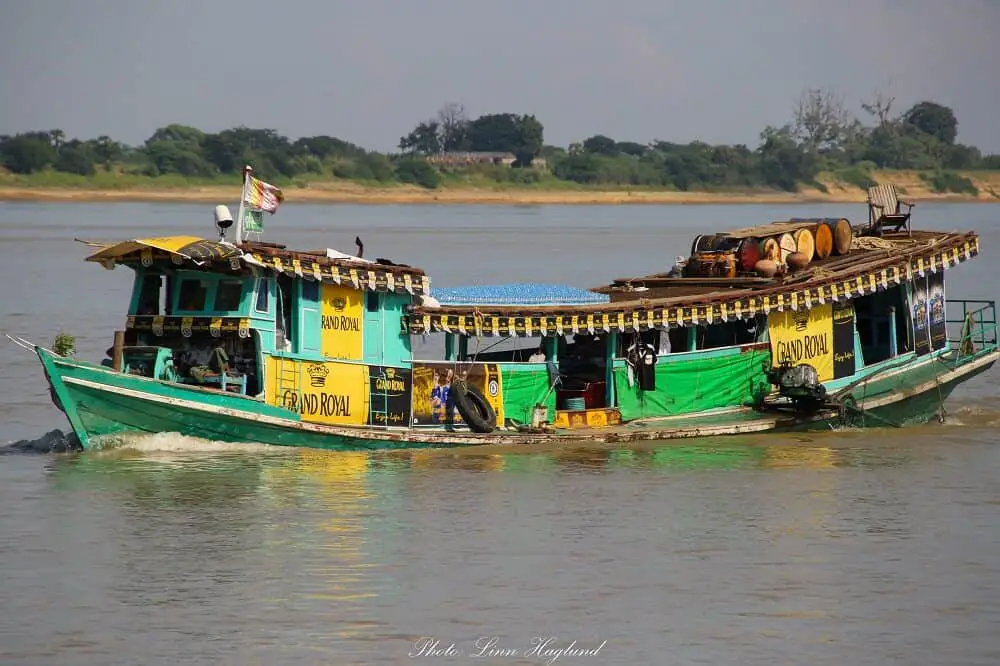 There is a long history of trade to the Irrawaddy River. Back in time, it has been the main route for transporting goods in Myanmar and it was part of an important trade route between China and India. With both the British and French using the river as a direct route to China by the 1880s, it also meant the export of rice from Myanmar, which in turn met the country's economic needs.
But besides this, the river is so much more to the locals! Like the Ganges in India, the Irrawaddy River in Myanmar is spiritual for the Burmese. They bathe, play, wash clothes, drink, and pray in this river.
Get ready to observe all of this and some of Burma's best photo spots from the deck of the boat from Bagan to Mandalay.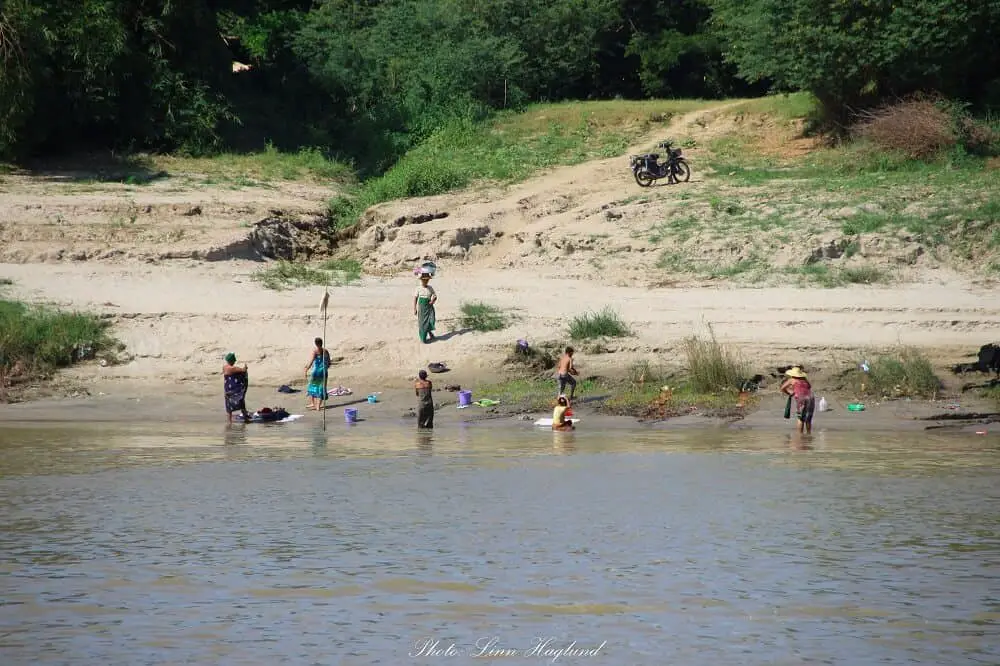 READ: Why is sustainable tourism important?
How to book a boat from Bagan to Mandalay
What we did, and maybe the easiest way, was to ask at the hotel to book us the cheapest ticket they could find on a speed boat.
However, speed boat doesn't mean that it's actually speeding, but it means you can get away with 11 hours on the boat instead of 2 days. And if you only have one week in Myanmar you don't want to spend 2 whole days on a boat.
The boat we took left at 5:30 in the morning so we had to be at the harbor by 5 AM. I'll tell you, I'm not a morning person so my plan was to sleep on that boat. All the way to Mandalay.
That didn't happen. Thank God! Otherwise, I would have missed out on the trip of a lifetime.
The boat we took included 2 meals, breakfast, and lunch, but you might want to bring some fruit and snacks to keep you going.
You can also go to the harbor and ask there directly.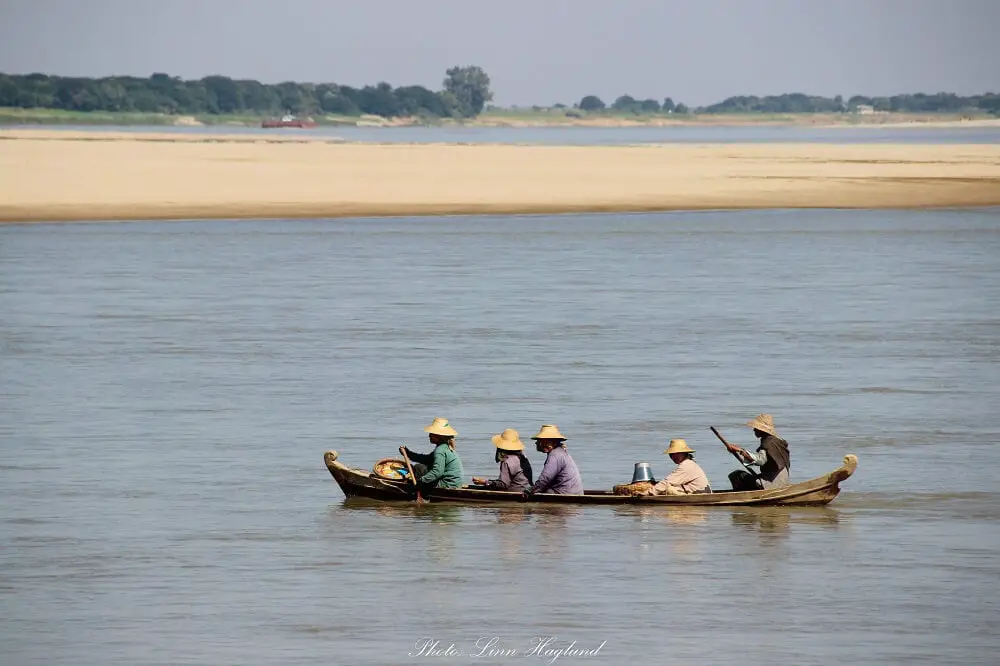 Bagan to Mandalay by boat
Sleepy and cold, I settled into one of the wicker chairs inside the boat. I couldn't remember how I got onto the boat in the first place. Mornings are really not my thing. After trying to find a comfy position aiming for a bit more sleep, I gave up.
As I looked out, I realized that the pitch black turned lighter. I squatted up from my uncomfortable seat, grabbed my camera, tightened my hoodie and wobbled out on the deck.
A few magic rays of sunlight pushed through over the horizon and every second it became brighter and more colorful until the river looked like blood reflecting the orange light of the morning sun.
Fishermen were already out on their little wooden boats and the only sound, except the engine, were the smashing waves to the side of the little vessel. The sound of waves and a mesmerizing sunrise, can you think of any better combination?
As the day started to wake and we had our breakfast, we passed tiny villages, women washing clothes in the river, children playing in the waterfront, men having their morning bath, women cooking, men and children passing in their dinghies heading off to do their daily tasks.
Sitting on that boat from Bagan to Mandalay, felt very much like floating past a live movie of daily life in Myanmar.
People waving from their own little boats, a friendly reminder that this wasn't a movie, but real. A calm reality showing off Myanmar from the riverfront. A Myanmar that had been isolated from the outside world for way too long.
Except for climbing the temples of Bagan, this trip is probably one of my favorite memories from Myanmar. Oh! And the golden stupas in Yangon! Tremendously beautiful too.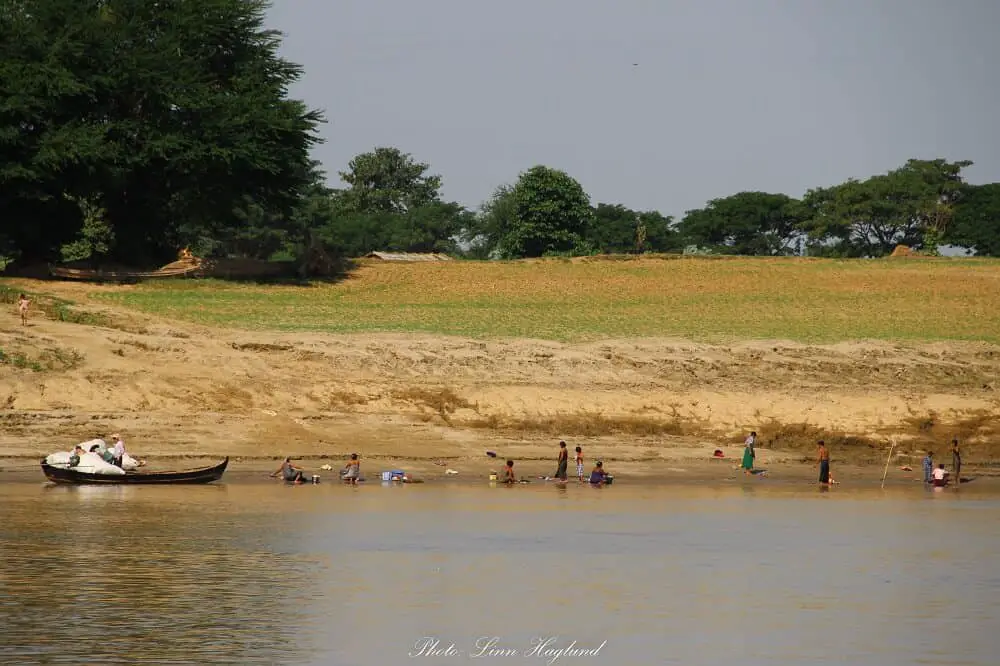 ---
Book your flight to Myanmar here
---
Conclusion
If you have the time and chance to travel from Bagan to Mandalay by boat, I really recommend you do it. It's a great experience. Not only the magic of the sunrise, but also the local travel experience, and the observations along the way.
With some luck, you might even spot river dolphins on the Bagan to Mandalay boat trip!
---
In case you want something to read on the trip:
Here are some of my favorite travel books!
---
Pin it for later!