Gaustatoppen is situated in Hardangervidda National Park, towering over the town of Rjukan. Gaustatoppen hike ends at an altitude of 1883 meters from where you can see all the way to Sweden and it is the highest peak in southern Norway. You can enjoy a 360 view from the top where you see a sixth of the country. Not many places offer views like these.
During more than 200 years Norwegians have been climbing this mountain and it is one of the treks you find on all Norwegians bucket lists. And Norwegians like to have bucket lists for hiking routes. An average of 30 000 people make the Gaustatoppen hike each year. The peak is also accessible through a tram inside the mountain, which has increased the total number of visitors to nearly 50 000 a year.
In winter, the mountain is popular among skiers as there are many great spots for freeriding. Though the dangers of avalanches are high, it is highly recommended to go with a guide that knows the area well.
Disclosure: This post may contain affiliate links. That means that if you make a purchase through one of those links, I will get a small commission at no extra cost to you. If you have any questions about these services or products, feel free to ask me.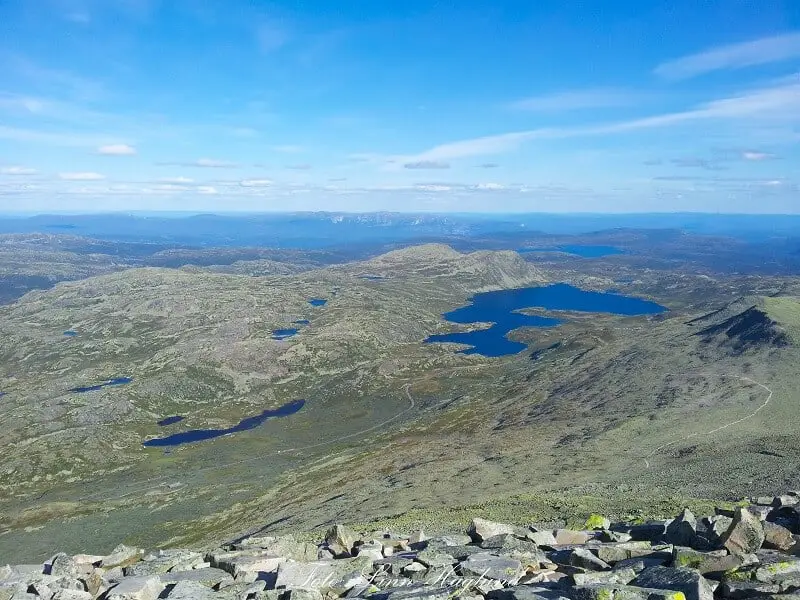 How to get to Gaustatoppen
There are several tracks to the top of Gaustatoppen, but the easiest and most accessible is from Stavsro parking. This is where I started the hike. During the summer months, it is recommended to come early to assure a parking spot as it is a popular destination, especially during weekends.
However, there are a couple of alternative places to park. One is called "Bygget i gaustaomraade" and the other one is by the lake Toskjer between Stavsro and Tuddal.
If you don't have a car you can easily get to Stavsro by public transport. There are daily buses from Oslo to Rjukan which take about 3 hours one way. Believe me when I say that a day trip to hike Besseggen is one of the most unique things to do in Oslo. From Rjukan there is a mountain bus that takes you to Stavsro. You can book tickets here.
---
Still haven't booked your flight to Norway? Book it here!
---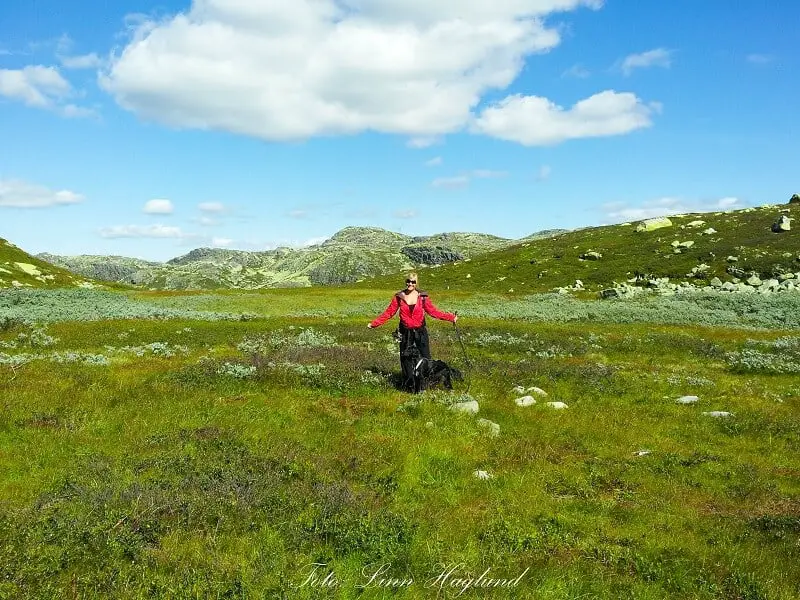 Gaustatoppen hike
Gaustatoppen hike is of medium difficulty and is mainly gravel and rocky. There are no challenging parts on the trek like so many other treks in Norway. However, the final part is quite sketchy if you have vertigo. Mine tend to say hello once I am on un-solid ground, and as the massive rocks out to the final peak are moving a bit, I got a tremendous vertigo attack.
I can laugh about it now, but I was actually standing on a large rock crying out that the only way anyone could get me off that rock would be by helicopter. And I was dead serious. After a long break and several breathing exercises, my friend was able to walk me safely back.
I don't think it is any danger walking those last hundred meters of the ridge to the highest point for normal people, though.
Before you get to the ridge, there is a cafeteria on the top where you find waffles, hot chocolate, coffee, and bathrooms. This is a typical Norwegian mountain café, and as a Norwegian that has spent most of her adult years abroad, I have to say it has proper Norwegian charm. If you want to buy something from the café or enjoy your own food or snack, the top of Gaustatoppen hike is definitely the best place to stop for your lunch break. The views are mesmerizing, and the only peak that shows as much as a sixth of mainland Norway, with an area of 60 000m2 (more than the size of Denmark).
You can expect to spend 5-7 hours on the round trip depending on how much you stop for photos (something I tend to do a lot).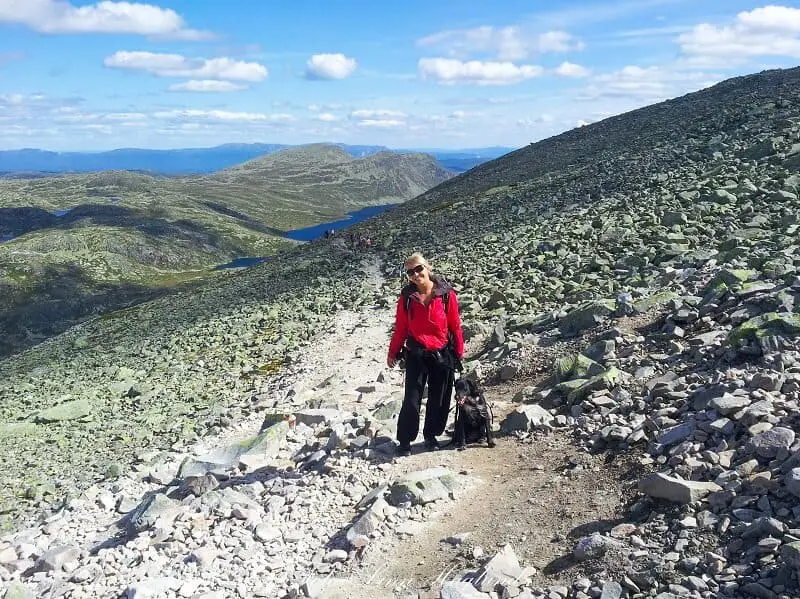 What to bring for your day trip
Gaustatoppen hike requires good hiking boots and proper hiking pants. As the weather in Norway tends to change several times a day, you should bring a daypack with space for light layers of clothes. A thin wind/rain jacket is a good choice. You could bring walking sticks too.
What else should be in your daypack:
Lunch pack
Snacks (nuts, fruit, seeds and other energizing stuff)
Water (at least 2 liters per person)
Sunscreen (if the sun shines, it is usually strong in the mountain)
Hat/caps/sunglasses (in case of a sunny day)
Beanie/gloves/scarf (in case of a windy and cold day)
Camera (with extra battery and memory card just in case)
Money (in case you want to buy something in the café. The toilets might also come at a small fee to use)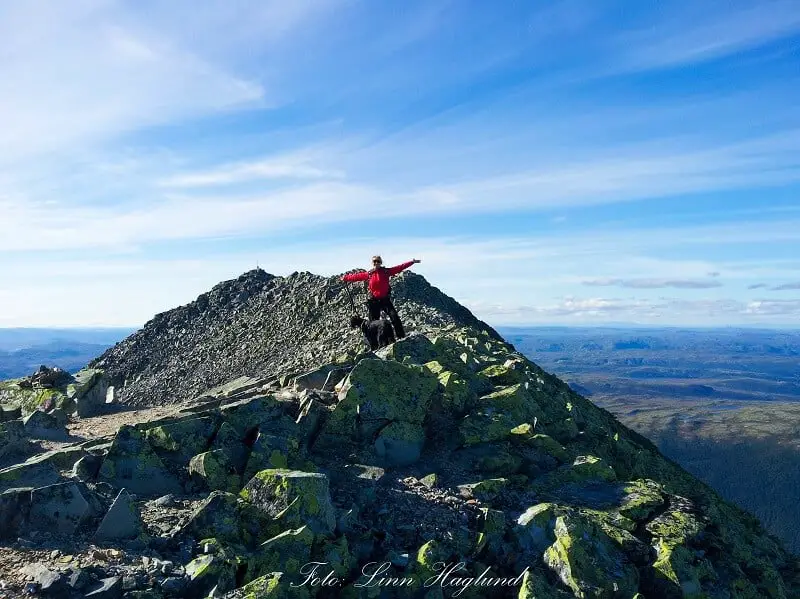 When is the best time to hike Gaustatoppen
Norway has a short hiking season, and it is during the summer months until early autumn. The best time for your Gaustatoppen hike is between May and September. July is the common holiday Month for Norwegians, so it could be quite crowded.
If you choose to go early in the season or mid-September you have most chances of meeting fewer people on the trek. However, September is getting pretty cold, and the last week in September is when the Autumn holidays at school start. And as you already know, Norwegians like to go hiking in their time off.
Anyway, the weather is unpredictable. I would love to tell you that June and July are months with warmer weather and sunny days, but that would be pure gambling. A day could contain all four seasons just as likely as it could be warm and sunny all day. So, as I have said before, make sure you are prepared for all sorts of weather.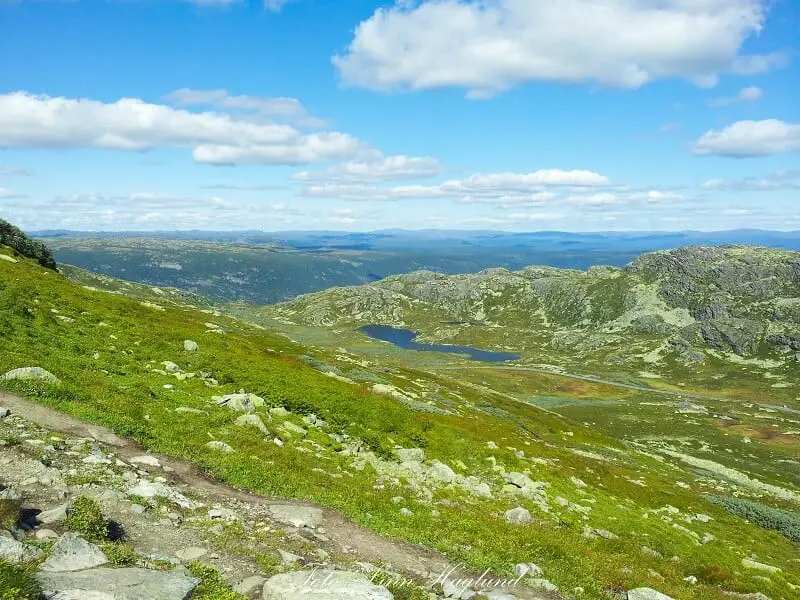 Be a responsible hiker
As hikers, we need to take our responsibility and leave no negative trace in nature. We cannot take it for granted that this beautiful summit will be there to future generations to enjoy unless we take responsibility. In general, Norwegians are quite good at taking their own waste with them. I have seen way worst places traveling the world.
However, a piece of plastic can fly away and someone might forget to bring a piece of rubbish they left besides their daypack. This can happen to all of us.
Also, the increasing number of international tourists make the waste problem somehow bigger. Not all parts of the world have had just as much focus on the waste problem, and that's why we can't expect every person to think about the consequences of leaving rubbish behind.
Therefore, it is important that we do our part and also pick up what we see lying around.
Gaustabanen tram to the top
There is a tram that goes inside the mountain to the top of Gaustatoppen. This is only a 15 minutes ride and is perfect if you have any injuries that prevent you from being able to do the hike or you just don't have the time to spend the whole day.
The underground tram was originally built for military purposes, but now it only serves as a tourist attraction. You can find more information about opening hours and prices on their official web site.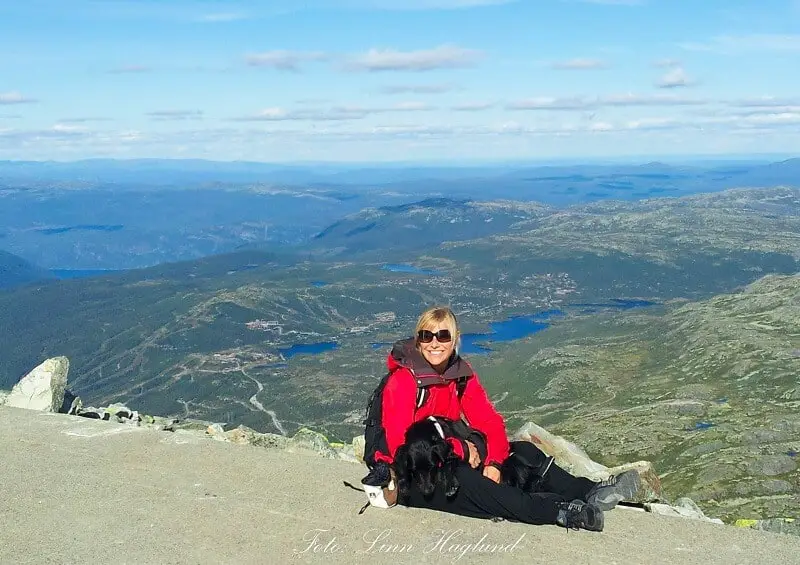 Get ready for your trip
There are a few hotels you can stay at in Rjukan, however, there is also a campsite not far from Stavsro. Find and book your hotel with Booking.com.
With Lonely Planet travel guide you can start planning your trip to Norway right now. I have used Lonely Planet for more than 15 years of traveling and love their guides. They also offer good advice on off the beaten path experiences. The guidebook is great to have on public transport when you don't have access to Wi-Fi but still want to plan your trip ahead.
Read next:
Check out how to Hike Besseggen in Jotunheimen National Park.
The Ultimate Norway hiking guide including some of Norway's best hikes
Pin it for later!