Akchour waterfall is definitely one of Morocco's truly hidden gems. The trek goes along the river with numerous small cascades through the vigorous green fairytale forest. Surrounded by the majestic Rif Mountains, you walk passed rocks and tree stumps wrapped in green moss, changing into thick, unrestrained jungle covering the surroundings. All you can hear are the birds singing and the water running in small cascades along the bottom of the valley.
The trek moves up the mountainside and down again to cross the flowing river just to continue up again until the next river crossing. And so it keeps going. It is so beautiful you should definitely spare a day to explore the trail that leads to the impressive Grand Cascade. You find this natural treasure only a day trip from the popular tourist destination, the blue city Chefchaouen.
Disclosure: This post may contain affiliate links. That means that if you make a purchase through one of those links, I will get a small commission at no extra cost to you. If you have any questions about these services or products, feel free to ask me.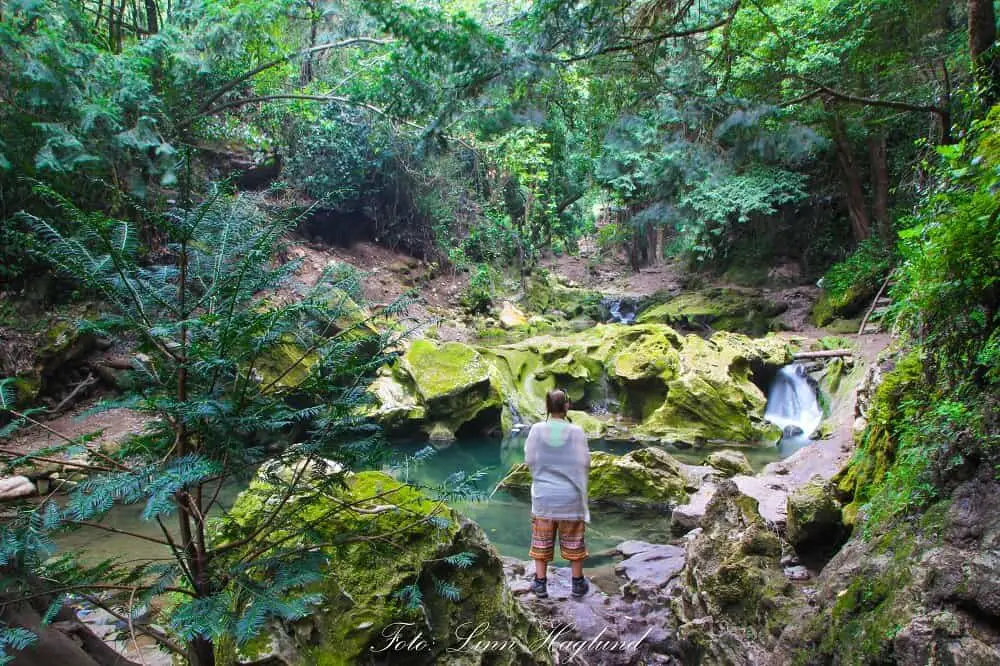 Hiking to Akchour waterfall
Hiking to Akchour waterfall is not directly demanding, though the trek has some steep parts. The trail is 5,5 kilometers each way and takes about 3-4 hours depending on how many stops you make on the way.
There are numerous little places with plastic chairs where you can rest and buy a cold drink cooled down in fresh river water. If you get hungry, they can also prepare you a beautiful Tagin.
When you arrive at the parking by the starting point of the trail, you walk past some restaurants and food/souvenir stalls along the river. At the start point, you can either walk straight forward on the same side of the river or you can cross a bridge to the other side of the river. The latter takes you to Akchour waterfall.
The trail is well maintained and clearly marked so you will not get lost. It crosses the river several times and some places they have put up large cement blocks you can walk on. A couple of places there are wooden bridges/ladders to cross, but their state is safe and there are still options to walk around if you do not trust them.
Once you get to the Grand Cascade make sure you walk the little path around the right side of the pool to get behind the waterfall.
The Grand Cascade is definitely worth spending time at, just enjoying the long, thin water strips running rapidly into the pool below. An outstanding waterfall I have never seen anything alike.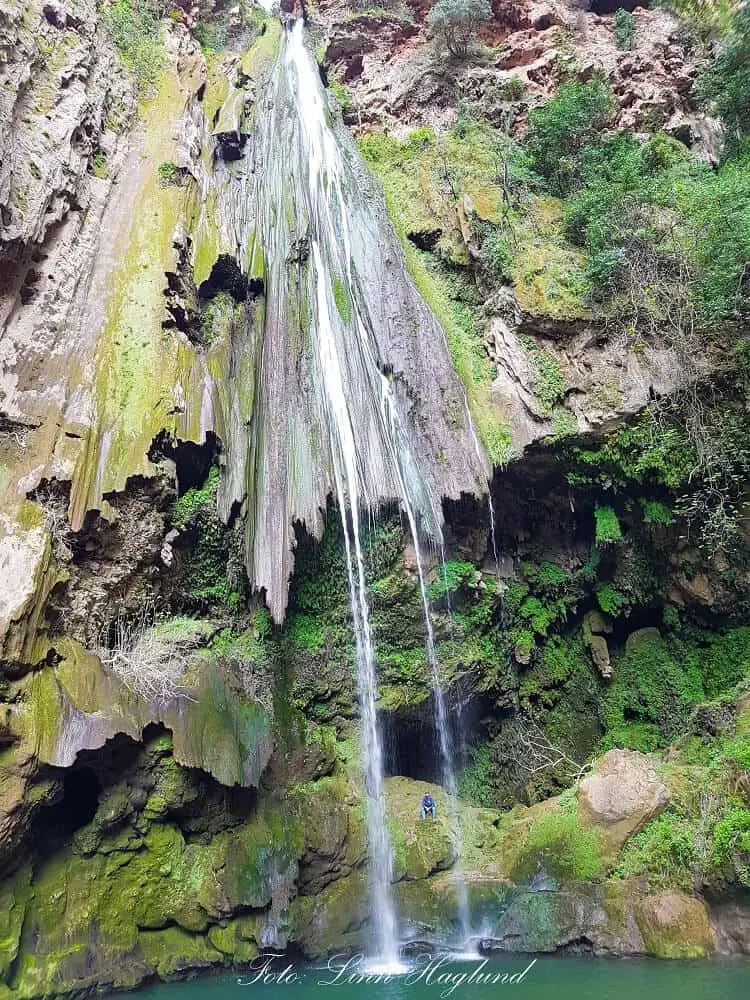 How to get to Akchour
Akchour is a 45 minutes drive from Chefchaouen. Driving, there is a small parking fee of 10 Dirham. However, if you don't have a car yourself, there are taxis that can take you.
The cheapest option is to take a shared taxi, also called Grand Taxi. They take 4-6 persons and run once they fill up.
The taxi stand is outside the Medina of Chefchaouen. You can easily ask for directions to get there. Once at the taxi stand, tell them you want to go to Akchour waterfall and you will be guided onto the right Grand Taxi.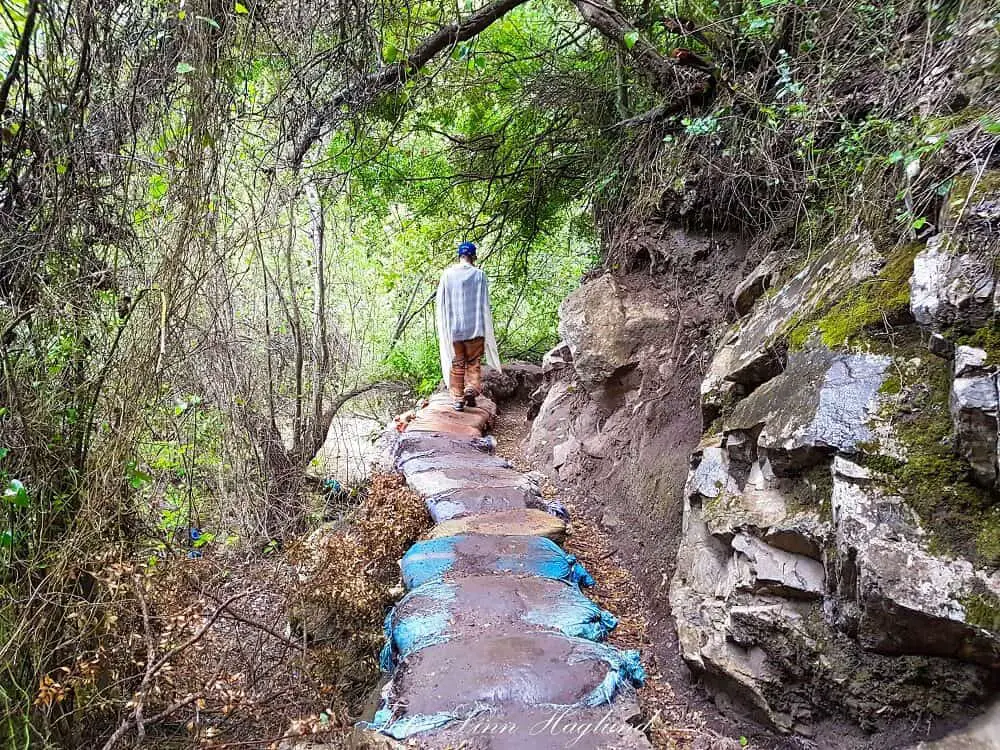 What to bring for your hike
Even though the hike is not very demanding and there are places to buy food and drinks both on the way and by the Grand Cascade at the end of the trail, there are a few things you should think of bringing.
Depending on the time of year, the temperatures might differ. Thus, checking the weather forecast is a good idea, especially in winter. As an example, we had burning sun when we walked up and pouring rain on the way back. That is why a daypack with some extras is a great start to a successful day in nature.
So, here are the essentials you should bring when you hike to Akchour waterfall:
Hiking shoes/good sneakers (there are several steep parts where you need good footwear)
Rainproof jacket (if the weather forecast suggests it might rain)
Swimwear and towel (if you want to go for a refreshing swim in the river – on a hot day)
Snack like fruit, nuts, etc. (if you don't want to buy anything on the way it is important to have some energy boosting snack)
Water (at least 2 liters per person)
Camera (with extra battery and enough space on your memory card – because if you are anything like me you will stop all the time for stunning photos)
Cash (if you want to buy drinks or food along the trail)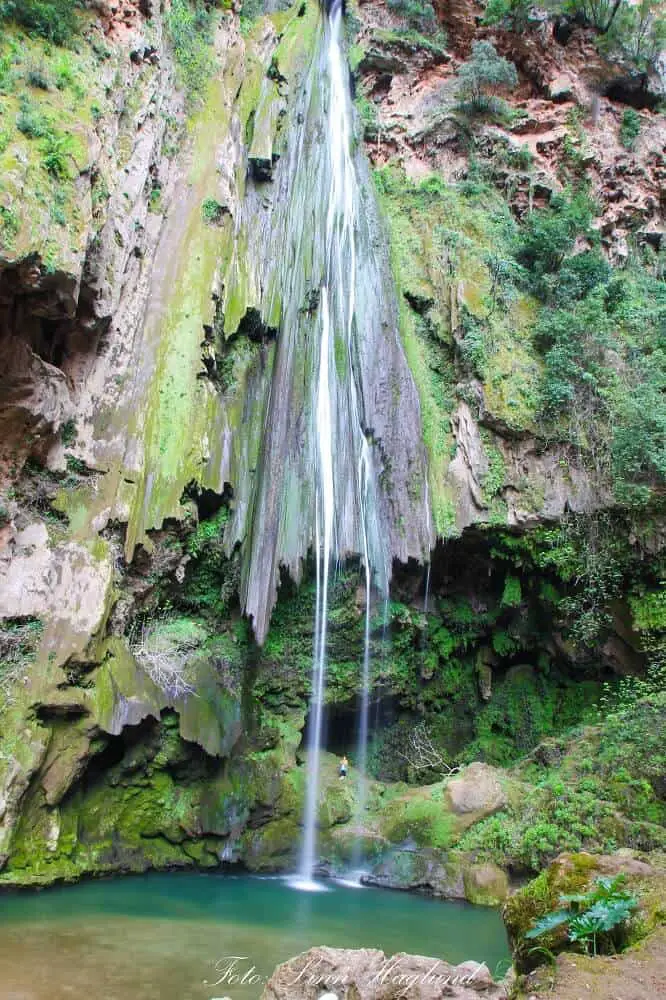 When is the best time to visit Akchour waterfall
June to September are the warmest months when temperatures normally reach above 30 degrees Celsius. If you go during this time of year, make sure you dress light and bring your swimwear and towel as it will be extremely hot along the hike. Luckily, there is plenty of shade along the path.
For more pleasant temperatures, you can go in the shoulder seasons, March to May or October to November. At these times the temperatures usually reach 20-25 degrees Celsius, though chances for rain are larger.
Finally, the "coldest" period is in the winter months, December to February. Temperatures at day time are normally between 10 and 17 degrees. While walking, this is not too hot or too cold. You will most likely not want to dip in the crystalline water at this time of year, though. Well, unless you are hardcore from one of the Nordic countries (not like me). Make sure you are prepared for rain.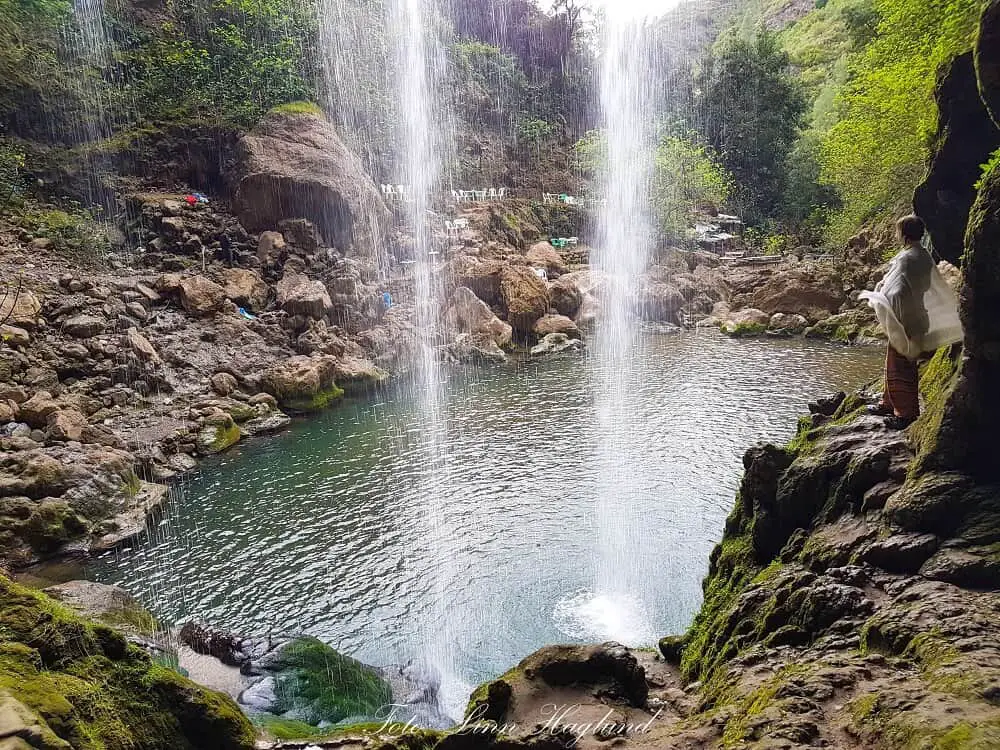 Plan your trip
At the moment it is prohibited to camp along the trek. According to our local host, the law came as a result of too many people littering and not respecting the environment while camping. Anyhow, we met some locals that were going to tent illegally when we did the hike.
You can either stay at a hotel in Chefchaouen or spend the night close to Akchour.
You can book your hotel at Booking.com.
To plan your trip and get off the beaten path tips, check out Lonely Planet's guide book on Morocco. Personally, I have traveled with Lonely Planet's guide books for years and love having a physical book I can read while I am on a bus or waiting for my food at a restaurant. However, if you are of the more modern kind, they also have e-books you can download.
---
Make sure you have your flights to Morocco booked! Book here!
---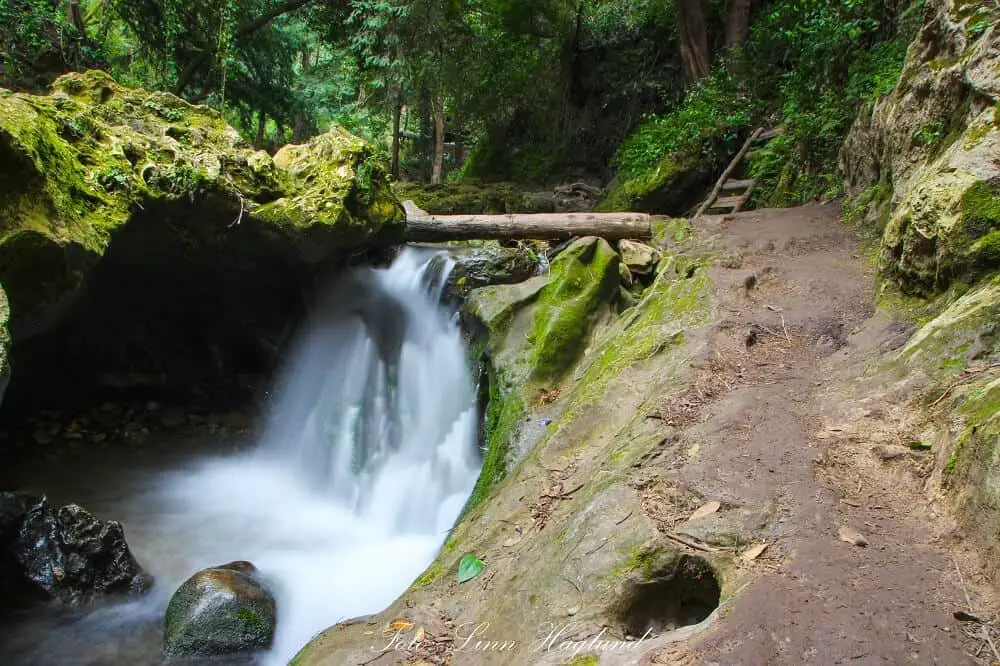 You might also like: How to explore Al Hoceima National Park
Reflections after hiking to Akchour waterfall
The hike to Akchour waterfall is without doubt stunningly beautiful. However, I noticed the amount of rubbish left along the entire trek. The first one to mention it to me was the guy that received the parking fee at the entrance to the parking lot. "A lot of people throw their rubbish everywhere; it is not good," he said. Unfortunately, he was completely right.
Along the path there was plastic, wrapping from chocolate, biscuits and crisp bags as well as empty bottles and cans.
The many restaurants along the way had rubbish bins made of wooden sticks without any bags in them, looking more like baskets. As a result, whatever had been thrown inside would fall outside through the large gaps between the wooden sticks.
Anyhow, it was not the main reason for all the waste. It seemed like most people had not even bothered aiming for the handmade baskets and rather thrown their rubbish straight on the ground.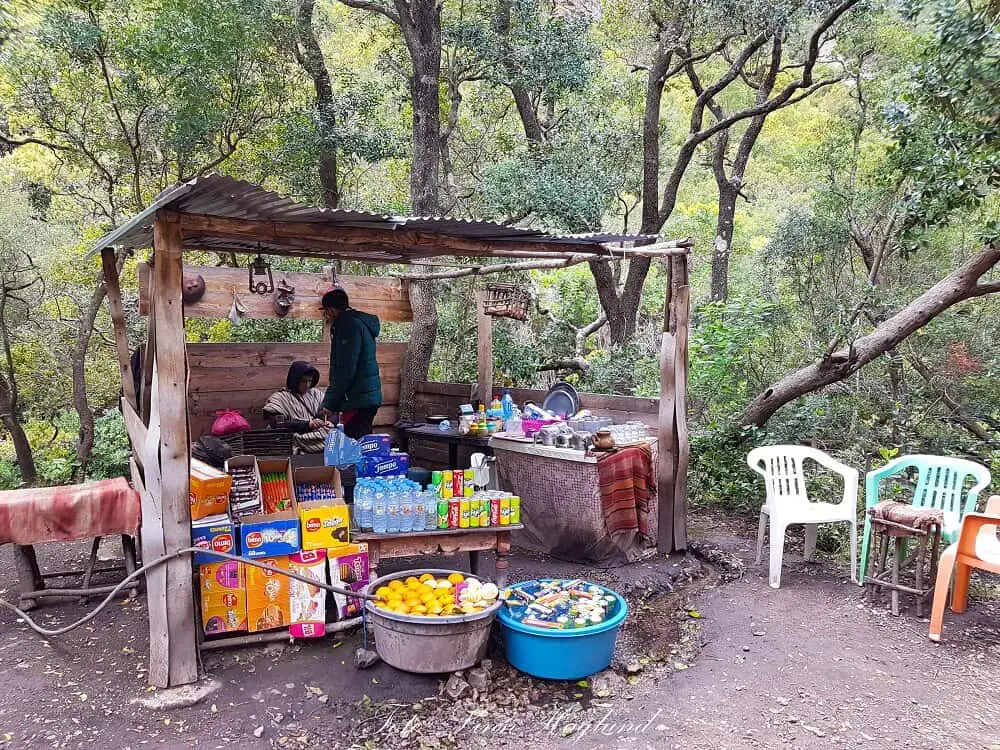 What can we as travelers do?
What can we do about this? In my opinion, first of all, we can make sure to bring our own waste with us back down from the hike. This way we make sure to throw it in a rubbish bin in town. Second, if each one that walks up there takes an extra few pieces of rubbish with them, we can make a tiny difference. You can also read the opinions of other responsible travel bloggers about the benefits of Sustainable Tourism.
Nevertheless, I have noticed there is a lack of waste management in several places in Morocco. Maybe there is no place we can throw the rubbish in Akchour or Chefchaouen where it will actually be treated in a sustainable way. But leaving it in the beautiful hike through the Rif Mountain is definitely not the way to go. It is a start at least. Maybe the area is experiencing or soon will be hit by overtourism?
Read more about Responsible tourism here.
Have you been to Akchour waterfall? What was your experience? Feel free to share in the comments.
Read next: Epic Morocco off the beaten path destinations