– By Tharani Balachandran –
I don't know what I expected going into law school. I had some sense that I wanted to do something related to social justice, and that I wanted to help people.  I had spent the first half of the year prior to law school working multiple jobs in Vancouver assisting international students, then the second half volunteering and traveling through India.  I had always done what felt meaningful (and fun) to me, and I had lived a pretty carefree and enjoyable life up to that point.  Enter first year law school.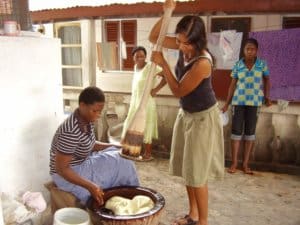 Fun is not how I would describe my first year in law school (at least the in class part – the social part was fun).  Much of the legal system that was introduced through my law school courses seemed very abstract and theoretical, and I struggled to understand how I was going to use law as a tool to create positive change.  My classes were hard.  I felt dumb. And if I'm being honest, it was all kind of boring.  When it came time to figure out what to do the summer after my first year, I decided to apply for an overseas internship.  My law school had a chapter of Canadian Lawyers Abroad (now renamed Level) and I applied for an internship with them because I thought it would expose me more to the type of development work that I hope to be involved with in the future, as well as remind me of the reason I applied to law school in the first place.  (The opportunity to indulge in my love of travel and immerse myself a new culture was, of course, an added bonus.)
Seemingly overnight, I went from spending hours in the law library to barreling down a dirt road in a tro-tro in a rural community in Ghana (and hanging on for dear life). The organization I was matched with was a not-for-profit called Women in Law and Development in Africa (WiLDAf), whose main focus was providing legal advice and support to women.  WiLDAf also supported the community as a whole by holding training alternative dispute resolution and mediation sessions in the office.
One of my favorite aspects of the internship was helping to organize and participate in workshops in rural communities with WiLDAf staff.  As many people living in these communities were not able to afford legal fees or transportation costs associated with taking their cases to court, they will often turn to elders or community leaders for legal information or advice on what they should do about their situation.  Identifying the need to educate community leaders on Ghanaian law and collaborate with them on strategies to protect communities' most vulnerable members, our staff held seminars on marriage laws, women's and child rights, domestic violence, and other legal topics brought up by participants, all of whom were volunteers.
I was humbled by the community volunteers who were all involved in social justice and educational work outside of their regular jobs.  They were eager to learn legal information that they could take back to their communities, as well as share concerns they were having so that everyone could participate in problem-solving positive solutions.  It made me realize how whiny and spoiled I had been complaining about how boring law school was, when I should have been looking at ways I could volunteer and put my legal knowledge towards helping others.
If it's not clear – no one I met through WiLDAf was under the guise that I was there to solve any problems or had very much to teach them.  There are very few law schools in Ghana and it is extremely competitive to get in.  The lawyer I worked with, who was also my host father (which we both found hilarious because he was probably no more than five years older than me) had attended one of the best universities in Ghana and was a well-known and well-respected lawyer in the community. In fact, they were hoping that I could learn something from how they did things in the community and be inspired by the work that they were doing.  Everyone also saw value in the cross-cultural exchange and experience sharing aspect of the internship.  They had had Canadian interns in the past and enjoyed hearing about how our experience with the Ghanaian legal system compared with our understanding of Canadian law.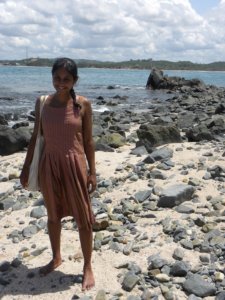 Working at the office I got to know several of WiLDAf's clients, primarily single mothers who came seeking advice on child maintenance or property law.  I loved playing with their children, one of whom was always wandering around the office at any given time, and was also honored that many of them would share their stories with me.  Several were victims of abuse or domestic violence, and I was inspired at how brave they were in coming forward and seeking help.  It reminded me again, that I wanted to be one of those people who those in need could turn to for help.
Ghanaians are what most of the other interns referred to as 'over-the-top' friendly.  (Canadians are known for being friendly.  Ghanaians make us look frosty.)  From the friends I made in Ho, I learned to approach interactions with the attitude that everyone has something to bring to the table, that we should be open and warm towards one another in order to facilitate idea-sharing and peaceful co-existence. This was the attitude that I experienced at the office, in my host family and from many Ghanaians that I met throughout my trip.  It is an attitude that I (hope, at least in part) have been able to bring back to Canada with me. My experience in Ghana better equipped me to enter second year law with renewed interest and passion for helping others.  It helped me to view my opportunity to be in law school and work as a lawyer as both a privilege and responsibility.
---
If you are a Canadian law student, I encourage you to see if your law school has a Level chapter!  Lawyers/Doctors/Social Workers Without Borders also offer similar opportunities.
---
Do you want more from Tharani?
Check out her blog browngirladventures.com for more interesting travel content.
You can also follow her on Instagram: brown.girl.adventures or Twitter: @browngirladven.