Despite being the third-largest city in Australia, Brisbane is actually located right on the doorstep of some of the best hikes in all of Australia.
It's surrounded by national parks and unique landscapes that provide plenty of fantastic spots for hiking and bushwalking.
Let's take a look at some of the best hikes near Brisbane to take in Australia's natural beauty.
Disclosure: This post may contain affiliate links. That means that if you make a purchase through one of those links, I will get a small commission at no extra cost to you. As an Amazon Associate, I earn from qualifying purchases.
Written by Louis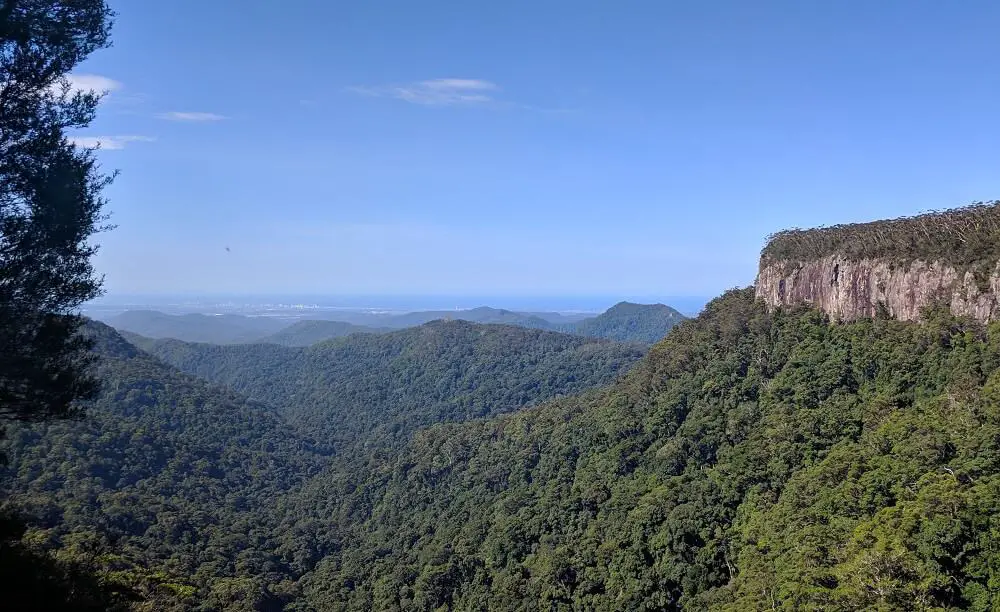 Best hikes near Brisbane
Noosa National Park Hike
Length – 5.4 kilometres
Time required – 1.5 hours
Difficulty – Moderate
Trailhead – Noosa National Park car park
Trail ends – Sunshine Beach
Hike type – Linear
Located about 1.5 hours north of Brisbane is the Noosa National Park. Unlike most other national parks in the area, this one is unique because it's right on the coast and therefore consists mostly of sand rather than soil.
This means that the vegetation found here is quite different – you'll see plenty of creeper vines and pandanus trees that are specially adapted for this sandy environment!
There are plenty of walks to do within the park, though the best has to be the Coastal Walk. Starting at the car park at the northwestern end of the national park, it hugs the coastline and gives you spectacular views over the ocean. The walk is dotted with small beaches along the way, which can be great for cooling off on a hot day.
Halfway along the walk, you will see the Fairy Pools, which are a set of rock pools that are also popular for swimming. Around the headland, you will come across Hell's Gates, which provides stunning views of the surf pounding into the cliffs on the shoreline. There's no denying this is one of the best hikes near Brisbane.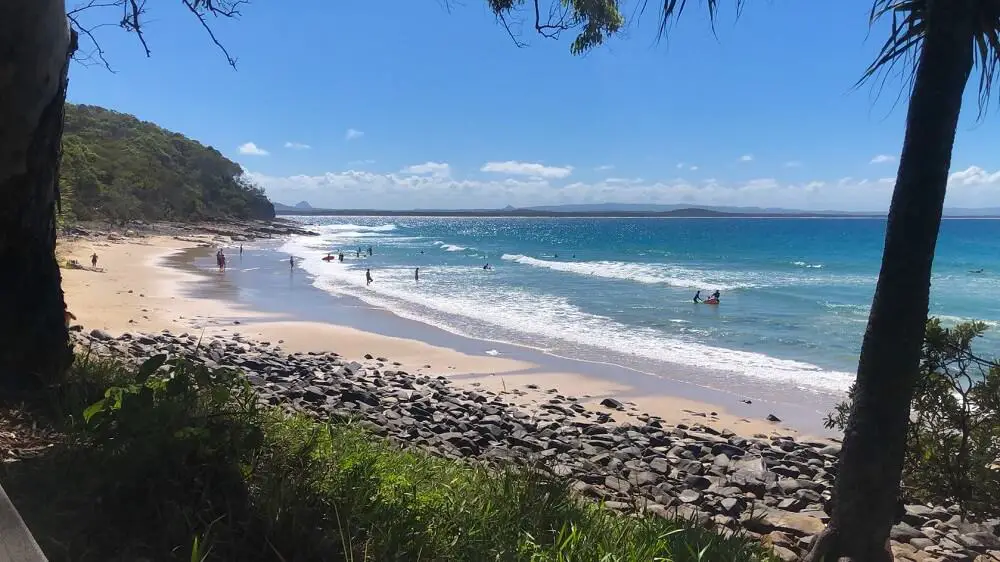 There's plenty of native animals to see along the way, including koalas, monitors, and frill-necked lizards.
If you go at the right time of year, you can even see whales migrating up and down the coast. They frequently breach the water, which is quite a sight!
You can finish the walk at Sunshine Beach (also a good spot for a swim!) and get a bus back to the start, or make the return journey on foot if you wish.
Make sure that you bring plenty of water and keep well hydrated on this hike, as the Australian sun can be very strong in summer!
Twin Falls Circuit
Length – 4 kilometres
Time required – 1.5 hours (plus time for swimming)
Difficulty – Moderate
Trailhead – Tallanbana Picnic Area
Hike type – Loop
Twin Falls Circuit is one of the most popular hiking trails Brisbane has to offer. As the name suggests, this hike, located in the Springbrook National Park about 1 hour south of Brisbane, is famous for the two waterfalls on either end of this loop walk.
Being only 4 kilometers long, this walk is suitable for the whole family. There's plenty of interesting things along the way, including multiple lookout points over northern New South Wales and the Gold Coast.
There are also views of the Rainbow Falls, which are positioned such that there always appears to be a rainbow in the mist created by the falling water.
Catbirds are also residents of this national park, and you will soon hear their distinctive cat-like call once you descend into the rainforest.
At the final set of falls, there is a large swimming hole, which is popular for cooling off at the end of your walk.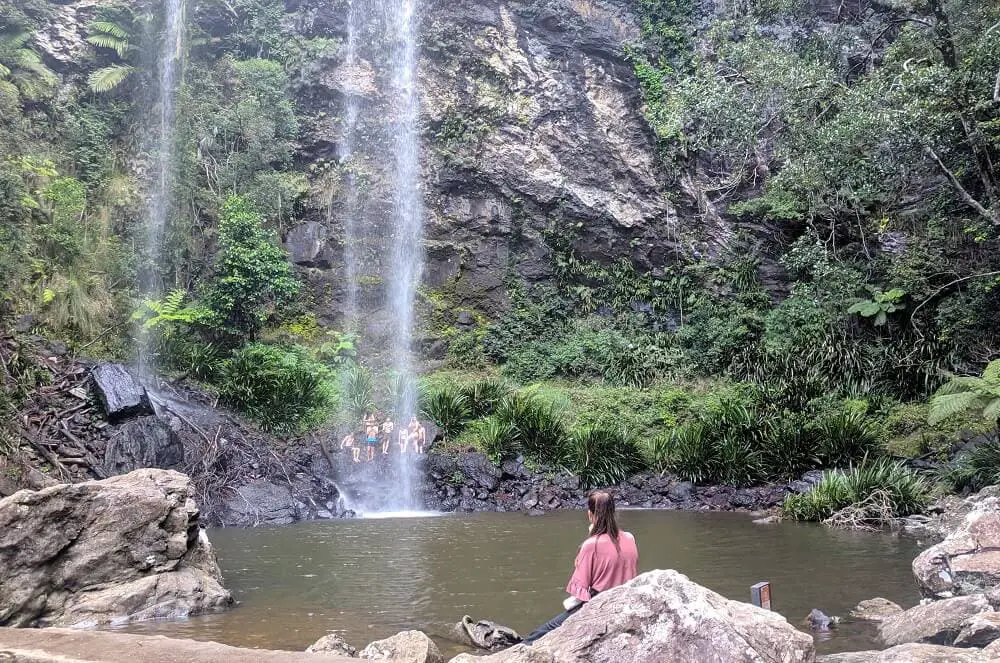 Mt Ngungun Summit Track
Length – 2.8 kilometres
Time required – 1.5 hours (plus some time to enjoy the view at the top)
Difficulty – Moderate
Trailhead – Mt Ngungun Summit Track car park
Hike type – Linear return
Pronounced noo-noo in the local Aboriginal language, this mountain forms part of the larger Glasshouse Mountains range on the Sunshine Coast, about 1 hour north of Brisbane.
Mt Ngungun is the most popular of these mountains to summit, thanks to its relative ease and fantastic views at the top.
The mountain itself is made of sub-volcanic rock and contains a number of interesting caves and unusual rock formations along the way to the summit.
At the top, you'll get great views of the surrounding farmland, the ocean, and the other nearby Glasshouse Mountains. This is definitely one of the hikes around Brisbane that will leave you in awe.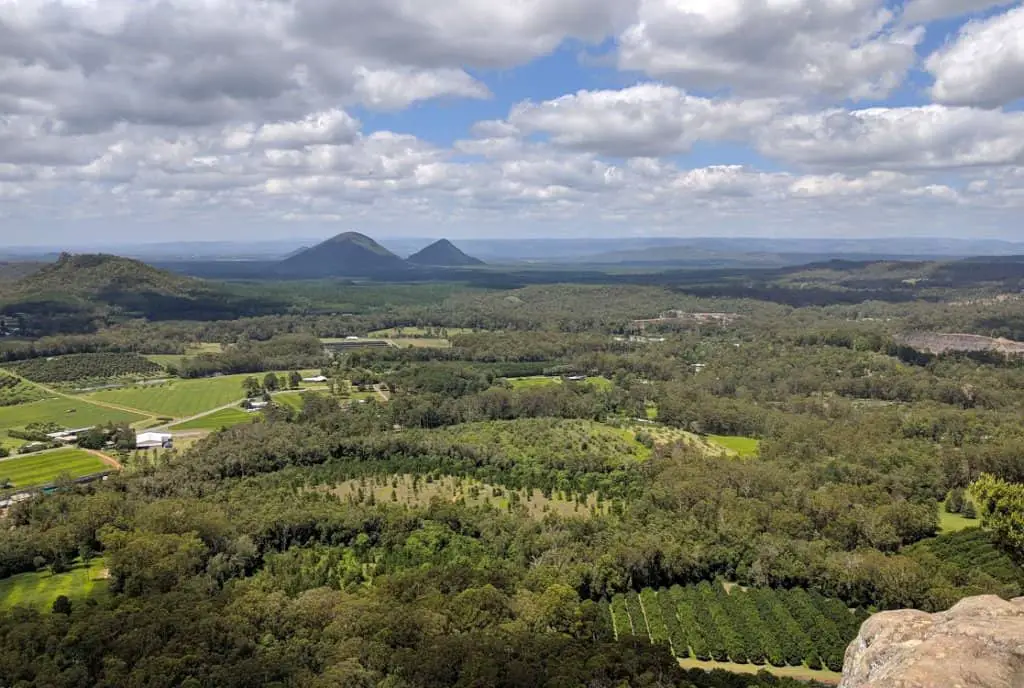 Mt Tibrogargan
Length – 3.3 kilometres
Time required – 2 hours (plus some time to enjoy the view at the top)
Difficulty – Hard
Trailhead – Mt Tibrogargan Summit car park
Hike type – Linear return
Keeping with the Glasshouse Mountains theme, Mt Tibrogargan is another popular mountain summit making it to the list of the most beautiful Brisbane walks.
However, Mt Tibrogargan is a considerably more adventurous/dangerous climb than Mt Ngungun. Parts of this walk are more akin to rock climbing than hiking, so this is only recommended for those with serious hiking experience.
It is about 50% higher than Mt Ngungun (364 meters vs. 253 meters) so you will get even better views here to reward you for your hard work.
Occasionally, people climb to the top of Mt Tibrogargan and then find that they are unable to descend back down, due to injury. They have to call emergency services, who then provide a helicopter to airlift them from the mountain and back down to the base of the mountain!
Don't be one of these people – only attempt this climb if you are very confident in your abilities!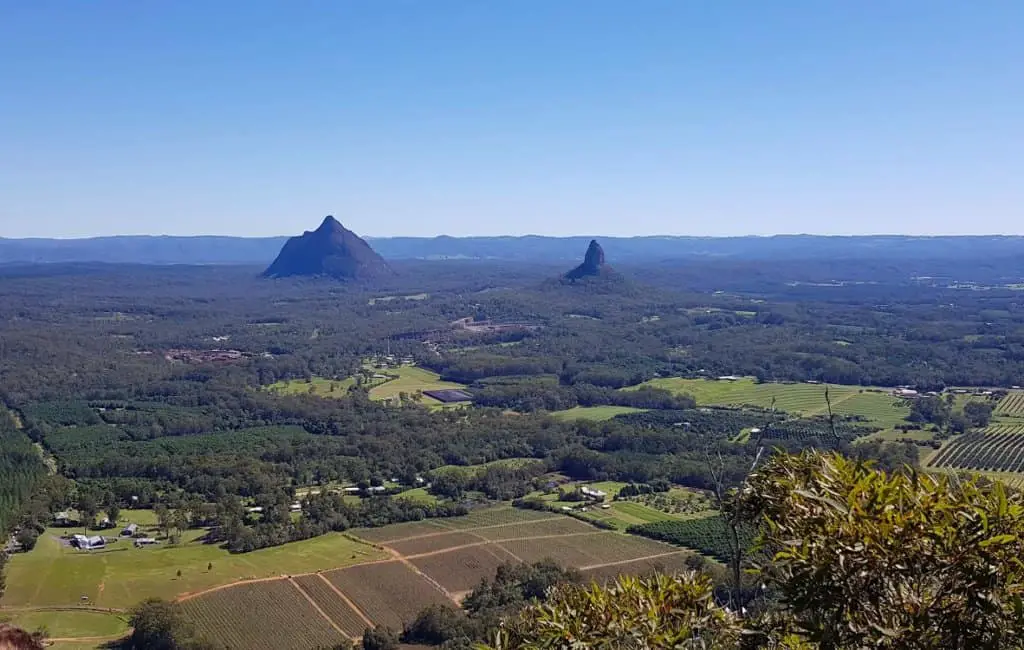 Gold Creek Reservoir Walk
Length – 5.5 kilometres
Time required – 2 hours
Difficulty – Moderate
Trailhead – Car park at end of Gold Creek Road
Hike type – Loop
Located on the western fringes of Brisbane in Brookfield, the Gold Creek Reservoir was once a major water source for the city. Now, the reservoir is no longer used, but it's still a great place for a hike.
Hiking in Brisbane doesn't have to be crowded. The hike around the edge of the dam is extremely peaceful, as very few people visit this area.
You can often spot large lizards like monitors and water dragons lurking in the bush near the trail, which adds to the excitement of the walk.
Once you've finished the walk, grab some lunch at the nearby Brookfield General Store, a quaint cafe set in an old historical building.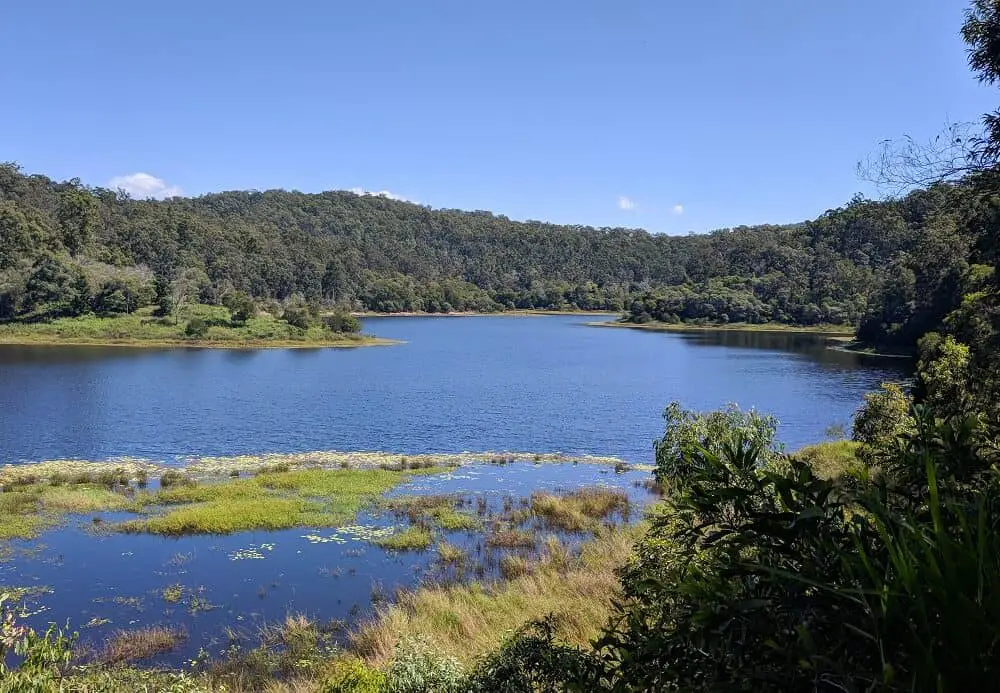 Enoggera Reservoir
Length – 10 kilometres
Time required – 3 hours
Difficulty – Moderate
Trailhead – Car park at Walkabout Creek Discovery Centre
Hike type – Loop
Not far from Gold Creek yet considerably larger, the Enoggera Reservoir is a popular swimming hole for Brisbane residents. It's a great place to cool off on a hot day, plus there are some great hikes there too.
The loop walk around the reservoir is fairly long, yet it gives fantastic views over the reservoir and the surrounding bushland.
It's not particularly well signed, so be careful when doing this hike. Hug the edge of the reservoir as closely as possible whenever you come to a fork in the trail and you're up for one of the most memorable bushwalks near Brisbane.
Mt Coot-tha Summit Trail
Length – 5.3 kilometres
Time required – 1.5 hours
Difficulty – Moderate
Trailhead – JC Slaughter Falls Picnic Area
Hike type – Loop
Mt Coot-tha is the closest mountain to Brisbane city, and the most accessible. At 231 meters elevation, it provides excellent day and night views over Brisbane and its surroundings.
From the top, you can take in views of the city itself, watch planes taking off from the airport, or even look out towards Mt Gravatt and the southern suburbs towards the Gold Coast.
The summit trail is very popular, especially on the weekend. It's a rocky, gravelly trail, so be sure to bring some decent hiking shoes or boots.
Along the way, you can stop and look at some ancient Aboriginal artwork, dating back to before the European settlement of Australia.
There's also the JC Slaughter Falls, a small waterfall located not far from the start of the trail. Hiking near Brisbane doesn't get much better than this.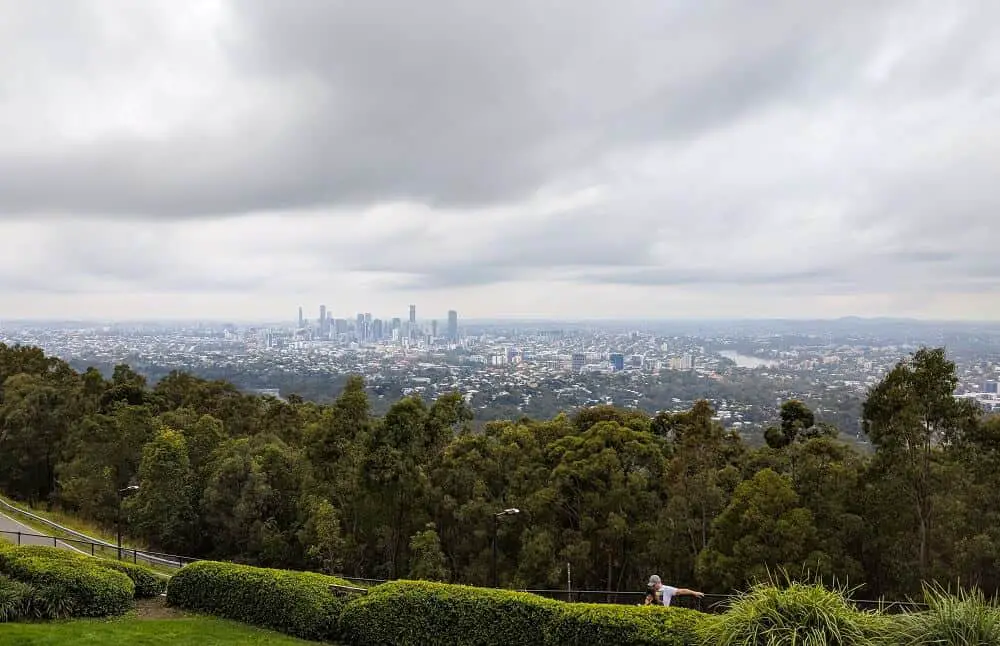 Hiking Brisbane responsibly
Australia is a vast and stunning country and Brisbane and its surroundings are no exceptions. When hiking Brisbane, it's important that we each do our bit to ensure that we leave the natural environment in the same or better condition than we found it, so that future generations can enjoy it too.
For this reason, it's important that we follow the principles of Leave No Trace and act responsibly towards nature and wildlife.
The key takeaway here is to always carry out what you take in. It's tempting to just leave your rubbish on the ground or at the side of the path and not worry about it, but if everyone were to do this, then our natural sites would quickly become full of garbage.
Try to leave every trail in a condition that you would be happy to find it in so that future generations can enjoy these astounding hikes near Brisbane too.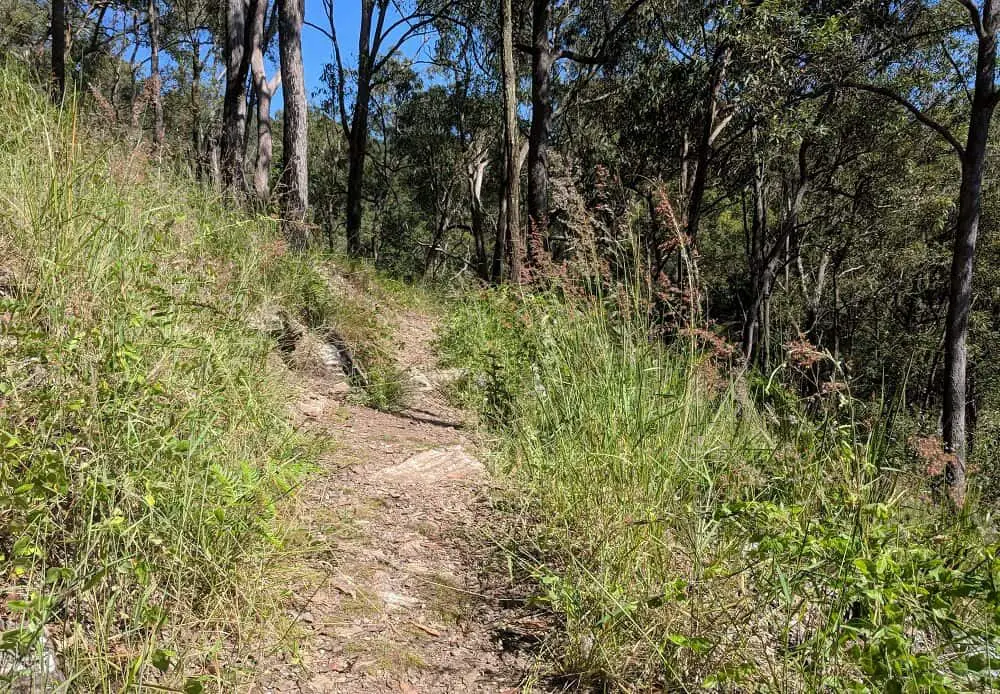 Summing up…
Despite being quite a large city, Brisbane is located close to some absolutely fantastic bush walks and hikes in pristine national parks.
From the sun and surf at Noosa National Park to the waterfalls at Springbrook National Park to the steep climbs at the Glasshouse Mountains, there really is something for everyone.
No matter your skill level or fitness, you'll be able to find bushwalks around Brisbane that suit you.
When you're next in the southeast Queensland area, do yourself a favor and try out one of these fantastic hikes!