Beautiful brush-covered cliffs stand tall, steep, and proud behind you. Whitewashed homes built onto the rock rise in ever-ascending terraces up their slopes. Clear turquoise waters extend their way to the horizon.
And above it all sits a Mediterranean sun, warming your back and pouring glorious golden rays over the entire pristine scene.
Where are you?
The inimitable Amalfi Coast, of course!
Only here, on the Gulf of Salerno in southwest Italy, where tourists flock from around the world to escape the humdrum of everyday life do you find such a unique, breathtaking, and intoxicating combination of natural and manmade attractions.
Are you in the process of planning a trip to this pristine and historical place? Well, to help you manifest the best possible time, I thought I'd take a moment to highlight some of the best things to do in the Amalfi Coast. Incorporate any or all of them into your trip and you're all but guaranteed to have an amazing stay.
But before we look at what to see in Amalfi Coast, let's have a look at everything you need to know to plan your perfect trip.
Disclosure: This post may contain affiliate links. That means that if you make a purchase through one of those links, I will get a small commission at no extra cost to you. As an Amazon Associate, I earn from qualifying purchases.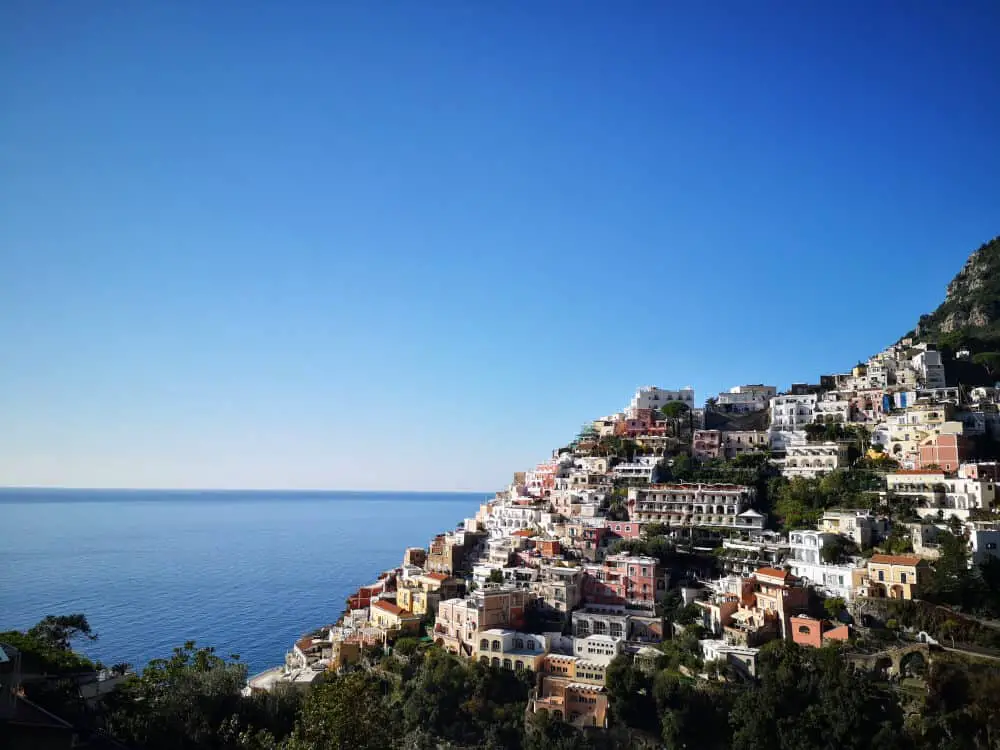 Best time to visit the Amalfi Coast
Although you'll come across many opinions online as to the best time to visit the Amalfi Coast, I honestly think it's hard to give a definitive answer.
It's a bit like deciding when to visit any popular travel destination.
It usually comes down to what you like.
You'll get the warmest weather and a busy schedule of awesome events in summer (from around June to August). But it'll also be jam-packed with other tourists and you'll be paying peak prices in a place that's notoriously expensive anyway!
Fortunes shift in the two Italian shoulder seasons (from April to May and September to October). Here, you swap some of the good summer weather for quieter vibes and more palatable off-peak prices.
Ultimately, I imagine the Amalfi Coast always has something to delight its visitors, with the possible exception of wintertime (around November to March), when it's often cold, wet, and lacking its usual atmosphere.
If you pressed me for an answer, though, I'd recommend a visit in either September or October. The weather's still hot, but not too hot (making it more suitable for outdoor activities, like hiking), and the towns are still lively, but not excessively so; the lower prices are a nice cherry on top.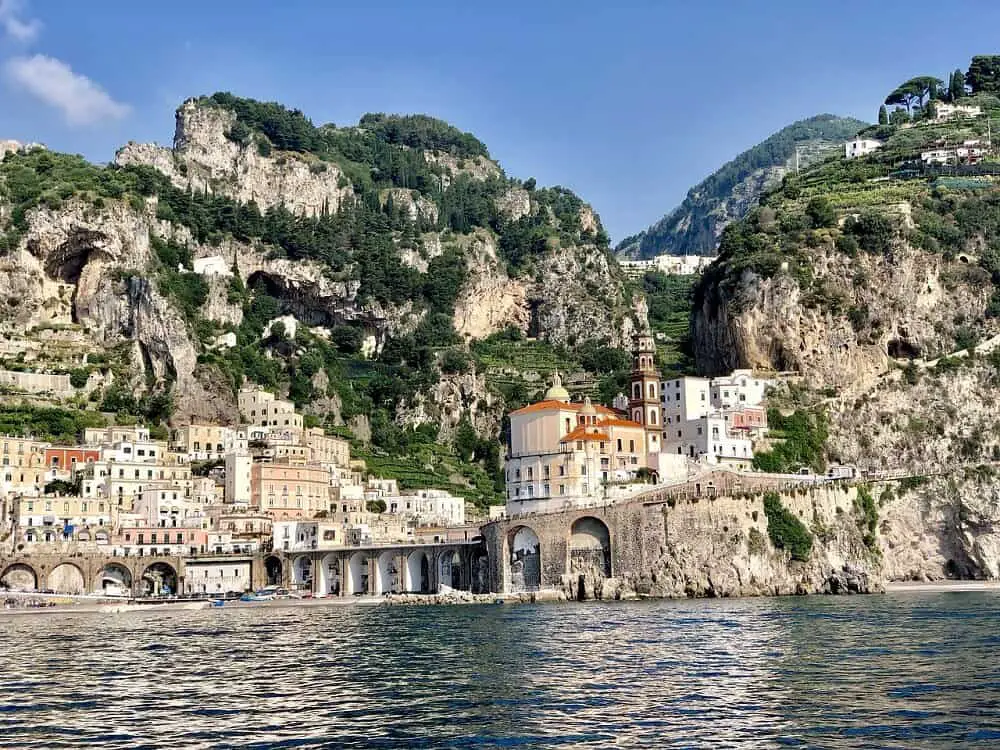 Where to stay in the Amalfi Coast
Call me stupid, but I remember being confused by the Amalfi Coast before I went there. In my mind, it was a single destination, just like Rome, or Florence…
Why did I think that? Because of Google!
Type "Amalfi Coast" into Google Maps and it takes you to Amalfi.
In reality, the Amalfi Coast is an entire stretch of coastline that encapsulates a number of individual cliffside towns, one of which is called Amalfi!
My dim-wittedness aside, the main places people stay here are, in order from north to south: Sorrento, Positano, Praiano, Amalfi, Ravello, and Salerno…with a few other smaller towns interspersed between them.
The first two are the most popular, should you stay in Sorrento or Positano?
Want my advice?
Base yourself in Sorrento, which is actually right outside the Amalfi Coast.
Not only is it easily accessible from Naples (more on this next), but it's also lovely, quaint, budget-friendly (relative to other places along the Coast), and offers great transport links to the other towns and attractions there.
WHERE TO STAY IN SORRENTO:

LUXURY: Palazzo Marziale – Stay in an opulent 15th-century palace in the heart of Sorrento's Old Town where you find restaurants, shops, and bars a few steps away.

MID-RANGE: Il Roseto – A lovely restored family home with an outdoor pool and lush garden with lemon trees. It also has free parking with a charging station for EVs.

BUDGET: Casa Laura Sorrento – Located a few minutes walk from Sorrento's town center, this family-run hotel offers light and spacious rooms. They have an on-site bar and you can walk easily to the ferries that connect with the Amalfi Coast.
READ MORE: The most picturesque towns on the Amalfi Coast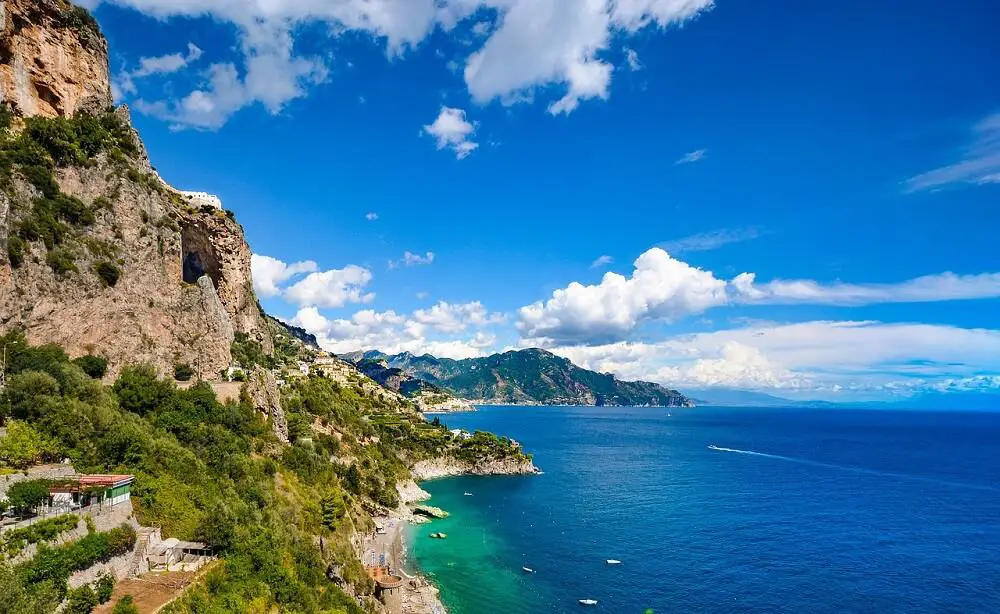 How to get to (and around) the Amalfi Coast?
There are various ways to access the Amalfi Coast. However, in general, you're looking at some combination of flying, driving, and/or taking the train.
Many people fly into the big, cosmopolitan city of Naples before hiring a car and driving to their coastal destination of choice. You can check out flights here.
Of course, a major benefit of this approach is that you then have a set of wheels to travel easily between the various towns and attractions here! You could, however, arrange a taxi to drive you from Naples Airport to your accommodation instead.
Don't worry if driving or paying for a cab isn't your shtick though. You can also take a train from Naples to Sorrento, which sits at the northern end of the Amalfi Coast, and then hop on a bus if your final destination's further along.
As for getting around throughout the trip, you can drive, hop on a boat, rent mopeds, or use the local buses. I did the latter and it worked out fine!
You do have to structure your days around the bus schedule and I heard they can get busy in normal (AKA non-pandemic) peak times of year, but it's still an effective and budget-friendly way to go up and down the coast.
Top tip: If you're approaching the Amalfi Coast from the south of Italy, then it may makes more sense to aim for the big city of Salerno rather than Naples. You can then drive or take a bus up the coast to reach your final destination.
How Much Should You Budget for the Amalfi Coast?
There's no denying: the Amalfi Coast isn't the cheapest place you'll ever visit! Everything from the food to accommodation is as expensive as you'll find anywhere in Italy, so it can certainly stretch the bank balance of budget backpackers.
But don't let that stop you, though!
Just because you could easily spend thousands of dollars on a brief stint here doesn't mean you have to. If you're willing to sacrifice the high-end hotels, prepare your own food, and take public transport to enjoy the many free activities here, it's definitely possible to travel the Amalfi Coast without breaking the bank.
Here are a few basic costs to inform your budget:
Budget accommodation in Sorrento, in October (per night): €30-50+
Day-long bus ticket: €8
Ordinary bus ticket (valid for 45 minutes after you get on the bus): €2.00
Nice dinner at a basic restaurant: €20
For 5 days/4 nights, I'd say someone on a shoestring budget could expect to spend anywhere between €500 and €750 (that, as of June 2021, is roughly $605 to $910).
Keep in mind that those prices are a) a rough guide and b) based on my attempts to travel as frugally as possible! I was also staying in Sorrento, which is cheaper than the towns further along the Coast. Expect the price of hotels, guest houses (including Airbnbs) and dining out to increase considerably elsewhere. Likewise, you'll also have to factor in the costs of getting to and from Italy in the first place.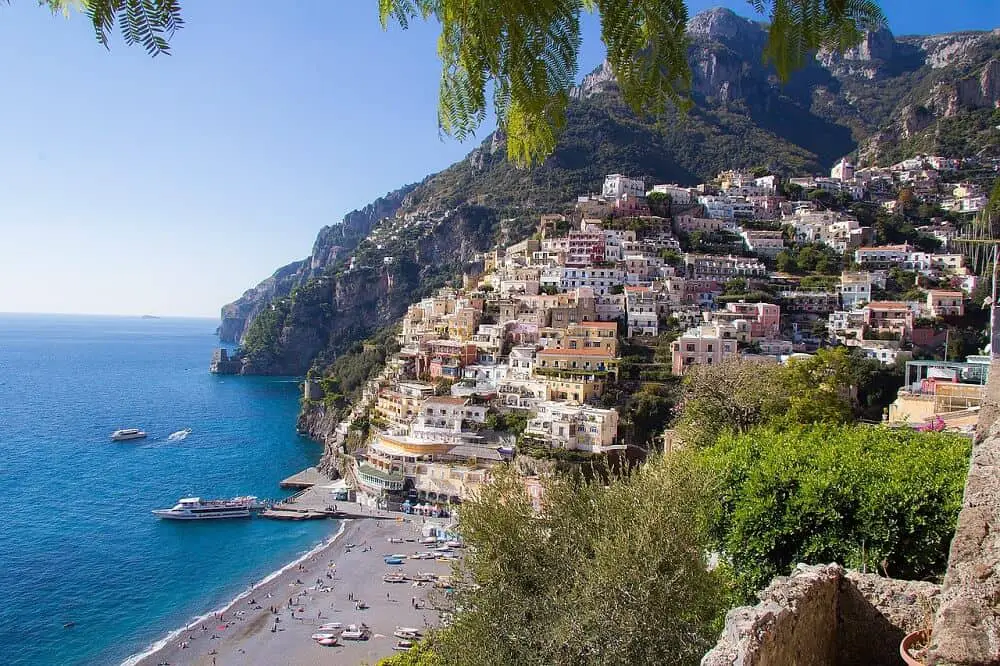 How long should you stay in the Amalfi Coast?
How long is a piece of string?! The Amalfi Coast is such a heavenly place that you could spend weeks exploring and relaxing here if you felt like it (…and had a big enough budget).
However, if you ask me, I'd say 3 to 5 days should suffice.
If you want to take your time and/or go on a day trip or two, then stay for a week.
But whatever you do, try not to rush it! Two days in the Amalfi Coast is better than nothing, but it'll be impossible to truly get a sense of this remarkable part of Italy.
Remember, more time equals less stress and more opportunity to explore! With 3 to 5 days at your disposal, you'll be able to see the best bits at a leisurely pace, while still having time to chill out.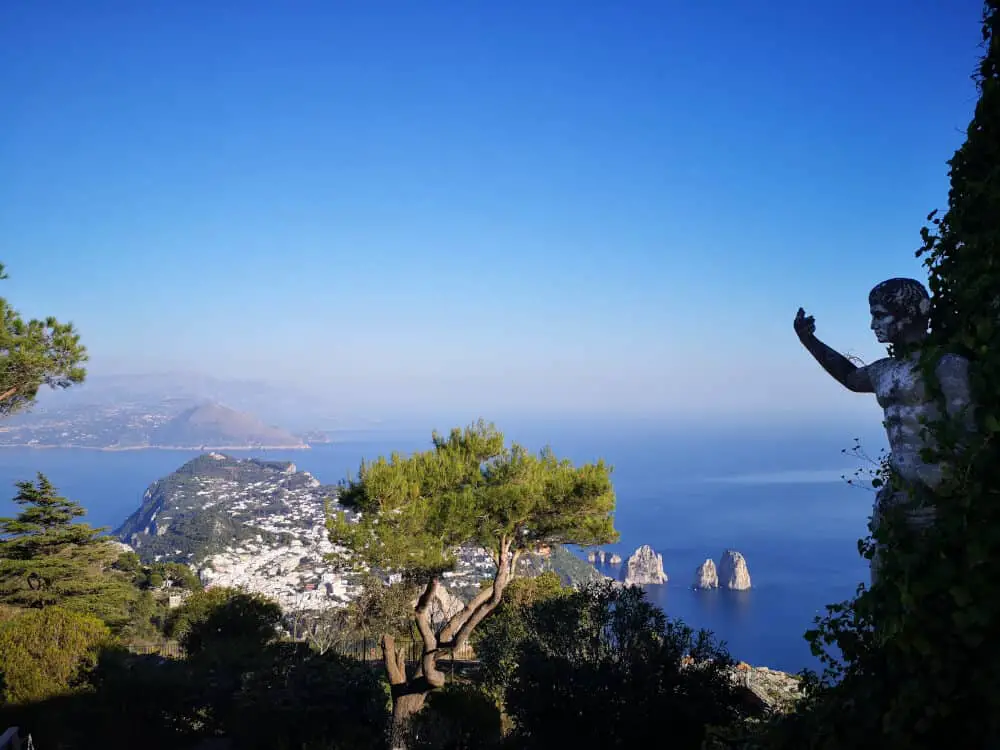 Things to do in the Amalfi Coast
Without further ado, let's turn to some essential things to do in Amalfi Coast! Here are a few potential things to see and do that'd surely make for an unforgettable trip.
Explore Sorrento
I've mentioned Sorrento a few times already in this post. And for good reason! A gateway town to both the Amalfi Coast and the surrounding region (did somebody say Pompeii?), it boasts a big bunch of compelling attractions without being as expensive as other places farther down the coast. The iconic views of Vesuvius is also one of the most majestic things to see in Amalfi Coast.
These incentives do turn Sorrento into a busy, bustling tourist destination- especially in summer. But as a beautiful town with views over Vesuvius (and the birthplace of Limoncello), it's still an ideal place to start your trip or to use as a base throughout it.
Expect endless shops, bars, cafes, and restaurants, as well as a busy harbor, verdant parks, and the ruins of an ancient Roman villa (located just outside town) that are well worth a visit too.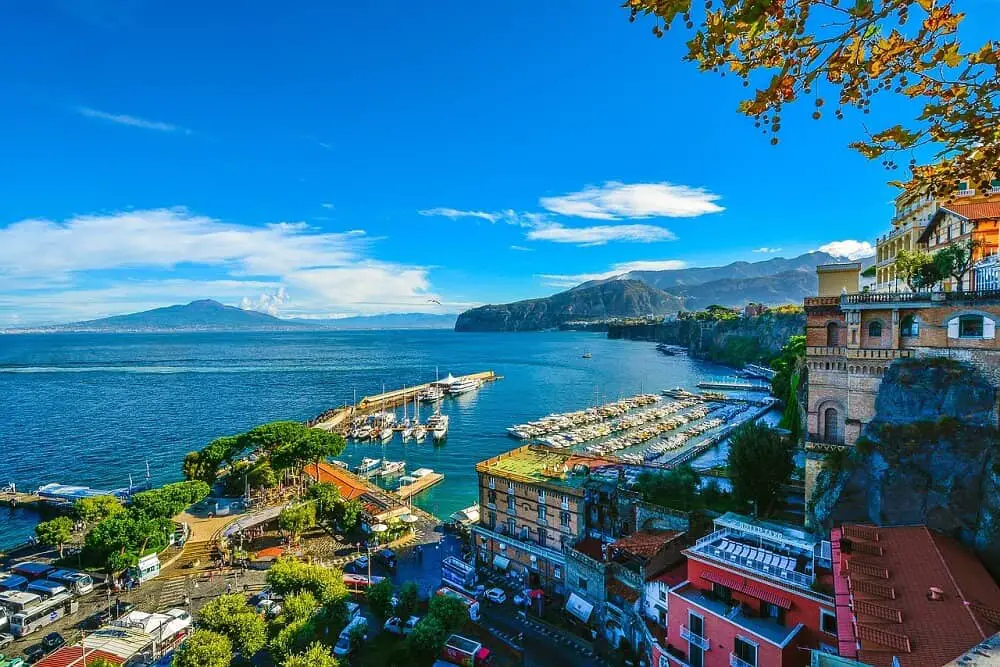 Visit postcard-perfect Positano
Picturesque Positano is the quintessential Amalfi Coast! Pastel-colored houses rise miraculously up quote-worthy mountains, situated on tightly-packed terraces that gaze out over the hazy brilliance of the Tyrrhenian Sea.
Centrally located, Positano's is also one of the most glamorous towns on the coastline. Not surprisingly, one of the best things to do in Positano is to go on a boat trip to uncover the pristine coastline.
Much loved by celebrities, expect a lively atmosphere among the pretty streets, chic shopping opportunities, and upscale seafront bars and restaurants.
Oh, and make sure you're fit! Steep, maze-like staircases weave up, down, and in and around town, taking you through the heart of this unmissable place.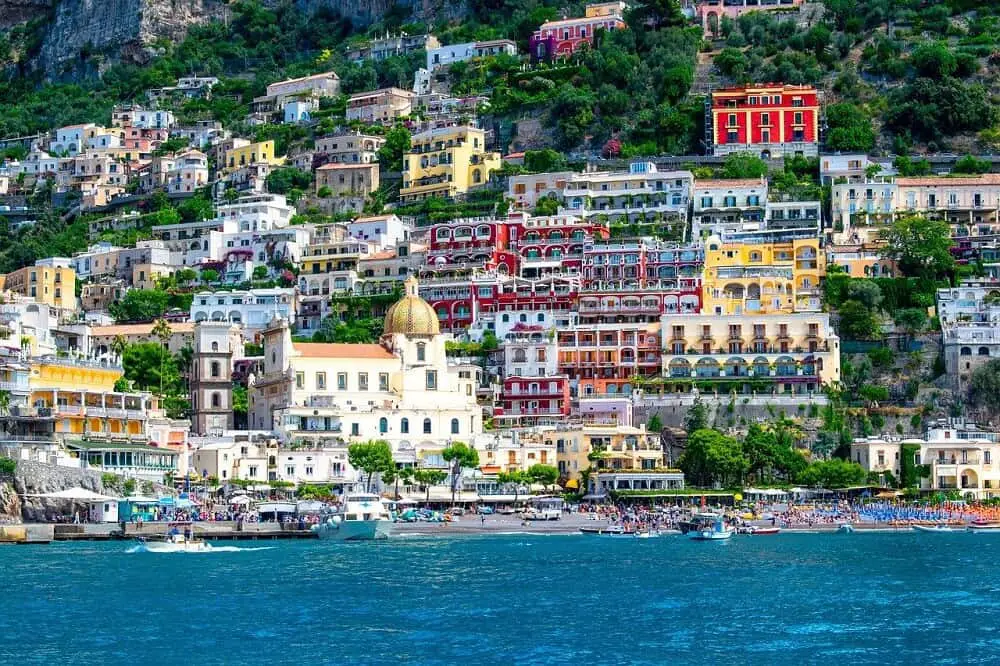 Hike the Sentiero Degli Dei ("The Path of the Gods")
One of the most adventurous things to do in Amalfi Coast is called the Sentiero Degli Dei. Translating to the aptly-named "Path of the Gods", this is one of the most popular hikes on the Amalfi Coast and a must-do activity for anyone who a) loves the outdoors and b) wants to gawk at outstanding panoramic views of the area. But make sure you're prepared with the right hiking gear.
The main trail links the hilltop towns of Nocelle and Bomerano, stretches for 6km and takes roughly 3 hours to complete.
However, if you're fit and fancy more of a challenge, then I recommend starting the hike from just outside Positano, where a long, steep (and I mean really steep) staircase takes you up to Nocelle.
You can then do the usual Sentiero Degli Dei, but instead of continuing all the way to Bomerano, you take a right and descend another steep staircase to Praiano.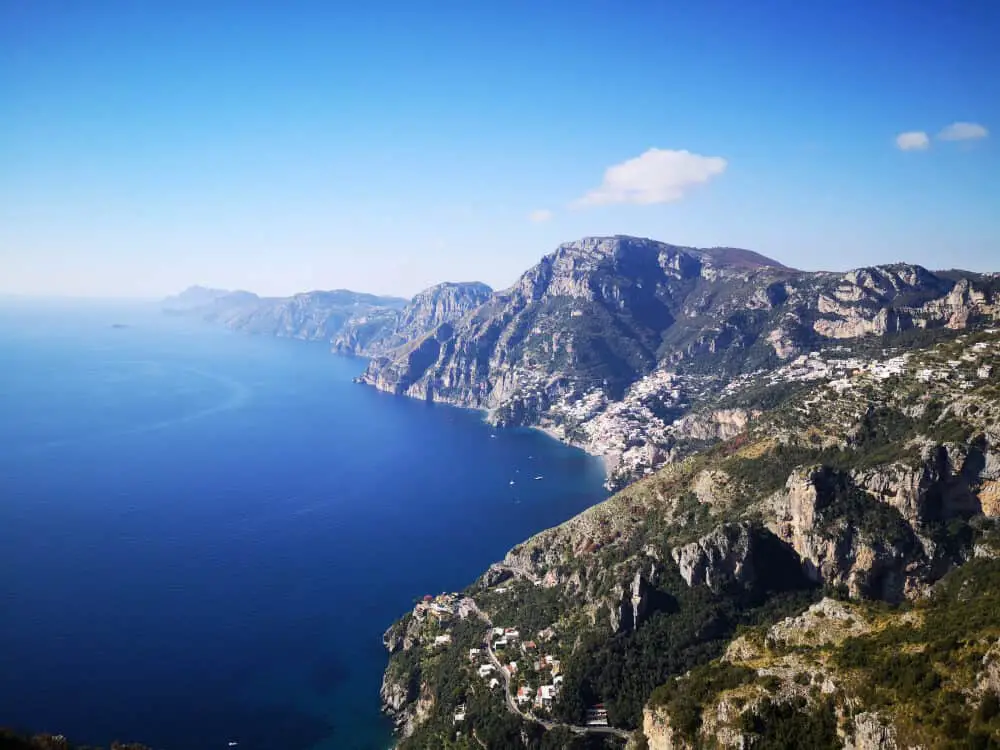 Enjoy picturesque Praiano (And its beautiful beach)
Whether you walk to Praiano via the Path of the Gods or get there the traditional way, it is, without a doubt, another worthy stop on your Amalfi Coast Itinerary.
Situated at the mid-point between Amalfi and Positano, this tiny Italian town's often overlooked by tourists. Yet their loss is your gain! Praiano's relative lack of popularity gives it a quieter, quainter, more traditional feel that compliments the beauty on display. Expect more whitewashed houses, enchanting stone staircases, and amazing views over the sea. Hang out at the beach, grab a drink, and watch the sunset in yet another lovely part of the Coast.
Explore Amalfi itself
No list of things to do in the Amalfi Coast would be complete without mentioning the bustling yet beautiful town of Amalfi itself! Situated at the midway point between Sorrento and Salerno, Amalfi draws countless visitors to the shores of its pebble beaches every year. There's no denying Amalfi is one of the most astounding places to visit on the Amalfi Coast.
It isn't hard to see why, either. First off, Amalfi boasts a good dose of Positano's high-end vibe without such hefty prices! Then there's the lively atmosphere to soak up, a fascinating maritime history to learn all about, and myriad medieval buildings to explore. To top it off, Amalfi provides quick and easy access to the island of Capri (somewhere I'll talk a bit more about later…).
6. Frolic in the Fiordo di Furore
Head to the insanely beautiful Fiordo di Furore for an afternoon spent frolicking on a "hidden" beach in a scenic gorge. With steep cliffs on either side, this is supposedly Italy's one and only fjord. An Instagram opportunity if ever there was one, don't forget to take a camera!
There's good news and bad news, though. The good? Thanks to a conveniently-placed bus stop, you can get a bus straight here from any Amalfi Coast town. The bad? Prepare your legs for a significant number of steps that take you down to the beach (and, more to the point, back up to the road when you're ready to leave!)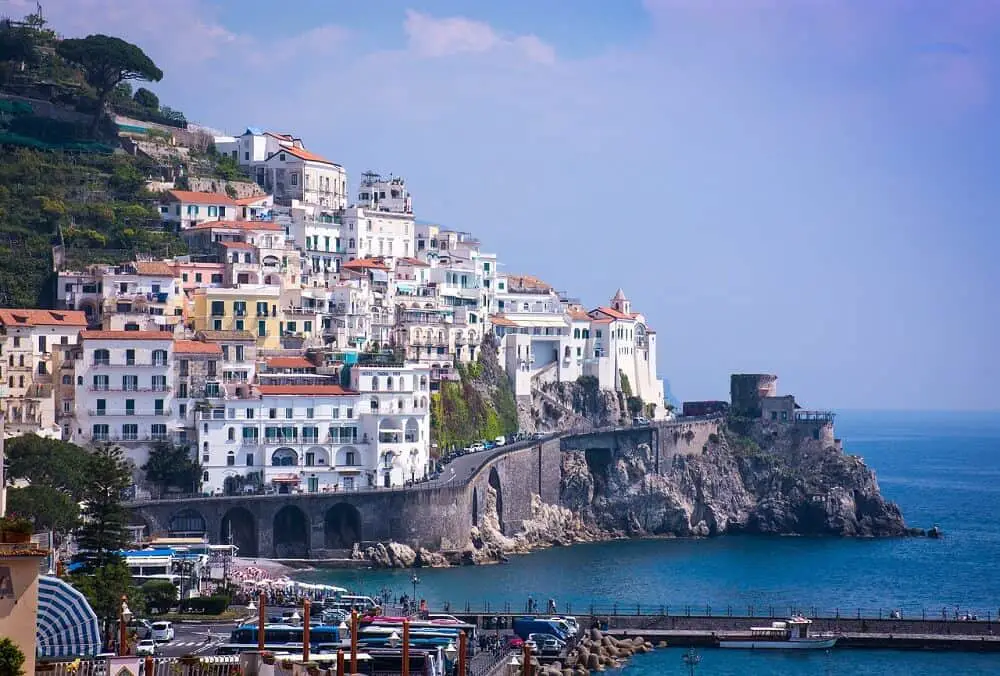 Relax in Ravello
If you ever grow tired of dodging other tourists in the busiest parts of the Amalfi Coast, consider heading 356metres up the mountain to ancient Ravello. Yet another tiny town, you'll find it inland between Amalfi and Minori, you'll find it one of the best places to visit on the Amalfi Coast!
Because it's a little off the beaten track, Ravello offers visitors some well-deserved peace and quiet to accompany the awe-inspiring views on offer from its mountaintop location.
There are cliff side gardens to enjoy, the mightily impressive 13th-Century Villa Rufolo (complete with terraced gardens and more epic vistas), and in summer, the all-popular Ravello Festival.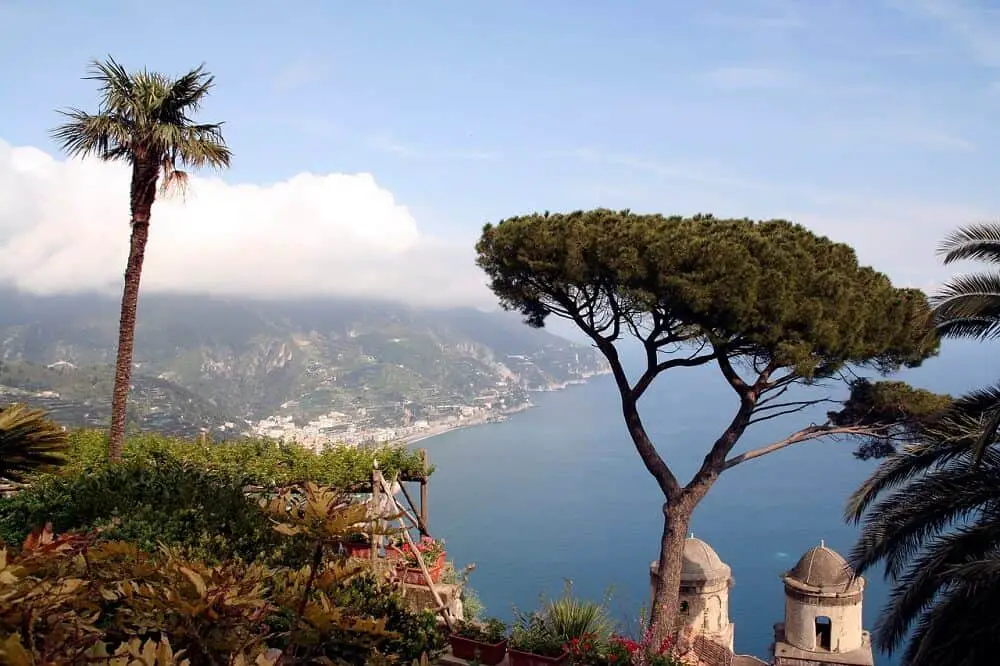 Go to Capri
If ever there was something to lure you away from the paradise that is the Amalfi Coast, it'd be the magical island of Capri.
This infamous isle of the Sirens in Ancient Greek mythology, Capri's known around the world for its natural beauty and celebrity status. Get ready for crystal clear waters, breath-taking mountain views, and more shopping opportunities than you can shake a stick at.
With the likes of the Blue Grotto, the Giardini di Augusto, Via Krupp, and Monte Solaro at your disposal, I could write another entire post on things to do in Capri.
For the purposes of this one, though, all you need to know is that it's 100% worth a visit! You can get there by ferry from Sorrento and Amalfi (and, I'm sure, other places along the Coast too.)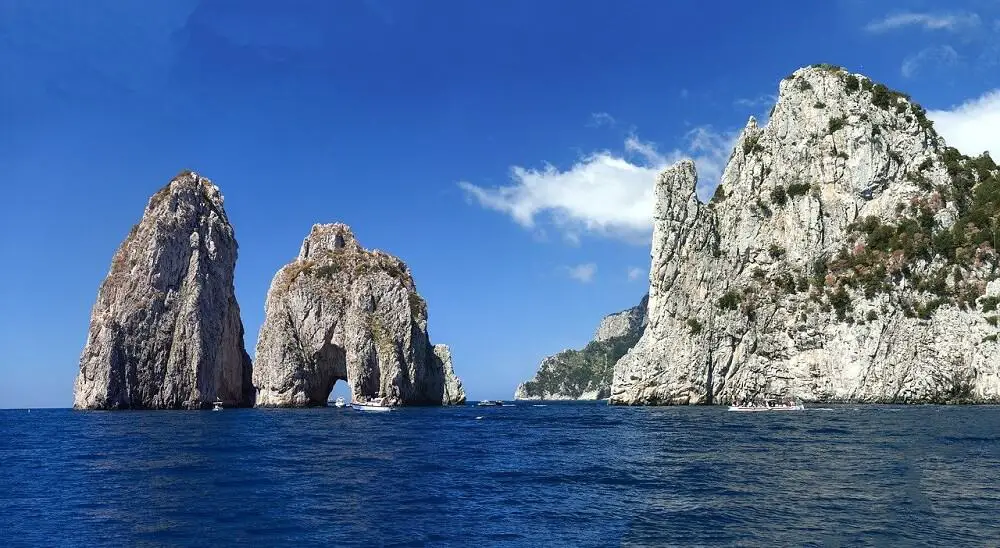 Pin it for later!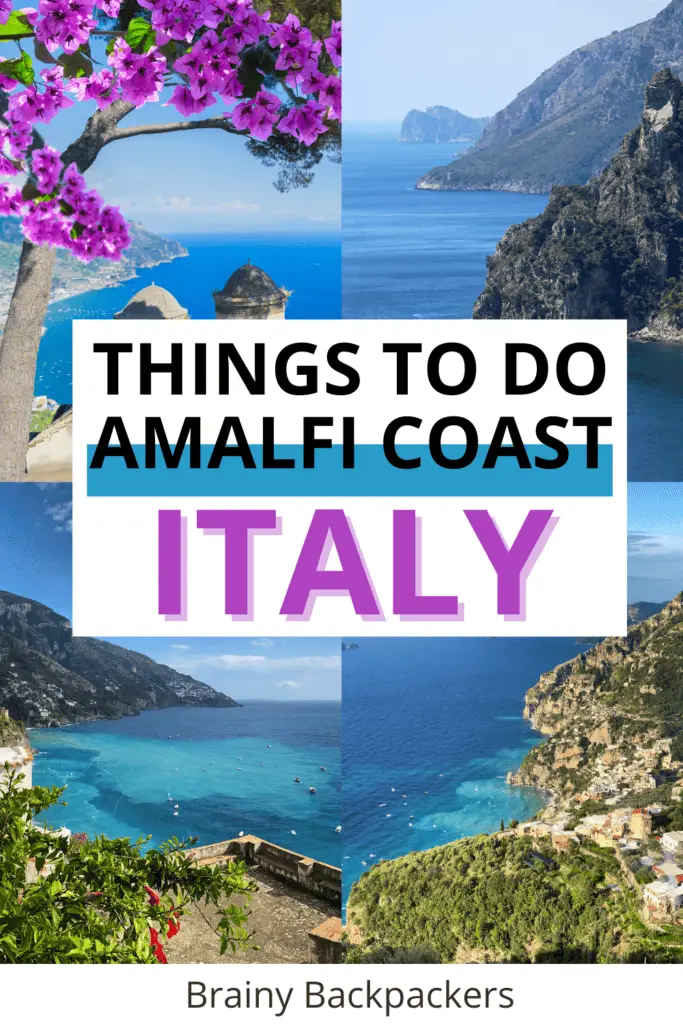 Plan your Amalfi Coast vacation
There you have it, the best things to do in the Amalfi Coast, plus a selection of "top tips" to help you make the most of your trip.
As you can tell, there's no shortage of unforgettable ways to spend your time in this remarkable place. With any luck, the insights above will help you filter through the options and figure out exactly what to do in Amalfi Coast.
Before you go, make sure you purchase travel insurance. You can read a complete World Nomads travel insurance review here. If you opt for a rental car, it's recommended to book well in advance to get the best rates. You can book it here.
---
About the author: This post was written by Danny Newman, currently writing and traveling his way around the world in a bid to figure out exactly what he's doing with his life. He'd love you to follow along with his journey over at What's Danny Doing.
---