Varkala is a beach town in the south of Kerala. The south Indian state of Kerala is slowly taking over Goa's popularity, though it is yet not suffering from overtourism. If you want beautiful beaches and a laid back atmosphere, Varkala is the place for you. In this article, I will share the best things to do in Varkala so you can start planning your trip.
The little town is sitting on top of a cliff overlooking the Arabian sea. There is plenty of small shops to buy clothes or souvenirs and restaurants that serve splendid smoothies made of fresh fruit and traditional Indian food.
This is the perfect little town to enjoy the beach and relax in this otherwise hectic country. There are still plenty of things to do in Varkala.
Disclosure: This post may contain affiliate links. That means that if you make a purchase through one of those links, I will get a small commission at no extra cost to you. If you have any questions about these services or products, feel free to ask me.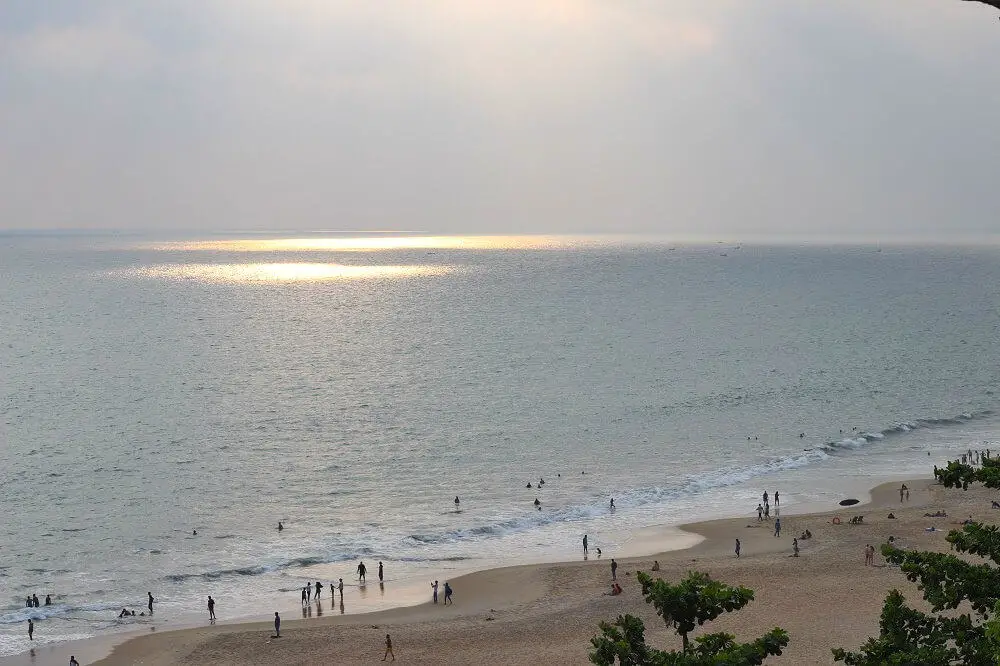 Things to do in Varkala
Varkala beach
Varkala beach is probably the main reason for most travelers to go to Varkala. It is a great beach to escape the crowds in Goa. It is also a great sustainable choice to avoid over touristy places and spread the tourist money elsewhere.
The beach is surrounded by stunning cliffs and you must descend some steep steps to get down to the golden sand. The beach is separated with one tourist part, like so many other beaches in India. My vote goes to stay on the tourist side. Most Indians wear clothes when on the beach and are not used to bikinis and much skin in general in public. Especially as a woman you will most likely save yourself from an unpleasant experience or two. It is also possible to rent a parasol to get some shade beneath the otherwise burning hot Indian sun.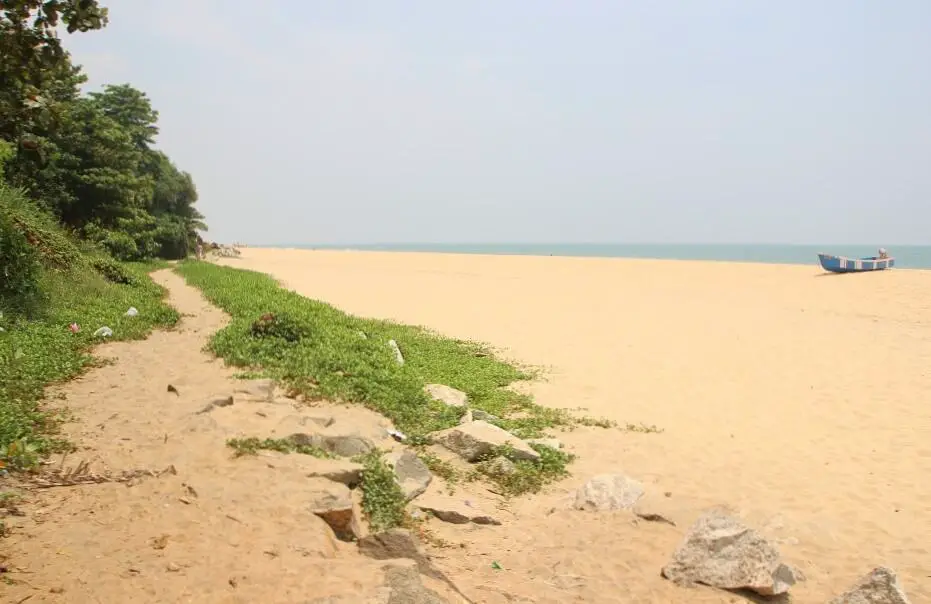 Varkala cliff
Red sandstone cliff formations overlooking Varkala beach gives Varkala a unique touch and not just another beach town. This is the only place in Kerala where cliffs meet the Arabian Sea and makes it one of the most iconic places to see in Varkala. Benches are distributed along the top of the cliff to enjoy the mesmerizing views. You can walk along the cliff side where you can enjoy the views on one side and the many shops on the other side. The restaurants on top of the cliff have stunning views and make the perfect place for lunch.
Attend Yoga classes
Varkala is a haven for yoga lovers. Just like in Goa, there are plenty of yoga studios where ever you go. You can take single classes, drop in classes or even get your yoga teacher trainer course. There are also various yoga retreats you can stay at for your entire stay in Varkala. You will definitely get the chance to concentrate on your yoga and meditation here with beautiful surroundings.
Get an Ayurvedic massage
Kerala is the home of Ayurveda and probably one of the most special things to do in Varkala. Ayurveda is an ancient mind-body healing science and means "the science of life" in Sanskrit. The Ayurvedic massages use special techniques with chosen herbs and oils to heal the mind and body. If you are feeling stressed or imbalanced in any way, there is surely an Ayurvedic treatment you can try. Kerala is known for the best Ayurveda schools in the whole of India, so you will surely get the best treatment here.
Have a fresh smoothie at one of the many bars
After yoga class or a day at the beach, there is nothing better I can think of than enjoying a smoothie made of fresh fruit and vegetables. There are plenty of great places to get your smoothie so take a pick, choose where ever you feel the most at home and look at the large smoothie menu.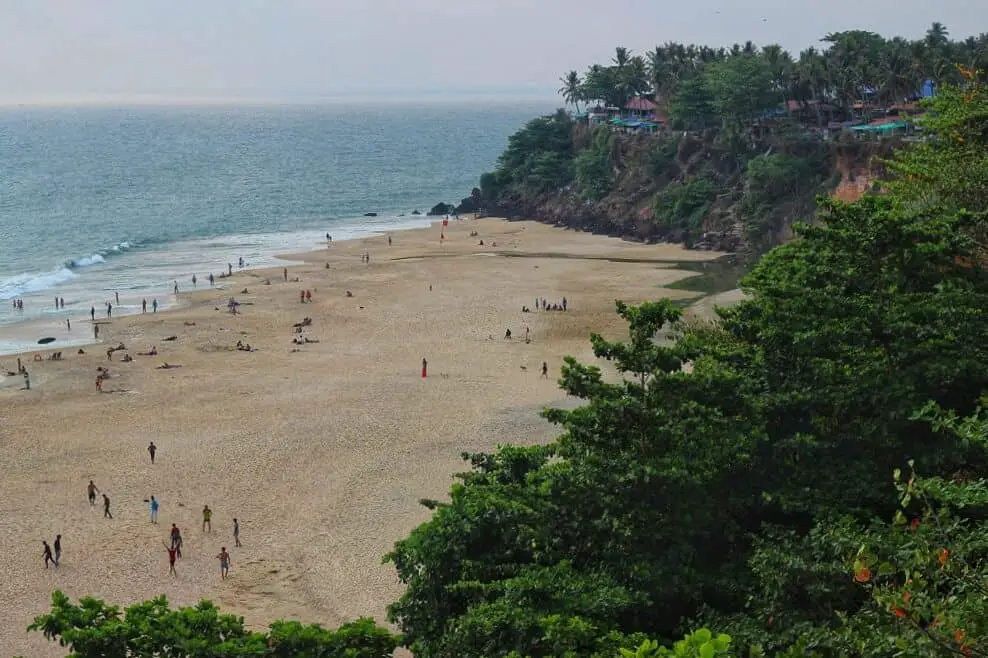 Visit Janardanaswamy Temple
Janardanaswamy is also known as Varkala Temple and one of the top places to see in Varkala. The 2000 years old temple is devoted to Lord Vishnu and is a major pilgrim destination. The temple is situated on the top of a hill and accessed by a set of broad steps. The temple ground is home to an old banyan tree and various gods and goddesses. Arattu is the main festival celebrated in the temple and takes place in March/April every year. The festivities attract many devotees to perform homage to their ancestors.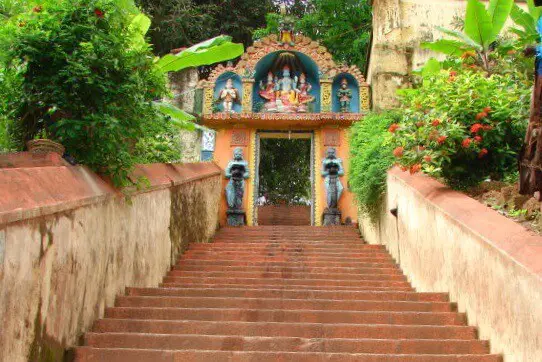 Places near Varkala worth visiting
Visit Kappil Backwaters
Kappil Backwaters are a great alternative to the famous Alleppey Backwaters and only 6 kilometers from Varkala. You can rent a houseboat or just go for a boat trip in the tranquil backwaters. This magical place gives total serenity to the soul.
Another option is to visit Kappil beach which is great for sunbathing and swimming. You can also explore Kodil cliff nearby and enjoy the views of the ocean.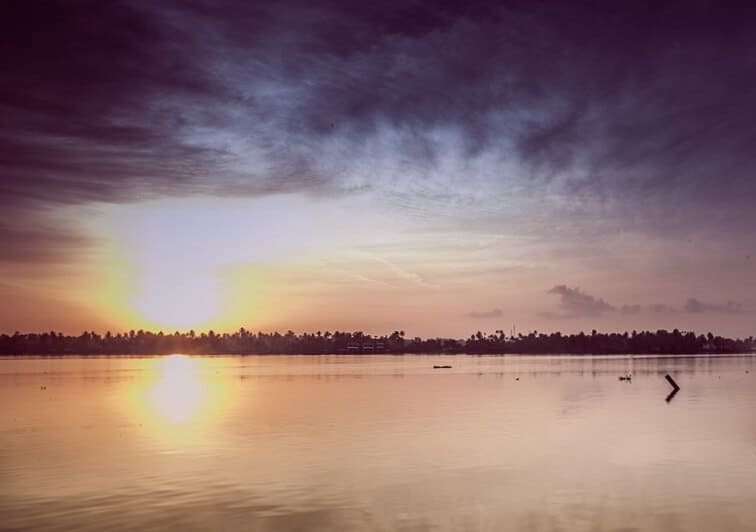 Visit Kappil Pozhi
Kappil Pozhi is a tranquil lake about 6 kilometers from Varkala and one of the places near Varkala worthy a visit. The best way to explore the lake is to rent a boat. The lake is surrounded by palm trees and it meets the Arabic Sea. This is just another proof that Kerala is so distant from the rest of India, and absolutely worthy a visit to wind down and relax from the otherwise chaotic country.
The best time to visit Varkala
The best time to visit Varkala is in the winter months between October and March. This is when temperatures are most pleasant. However, if you like the heat, April and May are also good though temperatures may rise above 40 degrees Celsius.
Monsoon season normally lasts from June until September. Though it rains a lot, it is still nice and green. The only risk is that the rivers might flood, and floods in India can be quite rough. That's why I suggest keeping an eye on the weather forecast and listen to the locals to avoid getting stuck in the middle of a natural disaster.
---
Not booked your flight to India yet? Make sure you book it here!
---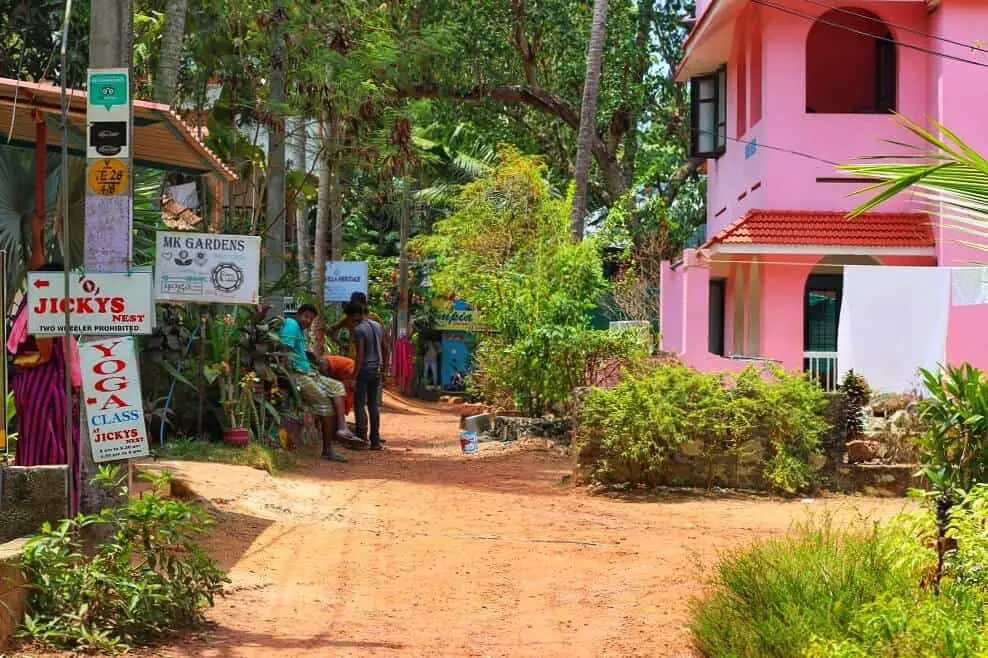 What to bring on your trip to Varkala
Make sure you bring your beach wear and towel. Check out the time of year for temperatures, but most of the year you will be fine in light clothes. However, winters can get down to 12 degrees Celsius at night so you should bring long pants and jumper for the cooler months.
If you plan to visit the temple, you should bring something to cover your shoulders also in the hottest summer months.
Also, there is no ATM at the top of the cliff, so make sure you bring enough cash for your shopping, smoothies and food. Some restaurants accept credit cards now, especially if they are connected to a resort. However, make sure you ask before you dine.
I always
---
READ NEXT: 20 Beautiful places in Rajasthan
---