Rajasthan has a special place in my heart. It was the first Indian state I traveled in (after a messy cockroach-filled couple of days in New Dehli) and I completely fell in love with all the chaotic, yet beyond beautiful places in Rajasthan.
Prepare yourself for enormous forts overlooking cities, empty desert land at sunset, majestic Havelis, buildings carefully decorated with impressive details and colors, mouthwatering food, and lots of chai tea. This is Rajasthan. One of the most amazing places to visit in India.
For inexperienced travelers and first-timers to India Rajasthan can definitely be a dramatic culture shock, yet it's one of the best places for solo female travelers in India with some of the most impressive landmarks of Asia. It's truly a destination anyone should add to their bucket list. True Rajasthan beauty is truly hard to beat!
In this post, I will show you some of the most beautiful places in Rajasthan to fuel your wanderlust!
Disclosure: This post may contain affiliate links. That means that if you make a purchase through one of those links, I will get a small commission at no extra cost to you. If you have any questions about these services or products, feel free to ask me.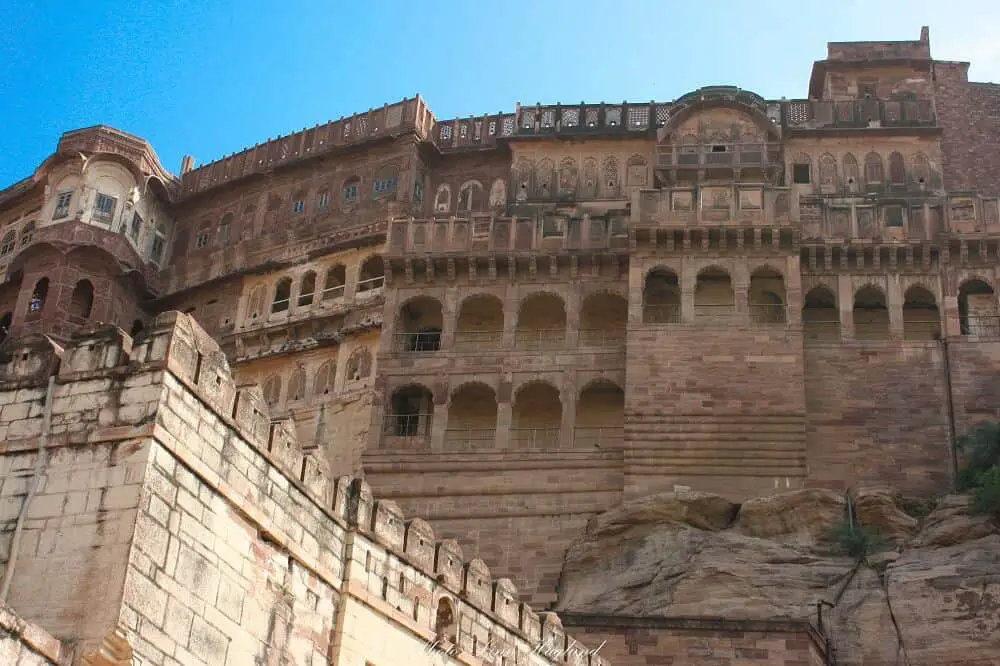 ---
READ: Tips for traveling as a woman to India
---
Beautiful places in Rajasthan
Jodhpur
Also called the Blue City, Jodhpur is one of the most beautiful places in Rajasthan. With the center of attention being Mehrangarh Fort where you gladly can spend a day wandering within the fortress walls, you should at least make your Jodhpur itinerary 2 days, if not longer.
There are plenty of places to visit in the city and while the views are the best from the fort, make sure you also visit Umaid Bhawan Palace with its incredible collection of classic cars. The marble structure Jaswant Thada, known as the Taj Mahal of Mewar is also a Rajasthan must see palace.
Make time to stroll around the Clock Tower and experience the busy Sadar Market as colorful sari fabric and spices are exchanged for rupis.
Another interesting site is the Rao Jodha Desert Rock Park, a large rocky wasteland next to Mehrangarh Fort.
Stay at Durag Niwas Guesthouse and by staying there, you support women and children in underpriviledged communities.
Jodhpur is well connected by bus and train from most major cities and also has its own domestic airport.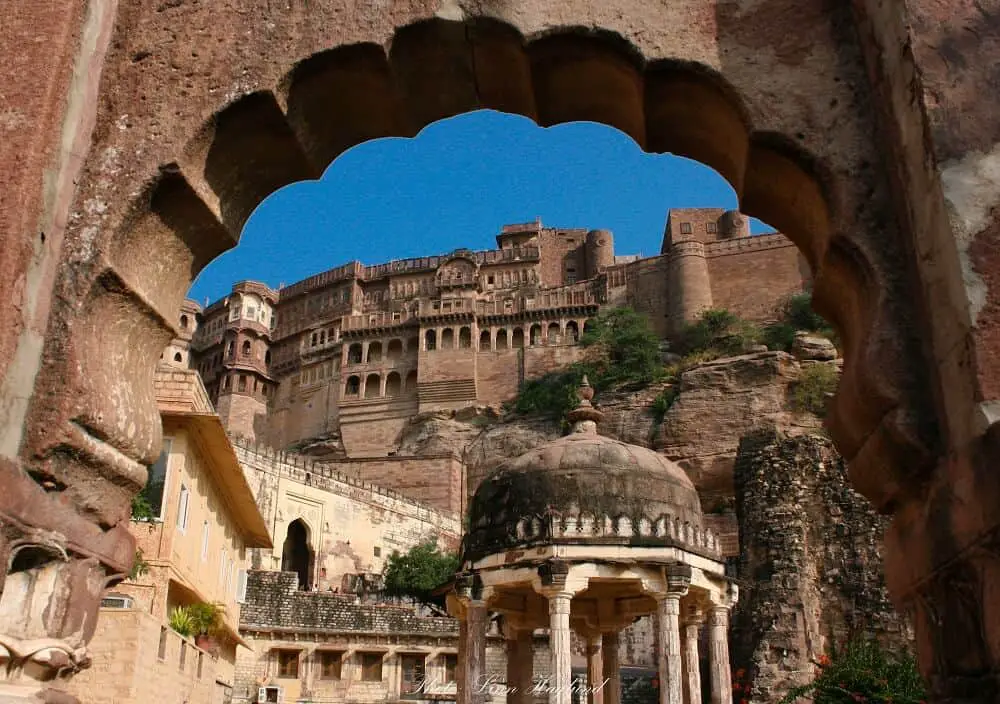 Jaipur
By Anjali of Travel Melodies
Rajasthan's royal capital – Jaipur is one of the most visited cities along with Agra, and Delhi. These three cities make up India's famous tourist circuit – Golden Triangle.
Jaipur feels like a colorful extravaganza. The historical forts and castles, cultural, and religious sites, vibrant and artsy bazaars, mouth-watering traditional Rajasthani food, the sounds, and the smells – the city's sure to overload your senses!
Though there's no shortage of places to visit in Jaipur, I'd narrow down to the best ones.
Your Jaipur itinerary should and must include Amber Fort (absolutely a jewel of Jaipur), Jaigarh Fort (climb the fort to enjoy the 360-degree view), Nahargarh Fort (the terrace of Madhvendra Palace boasts the most beautiful sunset over the city), Hawa Mahal (the most iconic landmark in Jaipur), and City Palace (visit the Friends of the Museum to buy traditional jewelry direct from the artisans. And hey, you can't miss the Pritam Niwas Chowk and its famous season doors), Jantar Mantar (the astronomical wonder), and Galtaji Temple (famously known as a monkey temple).
And, of course, shop or stroll the colorful bazaars. Bapu Bazaar, Johri Bazaar, and Tripolia Bazaar are some of the most famous markets in Jaipur.
Head to Laxmi Misthan Bhandar for the yummy Rajasthani food. Foodie or not, you'd love lal maas, pyaaz ki kachoris, and jalebis.
Jaipur is pretty well-connected by air, road, and rail with all the major cities in India. You can rent a car and drive the NH8 from Delhi or catch a Volvo or a train. If you love luxury and are ready to splurge, hop on a luxury train 'Palace on Wheels' and enjoy the gems of Rajasthan – Jaipur, Udaipur, Jodhpur, and Jaisalmer, all-in-one-package.
Complete your traditional Rajasthani experience by staying in one of the royal heritage Havelis turned hotels. We recommend Samode Haveli and Pearl Palace Heritage Hotel.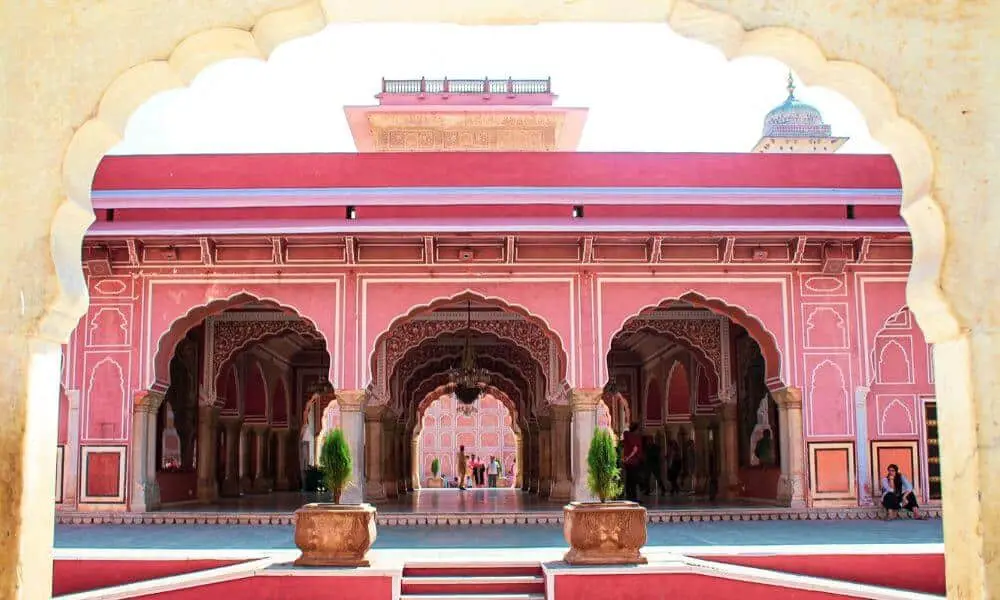 Pushkar
By Rose of Where Goes Rose
A must for your Rajasthan adventure is the Pushkar, a charming town in the desert known for its holy lake, many temples, and more recently, its popularity among hippie travelers. If you're looking for an escape from big and busy cities like Jaipur, this is your place. While sitting at a cafe looking down over the peaceful lake as locals bathe and pray, you'll feel a real sense of stillness. Don't miss the cable car to Savitri Mata Temple at the top of the hill where you can see for miles around. Visit at 6 pm to watch the sunset over the desert.
With more than 500 temples including Brahmaji Temple dedicated to Hindu creator-god, Brahma, Pushkar is an excellent place for learning about the culture. While the street food in Pushkar is excellent, travelers needing to give their stomachs a break can visit any of the colorful cafes in Pushkar for tasty veggie burgers and fruit salads. Pushkar is a vegetarian town due to its holy nature so don't expect to find any meat dishes here or any alcohol.
For a colorful local hostel, stay at Moustache Pushkar where the friendly staff run walking tours and food crawls every night. To get to Pushkar you can catch a 4-hour bus from Jaipur.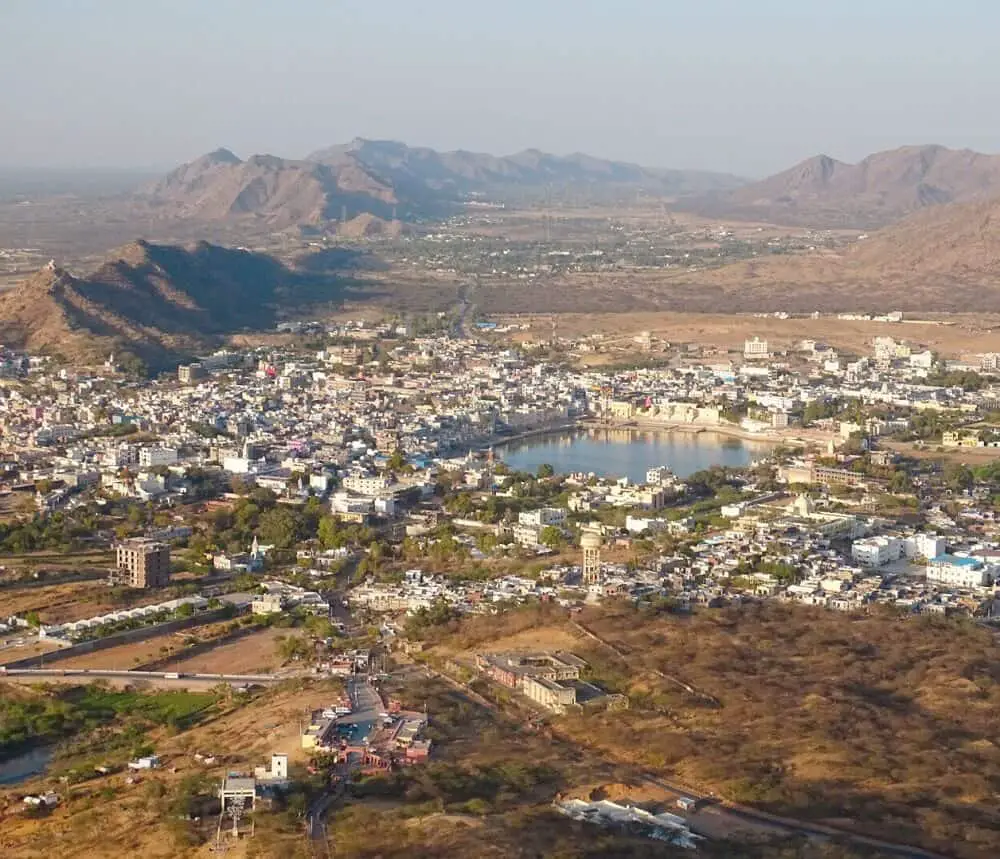 Nawalgarh
By James of Travel Collecting
Nawalgarh in the Shekhawati region in Rajasthan is a little off the beaten path, but well worth a visit.  It is most famous for the many painted Havelis.  The walls of these old merchant houses are covered in brightly painted ornate decorations. 
The region was an important stop on key trade routes in the 19th century, so there were many wealthy merchants, who built large homes and covered them in colorful paintings. 
The Havelis are some of the most beautiful buildings in India.  Some of them, such as the Poddar Haveli Museum, are open as museums, but others are still lived in, and for a small donation, a local guide will take you inside to see the colorful frescos.
The other reason to visit Nawalgarh is the handicrafts.  The town is small, but there are plenty of artisans there, and this is a great place to arrange workshops. 
While I was there, I took a tie and dye workshop and it was fascinating to learn this centuries-old craft from an artisan whose family had been doing this for many generations. 
I also watched a bangle-making demonstration and tried my hand are molding lac into twirled bangles and took a cooking class. 
A basic, but friendly place to stay is Tourist Pension.  The owner can arrange personal tours of the Havelis, workshops, and cooking classes for you.  Nawalgarh is most easily reached by bus or private car from Jaipur.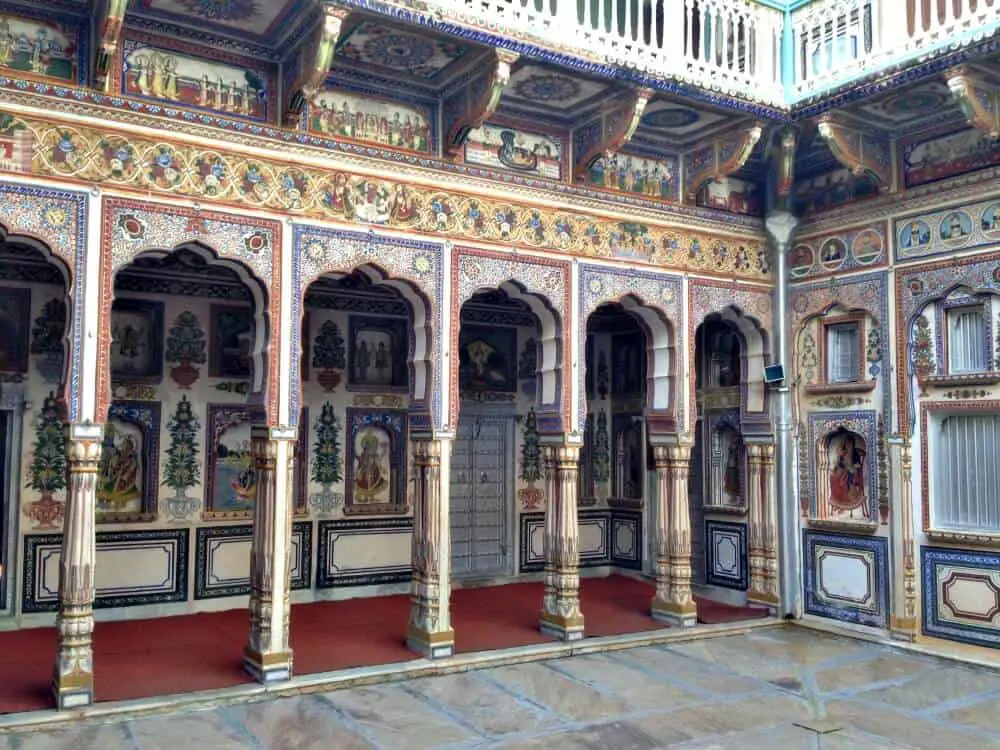 Bhangarh Fort
By Umang of Travel Max
"What is scary can also be beautiful" This was the exact sentence which came in my head when I saw Bhangarh Fort for the first time. Only a couple of hours' drive away from Jaipur, Bhangarh Fort is a beautiful sight to behold.
There are no accommodation options near the fort. The best option is to stay in Jaipur. You can spend your time at leisure at Bhangarh Fort and get to know the haunted tales behind the fort while reveling in the beautiful landscapes around the fort. 
An impressive backdrop of mountains envelopes the Bhangarh Fort from behind and a couple of giant trees stand next to the main gate of the fort. The top viewing deck has impressive views over the surrounding patches of green and streaks of grey roads that create the beautiful landscape.
If you opt for a guide you will hear scary stories about how the temple is built to keep bad spirits away. There are many tales regarding the spirits roaming around the fort at night.
Bhangarh Fort is considered to be one of the most haunted places in the world and one of the most beautiful places in Rajasthan.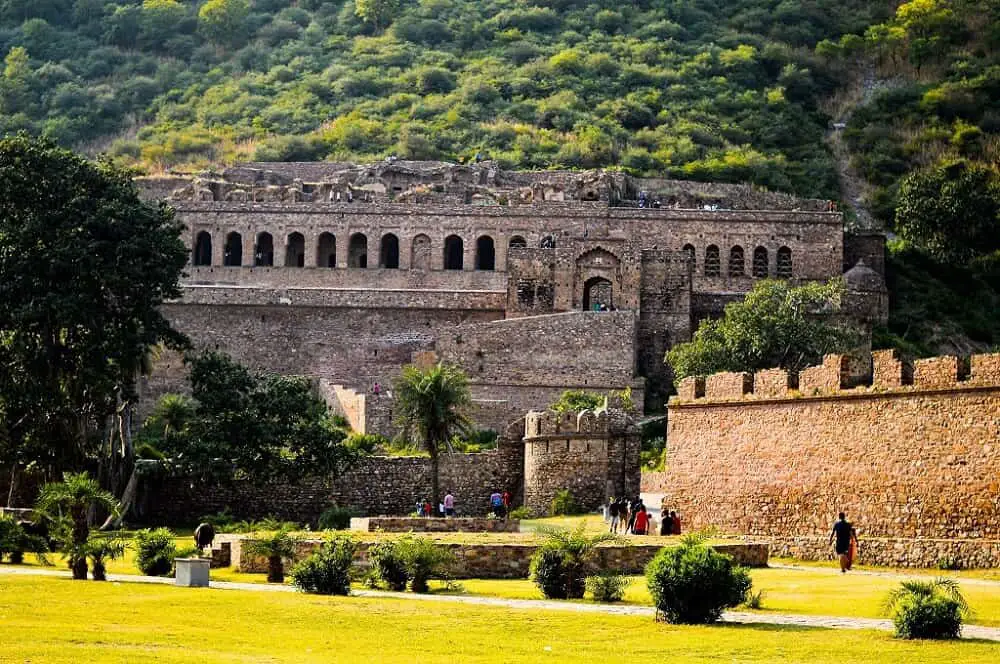 Ramgarh
By Tanushree & Yaswanth of Unbound Outbound
Situated in what is considered the world's largest open air gallery, the painted Havelis of Ramgarh, in the Shekhawati region of Rajasthan, are a treasure trove from the 19th century.
The town of Ramgarh was at the crossroads of trade routes of Asia and the merchants here prospered as a result. However, it was not a mere exchange of goods and commodities, rather an exchange of art and culture.
Things that were seen or sometimes only heard of, were painted on the walls of the Havelis that these merchants built. From the Indian festivals of Holi and Teej to European cars and planes, from Hindu gods and goddesses to Jesus Christ, these paintings featured all.
Ramgopal Chhatri is the main tourist attraction in Ramgarh. It features vibrant and colourful portraits of Radha and Krishna dancing and playing on the ceilings and pillars.
Poddar Haveli, Prahladka Haveli, Khemka Haveli and Sanwalka Haveli are a few other major Havelis to visit here.
The town of Ramgarh is located in the Sikar district to the north-west of Jaipur at about a 100 km and is well connected by road.
While Jaipur is the nearest airport to reach Ramgarh, it can be reached by train via the Churu-Sikar-Jaipur route. One can also plan to explore Ramgarh on their trip to Neemrana or Salasar Balaji.
Most of the hotels located in Ramgarh are actual Havelis that have been converted to hotels. Personally, we recommend staying at Hotel Ramgarh Fresco, an old Haveli turned hotel.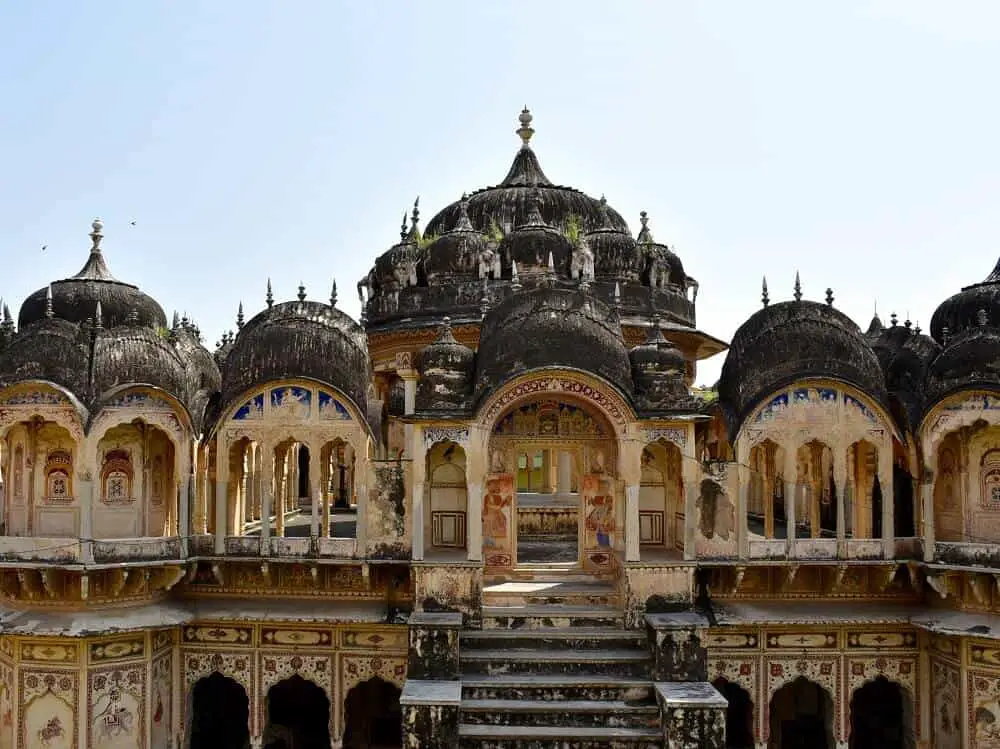 Jaisalmer
By Reshma of The Solo Globetrotter
Jaisalmer, popularly known as the Golden City, is one of the most beautiful places in Rajasthan. The entire city consists of structures all built using yellow sandstone (including homes and shops), which gives the name Golden City.
The most famous attraction is the iconic Jaisalmer Fort, comprising the Royal Palace and many intricately decorated Jain temples.
The massive fort is characterized by its enormous walls that stretch for miles, encircling a small town within itself. It's home to more than a quarter of the millions of residents of Jaisalmer.
The views of Jaisalmer Fort are stunning as the yellow sandstone beams as the sunlight falls during the day while it's mystique and enchanting at night when it is lit. 
Jaisalmer is also one of the best places to visit in India in December when the weather is perfect for outdoors and enjoying camping in the nearby Thar desert.
The other places worth checking out are Patwon Ji Ki Haveli, the beautifully sculpted Chandraprabhu Jain Temple, Folklore and Jaisalmer Fort Palace Museums. In the evening, head to Gadisisar Lake for a serene view of the sunset.
The nearest airport to Jaisalmer is in Jaipur, from where you can take a bus or a train. There are many overnight and day trains and buses connecting neighboring cities if you are already in Rajasthan.
I stayed at a heritage Shahi Palace Hotel, which was lovely with an open terrace offering the best views of Jaisalmer Fort.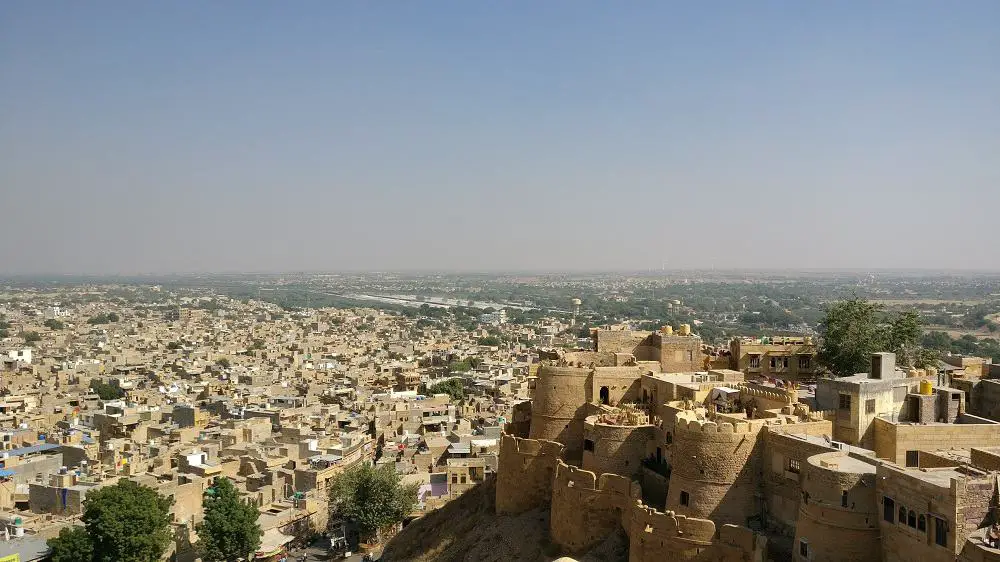 Udaipur
By Suruchi Tashi of AllGudThings
Udaipur the city of Lakes, was once the historic capital of the Kingdom of Mewar. It was founded by King Udai Singh II in the year 1558. Today it's one of the best places to visit in Rajasthan.
The royal city is flanked by Aravali Ranges and is built around 4 man-made lakes.  Its royalty and charismatic beauty, can leave anyone spellbound.
The city is known for the grand Udaipur forts and palaces i.e. the beautiful City Palace, Lake Palace, Monsoon Palace or Sajjangarh Fort.
Other places of interest are the enchanting lake Pichola, adventurous Lake Badi, a vintage car museum, and amazing Puppets at Bagore Ki Haveli.
The city is also known for its temples, especially the Karni Mata Temple. Stroll in fragrant gardens and chill in pretty cafes spread all around the city.
Udaipur is well connected by rail, road and air and can easily be reached with almost daily arrivals from all metro cities. It lies around 660 km from Delhi and approx. 800 km from Mumbai.
The city has budgeted, heritage as well luxurious accommodation options. We will recommend you to choose an option near city palace, near Lake Pichola to have an unforgettable sunrise-sunset view.
For an exclusive luxurious experience, one can stay at Oberoi Udaivilas or Hotel Taj Lake Palace located in the middle of the lake. From here one will have to take a boat every time they want to leave the hotel, but it's well worth it.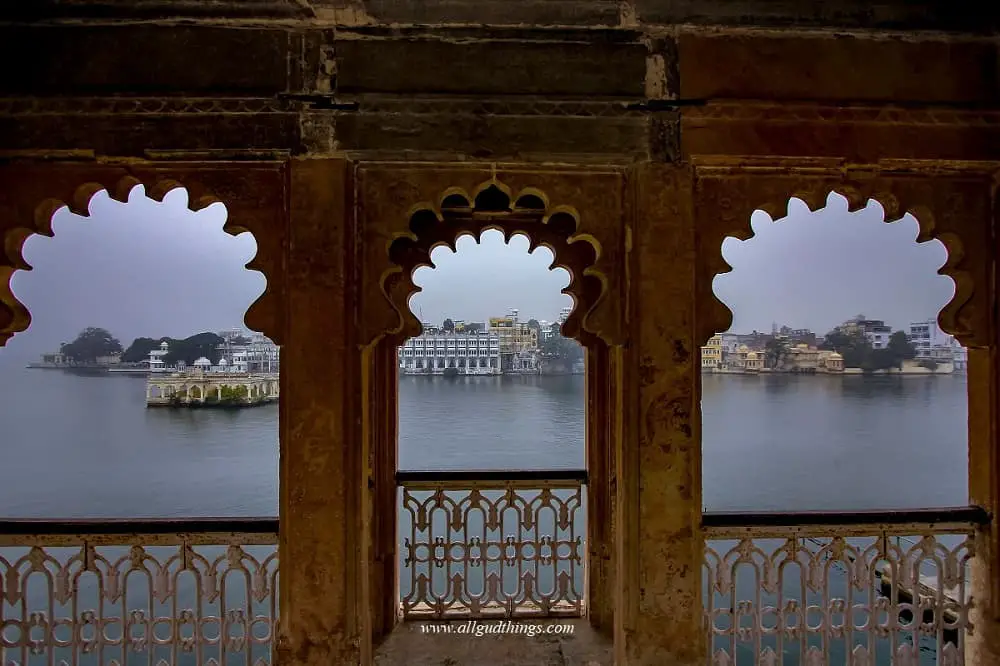 Khichan
By Jitaditya of The Travelling Slacker
You usually expect big forts and palaces in Rajasthan, but what about a surreal conservation story of migratory Demoiselle Cranes in Khichan?
Yes, Khichan is a small village that no one would have visited otherwise but over the years, it has become a success story in community conservation and that has also turned it into a tourist spot.  
These cranes arrive in Rajasthan every winter to avoid the cold of Eurasian Steppes. So, a few decades ago, some of these birds arrived at the village and a local arranged food for them.
Soon, more and more birds started appearing. In some other places, this would have attracted hunters but in Khichan, the villagers treated them as guests and kept feeding them year after year.
Khichan is located somewhere at the midpoint on the road from Jodhpur to Jaisalmer. The nearest major town is Phalodi to where you can take a train or bus. From there you get autorickshaws (tuk-tuk) to the village. There is a resort here but you can also make a day trip.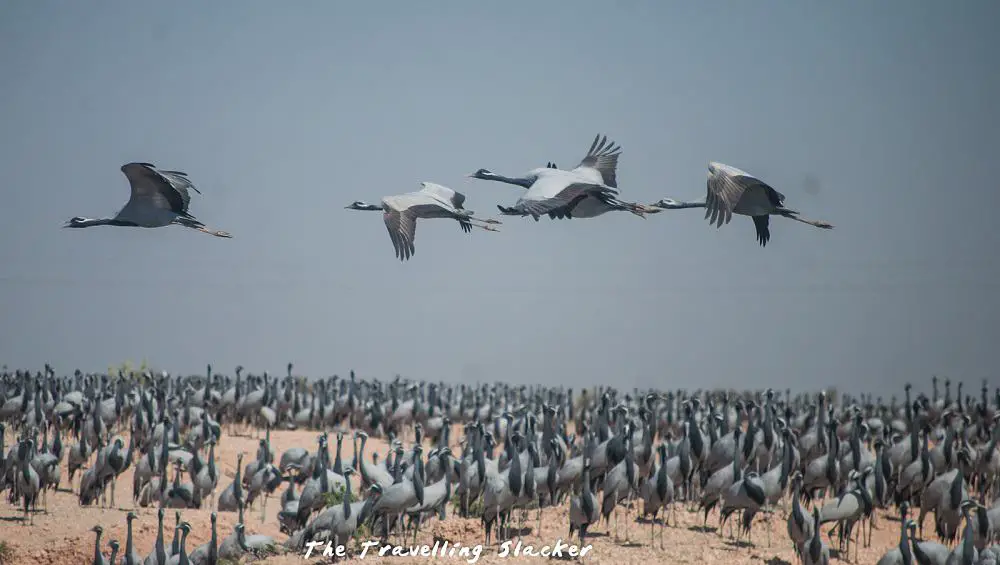 Bikaner
By Nisha and Vasu of Lemonicks
Bikaner is not as crowded as the other cities of Rajasthan such as Jaipur, Pushkar or Udaipur. The list of things to do in Bikaner is quite long and interesting.
Bikaner has plenty of temples, each one of them has its own importance. If it is the most exquisite artwork inside Laxminath Temple, Ghee temple can boast of using 40,000 KGs of ghee instead of water in its foundation.
Yet the most interesting temple is the Karni Mata temple where thousands of rats live and enjoy the affection and food offered by the public. The temple & the rats attract tourists from across the world who seek blessings.
Further, there is Junagarh Fort which is not built on a hilltop, unlike most others. It has several palaces and the interiors are decorated and painted in traditional Rajasthani style. The stone carving done is in red and gold-colored sandstones.
Grand havelis of Bikaner are another attraction one should not miss. It is a merchant's trail and one should go there in the mornings. Similarly there's one royal trail to visit all places connected to the royals of Bikaner.
The royal cenotaphs and Prachina museum along with Laxmi Niwas palace which is just irresistibly grand.
If you are an art lover, don't miss Usta Art and miniature painting workshops.
Bikaner is well connected to major cities like Delhi, Jaipur, Allahabad by train and by buses to all major cities of Rajasthan and Delhi. There are two airports nearby, Jodhpur and Jaipur, and a cab ride from either of them will take 4-6 hours.
For accommodation Narendra Bhawan is highly recommended.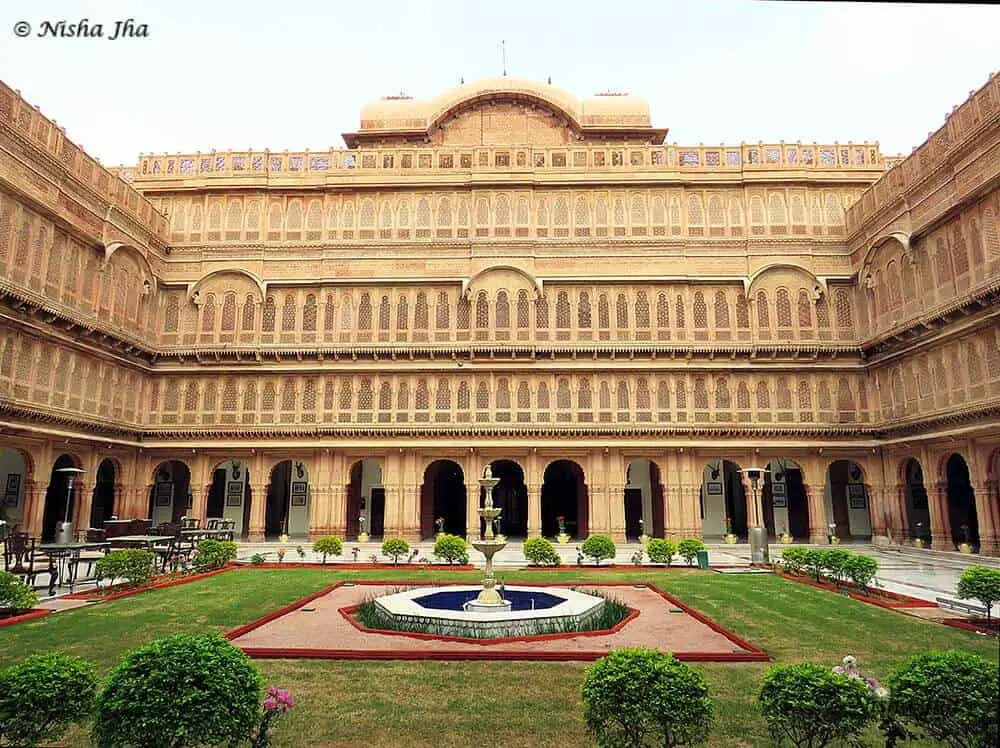 Tonk
By Samantha of Intentional Detours
One of the highlights of my time in Rajasthan was a small, infrequently visited town named Tonk. Tonk is usually left off most itineraries, yet it shouldn't be! The small town is rife with history and extremely friendly locals. 
Tonk was a former princely state of India and was the only in Rajasthan with a Muslim ruling dynasty. Today, nearly half of the town's residents are Muslim and numerous beautiful mosques can be seen throughout.
As Tonk is so infrequently visited by foreigners, locals were extremely welcoming. We were treated to numerous cups of chai, stopped every few minutes while wandering about the streets, and even invited into a couple of homes. 
There are no touts here and no tourist scams. Unlike more famous places in Rajasthan, Tonk is completely free from any negative markers of mass tourism. The experience was reminiscent of visiting historical places in Pakistan, a country with far fewer tourists than its neighbor.
The Sunhari Kothi (Mansion of Gold) is a must-see whilst in Tonk. This beautiful hall within the old palace complex was built by the former Nawab of Tonk, and is dazzling in its display of gold and mirror work.
The Jama Masjid of Tonk is an elaborately-decorated mosque in the center of the town- thus far I believe it to be one of the most beautiful mosques in all of India!
The easiest way to reach Tonk is by public bus from Jaipur, which costs less than $2 one way and takes about 3 hours. It's very easy to visit Tonk on a day trip as buses return to Jaipur every hour or so.
There are at least two hotels in town, though I recommend calling ahead to ensure they are registered to accept foreigners.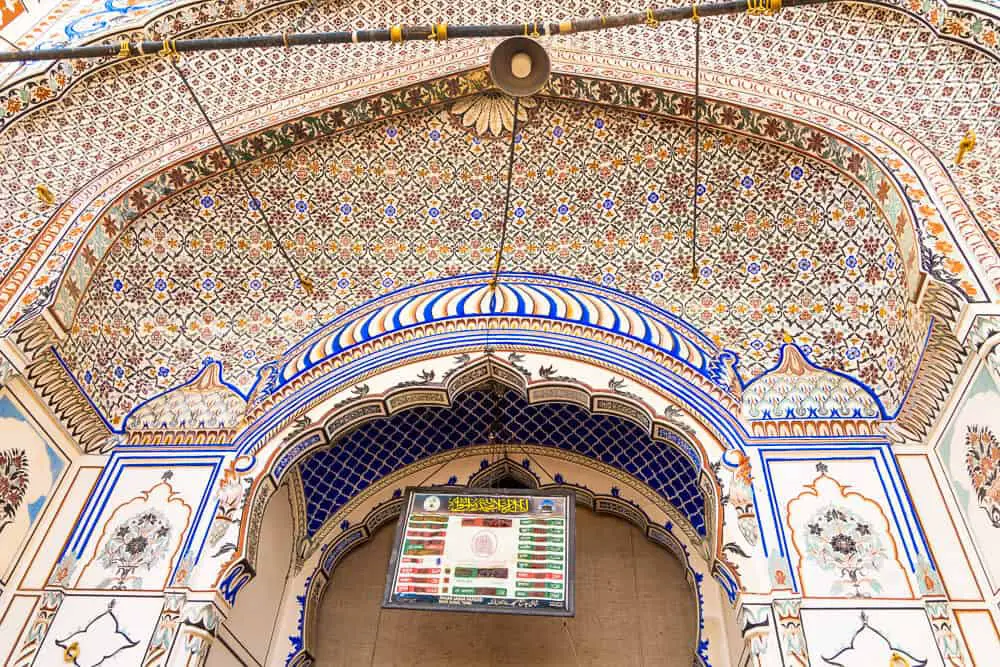 By Wendy of The Nomadic Vegan
Chittor Fort is the largest fort in India, its walls stretching for nearly six kilometers from one end to the other. While the modern town of Chittorgarh has since built up around it, originally the fort itself served as a city and was the capital of the region of Mewar.
Inside the fort walls are a number of temples, palaces and other monuments. There is a 600 rupee entrance fee, but this only applies if you want to enter specific monuments. Otherwise, you're free to wander around the complex at any time of day.
Try to arrive early so you can see the sculptures on the temples bathed in the early morning sunlight. Highlights include the Meera Temple, the Victory Tower and Padmini's Palace.
There's plenty of accommodation in town, but for a more atmospheric experience, you can stay inside the walls of the fort at Chittorgarh Fort Haveli.
The only downside is that there are no restaurants nearby, but the family that runs the haveli can prepare home-cooked meals. They normally just serve guests whatever they are eating themselves, so be sure to let them know in advance if you need a vegan or vegetarian Indian meal or any other special request.
Chittorgarh is 112 kilometers from Udaipur and is connected by train to that city and many others, including Jaipur and Delhi.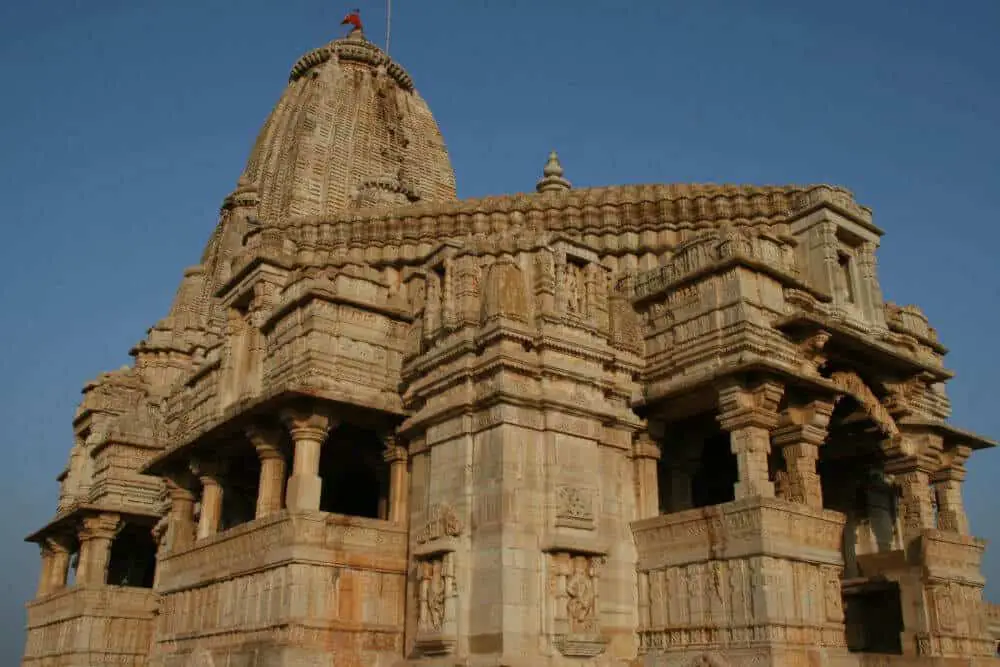 Ranthambore National Park
By Anna of Would Be Traveller
Ranthambore National Park is a beautiful area of nature in south Rajasthan. The park itself covers an area of around 400 square kilometres, with the closest city, Sawai Madhopur, is around 14km away. From there, you can reach the park by taxi, or your accommodation can arrange a transfer if required. 
It's a great place to get away from it all, with its spectacular scenery and incredible wildlife. The landscape is reminiscent of Rudyard Kipling's 'The Jungle Book', with its sweeping hills, green forests and winding pathways. The ruined Ranthambore Fort sits high on a hill, and makes the perfect backdrop for your visit. 
Aside from its beauty, Ranthambore National Park is one of the best places in the world to see Bengal tigers in the wild. Opt to stay in a safari style lodge or boutique hotel near the entrance gates, and you can be among the first people to try to spot these majestic creatures each morning.
Tiger safaris are conducted on shared canters, or if you are willing to pay a bit extra, you could travel on a private jeep with a guide all to yourself. 

But tigers aren't the only animals to call Ranthambore National Park home. You could also spot sloth bears, sambar deer or, if you're really lucky, leopards too.
Even if you don't manage to spot the beautiful big cats, you'll just have to try again another day. But with scenery as beautiful as this, I don't think you'll mind.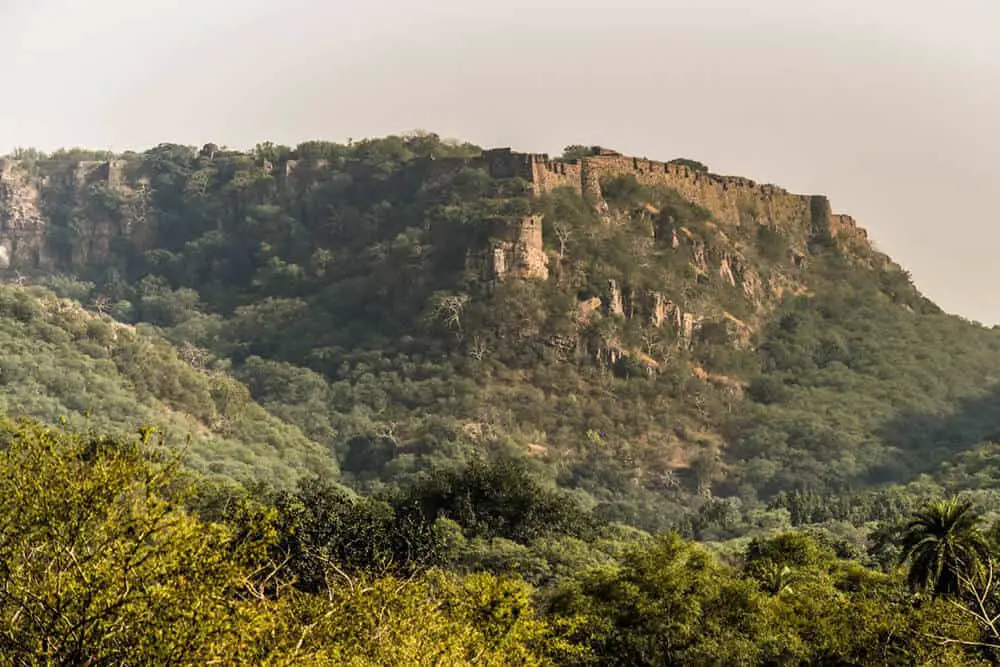 Bundi
By Abhinav of A Soul Window
My jaw dropped as I saw the imposing fort of Bundi for the first time, sprawling over a hillock in far distance. The azure water tank added to its aura.
Though in dilapidated state, the Taragarh Fort still speaks volumes about its rich past. This 16th century fort has spell binding architecture and beautifully decorated rooms.
In fact, the exquisite paintings in the picture gallery located within the fort premises is worth a dekko.
While Chitrashala impresses with its well preserved painted walls, the Rani Ji ki Baori impresses with its architecture and grandeur. This 46 metres deep step well has around 200 steps and beautiful carvings on the wall.
The self explanatory 84-Pillared Cenotaph and Sukh Mahal, former home of Jungle Book writer Rudyard Kipling is also located close to main attractions of Bundi.
Bundi is worth a visit because it is one of the most untouristy and offbeat destinations of Rajasthan. Once you are done with the sightseeing you can enjoy the local delicacies at throw away prices.
You can reach Bundi via public transport such as bus or book a cab from the city of your stay. I would recommend spending at least one night in Bundi to soak in its charm. There are many hotels suitable for all budgets in Bundi.
Keep your eyes peeled for surprises lurking in the narrow streets. As the tagline of Rajasthan Tourism says, "You never know what you see next!" Wait no more and let this charming disty town reveal itself to you. One layer at a time!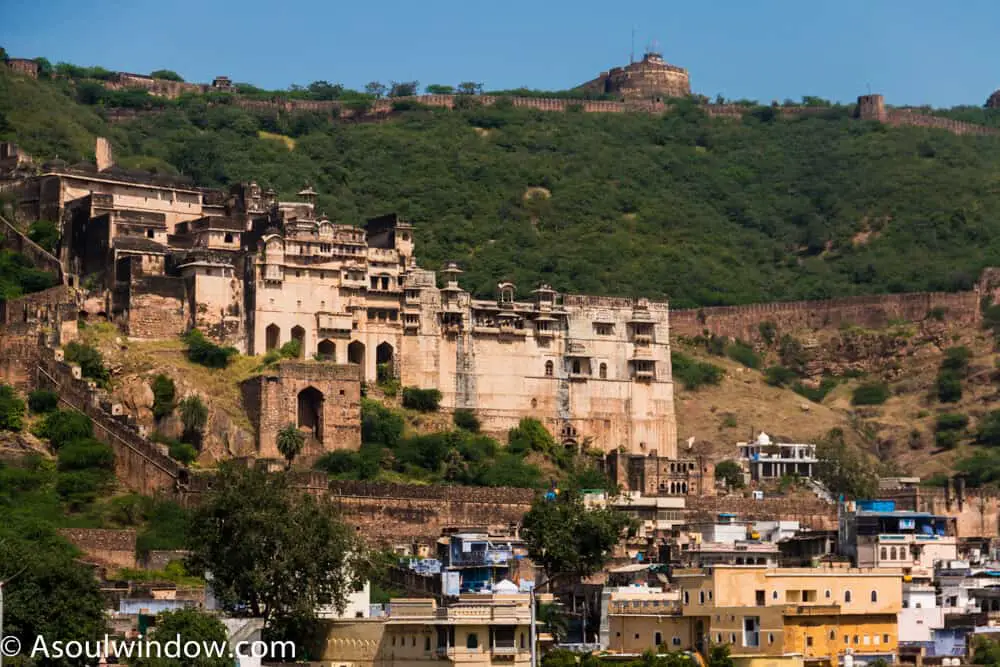 Mount Abu
By Khushboo of Munni of All Trades
Nestled in the Aravalli Range of Pindwara, Mount Abu is the only hill station of Rajasthan. Famously known as the 'oasis in the desert', it is surrounded by a wildlife sanctuary that is home to the Indian leopard, sloth bears, langurs, Sambar deer and many other animals.
The nearest railway station, Abu Road, is about 28 km away and you have to drive up a long winding road where you will come across hundreds of langurs along the way (not an exaggeration!). Be very careful to not stop by to feed them as they do tend to grab things from people's hands and run away. 
Mount Abu enjoys a pleasant climate throughout the year including summer. Winters can be quite harsh with temperatures dropping -2 degrees, however, monsoons are the best time to visit. The entire place comes to life and if you are lucky, you can even spot peacocks dancing on the road!
Dilwara Temples carved out of white marble are a famous tourist spot and a pilgrimage site for those practising Jainism. Built between 11th and 16th centuries, they comprise of five unique temples. Achalgarh Fort, Nakki Lake, Guru Shikhar Peak, Peace Park by Brahma Kumaris and the Mount Abu WildLife sanctuary are other famous places you must visit. 
It is advisable to get your own transportation as Mount Abu doesn't have any form of public transport. Open jeeps are easily available for hire along with motorcycles at reasonable prices.
For shopping, you must visit the Chacha Museum, which is, in reality, a famous curio shop where you can purchase interesting souvenirs.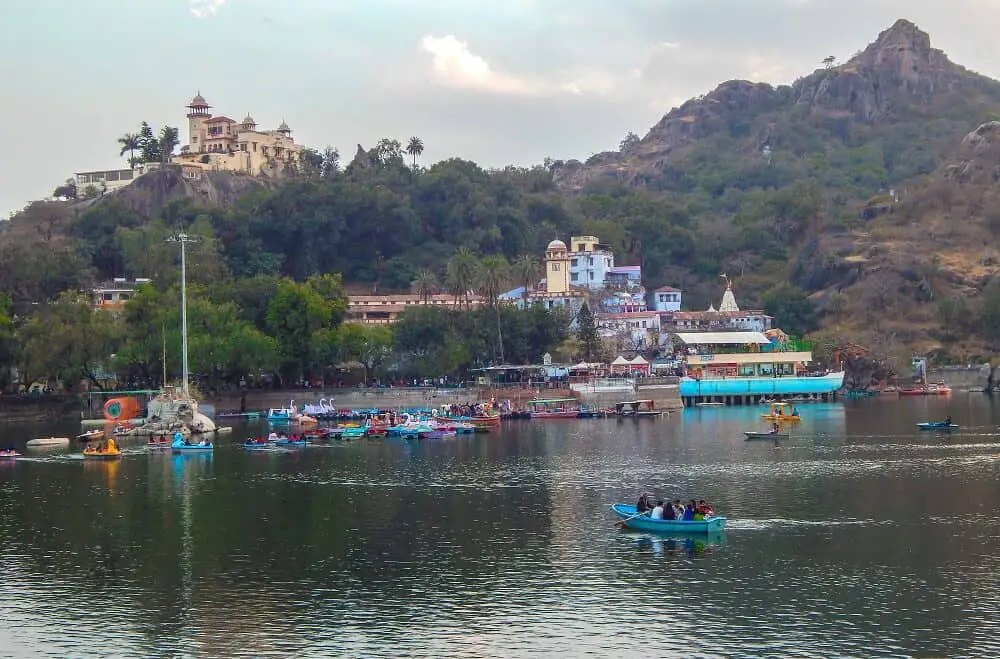 Plan your trip to Rajasthan responsibly
Rajasthan is a major destination for desert tours and with them comes camel rides. I have been on one. From Jaisalmer. We stayed the night in the desert and returned the next morning. Was it ethical? No. Did I know back then? No. Would I do it again? A resounding No.
It is not always easy to know when animal tourism is ok or not, but a rule of thumb is, if the animals are used for tourists amusement, then it's probably not ethical. It's also important not to feed monkeys and other wildlife. I have written an extensive post on unethical animal tourism and you can read about why animal rides in tourism is not a good choice here.
Travel insurance
When you travel through the best places in Rajasthan it is important to have a good travel insurance. I always opt for World Nomads as they are easy to book with and have a good coverage for backpackers, long term travelers, as well as short term travelers.
However, what I like the most with World Nomads, is that they promote responsible tourism! When you buy your insurance you can give a micro donation that goes to a community development project.
---
Book your travel insurance with World Nomads here
---
Get to and around Rajasthan
There are 11 airports in rajasthan, though the most common ones to fly into are the ones in Jaipur, Jodhpur, and Jaisalmer. What I did, though, was to fly into New Delhi and from there I got the train from city to city.
Train is a great way of transport in India, however, if you want more comfort getting directly to your destinations and don't mind the cost, you can also hire a private driver.
Now there are also several luxury trains running between the major places to see in Rajasthan.
---
Book your flights to Rajasthan here
---
Did you like this? Make sure you pin it for later!