One of the most charming places to visit in Hungary is situated right on the outskirts of Budapest. It's not only easy to take a day trip to Szentendre from Budapest but if you have an extra day to spare you really should!
Narrow cobblestoned streets, colorful houses, a cute main square, a hilltop church, and a long waterfront makes this the perfect place to spend a day.
If this sounds tempting, read on as I will share everything you need to know to have a pain free day trip to Szentendre.
Disclosure: This post may contain affiliate links. That means that if you make a purchase through one of those links, I will get a small commission at no extra cost to you. As an Amazon Associate, I earn from qualifying purchases.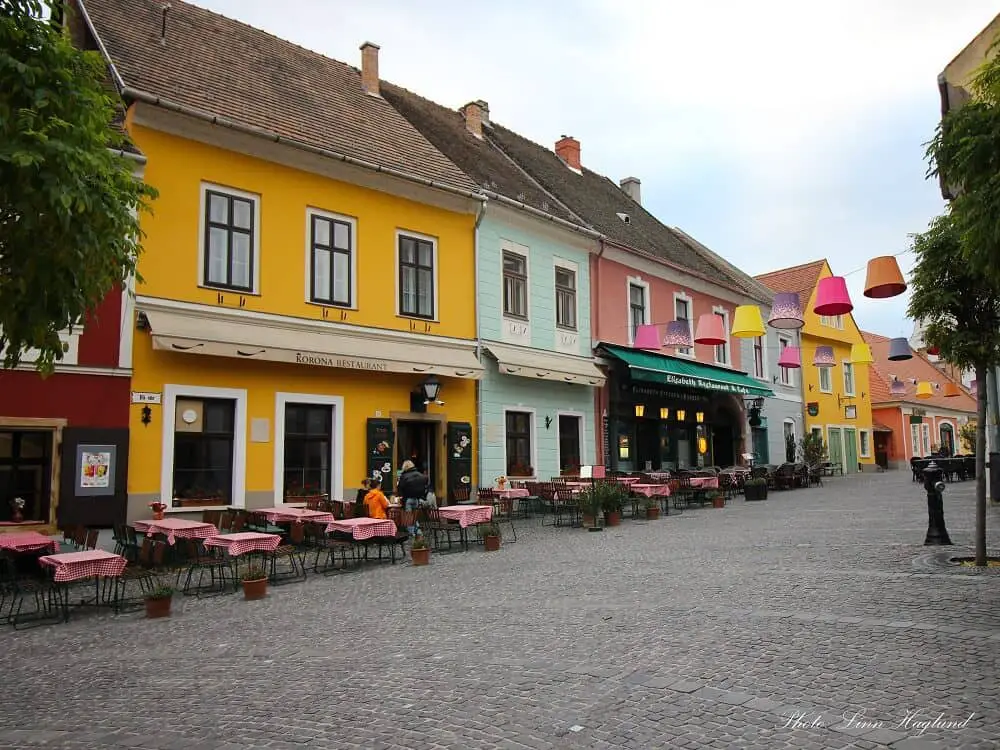 How to get from Budapest to Szentendre
You can travel from Budapest to Szentendre by bus, train, and boat. By car, it's about 40 minutes north via Route 11. Here are the easiest ways to get there by public transport.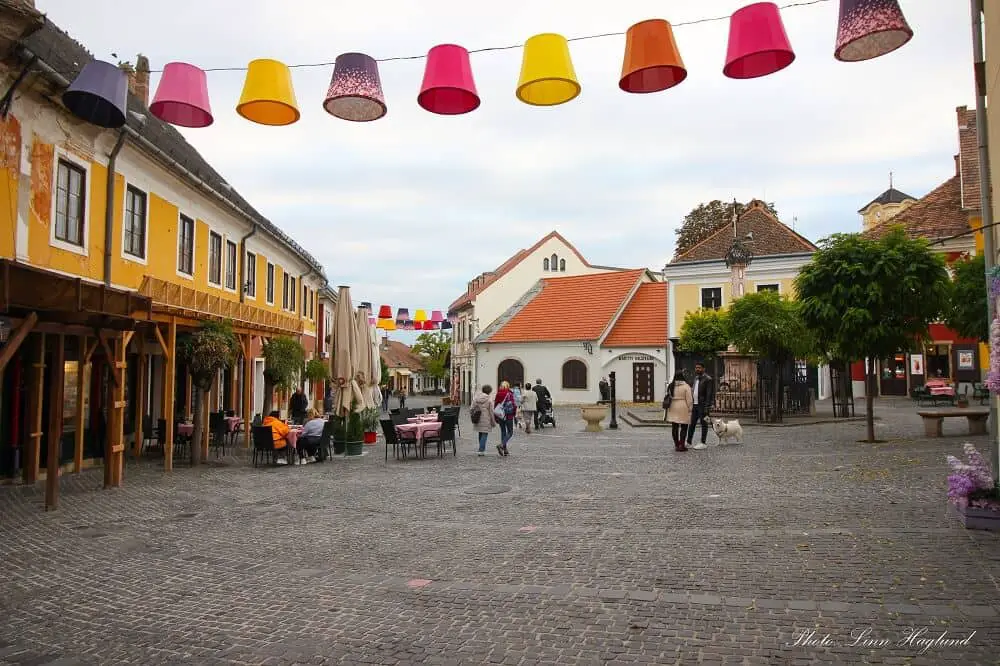 Budapest to Szentendre by boat
Probably the most picturesque way of reaching Szentendre from Budapest is by boat. However, this isn't available every day, and usually only in the summertime. There are usually a couple of departures a day from Vigadó Square.
You should check the ferry times and if they actually run on the official website. It's recommended to buy the tickets upfront to avoid queues. You can get yours here.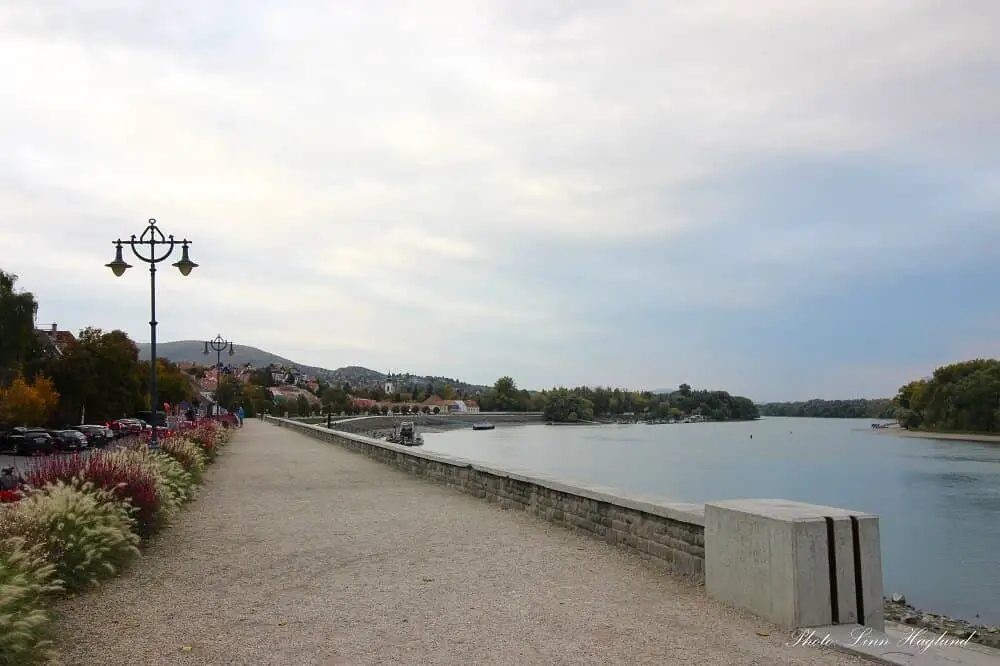 Budapest to Szentendre by bus
There are buses from Volanbusz station in Újpest in Budapest to Szentendre. It's bus no. 880-889 that goes to Esztergom. This is in the north part of Budapest, quite a bit out of the center and you can take the Metro line 3 to get there. Check out the bus table here.
Getting there by bus is definitely not the easiest way and I gave up on that when I went to Szentendre.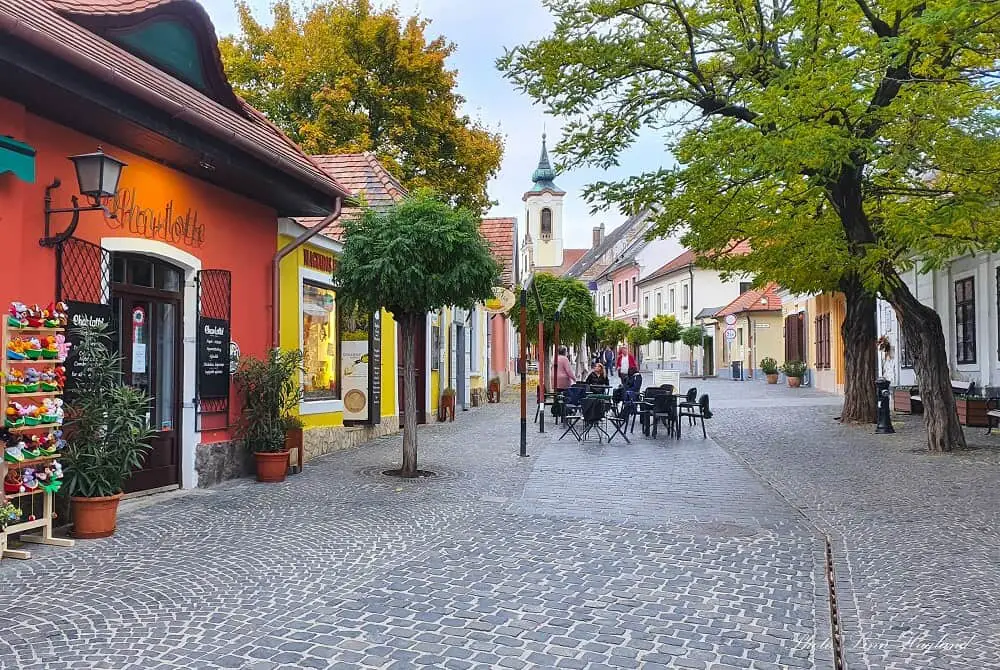 Budapest to Szentendre by train
The easiest way to travel from Budapest to Szentendre is by local train. You can get on at either Batthyany Square Metro Station or at the next stop, Margaret Bridge, both stops on the Buda side. To get to Batthyany Square Metro Station from the other side of the river, you can take the M2 line from Astoria Metro station.
The train you're going on to Szentendre is called HÉV H5. You can buy a ticket in the booth or at a machine. You need a regular ticket + an extension ticket, so unless you're familiar with the ticket system, I'd recommend buying it in the booth so that you get it right and also get directed to the right track.
Trains leave every 20 minutes and take 40 minutes. You need to validate your ticket on board. To do this, stick your ticket into the machine and pull the black handle towards you to make holes in the tickets.
When you reach Szentendre Station (end station,) walk straight out of the platform past the snack and food boots and under the main road. It takes about 10 minutes to reach an old stone bridge where the old town starts.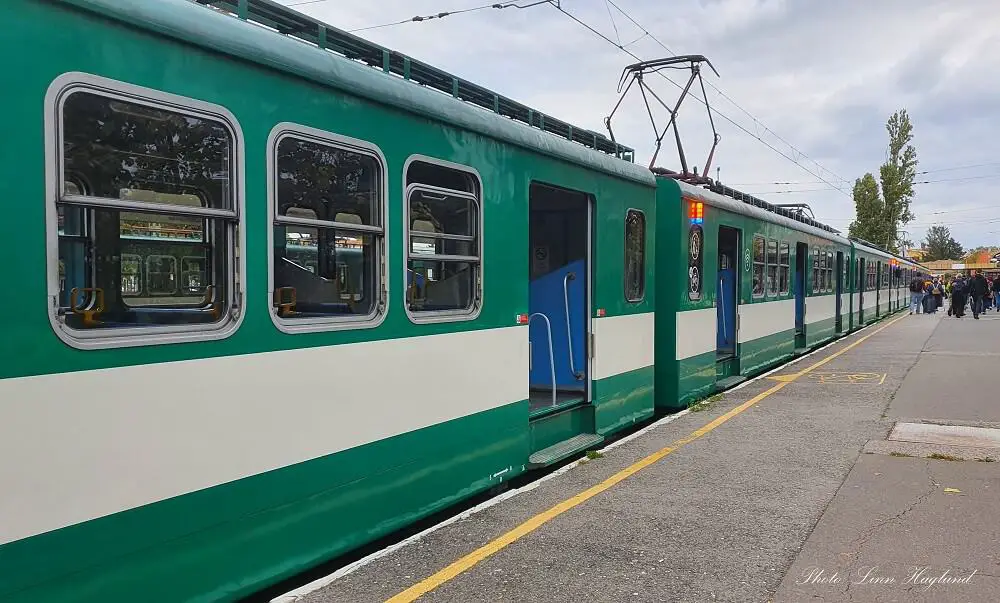 How to spend a day in Szentendre
Szentendre is really small but charming. Colorful houses lining the cobbled streets invite for shopping souvenirs or a coffee. You can visit the cute Szamos Marzipan Museum, where you also can bring a little marzipan bite with you from their shop. It's a great treat to have for your journey back to Budapest!
But what Szentendre is most known for, is its art scene. You can enjoy a variety of art museums like Kovács Margit Muzeum, Ferenczy Museum, Ur Eleonora Batik Art Gallery, and the Art Mill, among others.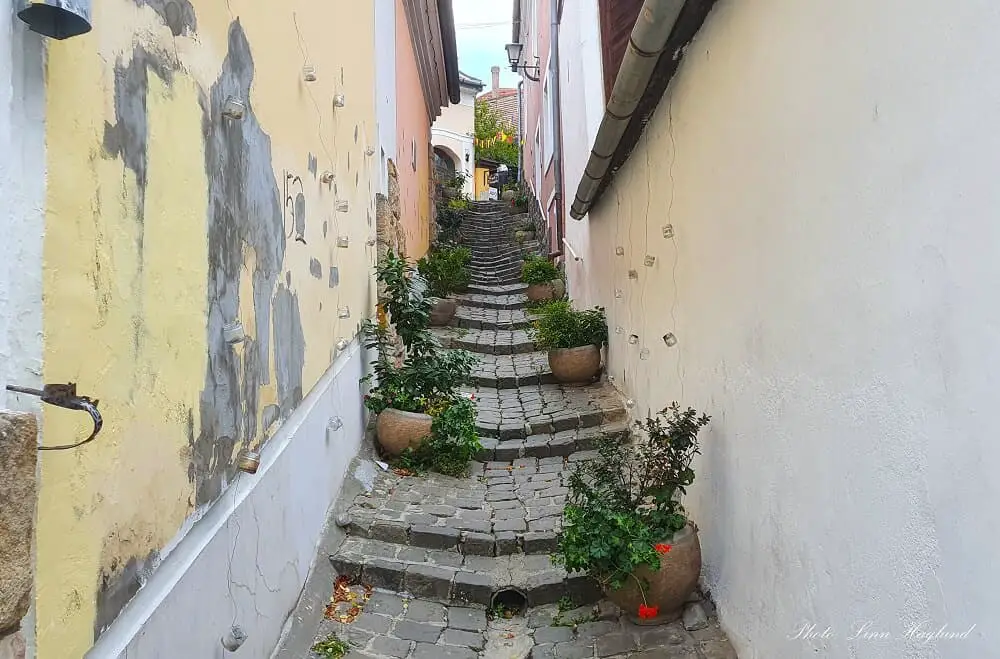 In the heart of Szentendre, you find the charming main square, Fő Tér, with a fountain in the middle. Have lunch at one of the restaurants there to take in the charm and history that surrounds you. There are seats outside and the square is perfect for people watching.
Visit the Greek-Orthodox 18th-century Blagovestenska Church, once built by inhabitants of the Greek Quarter.
You might also enjoy the Hungarian Open Air Museum. It features several houses and artifacts that take you through the history and traditions of the different regions in Hungary. It's pretty cool to explore.
The little town is sitting right on the Danube River and a stroll along the river is a beautiful way to either start or end your Szentendre day trip. And if this isn't enough, you can actually take the boat to Szentendre island where you can explore several small traditional villages.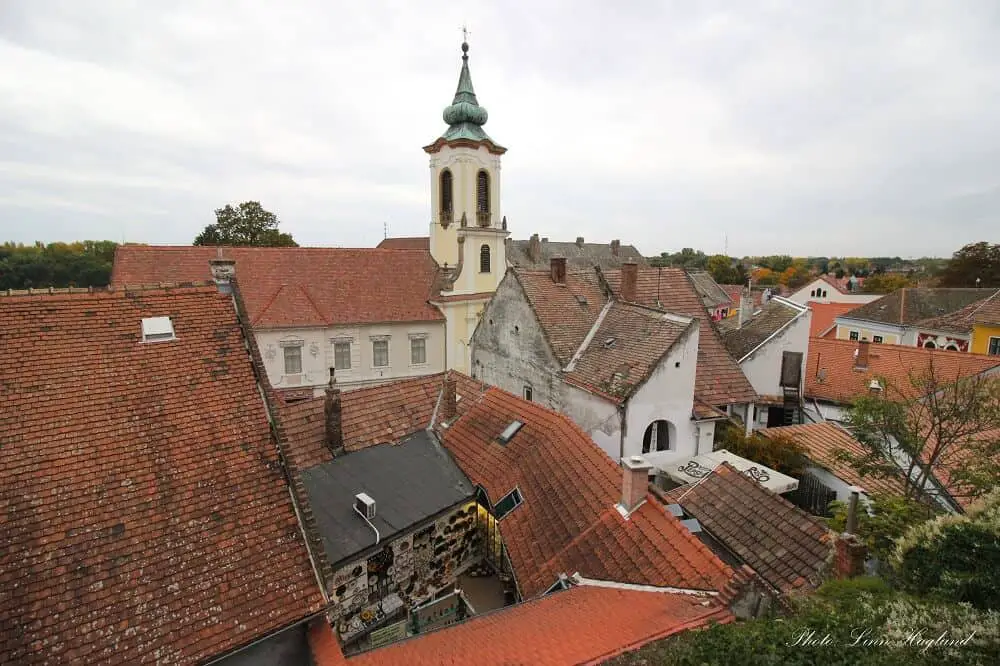 Reflections on a Szentendre day trip
There's no denying that Szentendre is one of the best day trips from Budapest! Its proximity to the capital and endless charm makes it a wonderful peek into the rest of Hungary and its history.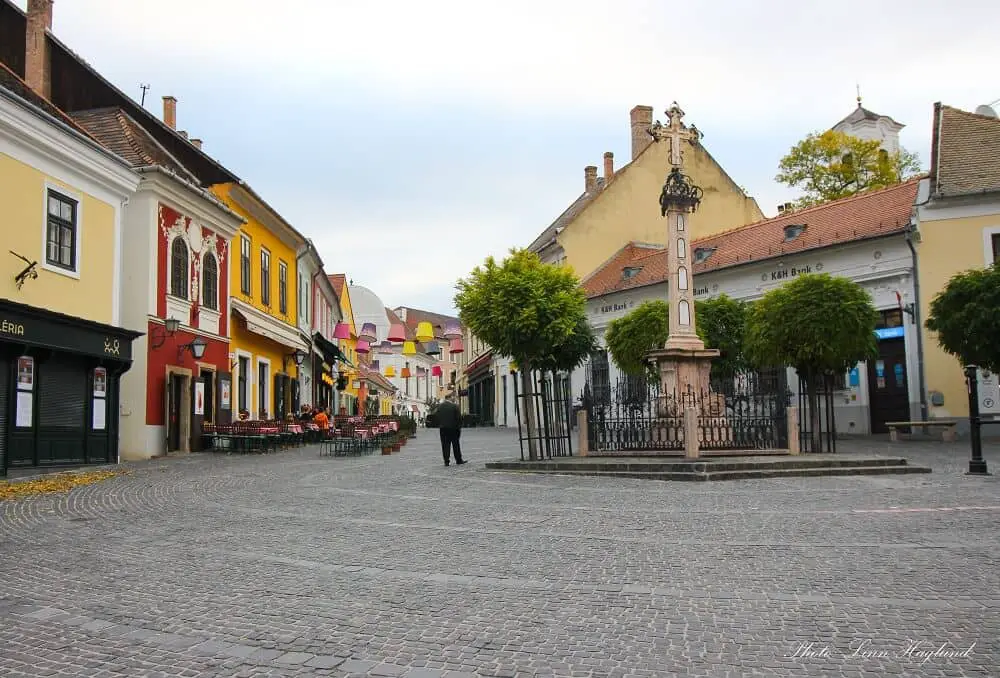 When you travel to Szentendre, make sure you follow the guidelines for responsible travel and leave only footprints and positive experiences for the locals.
MORE FROM HUNGARY: What to do in Miskolc