One of the most surprising countries to travel to in Europe might just be Hungary. Beautiful places like mountains, lakes, golden forests, and pretty cities and towns fused with lovely people, delightful thermal baths, and cheap prices easily make you want to return after your first trip to the country.
There are some incredibly beautiful places in Hungary that will take your breath away, yet most travelers only make it to Budapest – and don't get me wrong! Budapest is incredible, and for that reason, it is included in this post too.
But there is so much more to Hungary than the capital city. That's why I wanted to shed light on this captivating country and show you some of the best places Hungary has on the shelf so that you can plan a longer Hungary itinerary than just a few days in Budapest.
Disclosure: This post may contain affiliate links. That means that if you make a purchase through one of those links, I will get a small commission at no extra cost to you. As an Amazon Associate, I earn from qualifying purchases.
Most beautiful places in Hungary
Budapest
While there are a lot of beautiful places in Hungary, its pretty capital city can not go unmentioned. Budapest is not only one of the most beautiful cities in Hungary, but I dare say among the most beautiful in Europe.
There are a lot of amazing things to do in Budapest and personally, I would like to spend a couple of months in the city alone to get time to explore every corner and every thermal bath the city has to offer.
However, you can see the most important sites by spending 2 days in Budapest. Go on a romantic sunset cruise on the Danube river, see the iconic parliament building, and go for a bath at the stunning Széchenyi Thermal Baths.
Other points of interest are the Fisherman's Bastion, the Synagogue, Buda Castle, and St. Stephen's Basilica. The food scene, even the vegan food, is awesome and there are a lot of cute cafés to take coffee breaks while sightseeing.
Where to stay: Stories Boutique Hotel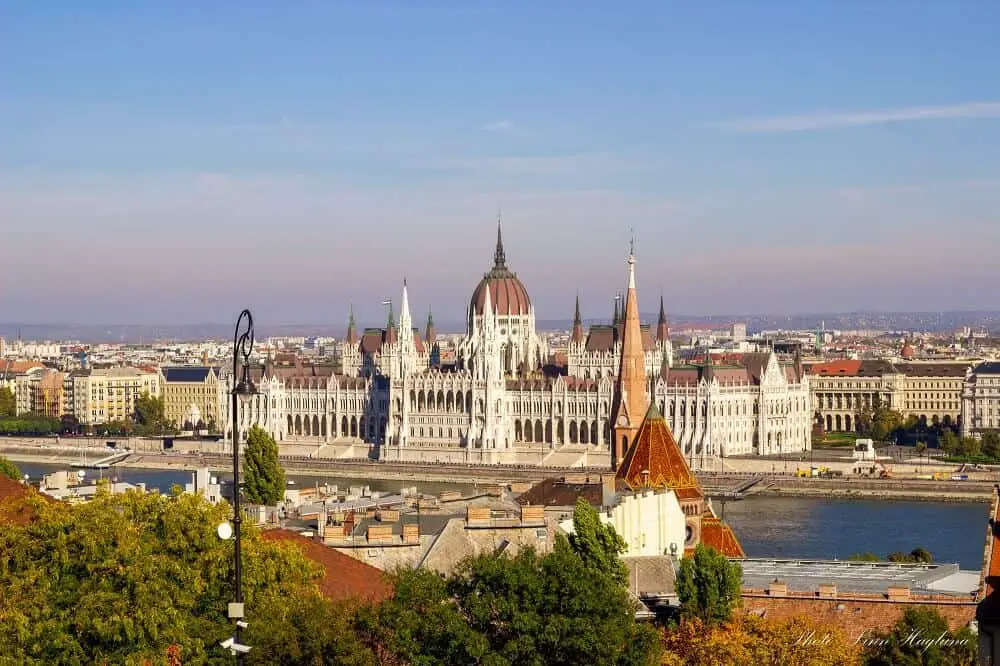 Szentendre
One of the absolutely cutest places to go in Hungary is the tiny town of Szentendre. Easily reached from Budapest by train, a day trip to Szentendre is a lovely way to get a break from the city. You can also take the scenic route along the Danube River by boat.
Stroll through the quaint streets, relax at the Fő Tér square, and step into the 18th-century Blagovestenska Church. If you have a sweet tooth, you'll love the Marzipan Museum, but there are a lot of other museums to uncover in the tiny town too.
The Hungarian Open Air Museum is also worth a visit with old houses that are traditionally decorated as they would be in different regions of the country throughout history.
Where to stay: Bükkös Hotel & Spa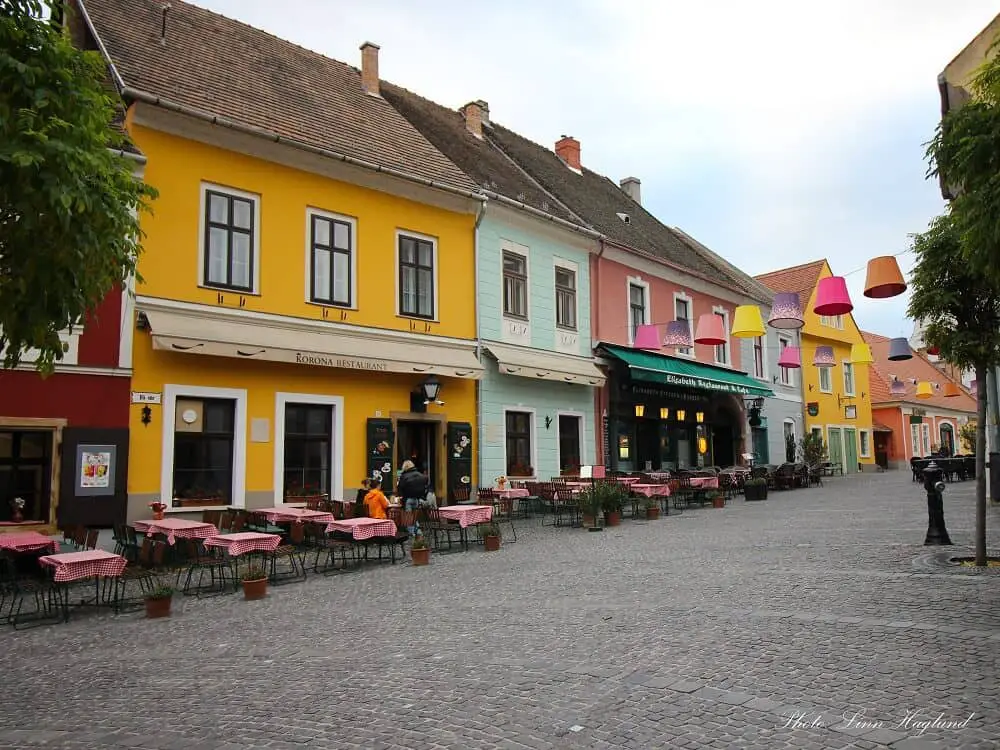 Eger
Eger is another one of the best places to visit in Hungary. Boasting the remains of a hilltop castle overlooking the city and exciting underground tunnels to visit, there are a lot of cool things to do in Eger.
There is a vibrant atmosphere in the city centered around Dobó Square where you also find the Church of Anthony of Padua.
If you're up for a challenge, climb the super-narrow Torok Kori Minaret. The 97 steps up the monument get narrower and narrower, and I hardly could fit on the slim balcony on top. But the views are incredible so if you don't struggle with narrow spaces, I highly recommend it!
One of the top attractions of Eger is the thermal baths of Egerszalók right outside the city. There are buses that take you there easily, the bus station is situated behind the underground tunnels.
While in Eger, you should also go for a wine-tasting tour as you are in the heart of Hungarian wine land. This tour takes you from Budapest to Eger, discover the city and go wine tasting. Check availability here.
Where to stay: Hotel Romantik Eger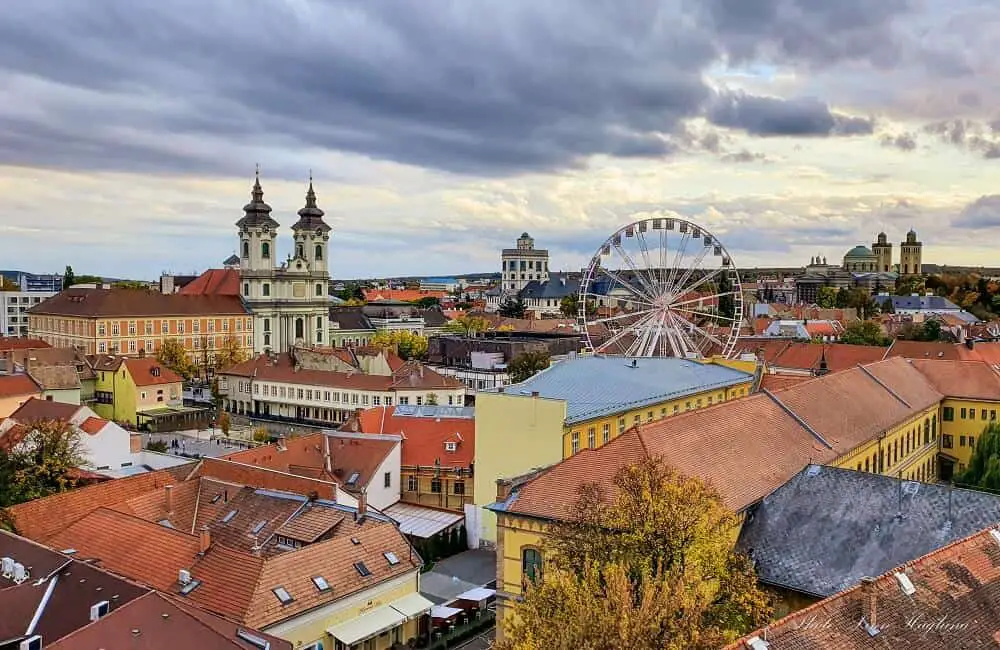 Miskolc
Milkolc is a truly underrated place to visit in Hungary with its unique cave thermal baths that have been carved out naturally in the mountain for thousands of years.
While the city has a lot of attractions and is nice to spend the day in, one of the best things to do in Miskolc is without a doubt getting out of the city on the Lillafüred tourist train through the woods of the Bükk Mountains.
There, you will be rewarded with mesmerizing waterfalls, lakes, and epic underground cave systems. If you happen to travel in fall, it's the absolute best time as the forests are painted in bright orange and yellow colors.
Getting to Miskolc is easy by bus from Budapest or Eger, but even crossing the border from Slovakia, there are buses from Košice.
Where to stay: Lévay Villa Hotel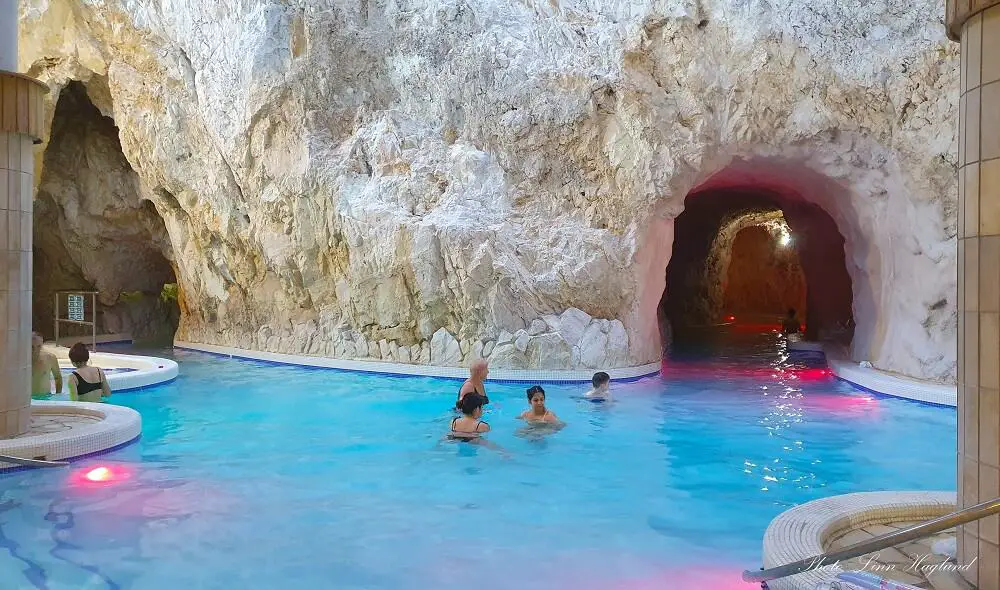 Lake Balaton
Recommended by Kami of My Wanderlust
Lake Balaton, known also as the "Hungarian Sea", is one of the prettiest places in Hungary to visit. From Budapest, it's only less than 100 km to the lake but it stretches for over 80 km, offering lots of things to do and see.
The main reason to visit Lake Balaton is of course to relax at the waterside and enjoy the holiday vibe. If you want to see some interesting monuments, head to the beautiful Tihany peninsula with the Benedictine Tihany Abbey dating back to the mid-11th century.
You should also visit Keszthely's impressive Festetics Palace from the 18th century, one of the largest buildings of that kind in Hungary.
Each town on Lake Balaton is different and depending on your interests, you should choose your destination wisely: Siofok is the unofficial capital of Lake Balaton and its main party hub, Balatonfüred has more or a laid-back, artistic vibe, Balatonlelle is a favorite spot for families and Badacsony is known for its wine, especially Olaszrizling.
Getting to Lake Balaton is really easy, with frequent, direct trains connecting Budapest with the popular summer destinations.
Since there are two different train lines, on both sides of the lake, be sure to choose the right train, depending on where you would like to go.
Local buses and boats can then take you to numerous places along the lakeshore. Since Lake Balaton is a popular holidays destinations, there are plenty of accommodation options to choose from. Balatonfüred is a great place to base yourself as one of the top tourist places in Hungary.
Where to stay (in Balatonfüred): Boutique Hotel Annuska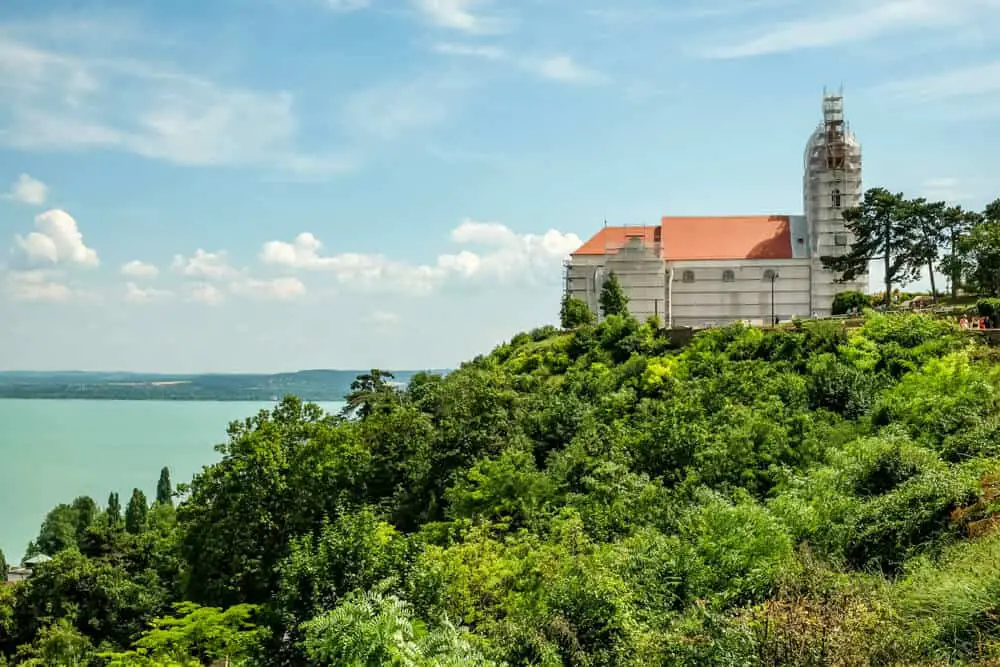 Esztergom
By Cris of LooknWalk
In northern Hungary, on the banks of the Danube, you'll find one of the most significant historic cities in the country: Esztergom. It is one of the best day trips from Budapest and among the most beautiful places in Hungary.
It's not only the seat of the Archdiocese of Esztergom-Budapest but also where St Stephen, the first King of Hungary was crowned.
Without a doubt, the main place to visit is the impressive Esztergom Basilica. It's the largest church in the country, as well as the tallest building, making for some outstanding views. Make sure to allow for at least a couple of hours to explore it, including the magnificent crypt.
Right near the basilica, there's Esztergom Castle, which was built on the site of the old Roman Castrum. It houses a museum and comprises what's left of the bastions and the defensive walls.
Szent István Tér (St Stephen's Square) is right in front of the Basilica (and you can see it from above as you explore the church). It comprises buildings that used to belong to the clergy, as well as a sculpture of St. Stephan.
Széchényi Square is the main plaza in town, flanked by Neoclassical, Baroque, and Rococo buildings. On the south side, you'll see the gorgeous Town Hall (the oldest in Hungary) and one of the top places to visit in Hungary.
The easiest way to get to Esztergom is by train from Budapest. There are plenty of daily connections and you can catch the trains at Nyugati Pu. (Western Train Station). The ride takes a bit more than an hour.
The Basilica is not that close to the train station, though (you'd have to walk for about 30 minutes or hop on a bus).
Where to stay: Room42 Boutique Hotel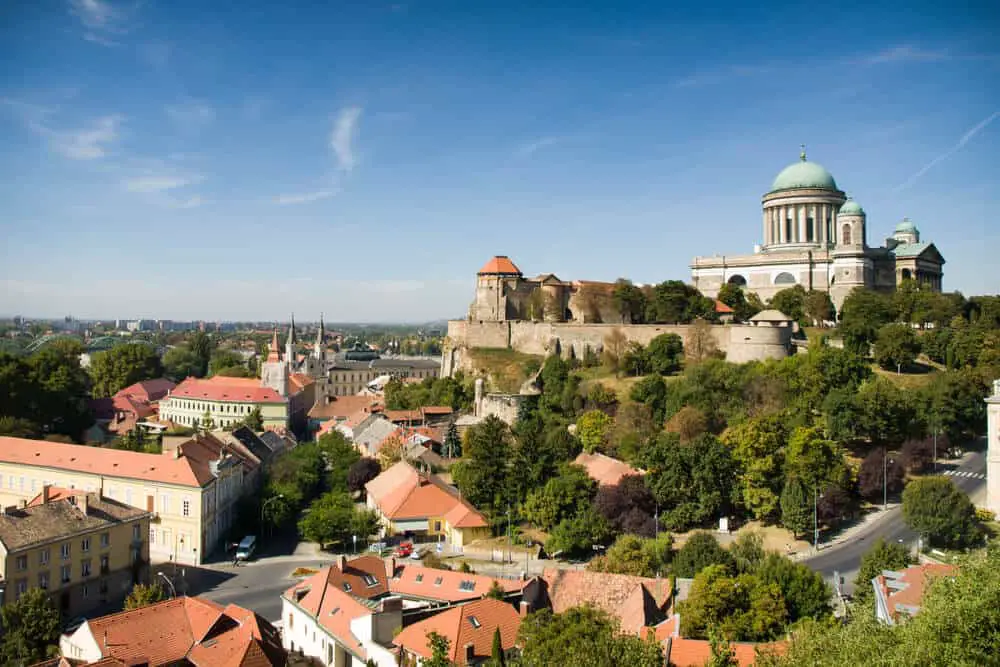 Tokaj
By Cory of You Could Travel
Tokaj is one of the most beautiful places to see in Hungary, especially if you love sun-kissed hills covered in vineyards.
Tokaj is a well-known wine region in Hungary, made famous by Louis XIV who referred to Tokaji wines "C'est le roi des vins, et le vin des rois" (The king of wines, and the wine of kings).
Many come to the Tokaj region to visit vineyards and enjoy wine tastings hosted by various growers. During tastings, international tourists learn about the various grapes and their history, but also about the method of winemaking.
Several grape varieties have been cultivated here for centuries including the famed Furmint, Hárslevelû, and Sárgamuskotály.
Anyone can enjoy a free tour of the Tokaj cellars. No visit is complete without a taste of the Eszencia wine, which normally costs over £250 per liter. This wine tastes much like the most concentrated and sweetest honey, a must-try here.
There is more to do in Tokaj besides wine and wine tasting. Hike up the Christ statues on the Tarcal hilltop and admire the region from above. Climb up the Boldogkő Castle which overlooks the village surrounded by scenic hills.
Admire some of the most incredible medieval churches in the area and learn about the old Hungarian language. Time your arrival well and take part in the Tokaj wine festival to meet top producers, enjoy culinary treats, and listen to popular pop and rock bands.
To get to Tokaj it's best to rent a car from Budapest. The journey takes just under 3 hours and it's mainly on well-maintained Hungarian motorways. You can also take the train from Budapest to Tokaj. The journey takes just under 3 hours and cost less than 5000 forints.
Where to stay: Minaro Hotel Tokaj – Mgallery – Stay right in the heart of Tokaj, in a 5-star hotel with a seasonal outdoor swimming pool, a bar, and a garden. The price of the hotel includes breakfast and dinner.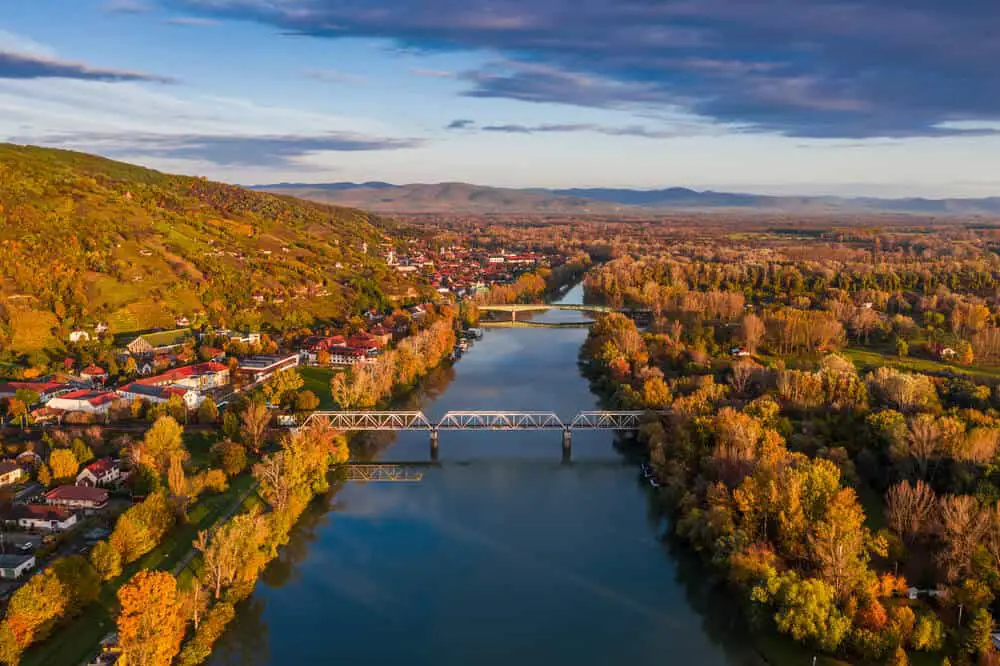 Debrecen
By Kenny of Knycx Journeying 
Located in Hungary's Northern Great Plain region, Debrecen is the capital with a rich heritage. Debrecen is truly one of the most charming places to visit in Hungary. It is about 230 kilometers away from Budapest and a 2-hour drive away. 
The main square is the focal point of Debrecen and it is surrounded by historic landmarks. Take a stroll in the square and check out the 19th-century, 2-towered Reformed Church.
Soak in the holy ambiance of the church, and it is recommended to attend the morning prayer. The main building of the University of Debrecen is a classical architecture that welcomes everyone. 
For those who love nature, the Debrecen Botanical Garden is a wonderful place to breathe in fresh air. For those who love history, the Deri Museum features a good collection of European and Asian weaponry. 
The Museum of the Reformed College of Debrecen is the city's highlight, take pictures of some great artifacts – these works showcased how Calvinism became important during the Ottoman occupation. 
Where to stay: Centrum Hotel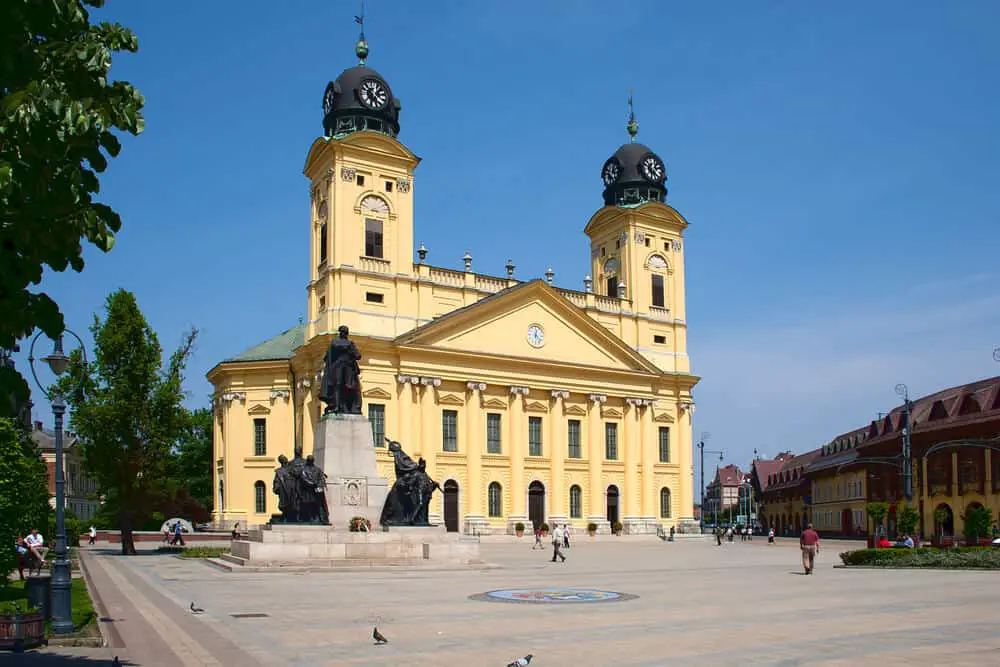 Reflections on these beautiful places in Hungary
As you can see, there are some amazing places and cities to visit in Hungary. Not only does it have one of the most charming capital cities on the continent making for one of the best European city breaks in winter as well as the rest of the year, but there are wonderful natural destinations to visit too.
In fact, when I visited Hungary for the first time, my goal was to see Budapest, but I ended up traveling for a lot longer as I fell in love with the country and every place I went.
There are so many stupifying places to visit in Hungary outside Budapest, so I highly recommend expanding your Hungary itinerary.