The enchanting city of Sofia in Bulgaria is an awesome base for hiking in the incredible Vitosha mountains. An easy hike to spectacular views is the Kamen Del hike from Aleko Hut. The hike can easily be done as a day trip from Sofia with public transport if you don't dispose of a vehicle.
The trail is easy to follow, there are no steep ascents, and the landscape is stunning so there is no excuse not to take a day out in nature. I've made sure to include everything you need to know to do the hike to Kamen Del peak in the Vitosha mountains here so that you can enjoy an unforgettable day in Bulgarian nature!
Disclosure: This post may contain affiliate links. That means that if you make a purchase through one of those links, I will get a small commission at no extra cost to you. As an Amazon Associate, I earn from qualifying purchases.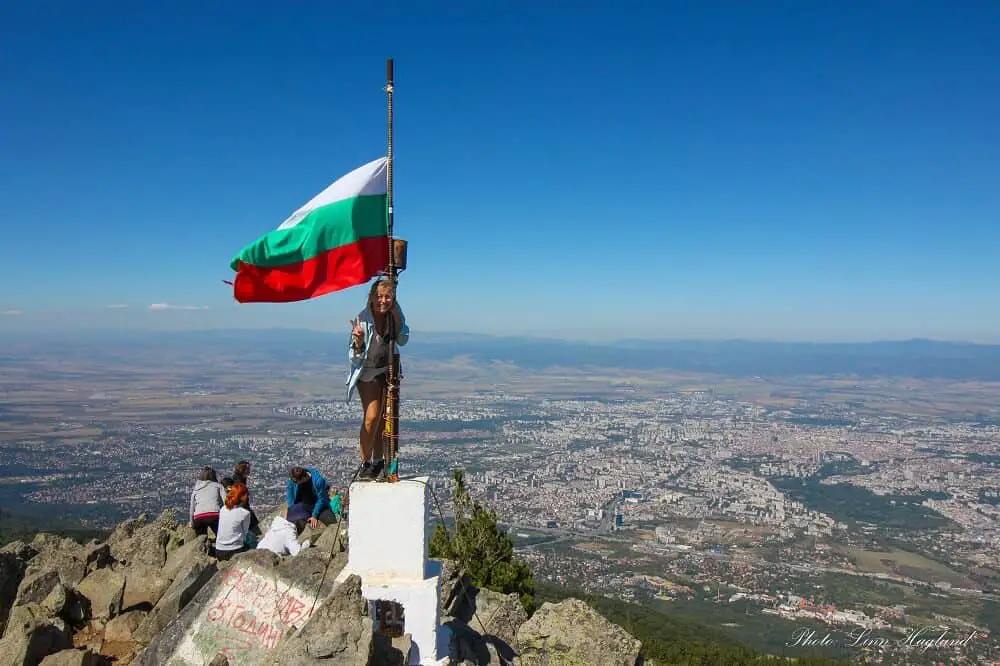 Specs of Kamen Del hiking route
Max altitude: 1862m (6109ft)
Distance: 6.84 km
Hiking time: 2 hours
Dificulty: Easy
Type of hike: Linear return
Elevation: 148 meters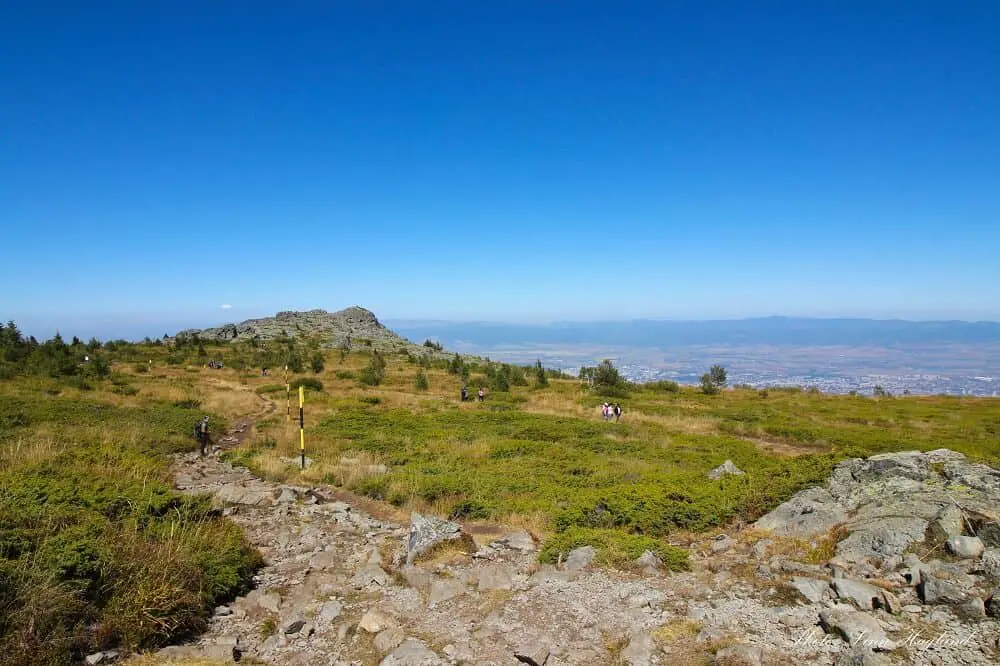 How to get to Kamen Del from Sofia
To get to Kamen Del trailhead, you need to get to Moreni Hotel just below Aleko Hut. You can either drive, take the bus, or take a chair lift. In the summer, the bus and chair lift only runs on Saturdays, Sundays, and public holidays.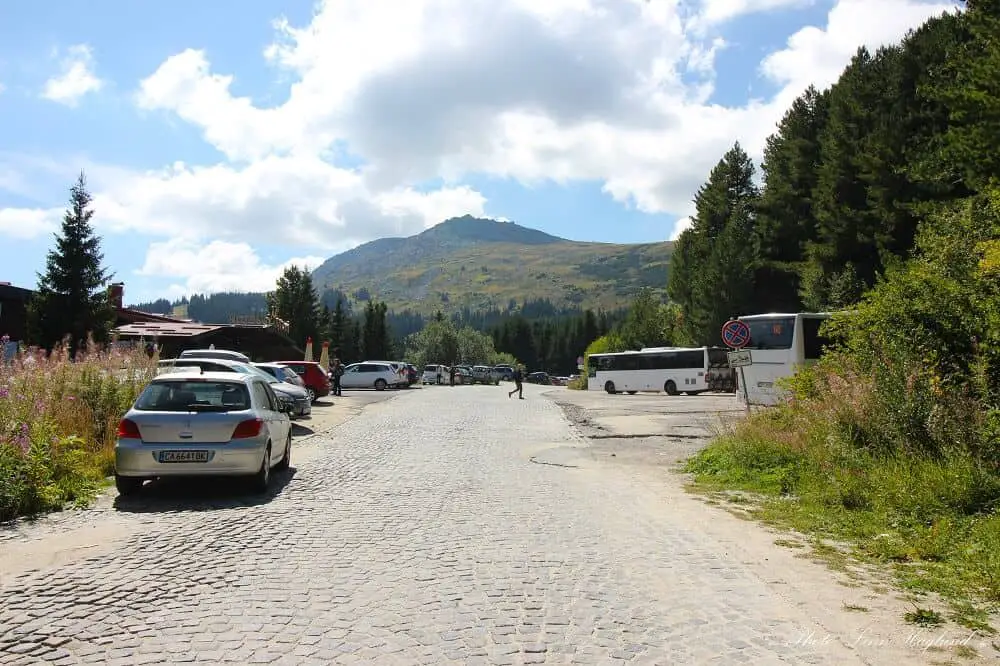 Driving from Sofia to Aleko Hut takes about an hour. You can park by the hut or by Hotel Moreni, but it fills up pretty quickly, so I recommend coming quite early.
The bus no. 66 leaves from the other side of the road from Vitosha Metro Station and takes you directly to Moreni Hotel in about an hour.
Once you get out of the metro station, cross the street on your left where you'll find the bus stop. You can buy a bus ticket from the driver on the bus. You can see the whole bus route here.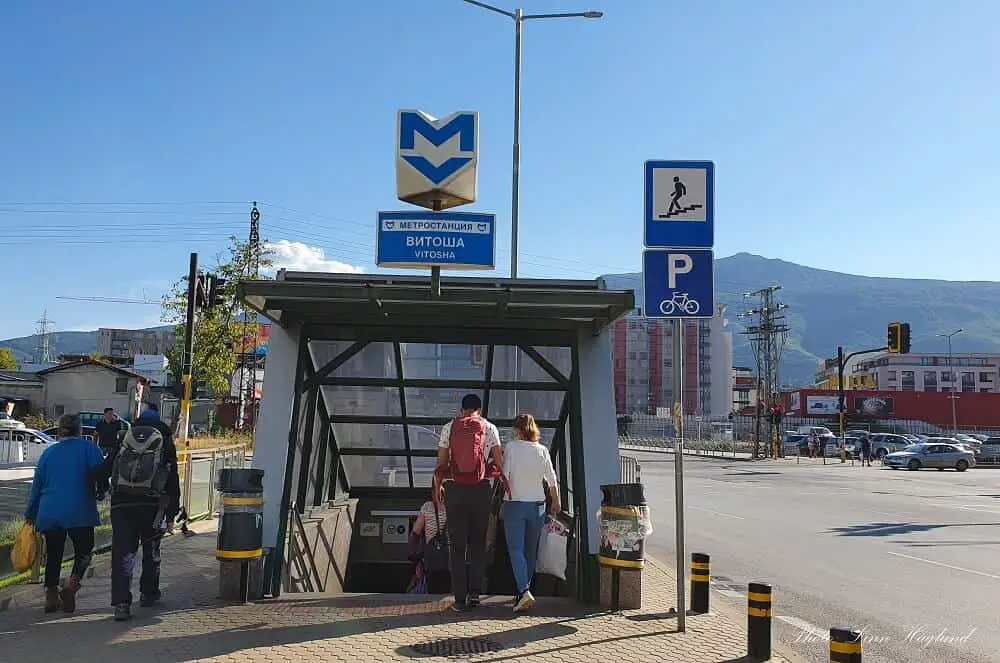 The Simeonovo Chair Lift goes every Saturday and Sunday and takes about 45 minutes to an hour to reach the top by Aleko Hut. You can check the website to make sure it leaves. Next to where it says "Gondola Lift" there will be a red cross or a green checkmark indicating if it's going or not.
To get to the chair lift you can take either bus 122 or E123.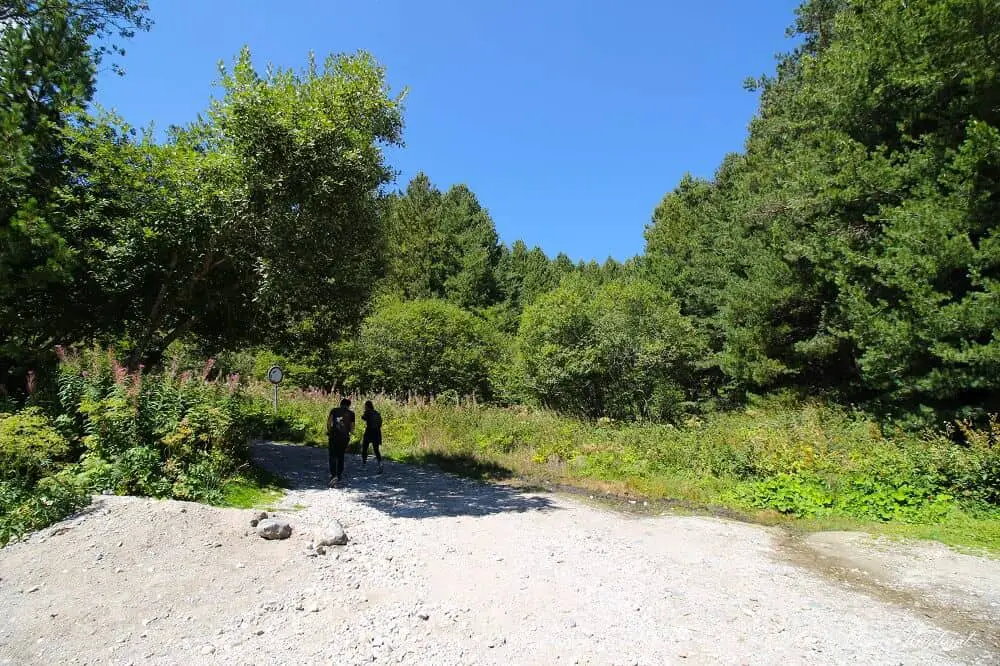 What to bring when hiking Kamen Del, Sofia
Hiking Kamen Del is an easy and short hike, so you won't need any fancy hiking gear, though a pair of good sneakers or hiking shoes are a must as the path is uneven at times.
That said, you do want to be prepared for changing weather conditions as the landscape is open and exposed to the elements. So here is a list of things I recommend you pack in your sustainable backpack for the day:
Recommended packing list (depending on the weather forecast)
Water (bring a little more than you think you might need, especially on a hot day)
Lunch and snack (to enjoy at the top! Those views are perfect for a bite!)
Sunscreen (for sunny days, you'll thank me later!)
Windbreaker (for windy days, it's better to have it in your backpack and not need it than not to have it and need it)
Buff (my favorite hiking accessory for its versatility and lightweight)
Caps/Hat (especially for sunny days, but a beanie can be comfortable on a cold day)
Cash for the bus
Camera (no need to say! You'll take a million photos)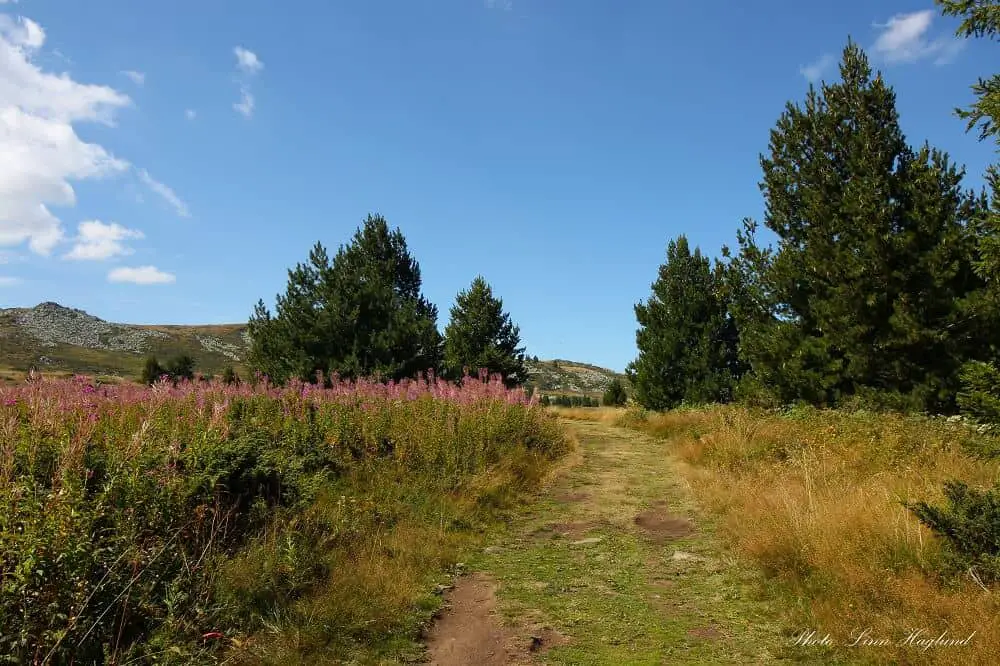 My top Amazon picks for this hike: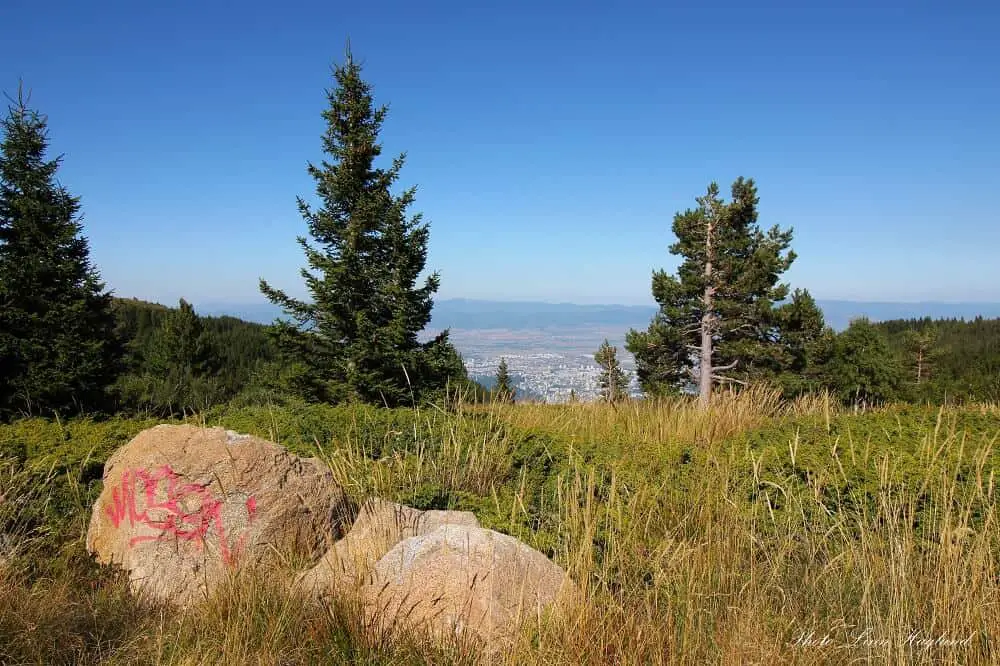 How to hike Kamen Del, Vitosha mountains
Once you get to Moreni Hotel (a short walk down from Aleko Hut,) the trailhead starts about 50 meters below the parking lot where the bus leaves you.
Walking down, you see a wide trail to the left that will take you upwards through the forest before it opens up to a vast landscape and rocky hills in front of you.
As the trail flattens, you'll soon see Kamen Del to your right. Just follow the trail as it winds right and passes a little stone structure on the way. This is also a popular stop for a drink or snack before the last bit.
The views towards Sofia open up on your right-hand side before you reach the last rocky part to the top of Kamen Del, recognized by the Bulgarian flag swaying in the wind. But on the top, it's so much better as you have the whole city below your feet!
When you're done taking in the views, turn back the same way to the Aleko Hut. The bus back to Sofia leaves regularly from the same place as it left you, on the parking place in front of the hut.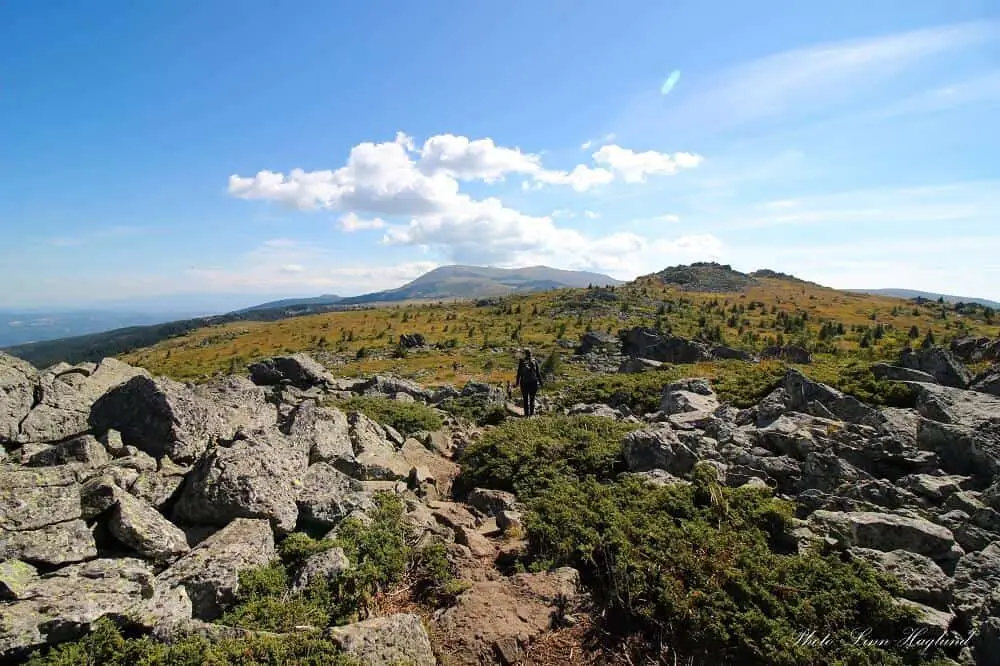 Hike Kamen Del responsibly
As always when you go hiking, make sure to leave no trace. Not only should you not leave anything behind, but bring a bag with you so that you can pick up any pieces of rubbish you might come across on the trail.
It's just as important to respect other hikers. Make sure you walk away from the trail if you stop for a snack, preferably on hard surfaces like rock, so that you don't disturb the ecosystem.
Finally, leave your sound blaster at home. There's nothing more disturbing than someone playing loud house music in the middle of nature. People go to nature to relax and unwind. So let's all respect each other and have a great time because this is one of the best hikes in the Vitosha mountains!
Happy hiking!