While there are lots of amazing things to do in Bratislava, you might want to explore the surrounding destinations after spending some time in the city.
There are endless opportunities for spectacular day trips from Bratislava Slovakia and it can be hard to decide on the perfect place.
Especially considering its ideal positioning just a short distance from Hungary, Austria, and the Czech Republic all you have to do is bring your passport and you can explore either of these countries on an easy one day trip from Bratislava.
Read on to find the most epic Bratislava day trips you can do either by train, bus, or car – including tips for responsible travel!
Disclosure: This post may contain affiliate links. That means that if you make a purchase through one of those links, I will get a small commission at no extra cost to you. As an Amazon Associate, I earn from qualifying purchases.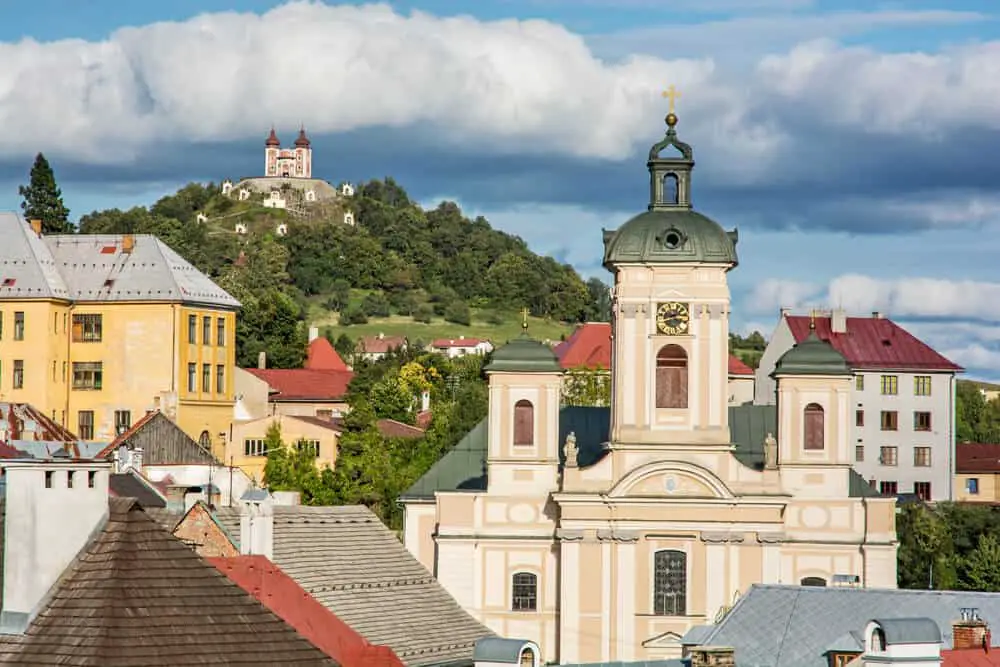 Best day trips from Bratislava
Banska Stiavnica, Slovakia
Parking: You can park for free below the new castle. Alternatively, it's only 3.50 Euros for a full day of parking along the streets in the town center.
Driving time: 1 hour 50 minutes
Train travel time: No options for a day trip from Bratislava
Responsible travel tip! Bring a reusable water bottle.
One of the absolute best day trips from Bratislava is to the epic mining town Banska Stiavnica. The small town oozes history and mysterious legends and will leave you intrigued to explore more.
While it is less than 2 hours from Bratislava, there's no easy way to get there by public transport and unfortunately, you won't get much out of a day trip unless you drive a car.
Yet, it's one I highly recommend! Explore the iconic New Castle that overlooks Banska Stiavnica, enjoy the panoramic views, and learn about the legends that are connected to it.
And you guessed right; when there's a New Castle there must be an Old Castle. This is situated in the town center. The Old Castle is quite unique as it was a church that later was turned into a defensive fortress.
Take a stroll to the charming Holy Trinity Square, where you can also pick up a map at the tourist office. The square is dominated by the Holy Trinity Column and is perfect for people watching. It's also worth taking a walk down Troutar street for a peek at the distinctive townhouses.
Finally, a must when in Banska Stiavnica is to visit the Open Air Mining Museum to learn more about the town's rich mining history.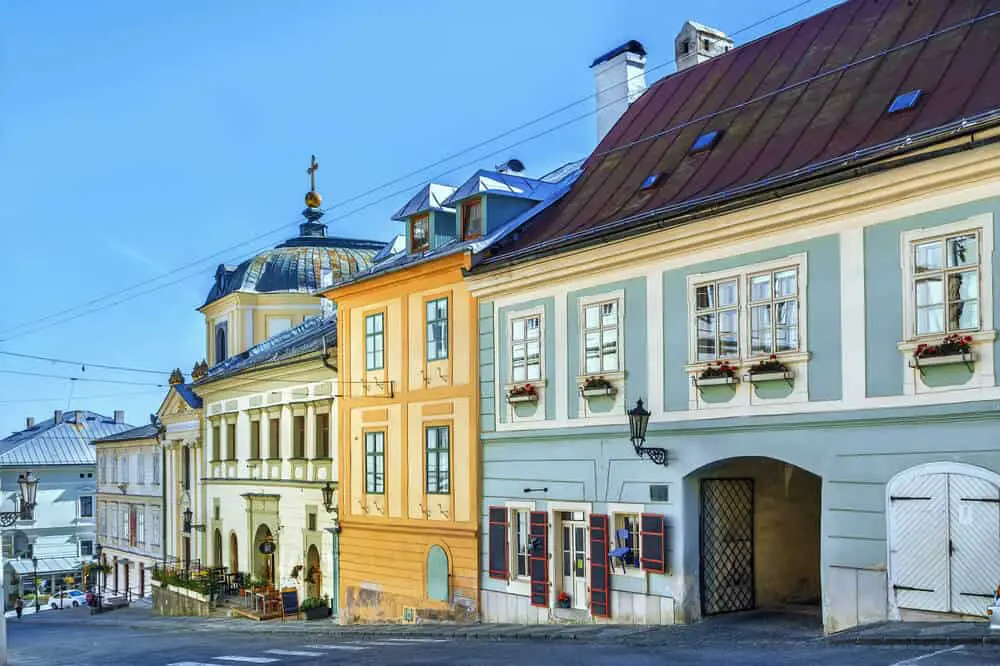 Banska Bystrica, Slovakia
Parking: There are many parking lots in the city center.
Driving time: 2 hours and 10 minutes.
Train travel time: From 2 hours and 45 minutes.
Responsible travel tip! Eat at locally owned restaurants and cafes.
Banska Bystrica is a super charming off the beaten path town to visit on a day trip from Bratislava. If you would like a slow day browsing the narrow streets through pastel-colored houses and drinking coffee over breac¡kfast, brunch, lunch, and dinner, this is a great choice.
The main square has everything you need and the iconic clock tower is where you want to get to the top for epic views of Banska Bystrica. According to legend, a few angels that flew across the town bumped into it, thus it's not standing straight today. But fear not, it's perfectly safe to climb!
After seeing the views, head to Banska Bystrica Castle and take a peek inside the Church of the Assumption.
Banska Bystrica is also a great choice for nature lovers as you can go for short stunning hikes right outside the town center (or skiing in the winter.)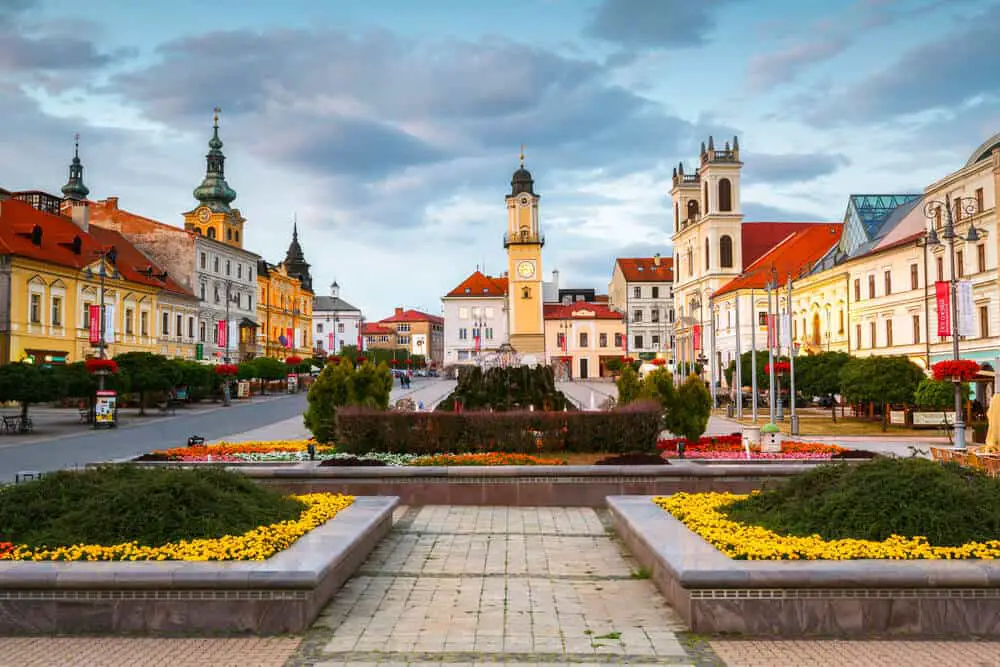 Trencin, Slovakia
Parking: Parking Trencin
Driving time: 1 hour 20 minutes.
Train travel time: From 1 hour.
Responsible travel tip! Bring a reusable coffee cup if you want to grab a coffee on the go.
Explore one of the most quaint towns in Slovakia on a one day trip from Bratislava to Trencin. Overlooked by the elegant 11th century Trencin Castle which holds an interesting history museum.
The castle is one of the most important historical monuments in the entire Povazie Region and a must-visit. Not only for its historical importance but also for the epic views of the town and surrounding greenery.
Grab a coffee to go and hit Mierove Square to take in the local vibe. The square is the center of happenings in Trencin and you're sure to experience any market or other event going on that day by heading there.
Walk the Parish Stairway to the Parish Church of the Birth of the Virgin Mary and climb the City Tower for extraordinary views of Mierove Square.
Trentin's synagogue is also worth a visit. Its stunningly blue dome ceilings are quite different from what you will see in other places and though it was severely damaged during World War Two, in my opinion, it's one of the best attractions in Trencin after the castle.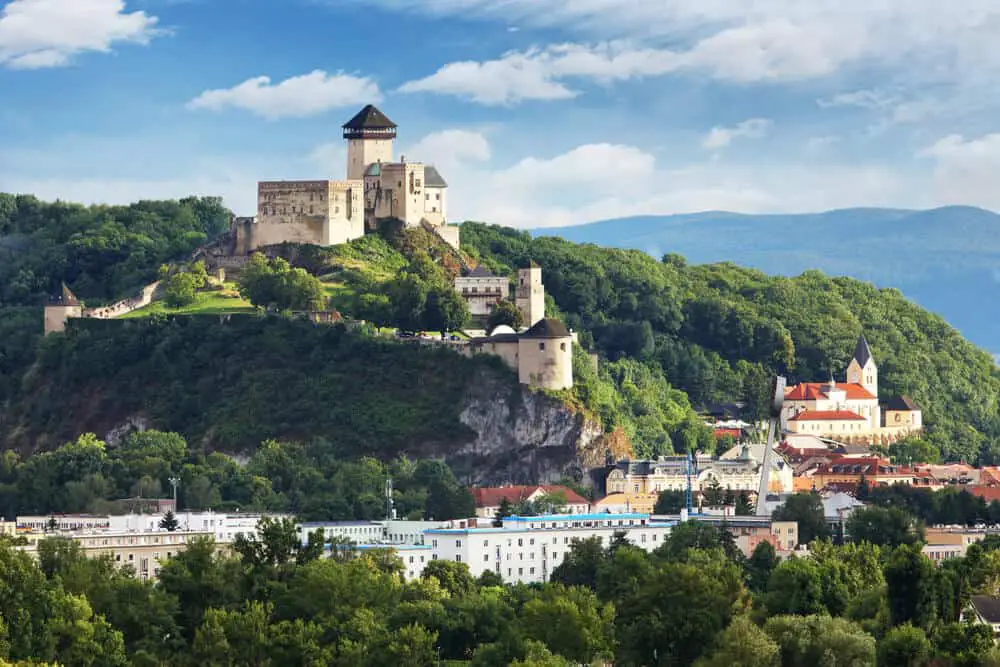 Mikulov, Czech Republic
Parking: Parkoviště u Koupaliště (10 CZK per hour)
Driving time: 1 hour 15 minutes
Train travel time: Around 2 hours
Responsible travel tip! Take the train to save the environment
Just across the border in the Czech Republic, you find one of the most charming towns for any trips from Bratislava in a day. The main draw in Mikulov is the renovated Baroque castle sitting on a hilltop overlooking the little town.
But the highly underrated Kozí Hrádek castle is well worth the little hike to get there. It's surrounded by lush nature and you're guaranteed epic views of Mikulov.
Another nice walk is to the Křížová Cesta v Mikulově, which also offers extraordinary views. But Mikulov's historic center is also extremely charming. Head to the main square, take a photo of the early 18th century Holy Trinity Column, and admire the Sgrafitto House which is beautifully decorated with biblical scenes.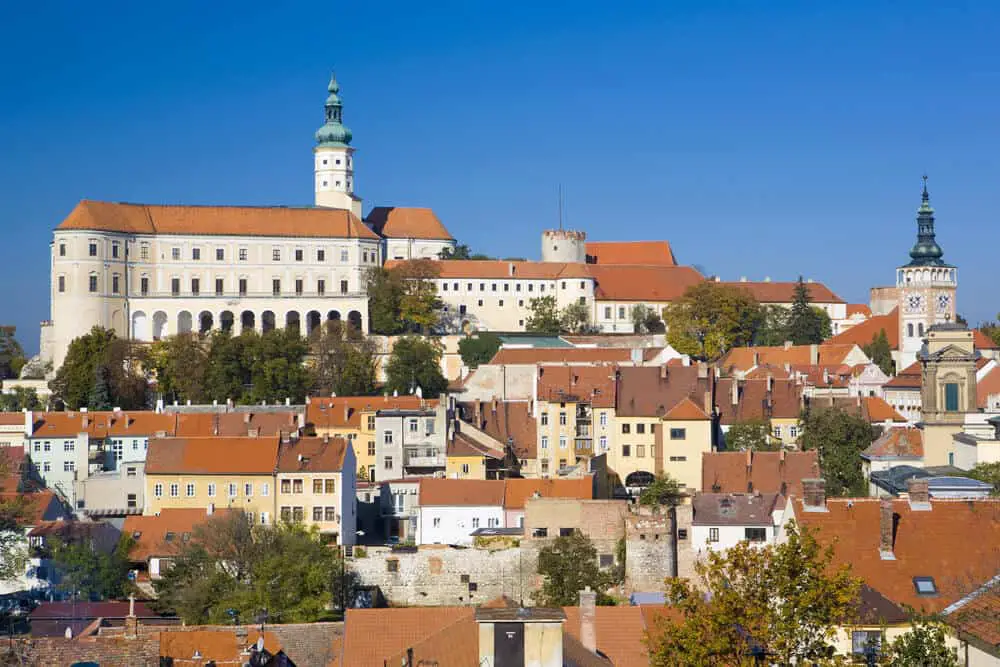 Vienna, Austria
Parking: Search for a Park & Ride garage to save money on parking. You can read more here.
Driving time: 55 minutes.
Train/bus travel time: 1 hour.
Responsible travel tip! Take the train or the bus to save the environment but also to make it easier for you!
One of the best day trips from Bratislava is without a doubt to the vibrant capital of Austria. Vienna is a must visit with breathtaking architecture throughout the city.
One day in Vienna is surely not enough, but still totally worth it if you don't have more time! It can be a tiny hell to find parking in Vienna, especially as street parking in the city center is usually maximum of 2 hours and the parking garages are all extremely expensive (coming from Slovakia, you'll notice a day trip to Vienna on your wallet enough as it is) so I highly recommend taking public transport. It's only an hour's trip and both buses and trains are frequent.
The most important attractions you should consider on a day trip to Vienna from Bratislava are the majestic Schönbrunn Palace and gardens, and the Hofburg Palace complex.
Go for lunch in the city center, there are endless restaurants to choose from in different price classes. Stroll past the Column of the Trinity and climb to the top of St. Stephen's Cathedral for sweeping city views.
Wander a little further to look for the Town Hall and the beautiful Votivkirche and relax a little in the park in front of it. Vienna is so jam-packed with impressive buildings, statues, fountains, and parks, that no matter where you turn, you'll find something to admire and take a picture of. Thus, you're sure to enjoy the day no matter what.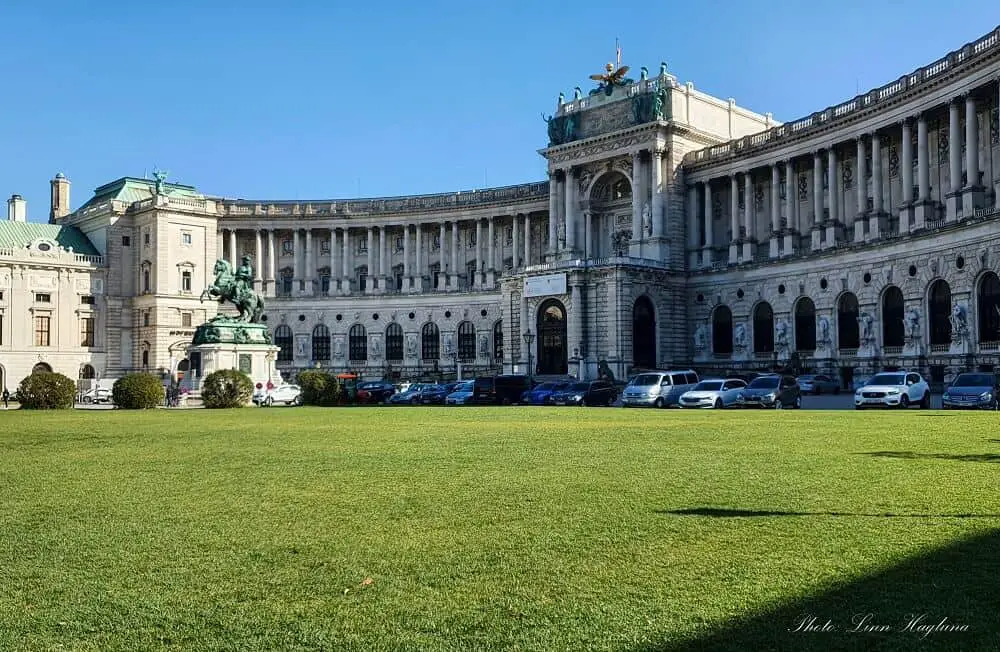 Budapest, Hungary
Parking: Arena Plaza parking is free. There is paid parking throughout the city.
Driving time: 2 hours and 20 minutes.
Train travel time: 2 hours and 23 minutes
Responsible travel tip! Look for locally owned cafés and restaurants to eat and drink.
Going on a day trip from Bratislava to Budapest is a must while in Slovakia's capital city. While one day in Budapest might not seem like enough, you will still get a good feel of the wonderful city, and after all, it is one of the most beautiful places in Hungary.
Since the travel time is nearly 2 and a half hours, I highly recommend leaving early when going on a day trip to Budapest from Bratislava so that you get the most out of your excursion.
There are so many wonderful things to do in Budapest like wandering along the Danube river and up to the Liberty Statue where you'll get epic views of the city and the Parliament building. Or why not go on a river cruise?
Visit the St. Stephen's basilica and continue to the famous Széchenyi Thermal Baths. They are not budget friendly to enter, but if you fancy an hour or two of relaxation and seeing the most sought-after thermal baths in Hungary, it's absolutely worth it!
Just note that it's mandatory to wear slippers, so if you don't bring your own, you'll have to buy them there.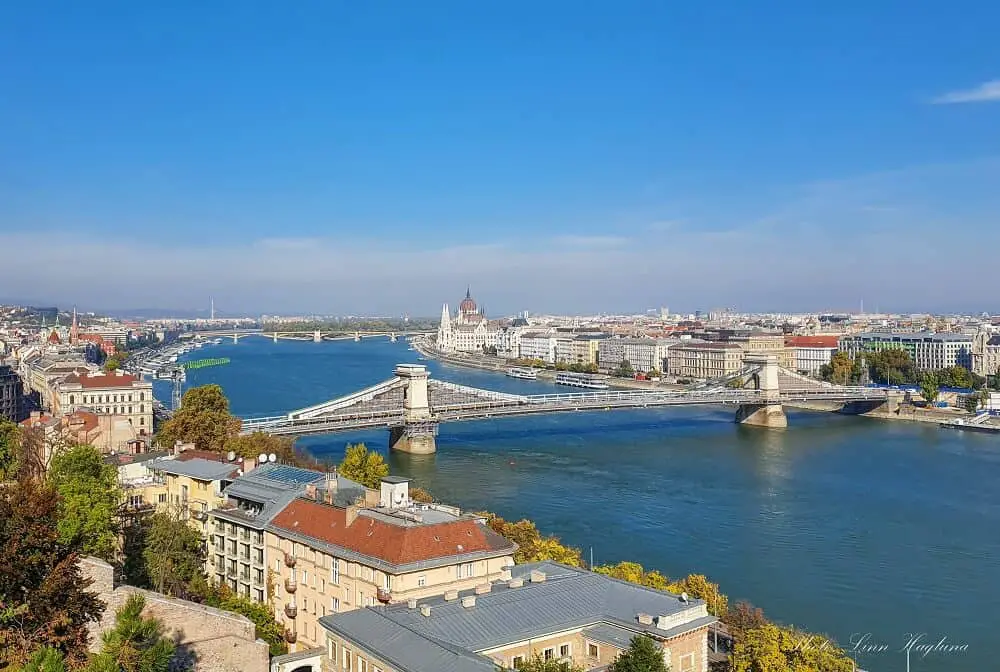 Brno, Czech Republic
Recommended by Nicolas of Rambling Feet
Parking: You cannot park a car within the historic Brno city center without a permit. In Zone B, just outside the city center, you may park for 30 CZK per hour.
Driving time: 1.5 hours.
Train travel time: 1.5 hours. There are up to 13 services a day, with the first leaving Bratislava at 4:57 and the last returning from Brno at 22:22.
Responsible travel tip! Take the train, it saves both the environment and money + time to find parking in the city.
Brno, the largest city in Czechia's Moravia region, is a short hop from Bratislava. Don't be surprised if you hear a lot of Slovak or Slovakian accents, though, because many students cross the border to further their studies at Masaryk University.
This contributes plenty to the vibe and nightlife but for the average tourist visiting outside the school term, there is still plenty to see and it is much cheaper than Prague.
From the Špilberk Castle, a fortress-turned-prison-turned museum, there is a commanding view of the old city and the spires of the Cathedral.
However, the variety of Brno's underground attractions makes it unique among European cities. One can take a tour of the labyrinth under the Cabbage Market, a medieval network of tunnels that was used for hundreds of years to cellar food, beer, and wine.
A more macabre place of interest is the ossuary of the Church of St James, the second-largest in Europe after the Parisian catacombs. It was discovered only in 2001 and opened to the public in 2012 with thoughtful art arrangements.
Along the same lines, the crypt of the Capuchin Monastery features the mummified remains of its former inhabitants.
One spot that fans of modernist architecture should not miss is Villa Tugendhat, now a UNESCO World Heritage Site.
The work of Mies van der Rohe is a 20-minute walk from the city and can be visited on guided tours in Czech and English only. These are best booked in advance and they sell out quickly even in winter!
You get to explore all parts of the house, and from the balcony, there is a stunning view of the city that this time includes Špilberk Castle.
Thanks to the young student population, there is no shortage of vegetarian and vegan food options around, such as Forky's next to the Church of St James.
Trnava, Slovakia
Recommended by Kami of My Wanderlust
Parking: City Arena Underground Parking
Driving time: 40 minutes
Train travel time: 30-45 minutes
Responsible travel tip! Take the train, it saves both the environment and money + time to find parking in the city.
Trnava, the 7th-largest city and one of the oldest towns in Slovakia, is one of the easiest day trips from Bratislava by train. The place is located only 50 km northeast of the capital and is easily reachable by train (this is, no doubt, the best way to reach the city) – there are a few direct trains per hour and the journey time is between 30 and 45 minutes.
The Old Town, where you will find all the attractions in Trnava, is only a few minute's walk from the train station. Trnava is the first town in current Slovakia that got the title of the royal town (in 1238) and today you can find numerous monuments that are a testimony to the city's long history.
Trnava's Old Town is still partly surrounded by medieval walls, among the best-preserved ones in Slovakia. The city is often called "little Rome" due to being the religious and cultural capital of the region.
And indeed you can find many impressive churches there, even if you are not a spiritual person you will surely appreciate their stunning architecture and interior.
One of the most unique places in Trnava is the former synagogue from the end of the 19th century that today works as a cool cafe, still with the original interior inside.
One of the best things to do in Trnava is to wander around and feel the vibrant atmosphere of the city. You will definitely not be disappointed with choosing Trnava during your Slovakia itinerary.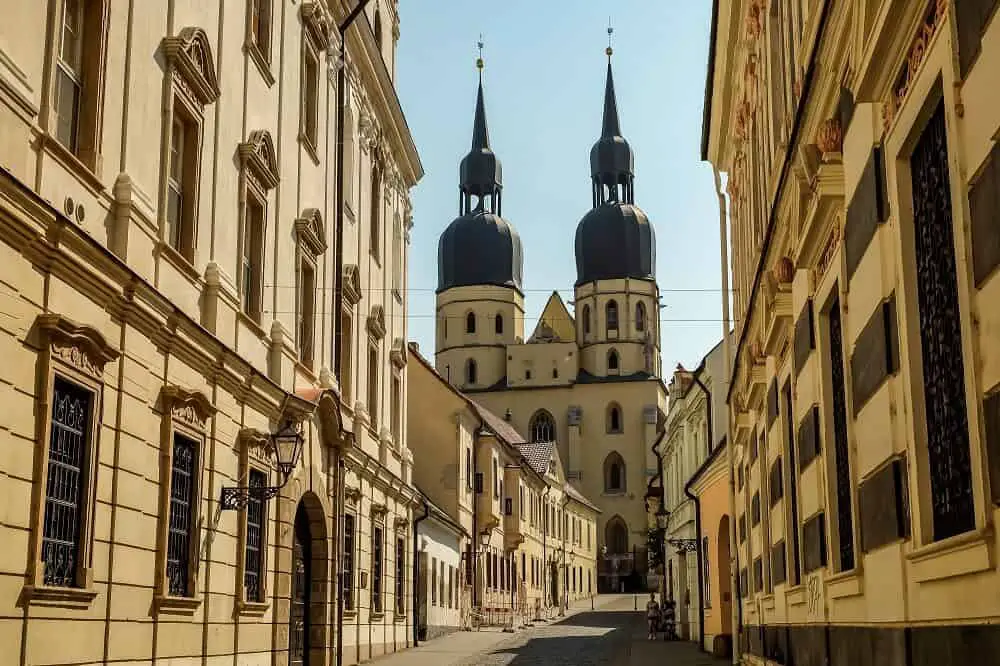 Graz, Austria
Recommended by Alina of World of Lina
Parking: There is paid parking in the city center. You can pay by phone through an app or sms.
Driving time: 3 hours
Bus travel time: 4 hours – I highly recommend driving if you want to make it a day trip from Bratislava.
Responsible travel tip! Bring a reusable water bottle to fill up during your day to avoid plastic waste and to stay hydrated.
Another one of the best day trips from Bratislava is Graz. Graz is Austria's second-largest city and the capital of the federal state of Styria.
The distance from Bratislava to Graz is rather far and although there are train and bus connections available, it's best to take the car. It's approximately a 3-hour drive so make sure you leave early to enjoy a full day in Graz.
Once in Graz, the first thing you'll probably notice is the "Uhrturm" – the city's main sight and one of the most famous landmarks in Austria located on a small hill.
To get up there, you can either climb a few hundred steep stairs or take the less exhausting way: The cable car called "Schlossbergbahn". On top, you'll have a wonderful 360-degree view of the entire city.
Another place not to miss is the Kunsthaus. It's a modern art museum housing different exhibitions of contemporary artists. Because of its strange look, locals also call it 'friendly alien'.
If you get hungry, head to one of the many good restaurants nearby. Some good recommendations are Ginko Greenhouse or Don Camillo. Afterward, make your way to Schloss Eggenberg to take enjoy a relaxing stroll in the big, lush park surrounding the castle.
One day is more than enough to see all the main attractions without rushing through the city.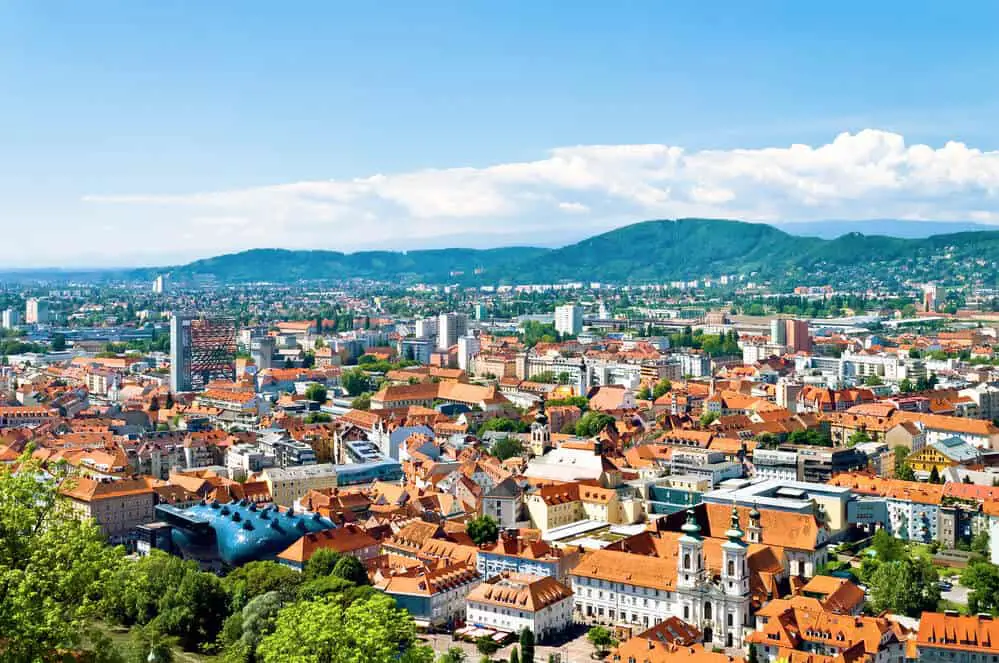 Esterhazy Palace, Austria
Recommended by Paul of Paulmarina
Parking at the Palace Garage: €5 for 4 hours
Driving time: about 1 hour
Train travel time: about 1 1/2 hours via Parndorf Ort
Responsible travel tip! The area around the Neusiedlersee is a protected World Heritage sight with a rich diversity living in symbiosis with the physical place and humans for thousands of years so contribute to protecting the area by not throwing – and if necessary – picking up any rubbish.
The Esterhazy palace in Eisenstadt, Austria is located near the Austrian border in the region of Burgenland and makes one of the most memorable Bratislava day trips.
The princely family of Esterhazy called this palace their home, and today it's part of their private foundation. The highlight of a tour through the fairytale palace and gardens is the Haydn Hall.
The great composer was in service of the family for about 40 years, he even lived nearby. This hall is still used today as a beautiful concert hall.
The wine vaults are another must-see together with the exhibition about Melinda Esterhazy. The public gardens are as enthralling as the castle itself, making it a perfect spot to take a short afternoon walk or to take a series of memorable pictures.
The city of Eisenstadt is located right next to the castle, and you shouldn't miss this wonderful lesser known Austrian city.
The Neusiedlersee is located near the city, which is one of the longest lakes in Austria and a popular hangout place during the summer months.
Those who have more time left can plan a trip to one of the nearby historical cities such as the colorful Wiener Neustadt or the UNESCO world heritage city of Baden bei Wien.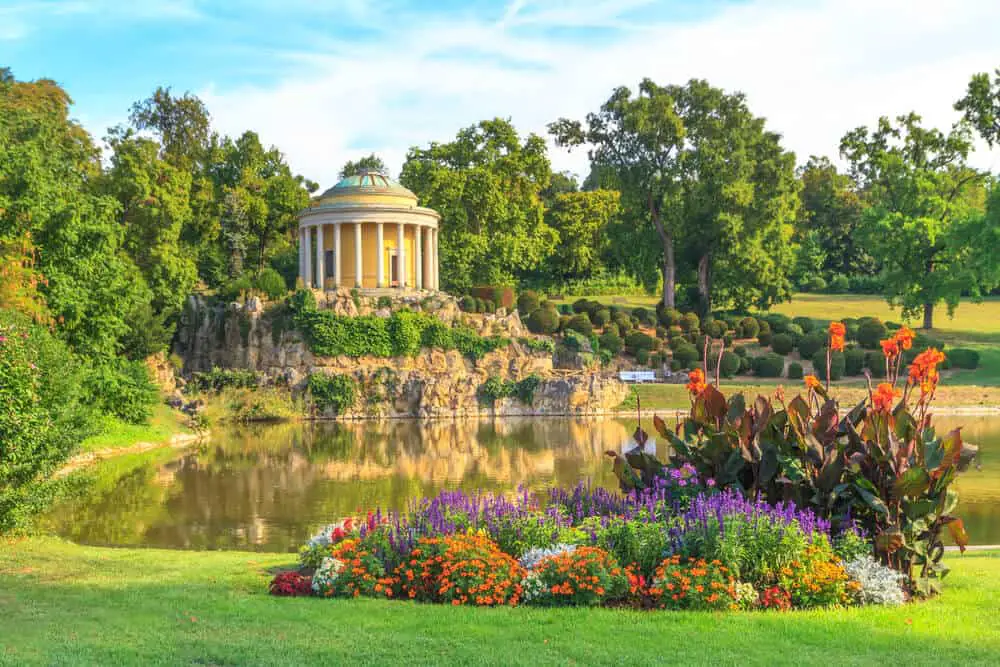 Reflections on Bratislava day trips
As you can see, there are a whole lot of exciting day trips from Bratislava you can take both within Slovakia and in the neighboring countries.
With stunning cities and towns, different cultures, and unique architecture, no matter where you choose to go you're guaranteed to have a ball.
However, if you choose to cross the border, even though it's within the European Union, make sure you bring your passport as some countries perform passport checks even on public transport.
Happy travels!