Bratislava is one of the most popular day trips from Vienna and the small walkable city can easily be seen in a day. However, if you have the opportunity, try to stay longer. There are a lot of amazing things to do in Bratislava and there's no doubt you'll get a better feel of it after spending a few days there.
With that said, I've created this one day in Bratislava itinerary for you who don't have the opportunity to stay any longer so that you can get the most out of the beautiful Slovak capital.
When visiting Bratislava in one day, make sure you make time to take in the local feel of the old town by getting lost in the streets between fascinating pastel-colored houses and people watching at any of the outside tables of one of the many cafes.
Make it to the castle for sweeping city views, and search for quirky statues throughout the city, there are many, and they make for perfect selfie spots!
Read on to see what to expect from a day trip to Bratislava including all the best things to see and do in this underrated city.
Disclosure: This post may contain affiliate links. That means that if you make a purchase through one of those links, I will get a small commission at no extra cost to you. As an Amazon Associate, I earn from qualifying purchases.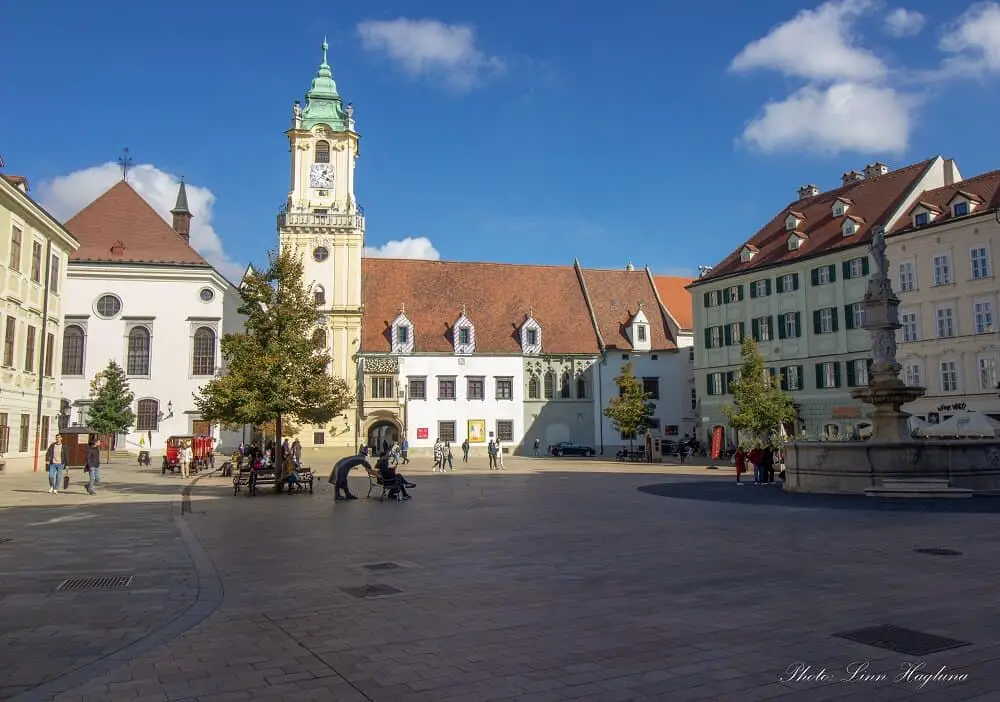 Best time to visit Bratislava in one day
Bratislava can be visited all year round and promises a wonderful day trip no matter when you go. In the summer months, temperatures usually reach 25-27 degrees celsius in the daytime, while the nighttime temperatures are around 15 degrees Celsius. While certain days can get hot for sightseeing, one day in Bratislava during the summer isn't going to break you.
Bratislava in winter is an enchanting wonderland. Especially when it snows, you'll fall in love with the Christmas Markets in Bratislava and the picturesque old town. Temperatures range between -3 and +4 degrees Celsius which is the perfect temperature for it to snow and for a white blanket to stay on the ground.
Both spring and autumn are mild with 17-22 degrees Celsius in the daytime and 5-10 degrees Celsius at night. Whether you love spring flowers or fall colors it's up to decide when the best time is to go for a day in Bratislava.