Bratislava is one of the most popular day trips from Vienna and the small walkable city can easily be seen in a day. However, if you have the opportunity, try to stay longer. There are a lot of amazing things to do in Bratislava and there's no doubt you'll get a better feel of it after spending a few days there.
With that said, I've created this one day in Bratislava itinerary for you who don't have the opportunity to stay any longer so that you can get the most out of the beautiful Slovak capital.
When visiting Bratislava in one day, make sure you make time to take in the local feel of the old town by getting lost in the streets between fascinating pastel-colored houses and people watching at any of the outside tables of one of the many cafes.
Make it to the castle for sweeping city views, and search for quirky statues throughout the city, there are many, and they make for perfect selfie spots!
Read on to see what to expect from a day trip to Bratislava including all the best things to see and do in this underrated city.
Disclosure: This post may contain affiliate links. That means that if you make a purchase through one of those links, I will get a small commission at no extra cost to you. As an Amazon Associate, I earn from qualifying purchases.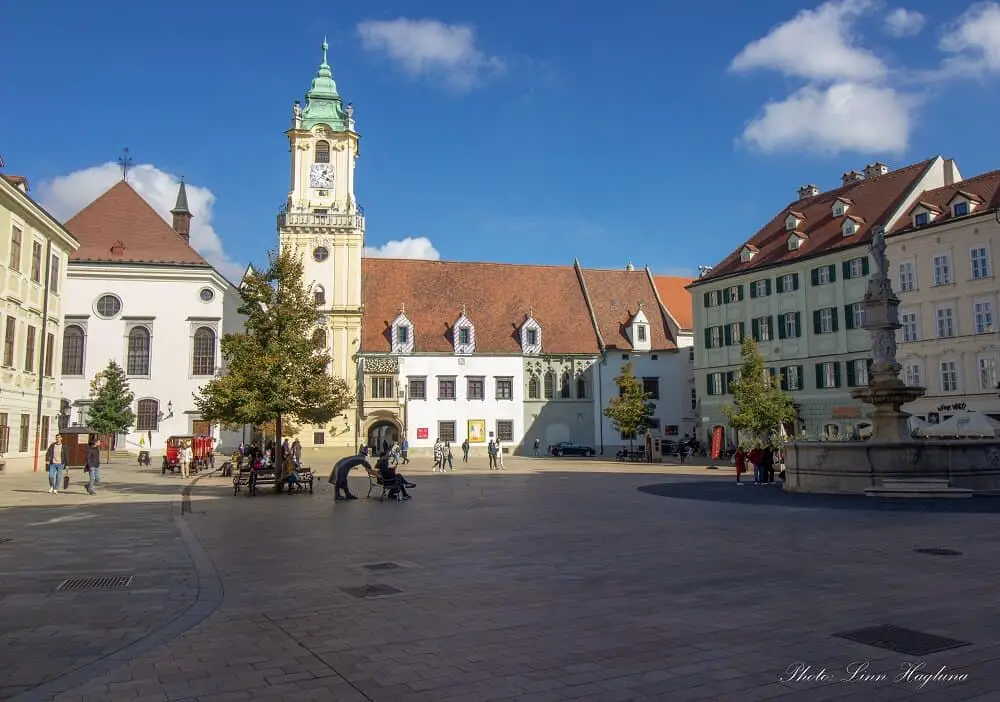 Best time to visit Bratislava in one day
Bratislava can be visited all year round and promises a wonderful day trip no matter when you go. In the summer months, temperatures usually reach 25-27 degrees celsius in the daytime, while the nighttime temperatures are around 15 degrees Celsius. While certain days can get hot for sightseeing, one day in Bratislava during the summer isn't going to break you.
Bratislava in winter is an enchanting wonderland. Especially when it snows, you'll fall in love with the Christmas Markets in Bratislava and the picturesque old town. Temperatures range between -3 and +4 degrees Celsius which is the perfect temperature for it to snow and for a white blanket to stay on the ground.
Both spring and autumn are mild with 17-22 degrees Celsius in the daytime and 5-10 degrees Celsius at night. Whether you love spring flowers or fall colors it's up to decide when the best time is to go for a day in Bratislava.
How to get to Bratislava
Bratislava is well-connected with the rest of Europe by plane with an international airport. There are buses from the airport to the city center which take about half an hour.
But Bratislava is also strategically placed on the Danube River next to both the Austrian and Hungarian borders, while it's only 220 kilometers from the Czech border. This makes it easy to travel both by land and on the river to other European countries and many travelers opt for a Bratislava day trip from Vienna.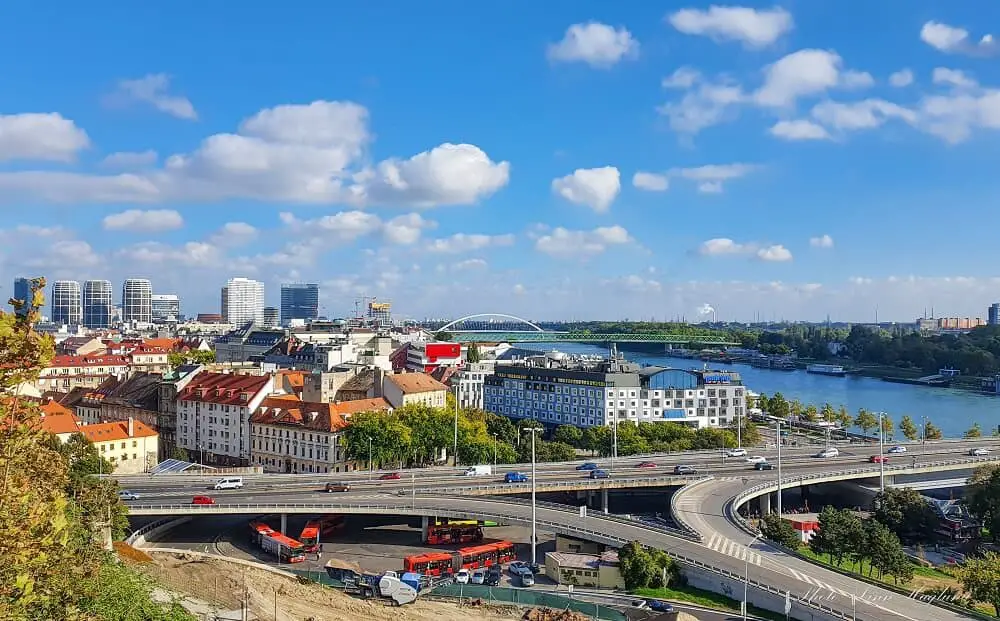 You might also like: Best day trips from Bratislava
One day in Bratislava itinerary
It's absolutely possible to see the best of Bratislava in a day and I've listed up my suggestion to spend the day here so that you get the most out of it.
Bratislava is perfectly walkable, so you won't need to stress around with public transport, however, if you want to move faster between sites, it's possible to rent an electric scooter to get around outside the old town.
Bratislava Castle
Start your Bratislava day trip by visiting the 9th Century Bratislava Castle. The white hilltop castle looms over the city and the Danube River and is impossible to miss.
Walk through majestic rooms and explore the castle's art exhibitions, and learn about its history at the Slovak National Museum of History.
The carefully cared for gardens are just as beautiful as the inside and make for a wonderful stroll before heading down from the castle hill.
The entrance fee for the castle is 10 Euros, so if you want to save money, I would personally just walk around the courtyard and gardens for free.
St. Martin's Cathedral
From Bratislava Castle, you'll see St. Martin's Cathedral dominating the city right below it and it's a natural next stop. The church served as a Hungarian coronation church between the mid-16th century to the mid-19th century and today, you can see a 300 kilos replica of the Hungarian royal crown on top of the church's tower.
It's not only the biggest church in Bratislava but also the oldest dating back to the 13th century before it was reconstructed into what you see today. The church tower was used as part of the city's defense structure due to it towering 85 meters high.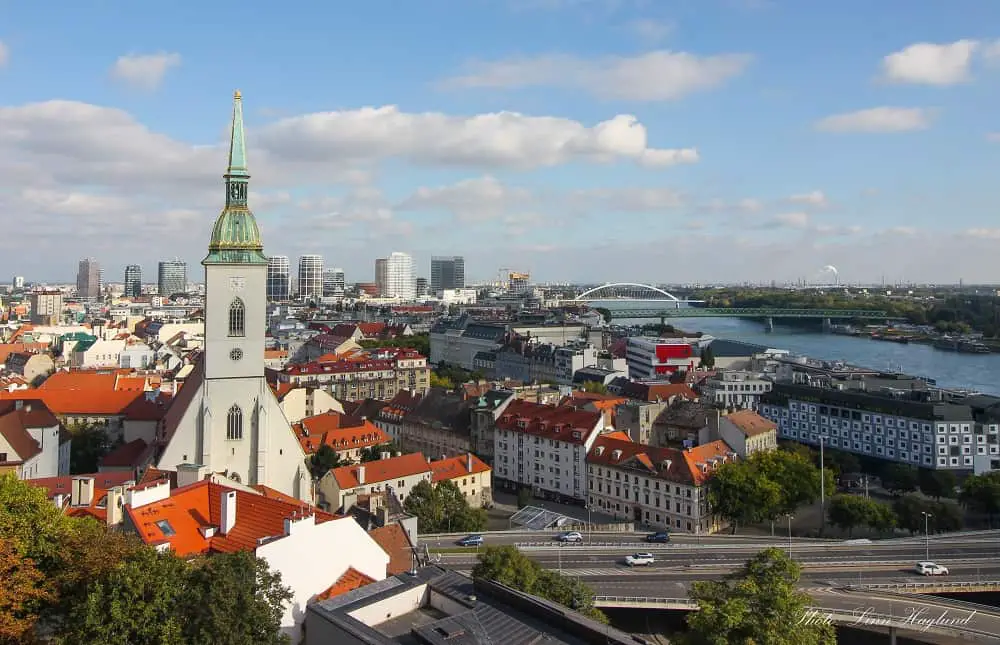 Lunch at Vegan Kiosk
I don't often recommend specific restaurants when I travel because I believe that there are more good restaurants in a place than the one that I accidentally went to (or any other blogger.) I believe in spreading the economy among the different restaurants to support a wider range of local families.
But sometimes, you find a true gem that deserves mentioning, and Vegan Kiosk is one of them. And I did try a wide range of restaurants during the days I spent in Bratislava.
I dare to say that of the absolute best vegan restaurants in Bratislava is Vegan Kiosk. They have a wide range of tasty (and huge) vegan burgers and wraps that will go well down with both vegans/vegetarians and meat eaters.
Try the sweet potato fries with your burger! They're to die for!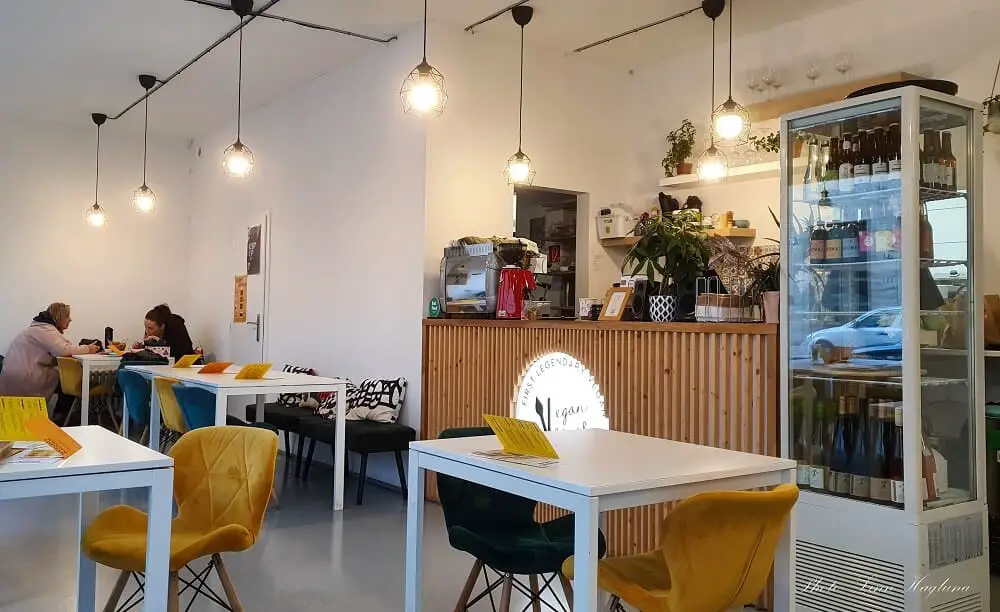 Walk around the old town
After lunch, take a stroll around the old town of Bratislava. Things to do in one day are mostly centered around there, so you'll have a good day walking around. Stop by a café to people-watch, take in the pastel-colored buildings around you, discover small hidden squares, and take heaps of cool photos!
I'll go through the top attractions you shouldn't miss below, yet, I suggest you take your time exploring for yourself, and you'll most likely bump into most of them naturally.
If you like to go on a walking tour with a guide instead, this one-hour tour is informative and takes you to a number of the most important sites. Check availability here.
For a more in-depth walking tour, I suggest this 2-hour walking tour, also with a local guide. Check availability here.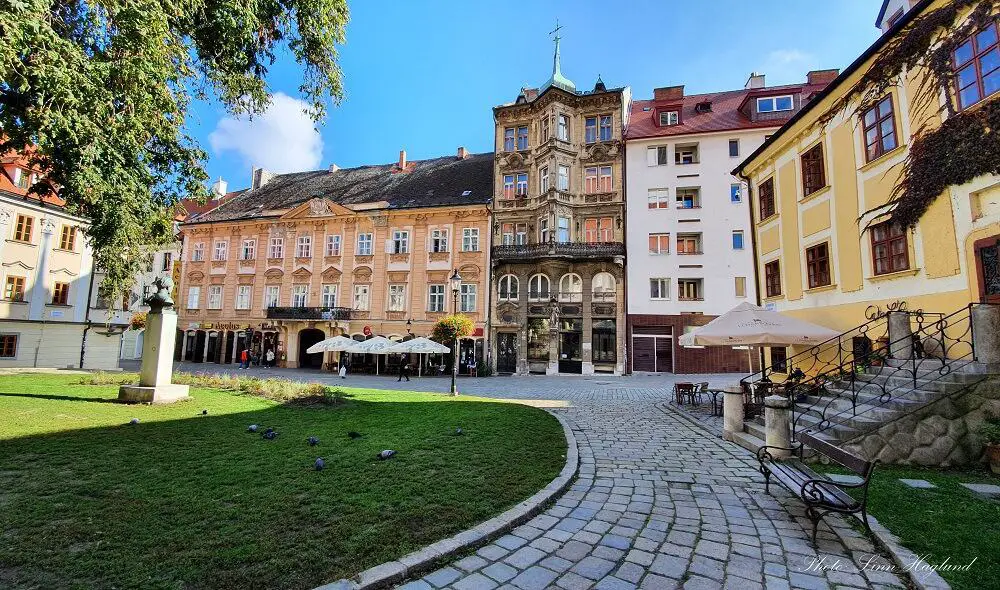 Highlights in the old town worth seeing are:
Michael's Gate
Slovak National Theater
Old Town Hall
"Man at Work" statue
Primate's Palace
Blue Church
Michael's Gate
Michael's Gate is one of the oldest structures in Bratislava dating back to the 1300s and it is the only city gate that has survived. In the 18th century, it was reconstructed and the statue of Saint Michael was added to elegantly coronate the top of the gate.
You should visit the museum on the top floor of the gate if not only for the spectacular city views!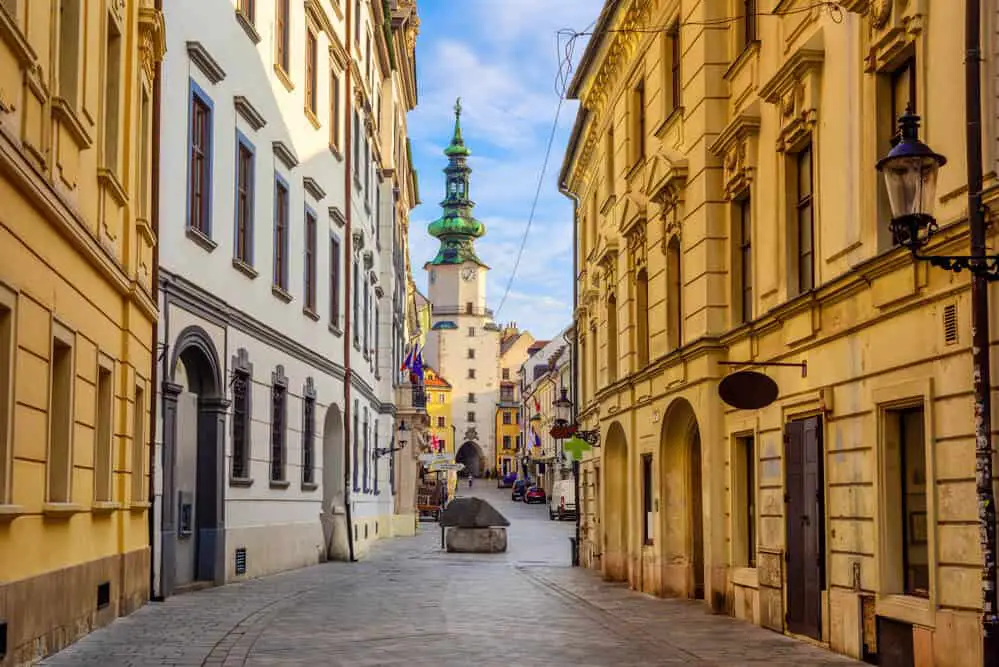 Slovak National Theater
In Bratislava's old town, you find one of the oldest professional Slovak theaters dating back to the early 1900s.
While you most likely won't be able to see a performance on your Bratislava 1 day itinerary, it's worth walking past and the park in front of it is a breath of fresh air.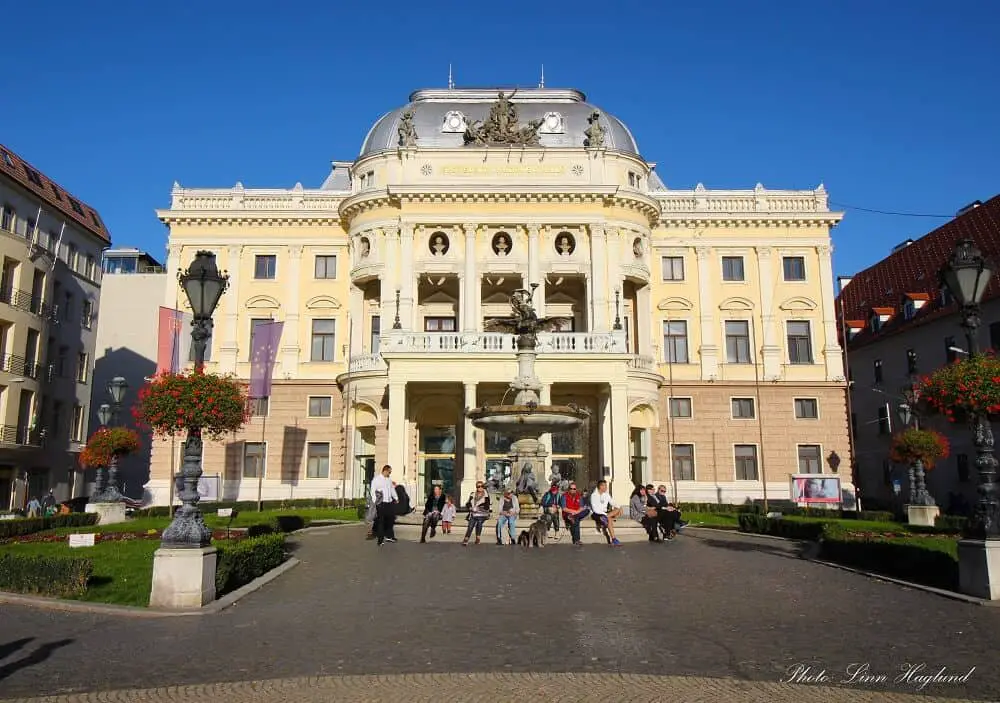 Old Town Hall
Not only is the Old Town Hall the oldest town hall in Slovakia, but it's also one of the oldest structures in Bratislava. A visit to it is no doubt one of the must things to do in Bratislava in one day.
Its picturesque setting on one of Bratislava's most charming squares invites you to enter to see the museum and climb the clock tower for sweeping city views.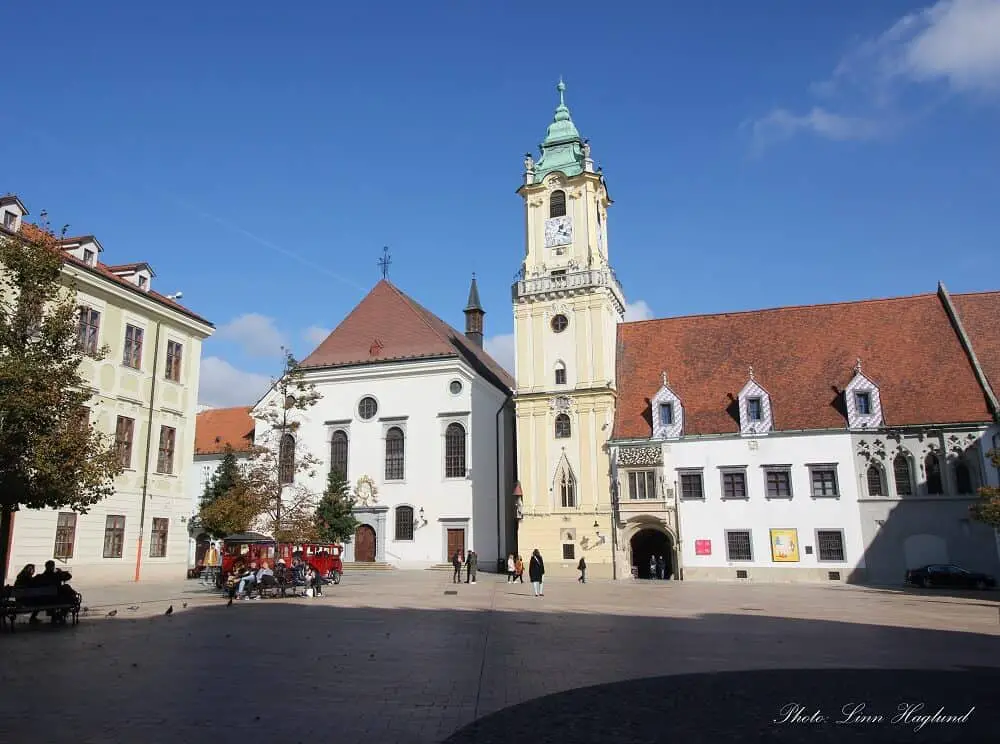 "Man at Work" statue
Bratislava is jam-packed with quirky statues and during your walk around the old town you're likely to see a few of them. The most popular is "Man at Work" featuring a worker popping his head out of a manhole cover on the street.
I'll give this statue special attention as it's hard to spot due to it being on the ground unless you see a line of tourists taking pictures.
Other cool statues worth looking for are:
Napoleon's Army Soldier
Guard's Booth
The Paparazzi
Cumil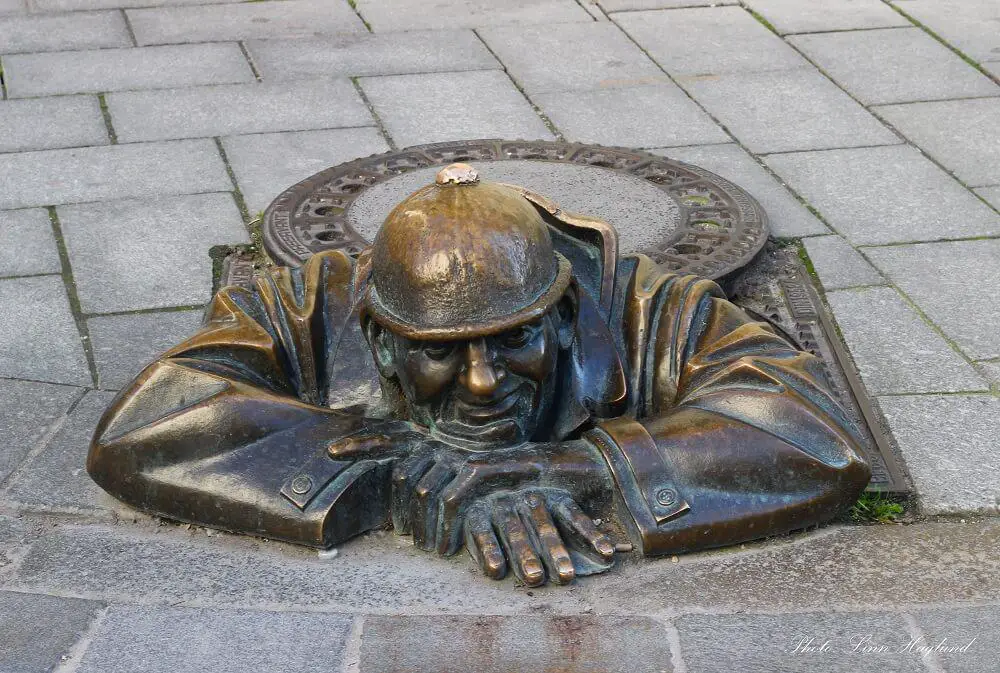 Primate's Palace
The Primate's Palace is one of the attractions worth entering during your Bratislava one day itinerary. Especially for the grand Hall of Mirrors. But the 18th-century building also hides an impressive collection of tapestries that were found as they reconstructed the palace.
Photos of former Hungarian rulers are also exhibited on the walls as you walk inside. The entrance is only 3 Euros
Blue Church
The Blue Church looks like it's taken straight out of a Disney fairytale and not so strangely one of the must-sees when exploring Bratislava in 1 day.
The Hungarian Secessionist Catholic church was built at the beginning of the 20th century and is painted in light blue both outside and inside making it the cutest church you'll ever see.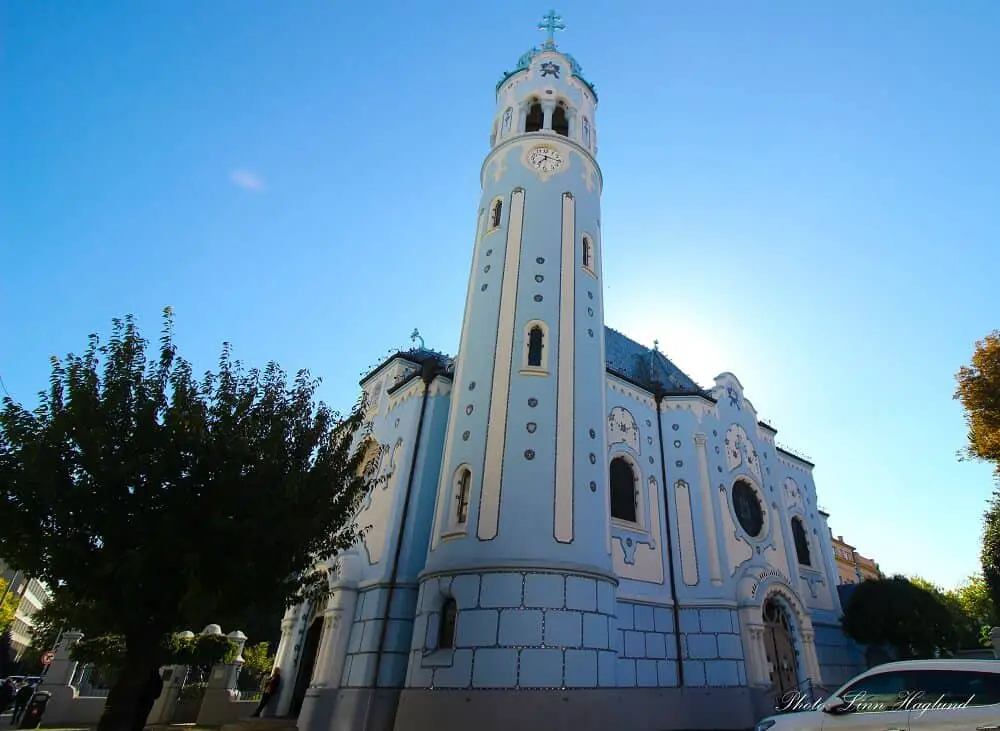 Slavín War Memorial
Round off your one day Bratislava adventure by visiting the Slavín War Memorial. The site is situated a good walk outside the old town so if you're short of time, I highly recommend grabbing an e-scooter to save time. You find them throughout the city.
The memorial was built to commemorate both the Red Army's fight for liberation and the Slovak soldiers that lost their lives during the Second World War.
For many Slovaks, this site is close to their heart as most have lost someone in the fights, so take some time to pay respect to the fallen.
Sitting on a hilltop, you get incredible views of the city and the surroundings. It's perfect for sunset if you manage to plan your day accordingly.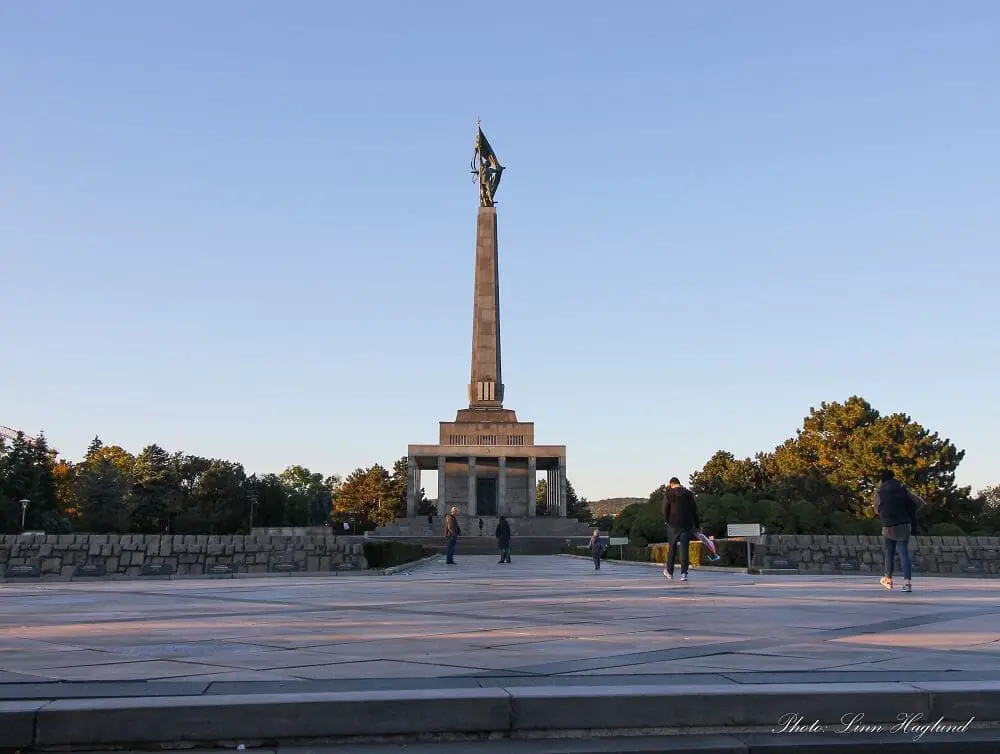 Reflections on this Bratislava one day itinerary
If you were in doubt if a Bratislava one day trip was a good idea or not, I hope this post helped make up your mind. Personally, I spent a few days in Bratislava as I love to travel slowly.
But one day in Bratislava is definitely enough if you want to see the main attractions and still get some time to enjoy the old town or the riverfront.
Being such a walkable city makes it easy to get around and most attractions are centered around the old town, thus easily reached.
When I traveled to Slovakia to visit Bratislava, I had no expectations of the small capital city, but I quickly fell in love with its chilled vibe and I'm convinced you will too if you just give it a chance.
Happy travels!
Where are you heading next? Read my complete guide on how to hike to Zelene Pleso in the High Tatras.
FAQ
Is Bratislava worth visiting?
Bratislava is one of the most underrated capitals in Europe with great nightlife and lots of things to do and see.
How many days in Bratislava?
You should spend at least 1 day in Bratislava, but if you have the chance to stay 2-3 days, you'll get a lot more out of your trip.