One and a half years of full-time van life with a dog has come to an end. If you've followed me on Social Media, you know that our beloved Ayla passed away, after 12 years of epic adventures across 10 countries.
It's been a devastating happening in our lives and yet one all dog mamas and dog papas know will come the day we look into that puppy's eyes for the first time deciding to take them home as family.
But enough about that. This post is not going to be sad and it's not going to be about losing loved ones. In fact, this post wasn't even planned but was born from tons of reflecting over the last year and a half.
I bought the van more than 2 years ago and it was planned since pre-covid. The plan was to find a way to travel full-time without putting Ayla on a plane (sustainably conscious dog didn't wanna fly!)
Persi (the van) became part of the family and was gonna take us ladies from the Iberian Peninsula to Asia.
First step, I quit my job, second step I panic traveled without Ayla (after lockdown), third step, I spent 3 months in Italy and Malta healing from a way too long corporate career and probably still from lockdown.
Ayla was staying with her favorite auntie Marie and her bestie Wilma having a blast. Wilma recently joined her in dog heaven where they're now chasing mountain goats, Wilma got her forever lizard boyfriend, and they've got all the treats in the world. And of course, Wilma chews the bones soft so Ayla can be f**ed chewing on them at all.
4th step. Mohammed lost his passport. Mohammed? Ah. As I came back to Spain, picked up Ayla, and got ready for full-time van travel, Mohammed popped into our lives. And he came to stay.
After losing his passport and spending a week with us traveling in Jaen Province (Spain), he fell in love with Ayla, he fell in love with me, and he fell in love with the simplicity and the freedom that Persi provided. So he left his job, sold his motorbike, said goodbye to his family, left Morocco, and joined the gang a year and a half ago.
So our journey began.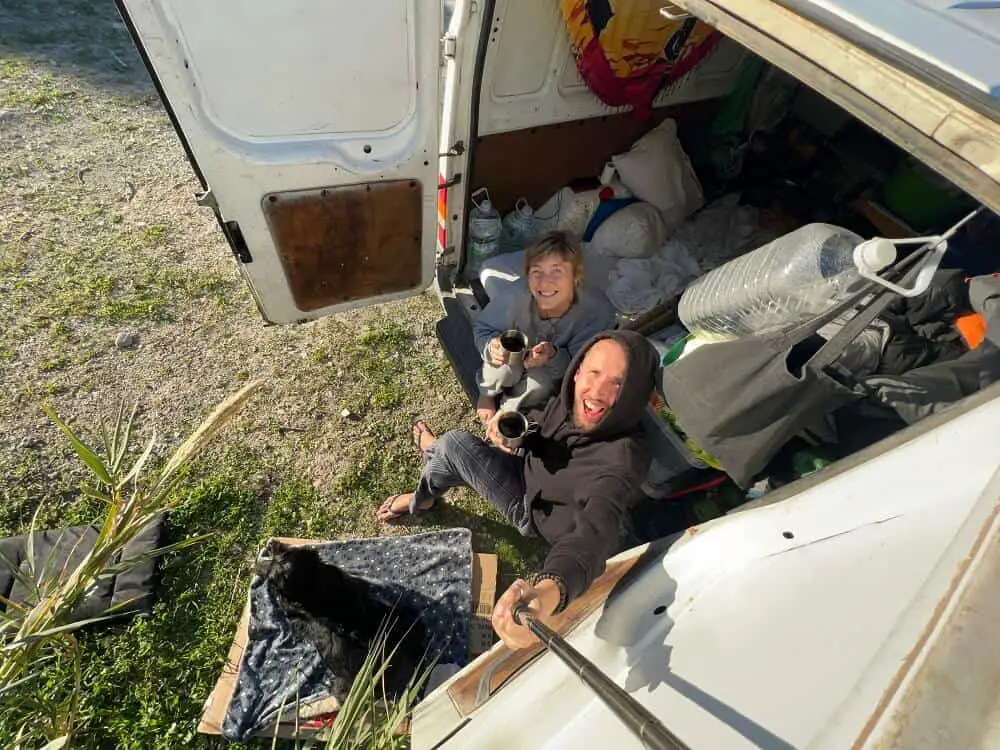 Disclosure: This post may contain affiliate links. That means that if you make a purchase through one of those links, I will get a small commission at no extra cost to you.
The reality of full-time van life with a dog
So many people have asked me how it is to go campervanning with dogs, and even more, full time. Dogs need stability, dogs need routine, dogs need a home.
I've heard it all. And the truth is, when you live a full-time van life, you as their human are their stability, your van is your home, and you create a routine around it.
Most people don't seem to get that. You create your own routine, it doesn't matter where you are.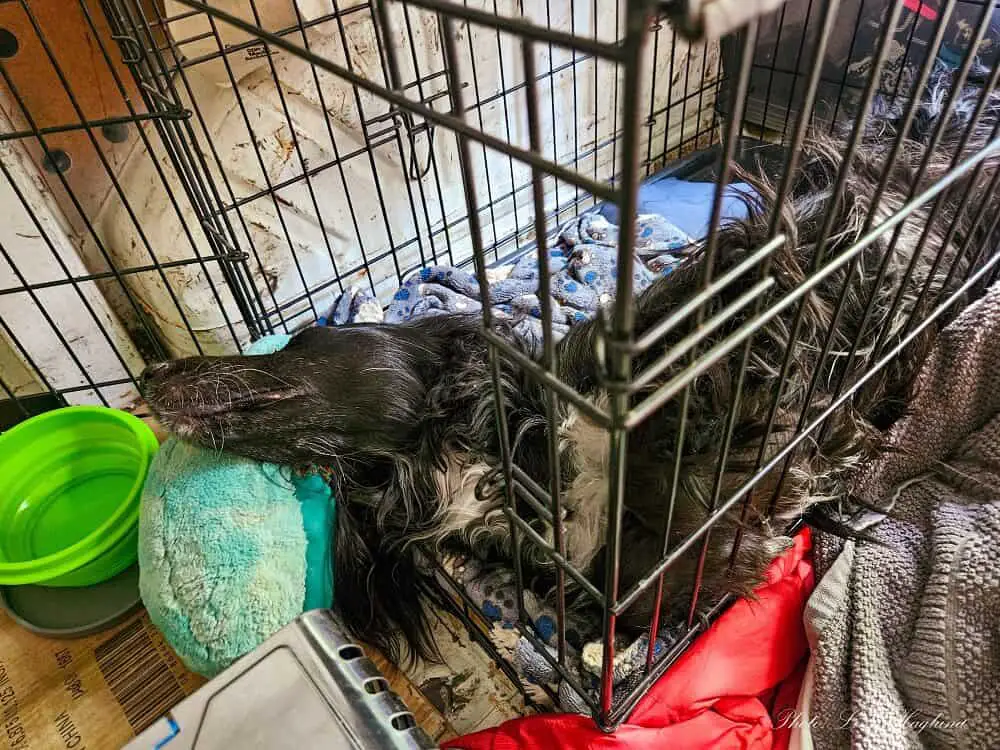 The safety of a home
Ayla was safe in her crate in the van. It was her home with her toys and blankies. Her door was always open (except when driving) but she hardly ever came out.
It was her safe haven and having us around made her feel safe and comfortable. On cold winter nights, she would come out and lay in bed with us, and on warm summer nights she would go out and lay on the cool floor outside her cave.
And sometimes, she decided that she would steal your side of the bed.
There's something you need to know about Ayla. She was a lone wolf, she liked to have alone time and wasn't a clingy dog. For her, having her own space was important.
Not all dogs are like that, and I won't be surprised if our next dog spends more time outside the cage than inside it.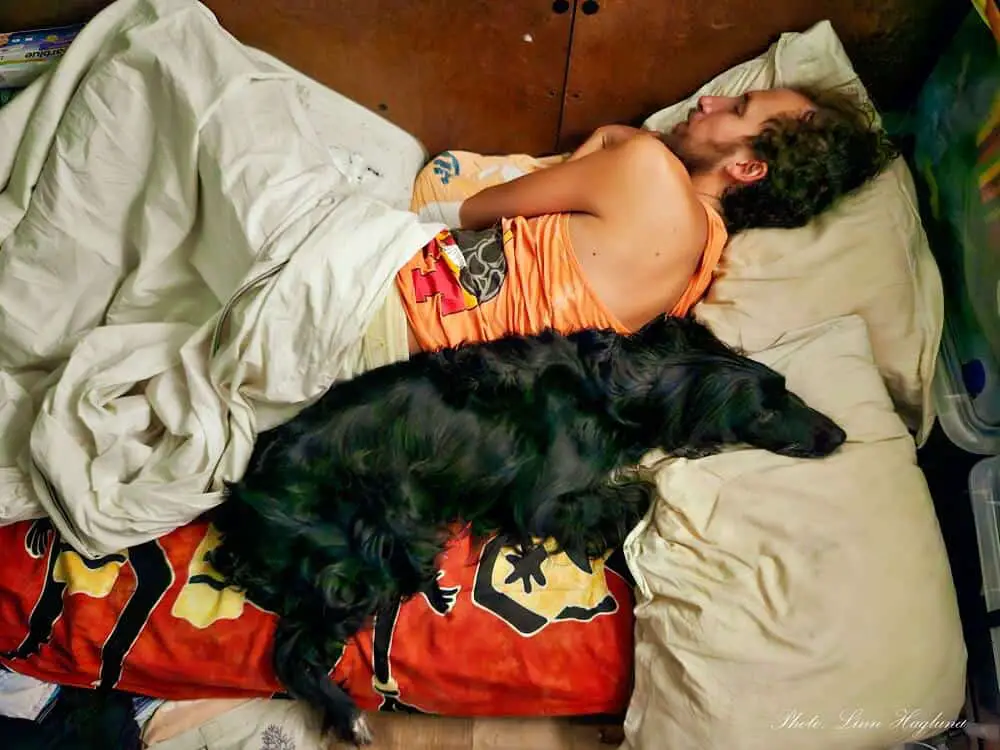 Creating a routine
I've never been one to set too much routine for Ayla. And I did that on purpose. Because dogs learn the time. If you feed them at 5 PM every day, they start waiting for food at 5 PM and get very disappointed if you're not home to give them food a 5 PM.
Dogs are way too smart to build up a routine that can get broken. However, you might be better at routine than what I am and then it will work perfectly fine!
But Ayla was born an adventure dog, she would be in the forest, on top of mountains, swimming in rivers, or running on the beach nearly every day. These adventures could last a couple of hours or they could last for a few days.
For her, this didn't change when we moved into the van. She got her dinner at night. When we got back from the long day hike, sightseeing in a new city or town, or after a long day of relaxing in the van or outside the van while mummy and daddy were working.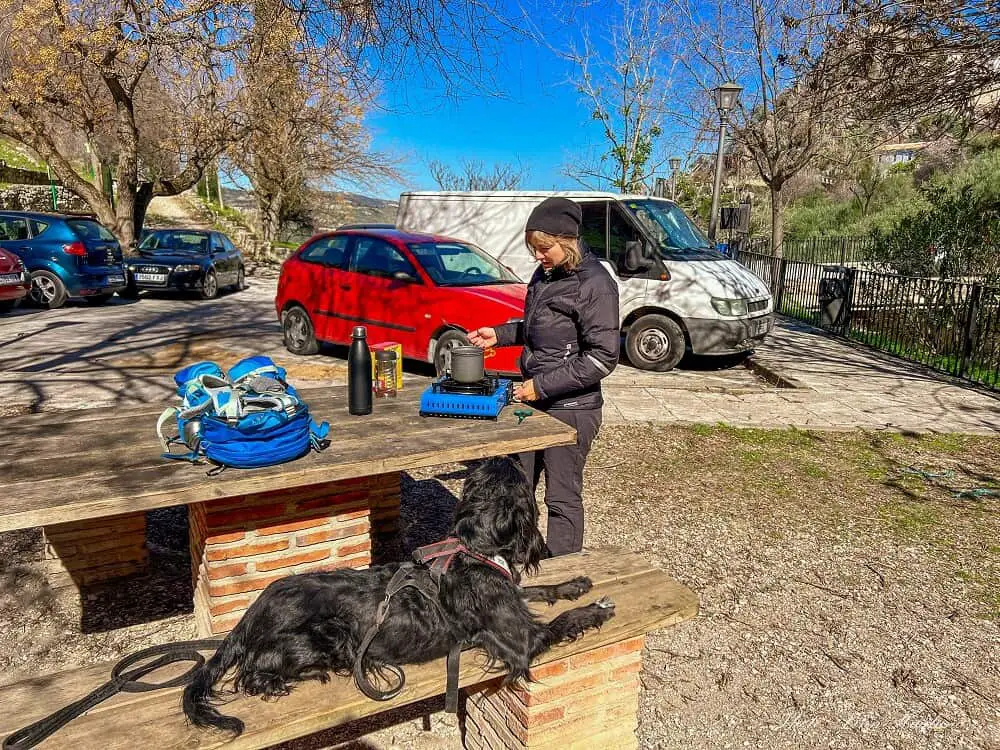 Most mornings she would go with Mohammed to buy bread for breakfast. Most evenings she would go with him to throw the recycling (she was very aware that we recycled everything right.)
She knew that. And she loved it.
But she didn't know what time it would be. We could sleep in and Ayla would sleep in with us, we could get home at 2 AM before she got her dinner or she could have her dinner at 8 PM because we ate early.
She knew that when Mohammed was cooking he would throw her a piece of carrot, potato, or broccoli. She also knew that I probably wouldn't so there was no point in being alert. But sometimes it did come, so it could be worth keeping an eye out anyway.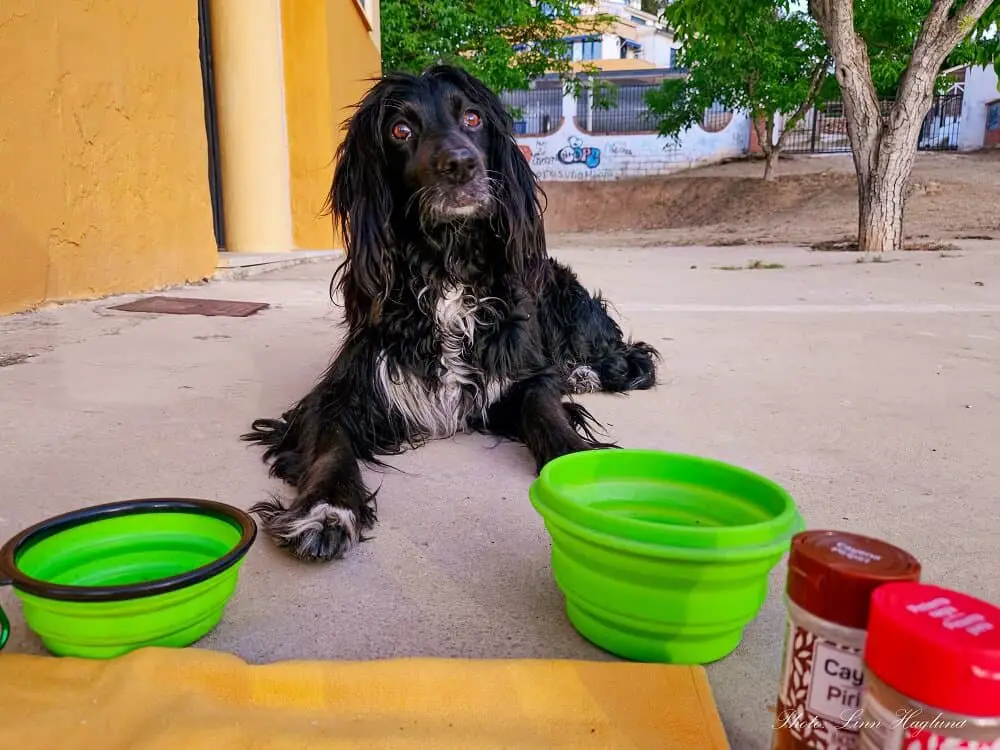 Stability
Stability can be so much. You will mostly be told that stability for a dog is their home, their human leaving at the same time every morning, returning home at the same time every morning, and going for walks at the same times every day.
But that's not stability, that's routine.
Ayla's stability has always been me. As a puppy, she had a lot of separation anxiety and it took me about a year and a half to make her trust me that when I told her I'd be back, I would be back.
Staying at home was not the biggest issue, but sitting in a café with friends and going to the toilet leaving her with her aunties, that was so scary! What if mummy didn't come back?
But she learned to trust me on it. I put her through it enough times that she felt comfortable that I would return. She would always look for me and wait for me, but she knew I'd be back.
When traveling, this is super important. Your dog needs to trust you completely, because you'll have to level it in so many different places, if so just for a few seconds.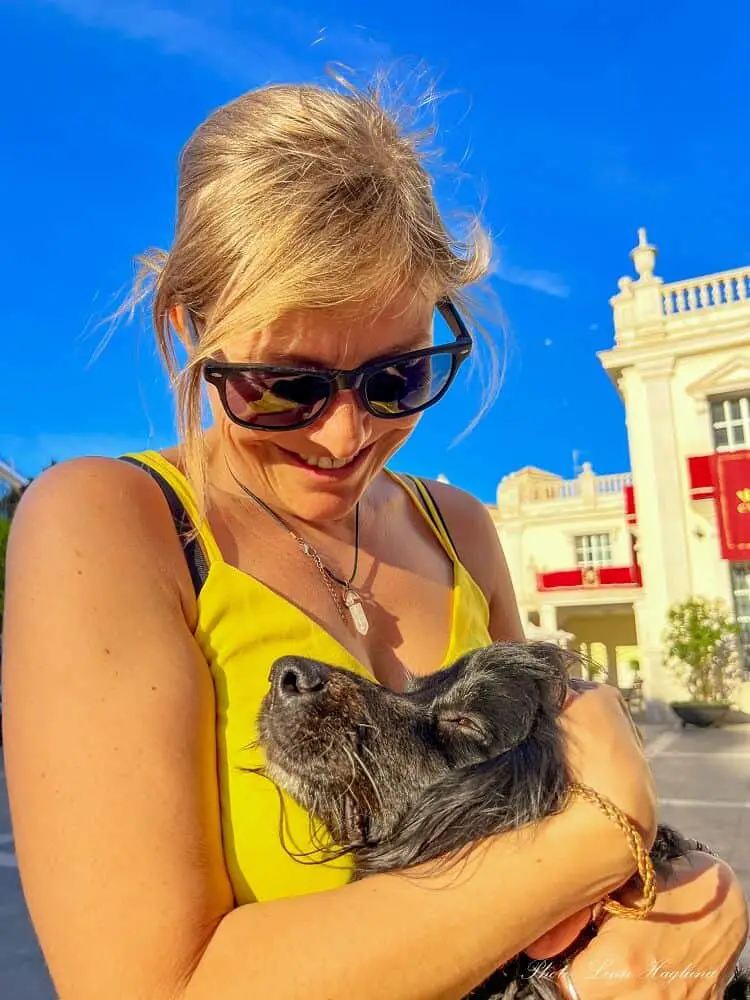 I could leave Ayla in the van, I could leave her outside the supermarket, or outside a cathedral for a quick peek.
The key was to tell her the same reassuring sentence every time I left. If I forgot to tell her "Wait here, mummy will be right back," she would get stressed. But with those words, she would know that I'd be back and everything would be alright.
Mohammed had to learn to give her the same stability when he became her daddy and he did.
The second stability Ayla had was Persi the van. No matter where we were, we would return home to her. Persi would always be a safe place with her cage, toys, and blankies inside.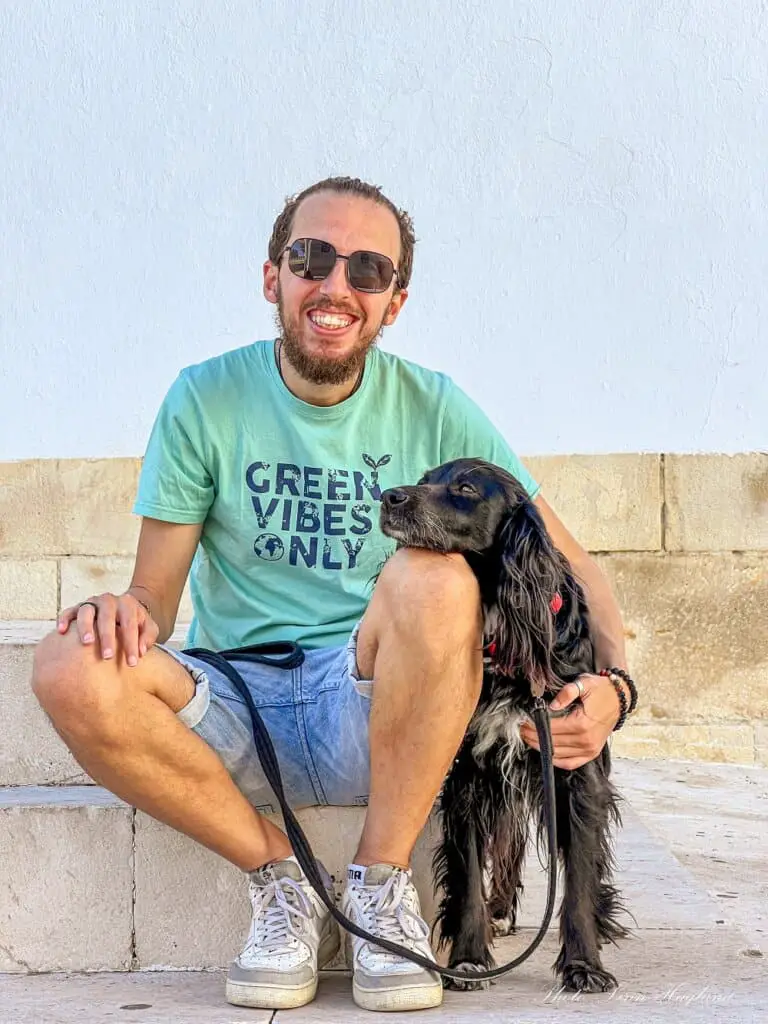 Dog walks
Most dogs get to walk the same walk every morning, every afternoon, and every evening. Most experts, however, will tell you the importance of taking your dog on different routes so that they can smell new things and new places.
Guess what, van life with dog babies provides them with plenty of new places to smell every day. We would typically stay max a month and a half in one place. Even then we would often move parking spots a few times.
While we usually went to the same supermarket every time, we would go on different hikes and explore different corners of the town every day.
Other times, we just passed by places for a night or two. So many interesting places to smell and pee!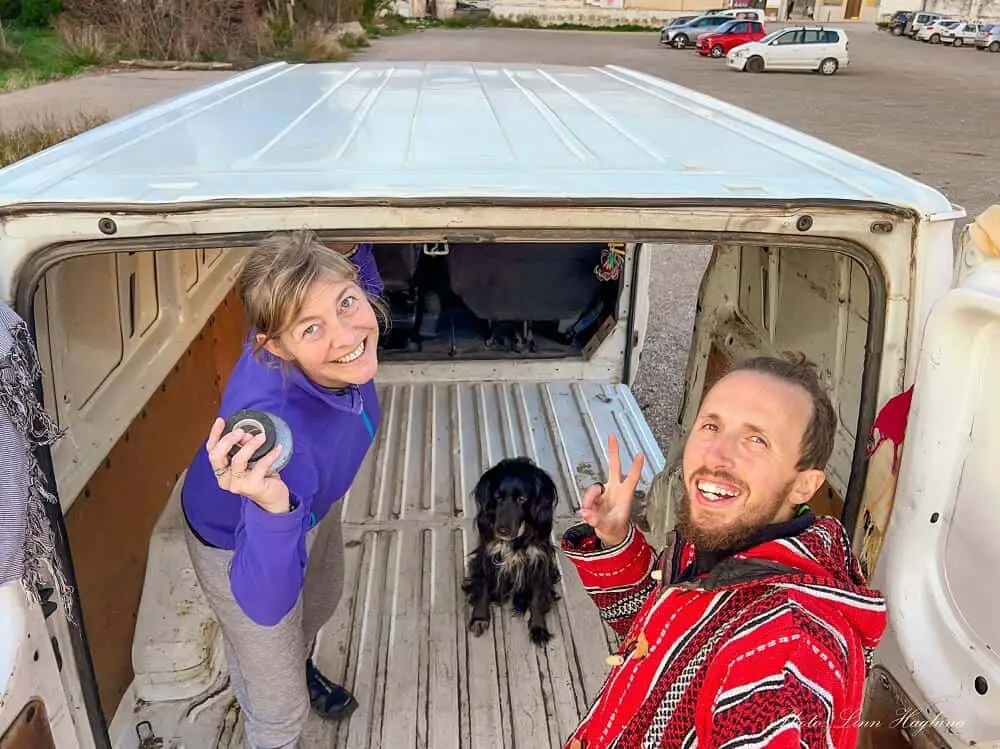 Restrictions when campervanning with dogs
I'm not gonna glorify campervanning with dogs. There are a lot of restrictions and a lot of things to consider before doing so.
First of all, you need to consider whether you can leave the dog in the van or not. Realistically, you can't take it everywhere. Basically, because we live in a society that has rules that don't allow dogs everywhere.
In Spain, dogs can't go to the beach in the summer months. That's why we would look up dog beaches when campervanning in Spain.
You can't take your dog to most tourist attractions. That means you have a few choices.
If you leave the dog in the van, you must ensure that the temperature is safe for the dog. In the summer, it can get too hot.
Among the top van life accessories we got in the early stages was a USB-chargeable fan. This gave us the opportunity to park in the shade and go early to tourist attractions in the warm months, but not the hottest months.
If you have aircon in the van, there isn't any problem. You get portable ones that are perfect for van life.
Another option, unless you're campervanning solo with your dog, is that one stays outside the attraction with the dog and the other goes in to see it. We did this a lot, but also because we didn't have much money and often couldn't afford two tickets.
Further, when crossing borders, you also need to know what vaccinations your dog needs, and sometimes, it can take time to get what you need.
As an example, I wanted to take Ayla to Morocco, but she would need to be tested for antibodies for rabies in her blood before going.
This would take a month or so as the test had to be sent to Madrid before the results were sent back down. So flexibility isn't always as easy with a dog in tow.
Summing up, you lose a lot of freedom when campervanning with a dog, but in my opinion, it seems like little sacrifice for the immense benefits of van life with pets.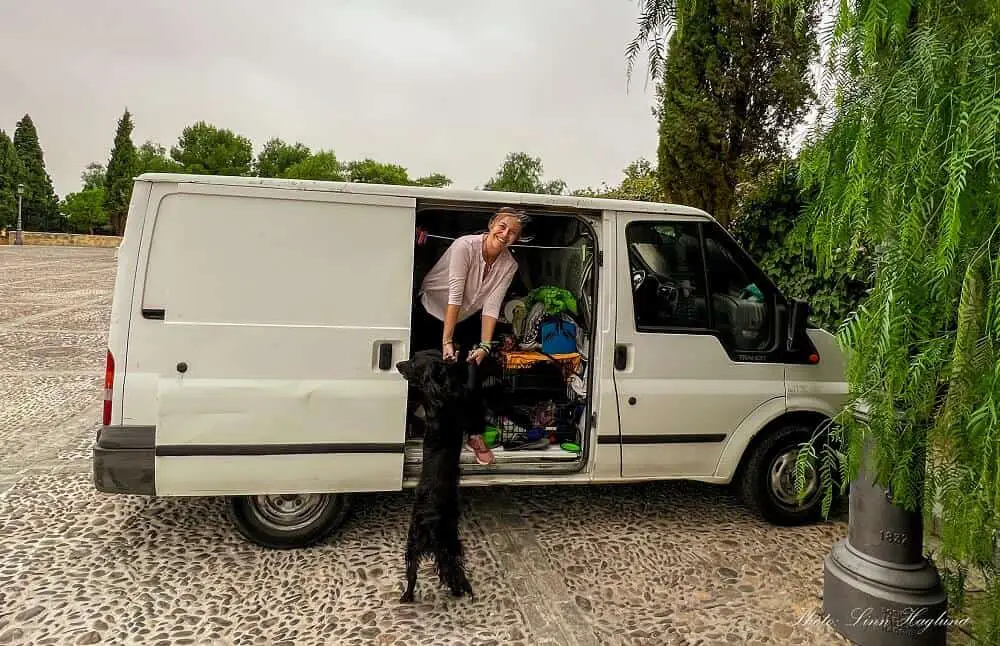 Safety of van travel with dogs
I especially felt this when I started traveling solo by van with Ayla. It feels a lot safer to have a dog in the van than going by yourself.
It mostly keeps the wrong people away, while it attracts good people (AKA dog lovers.)
But even with Mohammed in the van, it felt safe to have a dog there. She even made two police officers jump backward and scream like little girls when they knocked on the door in the morning (we had accidentally parked up where the market was going to happen!) as she jutted out of the van before the door was fully open.
To complete the story, the police laughed and asked us nicely to move with a smile on their faces.
But sometimes you don't want anyone to know you're in there, and I was lucky Ayla was a quiet dog and read me well.
Once the police were knocking on vans to make them move at night, we pretended not to be home and stayed the night. The advantage of living in a van that looks like a tired worker's vehicle.
But altogether, you can avoid a lot of dodgy people when traveling solo in a van when you have a dog by your side.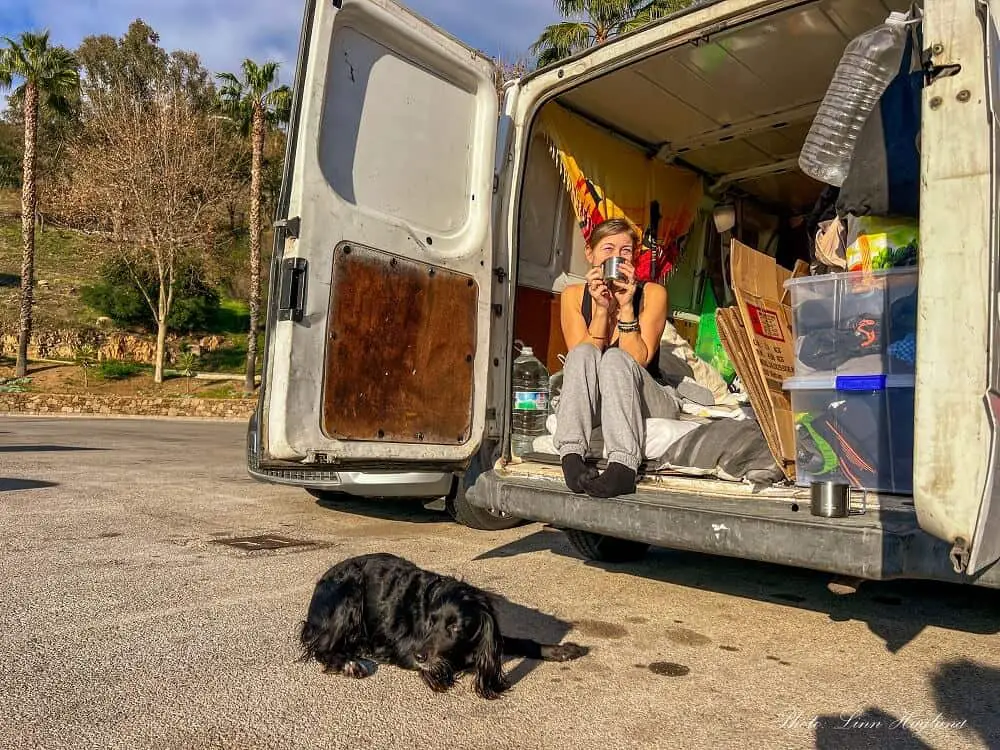 Pros and cons of full-time van life with a dog
Altogether, there are pros and cons of traveling fulltime in a van with dogs and I'll list them up here, so you get an overview of what to expect.
Pros
It's safer to have a dog in the van
You get to spend every moment of your life with your dog (and you won't realize how precious that is before they're gone)
You'll give your dog the most adventurous life
You get to share so many different things and places with your dog
Your dog-human bond grows beyond comprehension
You will slow down your van life naturally as you must put your dog's needs first at all times
Cons
You're more restricted in what you can see and do
Dog hair everywhere!
You need to clean often (dog hair and dirt multiple by a thousand with a dog in the van – I realized just how much after she was gone)
You must keep track of vaccinations etc. when crossing borders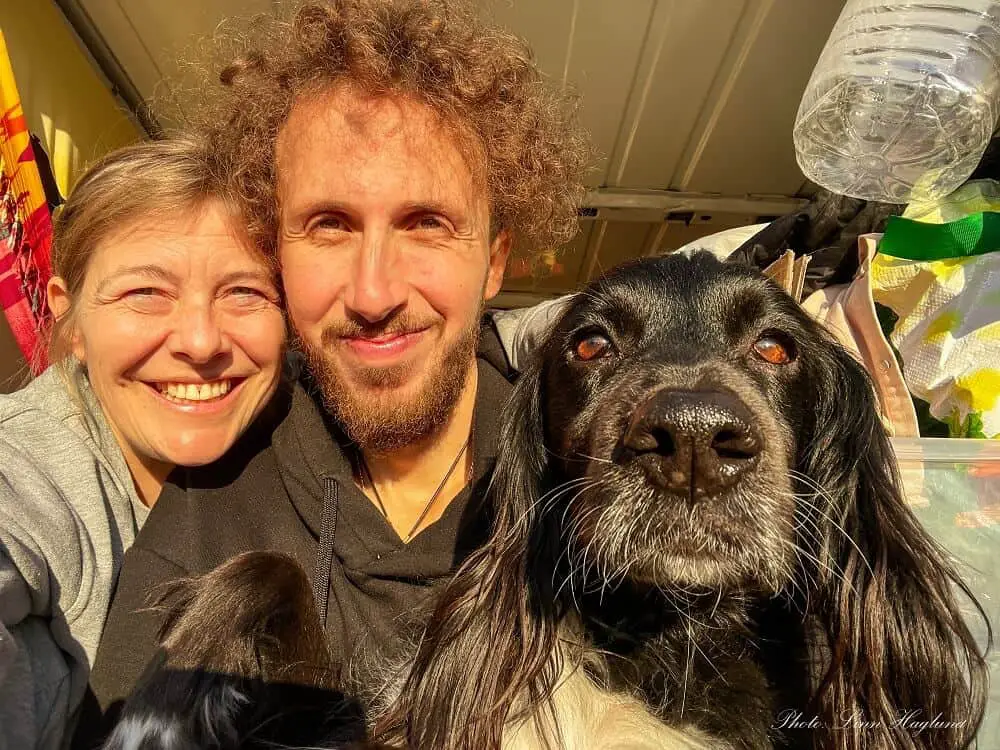 Is full-time van life with dogs the best lifestyle?
My answer to that is a big YES!
Why?
I have never had as much time with my pup as I did during the last year and a half traveling full-time in the van.
Ayla had a high-quality life in general as I am an active person always taking her out on long hikes and road trips, but living full-time in the van with her gave us more than that.
Dogs are pack animals. They feel safe with the pack.
And I just got back to the safety feeling topic again.
While Ayla was a special lady that liked her "me-time" she also felt safe having us around. And being with her at all times was the best gift Mohammed and I could have during her life.
She was involved in everything, from sleeping, cooking, working, relaxing, watching movies, going to the shop, heading out for a coffee, going on hikes, going camping, going to the beach, visiting friends, seeing new cities, strolling through new towns, cleaning out the van, you name it.
Can you think of a better way to spend a dog life?
I can't.
This is why I won't blink when we get our next dog and I know we'll keep living this lifestyle of full-time van life with dogs when we get back on our feet.
If you're interested in traveling by van but not quite sure how to fund your travels, I wrote a post about how to make money while living in a van that you might find useful.
If you're not sure if van travel is for you, check out this post I wrote with all the pros and cons of van life.