"Is van life worth it?" is a question I hear quite often. Truth is, there are many pros and cons of van life, and whether it's worth it for you depends on many factors.
If you ask me, the answer is a big YES!
I love the freedom, the flexibility, and the simplicity it brings to our lives. But this might not be the truth for everyone.
That's why I think providing you with different van life pros and cons instead of my subjective ideas of this lifestyle, will give you a better answer.
Mohammed and I have been on the road for the last one and a half years, mainly campervanning in Spain, but also made it over on a few trips to Portugal.
And trust me when I say it's not only red roses on the road. The idyllic van life pictures in nature are rarely the truth, especially when you rely on an internet connection to fund your van life.
But there are also a whole heap of advantages of traveling by van full time. Read on to find out if van life is worth it for you.
Disclosure: This post may contain affiliate links. That means that if you make a purchase through one of those links, I will get a small commission at no extra cost to you.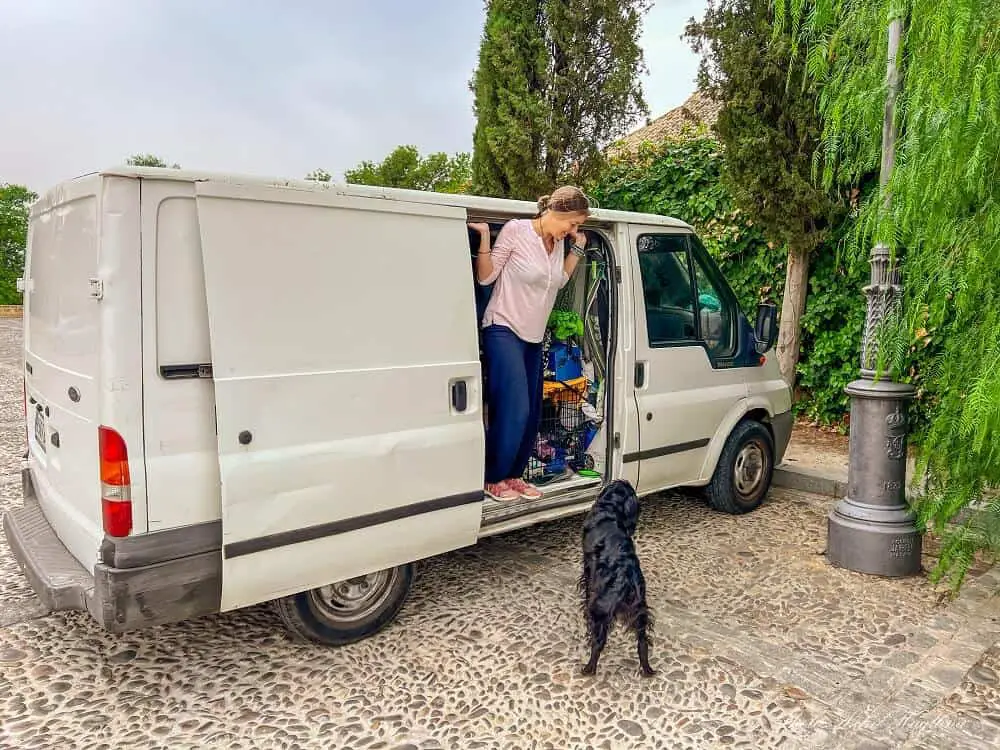 Pros and cons of van life
Van life pros
Freedom of movement
I love the fact that we can go where we want to when we want to. If we like a place we can stay longer, if we don't like it we can move on or find a different spot.
Sometimes, we want to get going for a longer distance – usually to meet someone or catch an event – then it's fabulous to stop along the road when we get tired and get in the back to sleep for the night.
And this brings me to the next topic. Sometimes friends or family are traveling and when they happen to go to a city a few hours away from you, it's incredibly awesome to be able to drive to wherever they are to catch up.
Your home is with you everywhere
This is my favorite part of van life. Especially after a long day of sightseeing or a long hike, it's so comfortable to just jump straight into the van and cuddle up instead of thinking about driving back home.
It also makes it easier for us who are not exactly morning people to park up at night wherever we gotta have an early morning. This way, we get started a lot earlier than if we have to drive there in the morning.
Even if Persi breaks down and needs to go to the mechanic, we still have our home there.
This means we don't have to think about a taxi or bus to get back home until she's fixed. We simply sleep in the van until she's ready to get on the road again.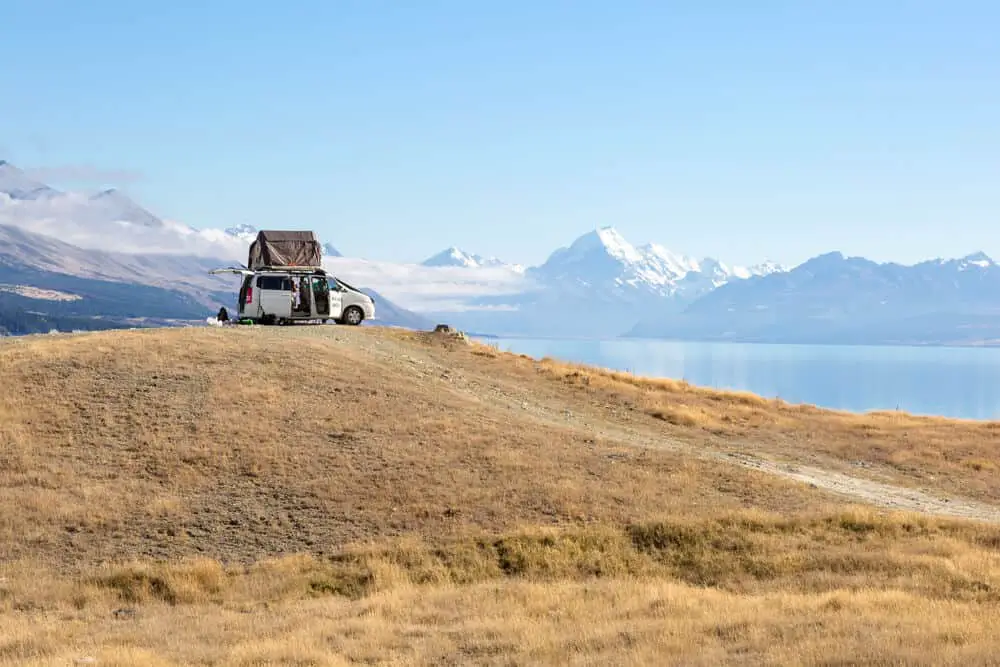 Economical way of traveling
Van life is an economical way of traveling. You might not agree, considering the fuel prices in the last couple of years, but the truth is that you don't have to move fast.
While moving slowly and sleeping in the van, you spend way less on petrol than you would renting accommodation for all those nights.
You also find plenty of places to fill up water so if you travel smart, you don't have to worry about the costs of water.
One of our most precious van life accessories is our portable shower giving us the opportunity to shower right out of the back of our van when we're parked up in the countryside.
Of course, we only use natural and organic products to not contaminate nature.
Opens up for slow travel
Getting back to traveling slowly, this is my favorite way of traveling and it's for sure a way of sustainable travel.
It really gives you the chance to slow down and get in touch with yourself and the destination. It gives you the chance to experience each place on a deeper level than just browsing through the surface before moving on.
Meeting locals or other van lifers often opens up for getting to know more about the destination and hidden gems.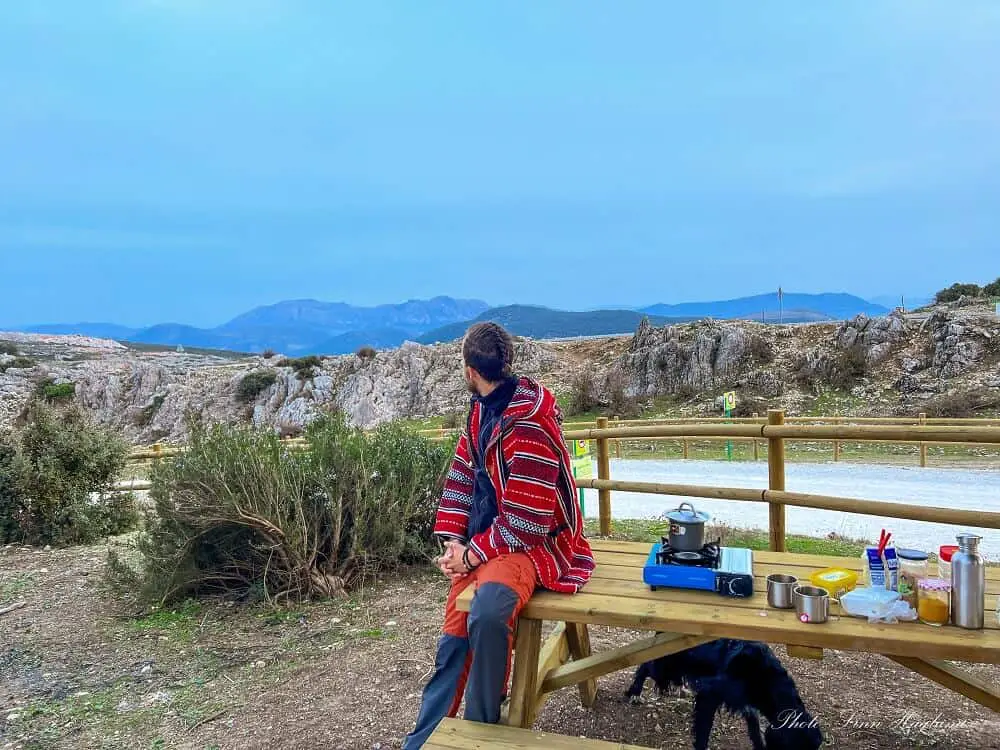 You get off the beaten path
If you've hung around for a while, you know that I love traveling off the beaten path and van life opens up for exactly that.
You get to places it's hard to reach by public transport and can access hikes you can only reach by driving to the trailhead.
We have explored so many hidden gems in Spain in the last year just by slow traveling and spending several weeks in each destination.
And I can't wait to keep exploring other great off the beaten path travel destinations across the world by van.
Great way to travel with your pets
If you have pets, it's a great way to travel with them full-time. In some countries, it can be difficult to take your pet on public transportation.
If you have a dog that's bigger than a handbag, you can't fly with it in the cabin, and many dog owners cringe at the thought of putting their fur babies in the cargo, me included.
Van travel with a dog has so many benefits as you can spend all the time with your fur baby, not to mention all the cool places you get to experience together.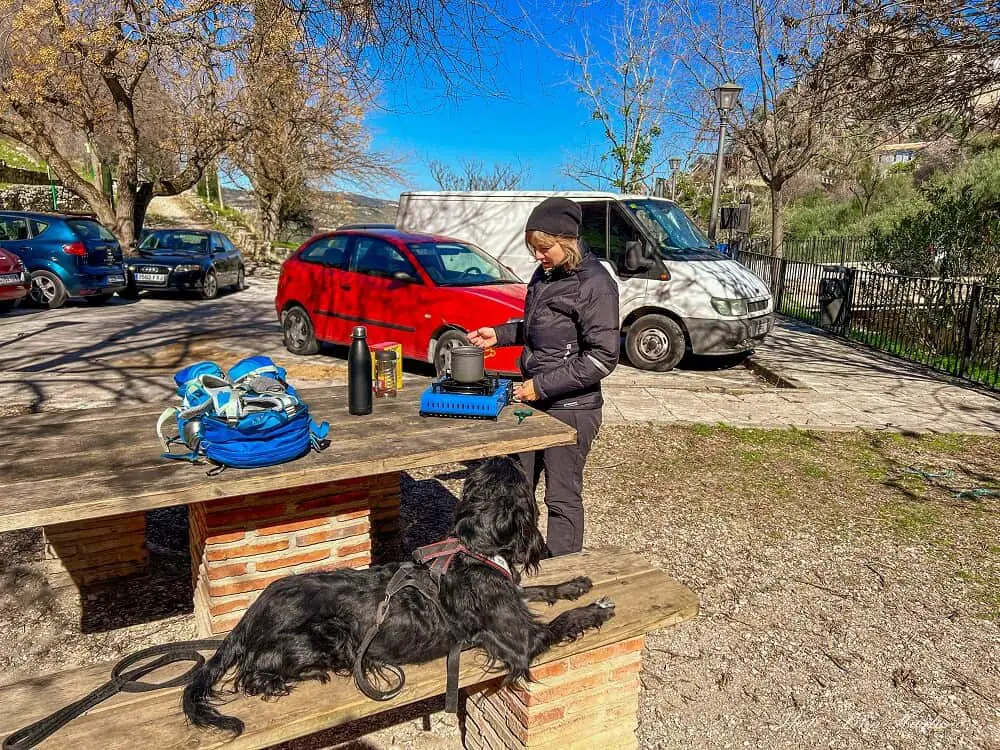 Go minimalistic
I know I still have a long way to go on this – I get reminded every day when the tower of clothes beams right at me in the corner of the van.
But trust me, there is no way you can live in a van without downgrading A LOT!
It is a great way to connect more to nature and to yourself as you truly get to feel what really matters. And you'll be surprised to know it definitely aren't things.
I've always been the happiest when I have the fewest things be it backpacking with all my belongings in a backpack or living in a van (with way more belongings.)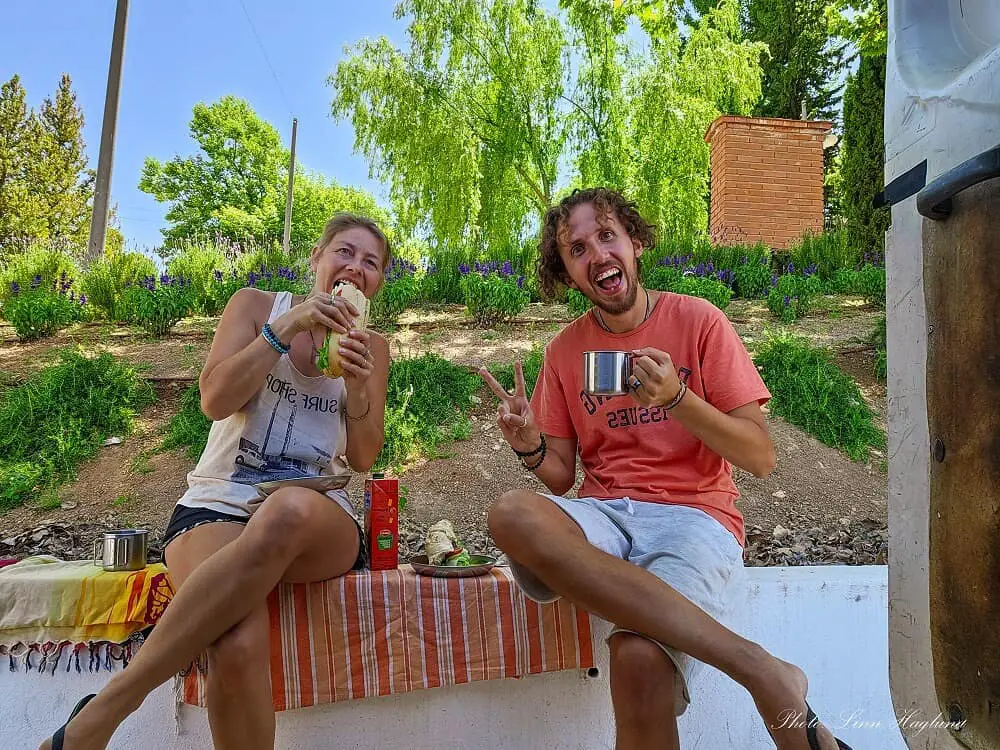 Making new friends
Van life can be lonely sometimes when traveling in areas where no others travel. But altogether, there are more van travelers off the grid than you'd expect.
This also means you often meet people with the same life views as you and it can be very refreshing to meet van travelers on the road.
I would say that among the van travelers we've met, there have been some incredibly interesting individuals and I can't wait to meet the rest of the unique van travelers out there.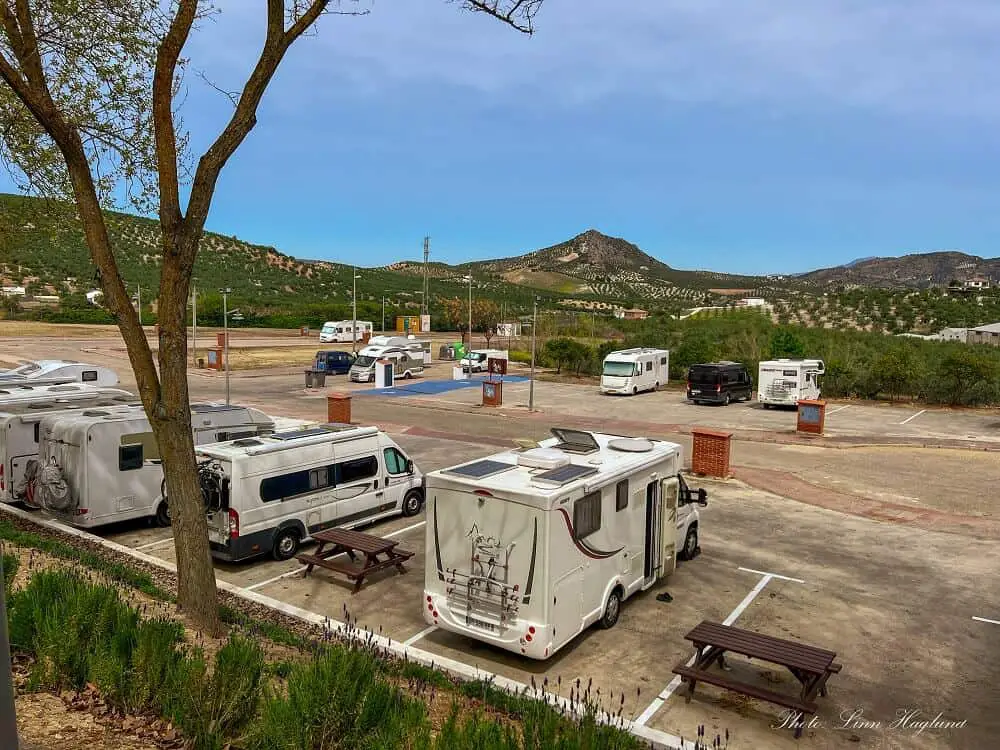 Van life cons
It gets messy easily
Personally, I'm not a very tidy person, and I dare say that neither is Mohammed. So the van gets very messy very fast.
It's a small space and if you don't put three things back in their place straight away, it's already getting messy.
While it's important to tidy up every day, it's also important to clean often. Luckily, there isn't that much space to clean.
Cooking can be challenging
When you're at home, you have a big kitchen with countertop, cooking plates, and an oven. The sink is big and you can put things away while you cook.
In the van, on the other hand, there isn't much space and dirty dishes lying around suddenly seem to take up a lot of space.
Sometimes, you might not even have the utensils you'd like, and being creative is the only way around it.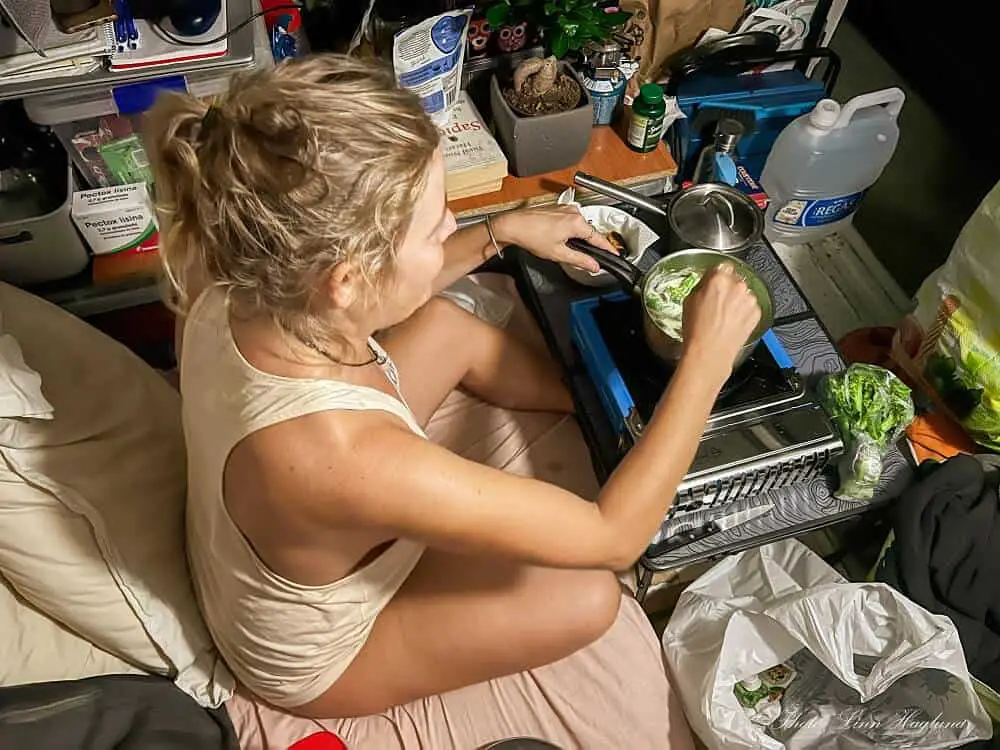 Breakdowns and break-ins
Breaking down on the road is kinda inevitable. I can't even count the number of times Persi has broken down or had a flat battery.
There's always a solution, but it does put a stop to your plans and you might have to spend several days in a place you didn't plan to stop.
And then, every van lifer's nightmare. Van break-ins or even worse, stolen vans. We have (touch wood) been lucky and never had a break-in and I pray that it will stay that way.
However, we have talked to several others, especially RV travelers, who have had their vehicles broken into while parked up, and bicycles stolen off the back of their RVs.
I think it helps that Persi looks like an old worker's van and not a campervan. We also always make sure there are no valuables or other visible things in the front, especially when we park in bigger cities.
A great app for finding van parking including reviews where you can see if it's a safe area or a lot of break-ins is Park4Night.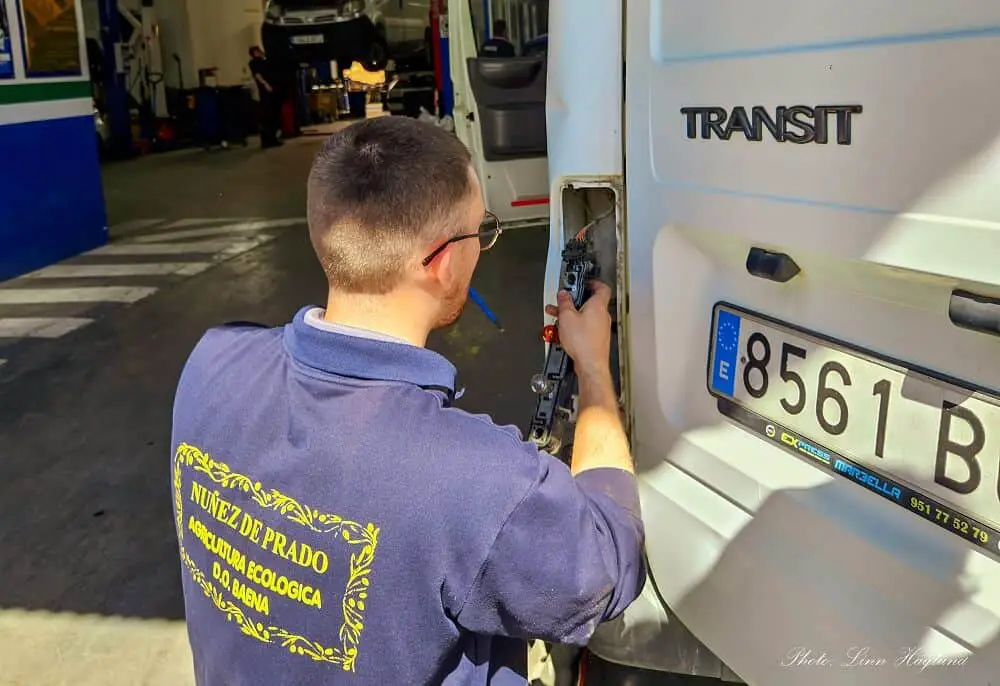 The shower and toilet situation
This is a question I get asked a lot, and honestly, it's hard to answer. You don't get a great hygiene situation in a van unless you have a toilet and a shower in it. And even then, there's a lot of work emptying the tank and filling up water.
We're not there that we have these facilities (or any facilities at all.) We use a bucket to wash most of the time and if we're in an environment where we can open the back doors, we cover the opening with a blanket and use the portable shower for a full body shower.
To go to the toilet, we gotta go to supermarkets, petrol stations, bars, and cafés. Sometimes, there are public toilets where we park.
But we got a great tip from some other van travelers who used bin bags in their portable toilet to avoid the flushing and then threw it away.
You can also use a funnel and a plastic bottle for peeing when you don't have any toilets nearby and you're not a guy that can easily hide behind a tree.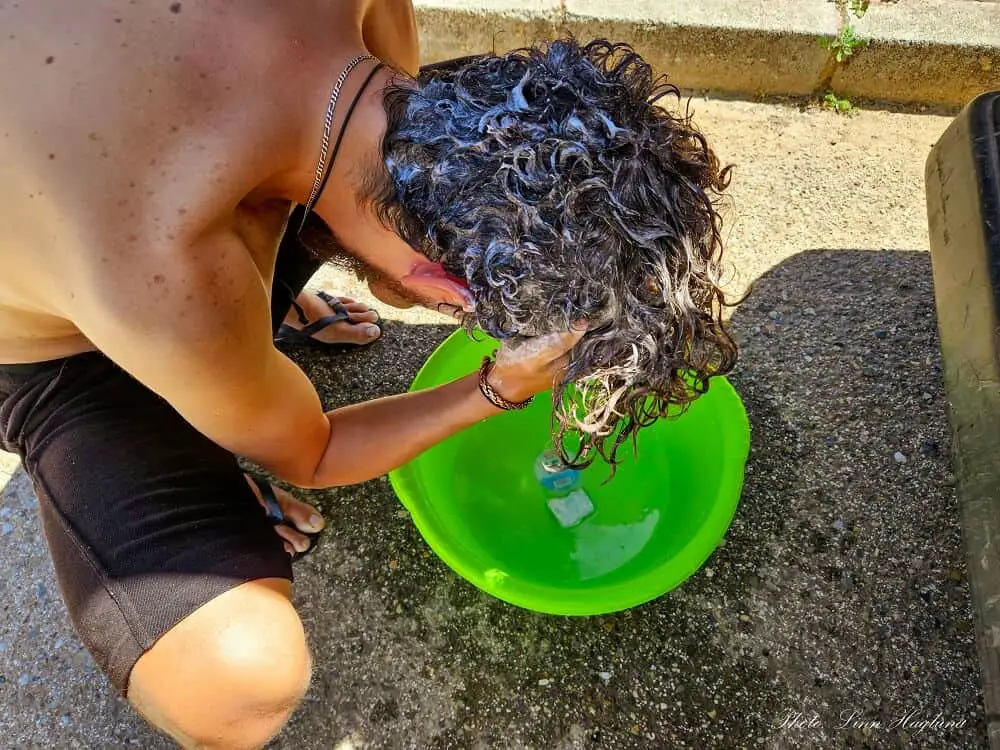 It can be hard to find parking
It is particularly hard if you drive a larger vehicle, but even with a small van, it can be hard to find parking in some places.
Especially where they ban campervans and RVs you gotta be creative. We usually use Park4Night when looking for a van-friendly parking space around bigger cities.
In smaller destinations, it's hardly ever a problem.
Conclusion: Is van life worth it?
So, is living in a van worth it? There are for sure disadvantages of living in a caravan, but it all comes down to what you are comfortable with and what you're willing to give up to live a life of freedom.
In my opinion, there are so many benefits of van life that it completely outweighs the disadvantages.
Whether you feel the same, is something only you can answer, so I'll leave you there, with the pros and cons of van life.
Happy travels!