Van life is a great way to slow travel, get off the beaten path, and spend more time in nature. Going minimalistic is definitely a great way to travel and if you decide to travel full time in a van, you will need to cut down on most of your belongings.
But there are some van life accessories and essentials that will make your life a lot easier. We have been constantly on the road for a year now in our non-build van. There are a few things we had no idea would make such a huge difference in our lives while other things are high on our list of van life essentials to buy.
So whether you are looking for gifts for van life affectionates or looking to head out on your first van life adventure, we've got you covered with the best van life accessories to make your life easier on the road.
Disclosure: This post may contain affiliate links. That means that if you make a purchase through one of those links, I will get a small commission at no extra cost to you. As an Amazon Associate, I earn from qualifying purchases.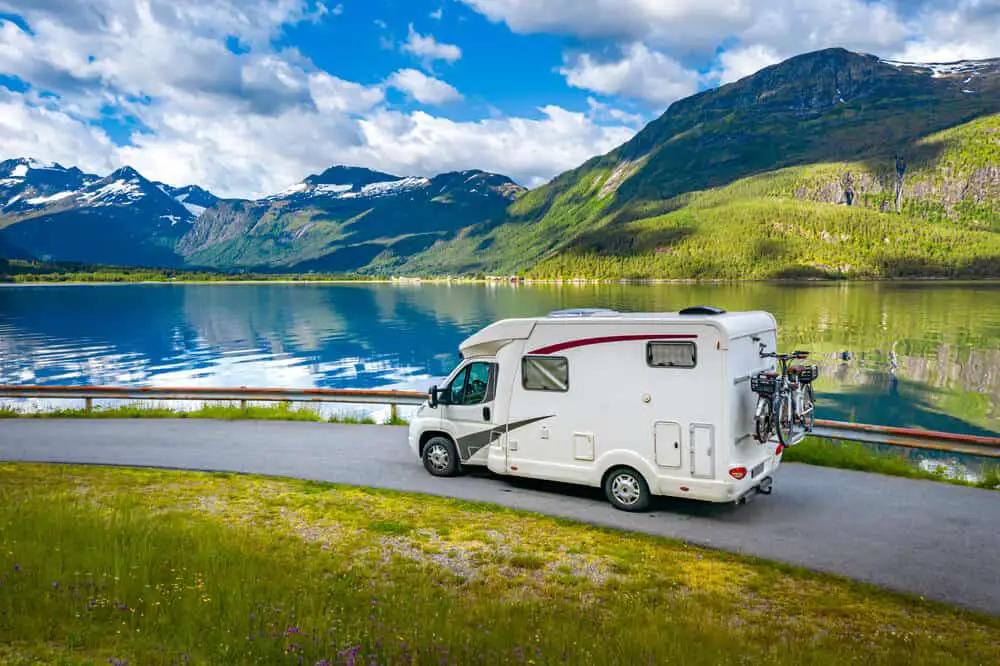 Best van life accessories
KIPIDA Solar Shower Bag
A solar shower bag is truly one of the most useful camper van accessories you can get. Especially if you travel to remote beaches without showers or end up off the beaten path in the countryside for a while.
The KIPIDA Solar Shower bag heats up in the sun, but trust me, it can take time and sometimes you want warm water quicker than that.
An insider tip is to cook up a little water on the stove and top up the cold water in the bag with it. Do NOT pour the hot water in first. You don't want to risk the bag breaking due to boiling water.
We love this one since it has a detachable shower head that we can easily store and it has an on and off tap so you don't waste water when showering.
Jackery Power Bank and Solar Panels
One of the most essential camper van essentials is a battery to charge your electrical items like your phone, camera, and laptop.
Especially if you live the van life and work as a digital nomad while traveling in your van, you will need to charge up your laptop regularly and there is nothing more important than access to a plug.
This should be one of your first investments as it gives you light as well as you can charge your devices without turning on the engine.
We love the Jackery Power Bank for its versatility. It is easy to carry and move around in the van. With two power outlets and two USB outlets, you can charge multiple items at once.
If you travel remotely, attach the solar panel to the roof of the van to charge it.
Hammock
A hammock is super comfortable to have in the van, especially if you park up in remote places. Hang it up between two trees and take a nap or read a book to relax a little.
This might not be the first thing you think of when we talk about the best campervan accessories, but it is definitely one of the most comfort accessories you can have.
In fact, we bought our first hammock together just a few weeks in on our van life adventure and haven't regretted it yet.
This lightweight hammock is lightweight and versatile. If you go on multi-day hikes on your trips, it is great to carry instead of a tent.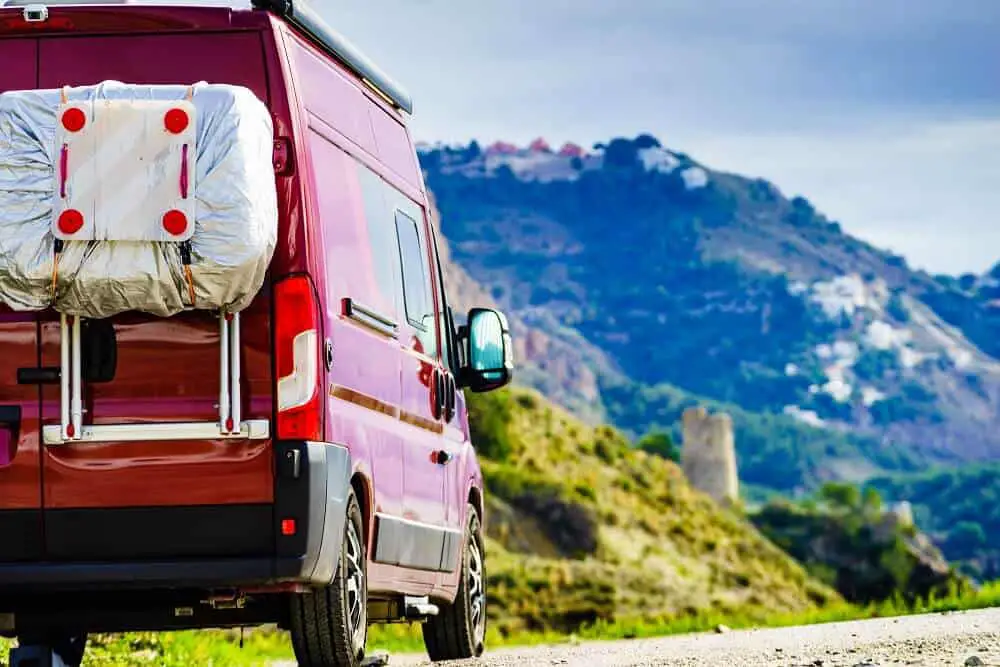 Folding camping table
Among the must-have van camper accessories is a folding camping table that you can set up outside the van. Whether you want to have your meals outside or work from your laptop outside, this is a must on your camper accessories list.
We've been without a table for so long and are super happy to finally get one so that we can spend more time outside on sunny days. Especially as I work from my laptop, it is so much more comfortable than sitting inside where we still haven't set up a table and elevated bed/seating area.
This foldable camping table is a great option as it packs down well and is easy to store without taking up too much space inside the van.
Camping chairs
With a camping table, you need camping chairs too and these are both comfortable and fold nicely into a bag for easy storage inside the van.
My favorite feature is the cooler device where you can keep two cans cool. Excellent on hot days! Especially if you haven't fit your van with a fridge yet, it is perfect to buy a couple of cold cans to keep there.
Camper fridge
One of the camper must-have accessories is a camper fridge. Especially in the summer. We had no issues keeping fresh food in the van over winter for 2-3 days without a fridge, but in the summer, we had to eat it up the same day, or even within a couple of hours.
Try having butter in your van in the summer – not possible. We find a small camper fridge one of the most important van life accessories you can invest in and this is a great option as it doubles as an extra seat.
And when living in a van, versatility is key!
Further, it uses a minimum of electricity, and the 3-level battery monitor assures that it will not drain the battery. You can basically choose yourself at what battery level you want it to shut down.
Bluetooth speaker
Among the camper accessories must haves is a portable Bluetooth speaker. We can't go anywhere without music and it makes days of working in the van or cozy dinners at night so much more enjoyable with music in the background.
This is a great option with good sound that is shockproof and waterproof so you can easily take it with you on hikes or to the beach without worrying.
Magnetic blackout curtains
Unless you have a van without windows and with a built-in wall to the driver's section, you will want to get blackout curtains. First of all, to block out direct sunlight, but also so that others can't see inside your van.
I get a bit claustrophobic, so I ripped out the wall dividing the front and the back – as I was initially going to travel solo (that was before I met Mohammed,) I needed an easy way to escape without going out of the van if I felt uncomfortable in a place or if the back door for any reason would stop functioning.
Just the safety that I can jump straight into the front, start the van, and drive off feels soothing, but with that came the other issue – privacy. Now, anyone could suddenly see straight through my thin curtain that it was light inside at night, thus someone in the van.
I like the option to be "invisible" and the blackout curtains give me this opportunity. Even though it feels a lot safer being two, I still cherish this.
Leveling blocks
Leveling blocks are something that we don't have and might not bother buying. But we are not too fuzzy if we sleep straight or not. That said, once we get our bed and kitchen facilities in the van, this might change.
However, I added it here because for most people, these are van life gadgets they can't live without. We have traveled a lot and spent time in caravan parks and most van and RV travelers use them.
We usually just look for a spot to park that seems more or less flat – but sometimes we have rolled out of matress at night so we have just moved for the next night.
These ones are popular, have good reviews, and lifetime warranty.
First aid kit
One of the necessary van travel accessories is a first aid kit. You never know what might happen and we all know that van travel often leads us off the beaten path and it can be a long way to the nearest pharmacy.
For us, it's not only important for ourselves but also because we travel with a dog, we want to make sure we have the basic essentials in case something should happen to her.
You can also easily use the same kit for hiking as you use for your van, or put some items into your backpack to avoid carrying everything.
I also always make sure there are painkillers in there in case one of us gets sick with a fever or struggle with any kind of pain.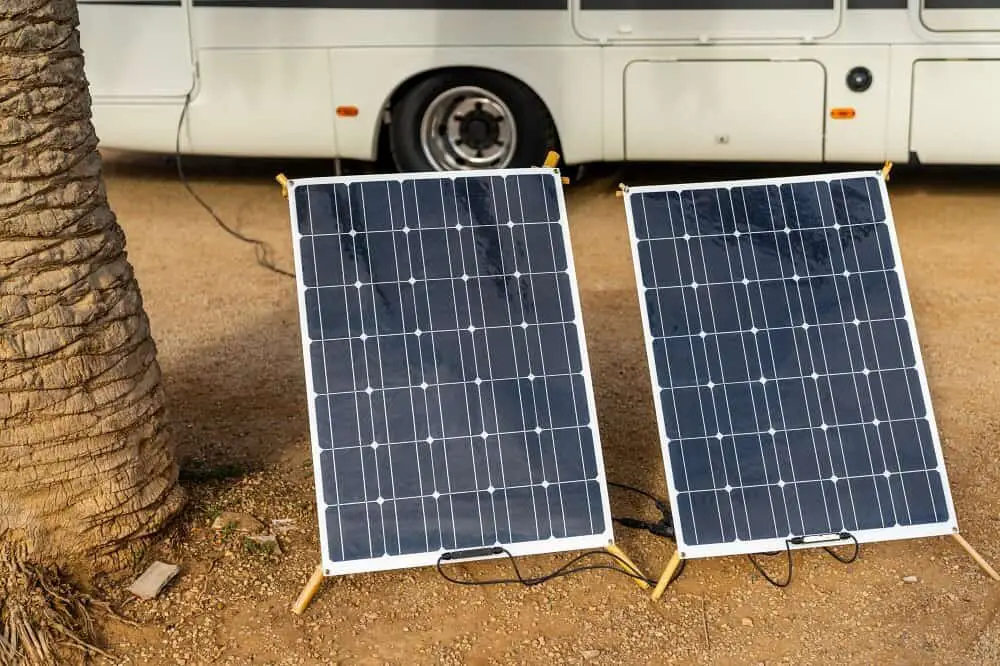 Collapsible water containers
A water container is one of the campervan must-have accessories that you can't travel without. You will use a lot of water and sometimes it can go days without places to fill up.
While you can buy water containers at the supermarket (we used that for a long time,) they need to be swapped out regularly and the quality is usually not very good.
If you travel once in a while, you might get them, but I really recommend getting collapsible water containers instead. First of all, they can fit more water (we found up to 8L on the supermarket) and the fact that you can collapse them when empty means that they don't take up heaps of unnecessary space in the van once they're empty.
Collapsible washing up bowl
A collapsible washing up bowl is not only super easy to store, but it is also one of my favorite versatile vanlife accessories.
Collapsed it can be used as a cutting board and you might store things in it if you need it too. To save space, it can be used for washing small pieces of laundry too.
We typically wash tops, shorts, and underwear by hand in the van and do laundry day at a washing place only when we have enough things dirty. This saves us a lot of money in washing.
Water purifier
A water purifier is one of the most important campervan gadgets, especially if you travel to places where it is hard to find clean water.
We are planning to travel from Europe to Asia and will get one of these as soon as we move out of the country to make sure we have safe, drinkable water all the way.
The Berkey Water Filter system purifies more than 200 contaminants that you can typically find in tap water, lakes, streams, and rivers. For me, it is a safe option to bring on any campervan trip.
Power inverter
A power inverter was the first thing I invested in when getting the van. Still today, it is one of the most important van life products in our everyday life.
As I work from the laptop, it is super important to be able to keep it charged at all times. But you can charge basically everything you need from your phone, headlamps, light, and portable chargers.
This is a great choice with two power outlets and two USB ports. But the best feature is that you can plug it directly onto a battery for when you're not driving.
Without a doubt one of the absolute must haves for van life!
Head torch
A head torch is a must-have camper van accessories. No matter if your van is set up with electricity or not, you never know when it might go pitch black, and then, a headlamp will help you fix the light again.
It is also a must if you do a lot of hiking as you never know if you get back before it gets dark (come on, it can't only be us that always get back after dark!)
This is one of our absolute favorites as it comes with many different modes of light, hold it in for 3 seconds to turn it off and avoid the endless clicking through all modes before you find the off mode, and it's rechargeable with USB which is perfect for any camper van equipment.
As an extra plus, it is waterproof, so you can go out in the rain and snow with it.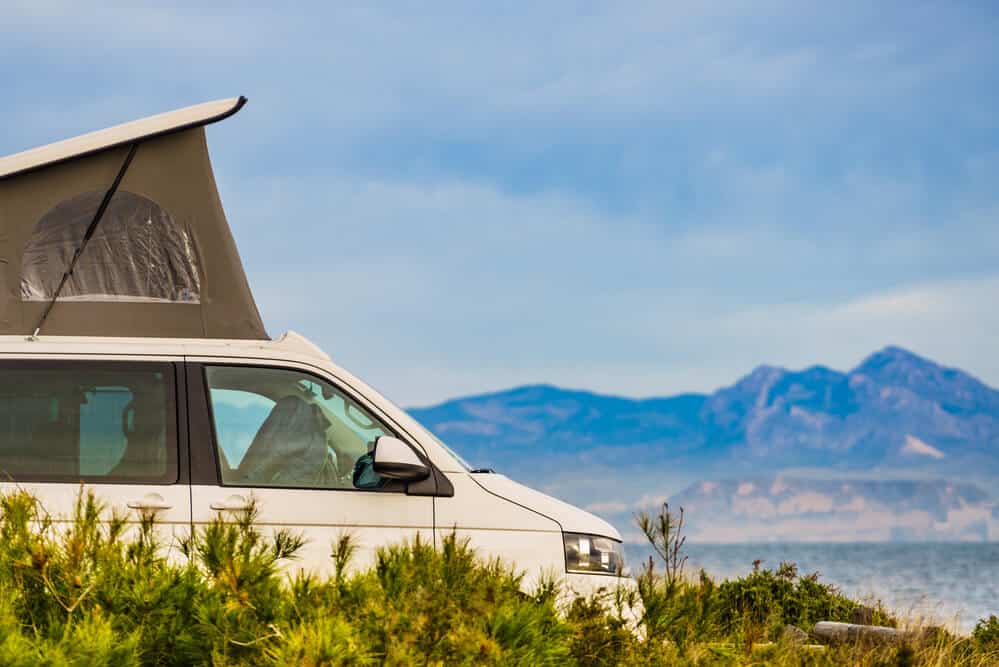 Fairy lights
One of the most romantic van life accessories you can get. It gives such a lovely vibe inside the van and makes it super cozy all year round.
Trust me, you don't have to travel with your partner to enjoy this budget-friendly extra accessory. I love everything that uses batteries.
I had some really cute lanterns that worked on solar power, but they stopped working shortly after getting the van, so I'm excited about these battery-driven fairy lights as I can change batteries instead of changing the lights when they stop lighting.
Baby wipes
If there's one thing we wouldn't have managed without, it's baby wipes. So underrated, but sometimes, you are in situations where you can't wash with water or you can't shower in a few days.
They might sound like an unnecessary and not-so-sustainable van life accessory, but for us, it has been a lifesaver more than once in sticky situations.
You might not need it, but when you do, it comes in very handy!
MORE VAN LIFE CONTENT