When choosing a new backpack for your travel adventures why not make it an eco friendly backpack? There are many small and large brands making sustainable backpacks in different ways. It can be by supporting local economies, using eco friendly material, or even making recycled backpacks.
While it can be hard to find the backpack that fits you in the first place, it can be daunting trying to also find one that has as little impact on the environment as possible and a positive impact on the supply chain. That's why I've put together this post to help you choose the best sustainable backpack.
On top of that, I asked the experts about their favorite eco friendly backpacks. Because who knows better than responsible travelers themselves?
Disclosure: This post may contain affiliate links. That means that if you make a purchase through one of those links, I will get a small commission at no extra cost to you. If you have any questions about these services or products, feel free to ask me.
Choosing an eco friendly backpack
Before we look at the best eco friendly backpacks let's have a look at how to choose the right backpack for you.
Let me tell you a story.
When I was off for my first ever backpacking trip – a year in Australia – I went shopping for a backpack that was going to hold my belongings for the coming year.
My biggest worry was how I was going to find a big enough backpack. So I went to the shop and when the friendly seller heard I was off backpacking for a whole year and needed space for all my belongings, he pointed straight at a 100 liters backpack.
I happily took my new travel companion with me home. The day I was going to pack, I realized I couldn't fit half of what I wanted to take with me into my small backpack, so my mum had to come to the rescue. She had backpacked long term through South America before I was born, so she was an expert.
After pulling everything out, throwing away most of the stuff that I painfully protested that I really needed, she rolled the rest into the backpack with a good margin. I was set to go.
The only thing I hadn't thought about was that even though I got rid of most of the things I wanted to put in there, it was still a 100 liters backpack. I am 1,62m tall and I guess my weight was about 50kg.
Not only was the backpack heavy to carry around, but it was also way too big for me. While I mostly managed to sustain it, I did tip backward more than once on my trip. Simply for being sold the wrong size backpack.
3 years later, before leaving New Zealand, I swapped the monster-size backpack for a 60-liter one which I've used ever since. Today, I'm considering a 40 liter one. Not because there's anything wrong with the one I have used the last 11 years, but because experience has made me pack and travel smarter (that's what I like to think anyway!)
What did I learn?
There are two learning points in my story. The obvious one – don't get a bigger backpack than you can actually carry.
But secondly, the eco friendly takeaway. By buying a backpack that is not exactly what you need you will end up swapping it for a new one earlier than if you find the right fit straight away. This way you will contribute to filling up the landfill with more backpacks before it is necessary.
There are many brands out there and finding one that is both socially responsible and environmentally friendly is not always easy. Further, what I find is a good quality in a brand, is when they admit they are not perfect (let's face it, none of us are!), but that they are actually working on improving their future products. Of course, you gotta see that they follow up on their words too.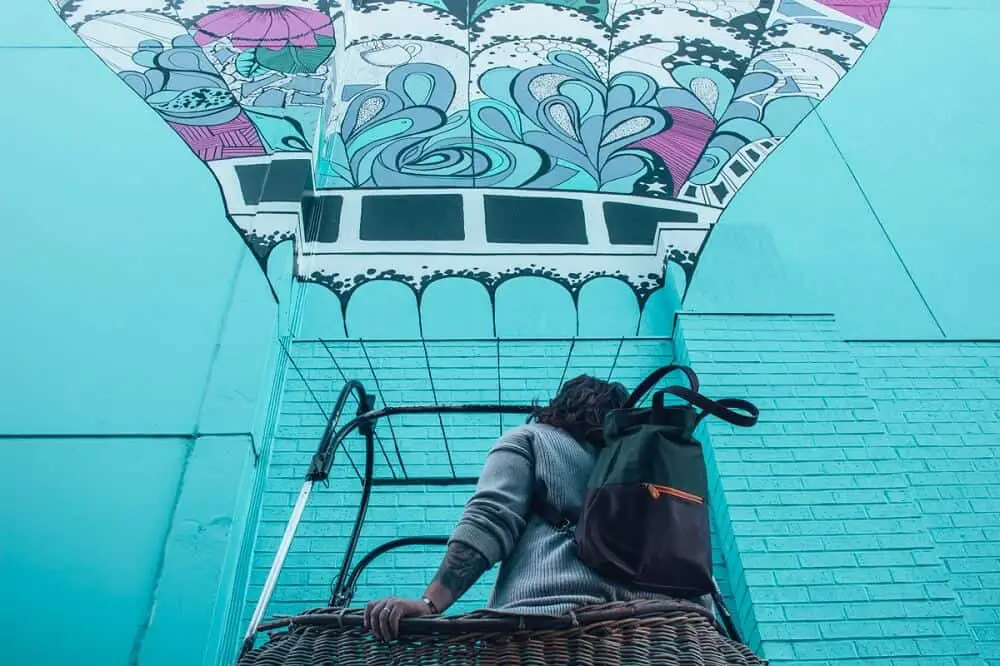 RELATED: Sustainable camping gear
Things to look for in an eco friendly backpack
First of all, there are a few things to look up when choosing a sustainable backpack, especially greenwashing.
One thing that's common in sustainable brands is that they are usually very transparent in both information about the products they use and about the supply chain. On the other side, companies that greenwash their products, are not that transparent and it's usually harder to figure out if they're actually sustainable or not.
You'll also notice that there are backpack brands being sustainable in one area but not so much in another area. All together, if a company is working towards a better future and on the way to getting more sustainable in their practices, it's worth supporting their work.
Common features in sustainable backpacks are that the companies use material that aren't harmful for nature, they might use recycled material, or they focus on an ethical and fair trade.
There are also a lot of certificates and labels that show how green a backpack really is.
Let's have a look at the most common ones.
Certificates and labels to look for when choosing a sustainable backpack
BLUESIGN: A certification guaranteeing a high standard in environmental regulations and material that's produced sustainably
FLA, FAIR TRADE, and FAIR WEAR: Assures that the worker's rights in the manufacturing process are secured
PFC FREE: PFC is short for Poly Fluorinated Chemicals. These are highly toxic chemicals for living organisms and are used to make fabric water repellant. These chemicals are commonly used on backpacks and other outdoor gear and this label tells you that these chemicals haven't been used in the product
REPREVE: Indicates that the material is used of recycled plastic bottles
READ: Benefits of sustainable tourism
Recommended sustainable backpacks
Now, let's have a look at some of the best sustainable backpacks out there.
Stubble & Co Adventure Bag
Recently, I've traveled with the new Stubble & Co Adventure bag and I absolutely love it. With its 42 liters, it's the perfect size for traveling and the best thing, it goes as hand luggage on planes too.
the backpack is lightweight and soft, so if you don't fill it to the rim, it even fits into Ryan Air's measurements for cabin luggage which is great for traveling on a budget through Europe.
It's come with me on several small trips as well as a 3 week trip through Europe and I found it a sturdy backpack. With all the different pockets and compartments it's easy to organize your stuff and there's a laptop pocket too which is a necessity for me as a blogger.
At the bottom of the backpack, there's even a designated shoe pocket which is perfect if you like to go hiking on your travels.
Stubble & Co is a British company that strives for sustainability through creating durable, useful backpacks with recycled material, and assuring that workers throughout the supply chain are treated fairly through BSCI.
The company also has a has an in-house repair service and usually don't charge for repairs as they pride themselves in the durability of their backpacks.
The Adventure bag is mainly made of recycled plastic – and comes in sustainable and recyclable packaging.
Stubble & Co's Adventure Bag is surely one of the best sustainable backpacks out there.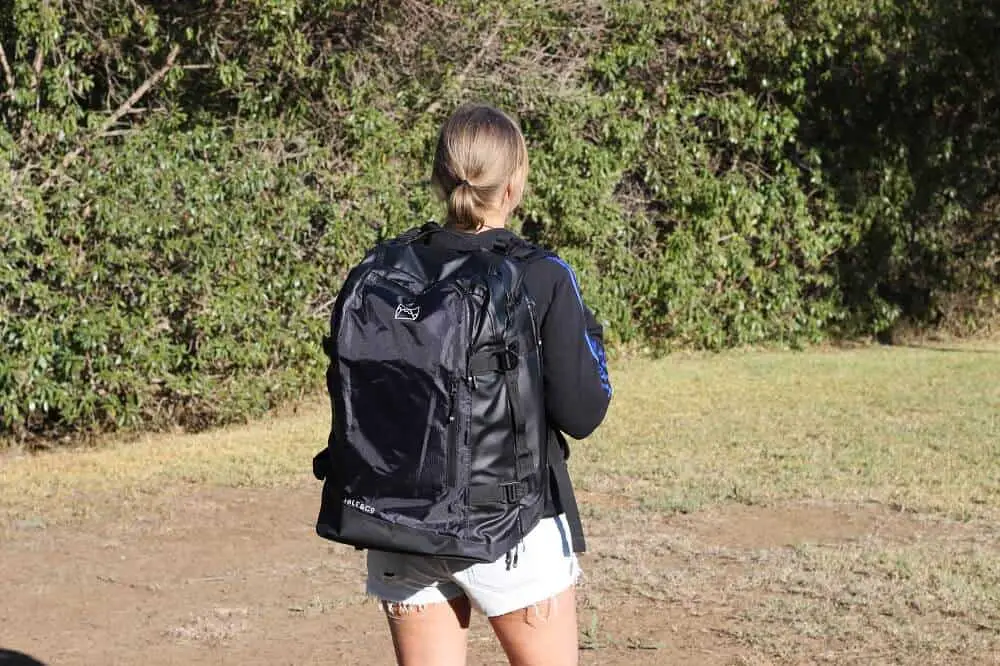 Osprey Fairview 40 Women's Travel Backpack
Recommended by Wendy Wernet of The Nomadic Vegan
I recently received the Osprey Fairview 40 pack as a Christmas gift, and I've been very happy with it. My husband has had the men's version of this pack (called the Farpoint) for about three years now, and it has held up very well, so I was thrilled when he gave me the Fairview.
Whereas the Farpoint is meant to be worn by men, the Fairview is specifically designed to fit a woman's body. It also has some unique features that I've not come across before with other bags. For example, there's an emergency whistle on the sternum strap and a special scratch-free pocket for eyeglasses and electronics. Weighing just 1.44 kilograms, the Farview is extremely light and falls within the dimensions for carry-on luggage, at least in the European Union.
All of Osprey's packs are vegan and very durable, which means fewer bags going to landfills. Under their "all-mighty guarantee", they attempt to repair products whenever possible rather than replacing them. Osprey will also send you buckles and other spare parts on request, making it easy for you to make your own small repairs. 
Osprey Farpoint 40 Unisex
Recommended by Anne of Packing Light Travel
When it comes to travel bags, "sustainability" and "Osprey" are compatible concepts. I've reached this conclusion based on my recent experience with Osprey's "All Mighty Guarantee."
The guarantee is a lifetime warranty covering "any reason, any product, any era." It doesn't matter if the bag is 3 months or 3 decades old.  It's irrelevant if the bag was damaged through "normal wear and tear" or was mangled by a conveyor belt.
Osprey will repair any damaged or defective bag free of charge. If it can't be repaired, it'll be replaced. When my Farpoint 40 fell off the back of a motorcycle, it was damaged in so many places that Osprey sent me a brand new bag.
What did I conclude from this experience? With such a solid warranty, I'd expected the Farpoint 40 (or any Osprey bag for that matter) to be a quality product with a long life span.
Osprey wants customers to use their bags as long as possible. When a person can return a bag for repair or replacement, it's less likely to end up in a landfill. Secondly, Osprey keeps the damaged bag to salvage parts for repairing other bags. All this is good for travelers and good for the environment.
There is nothing not to love about the Farpoint 40 (the S-M torso size is actually 38 liters), it's a great unisex bag. The design and the padded hip belt make the Farpoint 40 a winner. With a packed weight of less than 10 kg / 22 lb, you can easily walk for miles without having to rely on transportation.
I encourage travelers to check out Osprey's range of travel bags. Their "All Mighty Guarantee" benefits people and the planet. 
CabinZero
Recommended by Brianne Miers of A Traveling Life
This CabinZero backpack is the go-to bag for a large number of travelers. It's perfect for road trips as well as checked-in baggage on long-haul flights. It holds up incredibly well to all of the wear and tear that comes with it.
I've used mine for years, and there are no tears or snags in the polyester fabric, and the straps, handles, and zippers are all intact.
For a large bag without much structure, it's surprisingly comfortable to wear using the straps, and it's easy to carry using the top and side handles as well. Also, the water-proof coating keeps the contents dry when you run into rain and snow.
Despite being made from sturdy materials, CabinZero bags are lightweight (780g / 1lb 12oz).
Importantly, they work as carry-on luggage for most airlines – there's a handy page on the website that allows you to search for bags based on your preferred airline's specifications.
As a bonus, Cabin Zero is committed to not using sweatshop labor, and all bags pass rigorous quality inspections. Since they're made to be long-lasting, they're less likely to end up in landfills. 
The Adventure 42L has shoulder straps and a waist belt that can be tucked away, as well as more interior compartments, including one that fits an 18-inch laptop.
Banana Backpacks
Recommended by Katie Zweber of Two Wandering Soles
Banana Backpacks was created by a brother-sister duo who wanted to make backpacks that were durable, high-quality, and also made ethically. 
The backpacks are manufactured in a facility that pays its staff fair wages and prides itself in high safety standards. But the good doesn't stop there…
Your purchase of a Banana Backpack helps support a child's education in Cambodia by providing them with school meals. To date, this small business has supported more than 200 children, which is incredible. Your backpack has the name of the child your purchase supported stitched into the strap, so you can be reminded of the positive impact you've made.  
There are a couple of sizes and styles to choose from, including their signature "Khmer Explorer Travel set" (pictured), which comes with custom packing cubes that are meant to fit perfectly inside the backpack.
And we haven't even mentioned how these backpacks are thoughtfully designed with tons of handy pockets and zippers to keep your belongings organized and compact so you can fit everything on your eco-friendly packing list inside without sacrificing comfort.
It's truly a win-win: You get a high-quality and beautiful backpack while not cutting any ethical lines. Plus, your purchase changes the future for one child through education, which is a powerful thing.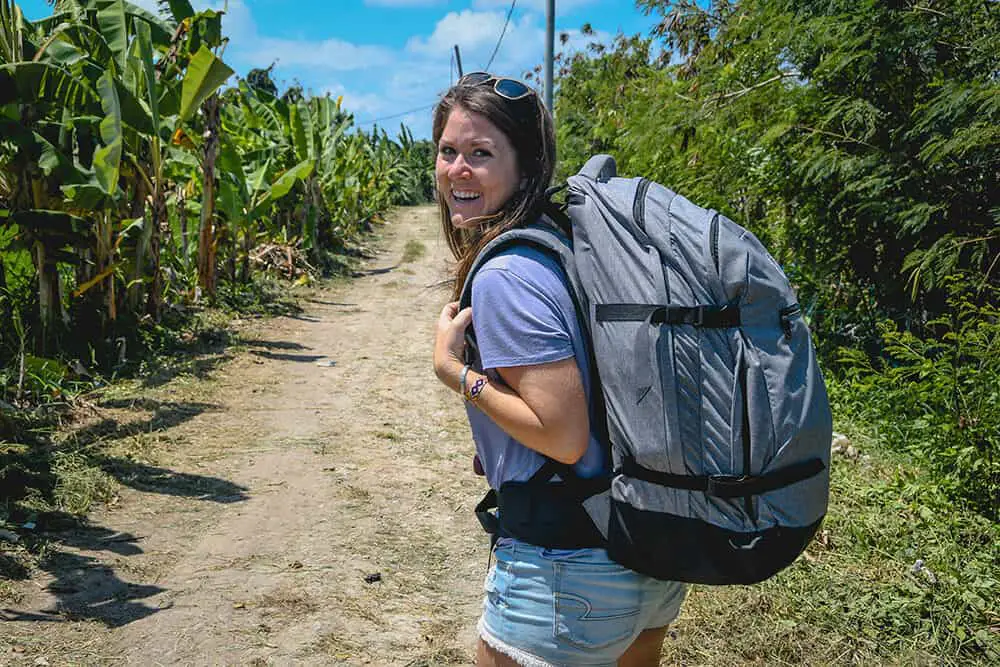 Fjallraven Kanken Classic Backpack
Recommended by Jyoti Baid of Story at Every Corner
The Fjallraven Kanken will become you travel companion wherever you go. It's lightweight, functional, bright, and beautiful. More importantly, it's durable, washable and vegan. 
It's lightweight and holds a lot more than it looks like, even for longer trips where you travel with hand luggage only. It holds everything you need very comfortably including SLR camera, tripod, laptop, accessories, clothes, toiletries, you name it.
You probably wouldn't believe it could fit everything you need to travel for a whole week in the Colorado Rockies. If you go on road trips as a family, it even serves as a mini suitcase that lies flat and opens up. You can arrange all the snacks in the packpack and they're easily accessible when needed. Just zip it up and there's no clutter in the car.
This backpack is of amazing quality! I've had it for over a decade and it's still in perfect condition. It's washable and dries quickly. It's not fast fashion that deteriorates in a few uses but rather it stays in style through fashion. It'll most likealy last for decades.
Lowe Alpine Carry on 45
Recommended by Daniel James of Layer Culture
When looking for an eco friendly backpack there are so many options on the market. Although it can be difficult to find backpacks that contain the word ECO or actually promote eco friendliness, you might be lucky and find them in your local outdoor shop.
This backpack from Lowe Alpine Carry on 45 is a great lightweight and eco-friendly option because of its fluorocarbon-free fabric.
To make the material waterproof, companies use long-chain chemicals that can leach from the material and gradually find their way into water systems. What happens is that this chemical over time bioaccumulates in the environment and via the water systems, they enter the food chain. Which of course then has the potential to cause many problems for both wildlife and people.
The good news is that all backpacks by Lowe Alpine now use this fluorocarbon-free fabric. So, now that you have this information, you can shop with confidence knowing that you're not potentially damaging the environment with your next purchase.
Patagonia Arbor 25L
Recommended by Delilah Hart of Our Travel Mix
I've traveled around South East Asia for long periods of time using this bag.  It holds heaps for either carry-on travel or use as a day pack. It could be improved with a chest strap, however, the overall shape and design of the bag has helped me a lot with preventing back pain.
The Patagonia Arbor Backpack is a great backpack that has accompanied me for months of traveling around the world.  It is strong and durable, holding up to a lot of punishment as I throw it around on a daily basis.
It's 25-litres – which seems conservative to me – allowing it to hold plenty of stuff whilst still meeting carry-on restrictions.  Packed to the brim, I can get the weight to around 10kg, but for carry-on, I sit right on 7kg. Here are a bunch of packing tips I follow to maximize the space in this bag.
In terms of the company, Patagonia is renowned for its sustainable and ethical practices.  Their entire supply chain is closely monitored to be environmentally friendly and ethical. They are fighting against climate change and doing their best to support the environment.  This is important to me when choosing a brand.
Patagonia Black Hole Bags
Recommended by Abbie Synan of Speck On The Globe
Patagonia has been known to be at the forefront when it comes to corporations making positive changes for the environment. They create long-lasting products and have a repair program to eliminate fast fashion and product waste.
While the company has a wide range of eco-friendly bags and backpacks, the most durable and unique style is their Black Hole Series. 
Extra tough and water-resistant, these duffle and day bags are lightweight and long-lasting. The best part is that this style is made out of recycled plastic bottles, helping to reduce waste and create an innovative design.
This season, 10 million bottles helped create the Black Hole bags and all the different styles are backed by their repair, replace or refund policy, so it's a bag you can truly enjoy and use long term. If you are interested in a great trekking bag, the 55L or 70L duffel is perfect. 
Canopy Verde Backpacks
Recommended by Ashley Hubbard of Wild Hearted
Canopy Verde is a great sustainable backpack for everyday use and for travel. This small company is an ethical business you're going to want to support.
Started and run by Linda, Canopy Verde knows the importance of well-designed but also eco-friendly products. So, she went out and designed her own sustainable line combing her Brooklyn roots, an earth and animal-friendly philosophy, and a passion for mid-century Danish design.
While this isn't a "backpacking" backpack, this backpack is a hybrid bag – going from handbag to backpack by just swinging it over your shoulder – it's the perfect travel companion and a small carry on bag. In addition to the Greenpoint Vegan Backpack (picture), Canopy Verde has several other designs including wristlets, crossovers, duffle bags, wallets, and more. These bags make for a great vegan gift idea for a loved one or yourself!
Tentree Backpack
Recommended by Lindsay Davies of I've Been Bit!
One of the top eco-friendly clothing companies out there is Tentree so when they expanded their repertoire to include bags, many rejoiced.
If you haven't heard of Tentree, they're a Canadian company that plants ten trees for every item purchased. You get a code and register it to see where your trees have been planted across the world. It's an amazing way to immediately see the impact of your purchase while easily becoming a more eco-friendly traveler!
So when they released their Mobius backpack line, they took their impact to the next level. Each bag uses REPREVE® Recycled Polyester, a fiber that is made of recycled materials including plastic water bottles.
By using this material, every one of their 35L bags recycles 31 plastic water bottles! Even the zippers and trip are made of eco-friendly materials. Can this bag get any better?
How about the fact you can easily convert it to 16L instead of 35L? Its carefully crafted design makes it the perfect carry-on bag you can use daily.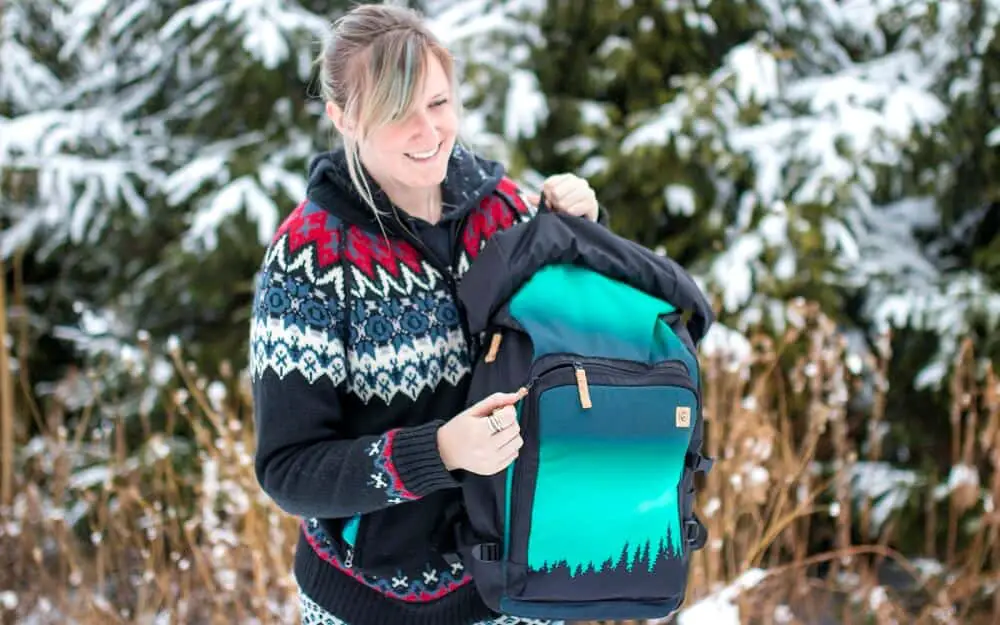 READ NEXT: Eco friendly gift ideas
Pin it for later!