Flam is a beautiful village in Norway and sits comfortably on the bucket list of many travelers due to its stunning landscapes and proximity to the famous Norwegian Fjords.
In the heart of the Norwegian fjords at the end of Aurlandsfjord, Flam provides incredible access to the mountains. For some reason, most people think about visiting Flam in summer, but it is a true winter paradise.
Not only is the scenery jaw-dropping but the weather in winter makes the picturesque village even more magical, reminiscent of the front cover of a Christmas storybook.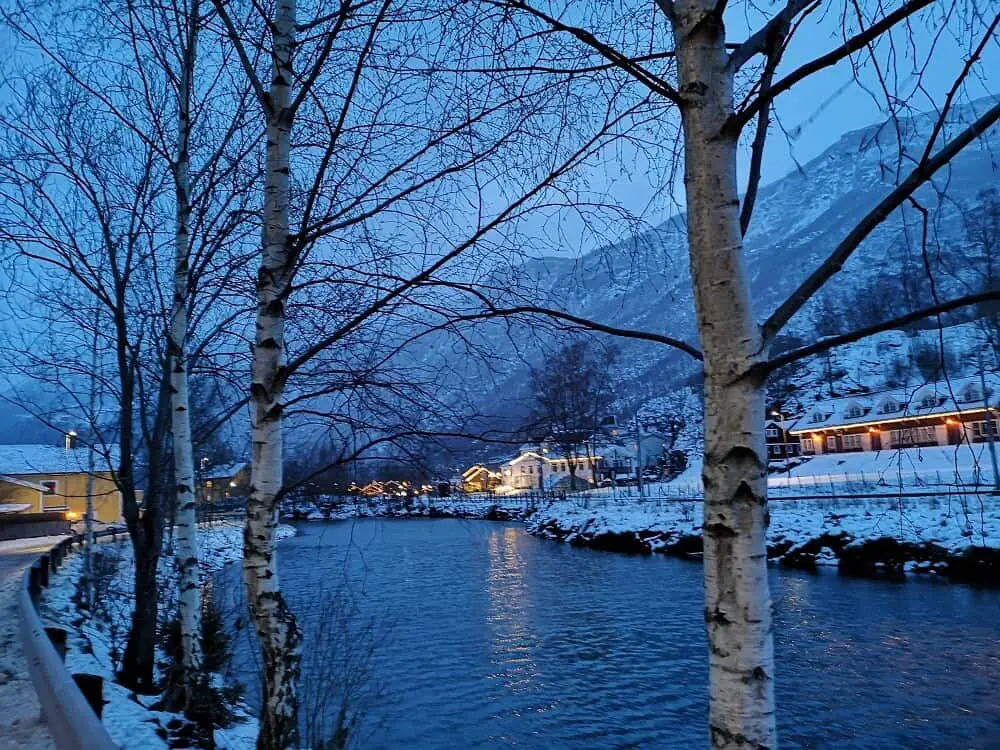 Disclosure: This post may contain affiliate links. That means that if you make a purchase through one of those links, I will get a small commission at no extra cost to you. If you have any questions about, feel free to ask me.
Before we look at what to do in Flam, let's go through some practical information.
How to get to Flam
Flam is a small village accessible by boat, car, and train. Often visited as a popular stop on the Norway in a Nutshell tour, Flam is well-connected considering its remote location and there are many ways to get there.
Traveling to Flam by Train
From Oslo
The train journey from Oslo to Flam takes around five and a half hours. The trains are very modern and comfortable and for a small additional cost, you can travel in first-class (NSB comfort). For a long journey like this, it is well worth the upgrade and you will have access to complimentary hot drinks and newspapers.
From Bergen
The train journey from Bergen to Flam is shorter and takes just three hours. The scenery is beautiful, of lakes and mountains and charming little villages.
Traveling to Flam by Bus
It is possible to travel to Flam by bus from Bergen. The journey will take two and a half hours.
The Flam Express
The Flam Express is described by many as the most scenic train journey in the world. The Flamsbana railway forms part of the route from Oslo to Flam and you will change in Myrdal to switch from a mainline train to this vintage line.
One great thing to note is that, even if your train from Oslo to Myrdal leaves a little late or gets delayed, the Flamsbana will be there waiting for you. There are no fears of being stranded at a small train station in the middle of nowhere!
---
Haven't got your ticket to Norway yet? Book it here!
---
Find the best backpack for your trip here.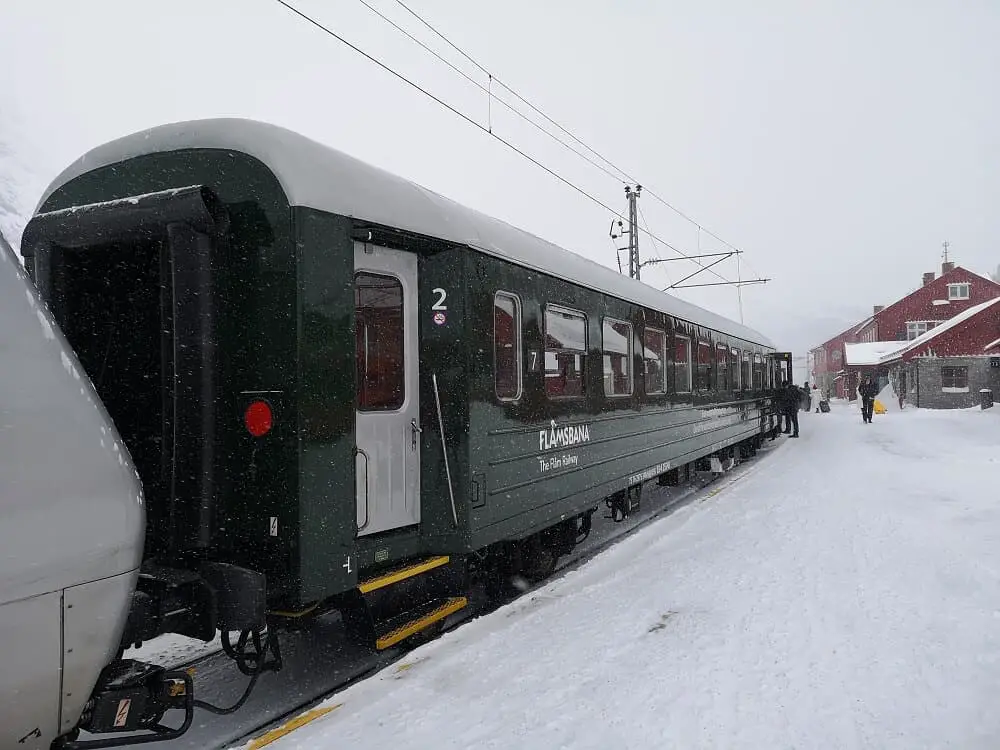 The Best Time to Visit Flam
Flam is a very popular destination for tourism due to it being a main stop for cruise ships and part of the Norway in a Nutshell tour.
Of course, when you choose to visit a place depends on many things; what your budget is, how long you intend to stay, what activities you would like to do and the type of weather you are hoping for.
In summer, the small village of Flam can be extremely busy as people visit with the hopes of hiking in Norway, visiting beautiful waterfalls and cycling down through the mountains.
Although these activities are less accessible in the winter, there are other activities that will also allow you to explore the area.
Furthermore, tourism is much lower in winter and visiting Flam in the colder months is sure to be peaceful and serene, providing an alternative experience of this beautiful place.
There are further benefits of visiting Flam in winter. During the summer months, you will need to have travel booked in advance as the cruise ships and trips get fully booked very quickly.
In winter, you can take a much slower pace and a more relaxed approach to exploring this beautiful area. Opposed to the summer months, tickets are extremely unlikely to sell out, meaning you can be flexible and spend more days in Flam as you discover what a great place it is.
Where to Stay in Flam
There are several options for places to stay in Flam including, but not limited to;
Private properties for rent through Air B&B
Air B&B is ideal if you are traveling in a group or family, or simply want your own space and don't mind self-catering.
Flamsbrygga Hotel
A nice hotel which also allows pets!
Book your stay at Flamsbrygga Hotel here.
Brekke Gard Hostel
Ideal for those on a budget or backpacking. It is an incredibly good value for money and set in a beautiful destination. It is also just a 5km walk from Rjoandefossen waterfall.
Book your stay with Brekke Gard Hostel here.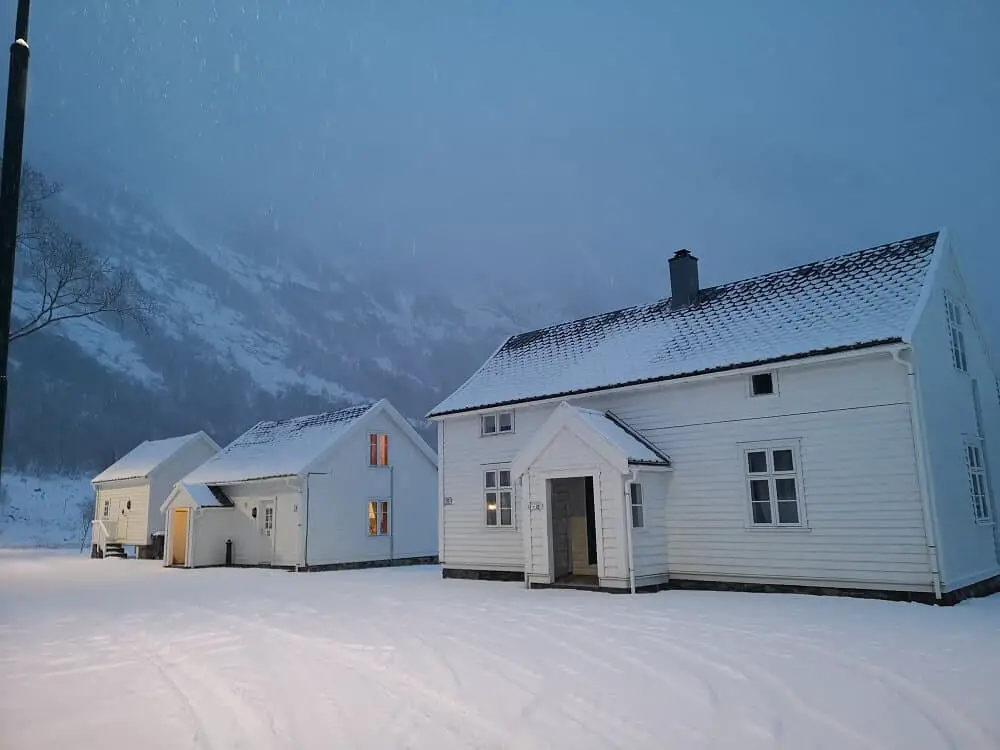 Myrkdalen Hotel
Located in a neighboring area, Voss, this hotel is perfect if you intend to visit Flam and ski. This hotel has ski-in, ski-out access and massages to relax muscles after a day in the mountains.
Book your stay at Myrkdalen Hotel here.
Things to do in Flam
There are so many great things to do in Flam and here are just a few of them. Of course, sitting by a log fire with a cup of cocoa and a good book is hard to beat but we will try.
Take a Scenic Cruise through the Naeroyfjord
The number one thing to do in Flam is to take a scenic cruise through the Naeroyfjord. This is a UNESCO World Heritage Site and for good reason!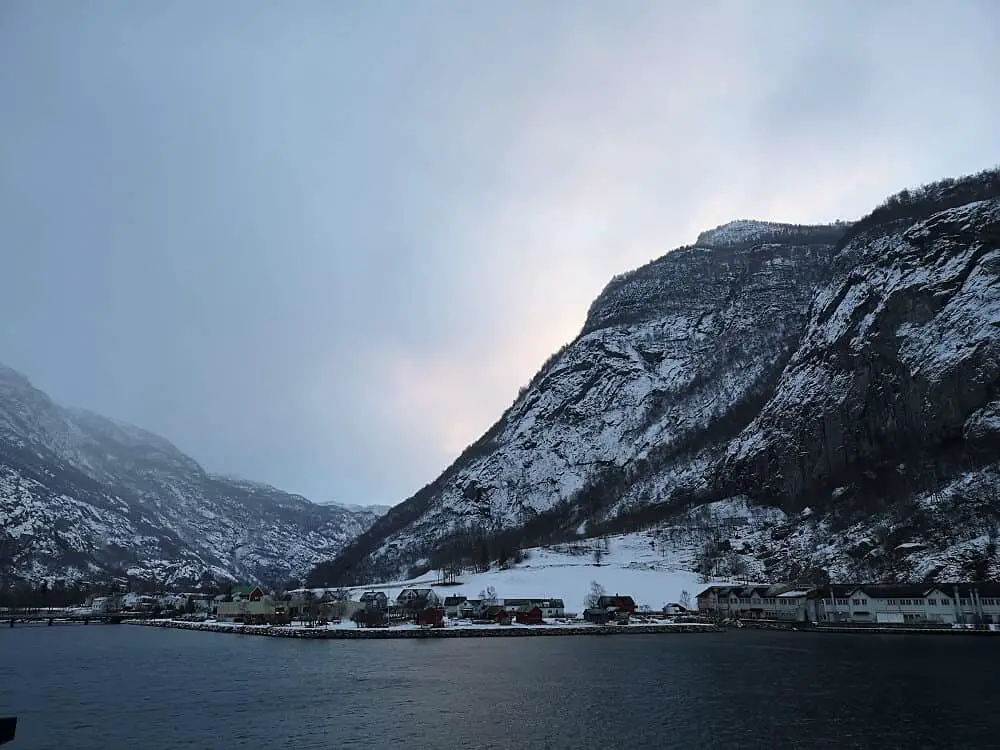 In summer it is recommended that you take an early morning or late afternoon cruise to beat the crowds. However, as with many other aspects of tourism, traveling in winter provides much more flexibility and fewer people.
There's also a saying that 'you haven't seen the Norwegian Fjords until you've seen them in winter'.
Another benefit of winter cruising is that all the boats used in winter are new. In the summer, both old and new boats are used but, in the winter, they use just the premium vessel and it is plush!
If you are keen on responsible tourism (as you should be) it is also worth noting that cruising on the fjords in winter is more environmentally friendly as the cruise ship used will either be a hybrid vessel or a fully electric one. Using battery power only, these are much kinder to the environment.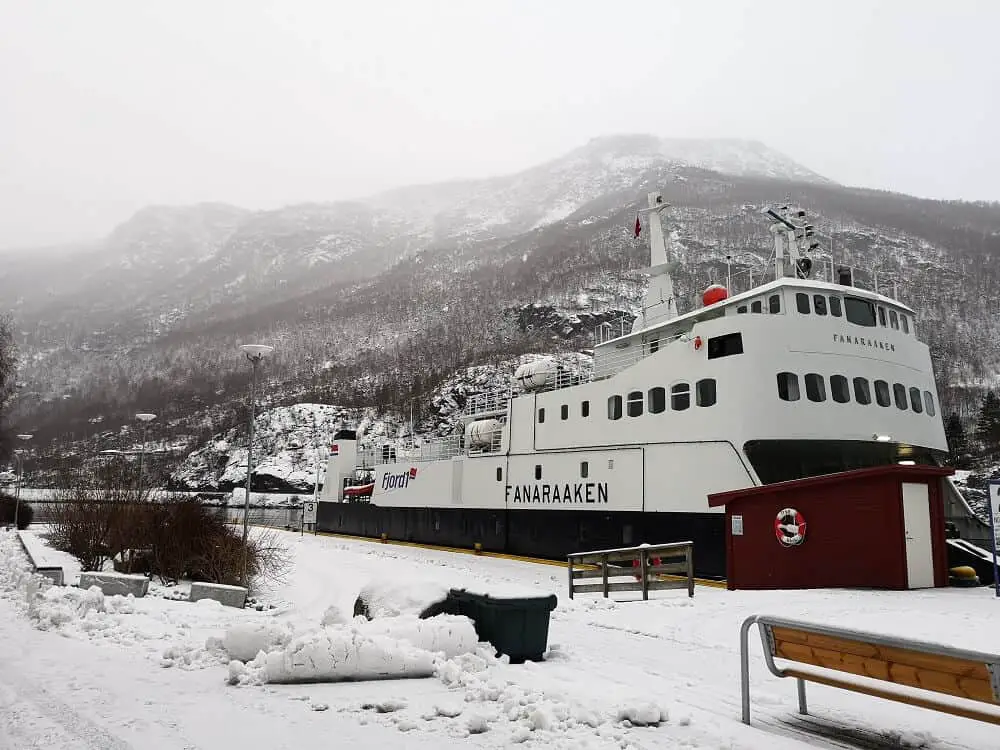 You can take the cruise just one way and return from Gudvangen back to Flam by bus (the price is included in ticket). The journey is three hours by water and fifteen to twenty minutes by car.
Alternatively, if you are visiting Flam as part of a Norway in a Nutshell trip, you can continue your journey onwards from Gudvangen and visit beautiful Bergen.
Take a ride on the Flam Express
If you arrived in Flam by the Flamsbana, you will already have experienced the delights of this journey. If you haven't, don't miss it!
You may have read mixed reports about the Flamsbana railway and whether it is worth the cost. Of course, this is an opinion, and mine, for what it is worth, is that the experience is totally worth it.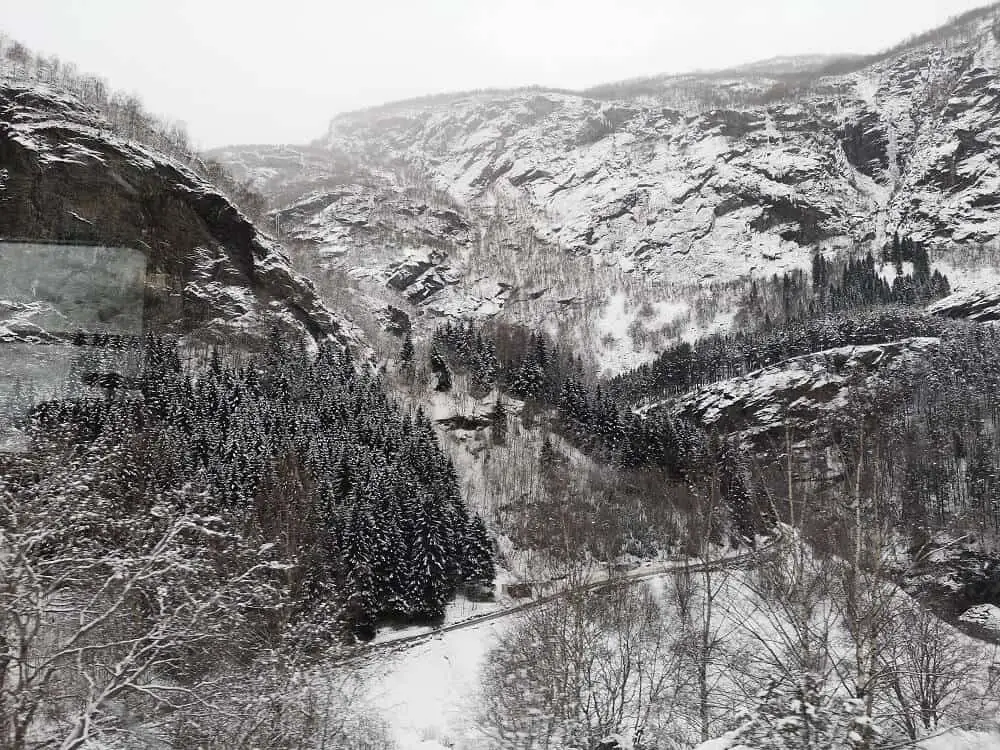 However, Norway has so many beautiful views and you don't have to ride this train to see them. The value of this train ride depends on how you're are traveling and for how long you are in Norway.
If you are visiting for a long weekend on a Norway in a Nutshell tour, it is worth it and forms part of your route. In contrast, if you are driving across the country visiting many places, you will see landscapes in every direction. Nevertheless, the train ride is a unique experience and an awe-inspiring construction.
The views are spectacular. In fact, the first and last rows of seats have access to windows which open. If you don't mind the brisk temperatures, this provides a great opportunity for budding photographers.
If you do decide to ride the Flam Express, be sure to arrive at the station at least 20 minutes before departure. Don't be worried about getting cold as you will be able to wait inside the warm visitor center!
Visit the Flamsbana Museum
The Flamsbana Museum is next door to the railway platform. It is free to enter and a must for any train enthusiasts. It is a small museum, but it is worth a short visit to learn more about the beautiful railway and its extraordinary construction.
This may not sound exciting but once you've taken the journey through mountain tunnels, you will likely want to know more about this incredible project which took twenty years to complete.
I won't spoil the museum by saying too much but it is truly incredible what people can achieve!
Visit Stegastein Viewpoint
If you are traveling by car, Stegastein viewpoint is certainly worth a visit. Accessed within a thirty-minute drive from Flam via a narrow, winding road, Stegastein viewpoint is a popular stop for summer tourism and winter is no different.
At thirty meters long, you feel like you are walking off the edge of the mountain! Look down 650 meters below and enjoy the panoramic views for miles around.
As of December 2019, pricing is as follows:
Adults – 290NOK
Children age 4 to 15 – 145 NOK
Children under 4 go free
Ski at Myrkdalen Mountain Resort
You will not be short on things to do in Flam, however, a short distance from Flam is Myrkdalen Mountain Resort. This is the largest ski resort in Western Norway and caters for everyone; beginners, intermediates and experts. There are also plenty of off-piste possibilities to enjoy.
Plus, more snow falls in Myrkdalen than in almost every other part of Western Europe, so you are almost guaranteed great snow conditions.
Hike in Snowshoes
Hiking in traditional Norwegian snowshoes allows you to get close to nature and at a pace enabling you to take everything in. Snowshoes make it possible to walk on deep snow by spreading your weight evenly and keeping you on the surface.
Snowshoeing is also a traditional and fun way to enjoy the mountain scenery if skiing is not really your thing! Such activity is suitable for beginners and requires no previous experience of using snowshoes. Just be sure to wrap up warm.
What to pack for a trip to Flam in winter
Flam in winter can be pretty chilly and temperatures will likely be below freezing. However, there is no such thing as bad weather, just bad clothing. Be sure to enjoy the pristine white snow by wrapping up warm and coming prepared.
As a minimum you should pack:
Warm jacket
Scarf
Hat
Gloves or mittens
Soft, cozy socks
Boots suitable for use in the snow
See some recommended outdoor clothing items.
What to do in Flam as a responsible tourist
Here are a few tips for things to do in Flam as a responsible traveler.
Visit in winter when the cruise vessels are more economical
Take your own water bottle to avoid single-use plastic
Pack a solar-powered phone charger to make use of the rays of the sun to charge your devices (the sun's rays will be reflected off the snow for even more power).
Take public transport during your trip, instead of driving. The Norway in a Nutshell tour is perfect for this.
Enjoy eco-friendly activities such as snowshoeing.
Read next: Gaustatoppen hike – get the best views of Norway!
Authors bio
Jo is the author behind the blog Backpack and Bushcraft; a blog site all about adventure, travel and wilderness skills. Jo loves to explore the world, taking time to enjoy and appreciate nature and help others to enjoy beautiful wild places and the wilderness they offer.
Make sure you follow Jo's wilderness adventures on Facebook and Instagram!
Did you like this? Pin it for later!