Most visitors to the Liguria coast throw them selves over the famous (and astoundingly beautiful) Cinque Terre and don't see much more. But you should really consider visiting Porto Venere. Less touristy than the popular five, yet just as astounding, there are plenty of things to do in Porto Venere.
The colorful UNESCO Heritage seaside village is named after the ancient Temple of Venus, which was located at the same spot you now see the iconic Church of Saint Peter.
Make sure you bring a good pair of walking shoes and an extra battery for your camera because other than old landmarks and the iconic and colorful houses, there is a lot to take in and some unforgettable hiking opportunities.
Disclosure: This post may contain affiliate links. That means that if you make a purchase through one of those links, I will get a small commission at no extra cost to you. As an Amazon Associate, I earn from qualifying purchases.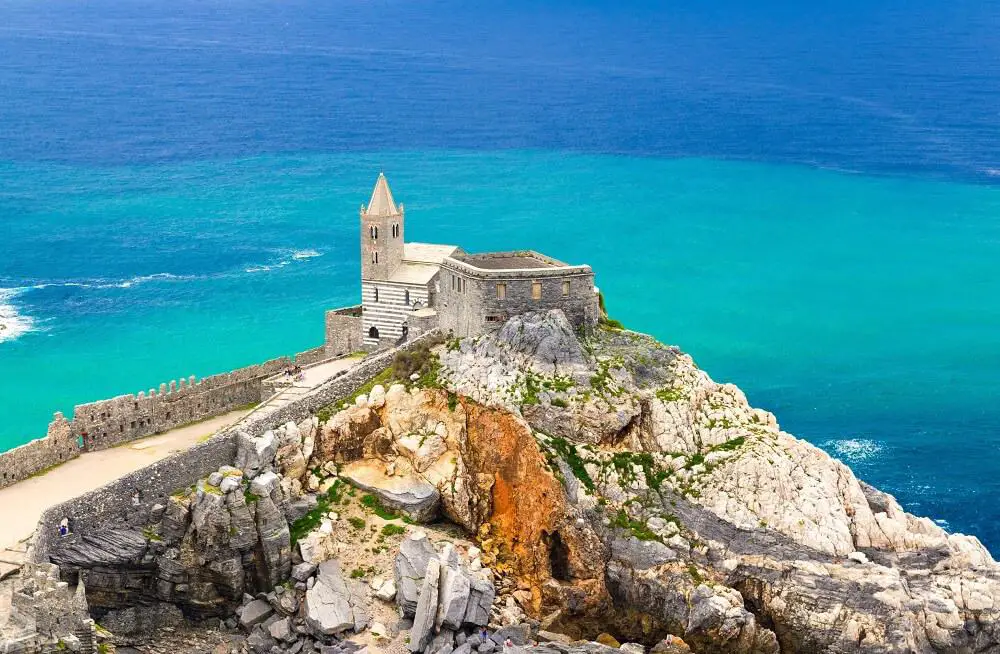 How to get to Porto Venere
Porto Venere is situated on the tip of a small peninsula just outside La Spezia and south of the popular Cinque Terre. The closest airport is Pisa Airport, which is only 1 hr 15 min drive away.
Traveling by car gives you a lot of freedom if you want to explore more of Liguria and maybe even combine it with a road trip in Tuscany.
You can book a rental car here.
Some hotels might offer airport shuttle so it's worth asking if you go straight from the airport and don't plan on driving yourself.
By public transport, the easiest way is to take either the train or bus to La Spezia, which takes from 1 hr 20 min from Pisa.
Once in La Spezia, you can take the local bus (11/P) which leaves every 20-60 minutes throughout the day. You can buy bus tickets at any tobacco shop (Tabaccheria) and stamp it in the machines once you get on the bus. The journey takes less than an hour.
There are also boats from La Spezia, Levanto, and Cinque Terre to Porto Venere.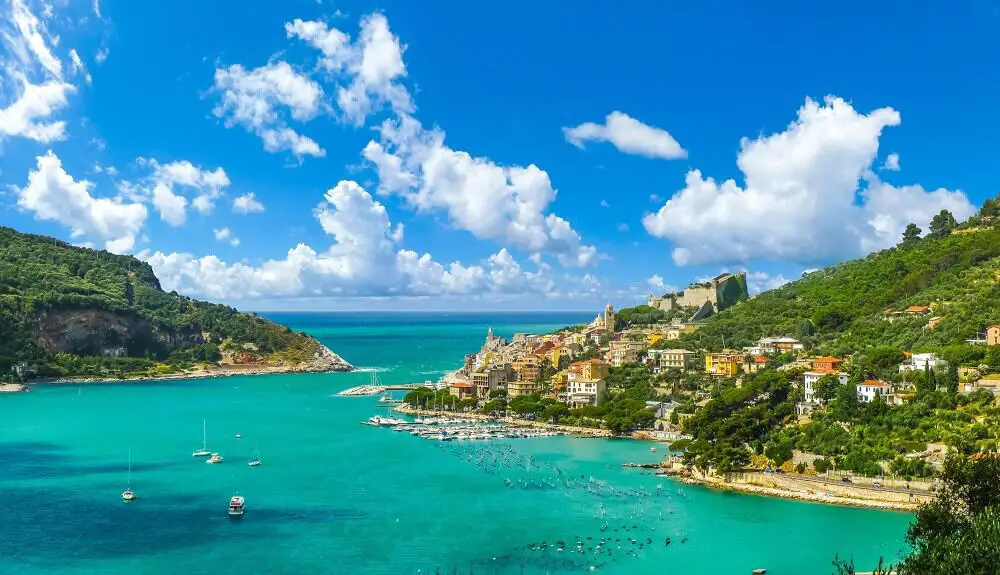 Where to stay in Porto Venere
There are a few hotels in and around Porto Venere, but it's not a budget destination. Here are a couple of options.
Grand Hotel Portovenere
The finest hotel in Porto Venere right on the seafront, with astounding terrace views overlooking the tiny port. The hotel is built in a 17th century monastery and offers everything you need from airport shuttle, parking, room service, restaurant, as well as facilities for disabled guests.
Hotel Della Baia
A colorful hotel outside Porto Venere with pool and parking. There is also a bus stop right outside where you can take the bus into Porto Venere. You can enjoy beautiful sea views from some of the rooms.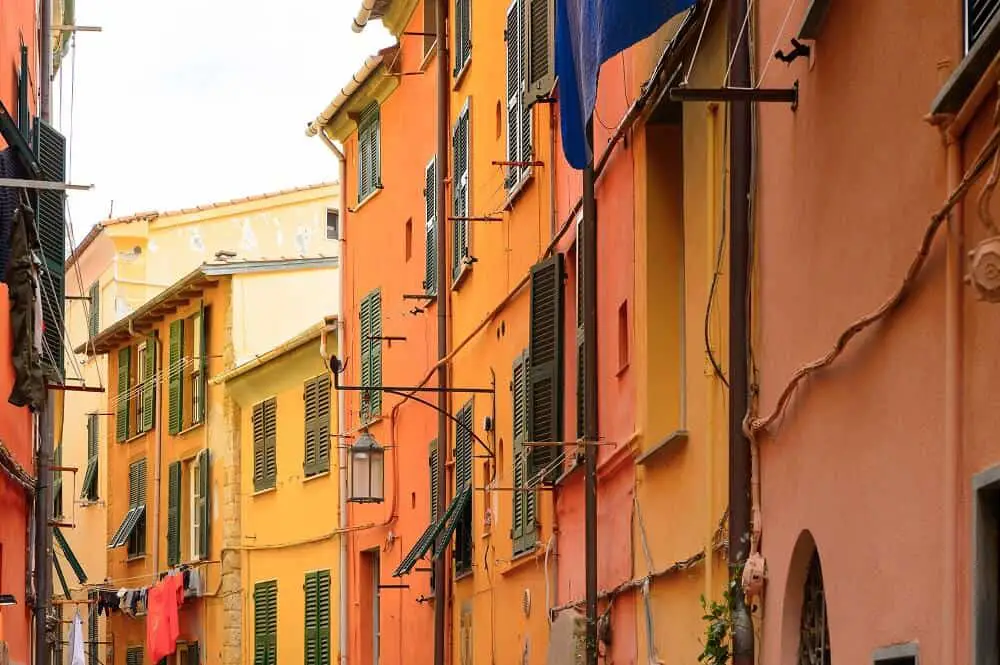 ---
YOU MIGHT ALSO LIKE: Rome 4 day itinerary
---
Things to do in Porto Venere
Now we have been through all the practical things, so let's have a look at what to do in Porto Venere. Even though it's not by far as visited as the main five, Porto Venere is seeing more traffic than before. Yet, you have all the reasons to get excited, this is probably my favorite town in Liguria!
The Palazzata
The unique Porto Venere colorful, slim houses plastered to the rock behind them, are the main drawing point of this little coastal town.
They were once built to function as a defense shield to protect Porto Venere against the recurring attacks from the enemies. The tall houses don't have balconies and windows are small. This way it would be impossible for the enemy to scale them.
If you walk out on the port you can get nice photos of these cute houses.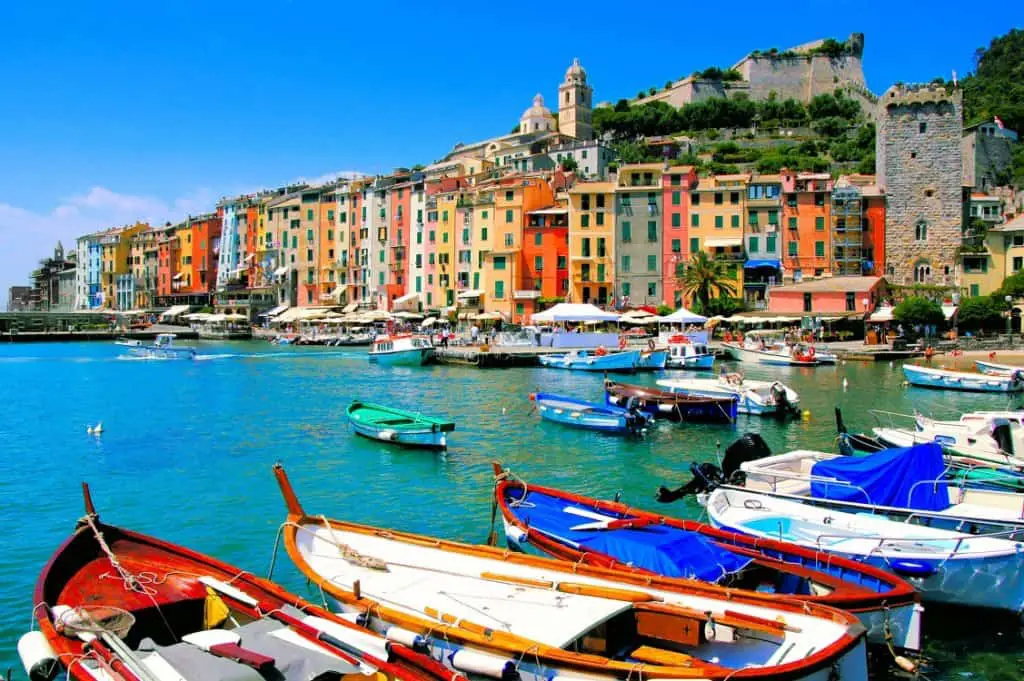 Doria Castle
Doria castle is towering behind the Palazzata on top of the hill. The fortified structure was originally built at some point before 1139 when the first written mention of the castle is found, but no one really knows when it was erected.
In 1161, the current castle was built on top of the remains of the old structure. It was the center of the battle between Pisa and Genoa in the 13th century and later, between the 15th and 17th centuries it underwent major reconstructions again.
It was of military importance until it was used as a prison under the french rule in the beginning of the 19th century. Again, in the 1970's, further restoration was made and today it hosts various cultural events and exhibitions.
Church of Saint Peter
The iconic Church of Saint Peter is the most noteworthy landmark in Porto Venere, sitting on a rock peninsula in the Ligurian Sea. The Geones built the church in the period 1256-1277 on top of the remains of another church.
The church is a great example of Liguria's Gothic-Geonese architecture. It's strategic placement has made this church an important part of defense history and among other events, the church was used as a battery defensing the Gulf in Napoleon's times.
In the first half of the 1900s, the Church of Saint Peter underwent restorations and today it sees more peaceful days hosting ceremonial events like weddings.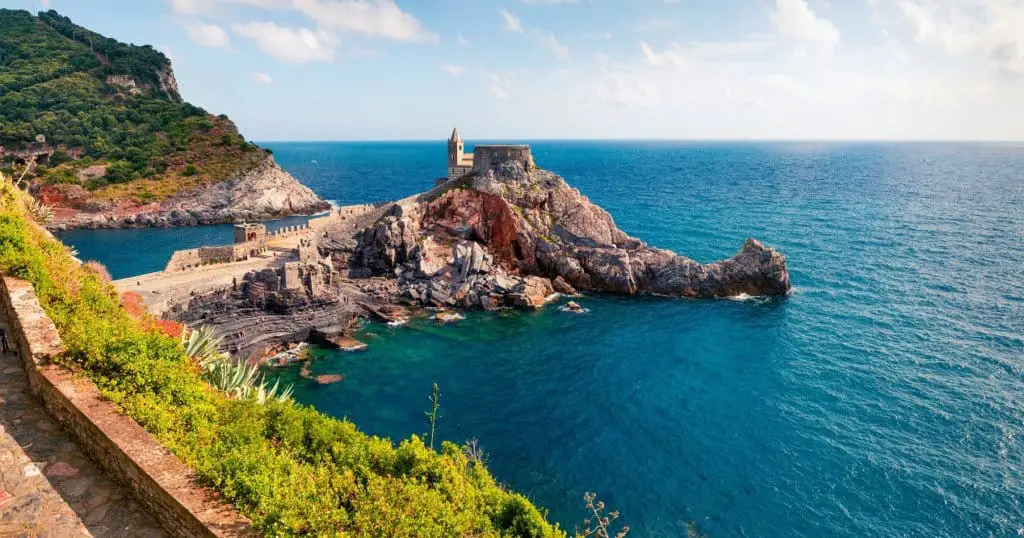 Go on a boat trip
Go on a boat trip to explore the islands of Palmaria, Trino, and Trinetto or on a Cinque Terre tour.
Both excursions are really worth it. Even though you want to visit Cinque Terre by land, it's really cool to see them from the boat for a different perspective.
There are different cruises to choose from so ask in your hotel or go down to the port for information.
San Lorenzo Church
San Lorenzo Church is dedicated to Porto Venere's patron saint, San Lorenzo and was built by the Geoneses in the period between 1118 and 1130. It sits symbolically on the rocky hills in the middle of Porto Venere.
Originally built in a Romanesque style, the facade has been changed throughout the years.
Worth taking note of, is the painting of Madonna Bianca which legend says was washed at sea on the 17th of August 1204 and a miracle transformed it into the image you can see today.
Every year the 17th of August, the Madonna Bianca is carried in processions through the streets of town to celebrate.
The Church of Saint Peter and surrounding cliffs are being illuminated by more than 1500 candles to create magic on this special day.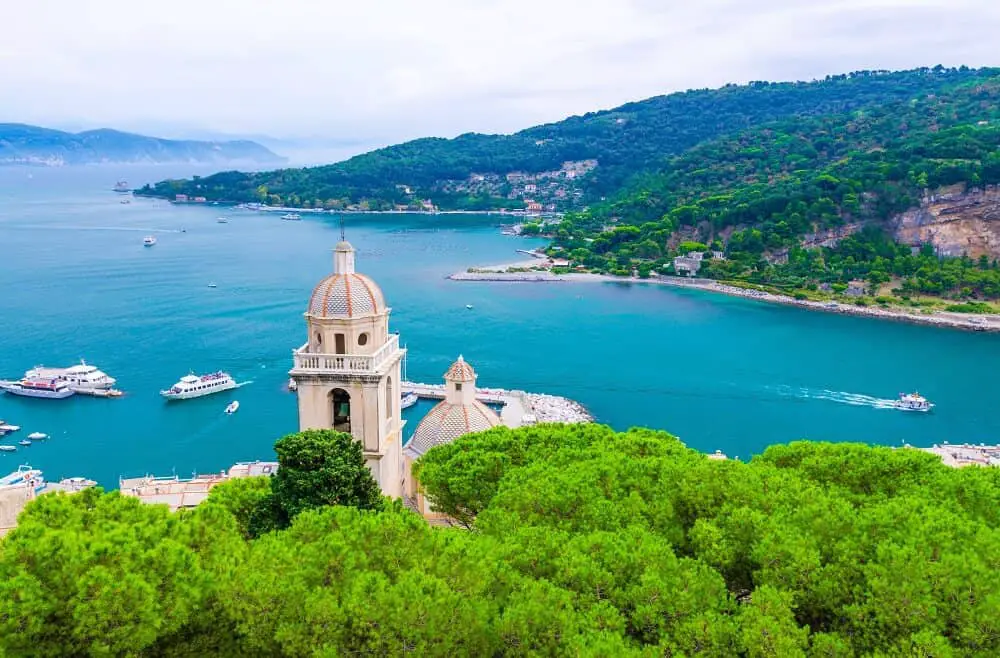 Byron's Grotto
Another sight worth exploring is Byron's Grotto. The cave that sits along the mesmerizing cliffs along the Porto Venere coast, part of the Cinque Terre National Park, is named after the British poet Lord Byron.
Like so many other poets, he fell in love with this part of the Ligurian coast and legend says he he spent a lot of time meditating in the cave.
This is a beautiful place to go for a swim and soak in some sun on a warm day. There are some fun cliffs to jump from too for the adventurers.
Go scuba diving
Cinque Terre Marine National Park is spectacular for scuba diving. With many islands worth diving around, Grotta del Tinetto is a true highlight. The 30 meter long cave slips in rays of sun which makes it a truly magical experience. The dive is only at 18 meters of depth and can be done by experienced open water divers.
It's also possible to dive in Byron's Grotto. It goes down to 18 meters and you can spot lobsters and different fish hiding in ravines as you descend towards the bottom.
Hike to Riomaggiore
You can hike from Porto Venere to Riomaggiore, the first of the Cinque Terre. It's a 13,8 km hike and takes about 5-6 hours one way. Even though it's a moderate hike, make sure you bring enough water, food, snacks, sunscreen, and hat/caps to cover your head from the sun. I also recommend you wear good walking or hiking shoes so your feet survive the trip as well.
This might just be one of the best things to do in Porto Venere. With mesmerizing view the whole trek and the colorful Riomaggiore as a destination, this makes the perfect day.
You can either walk back the same way or take a taxi or boat back again if you think it's enough walking for the day.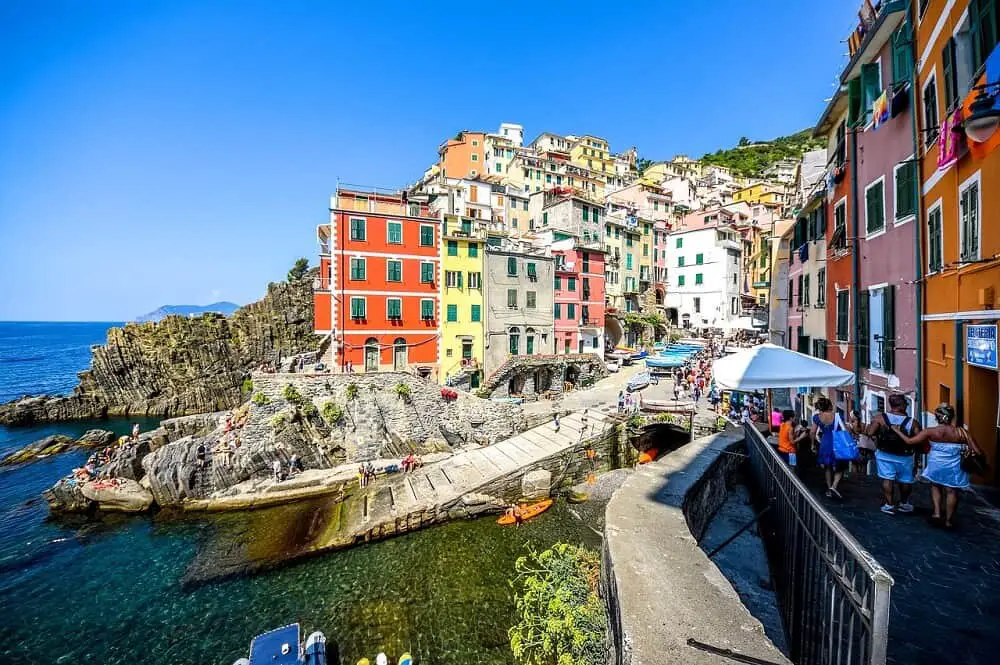 Reflections
Porto Venere is a really cute little town to spend a few days and explore both land and water. Personally, I fell in love with this gem and think it's much more worth it than the crowded villages of Cinque Terre (though extremely beautiful too!)
Make sure you do your part in keeping this wonderful little village as it is. Bring your reusable water bottle so you don't have to buy drinking water in plastic bottles, be friendly with the locals and ask them about their history and culture. You'll have a memorable time, learn things you might not find in any guide book, and maybe even find new friends.