The walled town of Lucca seems to be underrated by a lot of travelers, but it really is one of the best towns in Tuscany and definitely deserves a visit while you're in Florence.
The Medieval historic center is quite a charm with cobbled streets and pastel-colored houses, a lot less crowded than Florence. I totally fell in love with this corner of Tuscany and highly recommend that you take a Florence to Lucca day trip to see for yourself.
In this post I'll go through all you need to know to get from Florence to Lucca and how you can spend the day best possible. There are a lot of things to do in Lucca so I'll make sure to point out the best ones for your Lucca day trip.
Disclosure: This post may contain affiliate links. That means that if you make a purchase through one of those links, I will get a small commission at no extra cost to you.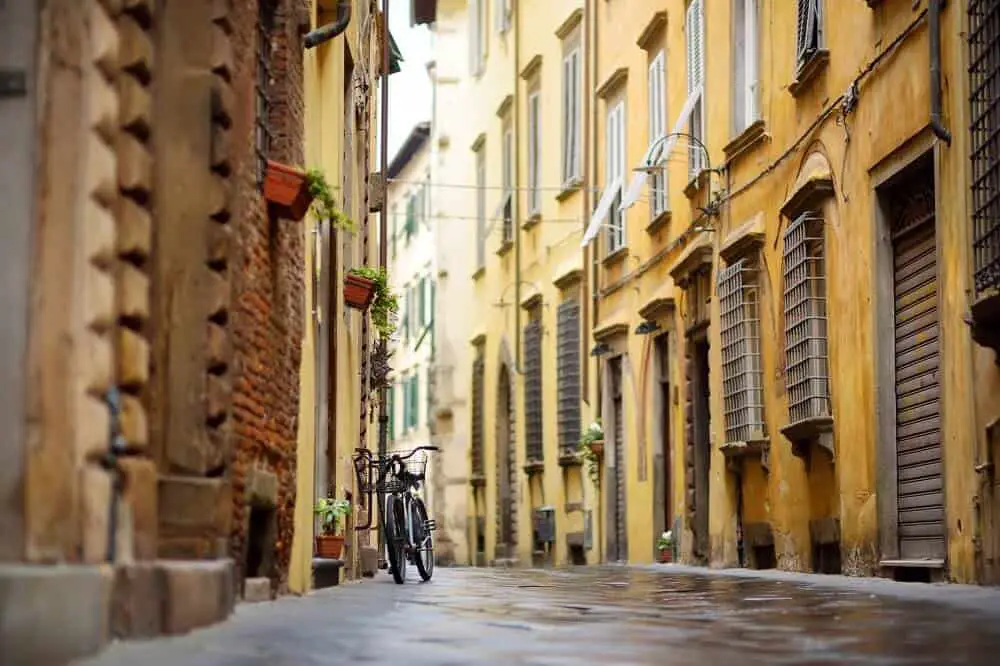 How to go on a Florence to Lucca day trip
To go on a Florence to Lucca day trip, you can either drive or go by public transport. The two cities are well connected so you can get a lot out of your day trip to Lucca by leaving early.
Florence to Lucca by car
Driving from Florence to Lucca only takes about an hour via the A11. The roads are good and the driving goes easy which makes it a very accessible day trip to spend one day in Lucca.
Most of the streets inside the city walls are only accessible by car for locals, so you should park outside and walk in through one of the gates to avoid confusion and unwanted fines. But don't worry. Lucca is perfectly walkable so once you park outside the city wall, you can walk the rest.
There are plenty of parking spaces around the walls where you pay 20-50 cents per hour on the machines. But there is also a larger outdoor parking lot by the gate where you pay a little more to stay, but it's very convenient.
If you want to park for free, you can park in Borgo Giannotti about a 15 minute walk from the city walls.
---
Need a rental car to drive from Florence to Lucca?
---
Florence to Lucca by bus
The bus from Florence to Lucca takes about 2 hours. It varies with 10-15 minutes depending on the stops and if there are transfers on the route.
You can either get buses from Florence Santa Maria Novella or from Florence Rifredi. They go several times a day, but you should book in advance to make sure you find a time that suits you. After all, you only have the day to explore Lucca.
You can book bus tickets here.
Florence to Lucca by train
Trains from Florence to Lucca are more frequent than the buses. With 1-2 departures an hour from Florence Santa Maria Novella, you can get there as fast as in 1 hr 20 min while others take 2 hours.
Some trains go to S. Pietro A Vico, which is almost an hour walk to Lucca, so make sure you check which end station the train goes to so you don't have to take a bus or taxi when you arrive.
First trains go from Florence to Lucca already at 5:35 and arrive 2 hours later.
Remember to validate tickets on the machines before you enter the train. Ask at the train station if you're not sure how to do it.
Book your train tickets here.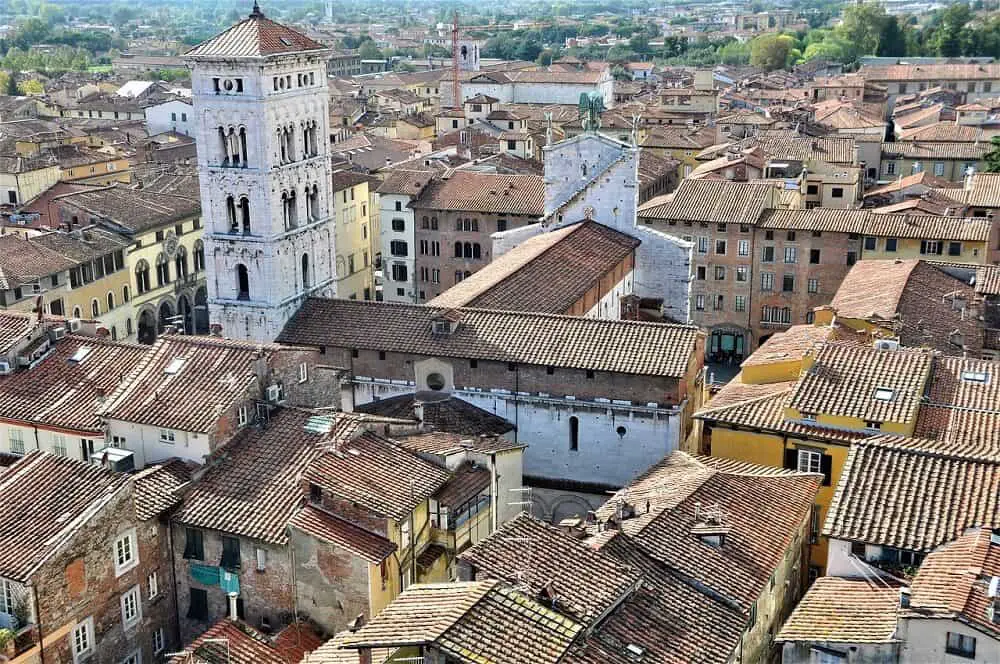 ---
YOU MIGHT ALSO LIKE:
---
What to do in Lucca in one day
There are plenty of things to do in Lucca, but with a day trip to Lucca, here are the main attractions you shouldn't miss out on.
Lucca Cathedral
Start your Lucca day trip with Lucca's Gothic & Romanesque style cathedral. It's easily spotted by the white tipped tower. It's not too far from the city entrance by the train station and a good place to start when you visit Lucca in one day.
The 11th century building is dedicated to Saint Martin. All the columns on the facade are different. Legend says that they had a contest to choose the artist that was to make the columns for the cathedral.
The inhabitants couldn't choose between the finalists so they decided to use each of the columns made by the different artists in the contest, and that's the result of Lucca Cathedral.
You can find prices for single and combined tickets to enter the cathedral, belltower, museum, baptistery, and church of Saint Giovanni and Reparata here.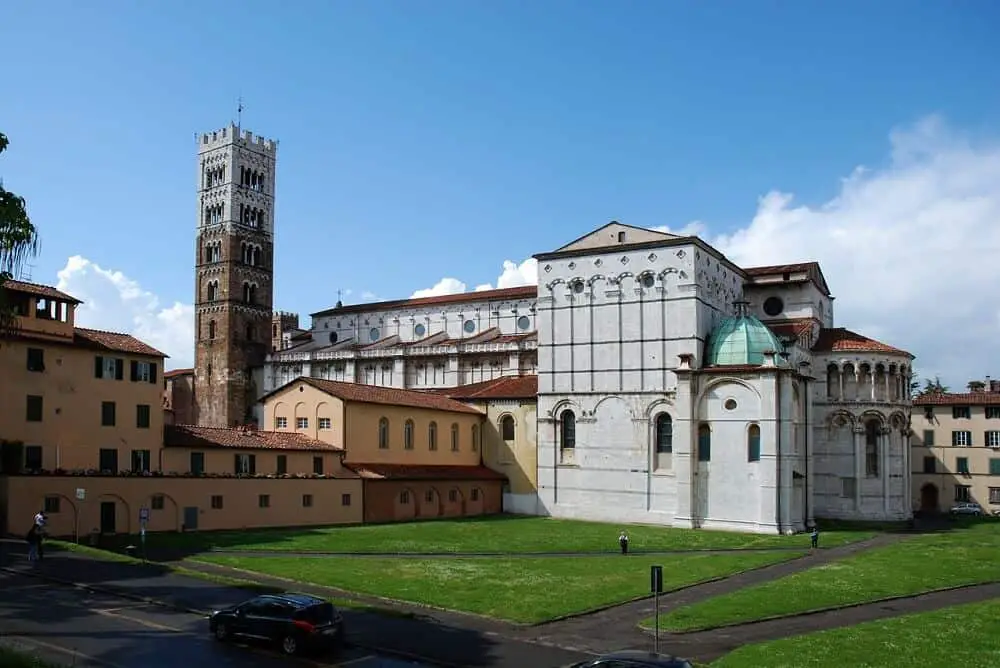 Climb the clock tower
Lucca Clock Tower, Torre delle Ore, is the highest tower in Lucca, with its 50 meters. It is possible to climb the 207 wooden steps to the best views of town, so this is a must when you see Lucca in one day.
The tower is said to be haunted by the ghost of a girl that sold her soul to the devil. When he came for her, she's said to climb up to the top of the clock tower to try to stop time so he wouldn't take her soul.
As most battles with the devil, she lost, and apparently she still lives in the clock tower.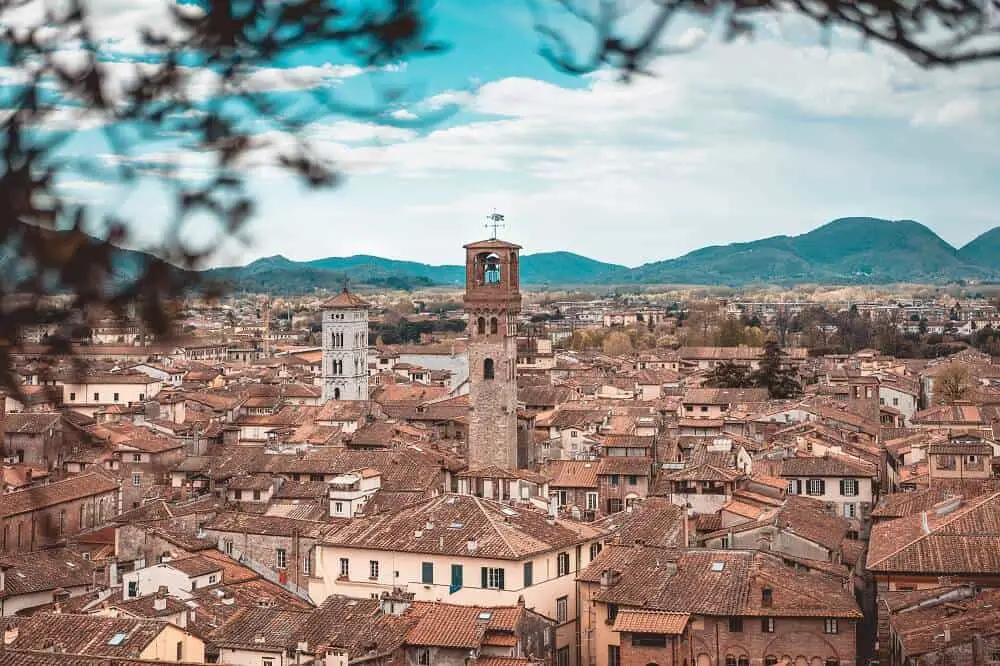 ---
YOU MIGHT ALSO LIKE: Rome itinerary – 4 days
---
Have lunch at Piazza dell Anfiteatro
Head to the iconic Piazza dell Anfiteatro for a tasty lunch. Maybe a pizza and a glass of Tuscan wine?
The round square formed by the shaped houses, is built on top of where the ancient Roman amphitheater once was.
There was enough seats for nearly 10 000 spectates for the games, but this was long before the current form of the square was built in the 1830's. The original amphitheater lays beneath the ground.
Yet some vaults and arches remain and they are incorporated in the existing buildings surrounding the square.
Today, it's hard to imagine this as a place for gladiators to fight. Surrounded by pastel colored inhabited houses and bustling restaurants it gives a much more peaceful vibe.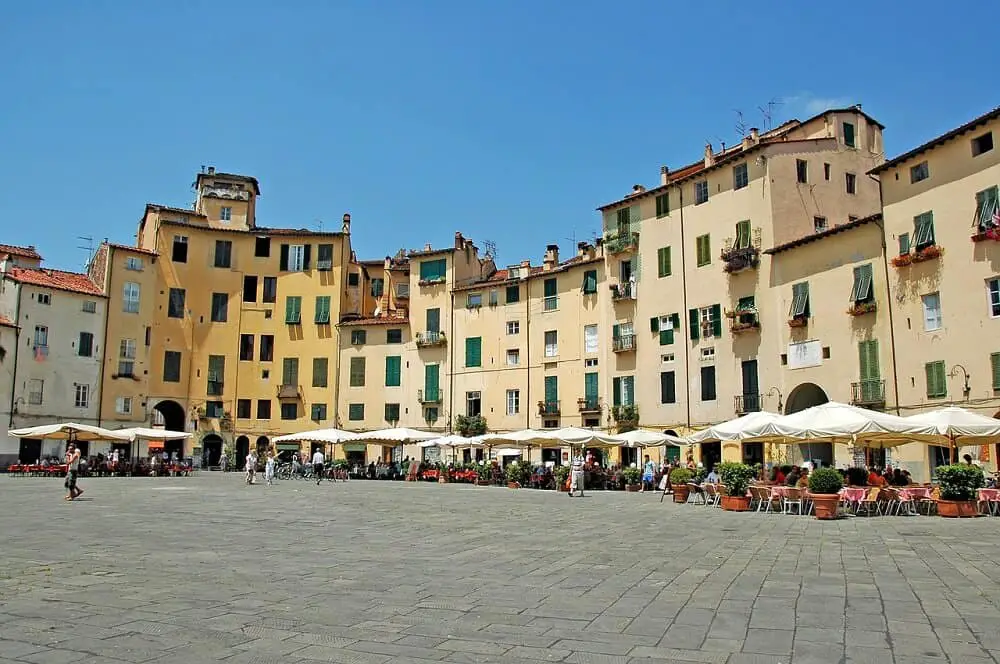 Basilica of San Frediano
After lunch, head to the Basilica of San Fernando. This is one of the most ancient places of worship in Lucca, founded some time between 560 and 588 by bishop San Frediano.
I love this church. It's so different from the rest of town with the large, colorful mosaic on the facade. Simple, yet elegant, accompanied by the bell tower on the side.
The interior is astounding with frescoes from the 1500's and a exquisite Romanesque baptismal font from the 12th century.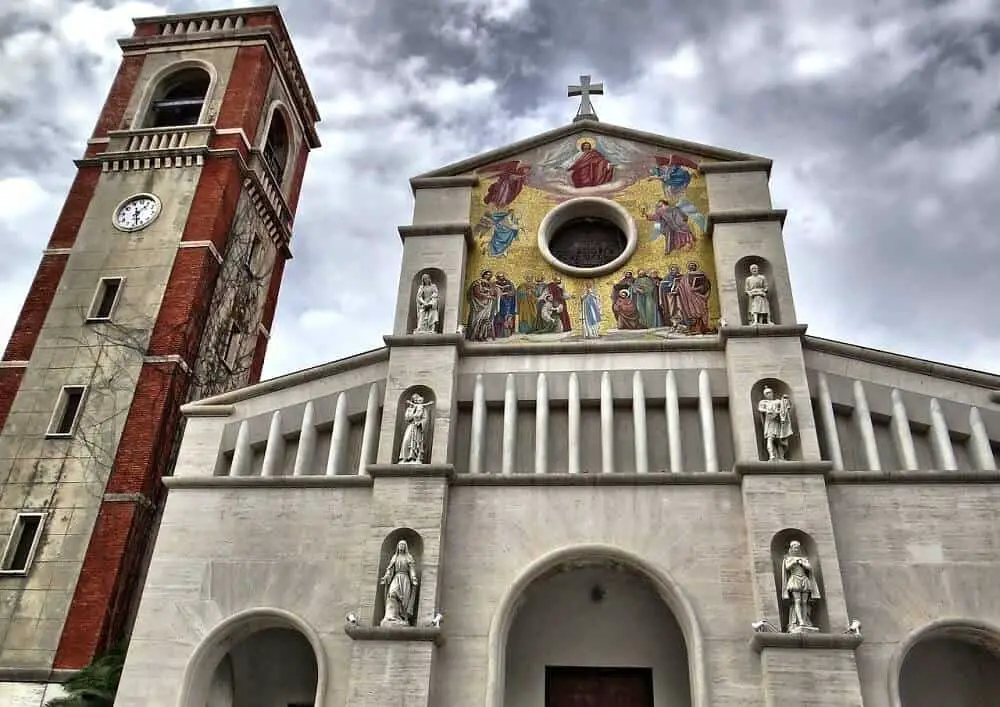 ---
READ: How to have a perfect Tuscany road trip
---
San Michele in Foro
San Michele in Foro is another astounding Roman Catholic basilica in Lucca well worth visiting. This might just be the most photographed structure in the whole town.
The iconic statue on the top of the facade shows Archangel Michael defeating a dragon. Legend says there is an emerald in the statue which you can see sparkle in the sun. It has never been found.
The structure has its documented origins from 795. However, it wasn't until 1070 that Pope Alexander commissioned the existing church.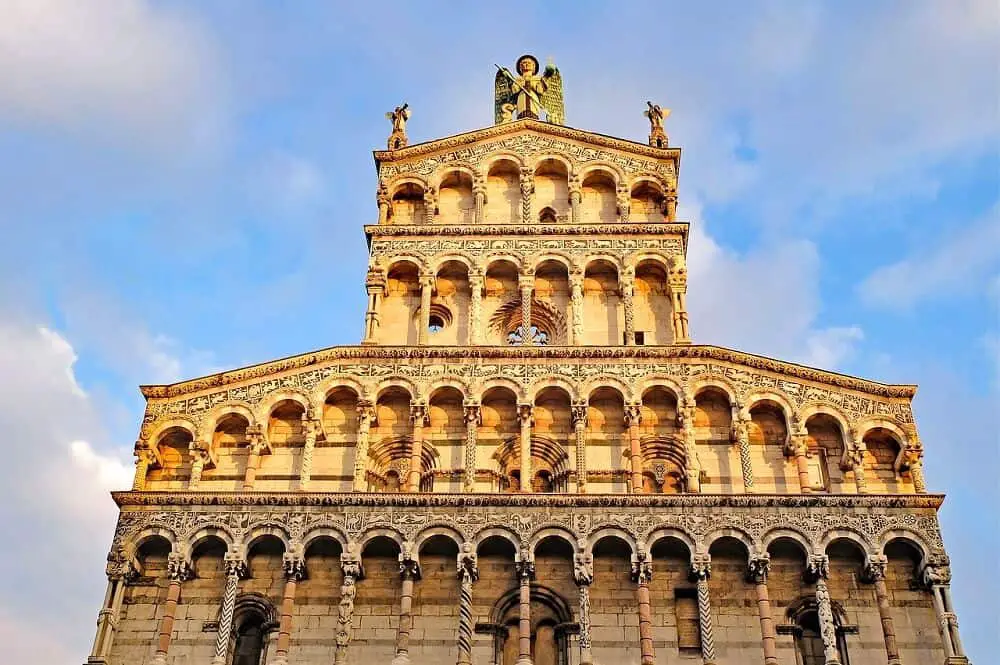 Stroll on top of the city walls
Before you leave, make sure you go for a walk on top of Luca's city walls. If you go by car, it's perfect because you can get on/off by the car park.
The city walls were built sometimes between the 16th and 17th centuries to defend Lucca from the enemy.
It makes the perfect place to go for a walk and it's popular among the locals too to go walking or cycling too.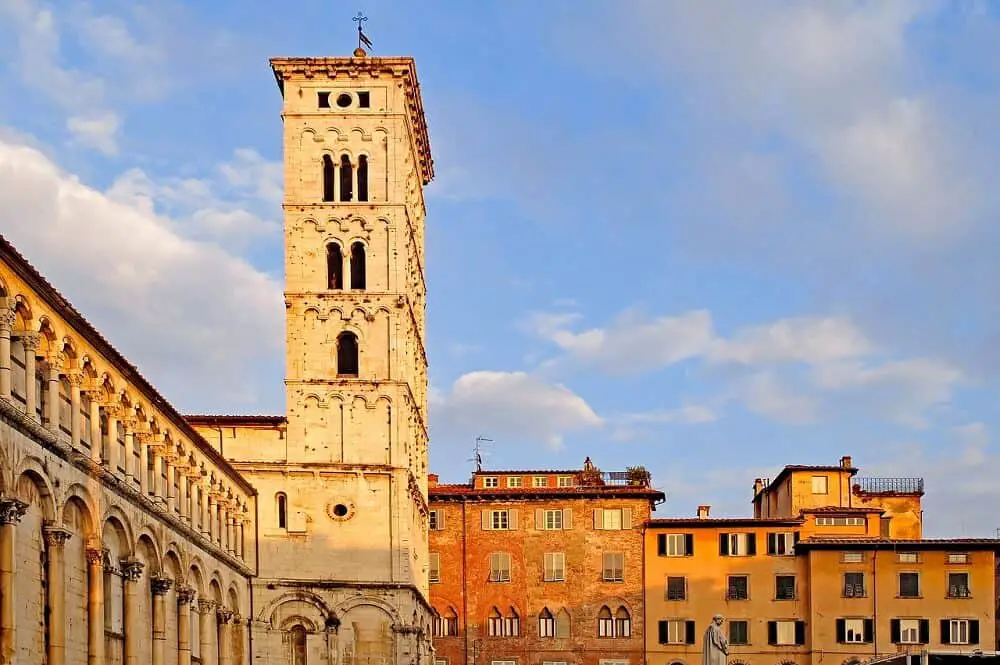 Lucca day trip from Florence reflections
It's so worth going on a Lucca day trip from Florence. It's easy to get there, and you can get so much out of it with a day there. Lucca is full of charm, history, and wonderful locals that it should really be on anyone's Italy bucket list.
Bring a reusable water bottle for the day to avoid buying plastic bottles!
Here are my top Amazon picks for your trip:
I hope you enjoy Lucca in a day and maybe even consider going back on a second visit.
READ NEXT: How to spend one day in Siena
Pin it for later!