Don't you just love getting lost in old medieval streets, knowing that you'll find something major and astounding around the next corner?
Rome has been like that for me since I was little and even though I've been there what seems like a million times, I still enjoy just getting lost in the streets of the historic center.
The grandeur of Rome never ceases to amaze me and I want you to get the most out of the city too. That's why I created this itinerary for 4 days in Rome, so that you can enjoy an epic long weekend in Italy's capital city.
But before we look at what to do in Rome in 4 days, there is some practical information you'll need to know.
Disclosure: This post may contain affiliate links. That means that if you make a purchase through one of those links, I will get a small commission at no extra cost to you.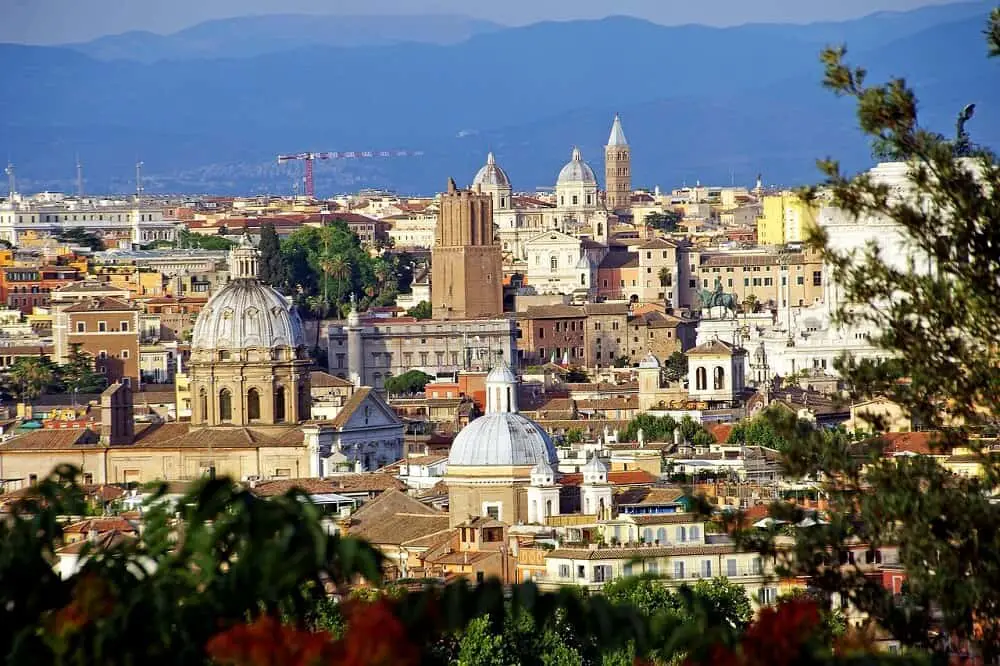 How to get to Rome
The saying that All roads lead to Rome is not too far from the truth when it comes to getting there. With two airports serving the city both nationally and internationally and being in the middle of the country, it's easy to get there by air, road and train.
Getting to Rome by plane
Rome's main airport is Fiumicino Airport (FCO), also known as Leonardo da Vinci Airport and connects with most of the world.
Getting from Fiumicino Airport to the city center is easy with the Leonardo Express Airport train going every 15 minutes. The train ride only takes 30 minutes into Termini Station in the center of Rome.
If you're on a budget, you can half the price of the express train by taking the local train or bus. However, there are no direct trains and the bus can get stuck in traffic. You can see more information about the train and bus services here.
The other airport in Rome is Ciampino International Airport (CIA). This is where most budget airlines land.
You can easily take the local train from Ciampino to Rome's main station, Termini. You first need to take a 5-minute ride with the shuttle bus from the airport to the train station.
The trains leave about every 30 minutes and the journey only takes 15 minutes. You can buy train tickets at the ticket machines and have to validate them on the validating machines on the platforms before boarding the train.
Alternatively, you can take the airport bus services to Termini. This takes about 40 minutes but could take longer with traffic. Buses leave every 40 minutes.
There are also taxis from both airports which, of course, are more costly, or you can opt for a rental car if Rome is your first stop on a longer Italy itinerary.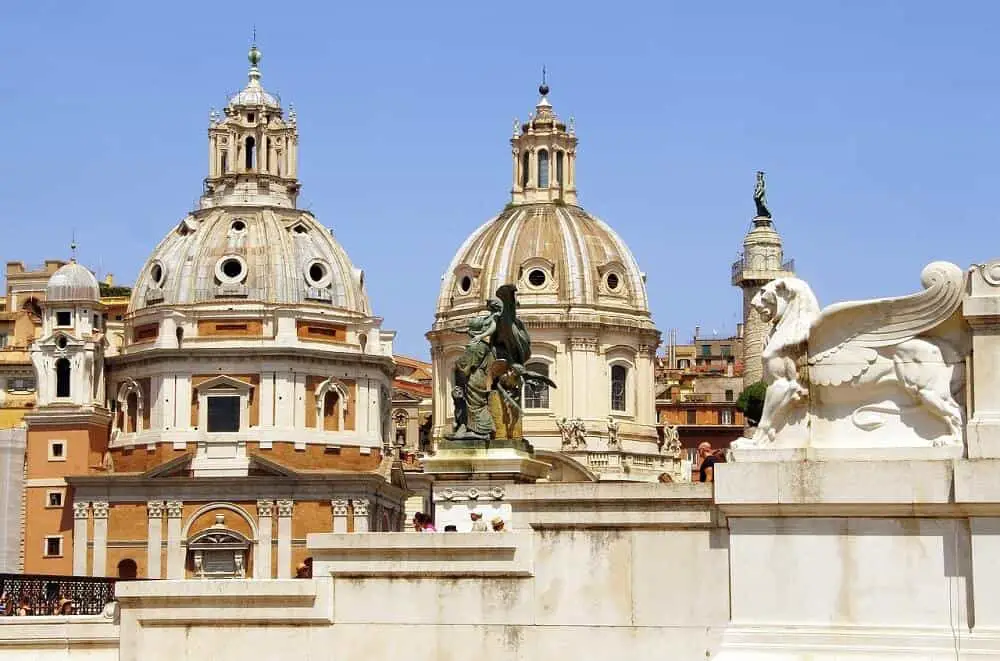 Getting to Rome by train
The main train station in Rome is Roma Termini. Being the largest train station in the country, it's not surprising that it's easy to get to Rome by train from most places (that have a train station at least).
Florence to Rome by train is less than 1 hr 30 min by high-speed train. Milan to Rome is about 3 to 3 hrs 30 min by train, and from the Amalfi Coast it can take less than 3 hours.
From Termini there are buses and Metro to get around the city.
You can book your train to Rome here.
Getting to Rome by bus
Termini station is also the main bus station and buses stop just in front of the railway station. From here you can get a local bus to your final destination or you can take the metro into the heart of Rome.
You can get from Florence and Bologna to Rome by bus in less than 2 hr 30 min. Bus from Naples to Rome takes from 2 hrs 45 min.
You can book your bus tickets to Rome here.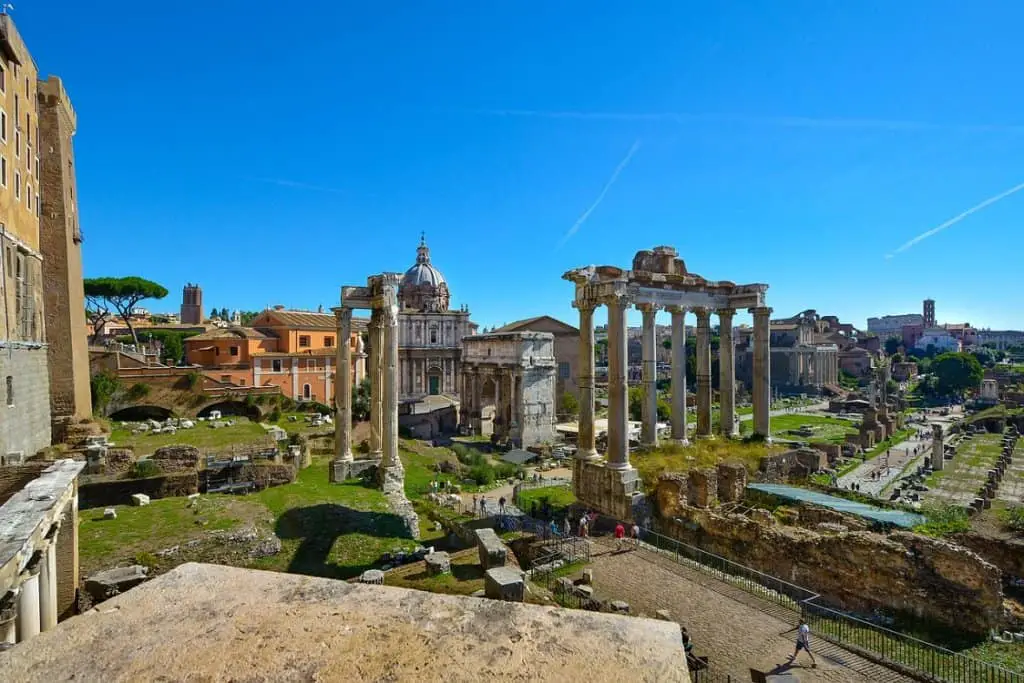 How to get around Rome
Rome is easy to get around by bus, tram, and metro. Or you can walk, with a pair of good walking shoes. The tickets can be used between the different modes of transport when you have to change.
Be careful about pickpockets when taking public transport in Rome, it happens quite often that bags get ripped out of people's hands or that items get stolen out of people's bags. I've seen it on several occasions and unfortunately, the bad guys have always gotten away.
Metro in Rome
My favorite way of transportation around Rome is the metro. It's simple yet gets you where you need to go without worries. There are only three lines in Rome and the Lina A (red) and B (blue) will get you to all the main attractions.
There are big maps in the metro stations that easily show which stops you want to get off at for the different landmarks which makes it hard to get lost. Both lines go from Roma Termini Railway and bus station.
Line A stops by the St Peters Basilica and the Vatican Museums, Piazza de Spagna, Villa Borghese, the Trevi Fountain, Piazza Navona, and the Pantheon.
Line B gets you to the Colosseum and Foro Romano.
You can buy tickets in the ticket machines at the metro stations. There are travel cards or you can buy several tickets at once so you don't have to buy new ones every time you move around. The tickets need to get stamped as you enter the metro area.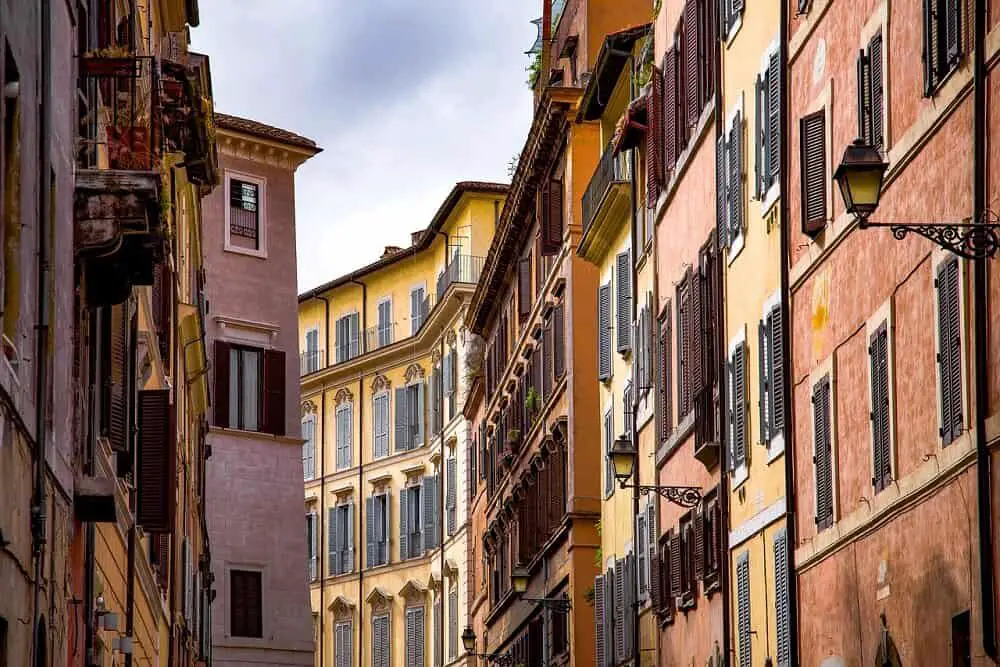 Local bus in Rome
Rome's bus network is extremely good. However, don't expect the buses to come and go when they're supposed to. Often they get stuck in traffic. If you like to look out the window, traveling around Rome by bus is awesome. But if you're nervous about where to get off, it can be stressful as they're often packed.
You can get bus tickets in any Tabaccheria (tobacco shop) in Rome. I recommend buying a few at once if you plan on using the bus more than once. Each ticket lasts 75 minutes from you stamp them on the bus.
There are orange stamping machines in the front and middle of the buses and there are regular checkups. And they don't care if you're a tourist so you'll have to pay the fine if you haven't stamped it.
Tram in Rome
You can also get around by tram in Rome. There are 6 lines, but not that frequently used by tourists as they mostly commute to the outskirts of the city center.
You can get tram tickets on Tabaccherias (tobacco shops), the same as the bus tickets, which last 75 minutes from validation. There are validation machines inside the trams and I highly recommend that you use them to avoid getting a big fat fine.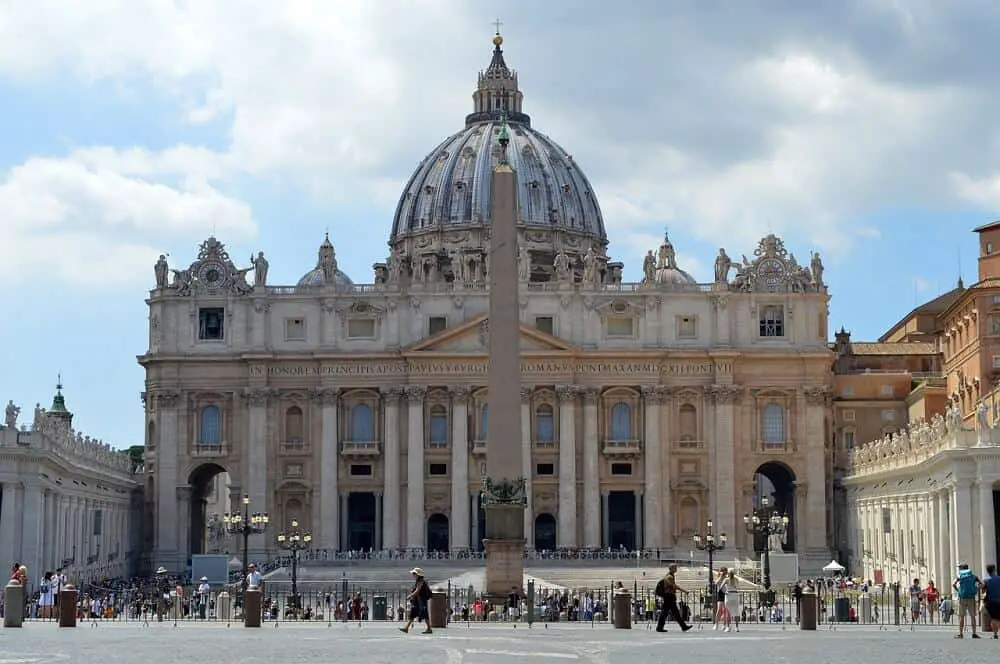 Best time to visit Rome
Autumn, spring, and winter are without a doubt the best times to visit Rome, as the summer temperatures hit 40 degrees Celsius and it's unbearable to walk around.
A lot of places even close the whole month of August. But when mid-September comes around, temperatures start to become somewhat less hostile and it's a great time to walk around and eat a lot of ice cream.
The winter in Rome, between December and mid-March, gets cold at night but daytime temperatures can be nice on a sunny day with 13-14 degrees Celsius. However, the city can get really strong wind from the north which makes it extremely chilly. So bring layers of clothing if you go in winter.
All together, Rome is most popular in spring and autumn for a reason. Pleasant weather. But it does make an amazing winter city break in Europe too.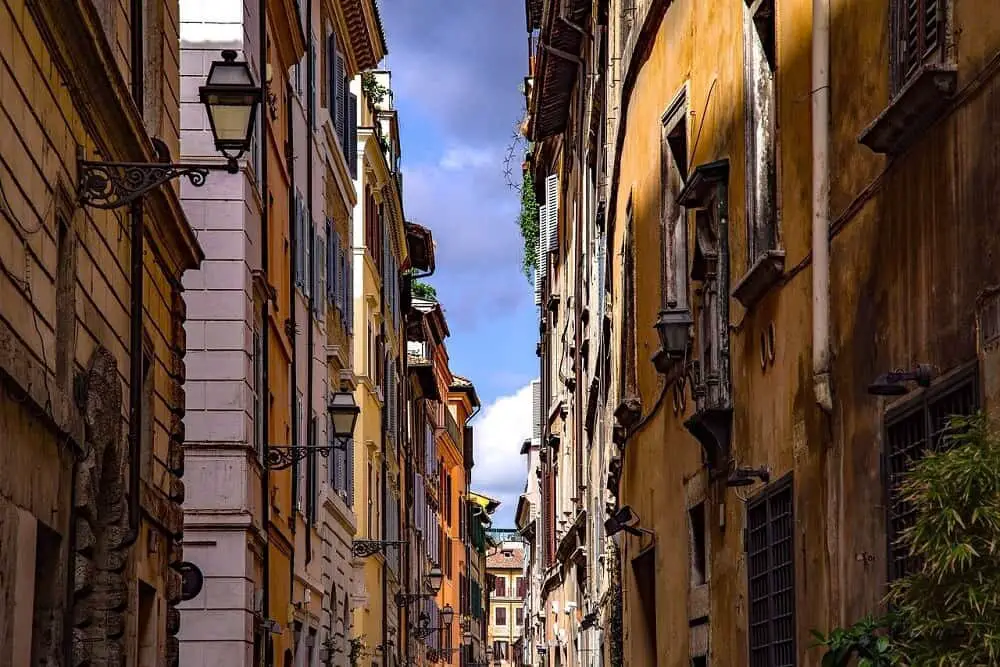 ---
YOU MIGHT ALSO LIKE: Siena one day itinerary
---
Where to stay in Rome
Ripetta Palace
This hotel is centrally situated by Piazza del Popolo, Villa Borghese, and not far from the Spanish Steps. It's a perfect location for shopping in Rome's prominent shopping street, Via del Corso. They offer an airport shuttle.
Relais Palazzo Taverna
Relais Palazzo Taverna, a historic 15th-century building next to Castel Sant' Angelo is only a short walk from Piazza Navona, the Trevi Fountain, and the Saint Peter's Square. They offer an airport shuttle.
RHome Business Collection Trevi
Close to Piazza Barberini, you're at walking distance from the Trevi Fountain and the Spanish Steps. They also offer an airport shuttle.
The RomeHello Hostel
If you travel to Rome on a budget, this is a great option and one of the best hostels in Rome. You'll be only a short walk from some of the city's main landmarks like the Trevi Fountain and the Spanish Steps.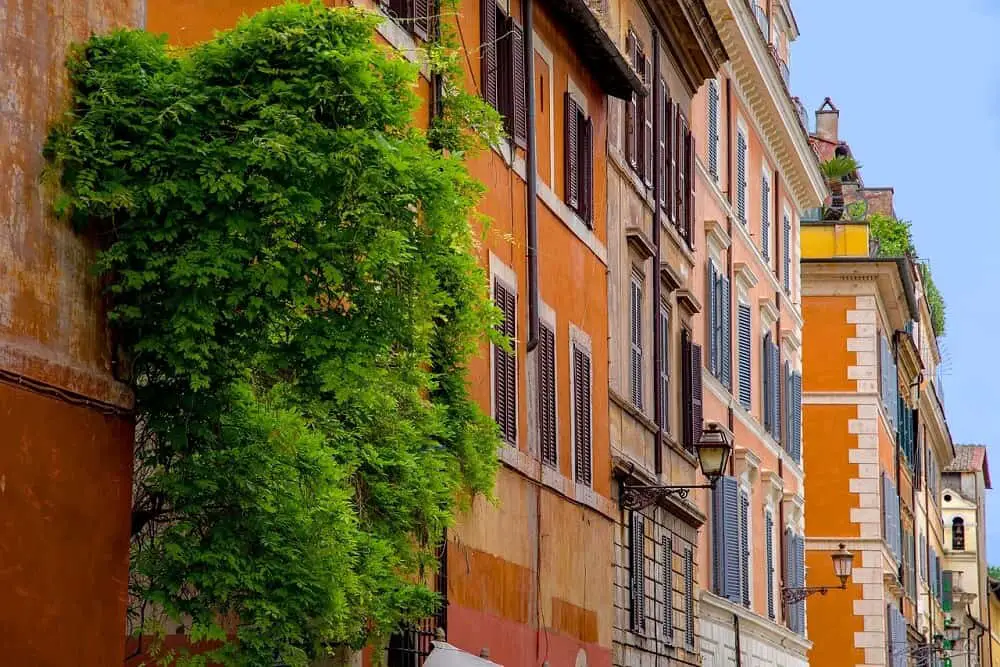 Itinerary for 4 days in Rome
Now that you have all the practical information you need to spend 4 days in Rome, let's get over to the fun part. I have divided the days in this Rome itinerary so that you easily can relax in one part of the city each day and explore some nice places to eat and drink nearby the different attractions.
To save some money, you could buy a Rome All Access Pass which gives you access to all of Rome's main attractions for 3 days. It's perfect for the first three days of this Rome itinerary, as the last day mostly covers free access places. You can get it here.
Rome itinerary: Day 1
Let's start this itinerary for Rome with the places most people recognize from ancient Roman times and dive into the intriguing history of this city. Make sure you have a good breakfast before you head off to the Colosseum.
Colosseum
There is no denying Colosseum is one of the most prominent landmarks in Italy. The structure is believed to be built around 70-75 AD under the rule of Vespasian. It was opened in 80 AD with games that lasted 100 days. Knowing this, nearly 2000 years later, it's pretty spectacular to see the Colosseum in such good shape.
To enter the Colosseum, there is, first of all, normally a huge line, so try to get there early so you avoid wasting too much of your day standing in line. They usually open between 9:30 and 10:30 depending on the time of year.
Since you're heading to the Foro Romano, Roman Forum, later today, you should buy combined tickets. First Sunday in the month it's free entry to the Colosseum, but it gets extremely crowded. You can pre-book tickets at their official website here.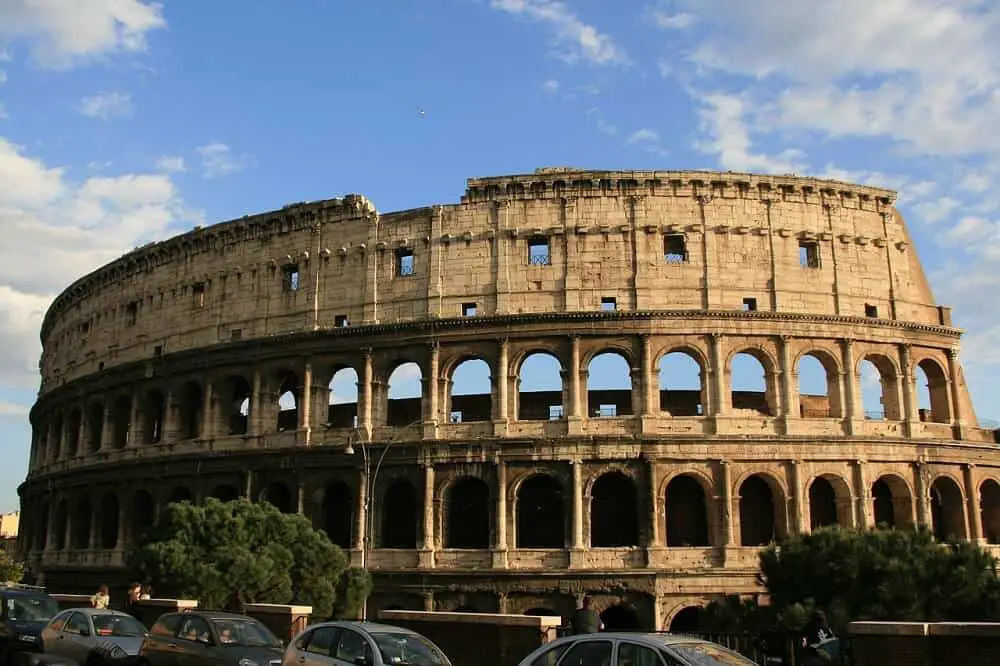 Triumphal Arch of Constantine
The Triumphal Arch of Constantine is one of three triumphal arches in Rome and stands just between the Colosseum and Foro Romano, which makes it perfect to see during a 4 day trip to Rome.
The triumphal arch dates back to the year 315 and was dedicated to emperor Constantine the Great after his victory in the Battle of Milvian Bridge three years earlier.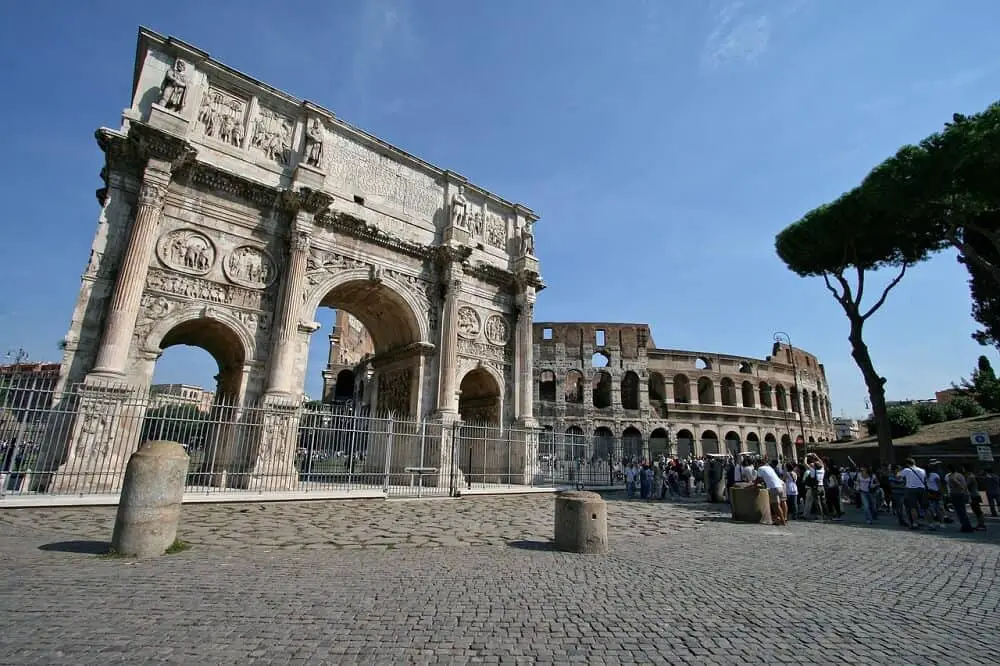 Foro Romano and Palatine Hill
Foro Romano, also known as the Roman Forum, or Forum Romanum, is a large concentrated area of ruins that show evidence of the grandeur of the Roman Empire.
There are ruins of a number of temples like Venus, Romulus, Saturn, and many more. The best-preserved temple is the Temple of Antoninus and Faustina from the 2nd century.
Walk up the ancient Roman street, Via Sacra, which used to be the main street from the Colosseum to Piazza del Campidoglio.
Pay attention to the other two triumph arches, which are both placed in the Foro Romano. The Arch of Titus, which commemorates the Roman emperor Titus' victory over Jerusalem, and the Arch of Septimus Severus, which was built to commemorate Septimus Severus' 3rd anniversary as emperor in 203 AD.
There is so much history packed in one place that you'll want to spend a good time inside. If you want to dive into history and learn about each place, I recommend you book a tour guide.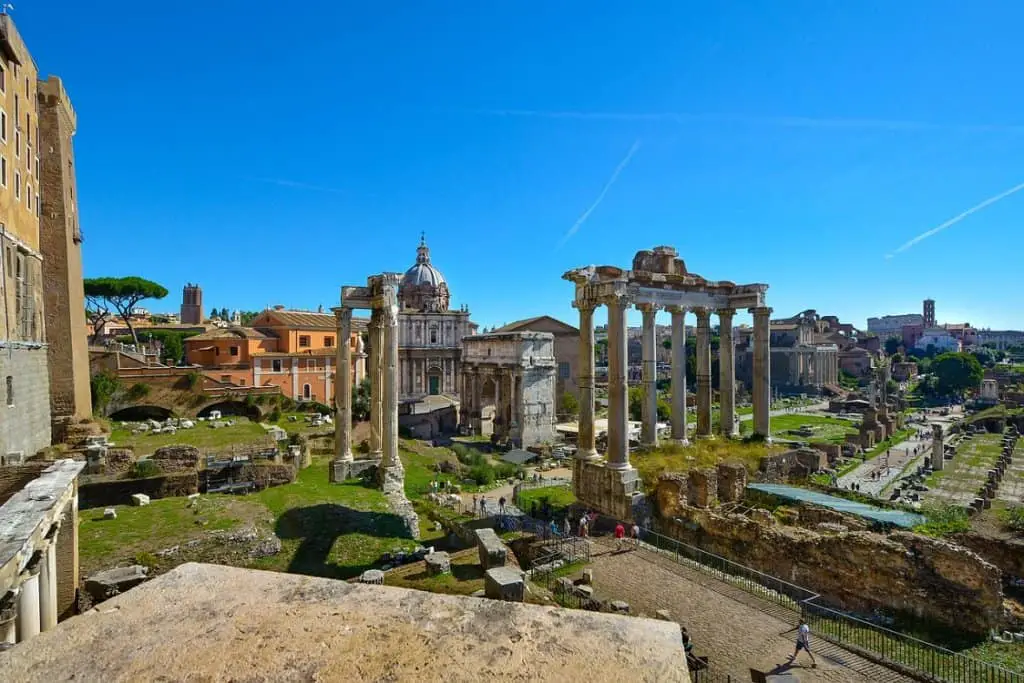 Lunch
Go for lunch in the area behind the Colosseum, there are plenty of restaurants to choose between and you stay close enough to keep going to your next destination. Try to walk as far from the actual Colosseum as possible as the closest ones are usually severely overpriced due to the location.
Campidoglio
On the other side of Foro Romano, on top of Capitoline Hill, you find Campidoglio Square. It's said to be situated on the oldest of Rome's seven hills, the center of the birth of the city.
In the middle of the square is a copy of Michelangelo's Equestrian statue of Marcus Aurelius. The original is in the Capitoline Museums together with other important pieces of art, like the original bronze statue of the She-wolf (Capitoline Wolf) with Romulus and Remus.
The Capitoline Museums also offer the best views of Foro Romano.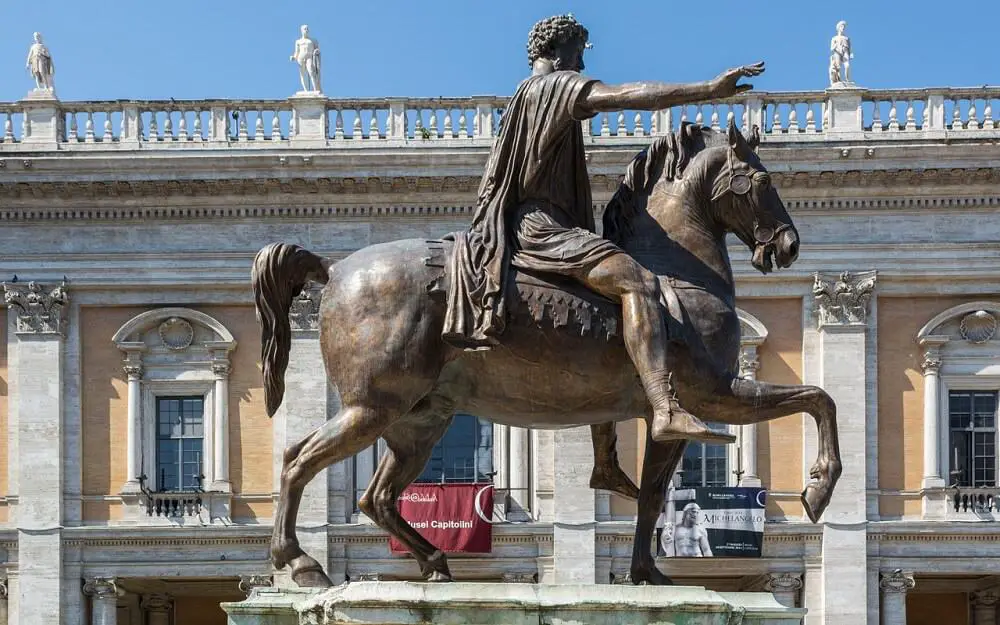 Vittorio Emanuele II Monument: Altar of the Fatherland
This massive, white monument is one of the youngest attractions in Rome, built in the first part of the 1900s. There's a crypt of an unknown soldier in the Altare di Patria which has been there since 1921, and a museum showcasing a wide range of artifacts.
Yet, the best thing of all is to climb to the top for spectacular views over the city. If you don't want to walk the stairs, you can take the elevator. Opening times are 09:30-16:30 in fall and winter time and 09:30-19:30 in spring and summer.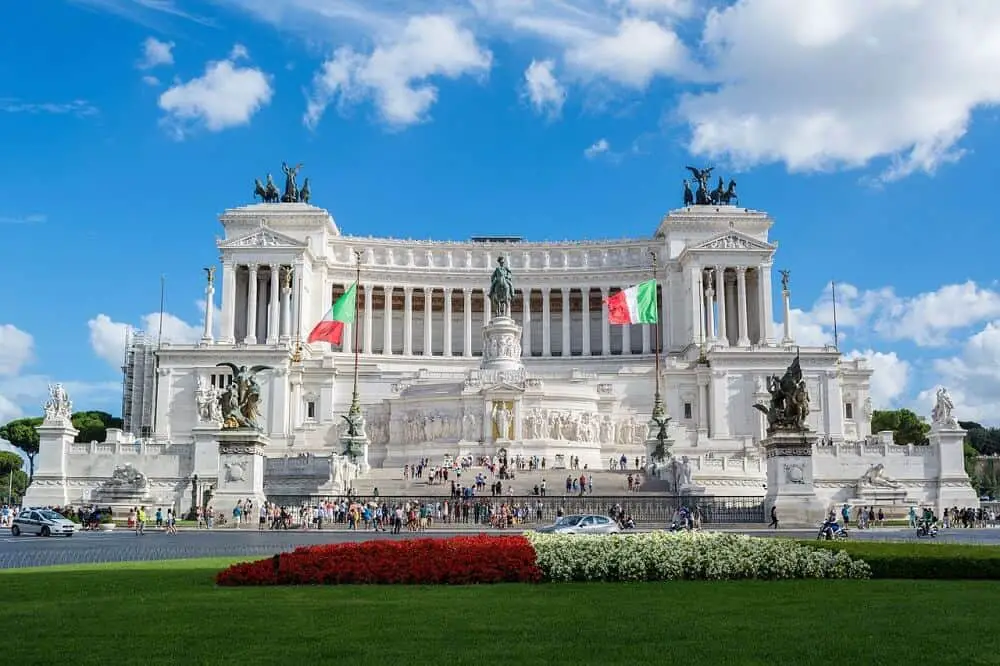 Bocca Della Verità
Bocca Della Verità, which means Mouth of Truth, is situated by the entrance of Santa Maria in Cosmedin Church and was originally dedicated to the God of the Sea. The enormous marble mask of a bearded face is visited by thousands putting their hand into its mouth.
It's said that if you have your hand in its mouth and lie, it will bite your hand off (and the crack on it is evidence that it has!). I actually believed that when I was little and found it really scary to put my hand in it – I never verified if it was true though. Do you dare?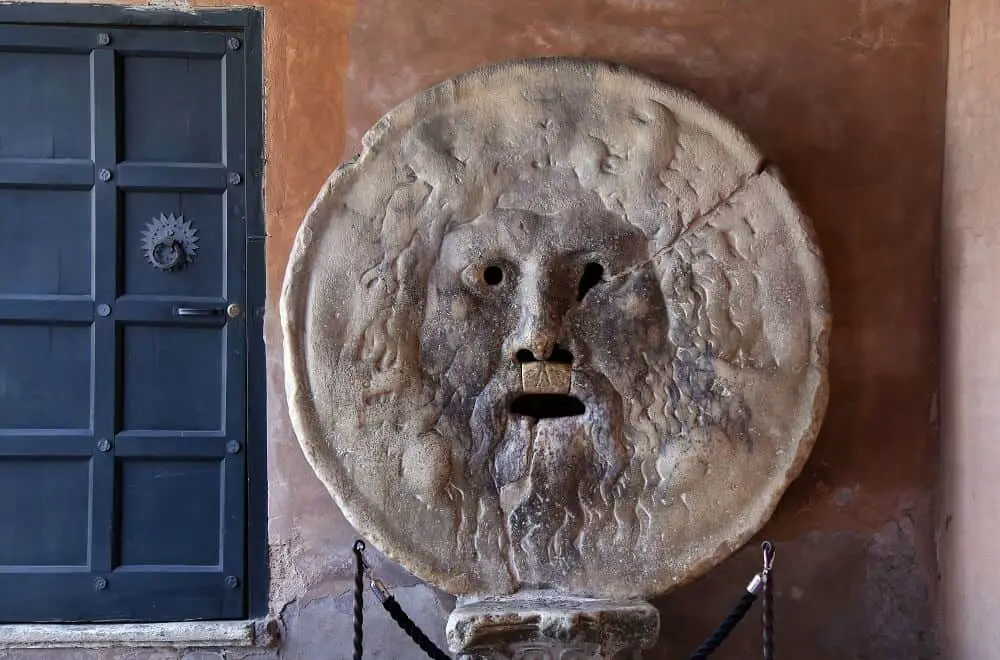 ---
RELATED: Best towns in Tuscany
---
Rome itinerary: Day 2
On your second day of this itinerary for Rome in 4 days, you'll start exploring the underground and end up in the biggest park in the city.
Visit the catacombs
There are around 40 catacombs in Rome that have been discovered, and not all of them can be visited. The most famous is the Appia Antica catacombs which are outside the city walls. You'll have to go on a guided tour to visit them.
Discovering Rome underground is a unique experience of a lifetime. There are miles and miles of burial chambers and some of them date all the way back to the 2nd century.
The catacombs in Rome might just be the longest and most ancient in the world, which makes it a pretty special experience.
Being underground is also one of the best things you can do in Rome on rainy days.
Piazza del Popolo
After visiting the catacombs, head to Piazza del Popolo. If you're hungry and feel like a bite, the best Pizza al taglio (pizza slices) in Rome are just outside in Via Flaminia. It's a small place on the right side just about 50-100 meters down the road where the tram stops.
Piazza del Popolo is a huge square inside the city's northern gate, which used to be the most important city entrance during Roman times.
The middle of the square is marked by an Egyptian obelisk once dedicated to Ramses II. It's been standing in this location since 1589 after being moved from Circus Maximus.
On the opposite side of the city gate, are the two churches of Santa Maria dei Miracoli and Santa Maria in Monestano. The street between them is Rome's most famous shopping street, Via del Corso.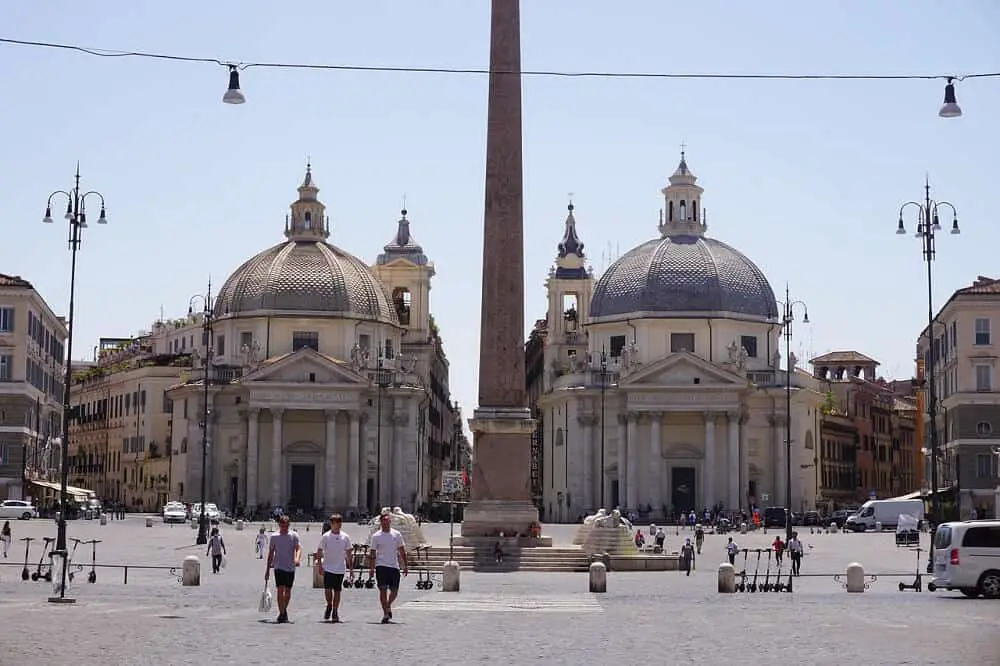 Via del Corso
Via del Corso is a shopping paradise all the way from Piazza del Popolo to the other end and a must on any Rome 4 day itinerary. You find anything from high-end brands to H&M.
If you're looking for unique shopping, there are a lot of expensive niche shops in the streets leading from Via del Corso that are worth browsing. Or, if you're on a budget, you might be happy with window shopping.
About half-way down Via del Corso, you can take to the left towards the Spanish Steps. Follow your phone's GPS or get a map to navigate around.
Spanish Steps
The famous Spanish Steps are at Piazza di Spagna square which is recognized by the fountain, Fontana della Barcaccia, just in front of the staircase.
The Spanish Steps were built in the period 1723-1725 and is Europe's widest staircase. Not far from the square, you'll find Rome's oldest tea house. Dating back to 1893, Babington's Tea Room is an English tea house from the time the Spanish Steps was a popular hangout among several prominent British personalities, and today it's one of the best cafés in Rome.
Walking to the top of the Spanish Steps and to the left, you'll get to Villa Borghese.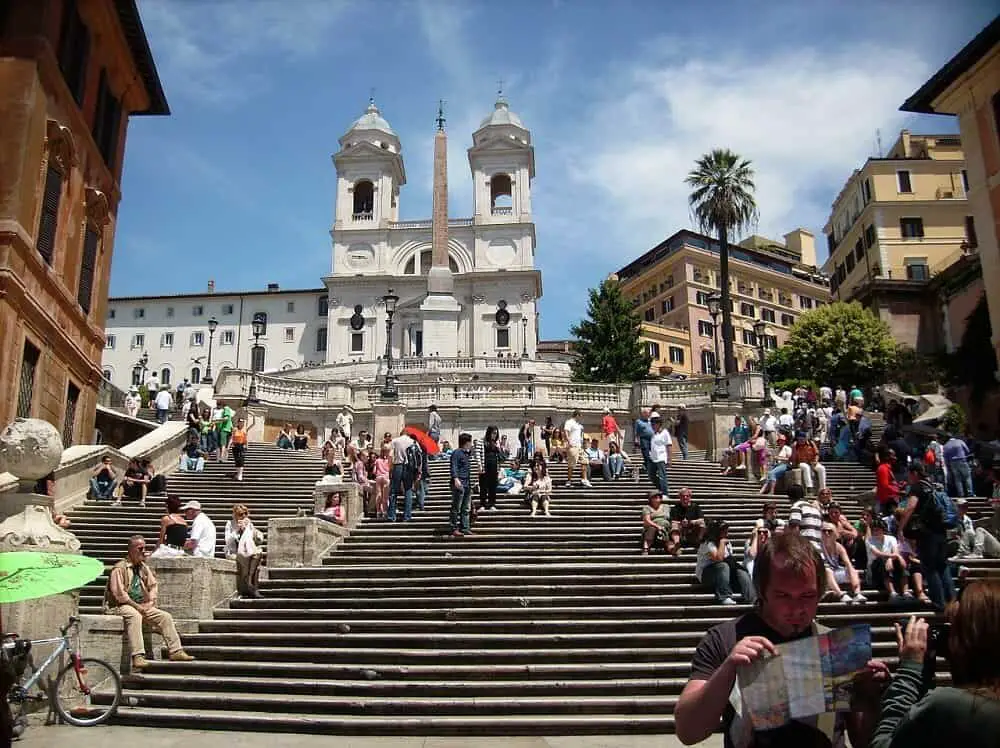 Villa Borghese
Villa Borghese is one of the biggest parks in Rome. It's a beautiful green space where you can walk around and relax a bit from the masses by the tourist attractions and busy streets, just a few minute's walk from the Spanish Steps and Piazza del Popolo.
There are little ponds where you can rent a rowboat and chill with the ducks, sit on a bench people watching, or visit the Borghese Gallery. I recommend booking tickets in advance for the gallery, as there are limited daily entries.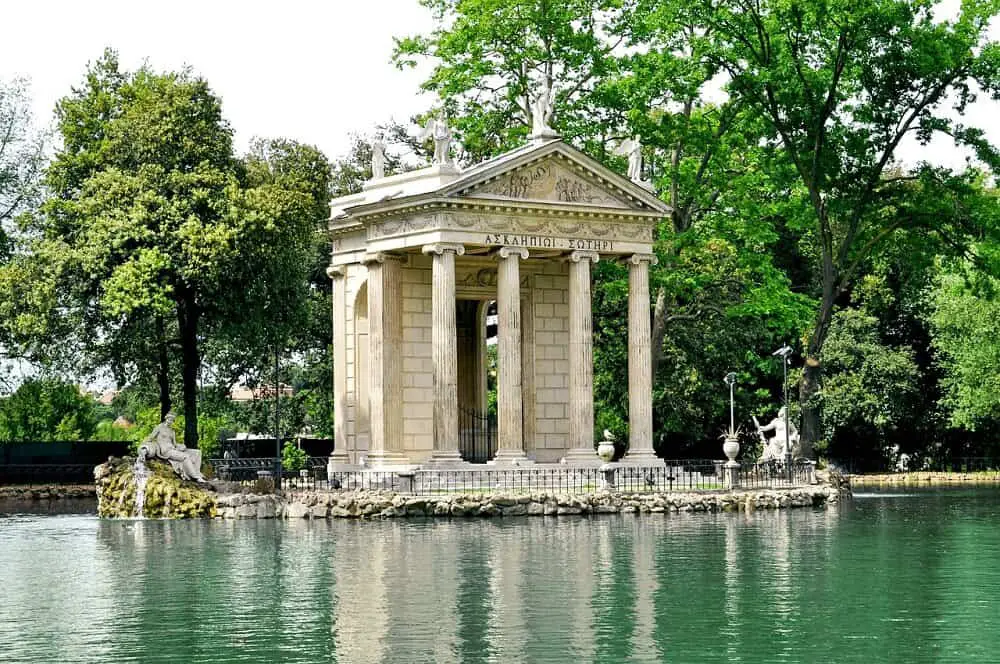 ---
READ: How to spend one day in Lucca
---
Rome itinerary: Day 3
We're getting to the third day of this Rome itinerary and it's time to get serious. Be ready for a lot of queuing and unbelievable sights because today you're entering one of the most famous sites in the whole world. So get yourself a good breakfast and bring that extra camera battery just in case.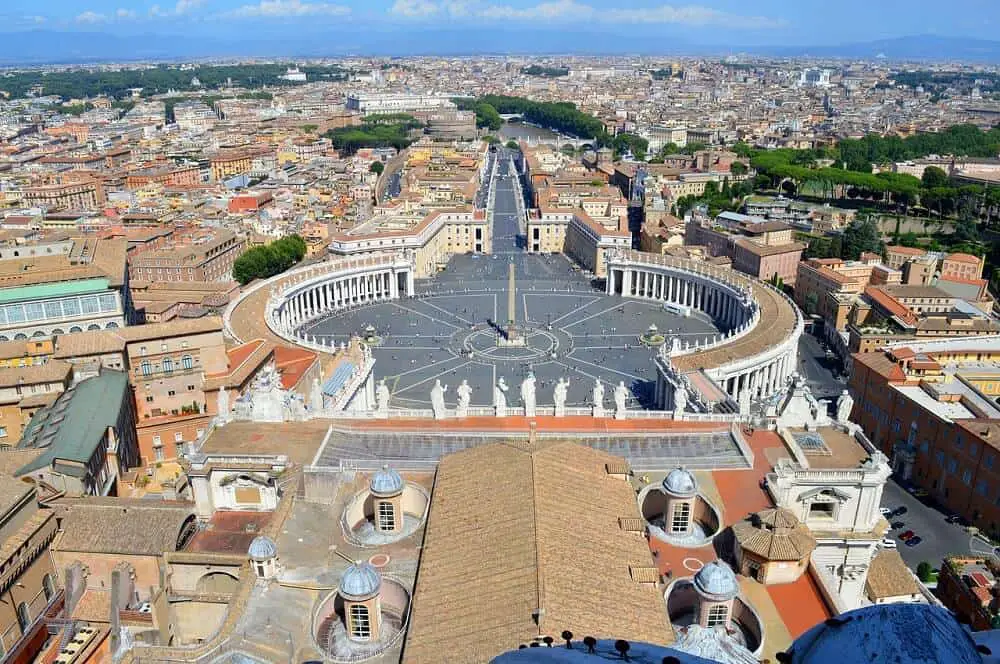 St Peter's Basilica + Vatican
The St Peter's Basilica is one of those places that leaves you in awe when you enter. It is truly one of the most beautiful cathedrals in Europe, if not the one. The size and the beauty are hard to describe and it's absolutely worth the long time in line.
Even with a skip-the-line ticket, you'll have to go through security and scan your belongings before you enter. Without it, it's free to enter the basilica, but you can risk 2-4 hours in the queue unless you get there extremely early.
The last time I went, we went on a Monday to avoid weekend tourism. We still waited over 2 hours in the queue. So to get time for everything you want to see today, I recommend you book tickets in advance and get skip-the-line tickets for both visiting the Vatican Museum with the Sistine Chapel and the Basilica. You can get tickets here.
I recommend you take the time to climb to the top of the dome too. There are 551 steps to reach the top, and parts of the staircase are really narrow and you'll have to bend sideways as they go along the bending dome. Once at the top, you'll get the most mesmerizing views of Rome and the basilica's square.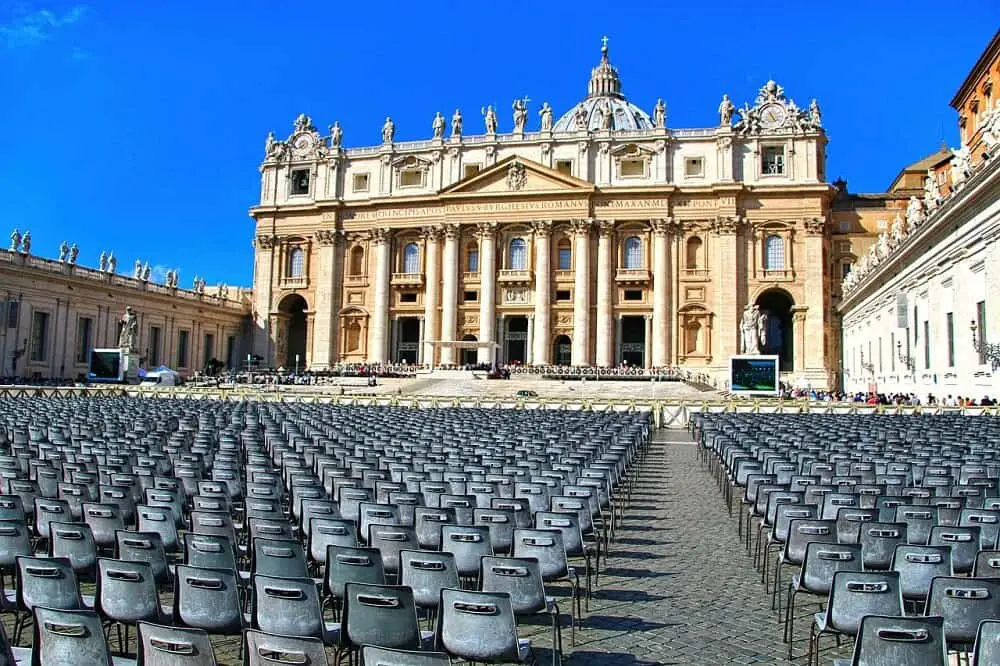 Lunch
To make the most of the day, you can get a bite on the way from the Vatican to Castel Sant'Angelo. There are many restaurants and bars where you can get pizza bites and easy food on the go, or sit down to rest your feet before more walking. It's only a 10-minute walk between the two sites so you won't waste much time getting there.
Castel Sant'Angelo
Castel Sant'Angelo has an early history of military importance from it was built in 123-139 AD. In 590, Pope Gregory I had a vision of the archangel Saint Michael announcing the end of the great plague epidemic, standing on the top of the castle. That's when the angel you see on the top today was raised.
Later, in 1277, a fortified corridor of 800 meters was built connecting the castle to the Vatican so that the pope would have a way to escape if he would ever be in danger. The corridor was used by Pope Clement VII 250 years later during the sieges. Today you can walk on top of the wall.
The interior is astounding with its spiral ramp taking you up the five different floors. You will see everything from the cells to the Papal residence decorated with important Renaissance frescoes.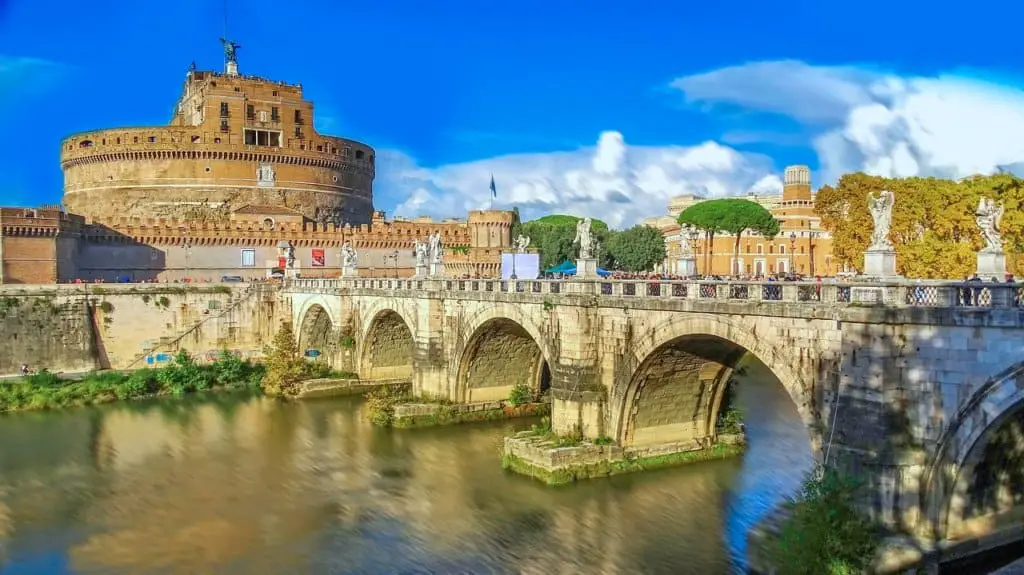 Trastevere for dinner
There is no way you're visiting Rome in 4 days without wandering around the cobblestone streets of Trastevere, one of the most quaint neighborhoods in the whole city.
With pastel houses tightening up on narrow streets, geraniums hanging off balconies, parked bikes, and street art, Trastevere is popular among locals and tourists alike. Packed with bars and restaurants it's perfect for a late dinner and a drink.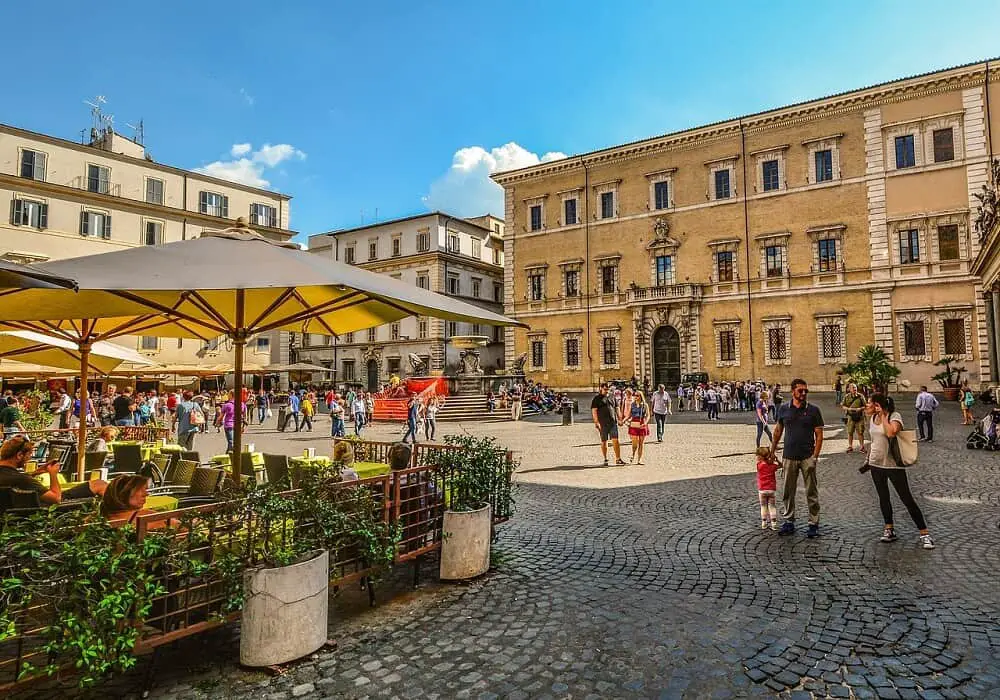 Rome itinerary: Day 4
This is the last day of your Rome itinerary, 4 days coming to an end and you'll start the day with one of the most beautiful fountains in the world. But first, make sure you have a good Italian coffee and a breakfast a queen worthy.
Trevi Fountain
The Trevi Fountain might be one of the most crowded places in Rome, yet one of my favorite. The enormous marble fountain is just gorgeous. It's the largest Baroque fountain in Rome with its almost 50 meters width and over 26 meters height.
Make your way to the front and throw a coin over your shoulder and into the water and a wish will come true. If you want ice cream (it's never too early for ice cream when in Rome), this is a great spot to enjoy it once you get a good spot in the front and can look at the impressive details of this fountain that's actually built in the wall of a house.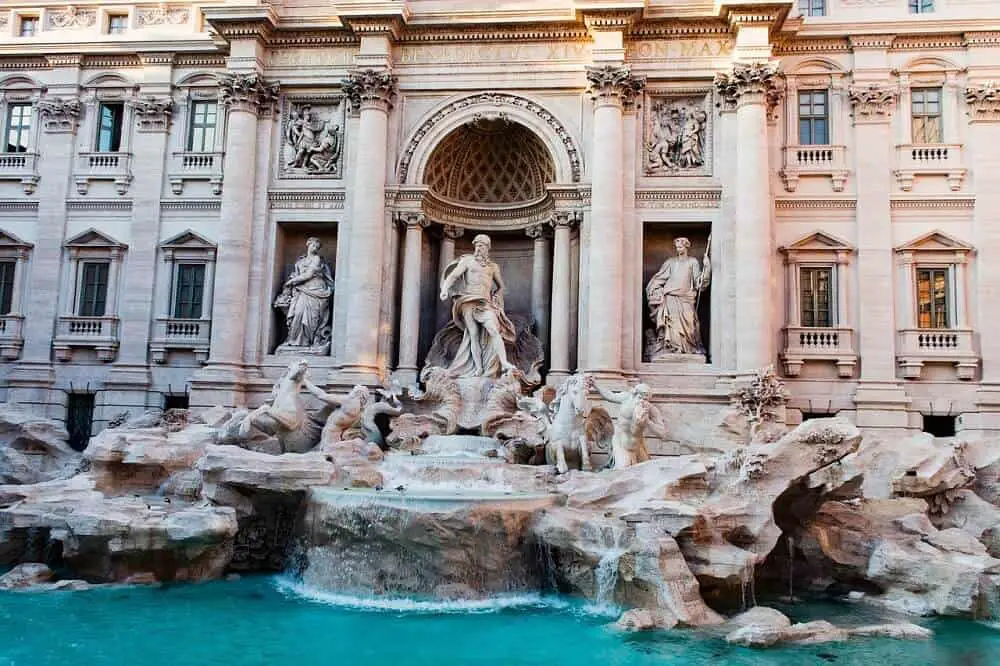 Pantheon
Pantheon was built between 118 and 125 AD and today, it's the most well-preserved building from Roman times. Entering the gigantic bronze doors to the interior is nothing but jaw-dropping. Statues and painted walls divided by massive columns are all lit up by the natural light shining through the open ceiling of the round dome.
This might be one of the most fascinating buildings in Rome. There are a few restaurants on the square overlooking the Pantheon, but they are usually packed.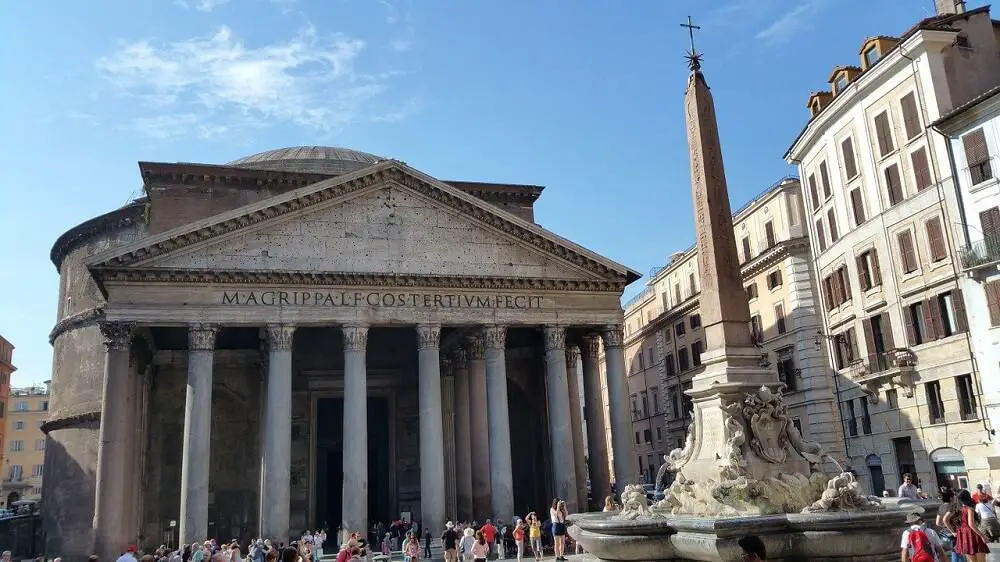 Lunch
Enjoy lunch either on the way from Pantheon to Piazza Navona, where you'll find a number of restaurants, or eat at Piazza Navona itself, overlooking the giant square.
Piazza Navona
One of the most famous squares in Rome is Piazza Navona. And maybe the most beautiful. They used to host the most stunning Christmas Market, but apparently, the mafia got it shut down.
The picturesque square is a wonderful place to check out local artists and astounding fountains. But you also find the beautiful church of Sant' Agnese in Agone in front of the Fontana dei Quattro Fiumi, which is the fountain with the large obelisk in the middle of the square.
Piazza Navona is a great place to sit down for lunch or a coffee, or just chill at a bench and people watch. It's the perfect place to go crazy with the camera (like everywhere else in Rome – I hope you have enough battery!)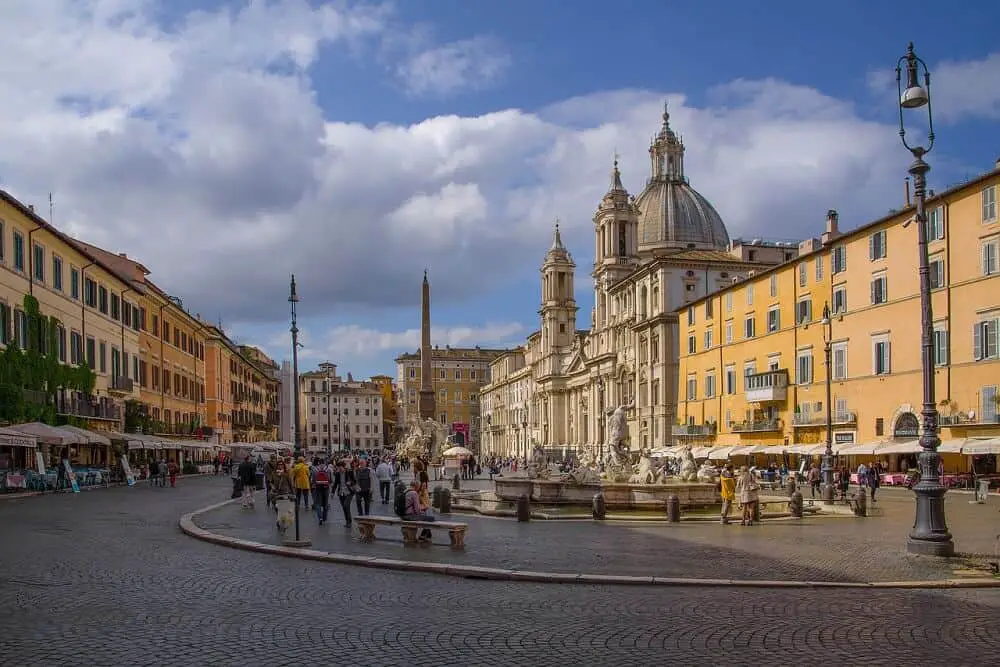 Get lost in the streets and enjoy your last dinner
One must on any Rome in 4 days itinerary is to give yourself time to get lost in the streets and be present. Enjoy the beauty that meets you on the next corner and don't be afraid to get lost. You're assured to stump upon some of the hidden gems in Rome for sure.
You can always ask for directions and find back to your hotel on your map or with Google maps on your phone.
Even after being in Rome more times than I can count, I still enjoy getting lost in the streets, there is always something exciting to discover and the large beautiful buildings still baffle me.
Maybe you find a nice hidden restaurant for your dinner?
Where are you heading next?
Responsible tourism in Rome
When you visit Rome in 4 days, make sure you contribute to responsible tourism when visiting Italy's astounding capital city. There are drinking fountains all over the city so all you need is to bring your reusable water bottle. Try to create as little waste as possible by opting out of plastic straws and other plastic containers.
It's strictly forbidden to draw or make imprints in buildings and ruins, so no romantic M+S or hearts around. There is a bridge across the Tiber river with padlocks but I recommend you don't add one more to it. If the weight of the padlocks reaches a high enough weight the bridge is at risk. And let's be honest. It's NOT that nice looking!
So show respect and be nice during your 4 days in Rome itinerary.
Want to combine your visit to Rome with a beach holiday? There are many great beaches near Rome, but you can also head to the islands like Ventotene and Ponza.
---
READ NEXT: Discover Italy off the beaten path
Pin it for later!