Zelene Pleso, "The Green Lake", in Slovakia's High Tatras is known to be the most beautiful hike in the country. A long day hike that takes you up rocky paths along bare mountains, followed by impeccable views of large carpets of pine trees below you and majestic peaks above you.
Winding down on the other side of the crest to steeply dive into the green valley crowned by Tatra National Park's striking summits, eventually leading you through a forest to the most splendid green lake mirroring the dramatic peaks above.
Of course, I had to go!
And I'll share everything you need to know to do this incredible hike too. Because it's an unforgettable adventure that will set the High Tatras on your "have to return there" bucket list.
Disclosure: This post may contain affiliate links. That means that if you make a purchase through one of those links, I will get a small commission at no extra cost to you. As an Amazon Associate, I earn from qualifying purchases.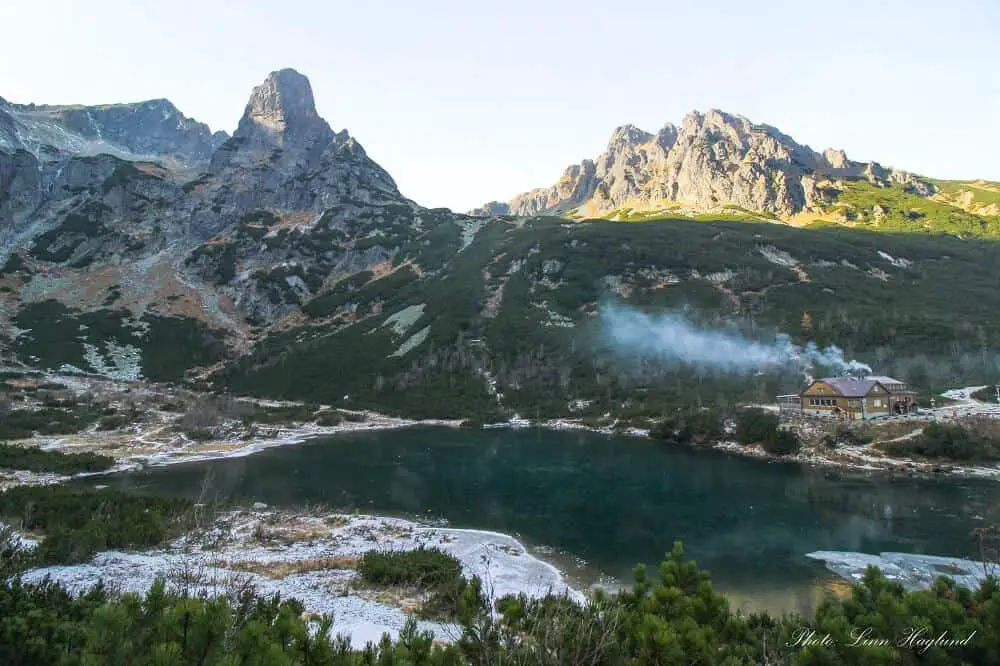 Specs for the Green Lake hike in Slovakia's High Tatras
Length: 20 km
Hiking time: 7-8 hours
Difficulty: Moderate to Demanding (one section with some scrambling which can be difficult with ice, there are chains, but I didn't find all of them very useful – quite the contrary)
Type of hike: Circular
Elevation: 1300 meters
How to get to Zelene Pleso trailhead
The hike to Zelene Pleso starts at Lyziarske Stredisko Tatranská Lomnica ski resort. From there, you can walk under the cable cars up to Skalmaté Pleso, but I recommend taking the cable car up.
This only takes about 20 minutes and you shave off at least 2-3 hours of hiking on an already long day hike jam-packed with photo opportunities that will have you stopping over and over again.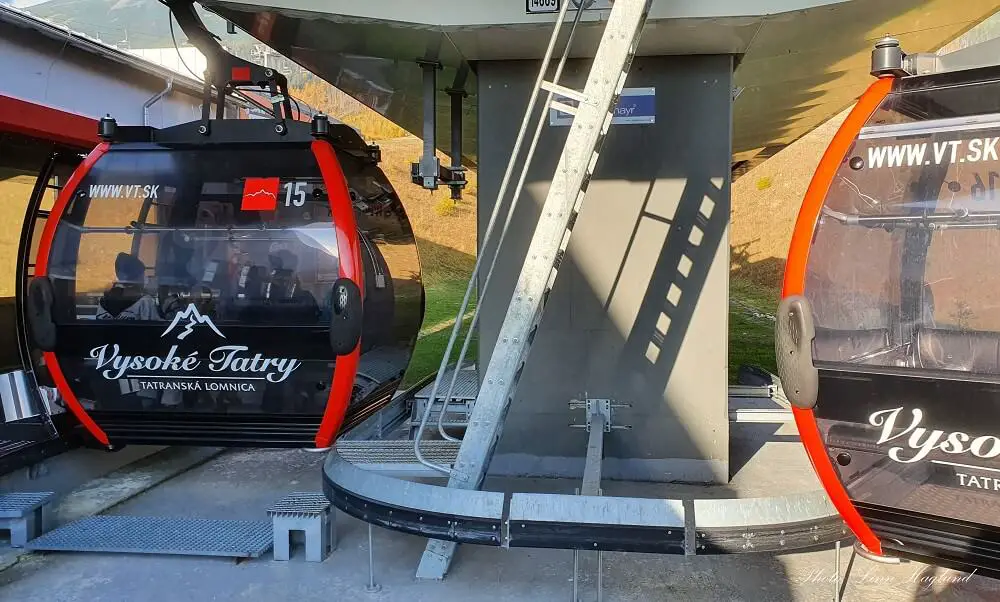 Take the cable car up to the second stop, Skalmaté Pleso. You have to get on a small cable car fitting 4 people up to the first stop, Stanica Ianovky Start, and there you change to a bigger cable car that holds 15 people up to Skalmaté Pleso.
The price for the cable car is 19 Euros.
In addition to that, you pay a deposit of a couple of Euros for the card that you get back by delivering it to the ticket office next to the restaurant when you arrive at Skalmaté Pleso.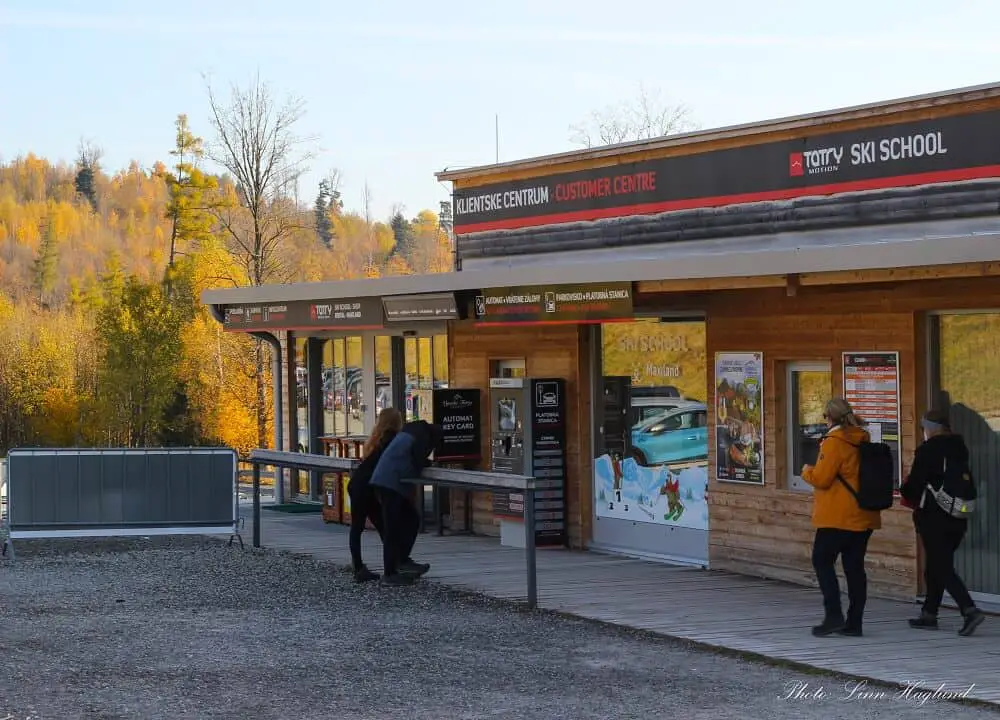 You buy tickets at the Customer Center next to the cable car. There are signs saying Tickets outside the building. The cable cars start running at 08:30 in the morning, and I do recommend getting on one of the first ones to start hiking early, especially in autumn when days are shorter.
In peak season, it's recommended to buy tickets a couple of days in advance to assure your spot
From the cable car, walk to the right past/behind the restaurant toward the Astronomical Observatory. You'll see signs to Zelene Pleso. Before the gate to the observatory, the trail turns sharp left and starts climbing up the mountain.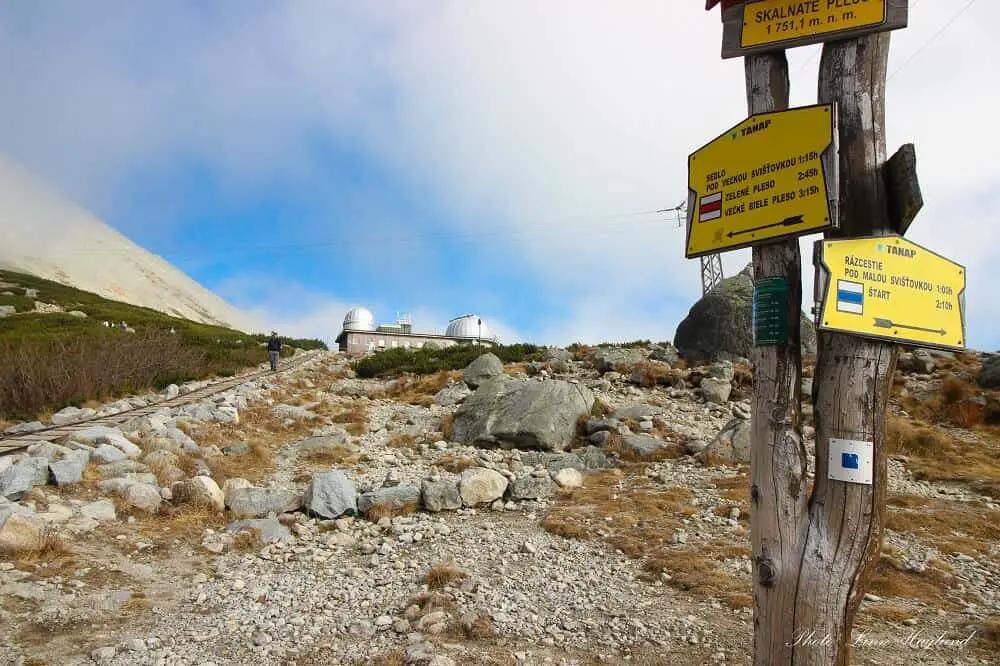 Where to park
There's a big parking lot next to Lyziarske Stredisko Tatranská Lomnica ski resort called Central Parking. You can leave your car there the whole day and pay at the ticket machine in front of the Customer Center building (where you buy cable car tickets) before you leave. You see the machine in the picture of the Customer Center above.
It's worth noting, parking is not cheap here, I think I paid something like 20 Euros for the day. On another note, the car is pretty safe.
Getting there by car is about a 20-minute drive from Poprad.
Haven't got a rental car yet? Check prices and availability here.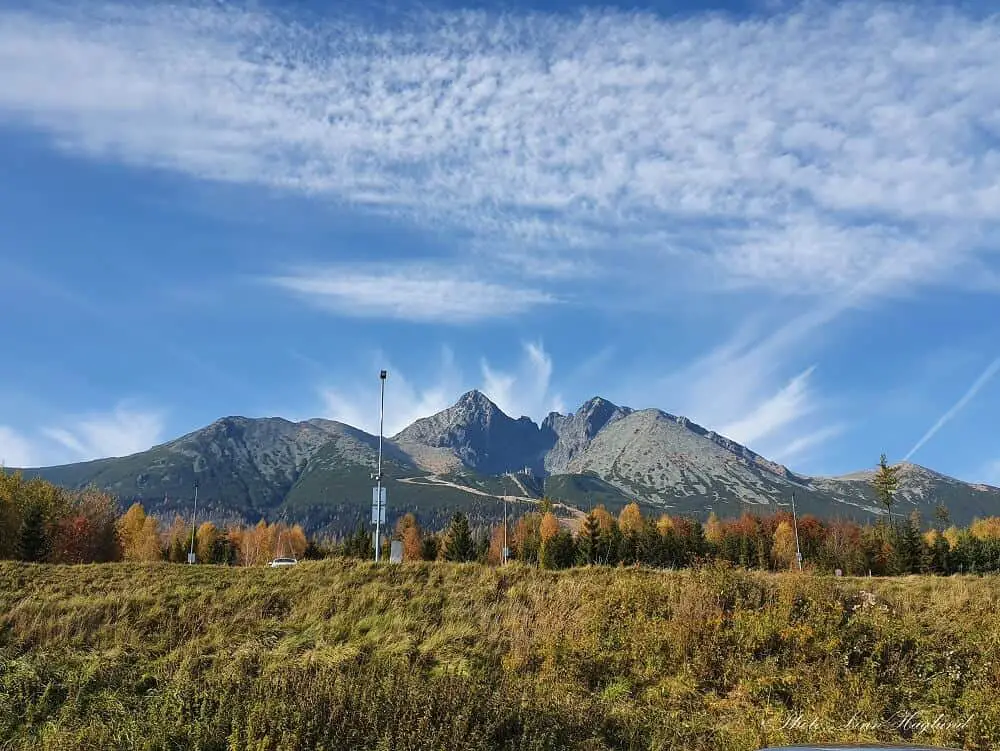 Closest airports
There is an international airport in Poprad, Poprad-Tatry Airport, which is one of the airports with the highest elevation in Central Europe.
However, it's easy to fly into Košice and rent a car there if you plan on seeing more of the country. The drive from Košice International Airport is only an hour and a half.
From Bratislava, it's a 3.5-hour drive.
Book your flights here.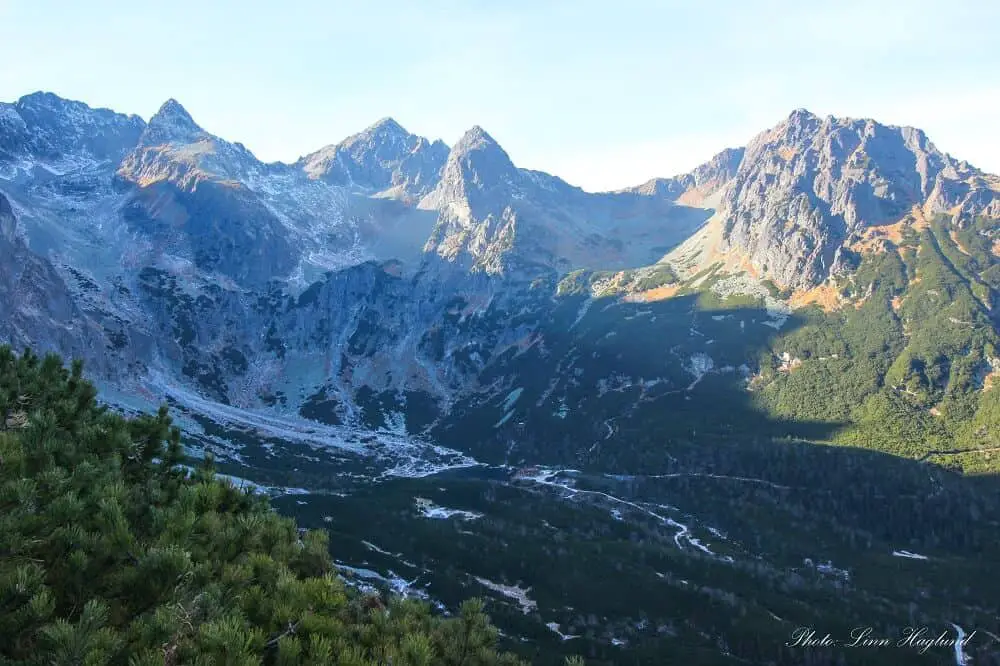 ---
READ: Top things to do in Bratislava
---
When is the best time to hike Zelene Pleso, Slovakia
The hike to Zelene Pleso is only open between the 15th of June and the 31st of October.
While the weather is likely better in the summer months, it's incredibly beautiful when the fall colors cover the lower mountains below you creating playful views.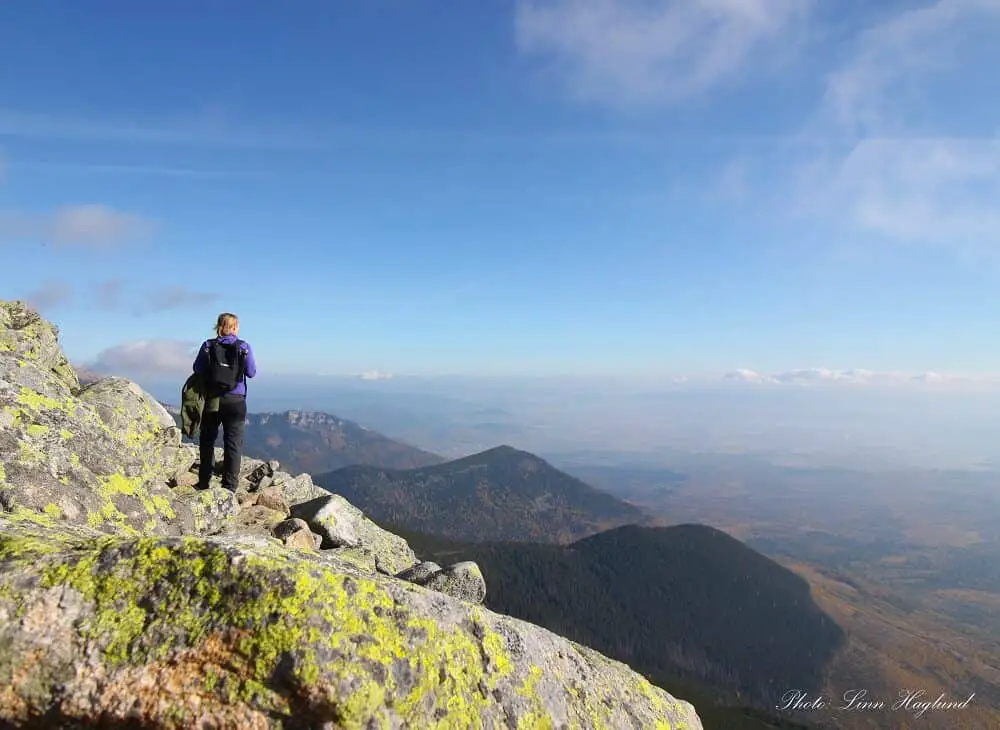 That said, the later in the season you go, the bigger chance for snow and ice on the trail. I went just a few days before the trail closed down for the year and I regret not bringing ice grips for my hiking boots.
There's one section with chains down a crack in the mountain created by a steep stream running down from above. This was all frozen. The first chain was helpful as I slid across the ice.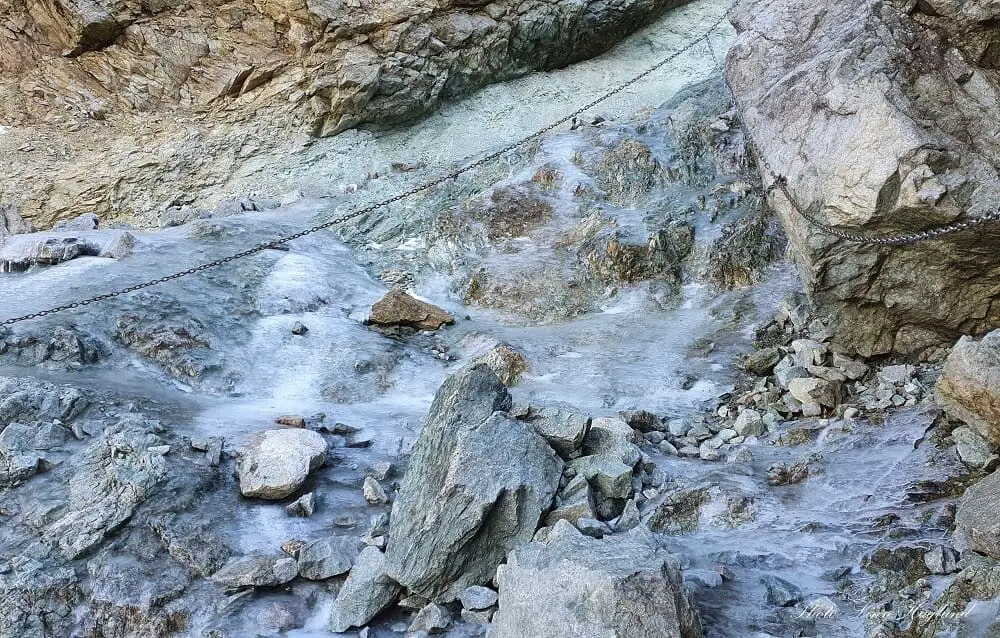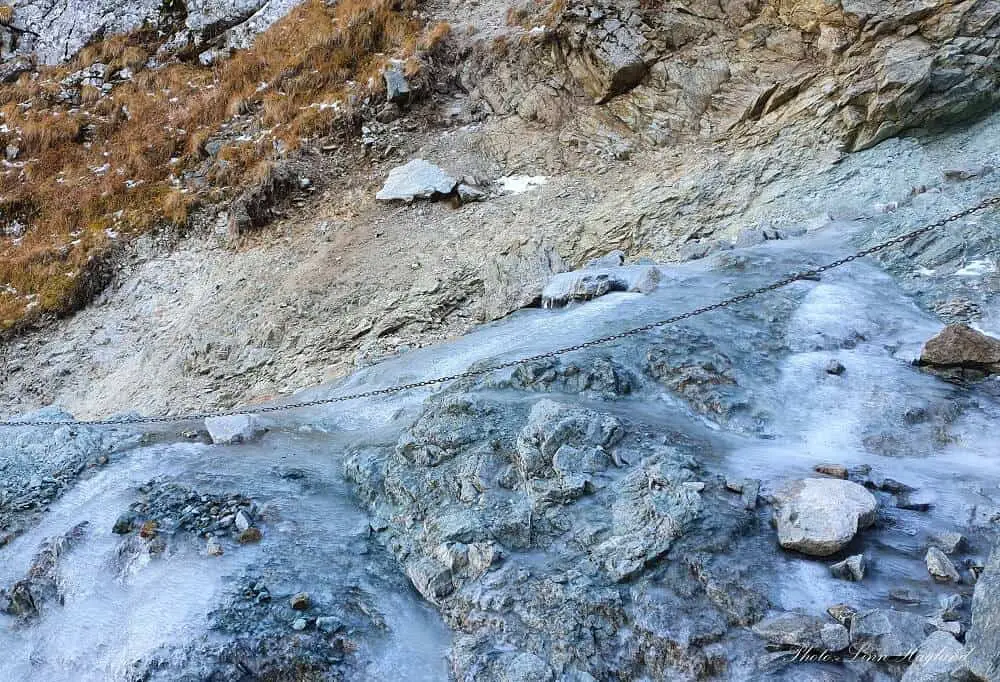 The rest of the chains were hanging loosely on top of the rock which made it dangerous to hold on to. Rock walls were loose and rocks literally snapped off as I held on to them.
Luckily, another hiker (with ice grips on his shoes) came up just as I was about to throw myself headfirst down a one-meter-long ice slide that could have darted me straight down the vertical slope. He saved the day and helped me safely down the last bit.
Looking back at this section of the hike, I have no idea how I could even consider sliding down there all by myself, with no one knowing where I was. But what is life without a little adventure?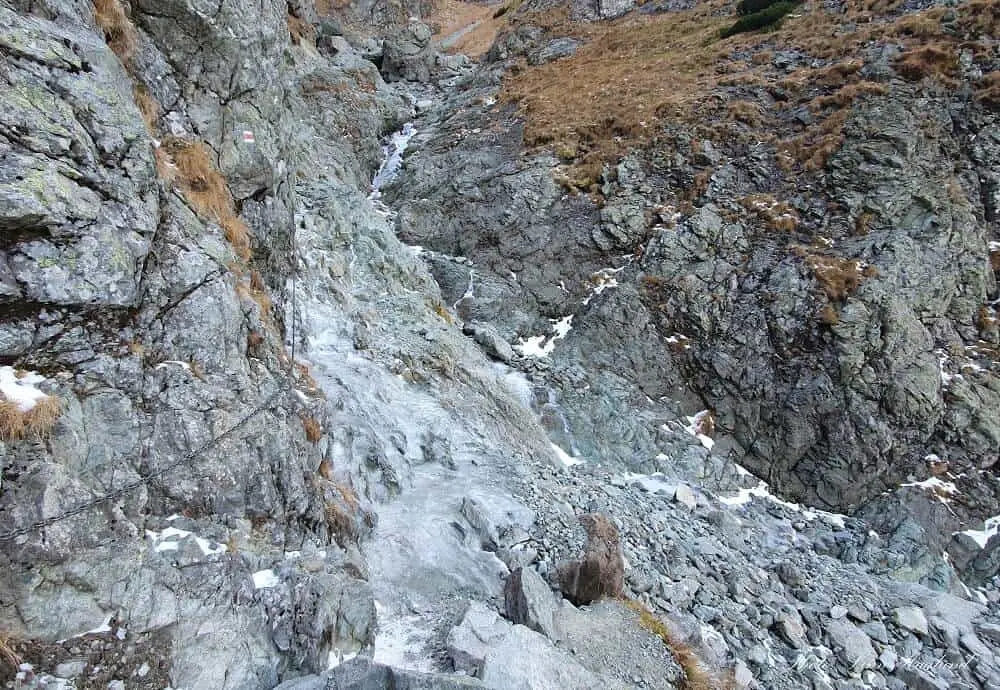 So, back to my point!
You'll be fine on this section with ice as long as you bring ice and snow grips for your shoes.
If you're not used to hiking, I do recommend going earlier in the season to avoid this. You should also go together with someone if you're not comfortable hiking solo.
Another thing to be aware of going late in the season is that the lakes can be covered in ice. In my opinion, it's just as beautiful and shouldn't stop you from going.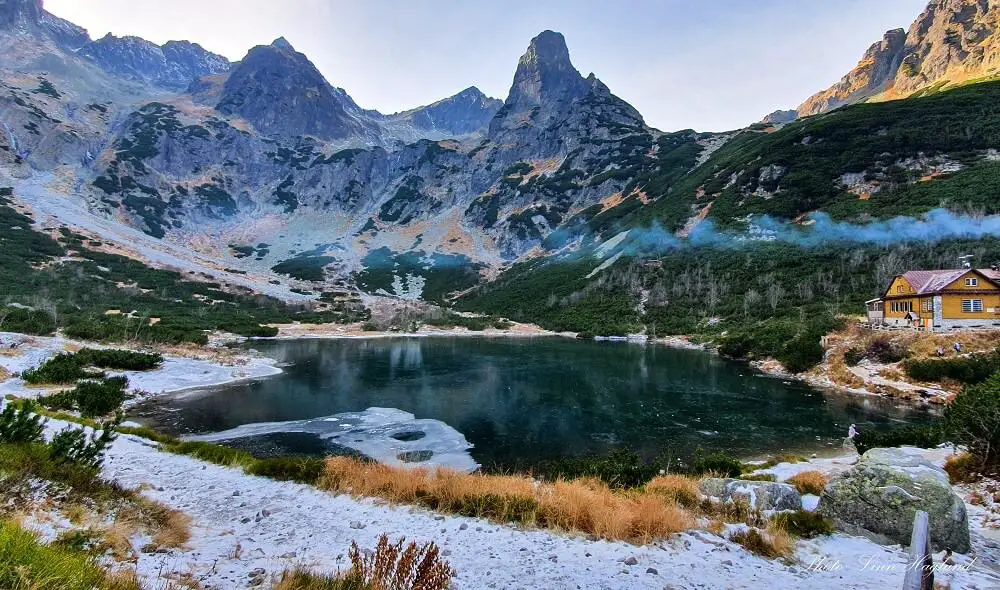 Where to stay near Tatra National Park, Slovakia
The best place to stay when hiking the Green Lake in Slovakia's Tatra National Park is the little town of Poprad. It's only a 20-minute drive from the cable car and you find restaurants and things to do.
Hotel Mamut – An affordable, yet stylish and modern hotel centrally in Poprad. It has free parking for guests which is perfect as it's hard to get to and from the chairlifts with public transport. See availability here.
Hotel SATEL – Also an affordable stay situated centrally in Poprad. They serve a daily buffet breakfast included in the price which makes it lucrative. Hotel SATEL also has free parking for guests. See availability here.
Hotel AquaCity Seasons – A high-end hotel with spa and outdoor swimming pool excellent for the warmer summer months, but also a great place to warm up in the spa pools when it's cold outside and to soften sore muscles after a hike. This hotel has both breakfast and dinner included and guests can use the free parking. See availability here.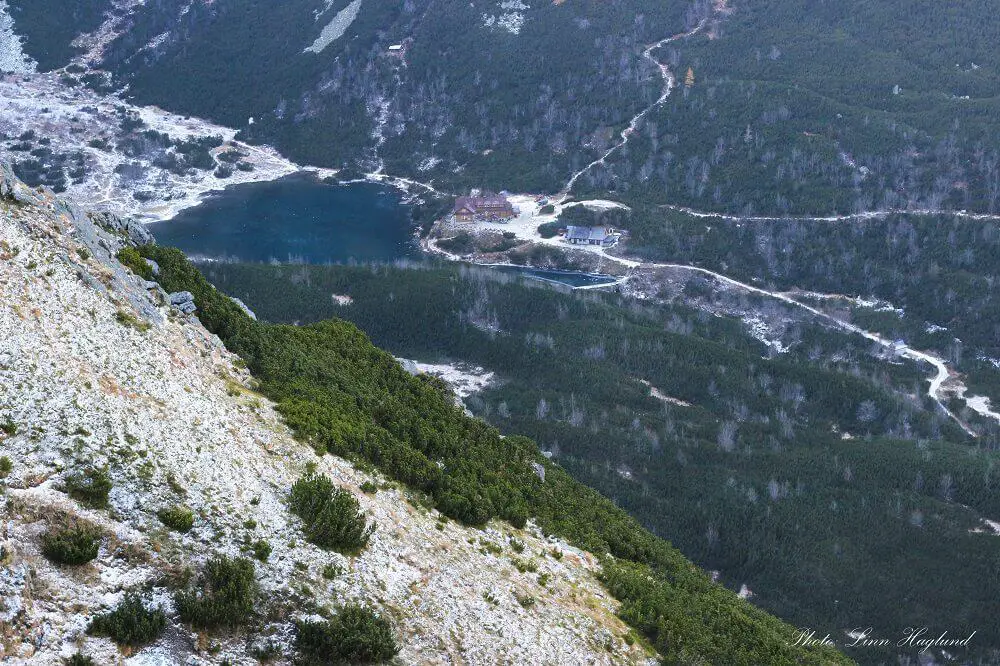 What to bring when hiking the Green Lake, Slovakia
When hiking to the Green Lake, Zelene Pleso, keep in mind that you're heading to the High Tatras. A mountain range that's known for shifting weather in high altitudes.
You need to consider, that the hike starts at 1750 meters of altitude and ascends gradually to you reach the ridge near the top of the peaks crowning the Green Lake far below. As you descend, you'll most likely walk in the shade, so temperatures might change drastically during the trek.
Important, no matter what time of the year you hike, wear good hiking boots. A pair of trekking poles will also make the hike easier for the body and knees especially.
Finally, I do not recommend heading out on this trek without a track downloaded on your phone. You can use any hiking app like Wikiloc or Alltrails.
On the way back, there's a fork where it's easy to pass if you don't follow a track. I passed it with the track, so I luckily found out but had to walk 10 minutes back uphill after I figured it out.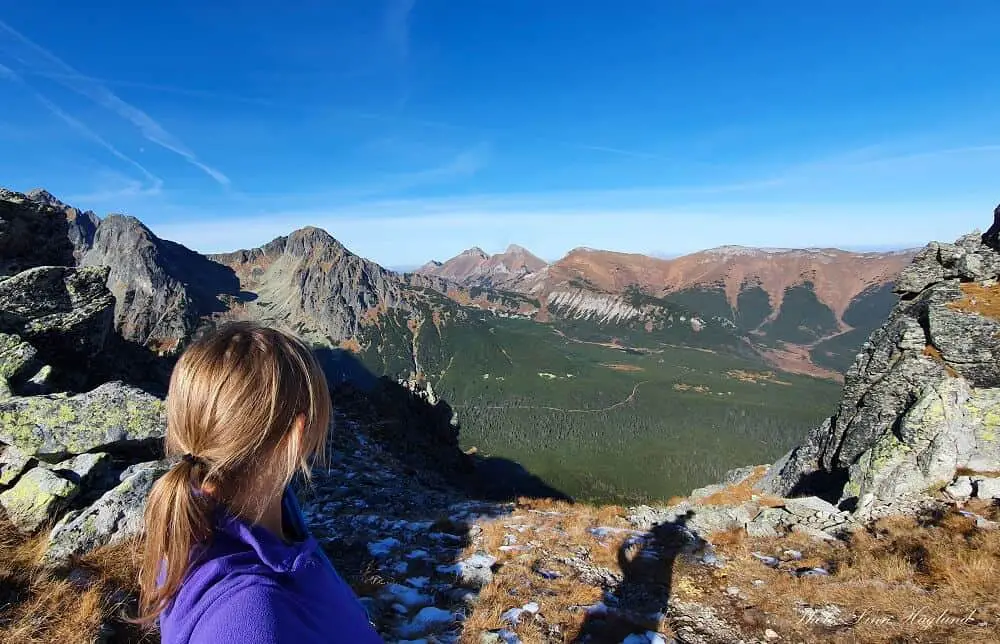 Here are my top recommendations for what to bring on this hike:
Comfortable hiking backpack
Lots of water (3 liters per person)
Energy-filled lunch
Plenty of snack (energy bars, nuts, dates, fruit, etc.)
Buff
Pants you can convert into shorts
Windbreaker
Trekking poles
Camera
Downloaded hiking route on your phone
Portable phone charger
Headlamp (in case it gets dark – especially late in the season it gets dark early)
First Aid kit
Late in the season, make sure you also bring the following:
Beanie
Gloves
Ice and snow grips for your shoes
Thermal underwear
Fleece layer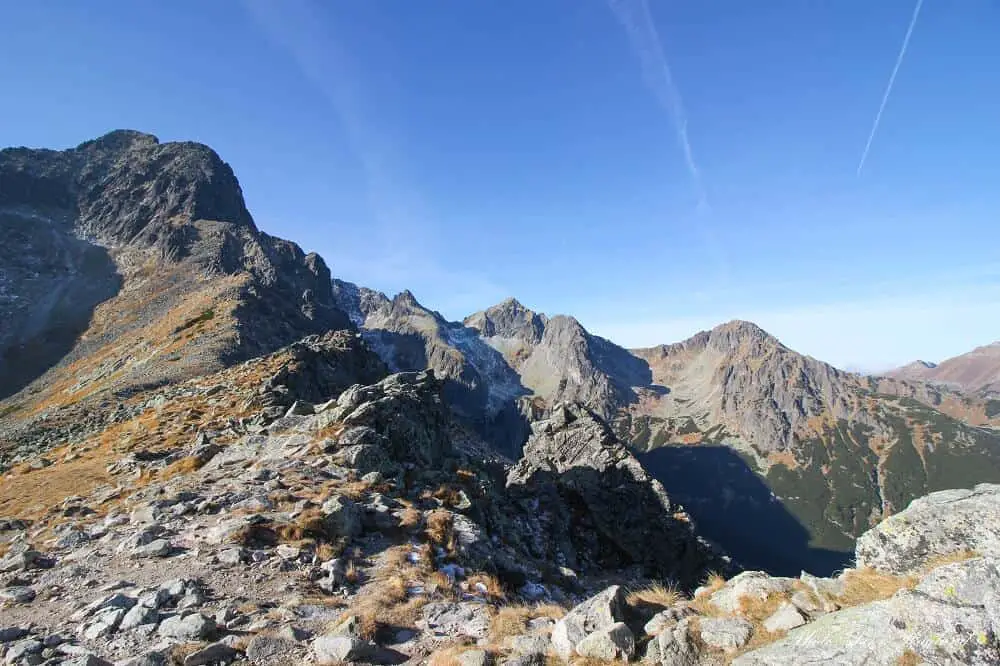 YOU MIGHT ALSO LIKE: TOP WORLDWIDE SUSTAINABLE AND ECO TOURISM DESTINATIONS
Hike Zelene Pleso
Starting the hike from the cable car at Skalmaté Pleso turn right and pass the building where the ticket office and restaurant are on the upper side. You'll see hiking signs and the Observatory. The trail will follow some small, old train lines for a short stretch before you see a hiking sign to Zelene Pleso. You're following the red trail.
As you reach the gate to the observatory, the trail turns left and continues steeply up the mountain before it winds to the right and follows along the side.
While it's mainly straight and the trail is easy to follow, you'll pass a section of rock debris where you have to be careful where you step. There are a few cairns to guide you over there.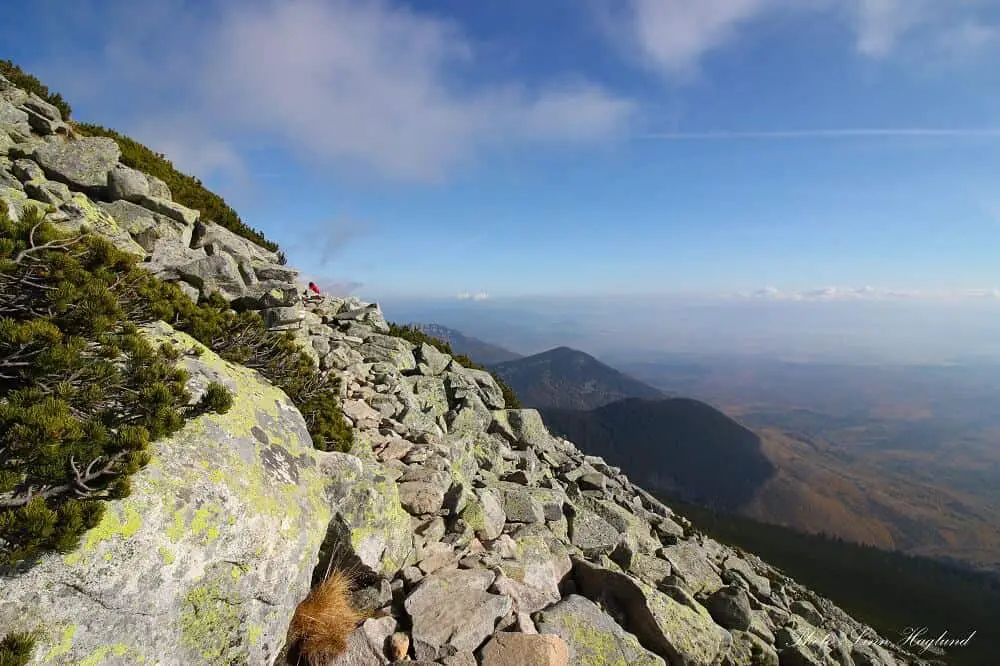 The views on your right side are breathtaking with the lower mountains covered in a blanket of trees meeting the countryside below.
Before reaching the ridge, there is a final, steep ascent before you'll reach jaw-dropping views!
From here, you have the choice of walking a short detour up the ridge to your right to reach the top of Velka Svistovka (2038m) for even better views. The detour will only take you about 15-20 minutes but is totally worth it in my opinion.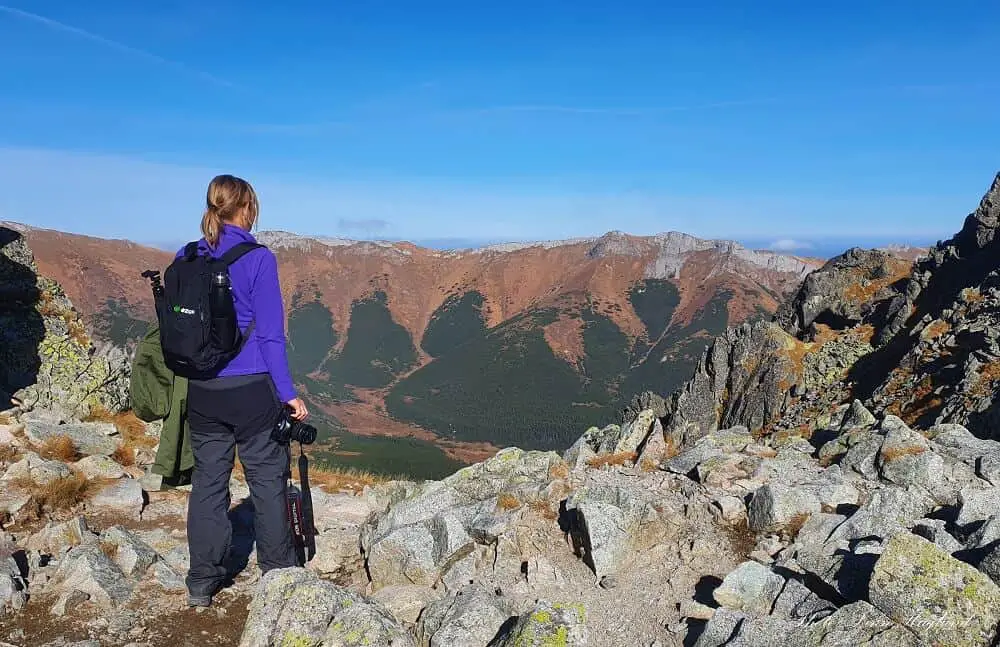 From the ridge, the trail to Zelene Pleso continues steeply down the other side and you'll soon see the Green Lake at the far end of the green valley, crowned by the slopes of steep peaks.
The trail is easy to follow, but hiking poles are good support down here as your knees will feel the steep descent. I already mentioned the section with the chains. You have to cross a crack created by the stream falling from above and descend along it on the other side. This is a fairly easy scramble without the ice and you might not even need to hold onto the chains.
With ice, I said it before, saying it again, and will repeat it later, use ice and snow grips for your shoes. They're easy and affordable to get hold of online if you can't get them in a sports shop where you are.
After this rocky section, the rest of the hike is fairly easy and the steep ascents and descents are over. You'll pass one small lake before you reach Zelene Pleso, recognized by the green color and the yellow mountain hut sitting at its side.
If you have the time, grab a drink at the mountain hut before continuing down.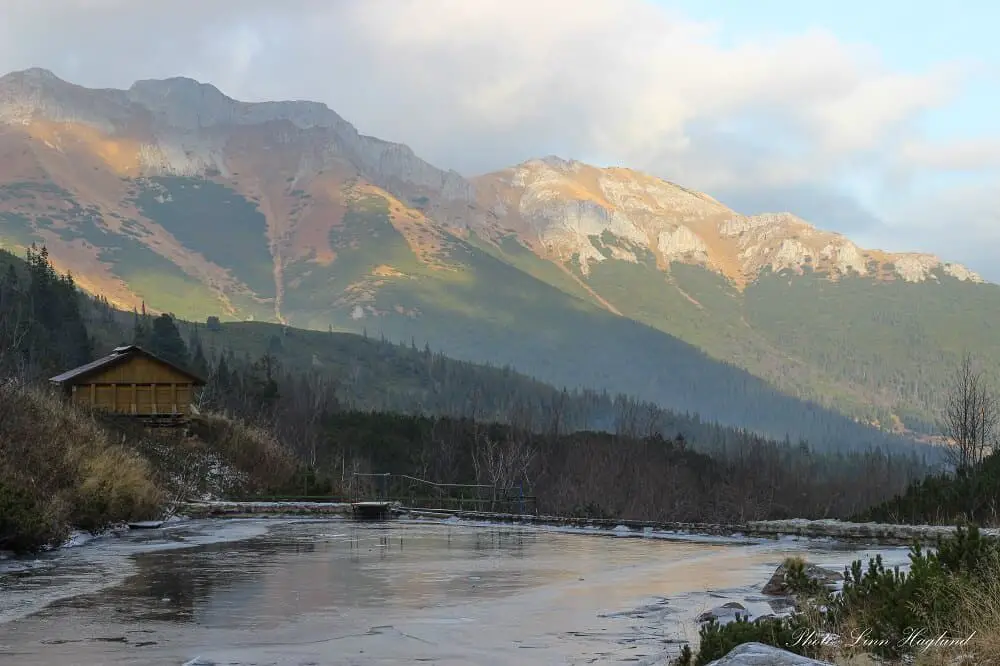 The trail continues down past the lake along a dribbling river and is easy to follow from now. You're now on the yellow trail. Beautiful forest views follow you before you enter the forest itself.
You'll cross a couple of bridges and the track is pretty comfortable to walk down, but don't get too comfortable. Keep an eye out for a path forking to your right – the blue trail.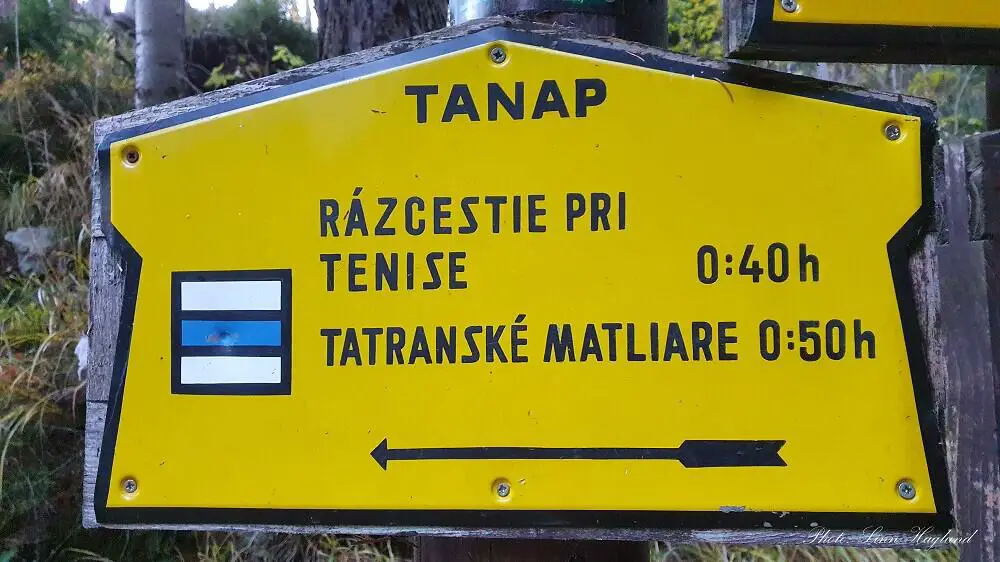 Take the blue trail and continue for a while. You'll get to another fork where the track winds down to the left and you need to keep walking straight into the forest. Another fork will take you to the yellow trail.
This is a nice forest trail that takes you across small bridges crossing the river and there are informational signs along the trail as you get closer to civilization.
When you reach a parking lot by a building, take the path down to the left passing a big old building (I walked there in the dark and it was pretty intimidating as it looked totally abandoned in the dark) and from there you keep walking on a path going through a big park. Cross the park and keep walking along the road to reach the Central Parking and Lyziarske Stredisko Tatranská Lomnica ski resort.
From the park, you can use your GPS to guide you the rest of the way to the parking area as you're already in town.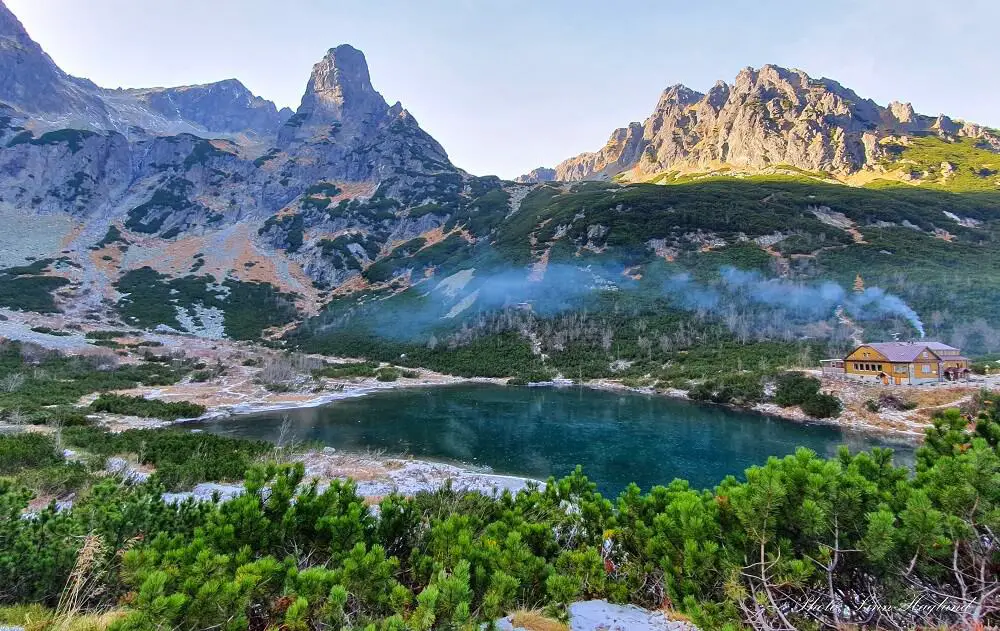 Reflections on Zelene Pleso hike
Zelene Pleso hike definitely didn't disappoint! The natural scene was constantly changing and incredibly beautiful, just enough challenging to enjoy it the whole way. Except for a patch of ice along the chains, that was dangerous and quite scary.
I say it again! Bring ice grips for your shoes if you go early or late in the season!
Other than that, it was an amazing experience leaving me hungry for more of this truly mesmerizing national park.
But this is not a hike for inexperienced hikers.
On a side note, meeting two curious foxes chasing anything that people left unguarded while they took their selfies in front of the Green Lake, made me alert.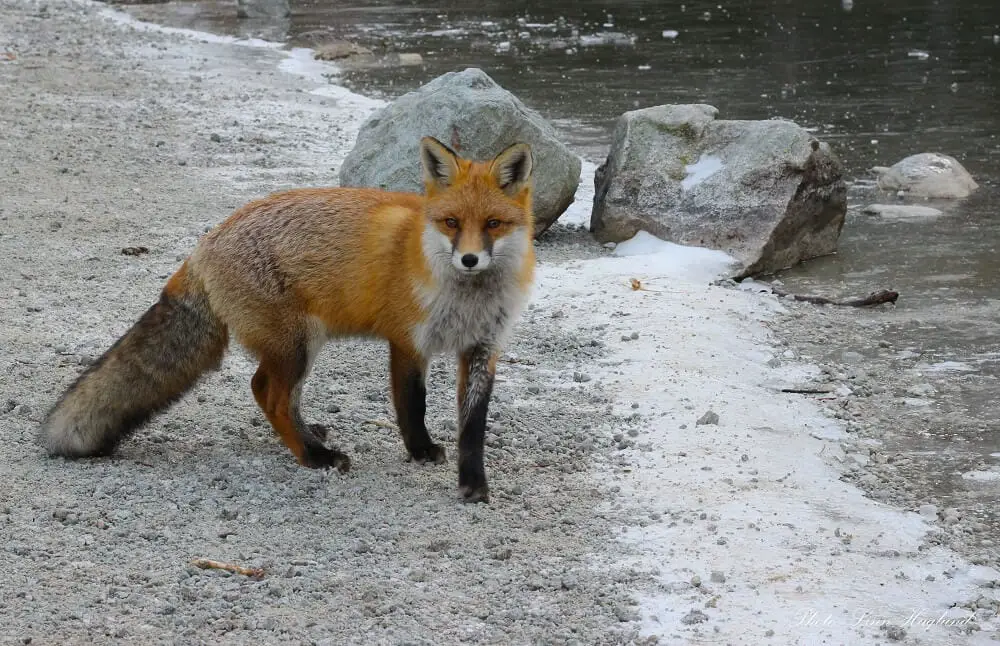 The two cheeky animals were Not scared of people. Quite the contrary. Once I looked at one of them through my camera lens, I thought he was going to charge straight at me to grab the backpack that I had in my lap. He stopped about half a meter from me when I hushed him away.
This is typical behavior of wildlife that has become used to humans and been given food by humans. It's so important to let wildlife stay wild.
Once a fox starts getting dependent on humans for survival, there's an entire food chain and ecosystem that gets out of balance. The animals also get more vulnerable to people harming or killing them when they're not afraid.
So please, before heading out on not only this hike but any outdoor activity, make sure you're up to date on the 7 Leave No Trace Principles.