As a responsible traveler, one of your missions is to support sustainable tourism destinations that promote community-based tourism, eco friendly accommodations, and ethical animal tourism among other things.
It can be hard to pick where to go on your next vacation keeping this in mind, but luckily, more and more eco tourism destinations are emerging across the globe.
Not only have single destinations taken action to provide sustainable tourist destinations to protect their homeland and grow a sustainable local economy without harming. There are more and more countries dedicated to promoting eco tourism to travelers.
This is a fantastic way to learn more about sustainable tourism and the destination you travel to whether you look for sustainable tourism in Thailand or Spain, there are of course measures you can do as a traveler to make your footprint smaller.
In this post, we present you with some of the leading eco tourism destinations and countries that you should visit!
Disclosure: This post may contain affiliate links. That means that if you make a purchase through one of those links, I will get a small commission at no extra cost to you. As an Amazon Associate, I earn from qualifying purchases.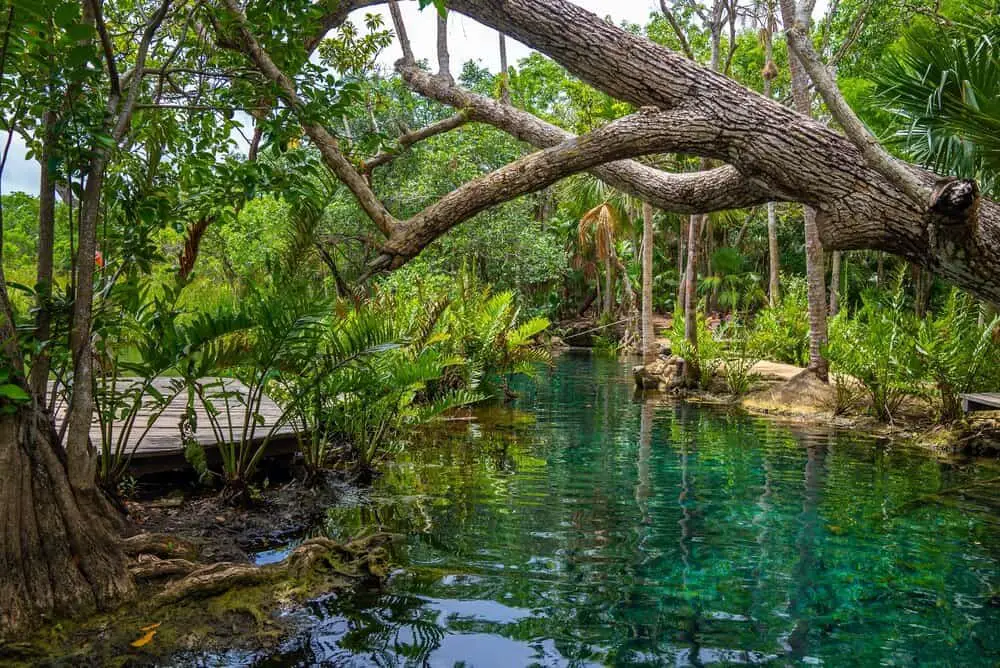 Eco tourism destinations
Galapagos, Ecuador
By Marjut of The Smooth Escape
The Galapagos Islands is a volcanic archipelago in the Pacific Ocean, roughly 1000km off the coast of Ecuador. It is the very first site added to the UNESCO World Heritage list and the place that inspired Charles Darwin to develop his theory of evolution back in 1859.
Home to abundant wildlife and unique species not found anywhere else in the world, it's a dream destination for many nature lovers. 
97% of the islands' land area is covered by Galapagos National Park, which has introduced various sustainability initiatives to manage tourism and preserve the local ecosystem.
Carrying capacity limits have been set for different sites and the routes of boat tours are controlled to ensure that no place gets overwhelmed by visitors. Furthermore, all visitors need to pay a 100 USD entrance fee upon arrival, which goes towards conservation efforts and supporting local communities.
On the paradise-like beaches in the Galapagos Islands, visitors have the opportunity to see fearless marine iguanas, sea lions and blue-footed boobies.
Up in the islands' lush highlands, you can have an up-close encounter with giant tortoises. To experience the fascinating marine environment of the Galapagos and spot sea turtles, sharks, and tropical fish, take a snorkeling or diving excursion.
If you're looking for eco-friendly accommodation, consider staying at Finch Bay Galapagos Hotel, one of the most sustainable hotels on the islands.
To get to the Galapagos Islands, you need to take a flight from mainland Ecuador, either from Quito (the capital of the country) or from Guayaquil. The trip takes around 2 hours.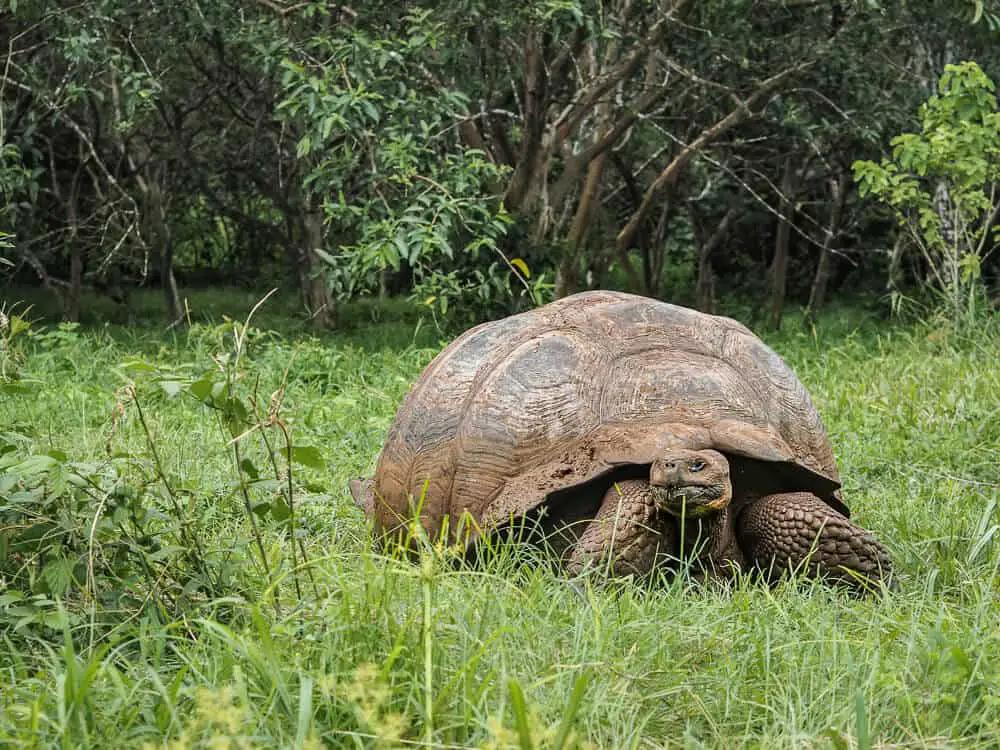 Tahiti, French Polynesia
By Kristin of Global Travel Escapades
Looking for an island getaway that's both relaxing and a sustainable destination? Consider vacationing on French Polynesia's largest island, Tahiti.
There, the locals are dedicated to both providing visitors with an unforgettable stay as well as preserving Tahiti's natural beauty.
For example, visitors have the special opportunity to stay in pensions or guest houses that are run by the locals. This not only gives you a way to experience the local culture authentically but also ensures that tourist money goes directly into the pockets of local Tahitians, instead of large hotel corporations!
Plus, there are plenty of environmentally friendly things to do around the island. A crowd-favorite activity is chasing waterfalls in Tahiti as the island is home to numerous stunning waterfalls hidden within its beautiful interior.
Alternatively, if you just want to relax, you can soak up the sun on one of the island's many striking black-sand beaches!
To reach the island, fly directly into the Fa'a'ā International Airport located within the capital city of Papeete. And if you're looking for recommendations for pensions to stay at, consider Le Relais Fenua-Pension de Famille. It's located right on the beach and is sure to help you recharge during your vacation!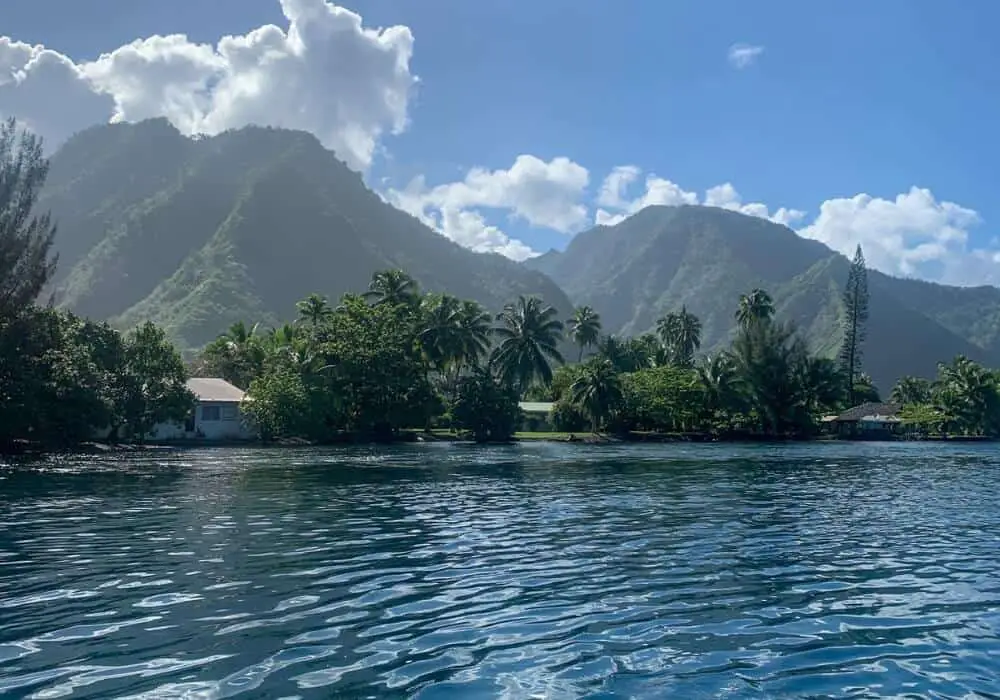 Eigg, Scotland
By Alison of Everything Arisaig
The Isle of Eigg is a perfect model of sustainable living where you'll truly feel at one with nature! 
In 1997, the islanders bought the island out with the help of public donations and The Isle of Eigg Community Trust was born. Later, Eigg Electric was founded and since 2008, almost all energy is generated through hydro, wind, and solar power.
Only islanders' cars are allowed on the island but it's easy to get around by walking or renting a bike or e-bike from Eigg Adventures. A minibus can take you and your luggage to your destination.
Sustainable accommodation includes fun options like yurts and bothies and most have compost toilets and wood burners. Alternatively, you could book a sailing boat to explore the area. There are no hotels, but for bed and breakfast, the Lageorna has excellent reviews and views! You can also reserve for lunch or dinner.
Cafes and shops use local and organic produce where possible and the island shop near the harbor is well-stocked. Have a look for local crafts on sale too.
Great activities include hiking, beach walks, cycling, kayaking, yoga, taking a croft tour at Eigg Organics, or going on a nature walk with the Scottish Wildlife Trust. You might be lucky to catch a ceilidh, concert or festival, too. 
In summer, you can volunteer on different projects with either the Isle of Eigg Heritage Trust or the Scottish Wildlife Trust. To get to Eigg, take a ferry from Arisaig or Mallaig.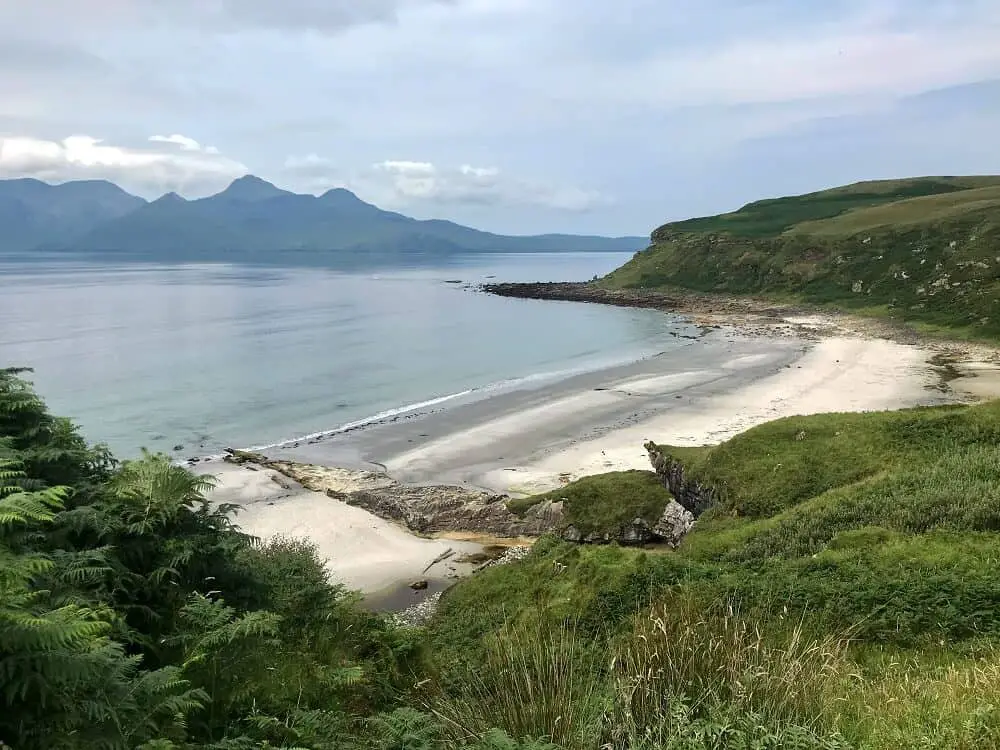 Cardamom Mountains, Cambodia
By Annelies of Travelers & Dreamers
If you want to experience community-based tourism in Cambodia, then the Cardamom mountains are your best bet. The Cardamom Mountains are the largest rainforest in South East Asia and consist of swamps, plains, mountains, lakes, and rivers with incredible waterfalls and swimming holes.
The main reason to visit the Cardamom Mountains, aside from its natural beauty, is the Osoam Cardamom Community Center.
The Cardamom Mountains are inhabited by a large array of ethnic minorities who live in severe poverty. To rescue his people from poverty and the land from illegal logging and poaching, one local man called Mr. Lim started this community-based tourism project.
The community center aims at ensuring a better life for the local habitants by educating them on topics like wildlife conservation, learning the English language, and preparing them for a career as a ranger or tourist guide.
Visitors to the center can participate in sustainable tourism activities like guided trekking tours or volunteer and help with construction, gardening, and teaching.
Wooden huts to spend the night only cost a couple of dollars. Meals are cooked by Mr. Lim's wife and are shared together with visitors and volunteers at one big table in the evening.
The mountains used to be very hard to reach and saw almost no tourists but, due to better road access in recent years, tourism is slowly developing.
The Cardamom mountains are the easiest to reach from the seaside town of Koh Kong. A shared taxi into the mountains takes around two and a half hours.
The Mountains are also reachable from Battambang or Siem Reap but the trip takes a lot longer. First, you have to make your way to a town called Pursat.
In Pursat, look for cars parked at the local market and tell them you want to go to Osoam. They will drive you to a town called Pramoy from which you will have to transfer to a jeep for the last leg of the trip. The trip from Pursat into the mountains takes around four hours.
Cooper Island, British Virgin Islands
By Theresa of Fueled By Wanderlust
Cooper Island sits remotely in the British Virgin Islands and is the perfect sustainable hideaway to completely unplug from the outside world.
The Cooper Island Beach Club, an Eco Resort, makes up most of the tiny island and offers an irresistibly pristine white sand beach and the use of kayaks and SUP on the surrounding waters.
The resort looks out towards the Sir Francis Drake Channel, where you can see nothing but islands dotting the horizon in either direction. 
Cooper Island Beach Club's sustainability efforts include producing its own solar power, which supplies 85% of the resort's needs and is used to make hot water. For drinking water, the resort collects rain in cisterns and also has its own triple filtration desalination plant.
The resort's rooms are simple yet chic, featuring recycled teak furniture and organic personal care products in the bathrooms.
The resort does not have air conditioning and instead installs fans and screens into guest rooms for airflow. Housekeeping uses environmentally friendly detergents and cleaning products to clean the rooms while avoiding polluting the surrounding gentle waters.
Additionally, the resort does not sell plastic water bottles and avoids aluminum waste by brewing its own beer. While most dishes and utensils in its restaurant are reusable, disposable items are eco products made from corn. The Cooper Island Beach Club sources produce from its own lush gardens and other local farmers in the BVI.
To reach Cooper Island, fly into St. Thomas, USVI, or San Juan, PR, and then a ferry or fly into Tortola. From Port Purcell on Tortola, there is a daily shuttle to Cooper Island. Get ready to enjoy one of the most fantastic sustainable travel destinations out there!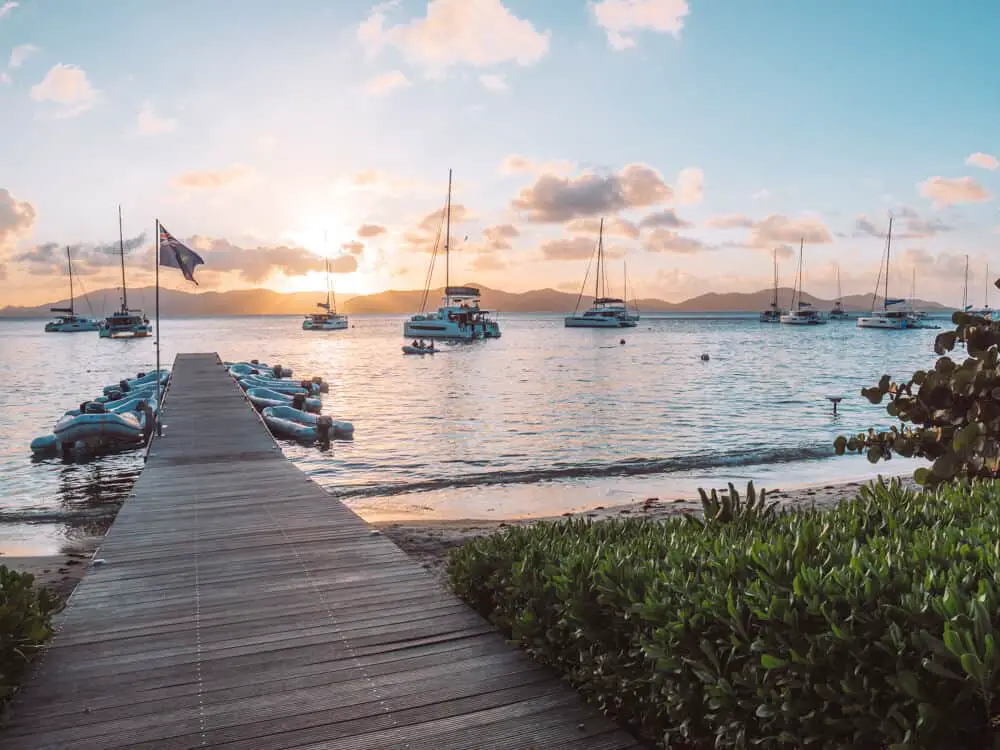 Lake District, England
By Paulina of the UK Every Day
One of the best sustainable tourism destinations is the Lake District in England. It has excellent public transport connections so you won't need your car to explore one of the most beautiful regions of the UK.
Climbing the highest mountain or relaxing by the deepest lake in England are only a few of the best Lake District attractions.
Plenty of paths for walks and cycling allow for reducing carbon emissions. Moreover, Lake District also encourages its visitors to minimalize plastic usage.
Many local businesses joined the fill-up-your-water bottle scheme. Therefore, if you notice the "Fill Up" logo in one of the buildings it means that you can refill your reusable water bottle there for free.
If you want to learn more about how to travel sustainably in the Lake District and support local communities during your trip, join one of their Facebook groups. Plastic Free Cumbria or Friends of the Lake District are only a few options to choose from.
With several eco-friendly accommodations such as YHA Hawkshead or YHA Eskdale, you can unwind in the idyllic countryside and support businesses that use green energy.
This UNESCO World Heritage Site also organizes some of the biggest events to promote spending more time outdoors including Great North Swim or Helvellyn Triathalon.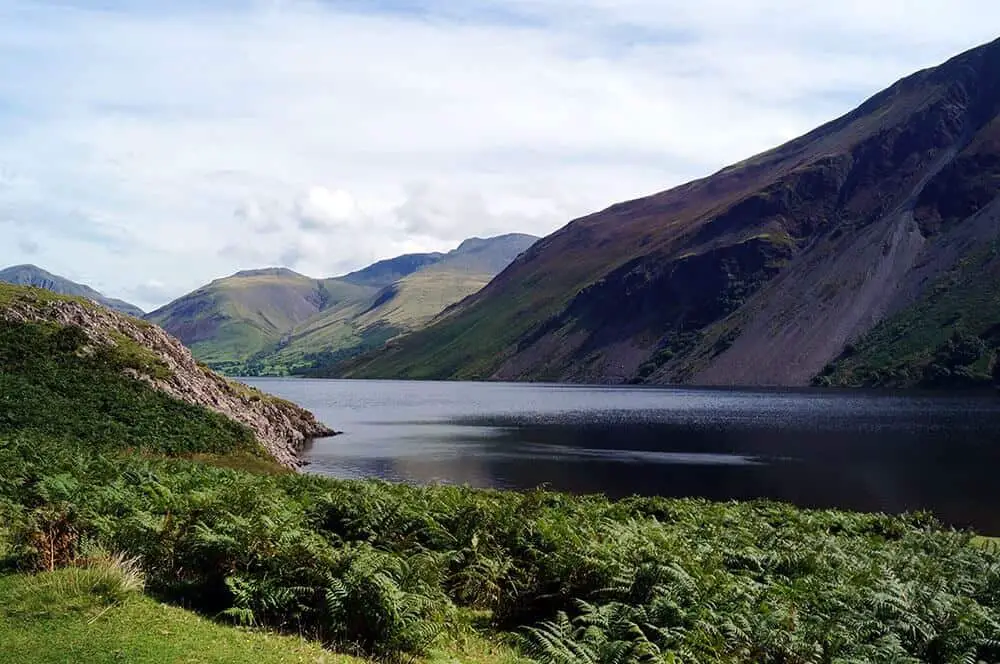 Mürren, Switzerland
By Paul of PaulMarina
Mürren is a small hamlet located in the Swiss Bernese alps at 1600 meters above sea level on a mountain ridge above the Lauterbrunnen valley.
You can only access the village by cable car or by mountain train, making it a car-free green village. The cable car and train run daily every 30 minutes, year-round from 6 am to 7 pm.
While other alpine countries still struggle with an influx of road trip visitors and traffic jams, Switzerland has been one of the pioneers in train travel and among the top eco tourism destinations.
Their train infrastructure and projects have been a gigantic success so far. Most travelers to Switzerland appreciate accessible and well-timed train connections to the most remote mountain areas and flat-rate train tickets such as the Swiss Travel Pass.
Besides, the locals in Mürren have been promoting a CO2-free environment and mass tourism is not welcome in Mürren.
You will instead discover a controlled nature-friendly authentic village, away from the craziness of the world. As a good example stand the Hotel Eiger which is a sustainable hotel in the village known for having taken a step towards green ecotourism.
Local farmers have been living in those heights for over 1000 years. Alpine pastures known as Alms at these altitudes are not fertilized with cow manure the way they are in the valleys.
Excessive cow manure fertilization harms the environment, it pollutes the groundwater and releases small particles into the air, and it destroys wild plant varieties.
Animals wander the hills in the warmer months of the year and visitors meet them on a hike up the mountains. You will be one with nature during your time in this Swiss village, enjoying one of the most sustainable destinations possible.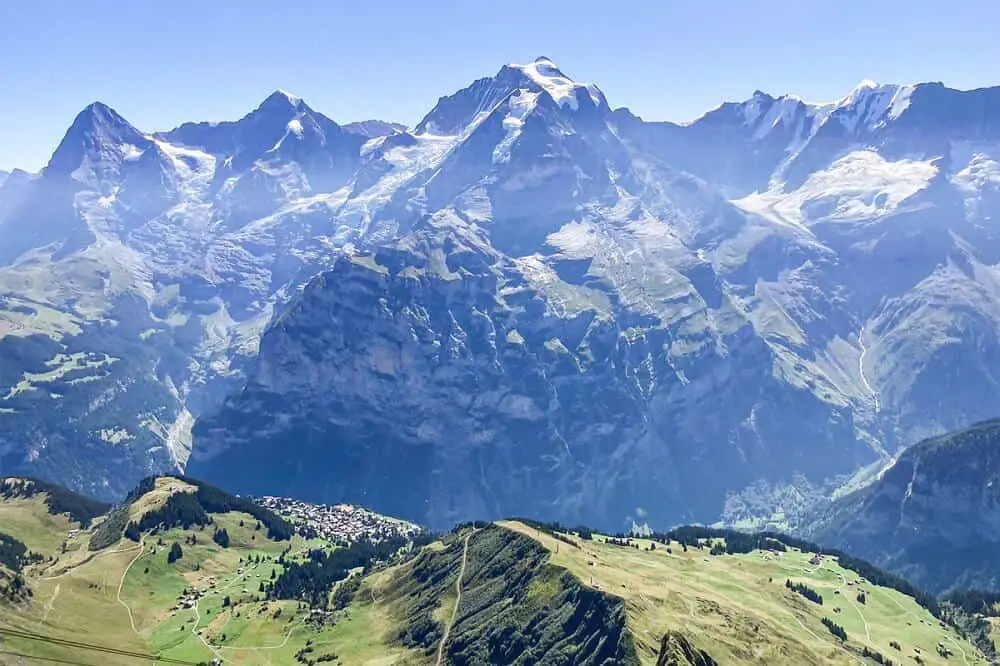 Kalga eco-village, India
By Soumya of Nature Diary
Kalga is one of the top eco tourism destinations you can visit, an eco-village at an altitude of 2280 meters in the Kullu district of Parvati Valley, Himachal Pradesh. It is one of the cleanest villages in India, based on sustainable community-based tourism and eco-friendly practices.
Kalga is also the starting point of famous treks to Kheerganga, Pin Parvati, and Bunbuni. The village of Kalga is surrounded by the Fairy Forest, where you can hike and enjoy the beautiful greenery of pines with a picturesque view of the snow-capped Himalayan mountain range.
Relish the enchanting ambiance and listen to the birds chirping around, Pine leaves rustling in the cool breeze, and the waterfalls burbling.
Besides being a scenic tourist attraction, Kalga village is also known for its sustainable tourism approaches to conserving the environment, another way the village shows its worth being one of the sustainable tourist destinations you must visit.
The villagers, most notably the owners of most homestays, follow eco-friendly practices like tree planting and recycling plastic waste.
The Forest Park Homestay and Gypsy House Café are such eco-homestays in Kalga, where you can get cozy accommodations and good quality food.
They also encourage their visitors to maintain eco-friendly tourism standards so that Kalga thrives on being a sustainable tourist destination in north India. So if you're looking for a top-notch eco tourism holiday, Kalga village is your place.
To reach Kalga village, take the bus to Barshaini via Kasol and then go on a short hike of 2 Km, crossing the hydel power project.
Besides Kalga, you can go to several nearby attractions from Barshaini like Tosh, Nakthan, Rudranag, Pulga, and Tulga. Kasol is well-connected to Delhi via road and Kullu Manali Airport, also known as Bhuntar Airport.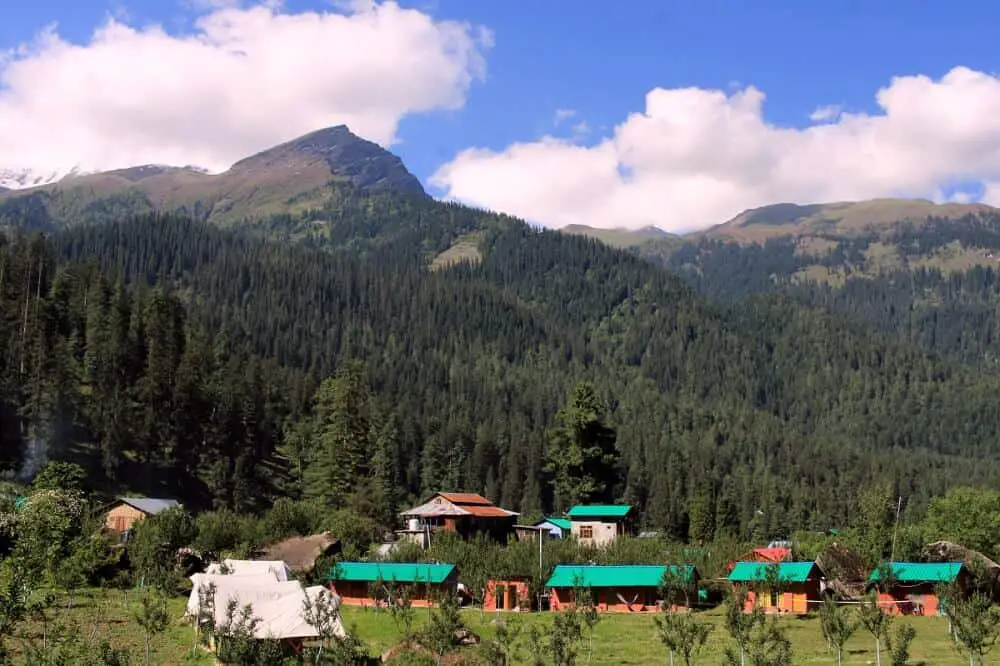 Ljubljana, Slovenia 
By Melissa of Parenthood and Passports
Once named the Green Capital of Europe, Ljubljana, Slovenia is a city that takes environmental awareness to heart. The city boasts more than 5,000 square feet of green space per resident, more than any other city on the continent.
Much of that green space can be found in the center of Ljubljana, which has been limited to pedestrian traffic since 2008.
Over the years, as the city grew, developers have maintained harmony with the natural environment and prioritized sustainability.
It is considered one of the few cities in Europe where you can go hiking, buy local produce at a daily city market, and kayak or enjoy river activities all within the small historic center.
In fact, there are so many great things to do in Ljubljana that promote health and well-being for both residents and tourists.
If you prefer to take public transportation rather than explore the city on foot, you can do so aboard an all-electric urban tourist train – a green alternative to standard hop-on hop-off buses found in other popular destinations. 
But one of the most unique aspects of Ljubljana's sustainability is its effort to protect and preserve the bee population. There are more than 4,500 beehives in the city and the surrounding area.
Beekeeping is a longstanding tradition in the region, and much of the vegetation planted by the city and its residents is pollinator-friendly. It's just one more intentional effort Ljubljana has made to promote environmental sustainability, thus showing its worth as one of the top green tourism destinations out there.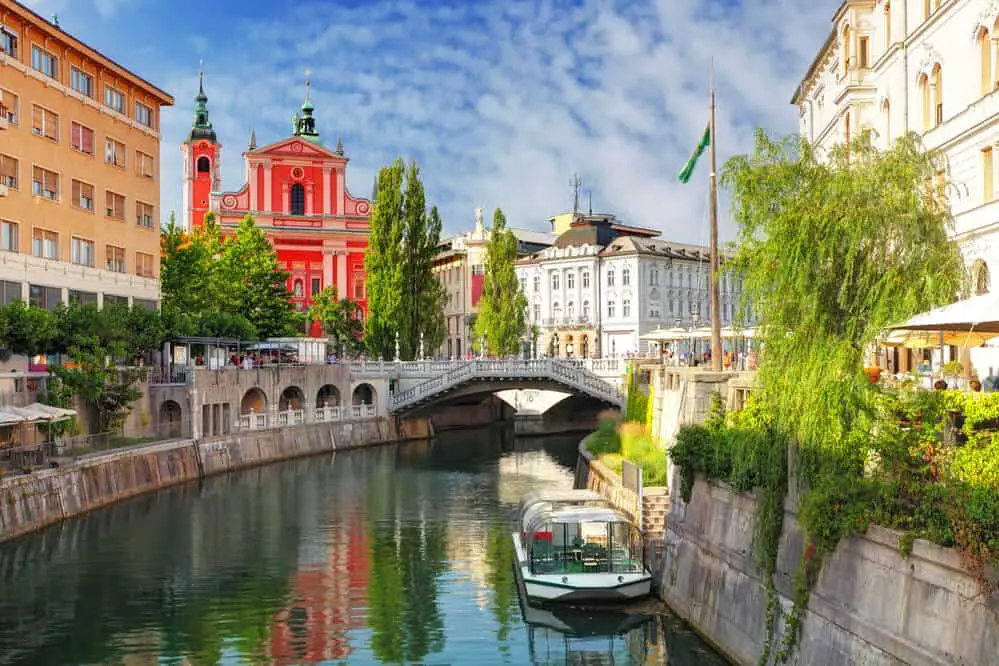 Siwa Oasis, Egypt
By Dee of Vanilla Papers
Nestled deep in Egypt's Western Desert, the Siwa Oasis is one of the most incredible sustainable holiday destinations with breathtaking ecolodges, salt lakes, and sandboarding.
This hidden gem is about a 10-hour drive from Cairo. And that remoteness has protected Siwa from the pitfalls of mass tourism.
There are no hotel chains or plastic souvenirs here. And the locals are determined to preserve the rugged nature, lakes, and sand dunes of the oasis. 
Start your oasis adventure at one of Siwa's salt lakes. Siwa has hundreds of salt pools and lakes where you can float just like at the Dead Sea. These salty waters are also said to cure sinuses and infections. And the salt lamps carved by locals make great Siwa souvenirs. 
Climb the Mountain of the Dead for a bit of Ancient Egyptian history. This limestone hilltop has tombs that date back to the 26th Dynasty of Ancient Egypt with gorgeously painted ceilings and scenes depicting Anubis and Osiris.
Siwa's Shali, or downtown, dates back to the Middle Ages and is built entirely from a unique local mix of salt and clay. This incredible cluster of homes also includes cafes, souvenir shops, and a bike rental if you want to visit the nearby Siwa Lake. 
Stay at the Kenooz Shali Lodge that's tucked inside an olive and palm grove. This gorgeous lodge was built using traditional Siwan methods and has an airy outdoor dining area perfect for lunch amid the swaying palms.
Or treat yourself at the Adrere Amellal, an eco-lodge with no electricity where rooms are softly lit with beeswax candles. This luxurious eco-lodge has hand-built rooms that blend into the landscape – and it sits right alongside a lake.
Either way, you're about to embark on an incredible journey to one of the most beautiful eco friendly tourist destinations on the planet.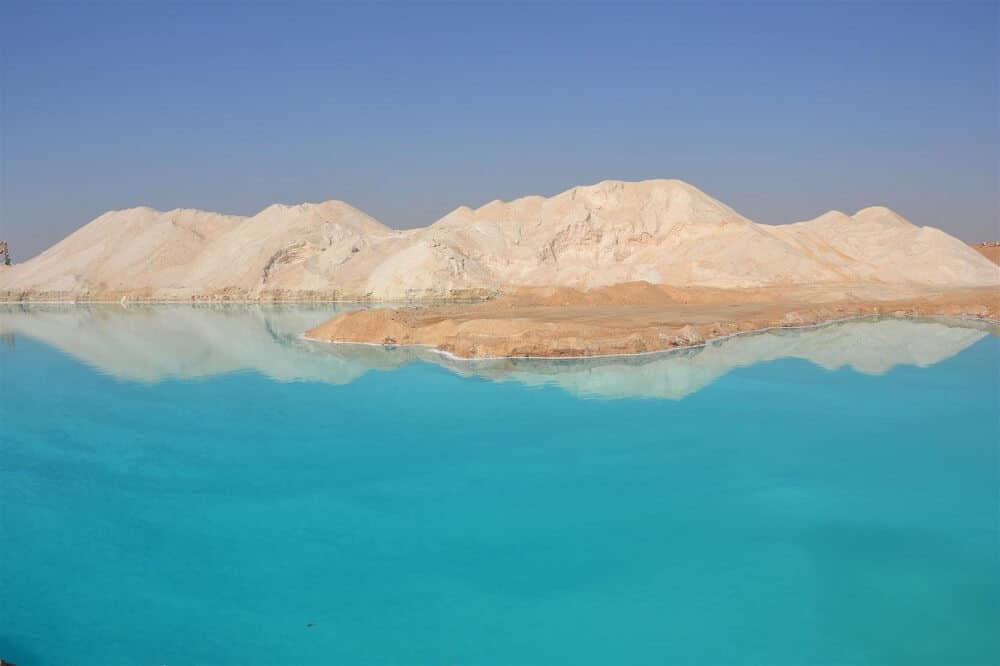 Losinj Island, Croatia
By Becki of Meet Me In Departures
When you think of Croatia, popular destinations like Dubrovnik, Split, and Hvar probably come to mind. Although these places are lovely, they have suffered a wave of overtourism in recent years. But have you heard of Losinj? 
Just off the north Croatian coast, you'll find this hidden gem of an island, underrated and less visited than many of the other destinations in Croatia. The island of Losinj is dubbed the island of vitality thanks to the scent of pine, sage, and lavender that fills the air.
It's also a hub for anyone looking for adventure activities with a focus on ecotourism. Activities on the island include hiking, cycling, SUP, and kayaking.
There are also opportunities for Dolphin watching – it's worth noting that there are stringent rules around the observation of them, swimming, touching, and feeding them is strictly forbidden. Observation visits are organized by The Blue World Marine Research and Conservation Centre in Vali Losinj.
Other wildlife opportunities here include trying to spot one of Europe's largest birds, the griffon vulture. The cliffs surrounding the island are home to about 50 pairs and because they are endemic to the islands here, and not seen elsewhere in Europe, they are listed as an endangered species and local efforts are in place that protects their environment.
If you want to learn more about the vegetation on the island and its healing and health properties then visit the sensory garden to discover why back in 1892, the biologist Professor Ambroz Haračić declared Lošinj as a climatic health resort for bronchial diseases.
The Lošinj Aromatic Garden is home to over 250 of these fragrant wild herbs where you can learn about their health benefits, properties, and uses.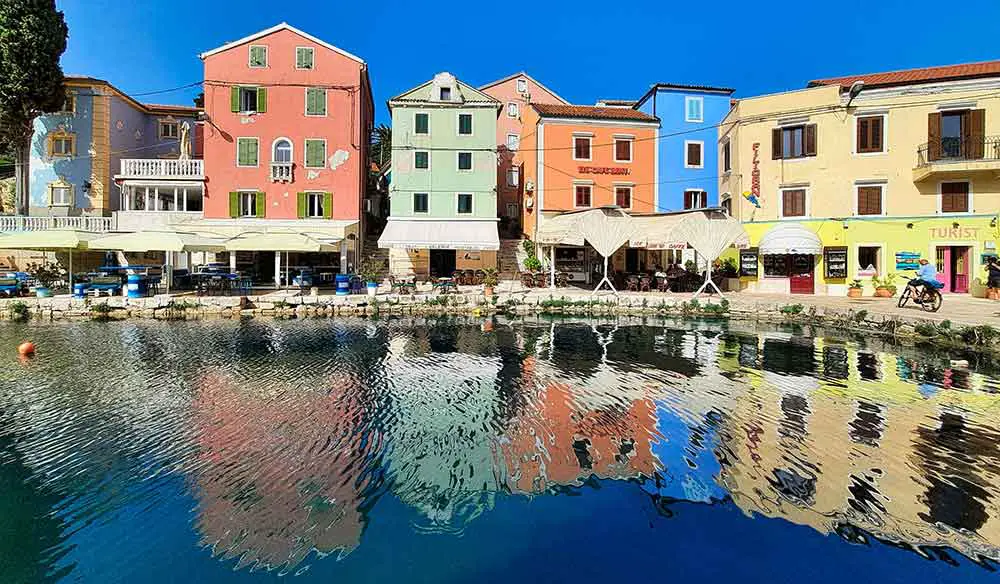 Mount Cook National Park, New Zealand
By Cassie of Cassie the Hag
With the unique ecosystems and endemic wildlife found in New Zealand, it's perhaps unsurprising that great efforts have been made in many national parks to sustain these environments. Yet, it's one of the leading responsible tourism destinations you should consider visiting.
The Mount Cook region has and will definitely see the impact of global warming. The icy, glaciated environment has already been transformed over the centuries as the glaciers have massively receded. In fact, many lakes and valleys, which are now among the most popular things to do in Mount Cook National Park, were once actually glaciers!
Information boards around the park help illustrate this by explaining that glaciers far in the distance would have once covered the viewpoints you're standing on!
This definitely brings home the impact of our changing Earth. With that said, while enjoying the many hikes here, always stick to the paths and take all waste back with you.
Many tourism operators in the area run their business on the principles of kaitiakitanga – 'the guardianship and production of our natural and cultural environment.
Sustainable tourism commitments include donations towards the Kea Conservation Trust (a nationally endangered parrot only found in the Southern Alps) and carbon-neutral scenic flights.
The New Zealand Department of Conservation also has strict impact codes for tourism operators to follow, beginning with simple things like waste reduction and recycling and strict rules on where tourists are allowed to camp.
Eco lodges in Mount Cook include Lakestone Lodge, an off-grid sustainable lodge overlooking the blue waters of Lake Pukaki contributing to the national park being one of the most sustainable tourism places to visit.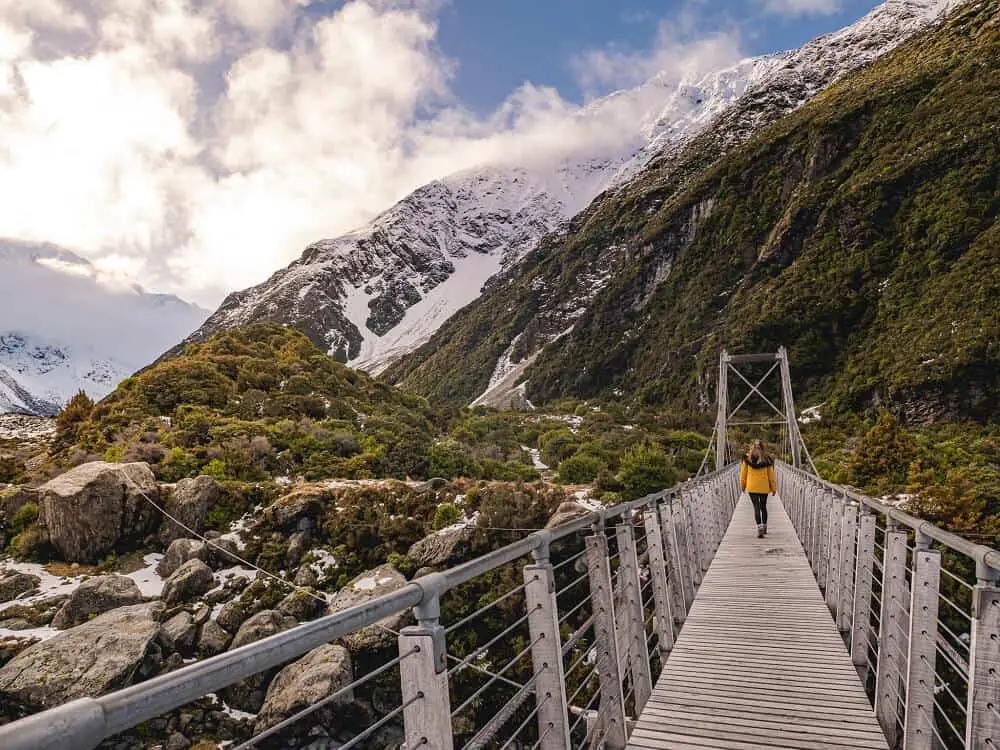 Khonoma Eco-village, India
By Abhinav of A Soul Window
In the year 1993, on the pretext of a competition, as many as 3,000 Blyth's Tragopans, a species of rare endangered birds were hunted by the Angami people of Nagaland in the quaint village of Khonoma in North East India.
After the mass slaughter, the meat was consumed by the villagers. Some people protested against it and it led to establishing the Khonoma Nature Conservation and Tragopan Sanctuary.
Deforestation was also common here. Cutting trees is now banned in Khonoma. And as a result, Khonoma has emerged as the first green village in Asia!
Located on a verdant hill near Kohima in Nagaland, Khonoma and nearby Dzukou Valley Trek see maximum footfall during the annual Hornbill Festival.
Unlike the popular destinations of India which are overrun with irresponsible tourists, community-based tourism in Khonoma is impressively regulated.
Starting from a small fee to enter the village to a mandatory local tour guide, everything is refreshingly organized. This is also why the residents of Khonoma have been able to preserve and maintain their village without risking the perils of mass tourism. A walk around clean cobblestone walkways takes tourists to remnants of the battle of Khonoma.
Apart from the village walk, you can also sample the local food, take a tour of the terraced rice fields, and do birdwatching here. Some of the most exotic birds are found in the unexplored North East India.
Tourists can also visit functional Morungs, the common area where the old teaches the young about their way. Not only is it possible to visit a local wooden house, but you can also find accommodation in a homestay for as long as you want. What's more? You can also stay in a cute Hobbit home set up by a local!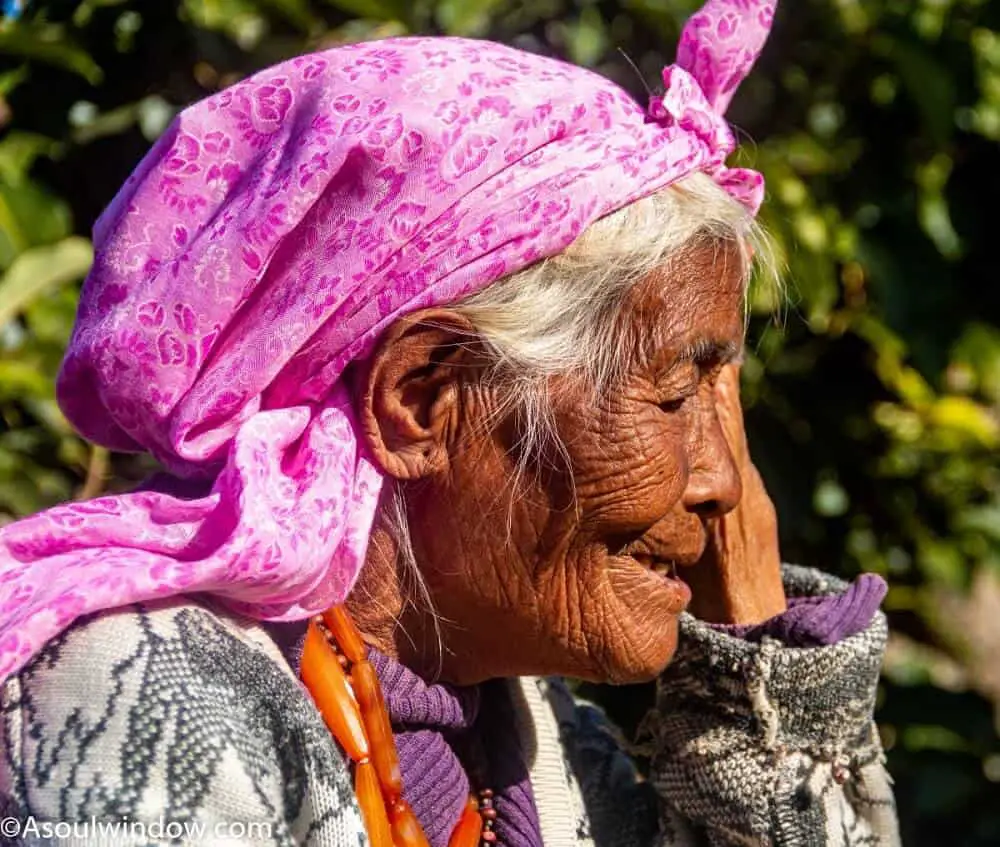 Copenhagen, Denmark
By Rachel
Denmark is a world leader in sustainability, and Copenhagen is an incredible example of a sustainable destination. In fact, Copenhagen is often considered the green capital of the world and is hoping to become the first major city to go fully carbon-neutral!
Even Lego, the beloved Danish toy company, is in the process of making its plastic bricks out of recycled plastics and sustainable materials.
But, in the meantime, there are still plenty of eco-friendly ways to enjoy this gorgeous city. The population relies heavily on public transportation, so it's very easy to catch a train right into the heart of the city, back into the countryside, and to neighboring countries. 
There are numerous eco-friendly accommodations to choose from once you get into the city, but Hotel Danmark stands above the rest.
It's located right in Copenhagen's historic central square and offers delicious, organic meals and dazzling views. Plus, it's within easy walking distance to Tivoli Gardens and the central train station.
In addition to strolling through gardens of native plants and cycling like a local, head over to Reffen for sustainable street food.
The river-side stalls use food service, reduce food waste, and use organic, free-range, and local ingredients wherever possible.
They even sort their waste so it can be reused as far as possible. Even the stalls and seating are made from recycled or sustainable materials.
It's easy to see why Copenhagen is among the top sustainable tourism destinations in the world.
Yet for more of a direct impact, you can volunteer with ActionAid Denmark. This organization fights for more sustainable cities, with a focus on providing just, clean living without discrimination.
Volunteer opportunities range from working in a non-profit cafe to spreading awareness of their cause, protesting, and more.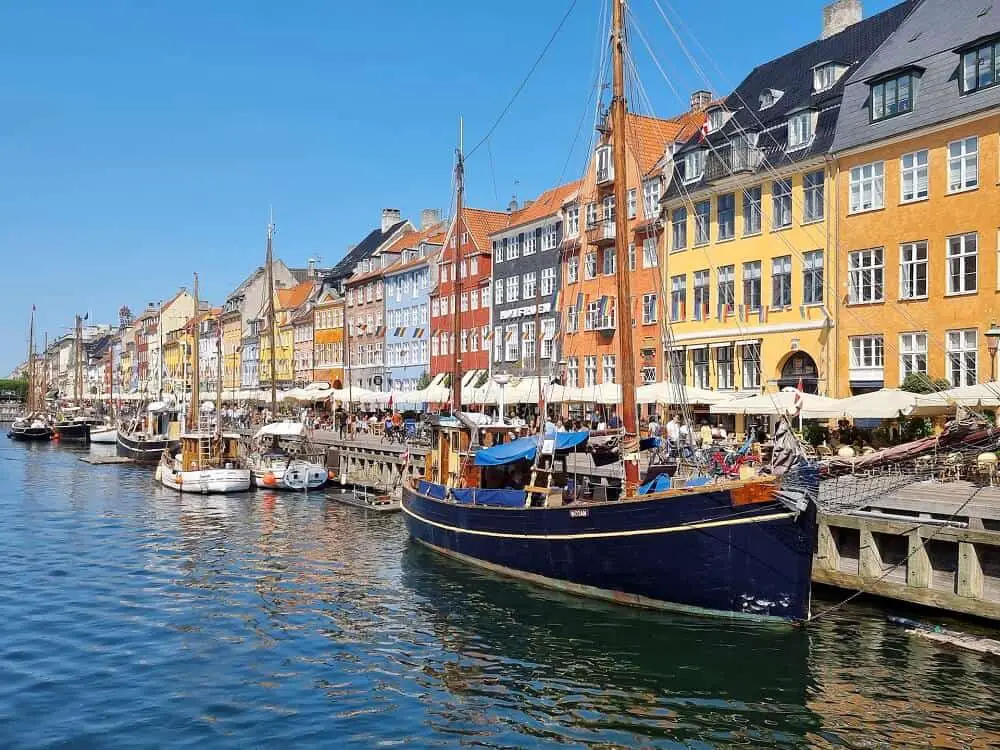 Ericeira, Portugal
By Michelle of Ericeira Family Adventures
If you're looking for a sustainable travel destination in Portugal, Ericeira is worth checking out. They have recently been awarded the prestigious Biosphere Destination Certification by the Institute for Sustainable Tourism. 
This beautiful whitewashed fishermen's village is one of the best day trips from Lisbon. Situated only half an hour north of Lisbon's airport is the only World Surf reserve in Europe, which means both the seafloor and the beaches are protected with rigorous norms.  
All 11 beaches included in the surfing reserve can be ethically enjoyed trekking, mountain biking, surfing, SUP paddling or just wading in the waves.
The hearty, international outdoors vibe mixes with the traditional feel of the Portuguese village to create an incredibly multicultural fresh experience equal to none.
There are a lot of things to do in Ericeira, and whether you come as a family, a couple, or a solo traveler, fun and adventure are in order.
Nearby you can also visit the Iberian Wolf Recovery Center, or the Tapada de Mafra, both non-profit organizations where indigenous species are carefully monitored and protected.
There are numerous small ecologically conscious surf lodges and bed and breakfasts run by locals which offer everything from homegrown vegan food to holistic retreats, and even coliving and coworking arrangements.
Surf Yoga Portugal is an excellent sustainable guest house with a very high percentage of repeat guests which offers excellent value for money. 
You can choose to drive to Ericeira from Lisbon in about half an hour, or take the bus from Campo Grande metro station in downtown Lisbon in about 45 minutes.
Regardless of what you choose to do in Ericeira, the wholesome sunshine and authentic Portuguese charm of this fisherman village will surely leave you wanting more.
This is truly one of the most amazing coastal towns in Portugal that you should add to your bucket list. Being one of the top eco tourism destinations in the world only adds to the value of this charming town.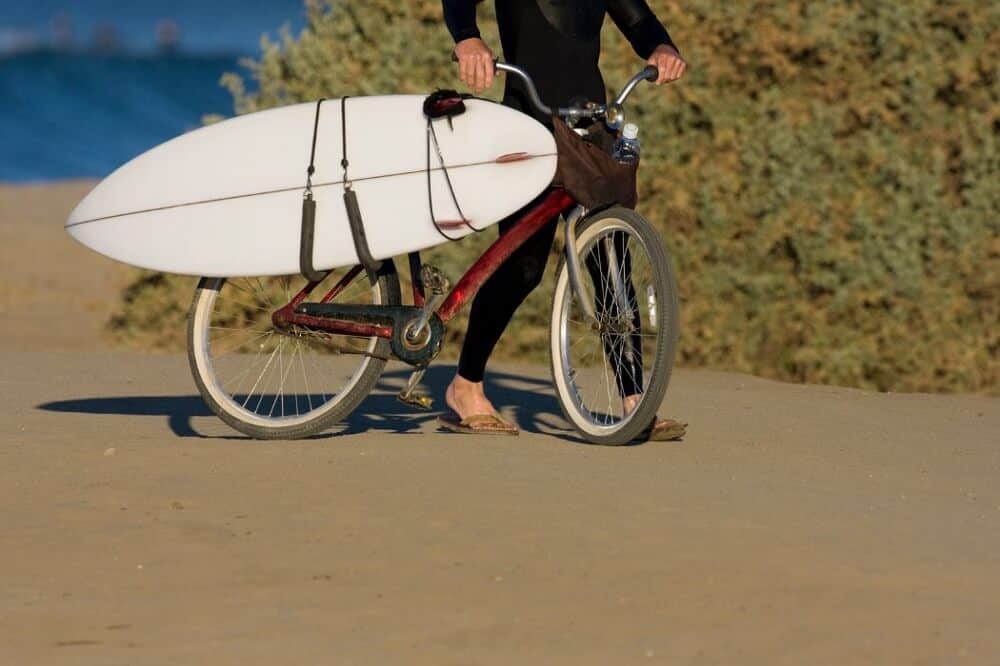 Leading sustainable tourism countries for an eco tourism holiday
Costa Rica
By Amy of TravelingTulls
If you're looking for a destination that's nature-filled, sustainable, AND fun, you can't do much better than Costa Rica. This small country has it all – beaches, waterfalls, rainforests, and some of the friendliest people in the world.
But most significantly, this Central American nation has demonstrated to the world that it's possible (and profitable) to reverse environmental damage.
Between the 1940s and 1980s, almost half of Costa Rica's forest cover was cleared for farming. Fortunately, Costa Rica made a commitment to restoring the environment.
Programs were put in place to encourage replanting and preserving forests and today most of the habitat lost has been restored. As a result, almost 6% of the world's biodiversity can be found in Costa Rica.
The country continues to lead by example, teaching sustainability in schools, and creating programs to encourage those in the tourism industry to operate in a sustainable way.
Two programs, the Sustainability Certification Program (CST), and the Blue Flag ecological awards, make it easy for travelers to find accommodations and activities that operate in a green way.
Today Costa Rica is one of the top sustainable tourism destinations. There are dedicated eco-resorts on the coasts and in the rainforest, but with the certification programs, visitors anywhere in Costa Rica can find eco-friendly lodging.
Visitors to the Monteverde Cloud Forest can stay at the Hotel Belmar, a family-owned hotel that has received the top CST rating – 5 leaves. Meals at the hotel are delicious, made even better as you dine looking over the garden where the produce was grown.
Costa Rica has two international airports, one in San Jose SJO and one in Liberia LIR in the northern part of Costa Rica. Once in the country, there are public bus routes throughout the country.
Car rentals are expensive, and driving is challenging, so consider hiring a driver if your group prefers a private vehicle.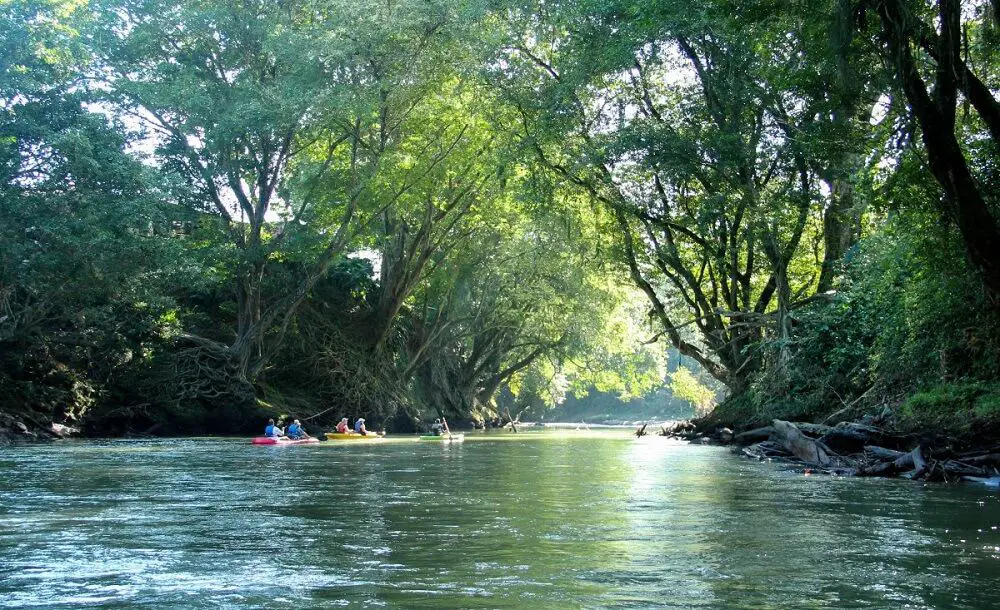 Iceland
By Erin of Pina Travels
In recent years, Iceland has been addressing overtourism by building stronger tourism infrastructure, encouraging travelers to spread out throughout the country, and reminding tourists to travel responsibly.
In fact, the tourism board encourages all visitors to take the "Iceland Pledge," which includes reminders about what to do, and what not to do in Iceland.
For example, leave places as you find them, never venture off the road, and only stay in designated campsites, which puts the country among the top-rated eco tourism destinations in the world today. 
Throughout Iceland there are plenty of ethical activities to do, from visiting Iceland's beautiful waterfalls, beaches, glaciers, and landscapes, to hiring local guides that can teach you about Icelandic traditions.
For example, at Laugarvatn Fontana near Thingvellir you can learn how to make hverabrauð, which is a type of rye bread that is baked in the ground using geothermal energy.
Afterward, head to the nearby ION Adventure Hotel for the night. This eco-friendly hotel combines green technology with Nordic design.
For a country that's known for its meat, Iceland is surprisingly vegan-friendly! In fact, Iceland has an app dedicated to vegan eating.
The app is a directory for all vegan restaurants across the country, as well as restaurants that serve vegan dishes. But Iceland's capital city Reykjavik is where you'll find the most vegan dining spots, like Gló, Gardurinn, and Mat Bar.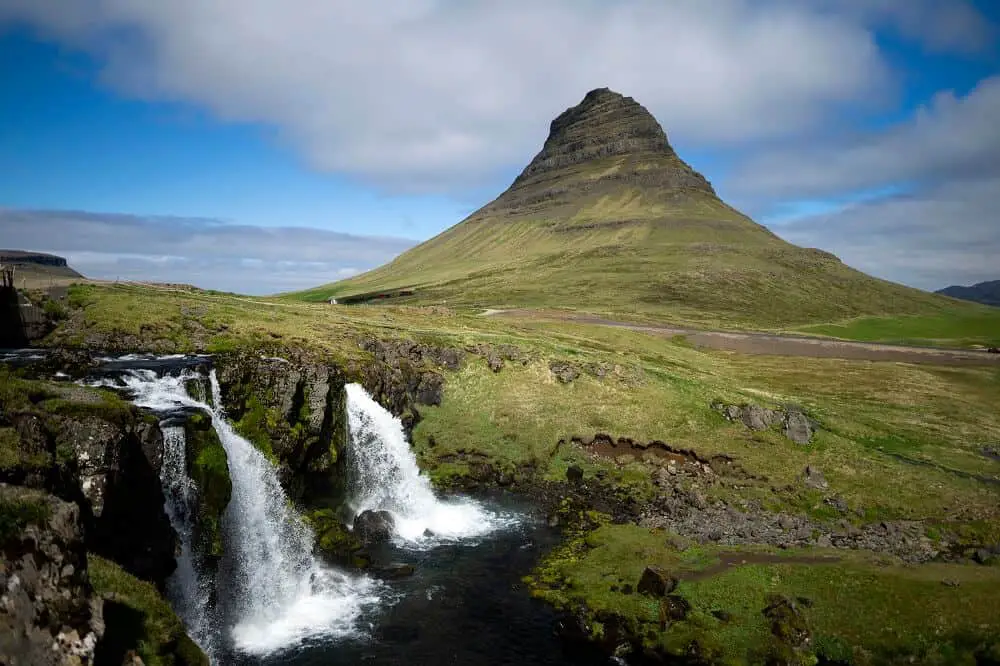 Singapore
By Abi of I'm Going On An Adventure Travel Blog
Singapore might not seem like a sustainable travel destination; it's not covered in rainforests, bursting with rivers and lakes, or overflowing with exotic wildlife. However, in truth, Singapore is fast becoming one of the most sustainable countries in the world!
The Southeast Asia country has slowly been growing its reputation as a Garden City working hard on developing and improving its sustainability through green initiatives and innovation focused on long-term strategic planning. This, in turn, has made Singapore one of the best sustainable tourism countries to visit.
There's a huge variety of sustainable and ethical activities from bird watching, especially in one of the larger national parks such as the MacRitchie Reservoir or Southern Ridges to paddle boarding, kayaking, and visits to traditional villages on forgotten islands.
You can even take cycle tours through the parks and heritage areas; Singapore has focused on preserving the multicultural heritage of these neighborhoods too.
Highlights include a visit to Gardens by the Bay, the Singapore Botanic Gardens, and the Singapore Night Safari which is dedicated to conservation, rescue, and education.
There are also some wonderfully sustainable accommodations in Singapore such as PARKROYAL on Pickering and Oasia Hotel Downtown with a living wall adorning its concrete structure. If you're visiting Singapore on a budget then head to Loyds Inn.
Singapore is an international transit hub which means it's super easy to get to on a flight from any major (and smaller) airport. It's also possible to travel overland from Malaysia; a bus from Kula Lumpur to Central Singapore will typically take 9 hours and cost about 20 USD.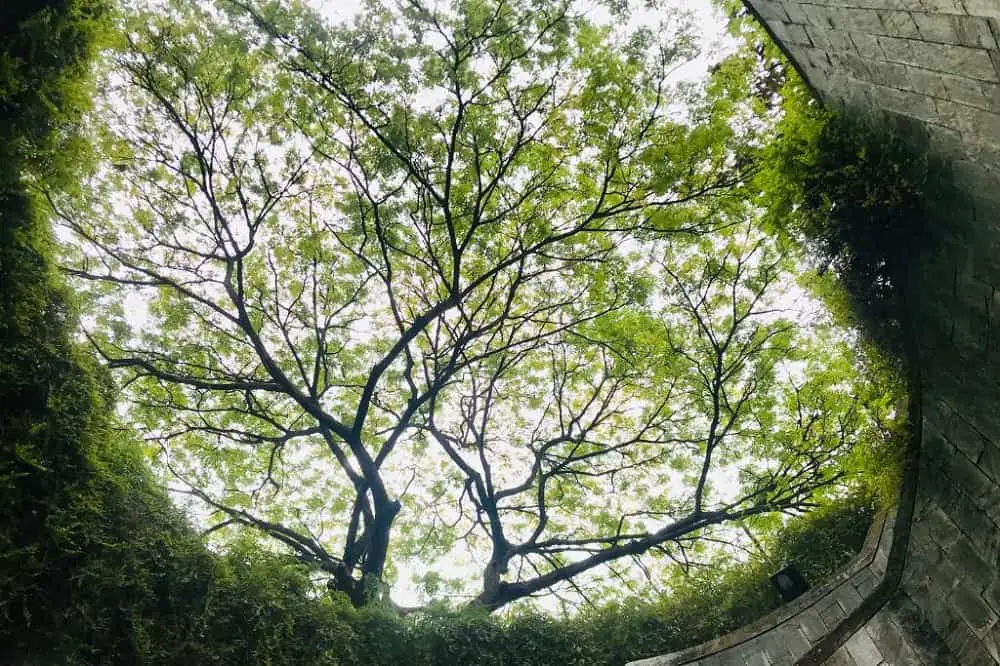 Reflections on sustainable tourist destinations
So many incredible initiatives to promote sustainable tourism has been done across the globe, and these eco tourism destinations are just a few of them.
I really hope this post has inspired you to pick one of these incredible places as your next holiday destination so that you can support positive tourism.
While there was a high level of promise during the pandemic that travel destinations had become greener after a rest from travelers, I'm not quite sure if overtourism after the pandemic is a myth or a reoccurring trend from destinations that were in desperate need of tourism money after two years of economic drought.
So let's take action and support those destinations that do take sustainability seriously!