There's nothing like strolling around old, charming towns lined with pastel-colored houses, divided by rivers, and overlooked by castles. If there's one country you'll find a lot of this, it's Germany. There's no end to the charming, old towns in Germany. Culture-infused places serving the best of local food and drinks creating unforgettable experiences.
If you're not quite sure where to go to discover the best German towns, look no further. Here are the most beautiful towns in Germany to help you find your dream destinations for your Germany itinerary.
Disclosure: This post may contain affiliate links. That means that if you make a purchase through one of those links, I will get a small commission at no extra cost to you. As an Amazon Associate, I earn from qualifying purchases.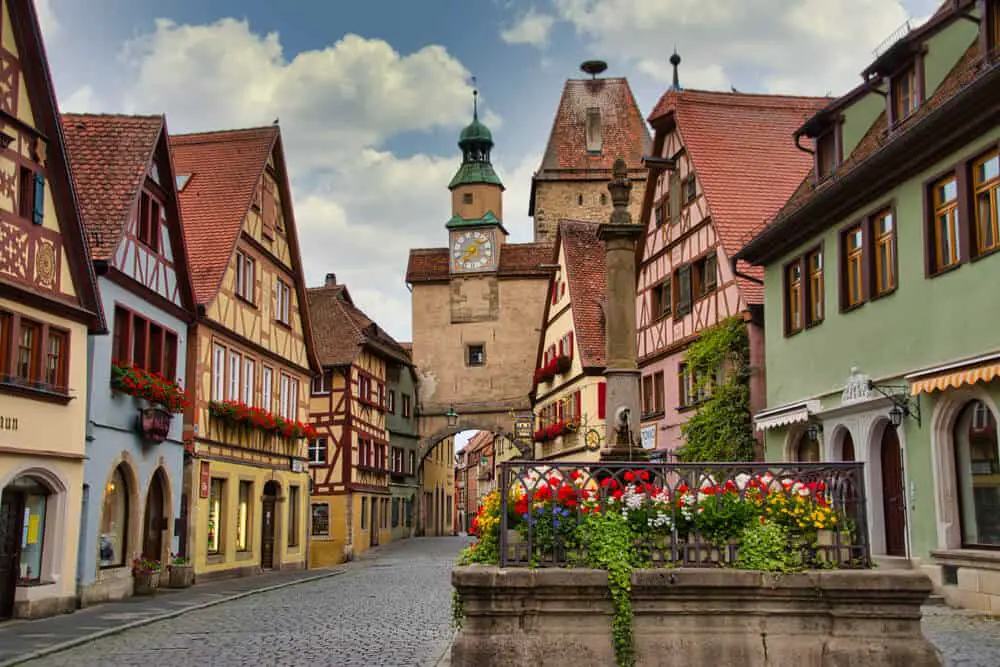 How to get to the prettiest towns in Germany
The best way to get around to the beautiful towns in Germany is definitely by car. You can easily go on a road trip in Germany ticking off many cute destinations and it's easy to pick up a rental car at the airport. The roads in Germany are generally pretty good too.
If you haven't booked a rental car, make sure you do it right now, so that you get the best prices. Check availability and prices here.
However, there are buses to many of the famous German towns. You can check buses here.
If you still haven't booked your flight to Germany, check prices here.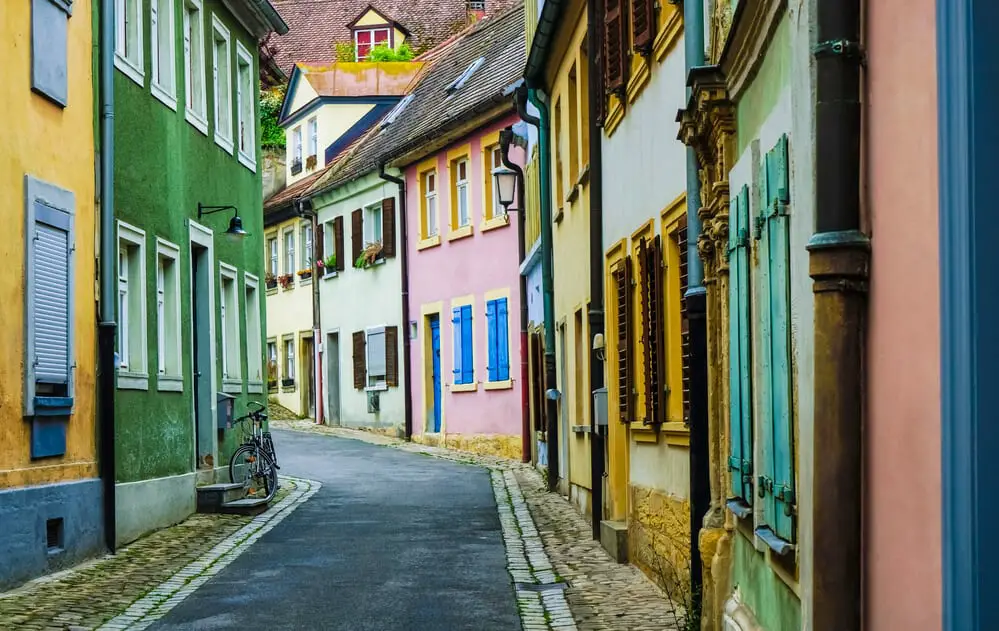 MORE FROM GERMANY:
The most beautiful towns in Germany
Rothenburg ob Tauber
Recommended by Corinne of Reflections Enroute
Rothenburg ob Tauber is one of the best-preserved medieval towns in Germany. Surrounded by a stone wall, it's fun to walk through one of the gates and meander the ramparts as well as the downtown area where you can take in the beautiful half-timbered buildings and business signs that hang above the doors.
There are many interesting things to do and see in Rothenburg ob Tauber. To begin with, there are a few really great museums like the Medieval Crime Museum and a Christmas museum, both worth a trip on their own. 
In summer, it's great to take a picnic and sit in what used to be the moat but now is a gorgeous green space. In winter, Rothenburg hosts one of the most charming Christmas markets in the country. 
Rothenburg is easy to get to from any of the major cities. By car, you just need to find A7 (Autobahn 7) and take exit 108, but it might be easier to travel there by train. It will take about 3 and a half hours from either Frankfurt or Munich. 
If you are going to spend the night, a great place to stay is the Romantik Hotel Markusturm, which is located within the ramparts, and an easy walk to a great range of restaurants.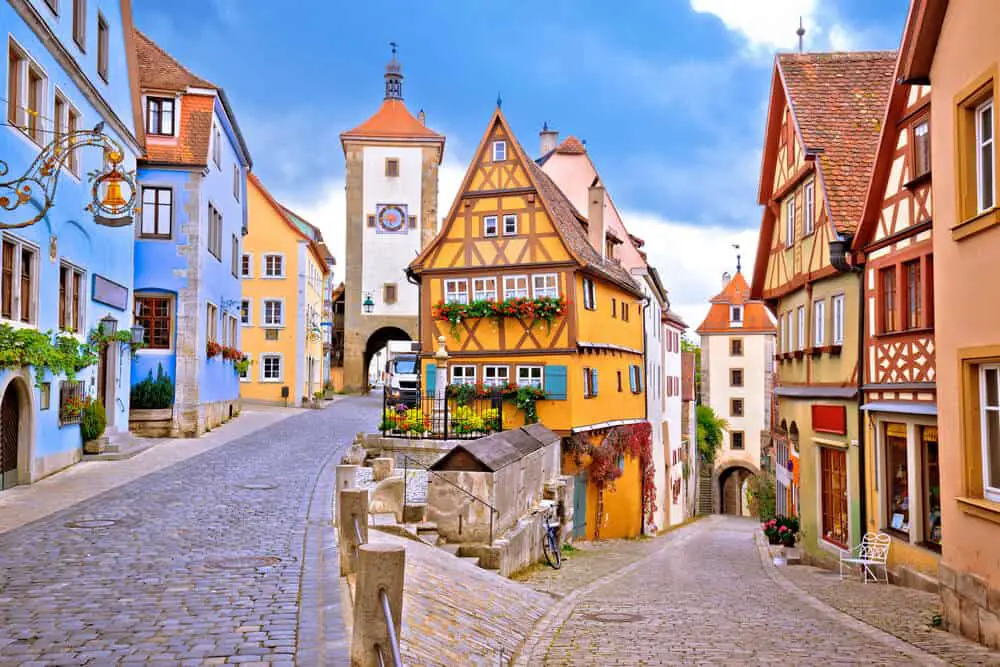 Cochem
Recommended by Emma of Emma's Roadmap
When visiting the Moselle valley, Cochem is a destination that should definitely be on your bucket list! With its fairytale castle on top of a hill, this historic town is a perfect place to visit for those who want a quick infusion into German culture and history.
There are many places you shouldn't miss during your visit to Cochem. Of course, the castle is the main attraction here, where they offer tours in multiple languages. Furthermore, if you're looking for an amazing view and fun experience, you can take the chair lift "Cochemer Sesselbahn" up to the Pinnerkreuz and have a drink with a view.
Don't forget to take a stroll around the town to pass by the marketplace and Ender tour as well as the many cute shops you'll find along the way.
A very popular activity is without doubt wine tasting. The Moselle region is well known for its Riesling grape and you'll see the many wine fields along your way to Cochem.
You can easily get to Cochem by car, but other fun ways to get there are by bike or boat, as many boat tours are available that stop in Cochem and other towns at the Moselle.
Stay at the charming family-run hotel Weinhaus Gräfen.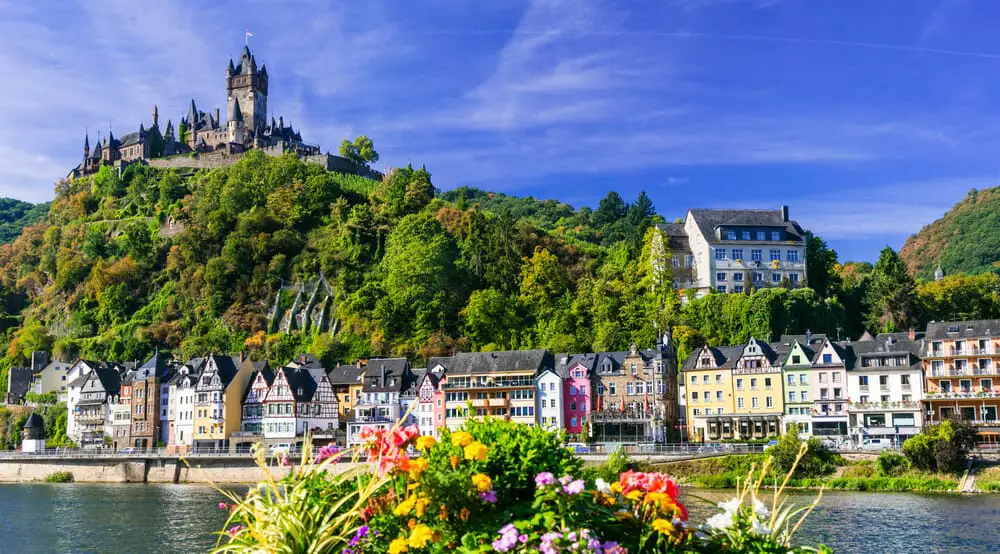 Bamberg
Recommended by Corinne of Roving Vails
Bamberg is a gorgeous little German town and undoubtedly is a must-see. In 1993, it was inscribed onto the UNESCO World Heritage List for its intact old city, and with it some of that old German charm.

As you walk through the center of town, you will notice the abundance of half-timbered buildings, cute boutiques, charming cafes and restaurants, and even some amazing pubs. Bamberg is especially famous for its "Rauchbier" or "smoke beer."
One of the most unusual but stunning sights is the old "Rathaus" or City Hall. It was built in 1386 in the middle of the river on an artificial island. That's not all. The exterior is covered in colorful frescoes, and they even have a bit of a 3-D portion where one of the angels has a foot sticking out of the hall. 
There's plenty more to see in the town, including its 13th-century cathedral, the New Residenz Rose Garden, Little Venice, which is a canal passing by some old fisherman homes, and plenty of restaurants serving up traditional Franconian fare.
The best way to visit Bamberg is to stay a couple of days, and one of the best accommodations is at the City Hotel Bamberg, which is not far from the old town.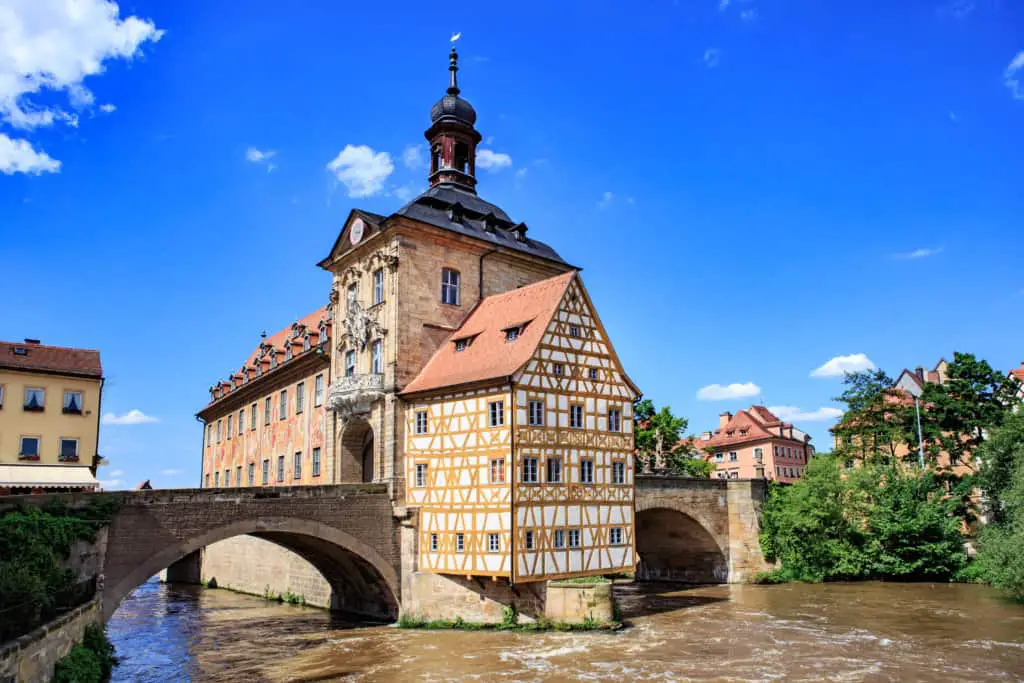 Wernigerode
Recommended by Jonny of In Faraway Lands
Wernigerode is one of the best-preserved medieval towns in Germany with many of its buildings being of timber-framed houses and it's located in the beautiful Harz Mountains area.
It has one of the best castles in Germany which is scenically perched on a hill giving excellent views across the town. You can walk up through the forest to reach the castle or take a small train that rides up there.
Visiting the castle is the main thing to do in the town and afterward, you can stroll around the medieval part of town and enjoy food or a beer at many of the cafes there.
The town hall in the market square dates to 1420 and is one of the more impressive buildings to see and the tiny Kleinstes Haus is the smallest house in town squeezed in-between two houses which now houses a folklore museum.
Wernigerode can easily be reached by car but the best and most scenic way is to take the famous narrow gauge Harz steam railway which is regarded as a must-do experience in the Harz Mountains. The Harz Hostel is a great place to stay if on a budget and is in the center of the town.
Stay at Boutiquehotel Schloßpalais where you can get a room with castle views.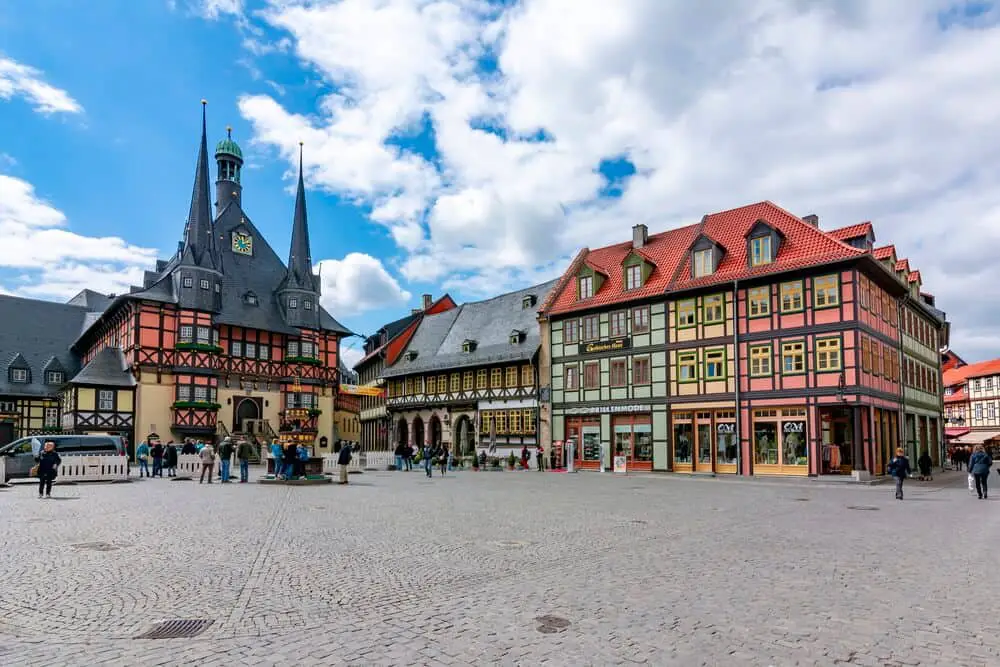 Monschau
Recommended by Zoe of Together In Transit
Explore one of the most beautiful German towns in the west of the country, the gorgeous location of Monschau. It's easiest to arrive by car, with many parking locations at the top of the valley as well as in the town itself.
This cobblestoned German town is situated in the valley and has a gorgeous river passing right through it.
For things to do, the Monschau 13th century castle is worth exploring for the history of the town as well as the Scheibler Museum Rotes Haus to learn about the rich textile history.
Else find yourself walking around the panoramic route that is advertised on the walking signs. Here you can walk the route around the town with some gorgeous photo opportunities looking down into the valley and town.
Something unique is to visit the Mustard Mill, where there are at least 22 local mustards produced with some weird but delicious combinations possible.
After a full day of exploration, finish off by eating some local German drinks and food before checking in for the night at Hotel Alt Montjoie. Here, you'll have a great night's sleep and be perfectly situated in the town. 
Top tip: the best time to visit is during Spring or Autumn, as it's truly beautiful with all the seasonal colors within Monschau.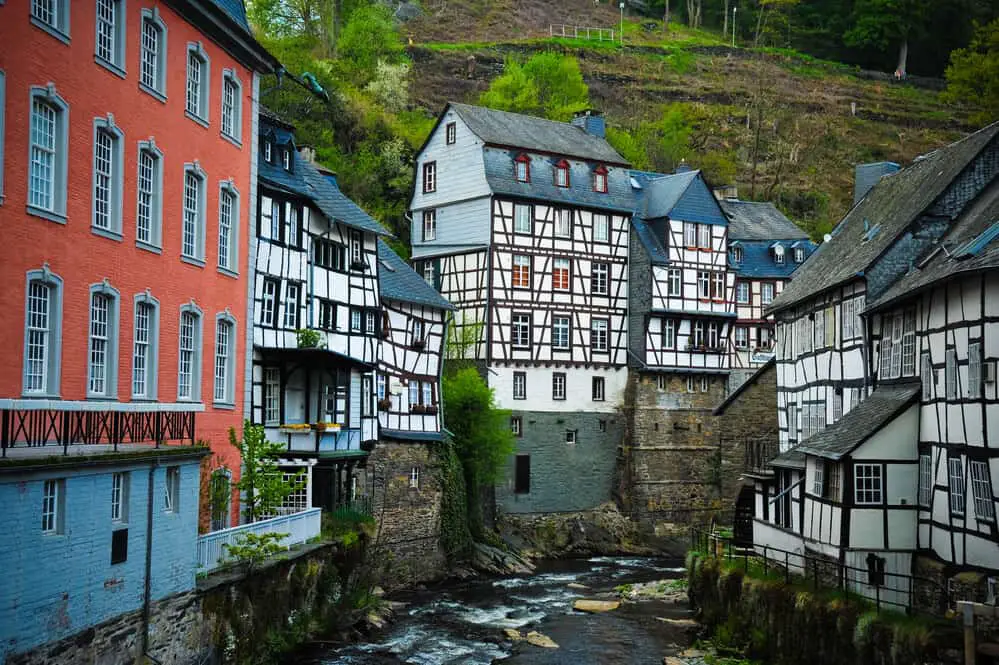 Flensburg
Recommended by Amber of She's Catching Flights
Flensburg is one of the most beautiful historic German towns to visit, only about 2 hours away from Hamburg.
Flensburg also borders the country of Denmark and used to be a part of Denmark. To this day, some Danes will actually go to Flensburg to do their errands such as grocery shopping to avoid paying the hefty prices in Denmark.
This German town is very cute and has some fun things to do if you're coming for a visit. If you're a fan of architecture, you'll love what Flensburg has to offer. You can visit the Nikolaikirche, which is a beautiful church in Flensburg and the largest church in the town.
If you want to walk around the historical buildings, then you could also take a walk around Rote Straße which is the local pedestrian street.
You can then venture over to the market square Südermarkt which has been in use for over 800 years. If you're a history buff you'll also love to see the Nikolai-Apotheke building which was built in the 1400s!
If you're interested in rum, then you'll surely appreciate the local rum distillery Rum & Rumhaus Braasch, which also has a museum to explore.
Enjoy spending your time on the waterfront? Flensburg also has a historic and picturesque harbor front area that you can explore.
Stay conviniently at Central Hotel.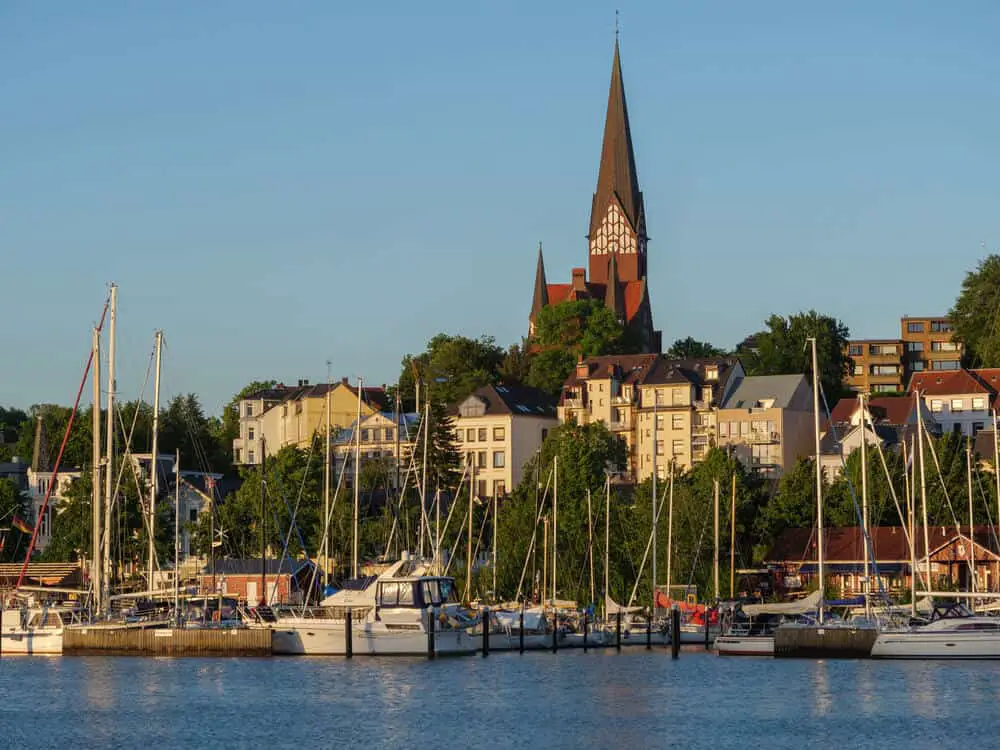 Lübbenau
Recommended by Ali of Berlin Travel Tips
One of the most beautiful towns in Germany is Lübbenau in the Spreewald. The Spreewald is a UNESCO recognized biosphere reserve south of Berlin, and it's a great region for outdoor enthusiasts. Lübbenau is a cute town that offers easy access to the forest.
The Spree River runs through this area, so getting out on the water is a great way to explore. You can take a tour on a punt boat, a flat bottomed boat with benches to sit on, from Lübbenau through part of the forest. If you'd rather explore on your own, you can rent a kayak or canoe.
Another great way to see Lübbenau is to rent a bike. There are cycling trails from the town to surrounding areas, and you can rent a bike at the train station.
In the town center, check out the Lübbenau Palace, which is now a hotel. There's also a museum where you can learn about the town's history and the importance of pickles in this region.
Speaking of pickles, make sure you try some while you're in Lübbenau. In the morning, there's a little market called Gherkin Mile with a handful of stalls selling tons of varieties of pickles and other pickled vegetables.
You can easily do a Spreewald day trip from Berlin, but if you'd prefer to stay overnight, try the Spreezeit Hotel for a good midrange option.
Lübbenau can be reached from Berlin in a little over an hour by train. The best option is the RE2 train from Berlin Hbf.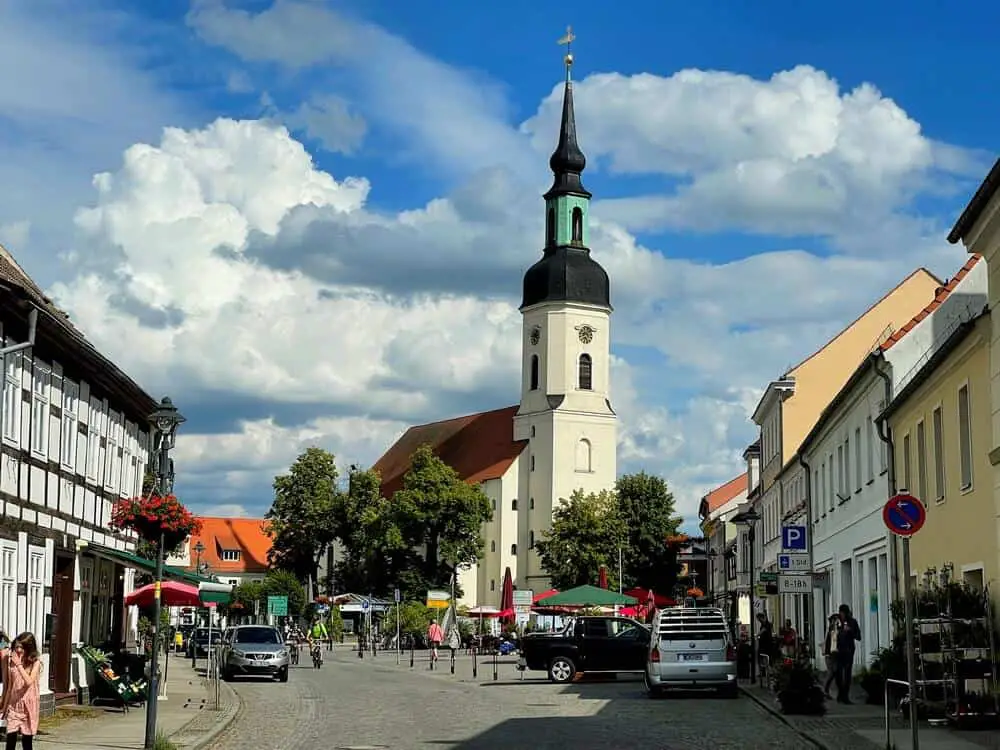 Füssen
Recommended by Krystianna of Volumes & Voyages
Fussen is one place in Germany that you can't miss. Located in Bavaria, Fussen is only a short day trip from Munich and is most famously known for being home to Neuschwanstein Castle. No matter the time of year, you'll truly feel like you're in the middle of a fairytale while in Fussen.
The easiest way to get there is to take a train from Munich, but you can also drive. The train can be extremely full during peak season, so plan your trip wisely.
Once you get there, you'll want to head straight to the ticket booth to purchase a tour ticket for the language that you prefer. Tickets sell out fast; if you're a planner, get them online way in advance so you can skip the line!
In addition to visiting Neuschwanstein Castle during your visit, stop by the lesser-visited Hohenschwangau Castle. This castle is just as gorgeous and is a bright yellow color. With just one day in Fussen, you can easily visit both castles if you plan your time wisely.
The best place to stay in Fussen is Hotel Sonne Fussen. It's located right downtown and is perfect whether you're traveling with your family or a significant other.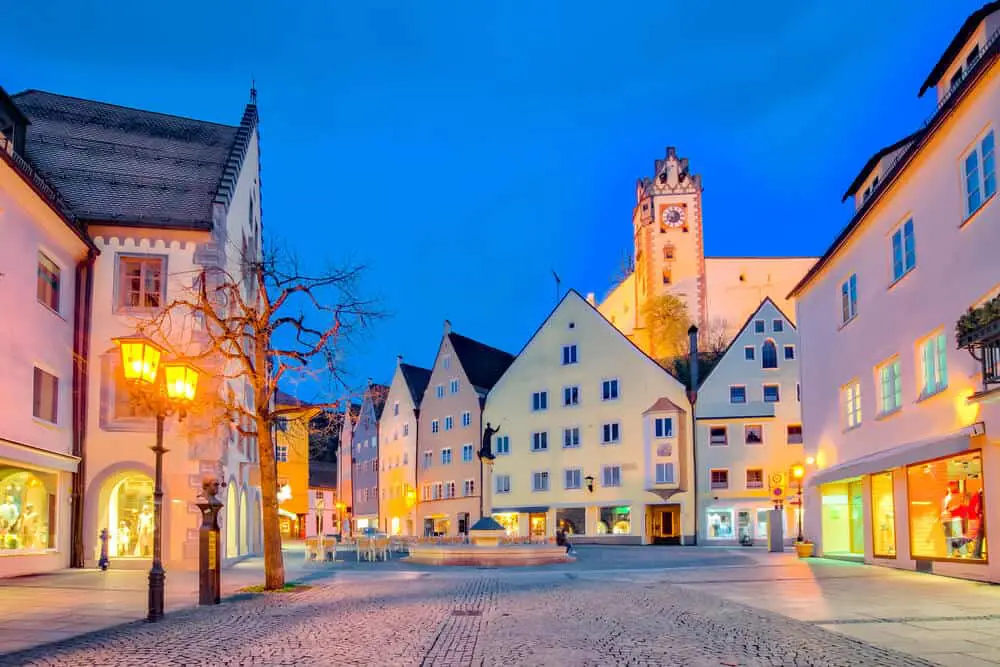 Garmisch-Partenkirchen
Recommended by Steve of Ski Resorts
Originally two separate towns, Garmisch and Partenkirchen were forcibly merged to host the Winter Olympics in 1936. Now in days, some say it's the prettiest town in Germany – and it's definitely up amongst the prettiest!
Since then, the ski town of Garmisch-Partenkirchen has become the grande dame of the German winter sports scene, not only for the ski areas on the hills on the edge of town but also for its train to Germany's only glacier ski area at the Zugspitze (the highest mountain in the country).
Garmisch-Partenkirchen is also a popular destination for summer tourism, with numerous marked mountain walking and biking routes, as well as more extreme adventure sports options higher in the surrounding peaks.
Those who prefer a more leisurely visit can take the cog train up inside the mountain to arrive on the Zugspitze glacier or explore the older parts of Partenkirchen, once an important stop on the trade route linking Italy to Germany in post-Roman times.
As it's one of Germany's most popular tourist destinations, the town has a wide range of accommodations. Those who like a quieter stay might prefer Das Graseck, perched above the Partnach gorge and reached by its own short cable car, while down in the town the Posthotel in the center of Garmisch can trace its history back to the 16th century.
Garmisch-Partenkirchen is one of the ski resorts within easy reach of Munich. It is a stop on the main rail connection between the Bavarian capital and Innsbruck in nearby Austria and the car route south is mostly via motorway.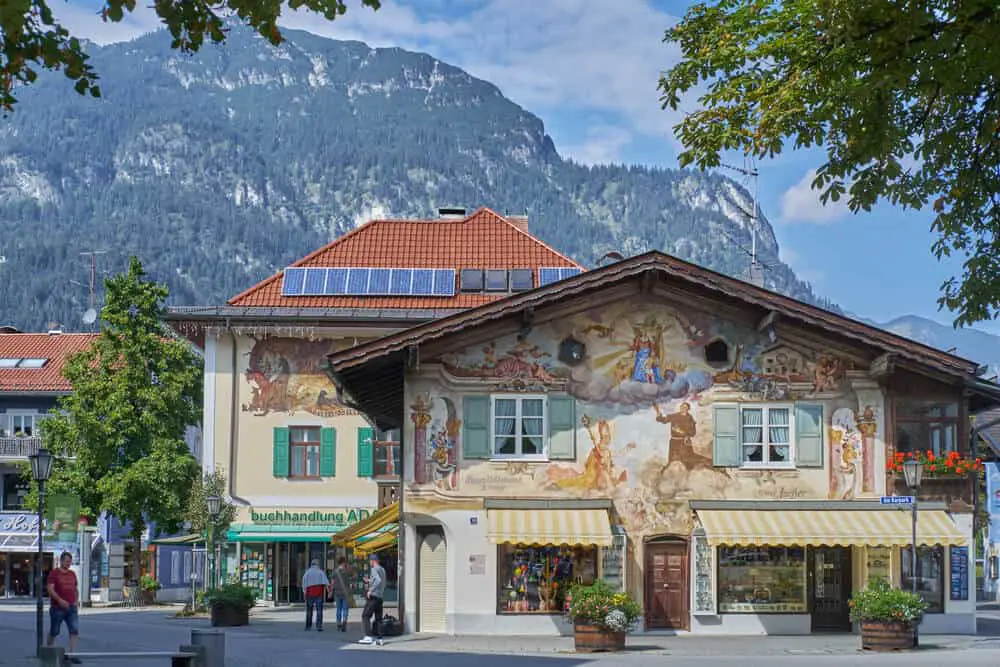 Sommerach
Recommended by Maria of Bavaria Travel Tips
Sommerach is a charming Bavarian village in the picturesque wine region of Franconia. Surrounded by steep vineyards, the small town sits on an "island" between the Main river and the Rhein-Main-Donau-Canal.
While popular among German tourists, this village is still very much undiscovered by international tourists and you can get a very authentic experience in one of the most quaint towns in Germany.
The small village only has a population of 1400, but so much to offer. It is known for its excellent wine, outstanding traditional gastronomy, and fun outdoor activities, including hiking in the vineyards, biking, and kayaking.
Sommerach has excellent restaurants with a very traditional feel and mouthwatering food. You will find old-fashioned Franconian dishes, like Sauerbraten or Schäufele on the menu.
Wine plays an important role in Sommerach. The most famous wine in Sommerach is called "Sommeracher Katzenkopf" (cat head of Sommerach) and is a dry white wine made from the Silvaner grape that definitely tastes better than its name suggests.
In July, you can celebrate with the locals at the annual wine festival, where they close off the streets, put up benches and booths selling wine and food, and play traditional German music. A great way to mingle with locals, drink great wine, and experience German culture first-hand.
Surrounded by medieval city walls and towers, cobblestoned streets, and traditional half-timbered houses, Sommerach is the quintessential picturesque German village and a great add-on for your Germany itinerary. 
For a superb stay, check in at Villa Sommerach.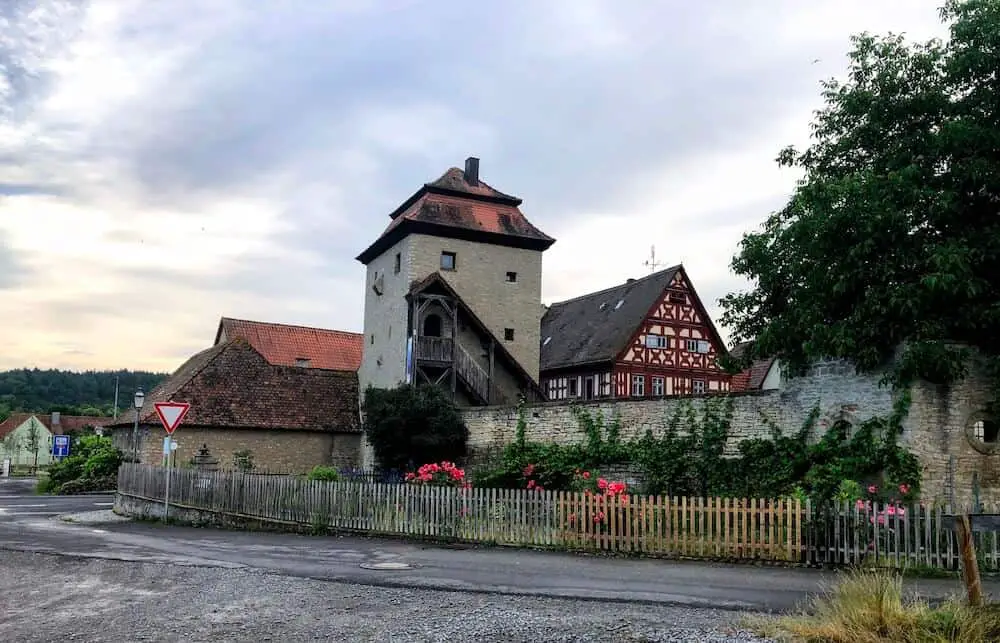 Heidelberg
Recommended by Ada of Beyond The Yellow Brick Road
Back in the day, picturesque Heidelberg tucked in the Neckar and Rhine river valley was the center of German Romanticism.
Still one of Germany's most romantic destinations, this southwestern German town located about an hour drive south of Frankfurt oozes fairytale charm. It's no doubt one of the prettiest towns in Germany.
With its 14th century university – the oldest university in Germany – Heidelberg has been a destination for scholars and travelers alike for centuries. 
A visit to Heidelberg isn't complete without a stroll down Hauptstrasse, the mile-long pedestrian main street, through Old Town's beautiful Baroque architecture.
Don't forget to visit the lucky monkey statue, Brückenaffe, next to the Old Bridge stone gate. Cross the stone Old Bridge to reach the Philosophers' Walk on the north side of the Neckar River for sweeping views of Old Town and the imposing sandstone Heidelberg Castle perched on Königstuhl Hill.
Heidelberg Castle demands a stop if only to visit the Heidelberg Tun. This enormous wine barrel – the largest in the world – can store up to 220,000 liters of wine. It's so large there's a staircase to the top of it! Speaking of wine, grab a mug of mulled wine on your hike up the hill to the castle and enjoy the town views from the castle gardens.
If you go, consider a stay in the center of the action at Hotel Am Kornmarkt Heidelberg located directly off the Old Town market square. From there you'll be able to conveniently access the best Heidelberg's shops, cathedrals, museums, and cafes.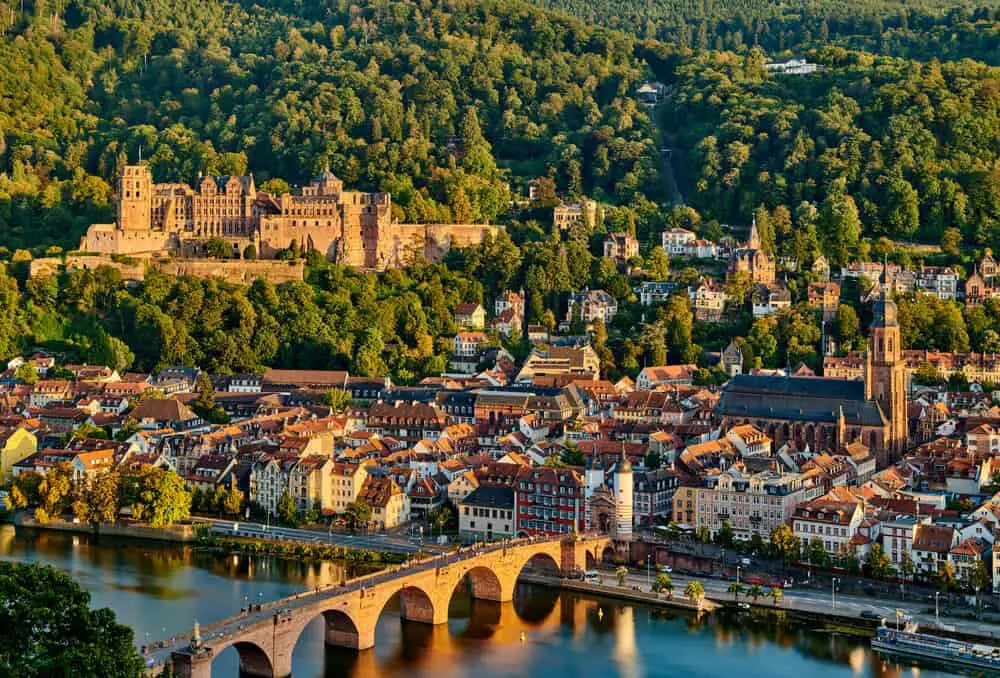 Sankt Wendel
Recommended by Morgan of Crave The Planet
Sankt Wendel impresses tourists and Germans alike as a vibrant German town in Southwest Germany. It hosts the best Christmas market in the region and has a marathon, rave, or obstacle race always keeping people busy. 
It's a place for outdoor lovers, hikers, golfers, and people who want to experience the best of the magical rolling hills between the Eifel and Pfälzerwald forests.
One can feel centuries of traditions at the crossroads of German, French, Pagan, and Roman Cultures.  Visit gentle chapels in the hills, ancient hiking paths, and always have fun at an event for young people to attend.
It's best to plan a cool hike to see the nature, history, foliage, and amazing sculptures that line a path that goes all the way to Russia. 
This weekend getaway from Paris or Frankfurt is located close to the French border about 30 minutes from Kaiserslautern, Germany. 
The city has ample paid parking lots and a train station located within 300 meters of St. Wendelinus Basilica, a pilgrimage destination holding the remains of Saint Wendelinus since 617 AD. 
Check out Bruder Jakobs or Cafe Luise for a local and delicious meal. After a visit in Saint Wendel, you won't be doubting that this is one of the best towns in Germany.
Stay at Angel's – das Hotel am Fruchtmarkt.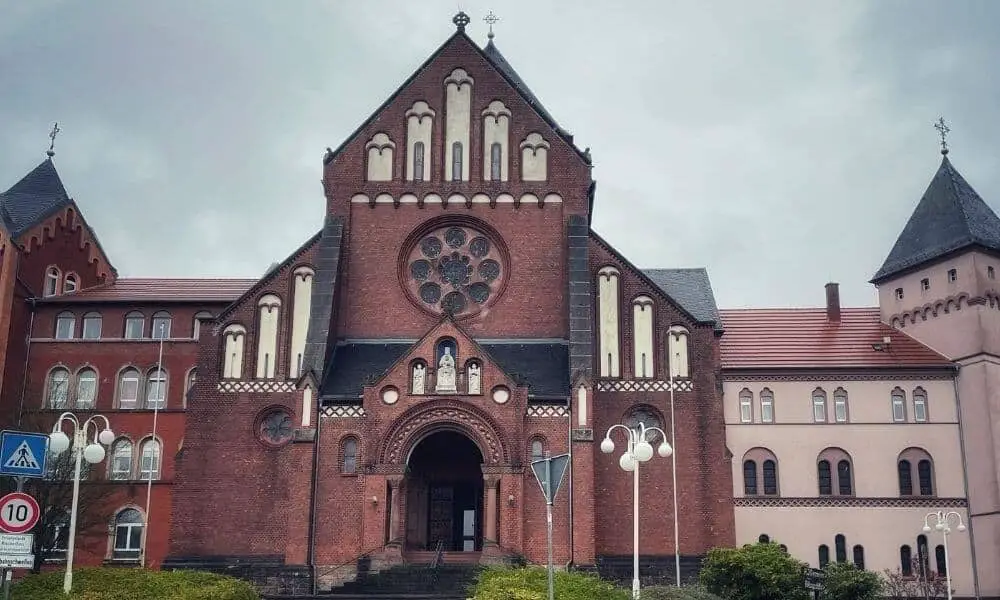 Bacharach
Recommended by Pauline of Paulina on the Road
Bacharach is situated in the upper middle Rhine valley in Germany. It's surely a pretty town with its vineyards, cobblestone streets, and half-timbered streets.
It's totally worth visiting Bacharach which is no doubt one of the best small towns in Germany town. You'll be able to discover a lot of the country's history and wine culture.
Bacharach has also been listed as a UNESCO World Heritage site and is also known as the wine village.
It has a vast significance in history and is one of the preserved medieval towns in Germany. Bacharach used to be the main center for the wine trade in the 14th century.
The small ships transported wine to larger places via this village. It was a suitable spot for exporting wines to different parts due to its location.
The town was discovered by Celts and was previously known as Baccaracum. The name of the village came out from the word Bacchus, which means the God of wine.
You can reach the town by taking a flight to Frankfurt Hahn Airport. From there, it's only about a 40-minute drive.
There is a lot to do in this town despite the small size. The travelers can start their exploration from the Rhine river day cruise and then visit Wernerkapelle. It's still standing straight even after the collapse of its roof in 1689.
Discovering the architecture-Burg of Stahleck is also one of the must-have experiences. The European Christmas Market Cruise is a wonderful experience if you visit in winter. There's no doubt, this is one of the best towns to visit in Germany.
Gästehaus Ströter is a great place to stay!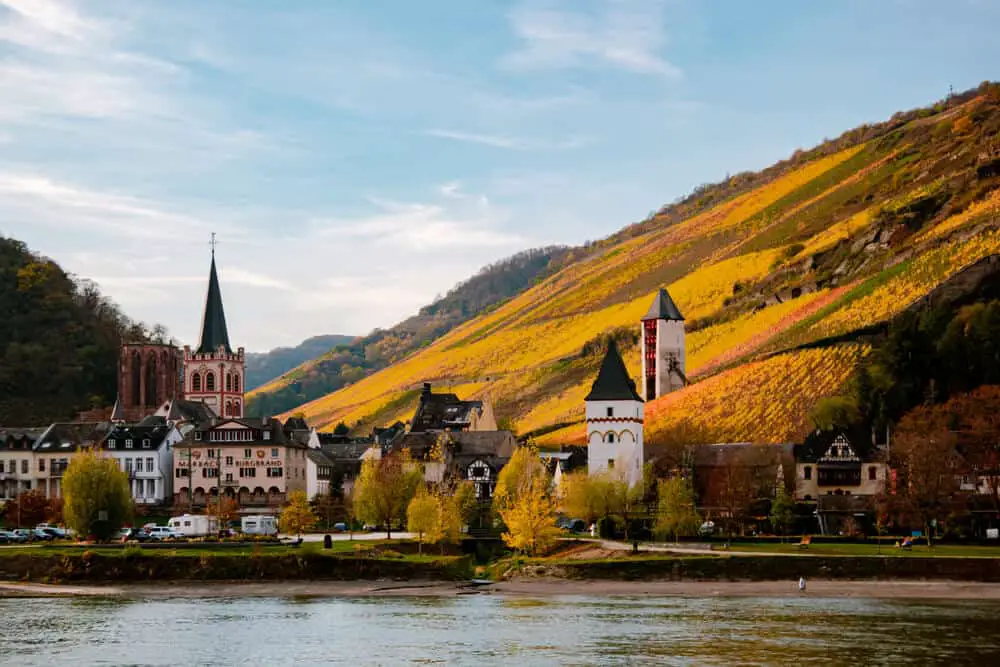 Reflections on the cute, old towns in Germany
There's no questioning there are endless cute towns in Germany to visit. You might not be able to pack in all of them in one trip, but hopefully, by now you've got an idea of which one you want to prioritize.
When traveling to these old German towns, make sure you're up to date on responsible travel so that you contribute to preserving the culture and nature of these incredible places have to offer!
If you go hiking in the outskirts of any of the German countryside towns, make sure you follow the Leave No Trace Principles and always practice sustainable tourism no matter where you go.
Especially, don't feed wildlife – let them be wild! Feeding them means they'll get closer to the towns and are more vulnerable to hunters and other predators. But most importantly, it affects an entire ecosystem when one species stop eating its natural food.
With this, I'll leave you to an amazing and unforgettable trip exploring the most beautiful towns in Germany!
Pin it for later!