The Amalfi Coast is located in Southern Italy and is one of the most beautiful stretches of coastline in the world. There are so many beautiful coastal cities and villages that are just waiting to be explored. With only 2 days in Amalfi Coast, you will have just enough time to get a taste of all the main cities and experience the Italian Fantasy.
However, there is a ton to see and do along the Amalfi Coast, and to ensure you stay on track it is essential to have an itinerary to help guide your adventures.
This itinerary will give you the best tour of the coast and will show you all the top spots and activities there are, including some of the best Amalfi Coast towns! But, if you are enjoying one city and feel like you want to stay there and skip another, feel free to do so.
This coastal adventure is for your pleasure. Therefore all decisions on what to do in Amalfi Coast should be in line with what you want at the moment.
Disclosure: This post may contain affiliate links. That means that if you make a purchase through one of those links, I will get a small commission at no extra cost to you. As an Amazon Associate, I earn from qualifying purchases.

Best time to travel to Amalfi Coast
The best time to travel to Amalfi Coast depends on your travel preferences. In the summer months, the coast is buzzing with activity, and everything is open and in full swing. However, the temperatures are scorching, and it can get extremely crowded. In the other months, the Coast is still fantastic. There are far fewer people, the temperatures are more bearable, and many of the attractions and such are still open.
---
---
Where to stay in Amalfi Coast
The Amalfi Coast can get pretty expensive. It is essential to stay somewhere that is in a good location for quickly traveling to other cities, and that is cost-effective. Therefore, the best place to stay in Amalfi Coast is in Sorrento. You can find some very affordable Airbnb's here, and it is the perfect place to start and end your days.
---
---
How to get around Amalfi Coast
The two best ways to get around the Amalfi Coast are by renting a car or hopping on a bus. The bus is probably most accessible, and the busses run very often. However, with a car, you are free to do whatever you want and are not constrained by anyone else.
---
Rent a car here.
---
Day 1: 2 days in Amalfi coast
8 AM – 11 AM: Morning in Sorrento
Sorrento is one of the most beautiful, yet underrated cities along the Amalfi Coast. Since this is the best place to stay along the coast, it is where we will start and end our adventures. There is so much to do in Sorrento and the activities this town offers will start your day off with a bang.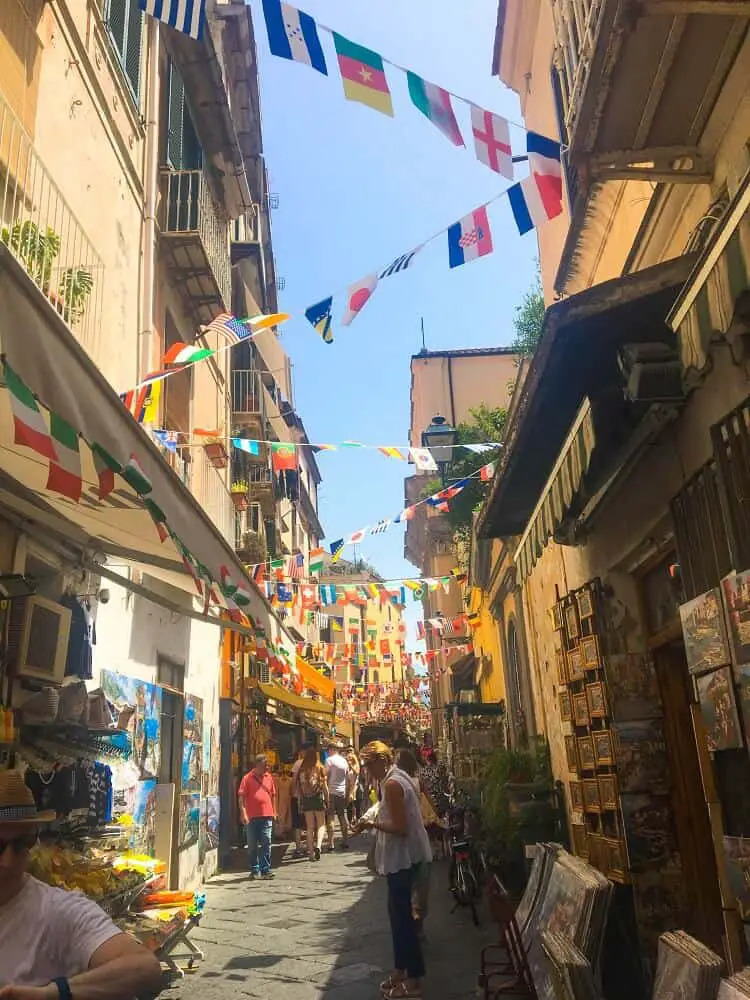 Have a coffee and Pastry at Piazza Tasso
Piazza Tasso is the main square in Sorrento that is always bustling with people. There are a few cafes and restaurants in this square that are great for grabbing a morning coffee and snack. More so, it is the perfect place for early morning people watching.
Explore the town
Sorrento is full of lovely buildings and charming side streets. They are all colorful and full of shops with various offerings. Walking around these streets in the morning is the best way to see the city with fewer people around and experience the town in its authentic form.
Visit a lemon grove
Sorrento is the primary producer and exporter of limoncello, and the whole area is famous for its lemons. There is a lemon grove 5 minutes from the city center that is free to walk around and explore.
Try Limoncello
Since Sorrento is the home of lemons and limoncello, it is only right to taste it here.
12 PM – 4 PM: Afternoon in Positano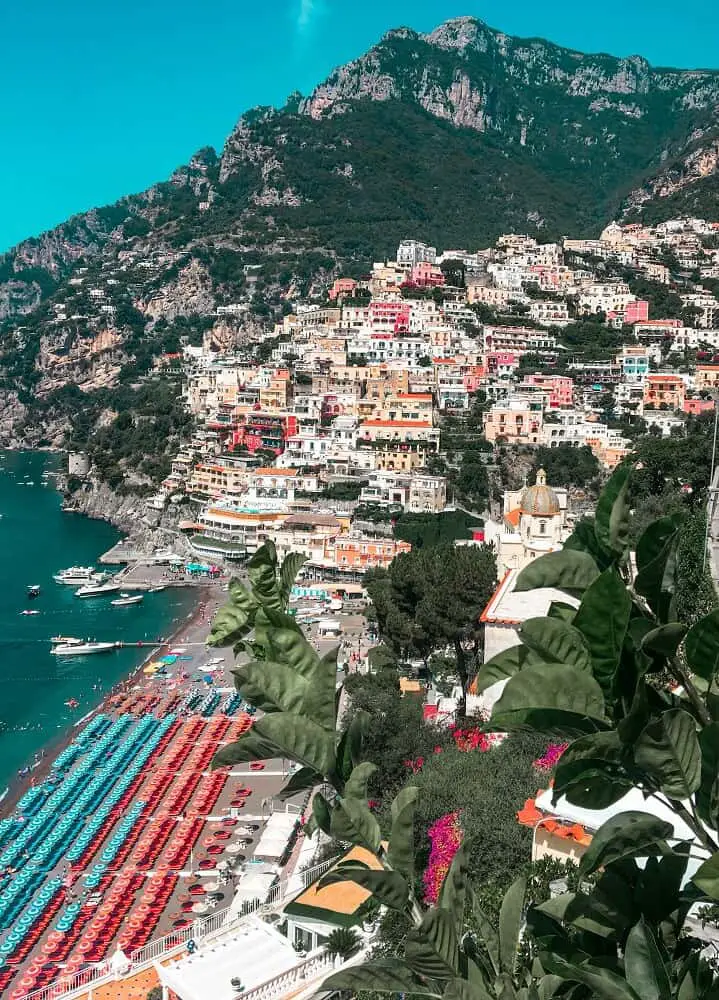 Positano is a must-visit during 2 days in Amalfi Coast 
Take pictures of the view
The first thing you'll want to do in Positano is to take hundreds of photos of the stunning view. The pastel buildings built up the mountain and the vivid blue water is to die for!
Go to Spiaggia Grande
Spiaggia Grande is the most famous and the most popular beach in Positano and one of the best beaches on the Amalfi coast. Spending some time walking around the beach or renting one of the iconic orange sunbeds is the best way to immerse yourself in the beauty and charm of the city. More so, when you are on the beach and look away from the water, you are faced with the stunning views of the city that will take your breath away.
Eat Lunch with a view
Positano has a plethora of restaurants that have terraces overlooking the stunning views of the city. Head to one of these and enjoy some fresh Italian pasta or pizza with a glass of prosecco. Eating while looking at the city is a magical feeling.
Go shopping
Positano has various art, clothing, and souvenir shops that are fun to explore. However, if you are planning on picking up souvenirs try to get them from Sorrento because they are less expensive.  Positano is a city for window shopping.
---
YOU MIGHT ALSO LIKE: Rome 4 day itinerary
---
4 PM – 6 PM: Late Afternoon in Amalfi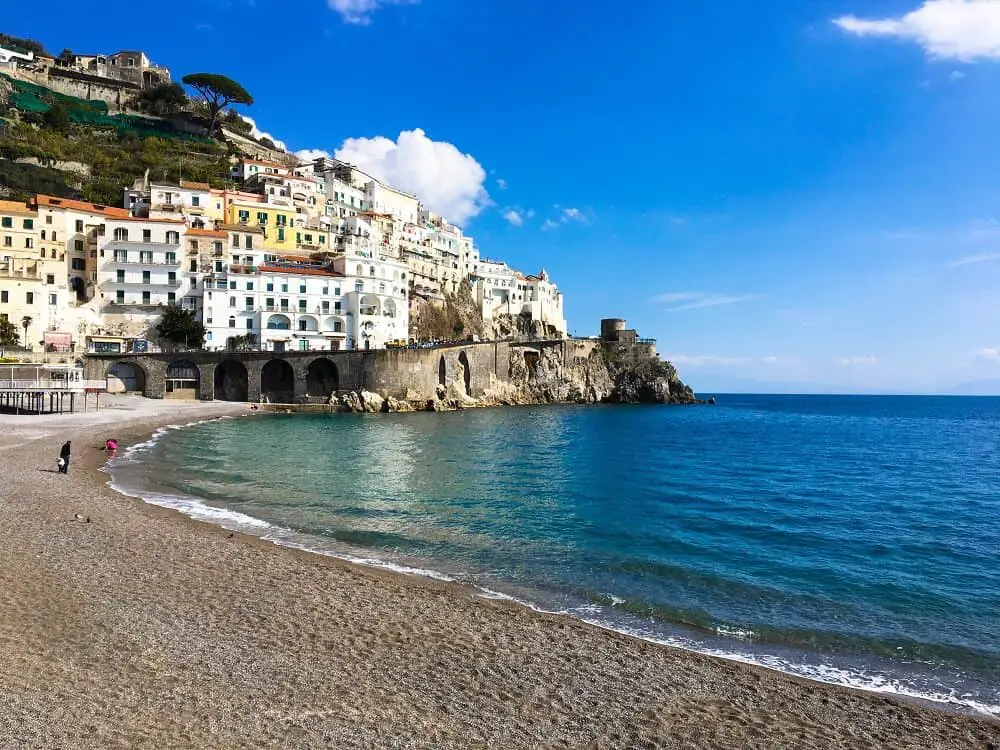 The beach in Amalfi 
Go out on the pier
Amalfi has a long pier that goes straight out into the water and offers stunning views of the city. Walkout on there and admire the town and surrounding mountains and sea.
Explore the town
Amalfi is much less busy than Positano; therefore, exploring the main town in Amalfi is more enjoyable. In this town, you can walk around without people everywhere and explore at your own pace.
Eat Gelato
There are a ton of gelato shops in Amalfi that are amazing. I suggest you take a few scoops as a pre-dinner snack and enjoy it during your last walk through the city.

6 PM – 8 PM: Evening in Ravello
Take in the view
Since Ravello is close to Amalfi a trip up the mountains is a must. From up here, the views are stunning, and taking some time to soak it in is a must.
Dinner & Wine
Ravello is the perfect, charming village to have dinner in. It is not very crowded, has excellent restaurants, and the views are out of this world.
8 PM: Back to Sorrento
After a busy day, it is time to head back to Sorrento to your accommodation. If you still have some energy in you, take some time to walk around the town at night.
Day 2: Amalfi coast itinerary
8 AM – 5 PM: Boat Tour Around the Whole Coast
Boat Tour
The best way to see the Amalfi Coast in all its glorious beauty is by boat. And luckily there are a ton of boat tour companies that offer this service. A typical boat tour takes around 8 hours and costs around 70 euros. You will see so much of the Coast and even get to visit some exciting places and do some fun activities such as Capri, The Blue Grotto, swimming in the open sea and more!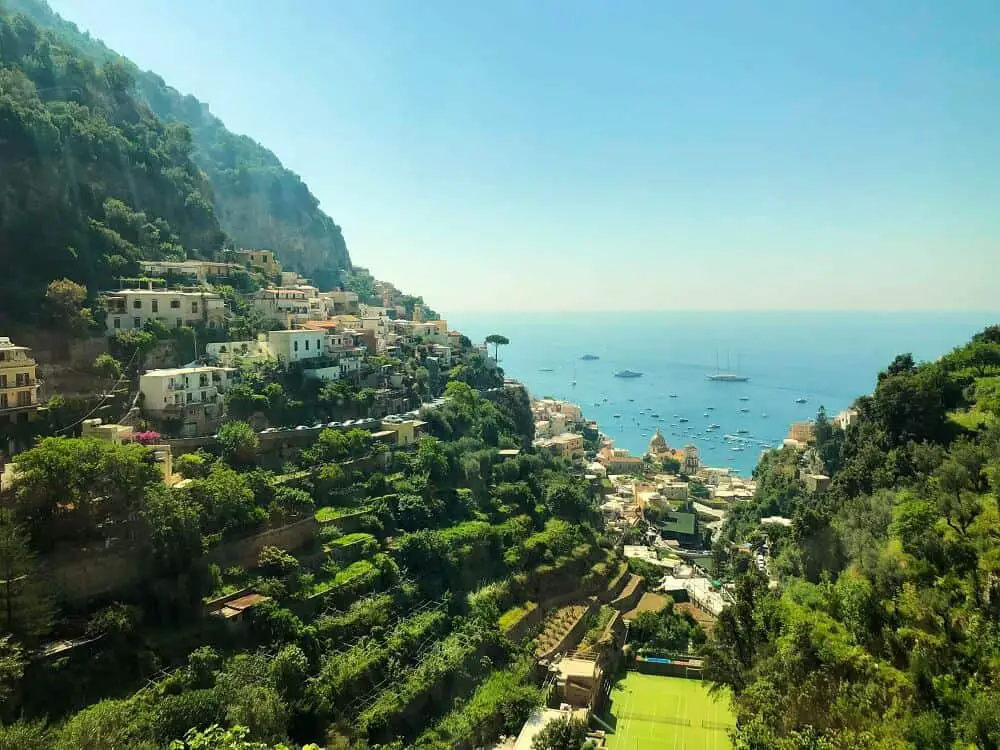 Capri is a charming Amalfi Coast town
5 PM – 10 PM: Dinner
Dinner & Drinks
Back in Sorrento, it is time to have a nice Italian dinner with a glass of red wine. This special dinner is the time to sit back and relax and appreciate the stunning environment. More so, it's the perfect time to reflect on your adventures!
Gelato Walk + Souvenirs
After dinner, it is time to wrap up your journey. If you want to bring home any souvenirs now is the time to get them! If you don't need any, now it is time for one final gelato.
Read: All you need to know to go hiking in the Amalfi Coast
How to be a responsible traveler on the Amalfi Coast
It is essential to be a responsible traveler while exploring the Coast. Hundreds of thousands of people flock here every year, and it won't stay beautiful if we don't make a conscious effort to look after it.
Be sure to throw all your garbage away in a trash can and help out the environment by picking up others trash you may see along the way.
Moreover, people who visit the Amalfi Coast will go to some extreme lengths to get the perfect Instagram picture. These lengths may include going in restricted areas.
However, you need to be aware that these areas are restricted for a reason. People do live in these houses and buildings, and it is essential to respect their homes.
---
Author Bio: Samantha Karen is the founder of the travel blog Sam Sees World. She is a millennial traveler on a mission to seek the new and unknown so she can document her experiences and inspire others to explore this wondrous world. Her objective is to provide valuable information on the best things to do, see, eat, and experience while traveling and getting some good Instagram photos along the way.
Make sure you follow her along on Pinterest and Instagram.
---
Did you like this? Make sure you Pin it for later!