With (Un)Ethical Animal Tourism Awareness Month coming to an end, I've been so lucky to speak with the founder of one of the most amazing, impactful organizations I've come across. Michelle Campbell from Wild Wonderful World in Africa.
Not only did we talk about what to look for in ethical wildlife tourism, but also the negative impact the lack of tourism have on wildlife in Africa during the pandemic.
Luckily there are ways to help even though we can't travel just yet. We will get into that later in the interview, but first, let's get to know Michelle a bit better and what Wild Wonderful World stand for.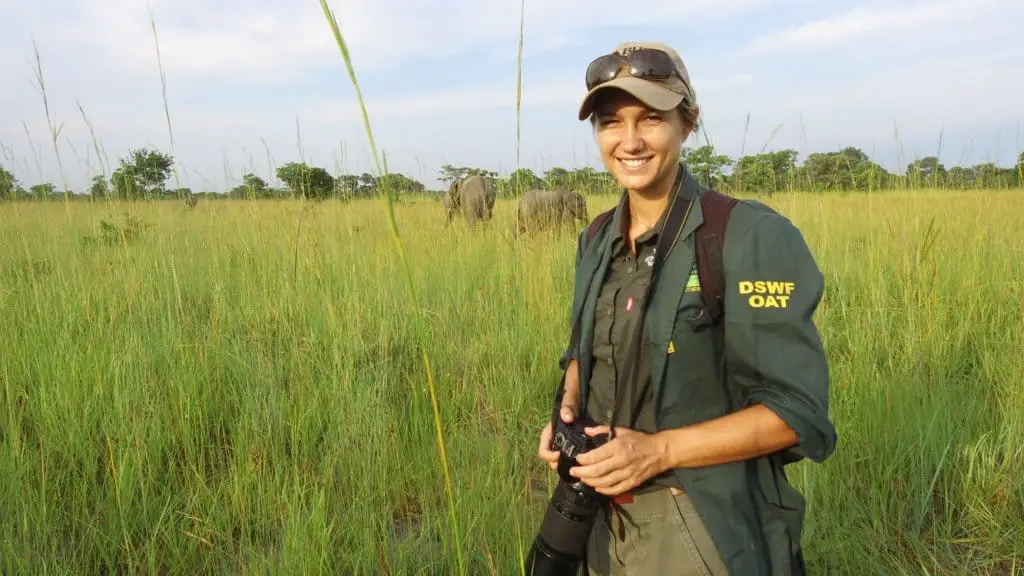 Meet Michelle Campbell
Michelle is a private safari guide and the founder of Wild Wonderful World, a conservation-focused safari company that connects passionate people to the wild through intentional safari experiences and empowers conservation efforts with a dedicated wildlife fund.
She grew up internationally in Africa, Asia and Europe and worked as an Economist in the banking sector before switching careers to be closer to nature.
Michelle has guided in some of the most prestigious lodges and reserves in Southern Africa and continues to travel Africa-wide with guests on safari, sharing her intimate knowledge of wildlife and conservation.
With the funds raised through their safaris as well as direct donations, Michelle and her team provide vital funding for emergency conservation work, assisting animals in distress and helping to prevent human-wildlife conflict. 
An interview with Michelle Campbell of Wild Wonderful World
Tell me about how the idea to start Wild Wonderful World came to you and your journey until today?
Having worked as a lodge-based safari guide for 6 years I started to feel the need to contribute more actively in the conservation sphere but didn't quite know where to start, or how to get involved.
My partner and I decided to move into our Land Rover and travel overland, spending a year volunteering at various conservation projects throughout Africa.
Our aim was firstly to get involved on the ground and secondly to gain a better understanding of conservation challenges across Africa.
What we came to realise was that there are amazing people and projects out there who are doing incredible work to save endangered species and wild spaces, but that are so often underfunded.
We wanted to combine our experience as guides, our understanding of tourism and our passion for wildlife to support these conservation initiatives and thus Wild Wonderful World was born – connecting passionate people around the world to Africa's incredible wildlife, with ecotourism providing a base for conservation funding. 
What are the projects you support?
The most successful model we have created is our Rapid Response Fund where a percentage of each safari booked is donated direct to the fund, topped up with guest donations.
When an emergency wildlife situation occurs, such as a snare around an animals neck, we have the funds immediately available to assist with the necessary costs, such as veterinary and helicopter services.
This has proved highly impactful as it helps these amazing conservation efforts continue to do the work they do!
On top of our Rapid Response Fund, our various Impact Safaris support quite a range of projects: Elephants Alive, Panthera, Zambezi Elephant Fund, Ruaha Carnivore Project, Dian Fossey Gorilla Fund, Namibia Desert Lion Conservation Project, Lewa Wildlife Trust, Conservation South Luangwa, Singita K9 Anti Poaching Unit, Sangha Pangolin Project, Save the Elephants, Rhino without Borders, Grumeti Fund, KOPE Lion, Southern African Wildlife College K9 Unit, Gorilla Org, APNR Ground Hornbill, Wildlife Act-Vulture Conservation, Wildlife Act-African Big Cat Conservation, Care for Wild Rhino Orphanage, Mara Elephant Project, African People & Wildlife, Painted Dog Conservation, Endangered Wildlife Trust (Carnivore Program), Bumi Hills Foundation, and Sheldrick Wildlife Trust.
What are the most important things to consider before choosing an ethical wildlife tour operator?
It really is difficult to know, especially when information can be so easily construed online. I think the biggest alarm bell are operators selling any kind of 'animal ride' – these should be completely avoided!
One also needs to be skeptical about other 'interactive' experiences where youngsters, such as lion cubs, are fed or petted.
Researching which lodges are being used by the tour operator and what those lodges reputations are, is worthwhile looking into, as does taking the time to ask the right questions, such as:
What is the wildlife 'experience' here?
What happens to these animals?
Who is benefitting and how?
What care is being given to the land and environment?
What care is being given to the people of the area?
What is the sustainability of this establishment/operation?
So many lodges and operators say all the right things and have all the right pages on their websites – "our conservation or community efforts" but they aren't necessarily following through.
The starting point for us when we were building our portfolio of lodges was actually spending time on community and conservation project websites and seeing which lodges were listed as donors and/or partners!
This is a great way to know for sure that the lodge is truly making a difference in its area of operation.
What do travelers need to be aware of when they want to see wildlife ethically?
For the most part, any wildlife viewing where animals are being held, petted or ridden are generally unethical and that ethical viewing will tend to be from a distance and without interaction.
On game drives and bush walks, an ethical approach is keeping a respectful distance from the animal and ensuring that your presence, as far as possible, does not affect that animal's natural behavior.
Tutting, whistling, clapping or revving a vehicle to get an animals attention is hugely disruptive to them and will have a negative impact on their levels of habituation, over time.
The other thing to be aware of is choosing destinations that focus on an ecotourism model; one that support the wildlife, the environment and the communities in the area, will have a far more positive impact on the conservation of Africa's incredible animals, today and into the future.
How does the pandemic affect wildlife in Africa now that tourism numbers are minimal?
Unfortunately the pandemic has resulted in many lodges closing their doors or retrenching staff. With so many people having lost their jobs, we have seen an increase in bushmeat poaching as people are hungry and desperate.
Higher unemployment rates create a stressful environment where poaching becomes more appealing and this is a huge worry for us.
The tourism industry is such an important part of Africa's economy and with a lack of government support, people are turning to whatever means possible to survive.
What this pandemic has highlighted though is the huge importance for people to take better care of our planet and travel is a big part of that.
Travel has the potential to be very harmful and that is where a travelers choice and focusing on ethical travel is so important.
You could chose to stay in an area/lodge that will take you on game drives but keep as much money as possible for profit, or you can stay in a lodge for the same amount of money that funds conservation projects, anti poaching and community upliftment – what would you choose?
What can travelers do to make a difference for wildlife?
They can choose destinations that focus on regenerative travel and ecotourism models. A travelers choice can make a big impact!
Responsible tourism is such a crucial part of future sustainability of wildlife and their ecosystems.
Education is also huge – spreading the word and telling other people about the importance of ethical travel and ecotourism, talking about poaching, wildlife trafficking and the illegal pet trade.
And if you can, to support conservation and community projects either by visiting them or supporting from afar – donations are always enormously valuable, but as little as sharing a social media post can really help raise the profile of projects doing amazing things – you never know who will see it!
How can people support your amazing work? (especially now that we can't travel?)
We have an online platform where people can "shop" aka donate to support wildlife. 100% of the funds go to the Rapid Response Fund to support emergency wildlife work.
On the website, you can chose to make general contribution and state what you'd like it used for e.g. wild dogs, rhinos or "use wherever/however needed".
Alternatively, you can donate the value of a piece of conservation equipment, e.g. an elephant collar, camera trap, or to cover the costs of de-snaring an animal.
For all donations, we report back as soon as your funds have been used, with a written report and what happened, how the operation went and includes pictures and videos – that way you know for sure where your funds where spent, and you also are more involved, even though you can't be with us in person!
The involvement is key for us – it's not just about taking your money, it's about developing advocates, educating people and helping spread the word about what is happening on the ground!
We also have artwork for sale (and soon we will have merchandise too) where 20 percent goes straight to our Rapid Response Fund. What a great Christmas present!
And then of course, when the time is right, booking a safari, especially an Impact Safari goes a long way as you get to experience Africa's incredible wildlife while celebrating the beauty of Africa and contributing to the conservation of her wildlife.
So come and join us in the field and see first hand what you are supporting!
***
I want to thank Michelle for taking the time to do this interview and share so much valuable knowledge and give so much inspiration to make a difference!
Make sure you check out Wild Wonderful World's website here. And if you want to support their incredible work for wildlife in Africa, you can visit their shop or donate to their Rapid Response Fund.
We sure need more passionate souls like Michelle in this world!