The winter months can be long and dark unless you live in a sunny country. When I lived in Norway, my top priority in winter was to get to somewhere warm and sunny.
I needed vitamin D and definitely some sunlight! To help you choose the best places to go for winter sun in Europe, I listed my absolute favorite places. But I also complemented the list with some help from other travel addicts.
Whether you want to go swimming at the beach or you are happy just nipping to a cold beer in the sun and walking around historical buildings, this post should have you covered!
Disclosure: This post may contain affiliate links. That means that if you make a purchase through one of those links, I will get a small commission at no extra cost to you.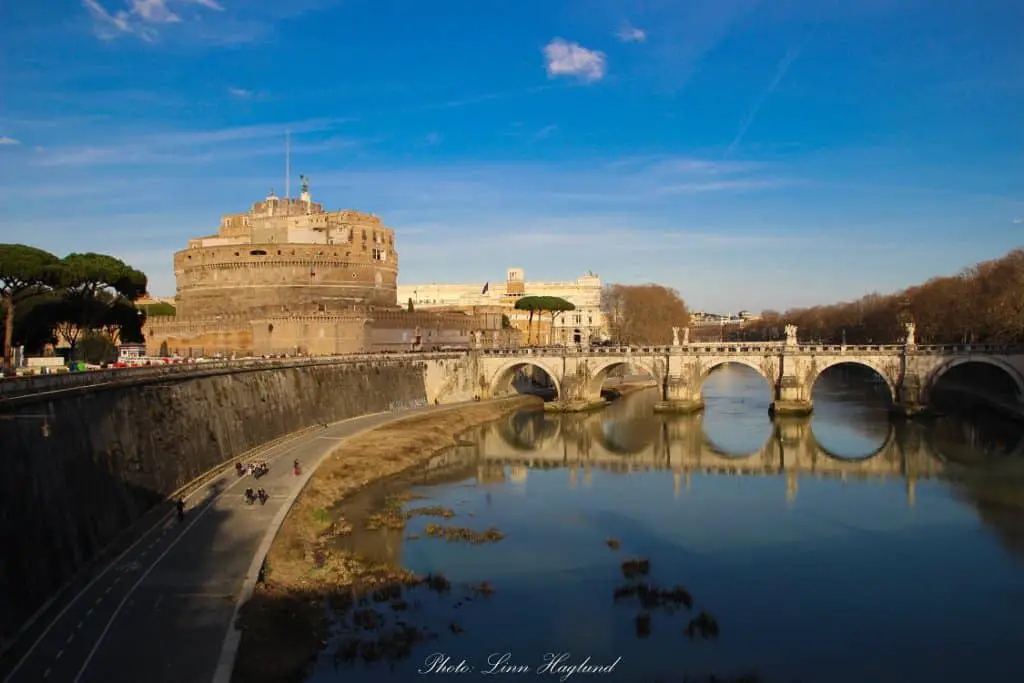 Top places for winter sun in Europe
Seville, Spain
One of my absolute favorite cities for winter sun in Europe is Seville. Andalusia's capital city and one of the top weekend breaks to take in Spain.
Seville in winter is charming and cozy, Christmas markets covering the city center, and tasty, grilled chestnuts at every corner.
Make sure you include the cathedral, Alcazar, Giralda, and Plaza de España in your Seville itinerary. But you also want to spend time as the locals, sipping on a cold drink in the hot winter sun at one of the bars with outdoor tables. This is the perfect way to inhale all that vitamin D!
There are so many amazing things to do in Seville to keep you busy. Make sure you don't miss out on the main attractions like the cathedral, the Giralda, Alcazar, and Plaza de España.
You can even enjoy a boat ride or go stand up paddleboarding in the Guadalquivir River which divides the city and climb the Torre del Oro.
A good day in Seville in winter can be between 16 and 20 degrees Celsius and in the sun it sure feels warmer! But at night time you feel the chilly air contrasting to the warm days.
Spain is also one of the best cities to visit in Spain for first-timers, making it a great introduction to the country.
Where to stay: Las Casas de los Mercaderes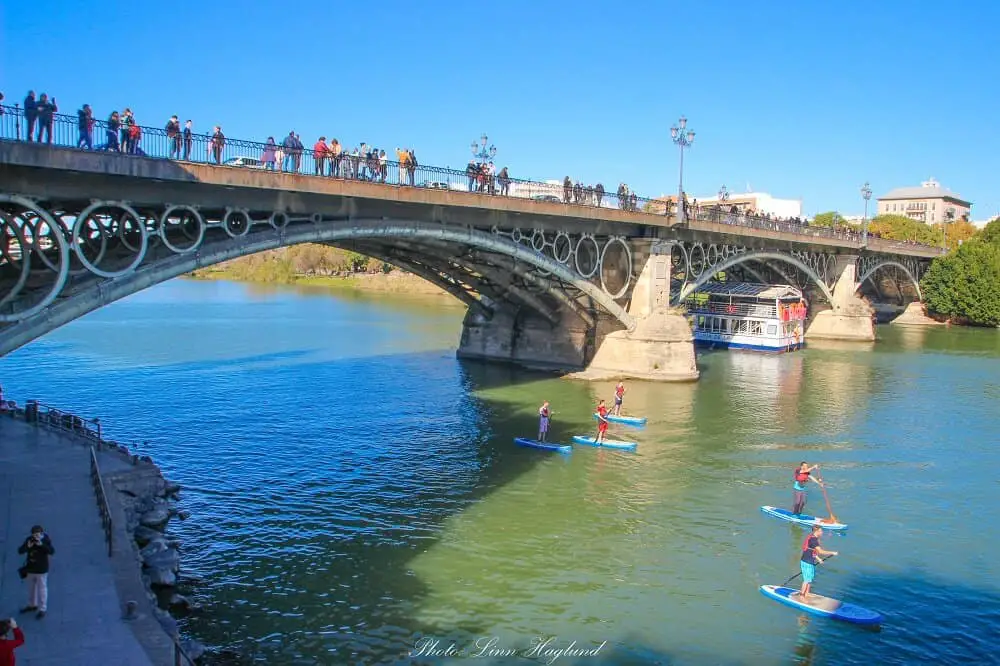 Tenerife, Spain
The sunny island of Tenerife is without a doubt one of the warmest winter sun destinations Europe has to offer.
And it's such a great place to explore, home to some of the most charming beach towns in Spain. With amazing hiking routes, green valleys, and Spain's highest mountain, the volcano Teide, Tenerife is a surprisingly lush and varied in so many ways.
I totally fell in love with Tenerife in winter! There are pyramids from the 19th century, you can go whale and dolphin watching, enjoy a wine tour, or go on an unforgettable road trip to all the best sites and hiking trails.
Temperatures easily crawl above 20 degrees Celsius and you might even wanna go for a swim if you come from a really cold place.
Where to stay: La Laguna Gran Hotel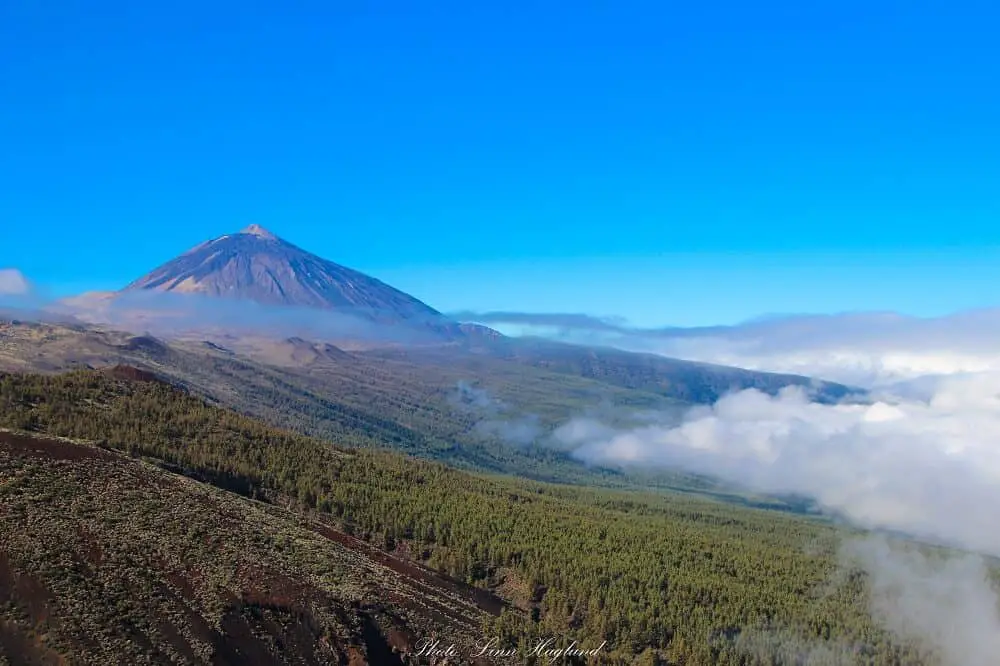 Mallorca, Spain
The beautiful Balearic island of Mallorca is mostly recognized for its stunning beaches and beach resorts. But going there in winter opens up to so much activity.
You can easily explore the many charming villages with cobbled streets by going on a road trip around Mallorca. The Tramuntana mountain range hides spectacular views, but also amazing hiking routes that are perfect for winter.
Mallorca is also home to an incredible cave system and lucky for you, many of these caves are open to the public, like Cuevas del Drach and Cuevas de Artá.
In the villages, as well as in Palma de Mallorca which is one of the prettiest coastal cities in Spain, you can enjoy lunch and a cold drink in the sun, as winter temperatures normally stay around 15-16 degrees Celsius, which means it's more than pleasant in the sun.
Where to stay: Ca n'Alexandre-Turismo de Interior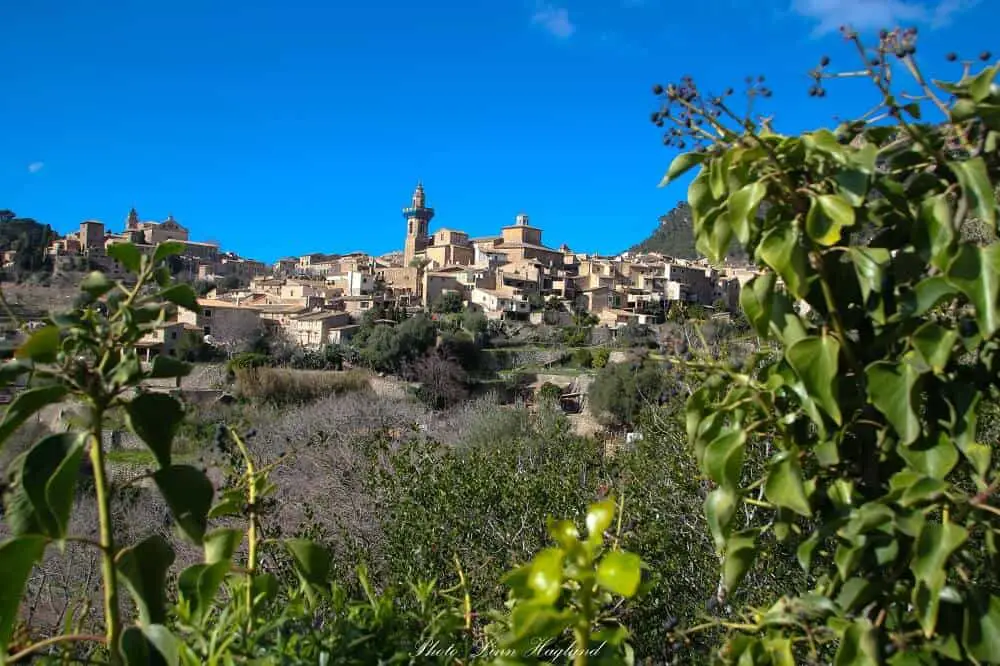 Cabo de Gata, Spain
Cabo de Gata Natural Park in the province of Almeria is a great place all year round and without a doubt a great place for winter sun holidays in Europe, with many of the most astounding beaches in southern Spain.
While the natural park is still off the beaten path in Spain and relatively quiet in the winter months, it's the perfect escape for a remote nature experience.
From San Jose, you can hike from beach to beach along a rugged coastline that hides some of the best beaches in Cabo de Gata, or you can go on a road trip through the deserted area of Los Escullos and check out the cliffs leaning over the Mediterranean Sea.
Travel further up the coast and hike to Cala de San Pedro to explore a real hippie community and walk the steep trek down to Los Muertos Beach, which time after time has been nominated to one of Spain's most beautiful beaches.
Due to the unique landscape, Cabo de Gata has been used as a filming location for several famous movies, like Assassins Creed and The Never Ending Story.
Where to stay: Hostal del Cabo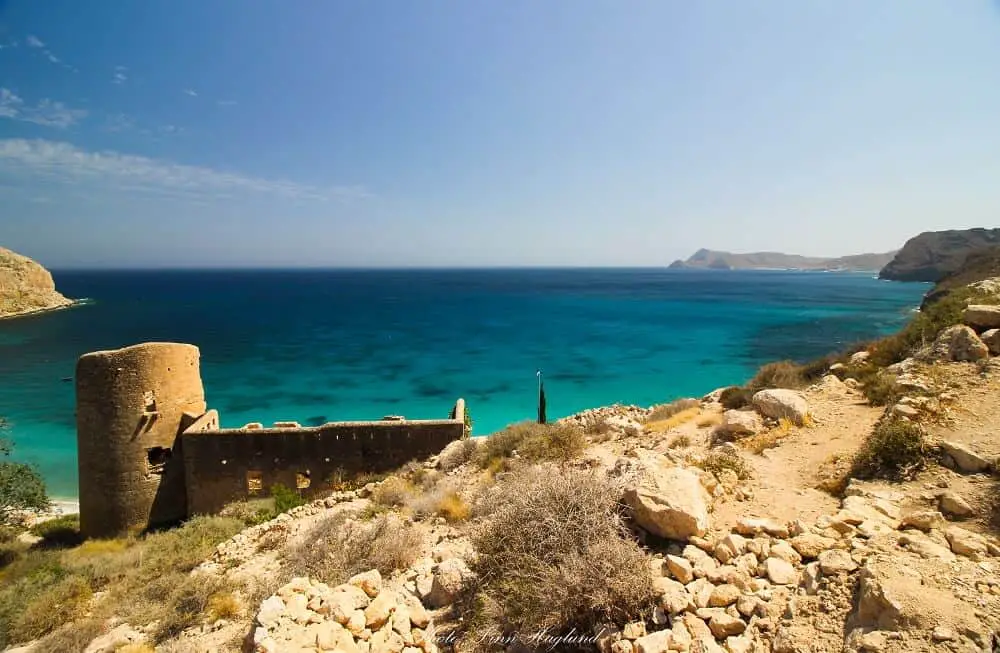 ---
READ: The most beautiful villages in Andalucia
---
Rome, Italy
Italy's stunning capital city surely makes one of the best winter city breaks in Europe. With daytime temperatures up to 15 degrees Celsius, it feels much warmer when the sun is shining.
All the main sites you want to press into your Rome itinerary, like the Colosseum, the Forum Romanum, and the St. Peters Church, are all perfect to explore in winter. But even if you've been there before, there's a lot to explore off the beaten path in Rome.
Not to mention Christmas Markets, lit streets, sales after Christmas, and yummy hot chestnuts. It is the perfect time to enjoy pasta or pizza for lunch at an outdoor table in the sun or grab a pizza on the go to have on Piazza del Popolo while people-watching in the sunshine.
Why not go for a stroll in Villa Borghese where you can even go on a romantic boat ride in one of the little lakes?
There is no surprise that Rome is one of the most popular weekend breaks in Italy.
Where to stay: Suite B&B all'Aracoeli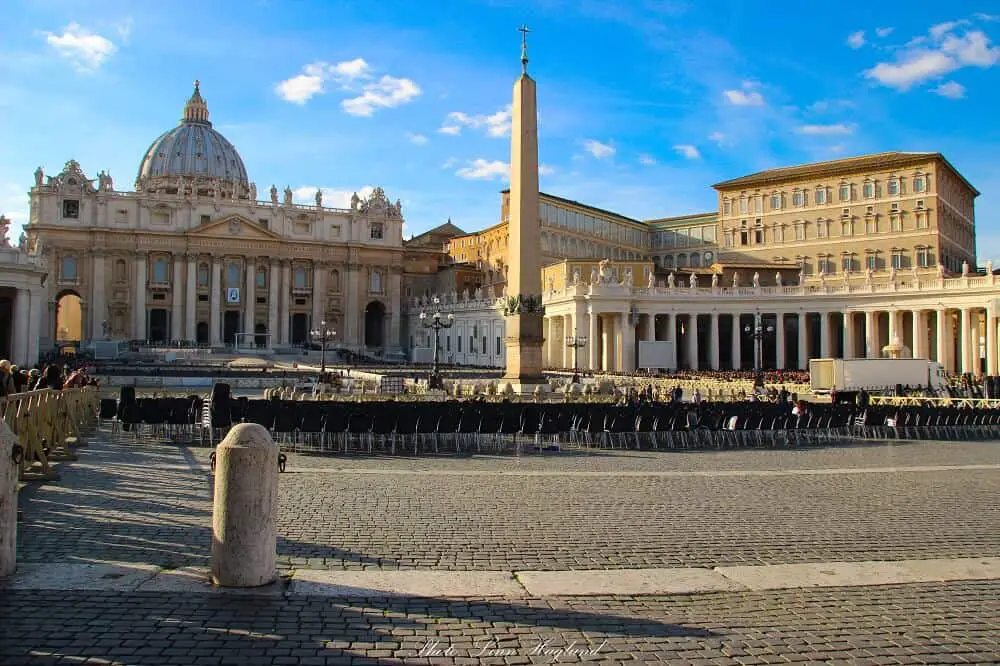 Algarve, Portugal
The Algarve is perfect for winter sun in Europe and boasts some of the best beach towns in Portugal. The average daytime temperature is 16 degrees Celsius but often sees the low 20s.
And in the sun it surely feels warmer, so it's no surprise this is one of the warmest places in Europe in winter.
With surf up all year round, this is one of the best winter sun destinations in Europe. Whether you go on an Algarve road trip or stay in one place, there are plenty of things to do in Algarve.
There are multiple coastal hikes, like Seven Hanging Valleys Trail, that's definitely one of the best hikes in Portugal. But you can also walk on one of the many boardwalks like the one starting by the mesmerizing cliff cluster, Ponta da Piedade or Carvoeiro Boardwalk.
Other than surfing, you can go kayaking or on a boat ride to explore all the amazing caves along the cliffside. Especially noteworthy is the popular Benagil Cave which showcases a stunning beach lit up by two massive potholes.
The coastline is also full of cute towns to visit which makes Algarve in winter the perfect vacation destination.
Some of the most noteworthy towns in Algarve are Tavira, Lagos, Albufeira, and Olhão. But there are many other small places that stand out too, among them the Algarve beaches.
Your winter sun holidays in Europe will not be boring on the Algarve coast, yet this is far from Portugal off the beaten path.
Where to stay: Al-Gharb Tavira Eco GuestHouse in Tavira or Villa Zawaia B&B in Lagos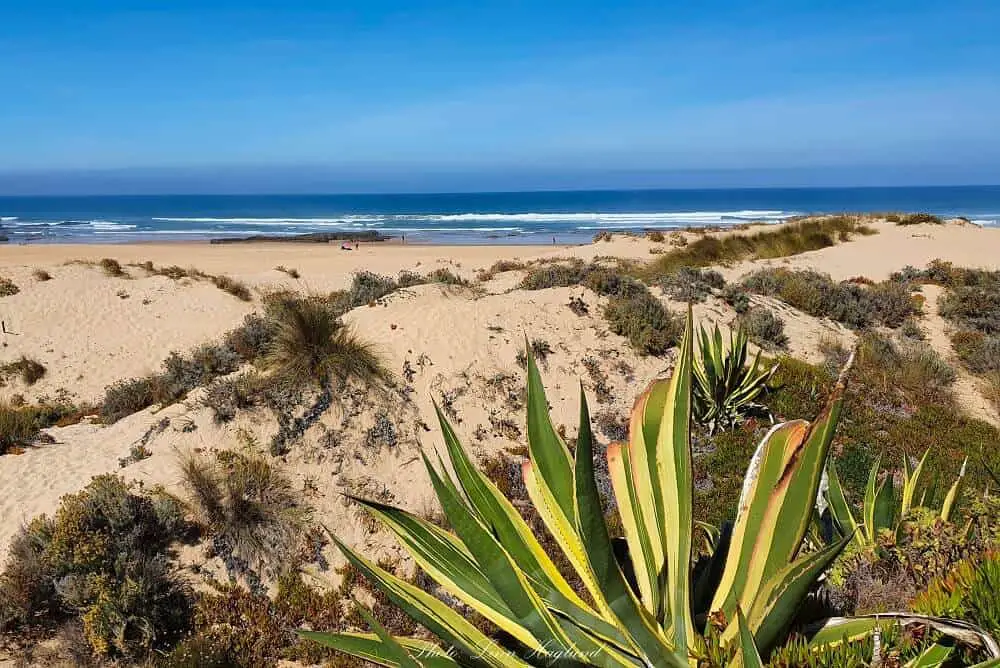 Lisbon, Portugal
Portugal's charming capital city must have some of the best winter sun in Europe. There is no way you can miss out on Lisbon in winter.
With daytime temperatures of 15-16 degrees Celsius, it is perfect to sit in the winter sun and have a nice glass of wine at one of the bars overlooking the city. Yet these are not the only reasons to visit Lisbon.
Stroll around Castelo São Jorge and enjoy the views while you climb the medieval watchtowers or spend a couple of hours exploring Torre de Belém and eat ice cream in the park.
Stroll around the old town, fill your Lisbon itinerary with exploring Christmas markets, enjoy the Christmas lightning, and get inside at night to soak in the spirit of Fado music.
If you have a few extra days, make sure you take a day trip to Sintra to explore the magic of true fairy tale castles or check out the surf and other things to do in Ericeira. You might also like to check out this post I wrote about my favorite day trips from Lisbon.
Where to stay: Dear Lisbon – Palace Chiado Suites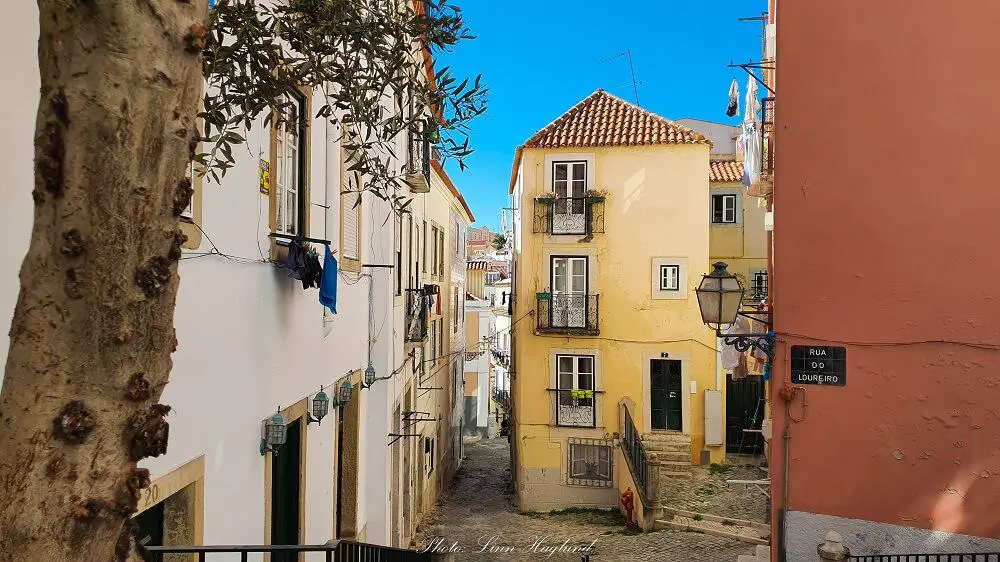 Gozo, Malta
Contributed by Maggie of The World Was Here First
If you're looking for beautiful winter sun destinations in Europe, then you can't go wrong with exploring the gorgeous island of Gozo in the Mediterranean island country of Malta.
As the second-largest island in the Maltese archipelago, you can easily visit Gozo as a day trip from Malta or, ideally, spend a day or two exploring the island.
Located south of Sicily in the southern Mediterranean, Malta sees over 300 days of sunshine each year, and winter high temperatures average around 16-17 degrees C in the months of December-February.
While this may be a bit too chilly to enjoy some of Gozo's beautiful golden sand beaches and lovely swimming spots, there are plenty of other things to do on the island that are perfect to enjoy outside of the heat of summer.
For instance, you can take the time to explore the lovely city of Victoria (Rabat) with its iconic and historic Citadella. Further north on the island, you can see how Gozitan sea salt is harvested at the Gozo Salt Pans.
History buffs will marvel at the Ġgantija Temples, Neolithic structures that are older than the Pyramids of Giza, and fans of local viticulture will be sure to love wine tasting at one of Gozo's family-run wineries. 
Gozo has a lot to offer visitors no matter the time of year. So if you're looking for a little bit of winter sun, then make sure to head to the Maltese island of Gozo!
Where to stay: The Duke Boutique Hotel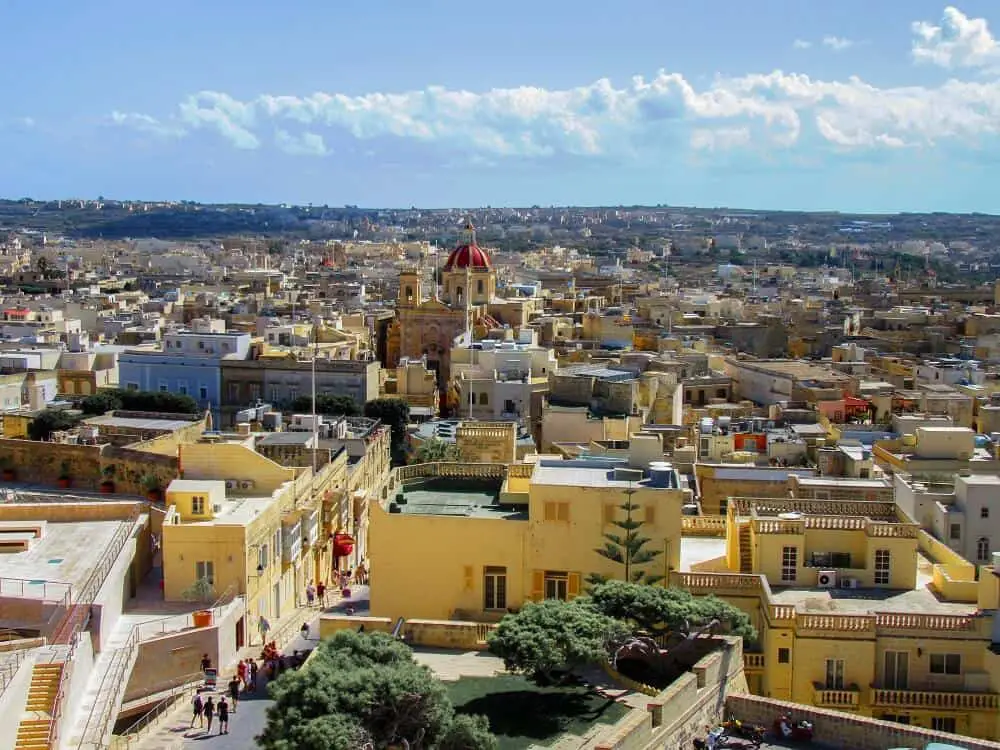 Athens, Greece
Contributed by Sylvie of Travels with Eden
Athens is the perfect place for some European winter sun. The city is still 20° in October, 15° in November and 10°-13° December – March. Even if it's not beach weather, there's still so much to do in this European hotspot.
In Athens, you have so many choices of things to do, depending on what month you visit. If you get warmer days, head to the Athens Riviera where you can swim in the crystal clear waters and walk along the many beaches. There are lots of beaches to choose from but Edem beach and Kavouri beach are some of the best.
There's loads to do in Athens city center too with most attractions open all year round. Why not take advantage of the weather and climb the ancient Acropolis or get lost in nature walking up Lycabettus Hill or stroll around the National Gardens. If you're short on time then the Citysightseeing tour bus is a good option.
You can see all the major sights in a day as well as having the option to visit The Athens Riviera and Piareus Port. When visiting Athens, it's usually cheaper to book an Airbnb. There will be plenty of deals during the winter season.
Where to stay: Glyfada Riviera Hotel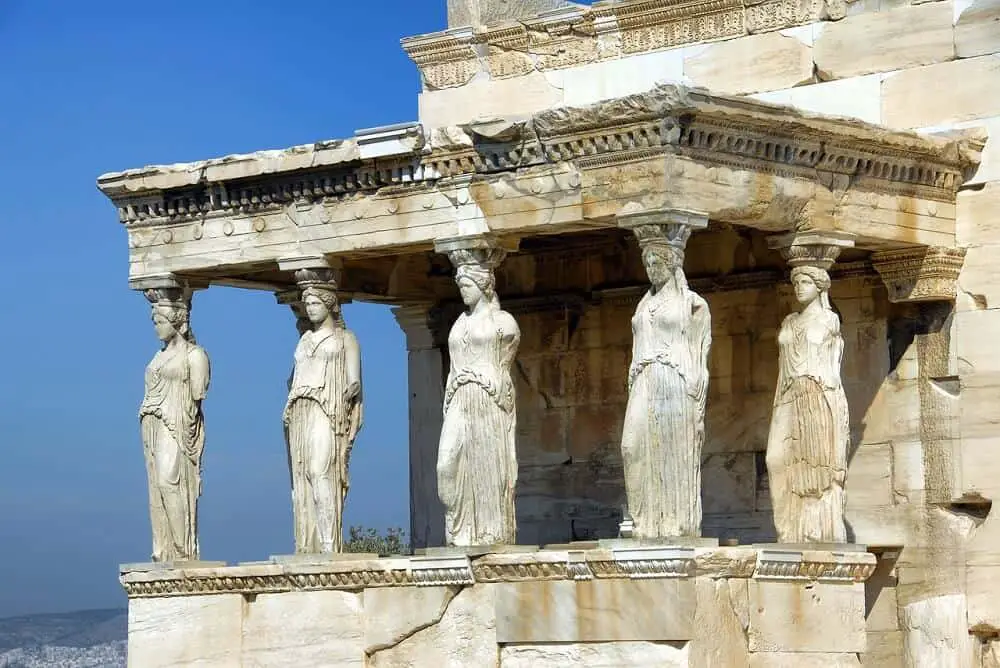 Marseille, France
Contributed by Nadine of Le Long Weekend
Marseille is a stunning place to visit in the winter in France. Gone are the stifling crowds and heat of summer, but the sun still lingers in the bright, clear skies.
In Marseille, the region's capital, life doesn't slow down in the cooler months, it's an exciting and vibrant city to visit at any time of the year.
Daytime temperatures from December to February linger in the low teens, but it can feel much warmer when the sun is on your face. It's the ideal time to appreciate the seaside beauty of the city, and walk the length of the coastal path.
And while it may not be ideal bathing weather, there are plenty more things to do in Marseille in the winter.
Get acquainted with the region's history at the striking MuCEM, browse the colorful and chaotic markets, stroll through the impossibly charming Le Panier district, enjoy an aperitif in a rooftop bar, and work up a sweat climbing the stairs to the Notre-Dame de la Garde which stands tall looking over the city's harbor.
Where to stay: Les Bords de Mer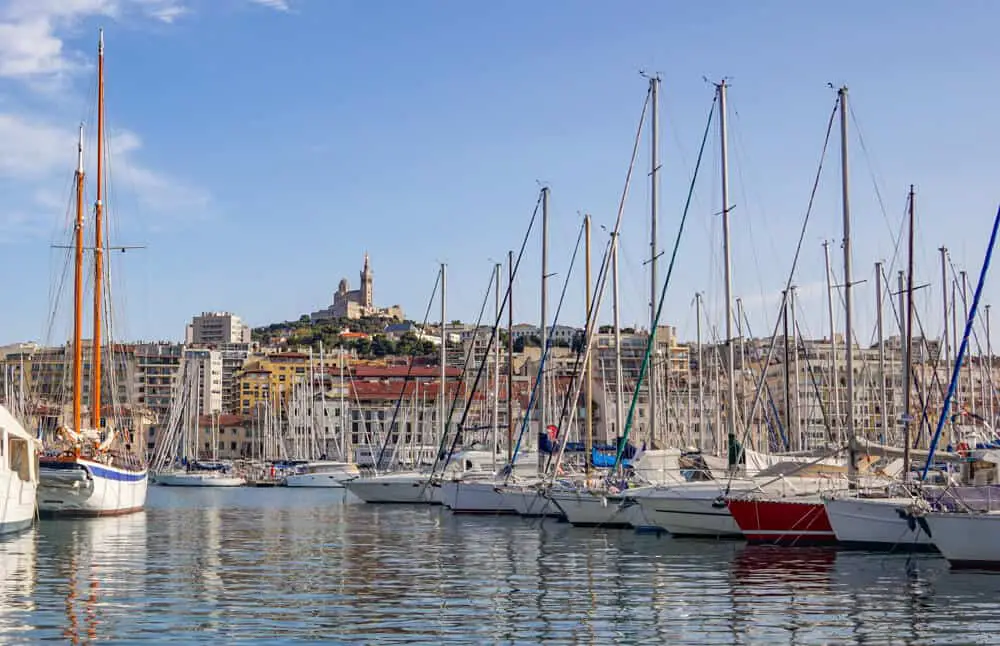 Mykonos, Greece
Contributed by Roshni of The Wanderlust Within
The Greek island of Mykonos might be famous for its summer parties and beach vacations but visiting in the off-season is a great time to experience the local life. Mykonos is also one of the best places for winter sun in Europe.
This time of year isn't nearly as cold as the rest of Europe, and the island averages close to 14 degrees from December to February. This makes it a pleasant time (compared to summer!) to climb Mt. Kynthos and enjoy a panoramic view of the Cyclades islands.
Winter is also a great time to visit the other Mykonos tourist attractions such as the UNESCO ruins of Delos and the 16th-century monastery of Panagia Tourliani, as you'll likely be able to explore them on your own. 
However, if shopping and partying is more your scene, you can still enjoy this during winter.
Without the crowds, shopping in Mykonos is much more enjoyable and most places have end of season sales, so it's the perfect time to pick up luxury items at discount prices.
During this time, accommodation is also cheaper, meaning you can rent a luxury Mykonos Airbnb villa with all modern comforts and amenities, and a striking view of the Aegean at nearly half the price of the summer months!
Where to stay: Sunset Paraportiani Rooms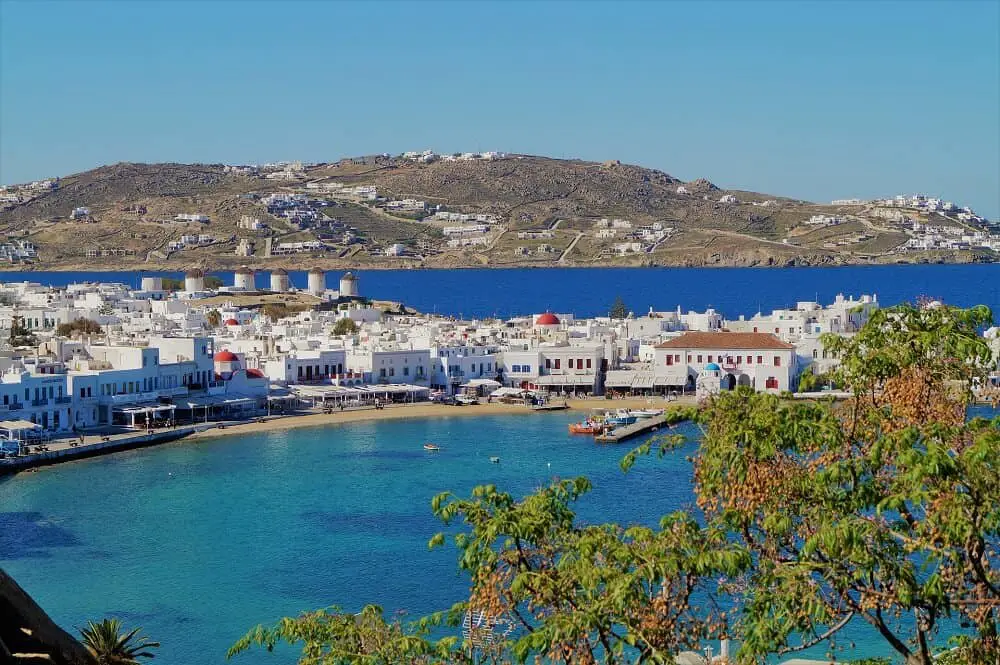 Northern Malta
Contributed by Sarah of Dukes Avenue
If searching for some island winter sun in Europe, Malta is a strong contender. Specifically, the north of the island is perfect for travelers looking to indulge in some winter beach time, whilst exploring a quieter side of Malta in the winter.
There are so many reasons why Malta is worth visiting.
For starters, the north is home to plenty of beautiful beaches; including Paradise Bay, Little Armier, and Riviera (known to locals as Għajn Tuffieħa).
Beach lovers can opt to stay at the 5-star luxury hotel, which overlooks another beautiful beach – Golden Bay. Whilst the end of the year may be a little too cold for swimming, these locations are the perfect spots for picnics at sunset and boast some of the most beautiful hikes in Malta, with an average winter temperature of 20°C.
The north of the island is also where travelers can hop on the ferry to the nearby island of Gozo for a fun day trip or find their inner child at popular Popeye Village.  For history lovers, it is highly recommended to check out locations such as 18th-century Selmun Palace or Fort Campbell, a former British fortification.
From Fort Campbell, visitors can see some wonderful views of St Paul's Island, where local folklore suggests that St Paul was washed ashore following his shipwreck. Mellieha is among the most beautiful towns in Malta with epic views of Golden Bay.
Where to stay: Radisson Blu Resort & Spa, Malta Golden Sands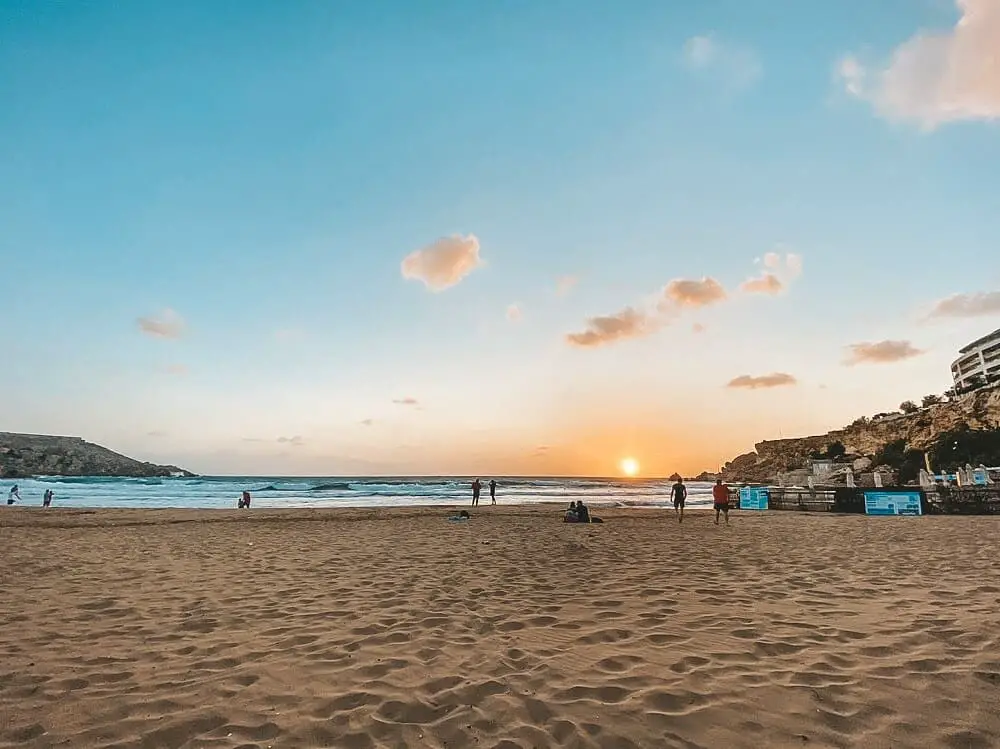 Antalya, Turkey
Contributed by Natasha of Great Ocean Road Collective
One of the best destinations in Europe to soak up some winter sun is none other than Antalya in Turkey. It is often referred to as the gateway to the Mediterranean, boasting plenty of five-star hotels and resorts, stunning beaches, as well as a rich cultural history.
Average winter temperatures stand around 14-18 °C,  though many tourists continue to go swimming as the water stays relatively warm even in winter. Some of the best beaches for winter swimming include Konyaalti, Lara, and Cleopatra. If you prefer not to get wet, rent a kayak, and go for a paddle. 
As Turkey's 5th largest city, Antalya is ideal for those who want to experience authentic Turkish culture. Learn about the city's rich city, conveniently located near several historical and archaeological sites.
Explore Kaleiçi, the historic old quarters, where you can wander the narrow streets and admire the ancient wooden houses. Other highlights include the Yivli Minaret Mosque in the city center, Hadrian's Gate, built in 130 A.D., as well as the clock tower in Kalekapisi Square.
Where to stay: Akra Hotel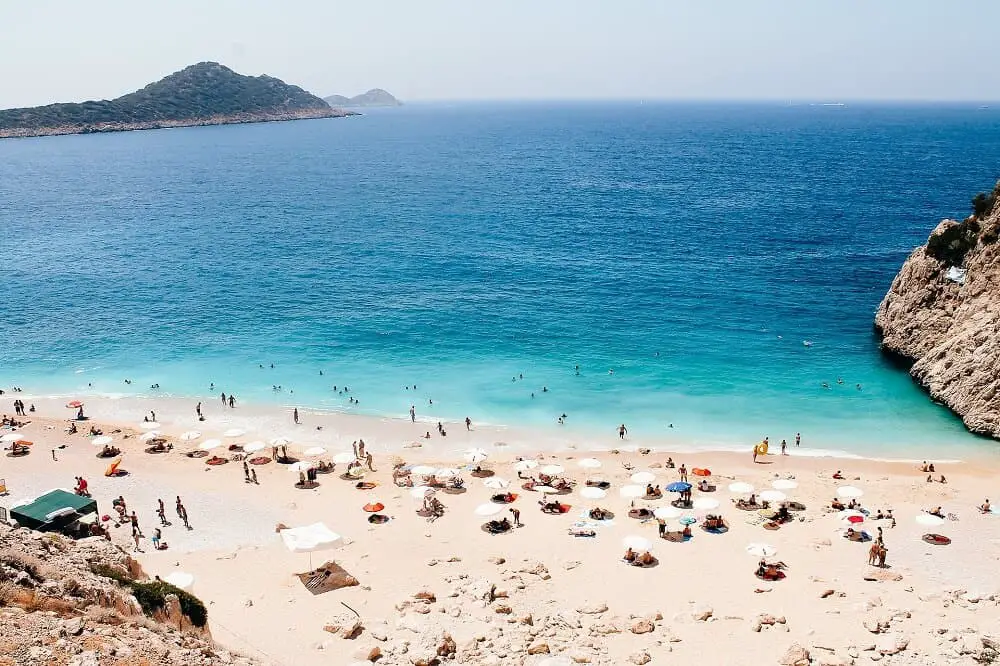 Kayaköy, Turkey
Contributed by Sasha of Mog and Dog Travels
If you're looking for a relaxing winter break with plenty of sunshine, beautiful scenery, and a spot of culture thrown in, then look no further than Kayaköy in Southwestern Turkey. 
Kayaköy, once a prosperous village inhabited by Turkish Muslims and Greek Orthodox Christians, became a ghost town after the end of the Greco-Turkish War in 1923. Churches, shops, schools, and houses were abandoned and fell to ruin.
The area is now a popular tourist attraction in the summer but in winter you can wander along the old town's narrow cobbled streets and explore the crumbling and deserted stone buildings without the crowds. 
Ruins not your thing? Don't worry – this place is great for nature lovers too! Located in a valley surrounded by snow-capped mountains and pine forests, the scenery in Kayaköy is especially breathtaking in winter.
Walking around the picturesque (inhabited) village is a treat in itself as many of the trees are bursting with pomegranates, oranges, and lemons.
If you prefer something more strenuous, one of the world's best hiking trails, the Lycian Way, is also found here. Winters in Kayaköy are generally crisp, sunny and dry, with temperatures ranging from 15-20 degrees C – perfect walking weather! 
A visit to Kayaköy isn't complete without tasting the amazing local food – treat yourself to a köy kahavalti (a village Turkish breakfast) or a meal at one of the many restaurants specializing in kebabs. 
Hotels in Kayaköy tend to close over the winter, so we'd recommend you stay in Fethiye which is a short bus ride away. 
Where to stay: Blueberry Boutique Hotel in Fethiye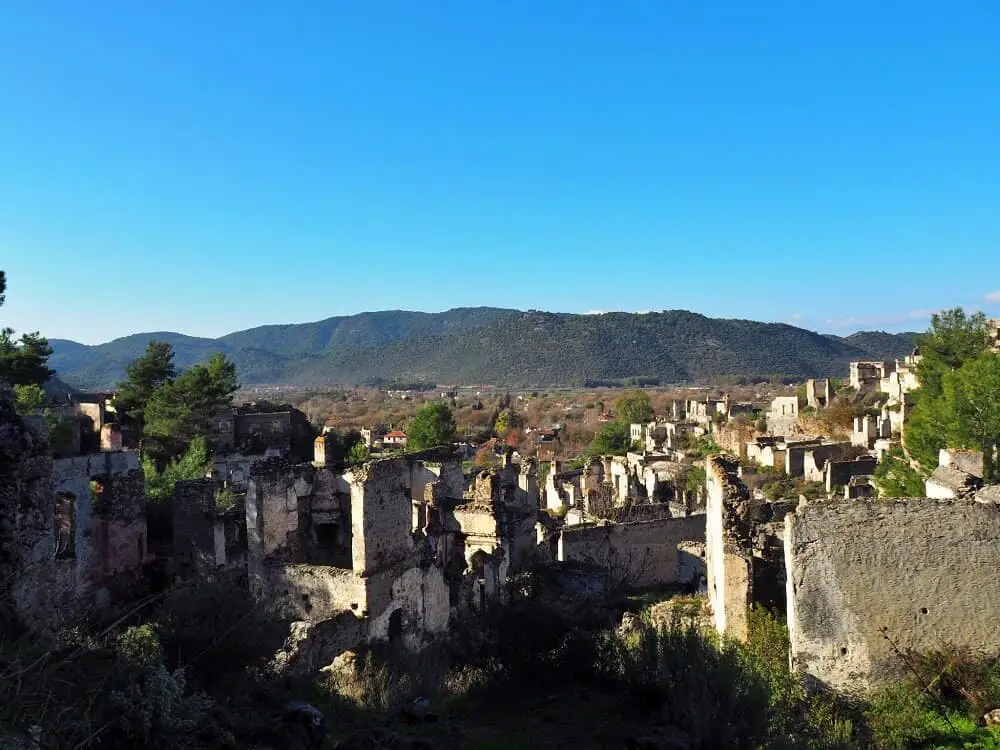 Sicily, Italy
Contributed by Katy of Untold Italy
Sicily is one of the warmest places to visit in Italy in winter and it's such a fun place to visit. At this time of the year, the sea may not be warm enough to swim in but you can still enjoy walking along the lungomare or seafront, exploring ancient ruins, and visiting wineries.
You can discover hilltop towns like Erice and Ragusa and duck into magnificent Baroque churches in Noto and Catania. 
If you happen to visit during Christmas, towns like Taormina are lit up with lights and bake special sweets to celebrate the season. The fish markets are buzzing with activity and you'll see local life at its most authentic.  
Stay at Taormina's Hotel Villa Schuler where you can enjoy magnificent views of Mount Etna smoking in the distance.
Sicily sits between the Italian mainland and the coast of North Africa and benefits from temperatures that rarely dip below 10 degrees. In the daytime, sunny days average 16 degrees and are the perfect conditions for sightseeing. 
Where to stay: Hotel Villa Schuler in Taormina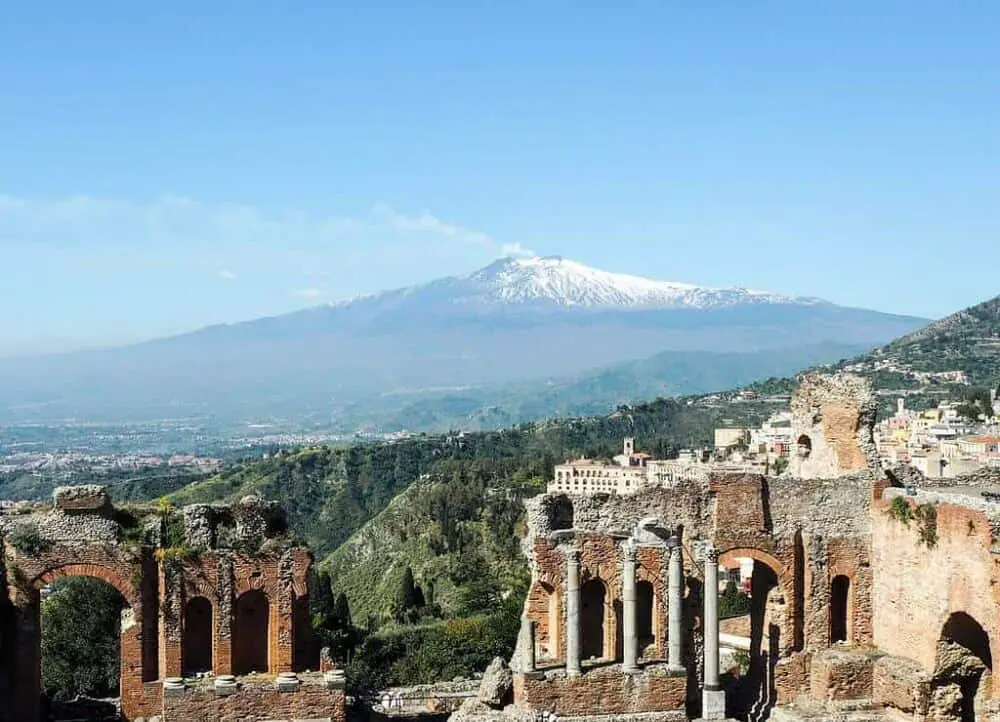 Sardinia, Italy
Contributed by Claudia of Strictly Sardinia
Despite being known as one of the best summer holiday destinations, Sardinia in the winter is a truly fantastic place.
The island is quite big and you will find a variety of different climates, with the coast enjoying mild weather and temperatures most of the time (unless a cold front approaches) and the mountainous interior getting regular snowfall. 
Should you decide to visit Sardinia in winter to escape the cold northern European countries, make sure to visit the lovely capital Cagliari, scattered with interesting archeological sites, museums, churches, and with a fantastic night scene and great restaurants.
Its Poetto beach is perfect for a walk throughout the year, and a great access point to Molentargius Nature Reserve, where pink flamingos live. 
Alghero, on the northwest of the island, is another lovely town. Its quaint historical center and bastions are perfect for a walk – especially at sunset when the views of the nearby Capo Caccia (perfect for an easy hike, along with Porto Conte) are even more beautiful. Don't miss nearby Bosa – it's one of the prettiest villages in Italy.
Winter is also a great hiking destination, with nature being lusher than in the dry summer months and waterfalls in full force. The nuraghe – unique archeological sites – are accessible year-round and get fewer visitors in the winter, so chances are you'll have the site to yourself.
Finally, winter is the perfect time to enjoy all the earthy dishes of Sardinian cuisine and a good glass of Sardinian strong wine.
Where to stay: Ciutat Alghero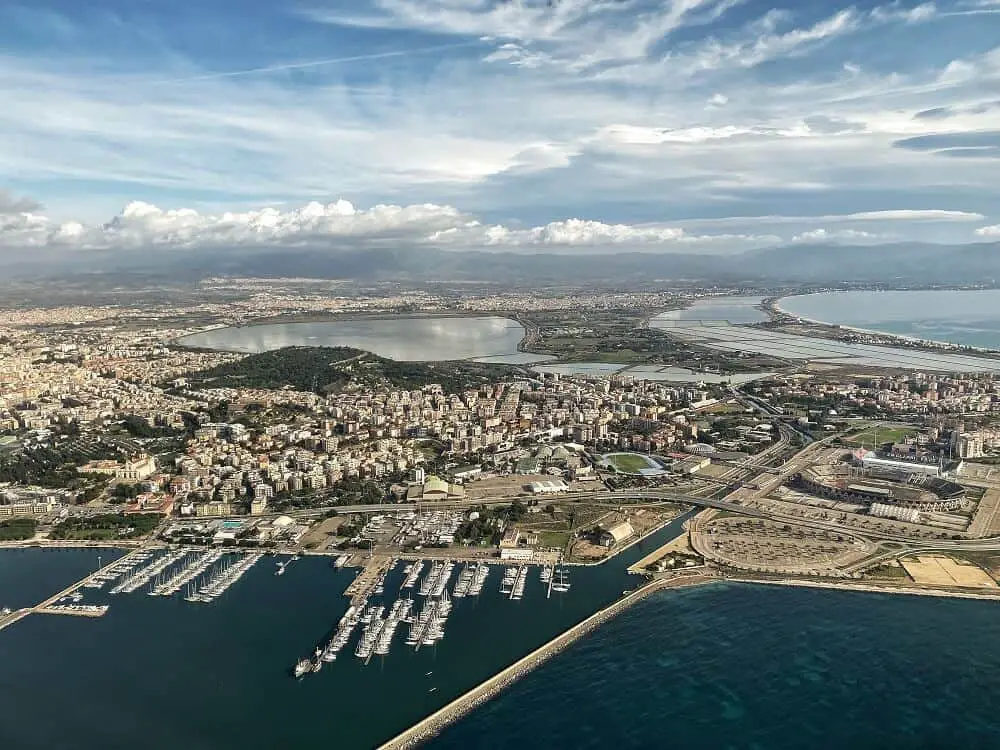 Cyprus
Contributed by Smita of My Faulty Compass
The jewel of the Mediterranean, the birthplace of the legendary Aphrodite, and the land of history & culture, the island of Cyprus is the perfect winter destination! It might actually just be one of the best winter sun destinations Europe has to offer.
Cyprus has one of the warmest winters in Europe with average daytime temperatures of ~22–23 °C and plenty of sunshine. 
The incomparable natural beauty of Cyprus can be seen all along its coastline – from the incredible Cape Greco on the eastern coast to the stunning Akamas peninsula on the opposite end. Winter is perfect for hiking in these areas and taking in the beautiful natural landscapes.
Cyprus also boasts of fascinating historical treasures that are an absolute must-visit. The Kato Paphos Archaeological Park in the city of Paphos includes remains from the 4th century BC and is also home to the famous mosaic floors of Cyprus. The site of Kourion is another important historical site on the island dating back 2000+ years!
Another of the most amazing things to do in Cyprus includes visiting the cities and towns on the island – warm & inviting people, beautiful architecture, and delicious food!
Spend at least a week on the island to take in all that it has to offer.
Where to stay: Luxury Villa Paradisos Paphos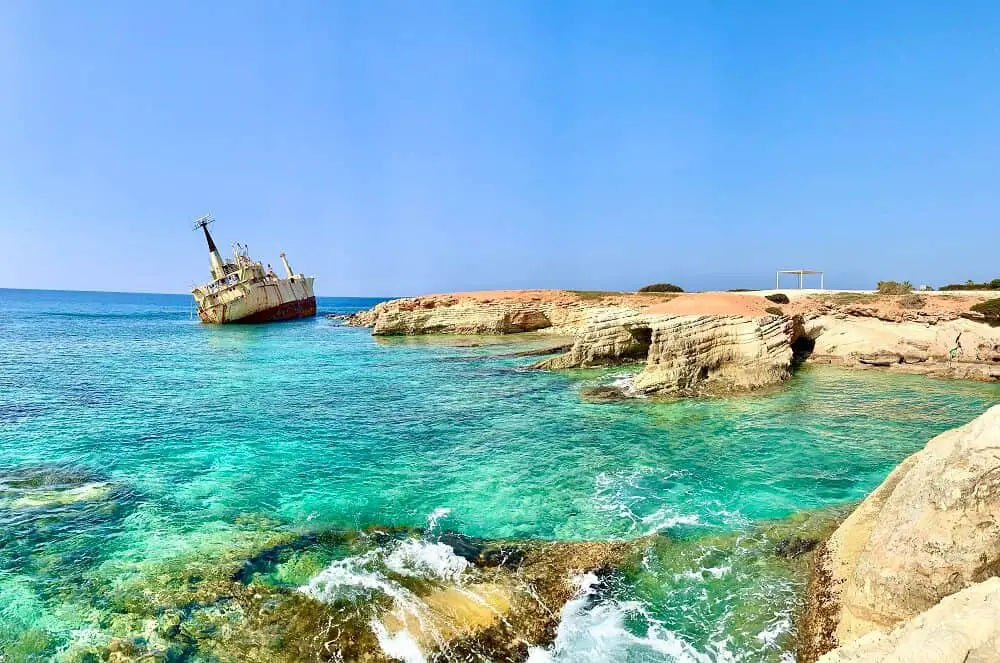 Santorini, Greece
Contributed by Christina of Travel 2 Next
If you're keen on a European destination to bask in the winter sun, with up to eight hours a day of sunshine, Santorini is a top spot. Besides being a sunny spot, there are many other reasons to pick this destination.
The cost of accommodation and car rental is much cheaper during winter months, as it's off-peak. It's far less crowded in winter than it is in summer and you'll be able to take much nicer photographs without tourists in your shots.
If you like to go hiking, the cooler temperature in winter is much more comfortable for a long hike. Santorini's average temperature in winter is around 10 to 15°C, and January is the coldest month, with an average of 12°C.
Besides hiking, other things to do in Santorini in winter are wine tasting at local wineries, sipping cocktails while watching the sunset, hiking Skaros Rock, and exploring picture-perfect Oia.
Santorini is also home to one of the most famous landmarks in Greece, the Santorini Caldera, which is 70,000 years old. This astounding natural wonder is one of the most photographed places in Greece.
Where to stay: Summer Time Villa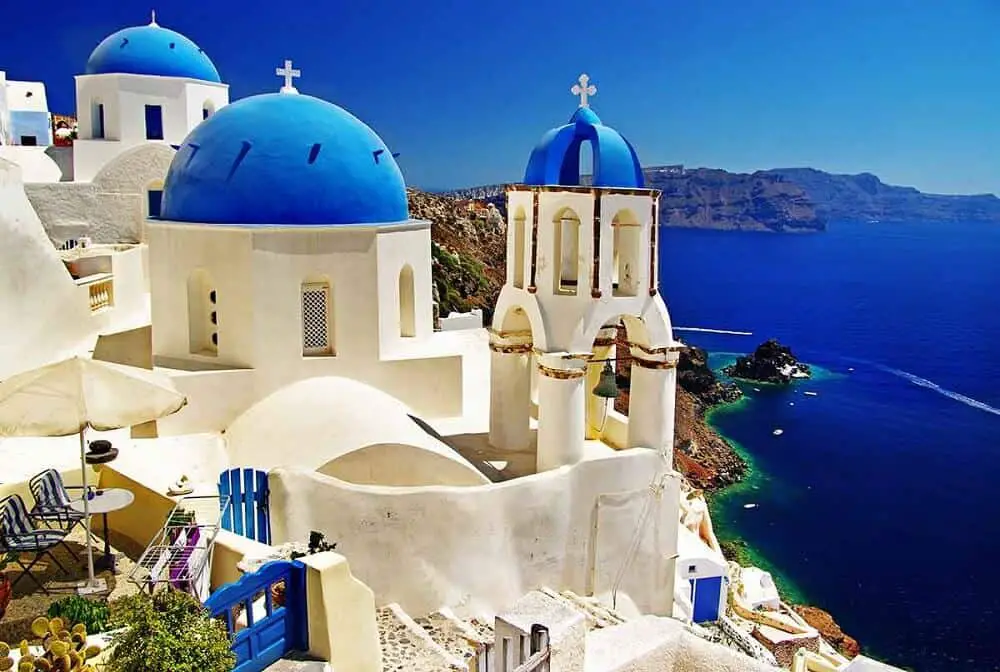 Pin it for later!