You are not sure where to go on vacation this winter and have been looking into Malta but not exactly sure if it is a good place to go. After all, Malta is a summer destination with turquoise lagoons, caves, and mesmerizing swimming spots.
After spending 1.5 months in Malta in winter, I can safely vote for the tiny country as a fabulous winter destination. That is if you like feeling that warm winter sun on your skin, 20 degrees celsius in the daytime, and exploring breathtaking hiking trails.
In this guide, I'll go through everything you need to know about going on a Malta winter vacation and exactly what to expect so that you can decide for yourself if this is the right destination for you.
Disclosure: This post may contain affiliate links. That means that if you make a purchase through one of those links, I will get a small commission at no extra cost to you. As an Amazon Associate, I earn from qualifying purchases.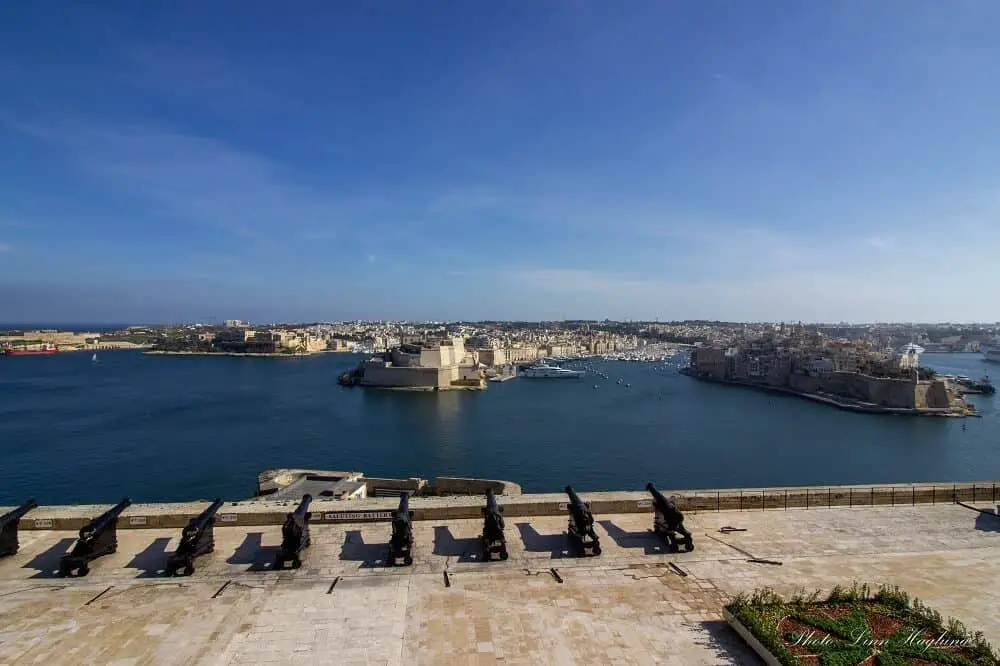 Why visit Malta in winter
There are many reasons to visit Malta in winter that will assure an unforgettable vacation.
Fewer tourists will give a better experience at the top attractions
Pleasing winter sun to fuel up with vitamin D
Perfect temperatures for hiking
Temperatures around 20 degrees celsius
You can actually swim in the sea!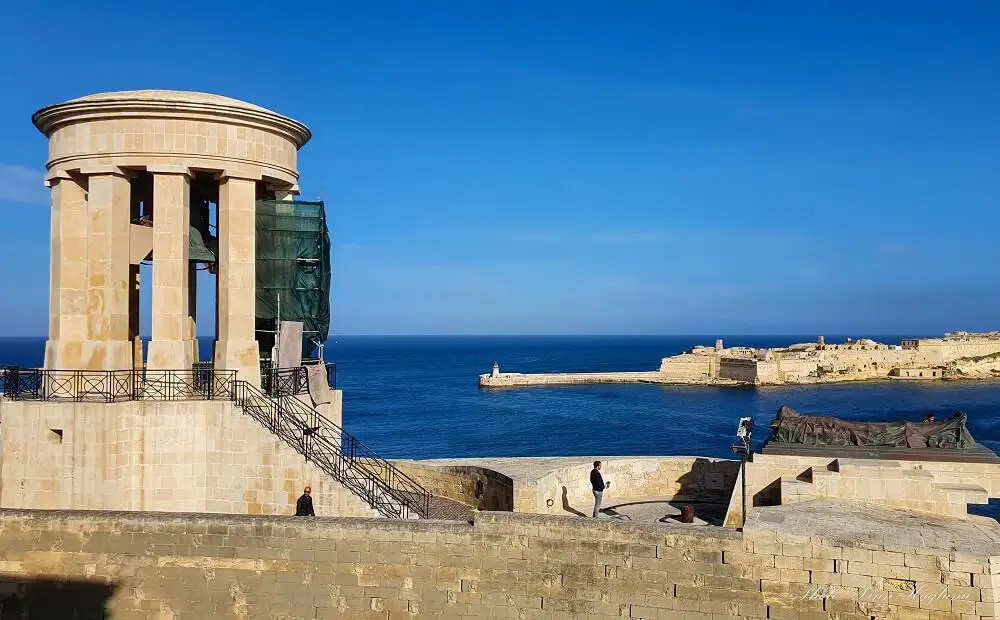 Malta winter season
The winter season in Malta is fairly short compared to other countries in Europe which makes it the perfect place to go for winter sun in Europe. December to March is usually considered winter in Malta.
However, March often transitions to spring in Malta as the flowers start blooming in the warm, sunny weather.
In a country with so much sun, it's hard to notice the seasons changing and you can often see it as a two-season country with only summer and winter compared to central and northern European countries.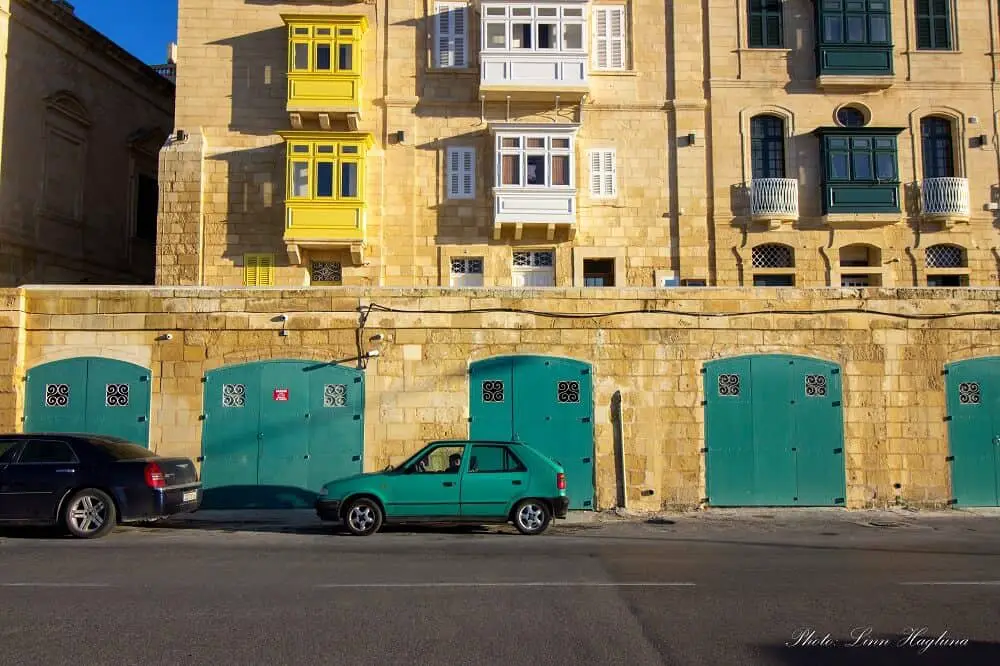 Malta winter weather
Even in the months of December to February, you can expect warm, sunny days which makes it the perfect destination for a European winter break. Temperatures are usually around 15-20 degrees in the daytime and drop to 8-9 degrees at night.
As Malta is fairly flat, you can experience a lot of wind some days, which is when you want to do activities that don't expose you to the elements.
According to Climates to Travel, days of rain average 10 in December and January, and 7 in February. In my experience, it didn't rain much when it rained so it's not likely to ruin a whole day of sightseeing. Be flexible with your itinerary, and you'll have a successful vacation.
How to get to Malta
Malta is usually reached by plane from all over Europe with a busy international airport situated about half an hour south of Valletta.
There are buses from the airport to both Valletta and St. Julian which are the most popular destinations for Malta winter holidays.
If you decide to go on a Malta road trip, winter is also a great time of the year to go and in that case, you can rent a car for pickup at the airport.
Check prices and availability to find the best deals here.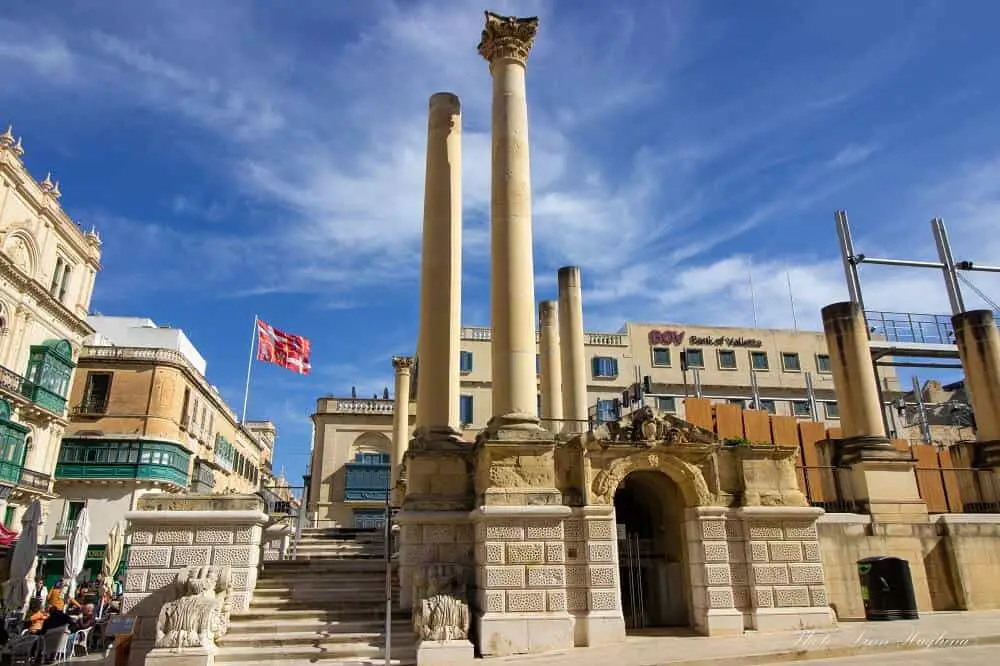 Where to stay in Malta in winter
There are many great towns and cities in Malta to stay, including several budget hostels which makes it easy to travel solo on a budget to Malta too.
Here are some great places to stay in Malta around Valletta for every budget.
WHERE TO STAY IN VALLETTA:

LUXURY: The Embassy Valletta Hotel – a fantastic hotel in the heart of Valletta with outdoor swimming pools, a spa and wellness center, a restaurant, and a bar.

MID-RANGE: Palazzo Ignazio – a lovely hotel with a pool and a spa and wellness center to relax.

BUDGET: Paulos Valletta – self-catering apartments in the center of Valletta.
How to get around Malta in the winter
Unless you drive yourself, Malta is well commuted by bus. Some destinations are harder to get to depending on where you are based on the island and might require a change of buses.
That said, the buses have free Wifi so that you can follow the route and know where to get off even if you don't understand the language and they have tap and pay on the bus, so you won't need cash.
The bus is 1.50 Euros and a ticket lasts for 2 hours, so when you change buses you can use the same ticket.
If you go out at night and want to get safely home after the last bus, the island is well equipped with Bolt drivers, so I recommend downloading the app if you don't have it already.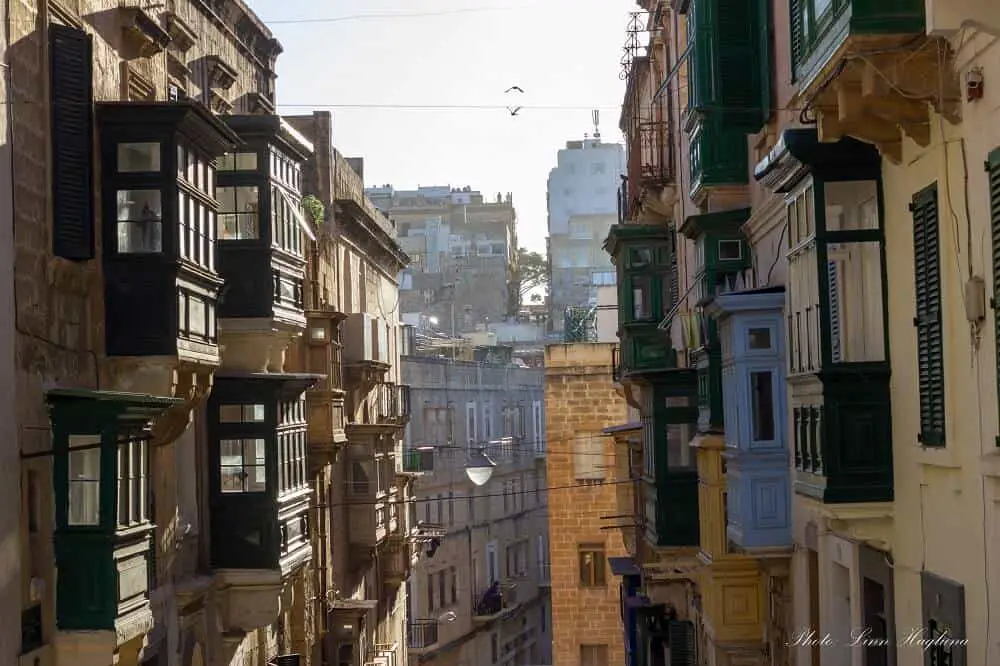 Things to do in Malta in winter
While I'm a fairly active traveler and love to get out in nature, there's a great variety of Malta winter activities that will suit any kind of traveler.
Now, let's have a look at the best things to do in Malta in winter so that you can enjoy your unforgettable winter holidays in Malta.
Hiking
Malta winter weather is perfect for hiking. The island is crisscrossed with hiking trails taking you across breathtaking scenery.
Some of the best hikes in Malta take you along jaw-dropping cliffs, past ancient Roman and punic remains, and across the idyllic countryside.
Head to Gozo island for even more imposing hiking routes or walk around the entire Comino Island in a day. The good thing about Malta, Comino, and Gozo is that there are not many hills so the hikes are fairly flat and you don't need a lot of experience or a high fitness level to do them.
If you like to spend time in nature, you should definitely plan for some hiking during your winter holidays to Malta.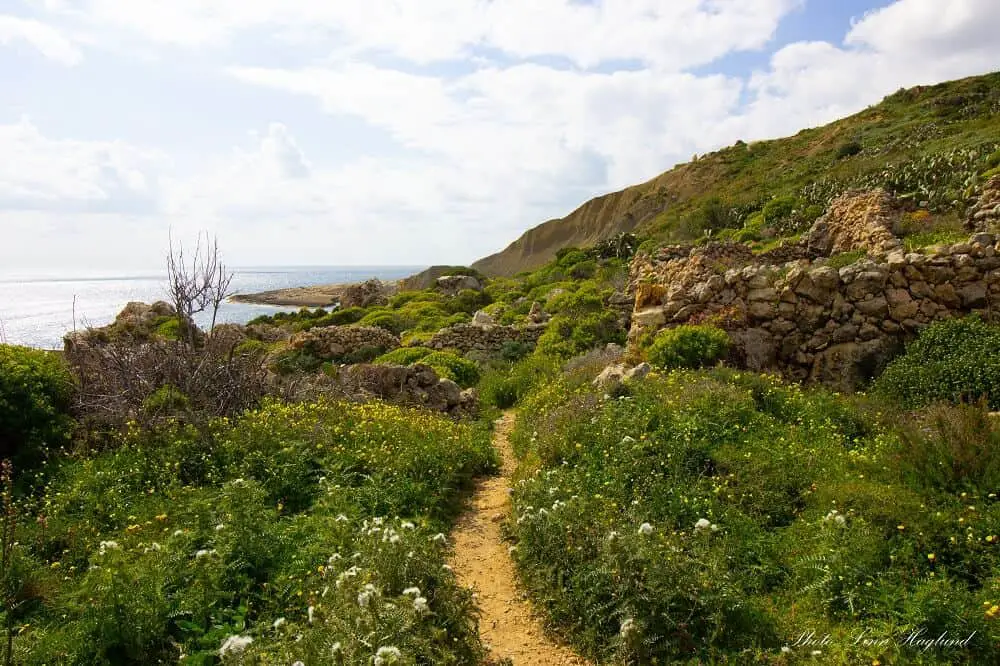 Boat trips
Being a group of islands, Malta is the perfect setting for a boat trip all year round. Malta in the winter might be a bit windier than in the summer, so boats won't go out every day depending on the waves.
That said, most days you can splurge on boat trips around Valletta, head to the Blue Grotto, or go on boat trips to the Blue Lagoon in Comino Island or tours around Gozo.
Since you mostly can experience lovely winter sun in Malta, make sure you bring sunscreen whenever you head out on a boat trip. You might even want to jump in for a dip, so make sure your sunscreen is reef safe.
Here are some popular boat trips in Malta: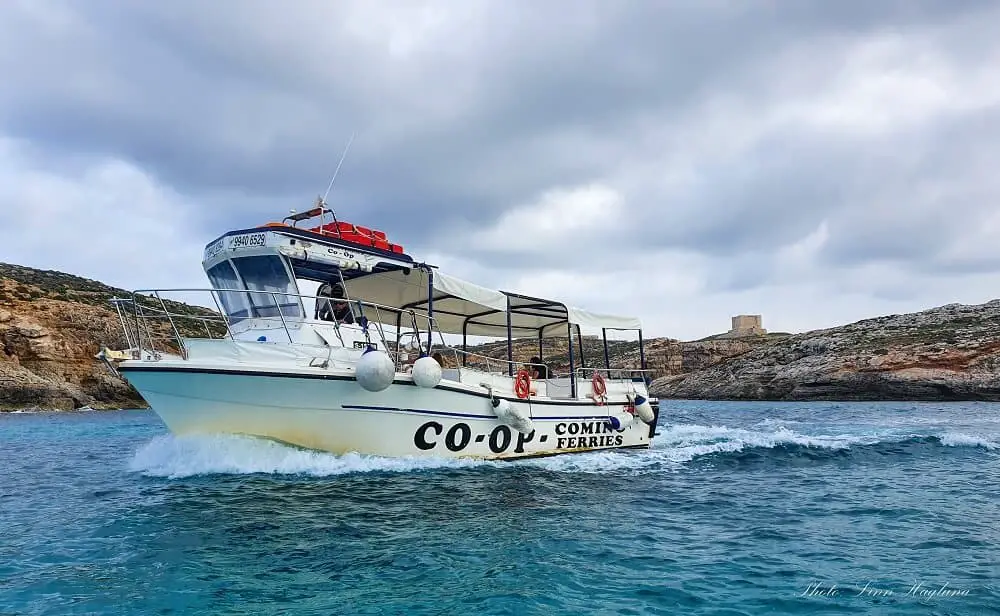 Day trip to Gozo
One of the must-do's when visiting Malta in winter is to go on a day trip to Gozo. It's the second biggest island in Malta and has a lot to see.
The biggest city is Victoria, with a quaint atmosphere filled with restaurants and bars where you can have a drink or lunch at any of the outdoor tables. Don't forget to explore the imposing castle and walk around to see the city's charming churches.
The coast of Gozo is also impressive with some of the most jaw-dropping cliffs in Malta, particularly the Xlendi Cliffs are noteworthy. Explore the coast to find hidden beaches and small towns, ancient salt pans, and impressive viewpoints.
Worth your attention are the impressive UNESCO Ggantija Temples dating all the way back to 3600 BC making them older than both the Pyramids of Giza and Stonehenge.
A day trip to Gozo is truly something you should include in your Malta itinerary no matter which time of the year you travel. There are also organized tours you can take.
Go to the carnival in Valletta
In Malta in February, you can take part in the carnival in Valletta. It's one of the fun festivities during the Malta winter season, though it's not to be compared with the Carnival in Cadiz or Venice.
The streets are filled with large neon-colored figures and you might see kids being dressed up. However, when I was there, I didn't see any adults being dressed up and the late evenings were rather calm.
Nonetheless, it's worth checking it out and you might enjoy live music at any of the squares.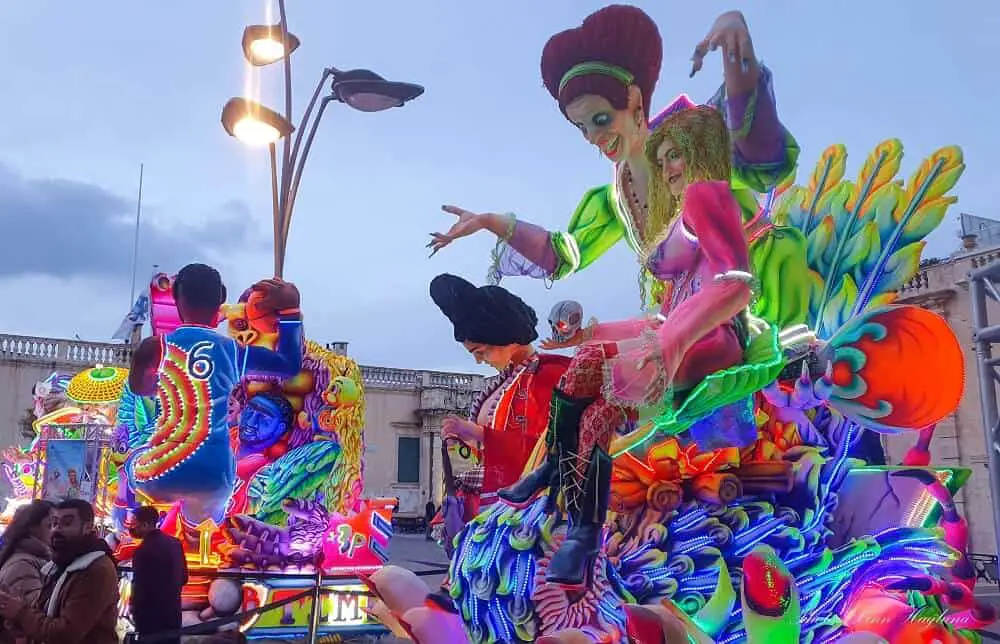 Browse the Christmas Markets
If you're in Malta in December, make sure you take a peek at one of the charming Christmas Markets. Not only does Valletta have a large Christmas Market by the waterfront, but you can find smaller ones in other cities and towns in Malta like Rabat, St. Julian's, and in Gozo.
Malta is huge on Christmas traditions and you can expect a whole lot of tasty Christmas-themed pastries in the pastry shops throughout the islands.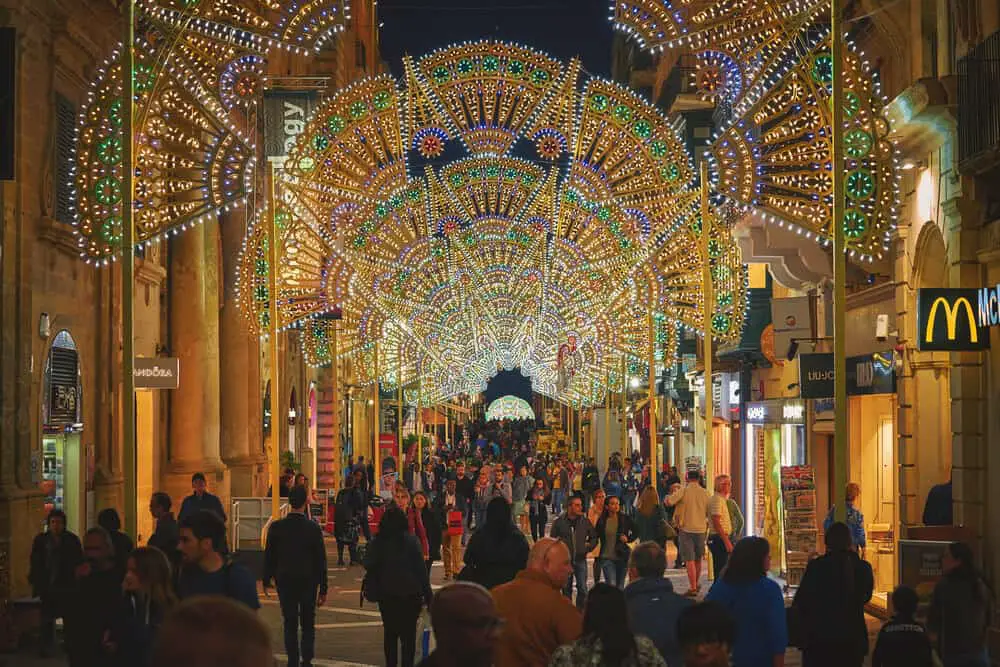 Explore the ancient towns of Malta
Malta is full of ancient history and old towns to discover. And the winter season in Malta is a great time to explore them all. Head to Mdina and Rabat to wander through the ancient enclosed walled city and discover the catacombs where you can enter numerous underground graves.
Zurrieq is believed to be one of the oldest towns in Malta and is often overlooked by the nearby Blue Grotto. However, it's well-worth going making a stop exploring the ancient streets, the main church, and the old windmill.
Head to Mosta to discover the Mosta Rotunda, one of the most sacred places in Malta. During the war, a bomb flew through the dome but never detonated. The locals saw it as a miracle and today, the church has become one of the most important attractions in Malta.
Also worth mentioning are Mellieha for its World War Two tunnels (though not as big as those in Valletta) and sacred Our Lady of the Grotto, Qrendi for its archaeological sites, and Marsaskala for its salt pans and traditional fishing boats.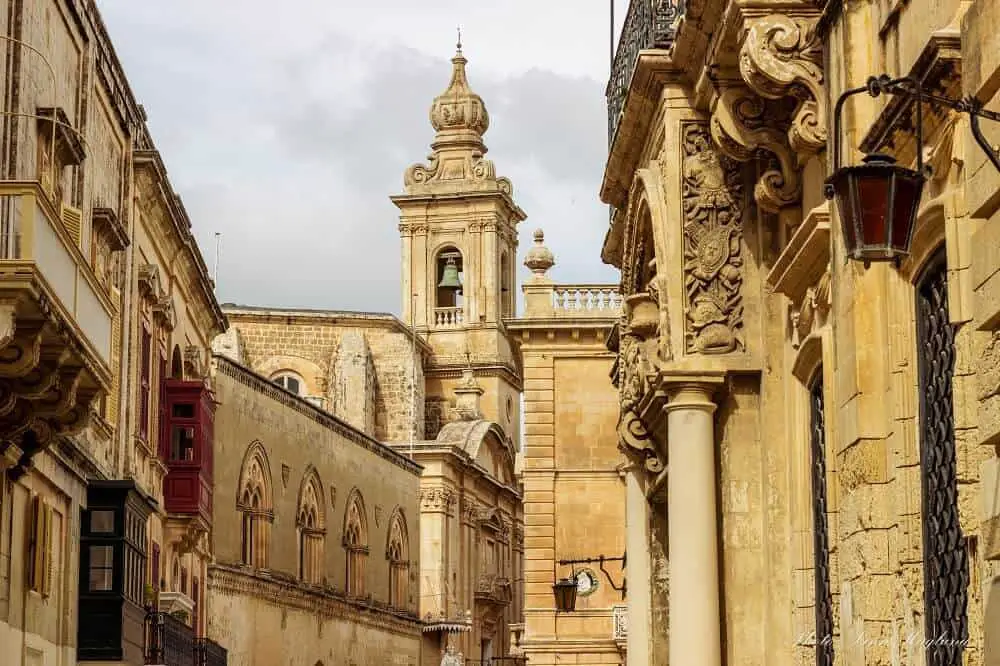 Get underground
One of the best things to do in winter in Malta, especially on a windy or rainy day, is to get underground. Malta was excessively bombed during Word War Two which resulted in the building of kilometers of underground shelters to protect the population.
The shelters were used during two years of constant bombings and you can see how people used to live there, see different artifacts from gas masks to pictures of war heroes, and pots and beds that were stored underground. Information about life underground is provided in most of the shelters too.
It truly gives you a perspective of what the war must have been like for the regular Maltese family and in some of the shelters, the people working there have a family member that either helped build the shelters, organized people in the shelters, or fought in the war. This shows how close the war is to the Maltese people still.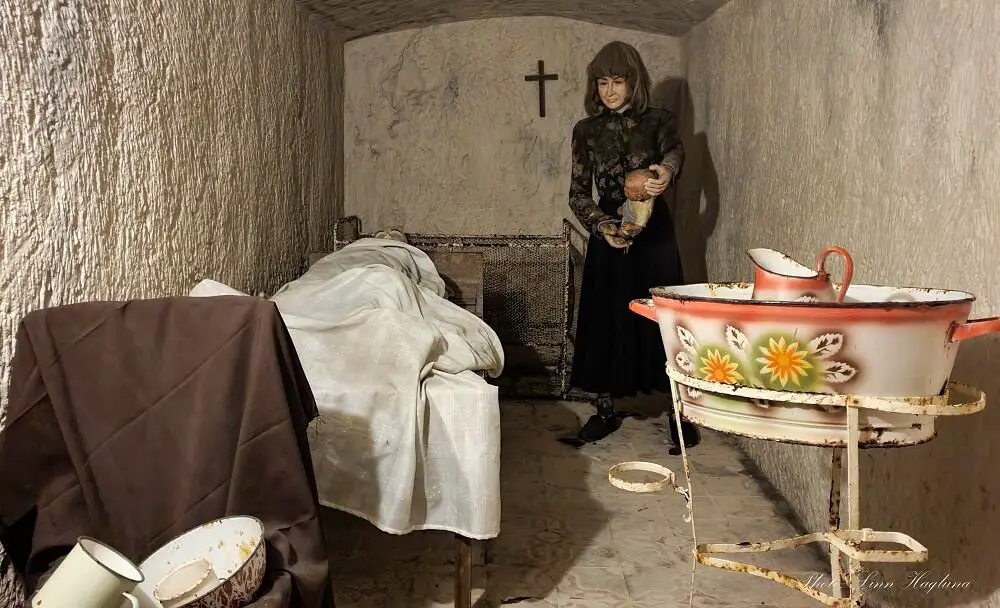 Go for a dip in the sea
With Malta winter temperatures rising above 20 degrees celsius on sunny days, it can be tempting to go for a dip in the glittering, turquoise water.
While I'm a bit of a wuss when it comes to swimming in warm European countries in December, January, or February, everyone I met in Malta during winter had gone for a swim or even many.
The water might be cold, but with the warming Malta winter sun, you'll warm up pretty quickly. Head to one of the astounding swimming holes like the Blue Lagoon in Comino or St. Peter's Pool near Marsaxlokk for an unforgettable winter swimming adventure.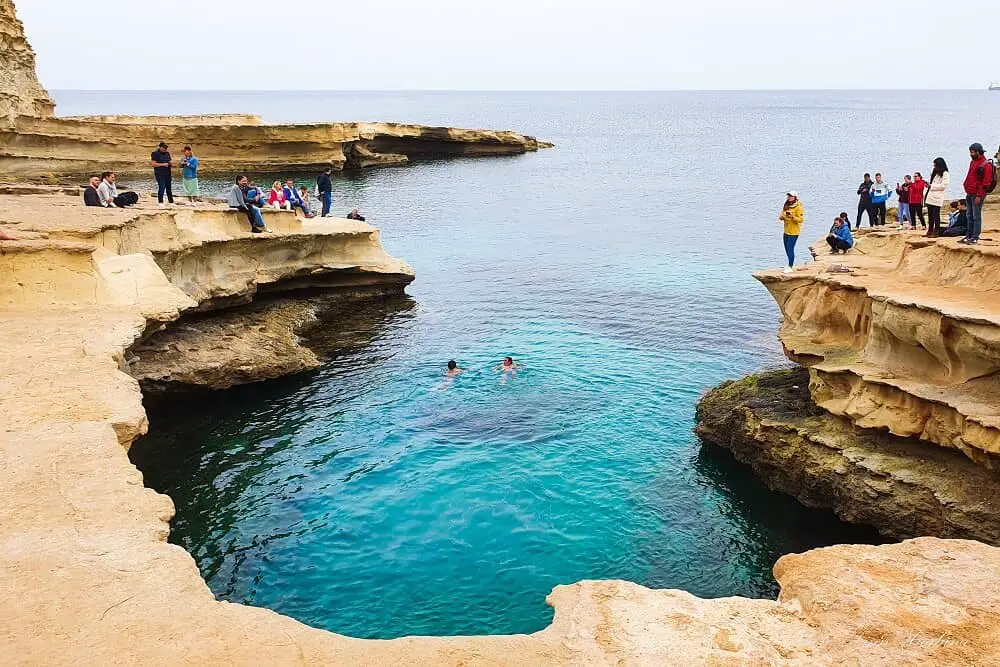 Visit the three cities
No trip to Malta in winter is complete without taking the boat over to the Three Cities from Valletta. It makes a wonderful day trip if you have a week in Malta, but if you don't have that much time, even an afternoon will give you the time to explore some of the main sites like the Inquisitor's Palace, Fort St. Angelo, and the Gardjola Gardens.
There are also many cute restaurants and bars along the port where you can sit down with a hot drink to warm up if it's getting cold.
If you have more time, there are more forts to check out, like Fort Ricasoli and Fort Rinella. No matter what you do in the Three Cities, you're guaranteed a lovely adventure. Just walking around the streets is rewarding, like in the rest of Malta.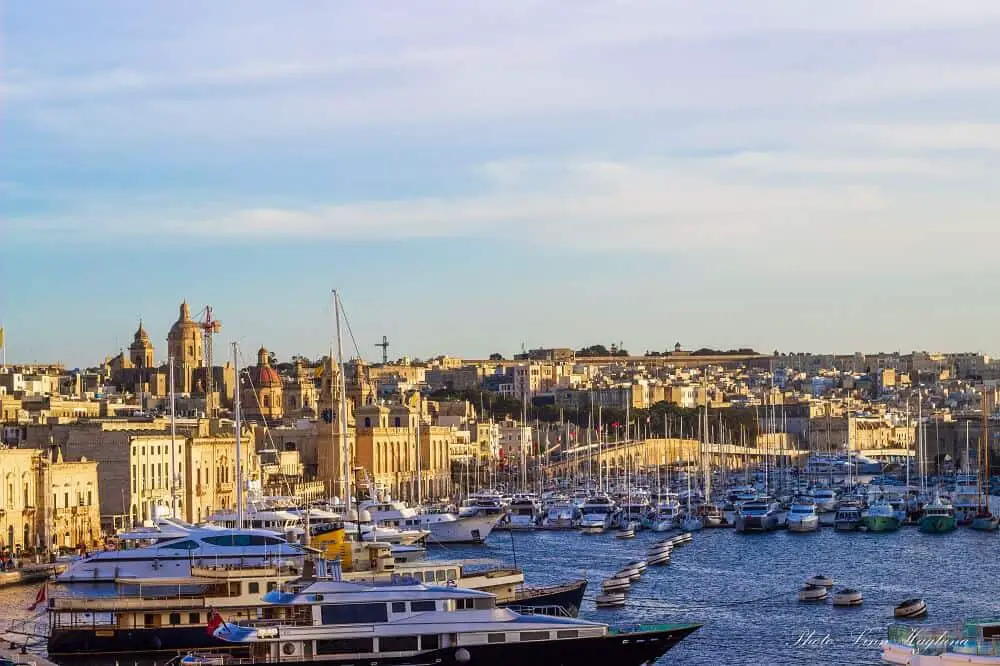 Go on a road trip
Going on a road trip in Malta is a great idea if you don't have a lot of time on the island. You'll be able to cram in a lot more sites than if you only use public transport and your feet.
A great road trip route that starts in Valletta, Sliema, or St. Julians, heading to Xemxija to walk the Roman Road, continuing to Mellieha and Ghadira Bay, and visiting the Red Tower. Continue to Popeye Village and Mgarr where you can spend the night.
Next, hike parts of the Victoria Lines and visit Mosta Rotunda before heading to Mdina and Rabat where you can spend a night.
End the road trip with the Blue Grotto, the Hagar Qim ruins, Marsaxlokk, and the St. Peter's Pool before returning to your starting point.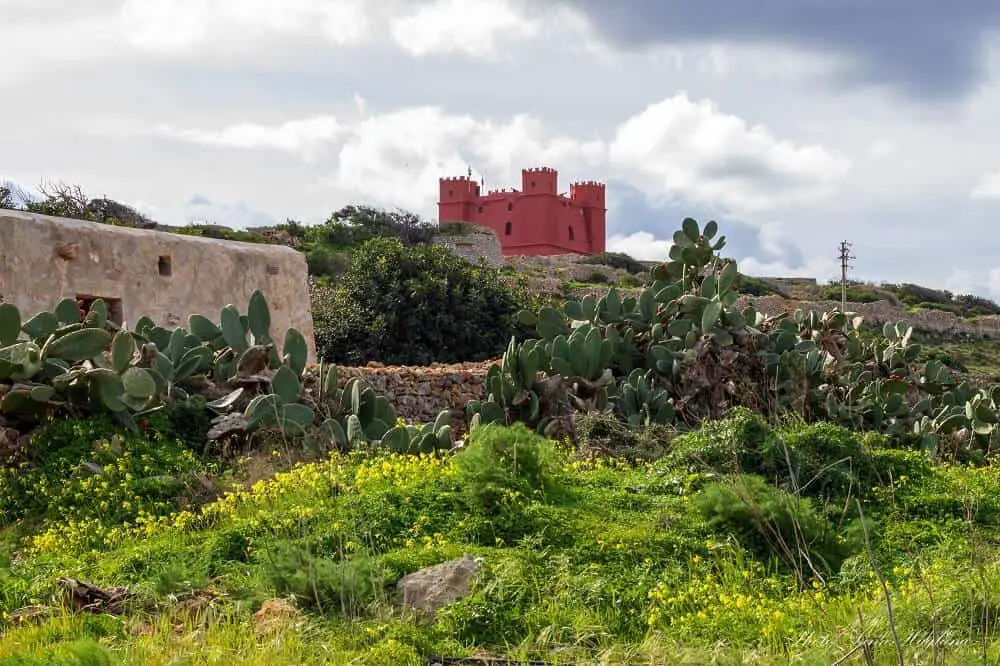 Be a responsible traveler in Malta in winter
There are many easy steps to be a responsible traveler during your Malta winter holidays. I've listed a few tips below so that you can start planning to incorporate some of these ideas on your trip.
Join a beach clean-up in Malta: There are organized beach clean-ups throughout the year, but if you don't find one during your stay, you can organize your own. Invite other travelers you meet, or just simply bring a couple of plastic bags and fill them up – it's always better to fill up those two bags than no bags.
Take public transport: Taking the bus in Malta is so easy, cheap, and scenic, so if your Malta winter break is long enough to experience what you like by bus, it's a great way to get around.
Walk more: There are amazing hiking routes between cities and towns which allow you to explore a lot of the islands on foot.
Shop at local markets: There are many local farmer's markets where you can shop to support locals, the Marsaxlokk Sunday Market is the most famous.
Bring a reusable water bottle with a filter: A lot of travelers don't drink the water from the sink in Malta as it tastes s**t. You'll get used to it, though, I drank it for a month and a half as I wanted to avoid buying plastic water bottles. However, if you get a filtered water bottle or a water purifier that removes bad taste you can be eco-friendly without cringing every time you take a sip of water.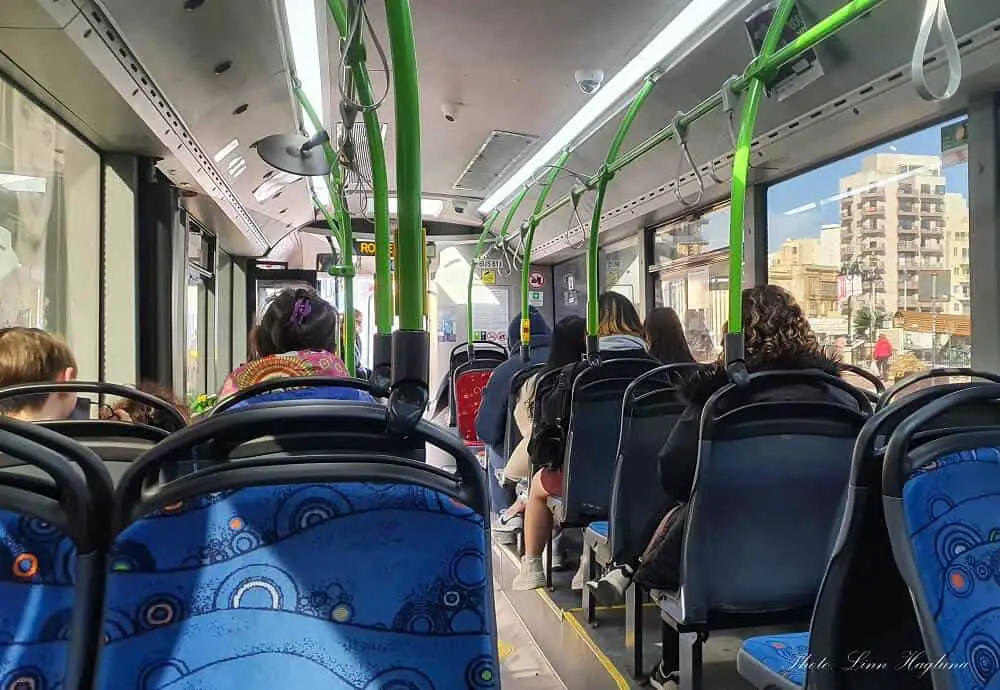 Reflections on winter in Malta
In winter, Malta is surprisingly full of life considering most travelers look at it as a summer destination. Long-time travelers often use it as a base due to Malta's weather in winter, and expats spend the winter there to work.
If you weren't sure where to set your winter holidays, Malta might just be the answer, and I truly hope you'll consider it after reading this post.
After a month and a half there, I found it a perfect destination for winter, maybe more than going on a summer vacation to Malta as it's lively but not crowded.
If you need more convincing Malta is the right destination for you, read my post: Is Malta worth visiting?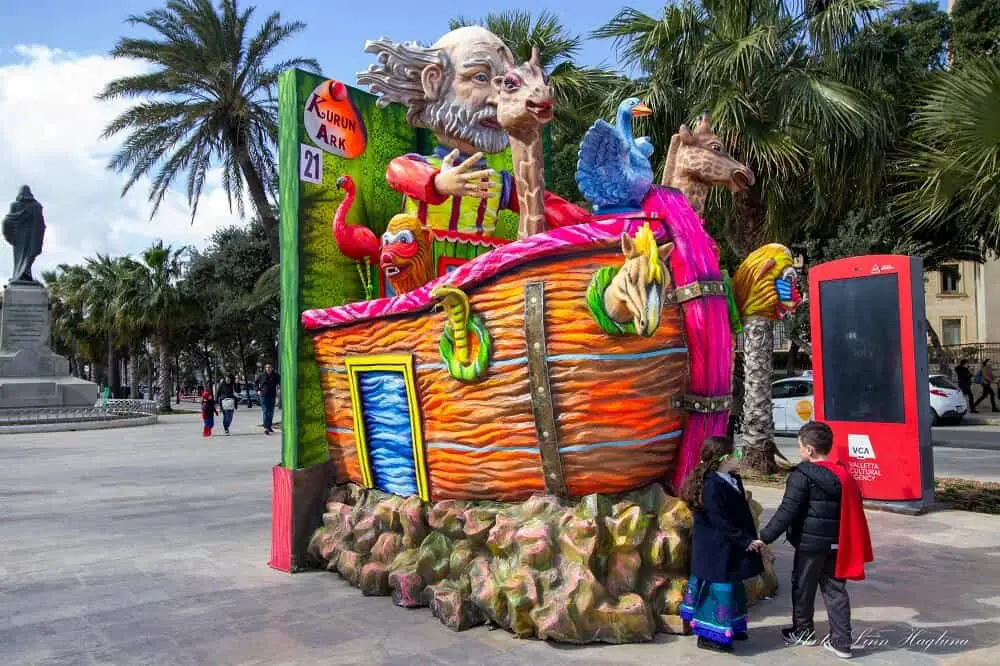 FAQ
Is Malta worth visiting in winter?
Malta has a lot of fun activities perfect for winter, the weather is pleasant, and there are fewer crowds, yet lots of people.
Does it snow in Malta?
As a rule of thumb, it doesn't snow in Malta. The last time the island experienced snowfall was in 1962. However, with the climates changing, you never know!
Is Malta warm in winter?
Malta has some of Europe's best winter weather with daytime temperatures between 15-20 degrees celsius.
Is Malta hot at Christmas?
Temperatures in Malta at Christmas are usually between 15 and 20 degrees celsius in the daytime and can drop down to 10-11 at night.
Can you sunbathe in Malta in December?
On a sunny day with no wind, you can sunbathe in Malta in December.
What is Malta like at Christmas?
Malta is one of the warmest European Christmas destinations and you can enjoy beautiful Christmas lights in the streets and cozy Christmas Markets.