Going on a Florence to Siena day trip is one of the best decisions you will make. The medieval town of Siena is such an alluring place that should not be missed!
There are plenty of incredible things to do in Siena, and on a day trip to Siena from Florence, you will be able to visit the top attractions, take in the most epic views of the city, and try some delicious food.
Wandering through the narrow cobblestoned streets, visiting old trattorias, and exploring the history of this quaint corner of Italy, are some of my favorite things to do in Tuscany.
Warning! Siena will steal your heart and anyone wondering if it is worth visiting Siena will miss out if they choose not to.
Read on to find out exactly how to go on a Florence day trip to Siena.
Disclosure: This post may contain affiliate links. That means that if you make a purchase through one of those links, I will get a small commission at no extra cost to you.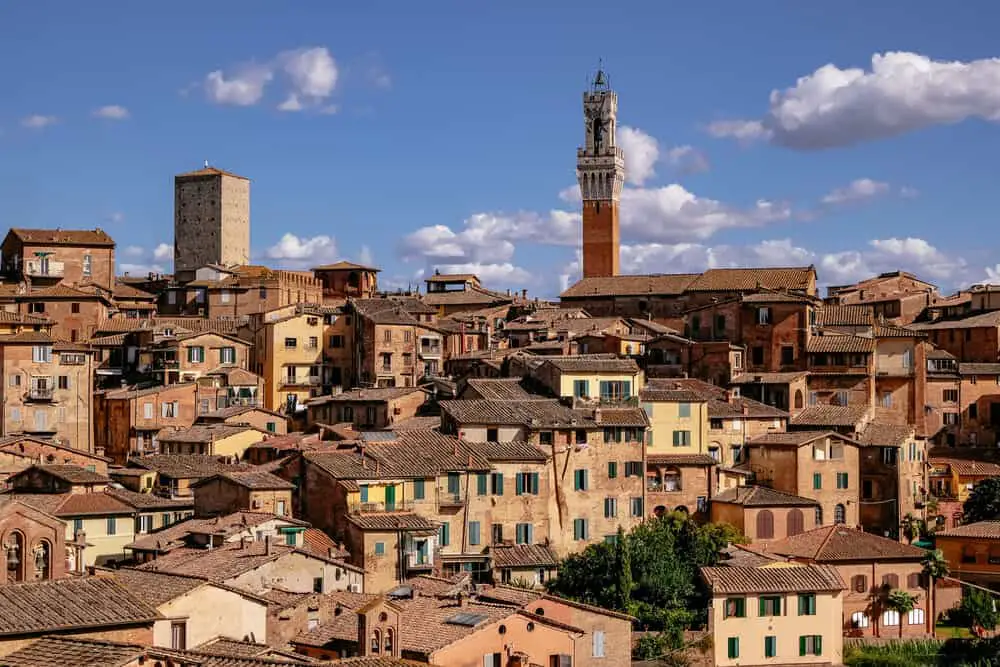 Best time to go on a day trip from Florence to Siena
A Florence to Siena day trip holds a unique charm, regardless of the time of year, as the city's charm transcends the seasons, presenting a captivating spectacle that shifts and evolves with the passing months.
Each season unfurls a distinct aspect of Siena, enhancing the city's allure and ensuring an unforgettable trip.
Let's have a look at the different seasons so that you can plan the perfect time for your Siena day trip from Florence.
Siena in spring
During Spring (March to June), Siena bursts into life as flowers blossom, casting a vibrant splash of colors across the city and its surrounding Tuscan landscapes.
The fresh, crisp morning air and mild daytime temperatures make this time of the year perfect for sightseeing.
As you can tell, the city's awakening beauty makes this period particularly appealing for a day trip from Florence to Siena.
You can expect average temperatures to be around 15-20 degrees Celsius in the daytime and 3-5 degrees Celsius at night.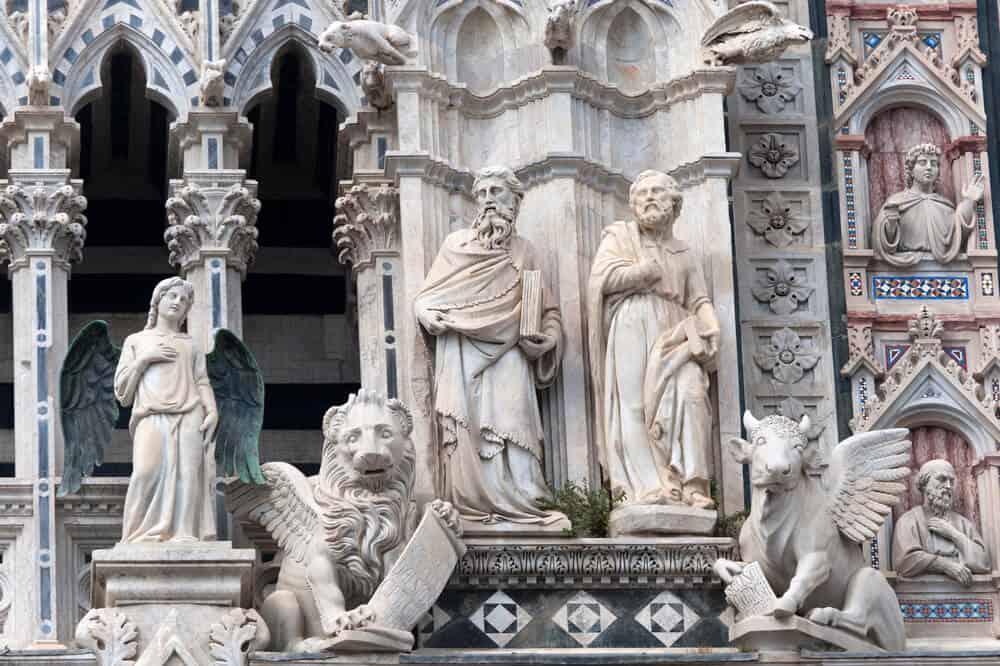 Siena in summer
Summer (June to August) welcomes the radiant Tuscan sun, bathing Siena in its warm glow.
This is an ideal time for those who enjoy balmy weather, as the radiant sunshine enhances the city's charm and provides the perfect ambiance for your day trip from Florence to Siena.
Note that August is the warmest month in Siena with temperatures up to 32 degrees Celsius, so if you struggle with the heat, it might not be the best time of the year for you.
However, this is also when the city's iconic Palio Festival is held on Piazza del Campo. This annual horse race, held on July 2nd and August 16th, is a vibrant spectacle of Siena's lively culture and festive spirit.
The streets come alive with color and excitement, offering an unforgettable glimpse into local traditions and celebrations.
Whether you're a horse racing fan or simply looking for a unique cultural experience, aligning your trip with the Palio can make your journey even more special.
Siena in fall
When Fall (September to November) arrives, the city adopts a more relaxed pace. Siena becomes a canvas of warm oranges and browns, adding a layer of charm to your experiences.
It's an excellent time to visit if you're a fan of cozy environments and the beauty of fall foliage.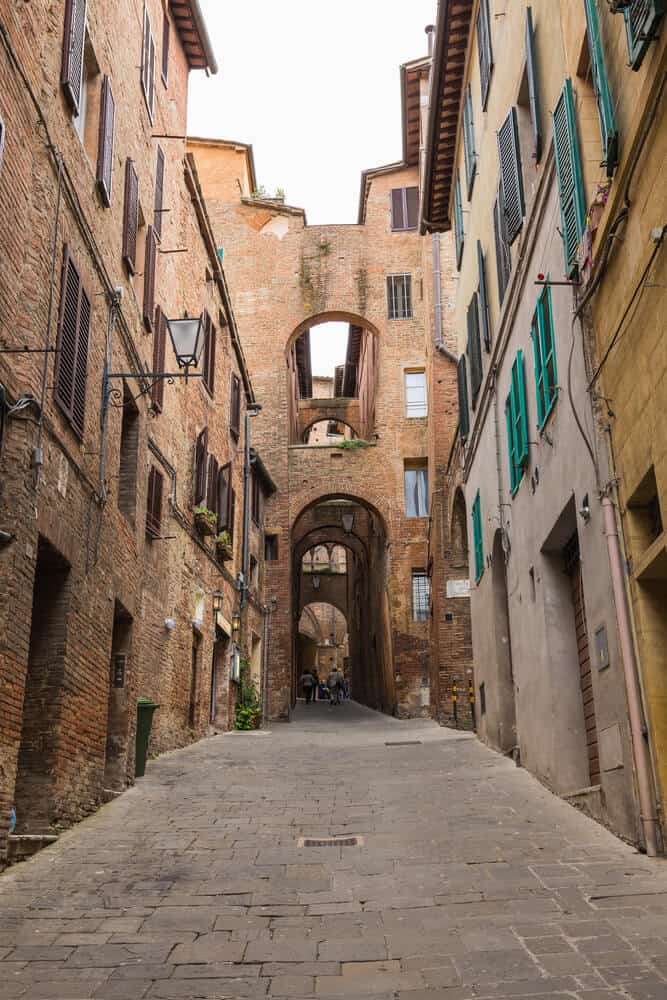 Siena in winter
Winter in Siena (December to February) does not dim Siena's charm, despite its cooler temperatures dipping to an average of 8-9 degrees Celsius in the daytime and 3 degrees at night.
The city remains an attractive destination, especially if you are seeking a more tranquil visit with fewer tourists.
The early morning winter frost adds a magical touch to the city's ancient buildings, creating a serene winter wonderland.
Traveling from Florence to Siena
Embarking on a day trip from Florence to Siena presents several comfortable and convenient travel options catering to various preferences and needs.
I will go through each mode of transport here, including organized tours, though there are no tours only covering Siena, so you will get less time there.
Tours typically include other destinations like San Gimignano, Pisa, Monteriggioni, and Chianti wine tasting. So make sure you choose one that gives you what you want.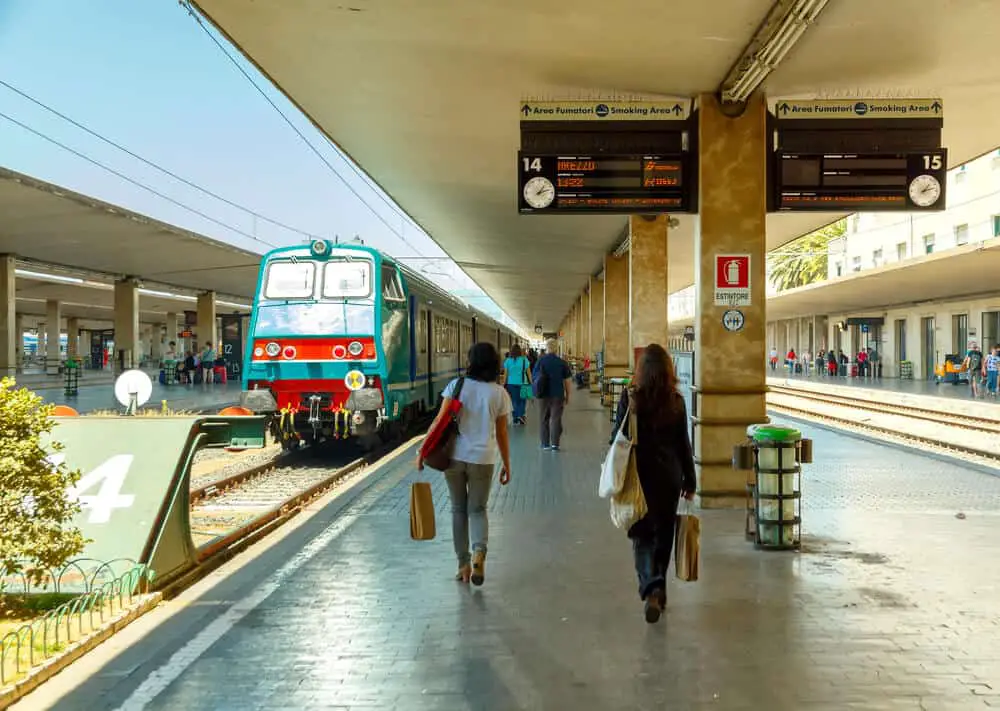 Florence to Siena day trip by bus
Bus travel is often a popular choice for tourists seeking an economical and efficient mode of transport. There are direct buses to Siena from Florence and the journey normally takes around an hour.
These buses provide a comfortable journey while presenting picturesque views of the Italian countryside, adding a scenic charm to your commute.
Florence's bus station, located just outside the train station, is a convenient starting point, simplifying your travel logistics.
Florence to Siena day trip by train
Train travel is a relaxing and equally scenic way to journey from Florence to Siena. When using the train, you may anticipate traveling for 1.5 to 2 hours, so it takes a little bit longer.
You'll be treated to breathtaking views of the lovely Tuscan countryside as you travel the route.
Arriving in Siena, there is a 20-minute uphill walk to the city center, Luckily, there is an array of buses and taxis waiting at the train station, so you can get there without any effort.
At the end of the day, it takes longer by train than bus and it's not as straightforward when going on a day trip. Siena from Florence is still possible by train for the day.
Driving from Florence to Siena
Driving from Florence to Siena is a fantastic option if you prefer the freedom it gives you. This allows you to explore at your own pace and make impromptu stops.
The drive, which takes about an hour, offers the opportunity to soak in the spectacular Tuscan scenery that lines the route.
Parking in Siena can be complicated as you can't drive into the historic center. However, I've found parking at "Il Campo Parking" which is near Piazza del Campo, and only a couple of Euros for the day.
🚗 CHECK PRICES AND AVAILABILITY HERE
Siena tour from Florence
If you prefer the convenience of an organized Siena tour from Florence, there are different options you can take with stops in different towns.
This is a great option if you despite the stress of public transport, and don't want to drive. There are several tours of Siena from Florence including places like Montepulciano, San Gimignano, and Cortona, making it a fabulous opportunity to see more of Tuscany.
Wine lovers will love to combine Siena with Chianti in this wine tour.
Here are some of the best tour options including private tours from Florence to Siena: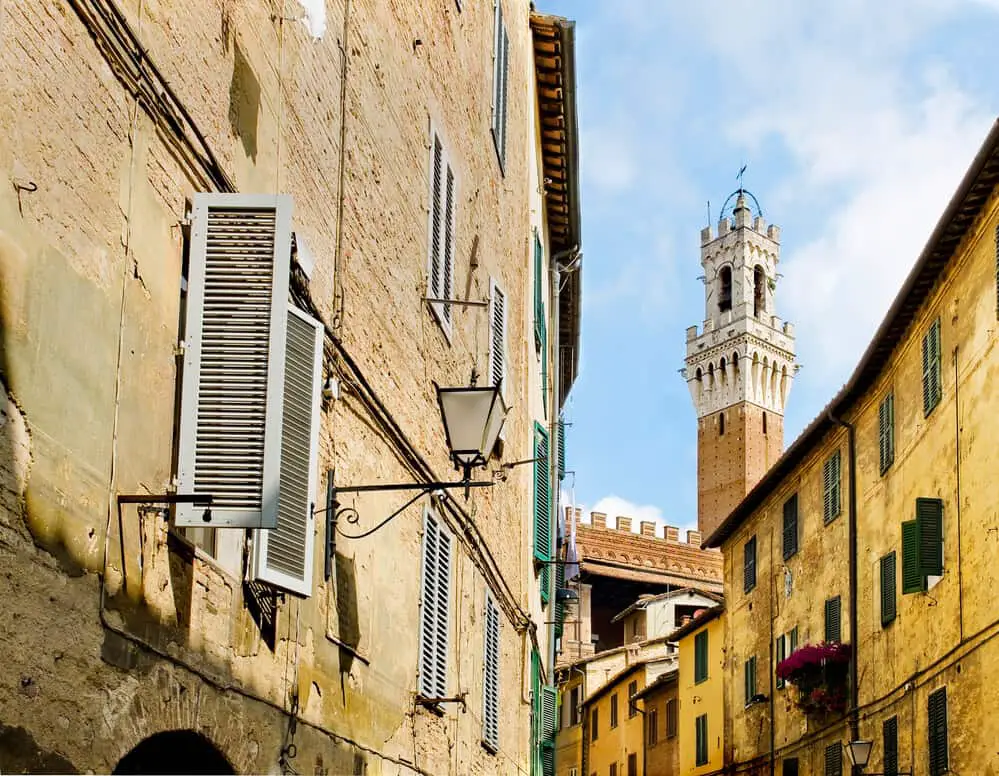 What to do on a day trip from Florence to Siena
Wander Around Piazza del Campo
A Florence day trip to Siena naturally begins at the Piazza del Campo. Known for its distinct shell-shaped layout and beautiful architecture, and one of the most iconic Italy landmarks.
This shell-shaped square of Siena is also the stage for the famous Palio Festival. It serves as a beautiful introduction to the city's historic charm.
Don't miss out on the beautiful white marble Fonte Gaia with its detailed sculptures. It was built in 1419 and the water is supplied from ancient aqueducts around the city.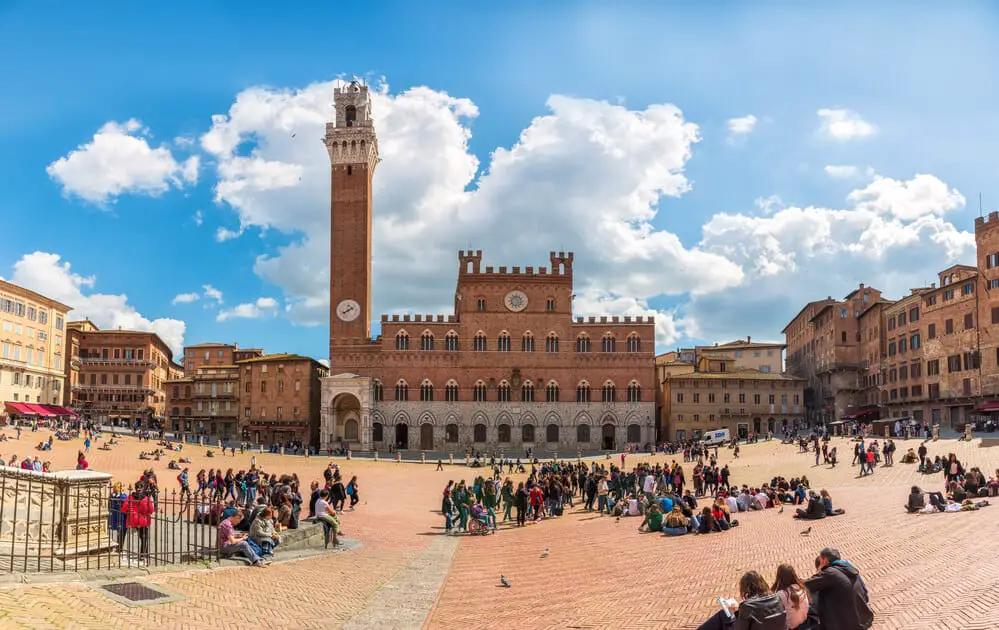 Explore the Civic Museum
Visit the Civic Museum to learn about Siena's complicated history and cultural legacy. This museum is located in Piazza del Campo and has an extensive collection of Sienese art.
Each item acts as a quiet yet expressive narrator, providing priceless views into the city's colorful past.
You can book tickets directly there including Torre del Mangia or pre-book it online to avoid unnecessary queues.
Ascend Torre del Mangia
The Torre del Mangia, standing tall at Piazza del Campo, offers panoramic views of Siena and gives a great view of the square from above.
Climbing its 400 steps is a rewarding experience, revealing stunning vistas of the cityscape and surrounding Tuscan countryside, making it a highlight of any day trips from Florence to Siena.
Savour Lunch at Piazza del Campo
Refuel with an authentic Italian meal at one of the many eateries surrounding the Piazza del Campo.
Relish the delightful pizzas, pasta, and other culinary treasures that make Florence day trips to Siena so awesome.
I really enjoyed this square and found great food in several restaurants.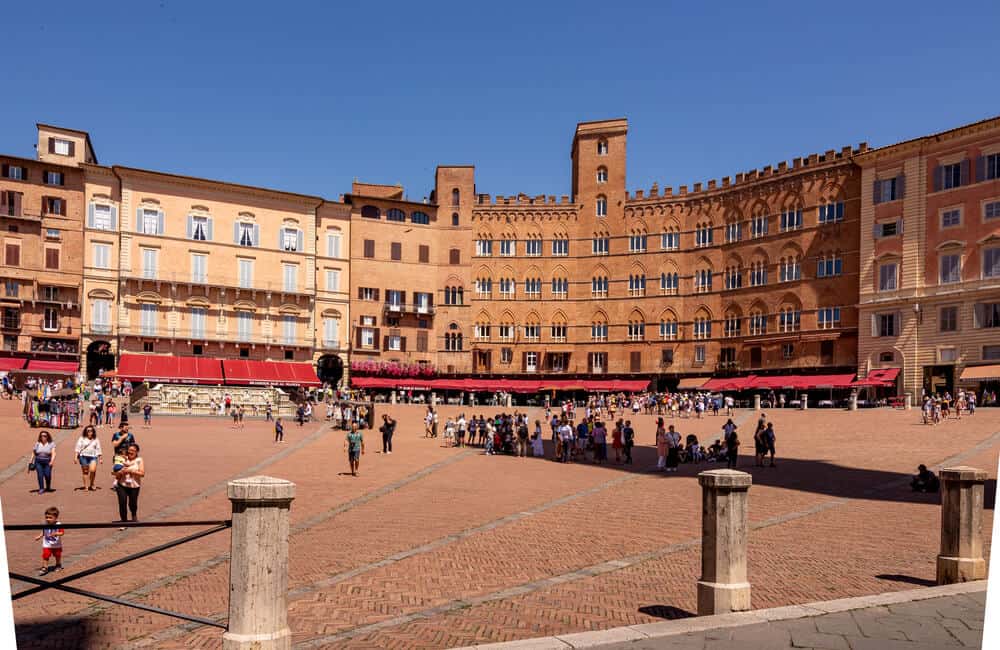 Discover the Duomo Complex
Visiting the Duomo complex is one of the highlights on a day trip. Florence to Siena is an epic trip and trust me, half the day will go to explore the cathedral complex.
There is so much to see and so much history and architecture worth taking in that you will realize just how fast time flies in there.
I suggest purchasing a complete Duomo Complex Pass in advance to get a smooth experience.
Duomo (Cathedral)
The Duomo, Siena's stunning cathedral, showcases exquisite Gothic architecture and awe-inspiring frescoes.
It was built between 1215 and 1264 and though an expansion was started in the 1300s, it was not completed.
The facade is one of my favorites in Italy with its statues and white marble. Inside, the white and black striped marble gives life to the building with its colorful frescoes and stained glass windows.
It's absolutely amazing to walk around and admire the artwork, including the ornate marble floor which is only fully uncovered between late June and late July and between mid-August and mid-October.
There are also numerous sculptures inside the cathedral worth noting like the Pulpit of Nicola Pisano.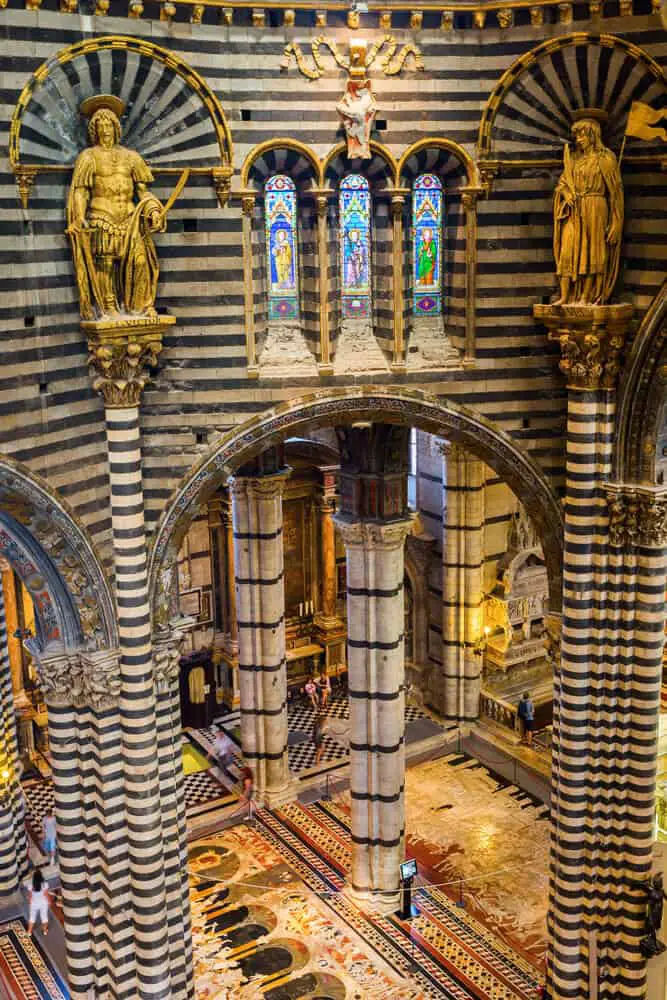 Climb the Facciatone
The Panorama del Facciatone is another highlight if you are just half as obsessed with views as I am. The unfinished facade of the Duomo offers a terrace on the top where you can admire the city from above and get a good view of the Mangia Tower.
The climb is strenuous, but so worth it!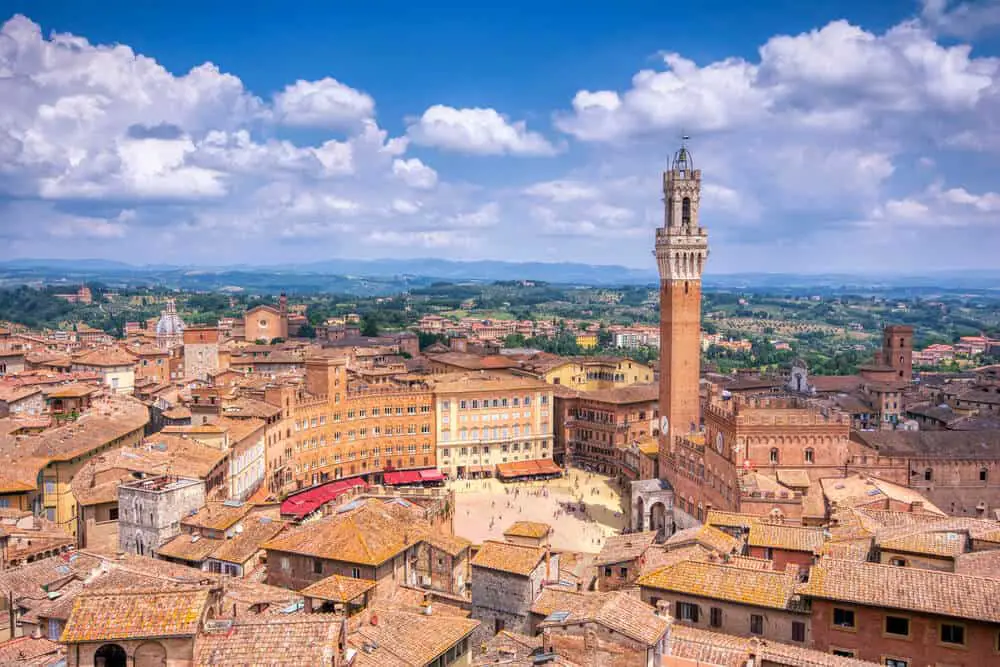 Museo dell'Opera
Home to some of the city's most treasured art pieces, including Duccio's Maestà and Giovanni Pisano's sculptures, the Museo dell'Opera is a testament to Siena's rich artistic heritage.
Many of the sculptures and works that were originally for the cathedral are exhibited in the museum while what you see outside and inside the cathedral are replicas.
Especially fascinating is the stained-glass rose window by Duccio di Buoninsegna. as it's placed low on the wall, you can actually see the details very well.
The Crypt
The Crypt, an archaeological treasure hidden beneath the Duomo, showcases medieval frescoes with significant historical relevance, allowing you to step back in time.
It was discovered under restorations in 1999 making it a pretty new addition to the complex. The 12th-century frescoes in the crypt are considered among the most important archaeological finds in recent times.
Piccolomini Library
Conclude your visit to the Duomo complex at the Piccolomini Library. Featuring vivid frescoes depicting Pope Pius II's life and well-preserved interiors, the library is a visual treat for art enthusiasts.
It was built to protect the pope's book collection and is such a colorful and pretty place.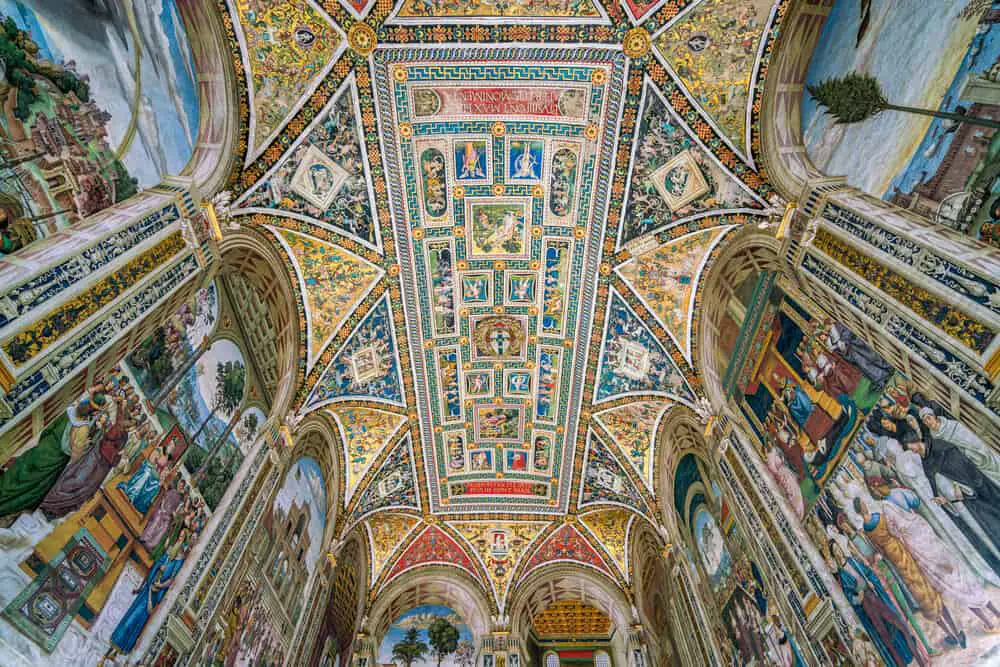 Stroll around the old town
End your Siena day trip from Florence by strolling through the old town and soaking in the Medieval buildings around you.
It's such a special place with so much history written on the stone walls. There are lots of hidden trattorias and restaurants if you're looking for dinner before you head back to Florence.
Reflections on a Florence to Siena Day Trip
Needless to say, a Florence to Siena day trip is one of the best day trips from Florence you can do. There is so much to see and do in a day in Siena and still, there is time to soak in the Medieval old town with its charm.
Siena is one of my favorite towns in Tuscany and I don't doubt that you will fall in love with it too.
Happy travels!