Tuscany is a dream destination for so many, with its rolling green hills, dotted with picturesque villages surrounded by romantic vineyards. It's not easy to know where to go in such an attractive region if you are limited on time. I guess you want to experience it all, but if that's not an option, the least you want is to make sure you get to visit the best towns in Tuscany. To make it easy for you, I've put together the best Tuscan villages to visit with help from other travel lovers.
This post does not cover large cities like Florence and Pisa. They are absolutely worth visiting though, and especially Florence deserves a few days if you have the time for it. Nevertheless, one of the most wonderful facts about Tuscany, is that the region is made up by two thirds hills – and many of these hills are covered in vineyards, so get ready for a vacation set in a movie scene!
Disclosure: This post may contain affiliate links. That means that if you make a purchase through one of those links, I will get a small commission at no extra cost to you. If you have any questions about these services or products, feel free to ask me.
How to get to Tuscany
Tuscany is easily accessible from most of Europe and the rest of Italy. However, many of the best towns in Tuscany are remotely located and traveling within the region is a different story.
Whether you have spent 2 days in Venice, 4 days in Rome or 2 days in Amalfi Coast and want to continue your Italy itinerary in Tuscany, it is easy to get to Florence.
Here are a few ways to get to Tuscany.
By plane
There are two airports in Tuscany that both receive international flights. One in Florence, Amerigo Vespucci airport, and one in Pisa, Galileo Galilei International Airport. An option is to fly to Rome and travel by land to Tuscany.
---
---
By train
The railway connections with the rest of Europe are good, so it's easy to get to Tuscany by train from several European locations.
From Rome, you can take the train to Florence, and with only 1 hour and 30 minutes of travel time and approximately a train leaving every half an hour, this is a comfortable way to get to the capital city of Tuscany.
You can also easily take the train from Venice to Florence, which only takes 2 hours with the high-speed train.
You can book your train ticket here.
By bus
You can also get to the cities in Tuscany by bus. From Rome to Florence it takes less than 3 hours by bus.
Various bus companies run between Rome and Florence and they vary in price with only a few euros. Here are a few options to look at.
By car
Whether you are on a road trip in Europe or you are somewhere else in Italy, Tuscany is easily accessed by car. From Rome, it only takes 3 hours by car to Florence, and you get to Siena in only 2 hours and 20 minutes.
Check out these eco-friendly backpacks for your trip!
How to travel around to the best towns in Tuscany
Public transport in Tuscany is not the best unless you are moving between larger cities like Florence and Pisa or some of the larger towns. Even though there are buses that go between some of the Tuscan villages to visit on your trip, many of the towns are remotely situated and buses are infrequent.
There is no denying a Tuscany road trip is the absolute best way do explore the region! I recommend you get a rental car at the airport if you fly into Tuscany.
Otherwise, you can look for one in Florence or any other city in Italy, depending on where you travel from. I recommend booking it well in advance to get the best deal as car rental is popular in the region and can get booked out.
Book your rental car in Tuscany NOW
Another alternative is to book local tours from the major cities and go on day trips from Florence, Siena or Pisa.
Best Tuscan villages to visit
There are so many incredibly cute towns in the region, and it can be hard to choose which ones to go to during your trip. According to travelers, these are some of the absolute best towns in Tuscany that you should make space for on your Tuscany itinerary.
Siena
In the heart of Tuscany, you find the quaint town of Siena which is a great starting point for day trips around to other towns in the region. Siena itself is a historic town with lots to do and see.
Start your Siena itinerary at Piazza del Campo, the unique shell-shaped square, is not only beautiful, but a perfect spot to chill with a glass of wine and people watch. For the best views in Siena, climb the 400 steps and 87 meters to the top of Torre del Mangia, which is part of Palazzo Pubblico on Piazza del Campo.
Make sure you visit Piazza del Duomo where you will be stunned by the cathedral of Santa Maria Assunta. The details are magnificent both inside and outside. At Piazza del Duomo you also find the colorful Piccolomini Library, carefully and detailed painted by Pinturicchio and his students in the early 1500's. Also the Baptisery is worth a visit.
But just walking around in Siena is a truly memorable experience, with narrow streets winding their way through curious tunnels and bridges created simply by connecting two houses three floors above the street. Tiny shops selling pizza on the go and gelato and cozy bars inviting for a drink. There is no doubt Siena in one of the best towns in Tuscany and should be on any Tuscany itinerary.
You can easily get to Siena by bus or train from any larger city.
I recommend staying in the historic center to get easily around. Hotel Athena is a great choice.
Pienza
Contributed by Katy from Untold Italy
One of the hilltop towns of the Val D'Orcia in southern Tuscany, Pienza is blessed with views for miles and some of the prettiest streets you will ever see. Central to the town is a large cathedral or duomo built to celebrate the town's founder – influential Pope Pius II. Blessed with a seemingly endless budget, the pope built Pienza to the model of the ideal Renaissance town complete with streets named in the theme of love.
Wander down cobbled Via del Bacio (Kiss Street) and admire plants cascading from pots and shuttered windows that hide magnificent homes within. Of course the pope's palace – Palazzo Piccolomini – is the crowning jewel. Now a museum, it is worth a visit to learn about the town's history and admire sweeping views of the countryside below. 
Pienza is a place to wander, admire the scenery, and visit cheese shops. The local pecorino sheep's milk cheese is celebrated across Italy. You can try pecorino at various stages of aging – the older the cheese, the more piquant the taste – at many small shops in town. But, if you visit Pienza in autumn, you might be lucky enough to enjoy the town's famous cheese rolling event that takes place in late September. 
The best way to reach Pienza is by car, traveling south from Florence or Siena or north from Rome.
Stay at Relais Il Chiostro di Pienza, a charming 4-star hotel where you can soak up the atmosphere and famous views.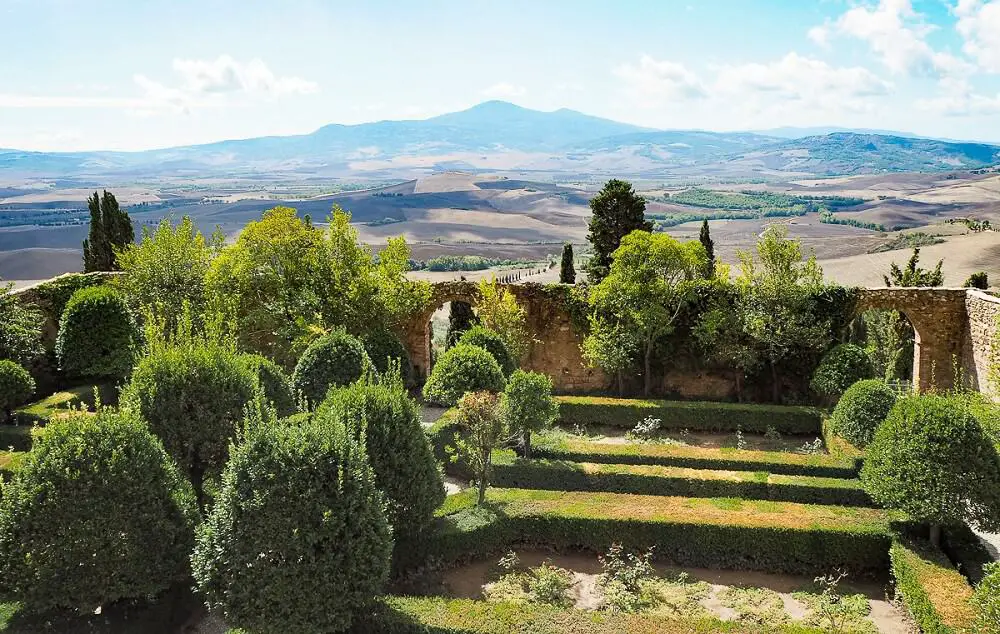 Monteriggioni
Contributed by Matt from It's All In Italy
Monteriggioni is a walled hilltop medieval town located just north of Siena in Tuscany, Italy. Built between 1214-1219 as a defense against the Florentines to the north, it's a popular destination for tourists visiting Italy because of its unique medieval fortifications and watchtowers.
Inside the walls, the top two things-to-do in Monteriggioni are to visit the Church of Santa Maria Assunta (13th Century) and the army museum, Monteriggioni in Arme. The museum uses models, panels and life-size soldiers armor that you can actually try on and grab a great Insta pic!
Monteriggioni's impressive towers feature in Dante's Divine Comedy.  And if you'd like to time your visit for the annual Medieval Festival in July and see the city come alive, it's the perfect time to book and visit this quaint hilltop town that's slightly off the usual tourist trail.
The town boasts stunning views from the purpose-built walkways along the inside of the walls. And inside, you'll step back in time as you walk the tiny lanes, pass by flower gardens, ancient houses as well as the town square featuring an ancient well, along with cute cafes, wine shops and handmade goods that will keep you amused for hours.
Enjoy your trip to the memorable town of Monteriggioni… it could just be the highlight of your trip through Tuscany!
Accommodation is limited given the size of the town, so check out Hotel Monteriggioni, Camere Dentro Il Castello, and B&B in Piazza.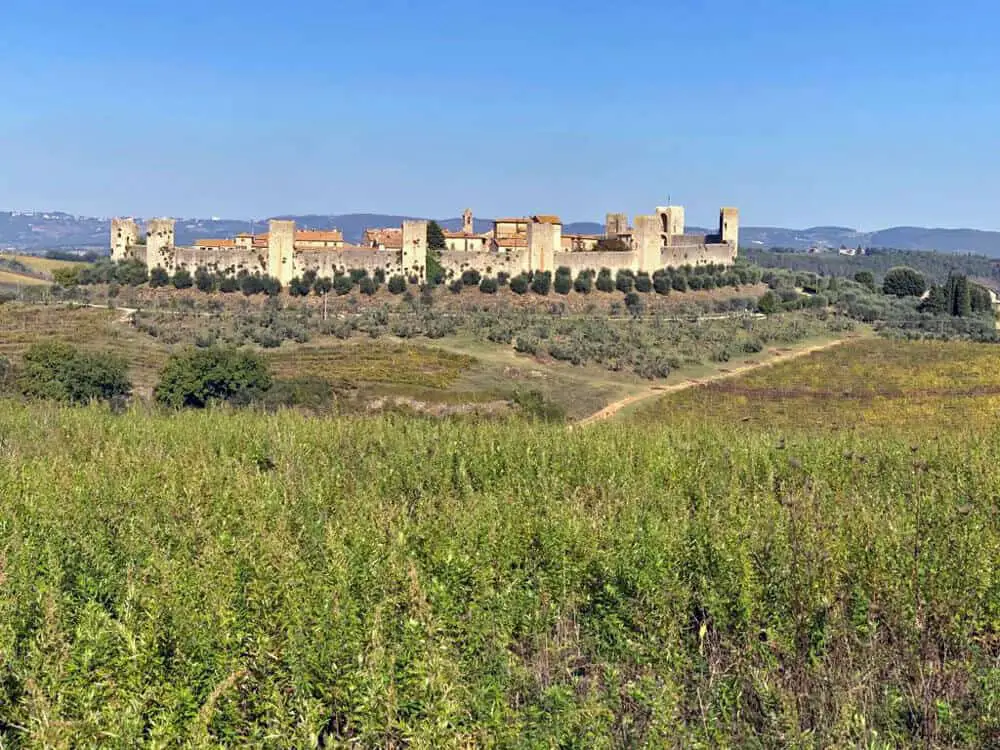 San Gimignano
Contributed by Lori from Travlinmad
There are so many beautiful small towns to discover in Tuscany and San Gimignano is perhaps one of the most popular. Considered one of the best day trips you can take from Florence, there's no shortage of things to do in San Gimignano — spending several days is a much better idea. You could spend an entire day just strolling the "City of Beautiful Towers" and stopping in the many little shops, museums, gelaterias, vinotecas, and historic alleys along the way. The city is laid out north to south with parking lots at either end, so no matter which one you start from, everything is an easy walk. 
Climb the Torre Grossa in the Palazzo, a 177-feet tall tower for an amazing view of the city with all those tiled rooftops and a spectacular view of the surrounding Elsa Valley. Right next to the Palazzo are the steps to the Duomo, formally known as the Basilica Collegiata di Santa Maria Assunta, which has stood here since the 11th century.
Wine lovers will appreciate tasting Vernaccia di San Gimignano, a crisp white wine that is unique to this area, and a great place to try it is the organic winery Cappella Sant'Andrea just minutes from town.
But the very best reason to slow travel San Gimignano and stay overnight at least for one night is for the evening views, the silent streets, and arched alleyways glowing with warm streetlight. This medieval town at night is a dream!
While you can take the train or bus to get to San Gimignano, you'll need to stop in Poggibonsi and transfer by car. Overall, the easiest way to get around in Tuscany is to rent a car and drive.
Staying overnight in the historic town is so special, and the Hotel L'Antico Pozzo has spacious, affordable and quiet rooms in a lovely part of town.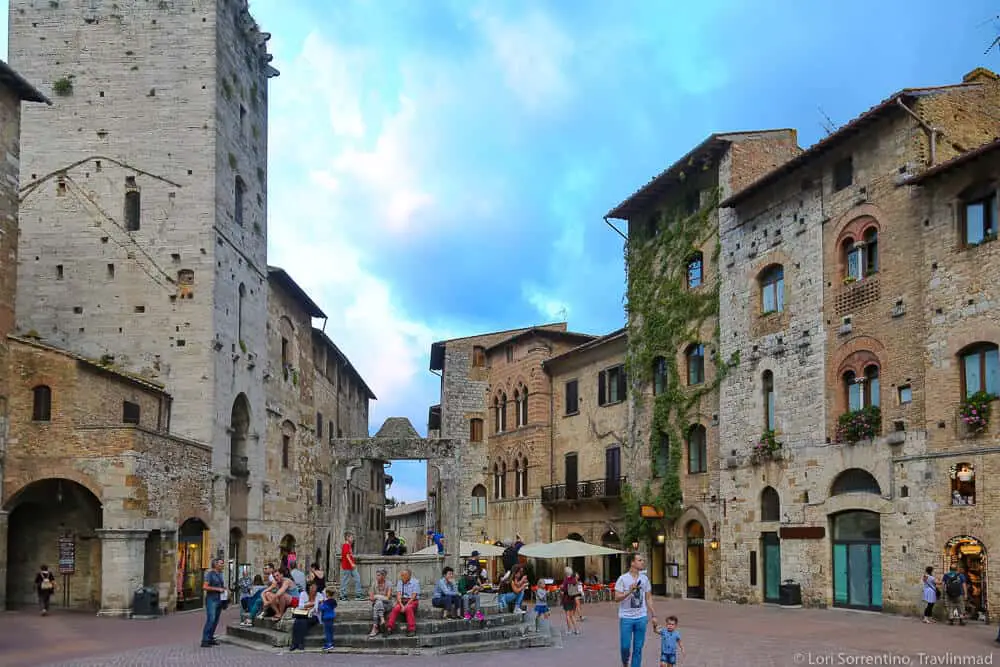 Montefioralle
Contributed by Toccara from Forget Someday
Nestled between vineyards and olive groves set upon rolling hills in Tuscany is the absolutely charming medieval village of Montefioralle. Blink and you just might miss this ancient Chianti area town, which less than 100 residents call home.
There isn't a whole lot to do in this tiny village, other than admiring its beauty and the surrounding area. However, if you want to take an Italian cooking class during your trip to Tuscany, you're in luck! Stefania hosts cooking classes in her Montefioralle home through her personal business Pasta el Pesto.
A stay in this medieval village, virtually free of cars, is the perfect way to escape the larger nearby cities of Tuscany. If you're looking for peace, beauty, and delicious Chianti wine, put Montefioralle on your Tuscany itinerary.
To get to Montefioralle, start in the nearby town of Greve. Enjoy a nice glass of Chianti wine in Greve and then set out on a 20-minute walk to Montefioralle. The village is conveniently located along the Chianti Wine Trail! (You can also drive from Greve, but parking can be limited, as it's mostly a car-free village.)
If you've always dreamed of staying within the walls of a medieval village, here's your chance. Several residents have turned their homes into AirBnB rentals, so relish the opportunity to stay in a true Tuscan home.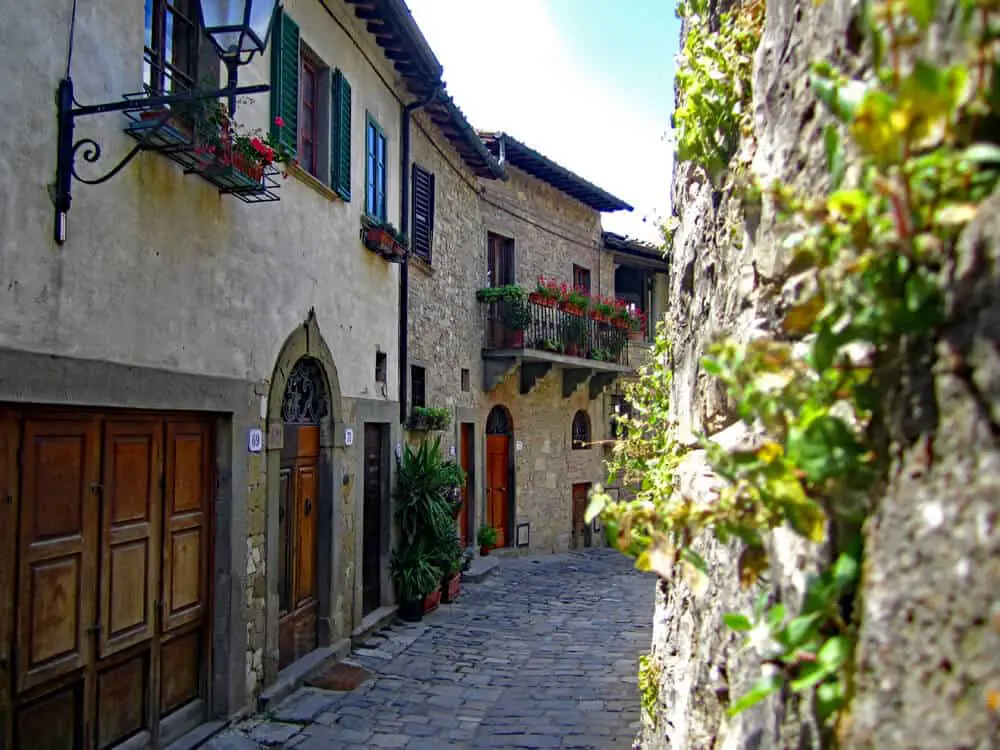 Lucca
Contributed by Wendy from The Nomadic Vegan
Lucca is a gorgeous town full of history. Just walking around the town, you are sure to stumble upon relics from its Renaissance, Gothic and even ancient Roman and Etruscan past.
The first thing you will notice as you enter the town are its fortified city walls. These were built in the 16th century and are still standing today. In fact, the top of the walls has been turned into a public park where you can circumnavigate the old town on foot or by bicycle.
The whole circuit is about four kilometers and is a great way to get your bearings before continuing your explorations of Lucca.
Most places of interest lie within the city walls, a compact area that's very walkable. There are a lot of things to do in Lucca and the town is known as the "city of 100 churches", and there are many beautiful churches and bell towers from the Gothic era.
One not to miss is the church of San Michele, which Lord of the Rings fans might find to be reminiscent of Minas Tirith. The Piazza dell Anfiteatro is instantly recognizable by its distinct oval shape, as the buildings were constructed on the foundations of an ancient Roman amphitheater.
There are plenty of restaurants in town serving local Lucchese dishes and Tuscan wine. Trains shuttle frequently between Florence and Lucca, taking about 1 hour and 20 minutes. This makes Lucca accessible even as a day trip, although it's worth spending at least one night here.
Hotel Ilaria is in a great location for exploring the old town and offers plenty of amenities. For smaller budgets, B&B Antica Corte dei Principi is another great choice right in the historic center.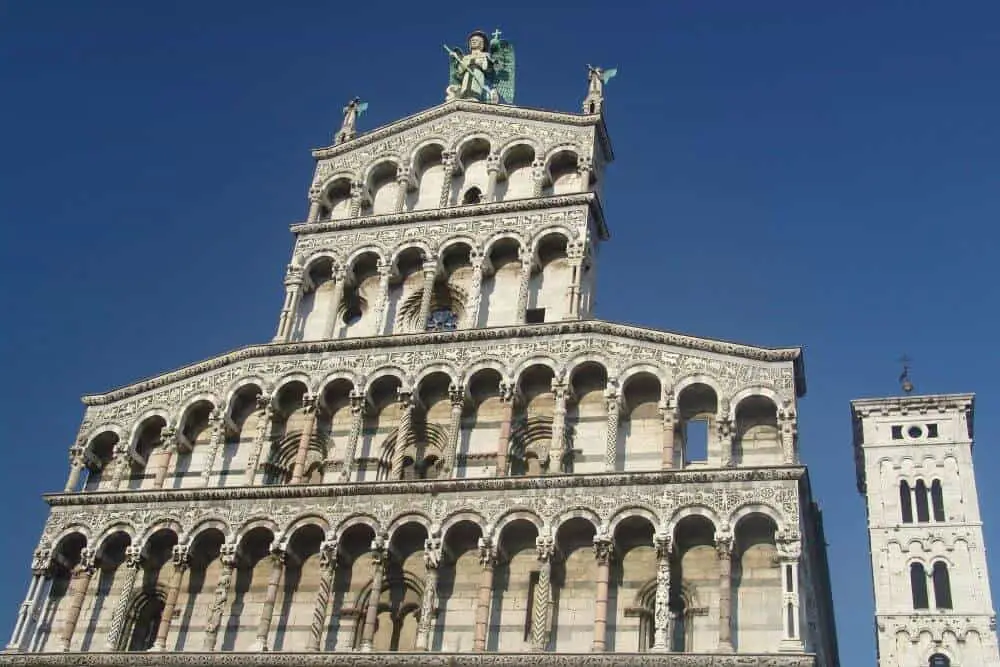 Cortona
Contributed by Gina from One Day In A City
Cortona rose to global fame thanks to the book Under the Tuscan Sun and its movie remake. Despite this, Cortona still feels refreshingly less touristy than other hilltop towns in Tuscany, with the opportunity to find some peace and solitude away from the main street and square. This is likely due to its location in the southeastern part of Tuscany, a ways away from the more prominent destinations of Florence and Pisa, while being charmingly close to Umbria and some of Tuscany's best wine tasting locations. 
However, Cortona still knows how to cater to tourists, with an escalator leading up from the parking area to the town center and plenty of restaurants and shops. Head to the wall along the western edge of the town center at sunset for incredibly serene views as that Tuscan sun goes down behind the hills. Then go back into the hustle and bustle of the town center to get some delicious Italian cuisine or a tasty scoop of gelato.
In addition to yummy eats and picturesque views, Cortona has a number of interesting sights to see, including the Santa Margherita church. This church is a bit of a trek to get to if you walk there from the main part of town, but it's well worth the journey in order to see its Neo-gothic architecture and the tomb of Saint Margaret inside.
Whether you do more sightseeing or people watching while in Cortona, you'll no doubt have a lovely, unforgettable time.
Stay at La Casa dei Nonni in Cortona old Town.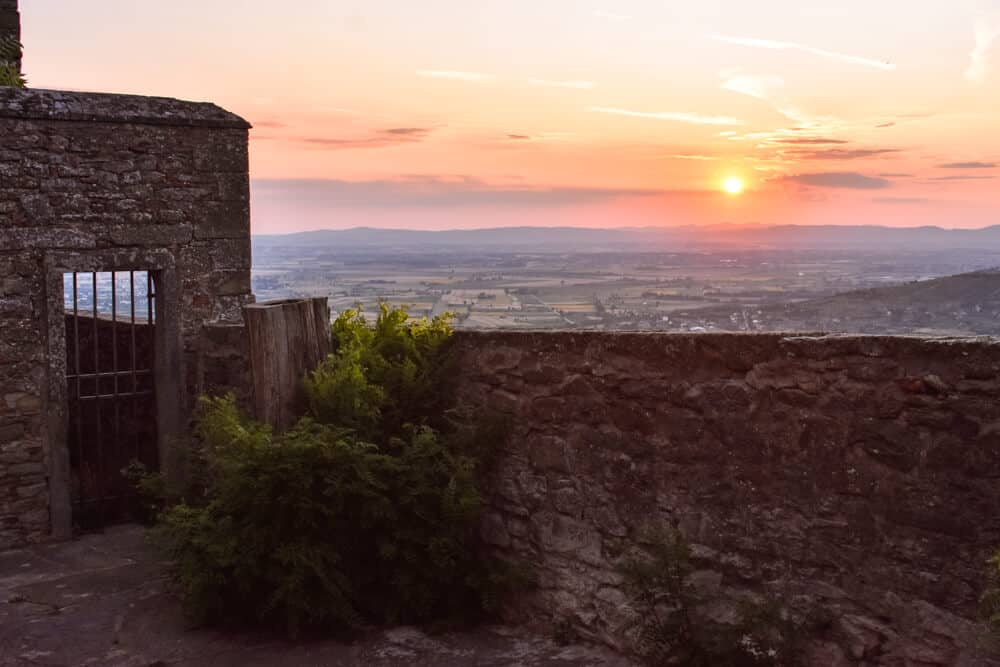 Montepulciano
Contributed by Kate from Our Escape Clause
Nestled deep in the countryside, the hilltop village of Montepulciano is absolutely one of the best towns in Tuscany to visit.
Boasting absolutely sublime views from its many terraces and lookout points, a world-famous wine (Vino Nobile di Montepulciano), and classic Tuscan charm, Montepulciano invites you to relax while wandering through its many shops and boutiques, checking out its major sights, and, of course, sipping its wine.
While you're there, be sure to pay a visit to the beautiful Piazza Grande (Twilight fans may recognize Palazzo Comunale, which commands one side of the piazza, from the New Moon movie). Step inside the local Duomo, admire views of nearby San Biagio, and visit one of the several cantinas (basements) that store wine as it ages, right in the center of town–and of course, tastings are available.
The drive to Montepulciano is considered one of the most beautiful in the region, making it an excellent stop on any Tuscany road trip, though you could also visit by bus or tour. As the Montepulciano train station is not within walking distance of the historic center, you won't want to count on visiting by rail.
Whether you have an afternoon to spend there or a couple of days, there's no doubt that Montepulciano is a Tuscan gem worth slowing down long enough to see.
Stay at Meublè Evoè, the hotel offers free parking and both bike and car rental.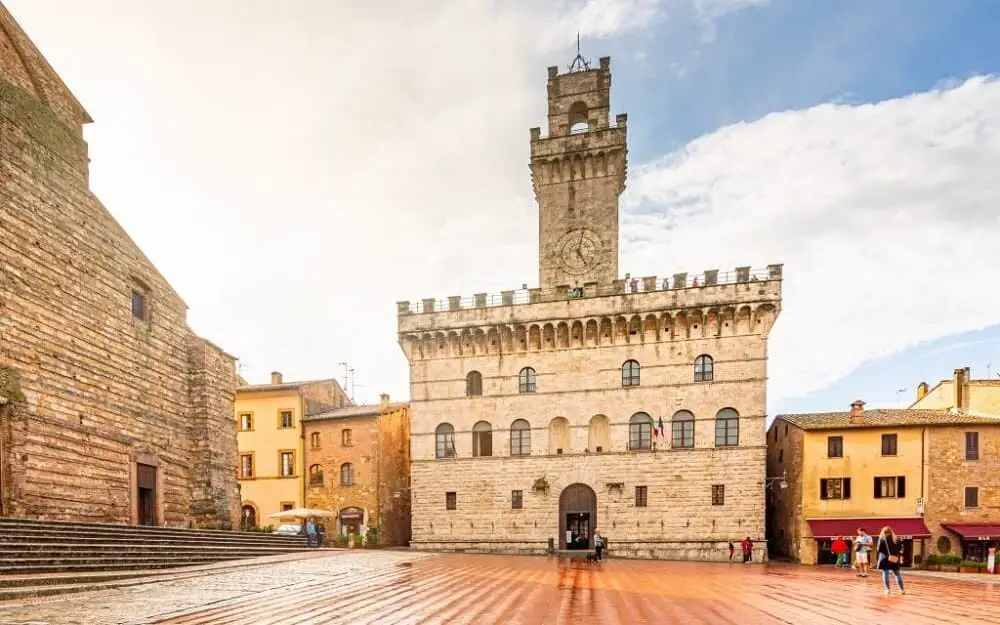 Volterra
Contributed by Chrisoula from Travel Passionate
Situated a short distance from Florence, Volterra is a medieval hilltop town surrounded by walls. Its enclosed structure is reminiscent of its Etruscan past where the little town served as a power center from the 4th through the 6th centuries BC. Historians and travelers alike can bask in the beauty of this Tuscan village in a single day.
Visit the Piazza dei Priori, the oldest town hall in all of Tuscany dating back to the 14th Century. Just behind it is the Palazzo Pretorio, affectionately known as the Tower of the Piglet because of the stone form of wild boar at the peak of the building. The Duomo and Baptistery at the Cathedral of Santa Maria Assunta integrate architectural features of the Renaissance era where the ceilings are lined with frescoes.
The Guarnacci Etruscan Museum is one of the oldest public museums throughout Europe. The Museum is like no other in that it displays a historical library, artifacts, and funeral urns all under one roof. The nearby Pinacoteca is an art gallery preserving various masterpieces where you can view Rosso Fiorentino's Deposition.
Visit the Etruscan acropolis upon the hilltop which has several buildings dating throughout the ages. The buildings in the vicinity were historically used for religious purposes and the surviving architecture includes an Augustan pool and temples.
Enjoy a view of the countryside from the Medici Fortress. Built in the 15th Century, the fortress sought to protect the city during the era when Florence conquered Volterra. The fortress is now separated into two parts where the one is used as a high-security prison which can only be admired from the outside. The historical Roman amphitheater and baths are a stone's throw away.
Be sure to visit during Volterragusto where locals turn back the clocks to medieval times.
Stay at Albergo Etruria in the historic center of Volterra.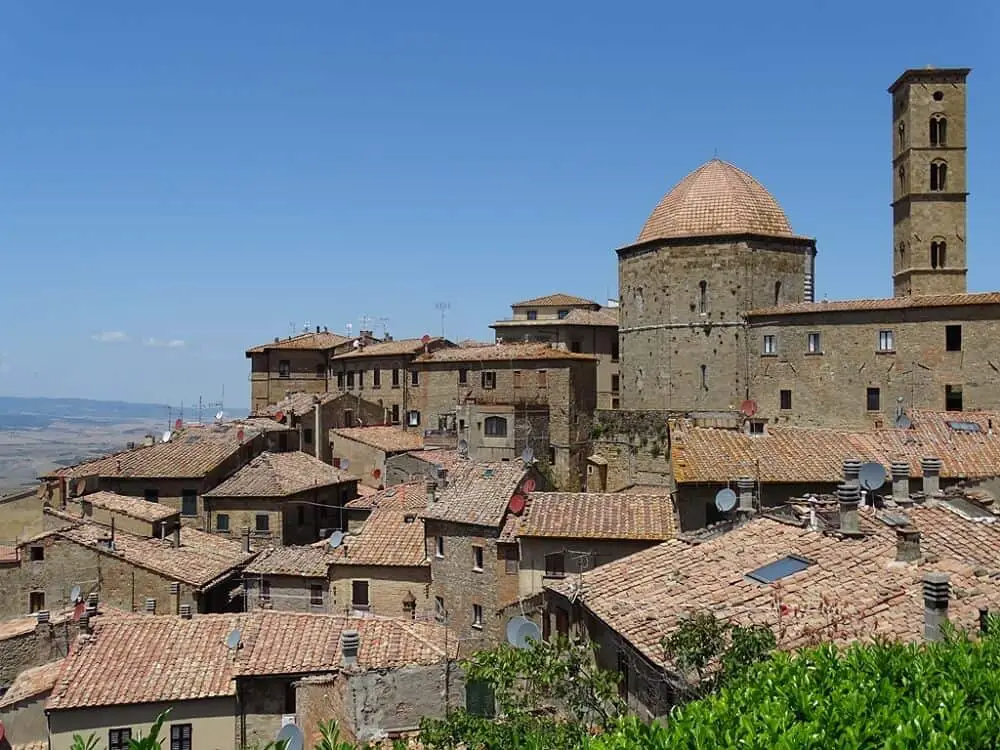 Pitigliano
Contributed by Annalisa from Travel Connect Experience
The village of Pitigliano lies halfway from Rome and Florence, towering on a tuff cliff in southern Tuscany that has a privileged view of the green valleys of the Tuscia region. The landscape surrounding Pitigliano looks now shaped by deep gorges and streams, but it once was part of one of the most extended volcanic areas of the world.
Wherever you decide to stop and look at the view from the terraces hidden in the alleys of this 2000-years-old village, you'll see a thick, varied, and intricate vegetation. The woods hold treasures like the Tomb of the Mermaid and the mysterious Etruscan "carved trails", a paradise for hikers and history enthusiasts. 
Pitigliano has been on the list of the most beautiful villages in Italy for years. The dwellers have contributed to its fame with charming handicraft galleries, vintage shops, and wineries, which will make your stroll through the dozens of alleys of this ancient town even more memorable.
When you arrive in Pitigliano, first admire the architecture from the outside of the city gates: it is incredible how the buildings' walls arise from the rocks on the cliff, conveying a sense of strength and charisma.
Once you're inside the city walls, look for the arches of the Medicean aqueduct, which is a masterpiece of the 17th Century engineering, the Fountain of Sette Cannelle, the Cathedral of Pitigliano, and the hundreds of years old Jewish quarter. To get the most out of your experience in Pitigliano, try to spend at least a couple of days inside the citadel. If you don't have much time on your hands, consider that you can visit Pitigliano on a day trip from Rome. 
To get there by public transport, take a train to Viterbo and then a Cotral Bus to Pitigliano.
Stay at the hotel La Casa degli Archi inside the citadel for a unique experience.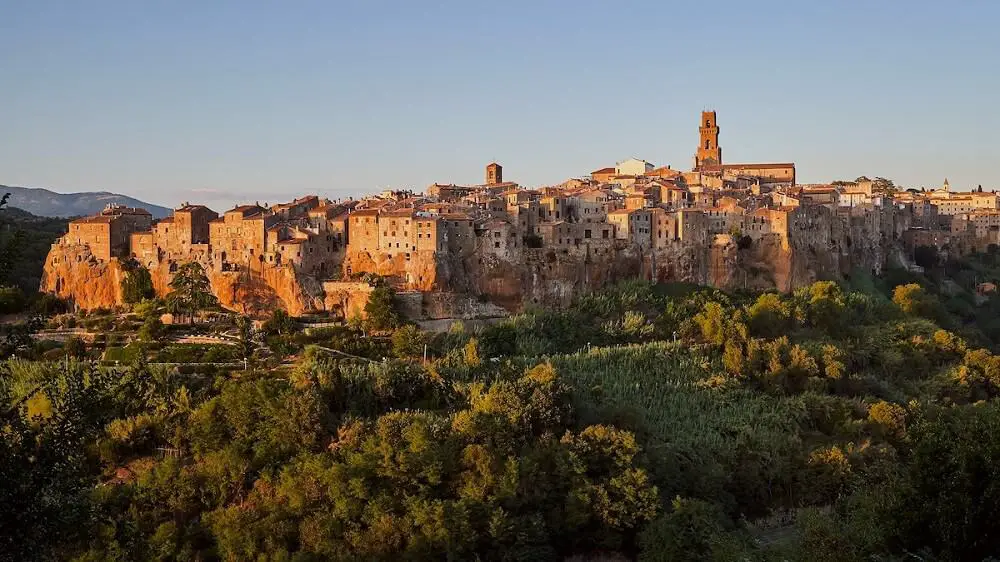 Pontedera
Contributed by Laura from Travelers Universe
Pontedera is a lovely little town in the province of Pisa, best know for the Piaggio factory. In fact, in Pontedera, everything revolves around the Vespa, for it is here where the famous scooter was designed and build for the first time. So a visit to the Piaggio Museum is almost mandatory. During your visit, you can not only learn a lot about the fascinating history of the Vespa and Ape but also admire all the old modules that have been produced. And of course, you can buy a lot of fun Vespa souvenirs!
Pontedera is one of Tuscany's hidden gems, a quintessentially Italian town where you will feel the Italian vibe wherever you go. Stroll along narrow streets, browse local brands, discover the historical center, admire Palazzo Pretorio or Ponte Napoleonico. And of course, have an espresso in one of the cafés.
Pontedera is served by the Galileo Galilei Airport in Pisa. From the airport, you can rent a car, or get a taxi to the train station. Taking a train is the cheapest and quickest way to get from Pisa to Pontedera, as the train costs between 1€ – 5€ and the journey takes only 14 minutes.
It is best to find a hotel or a B&B in the town center. This way you can walk everywhere. A good option is Hotel Il Falchetto.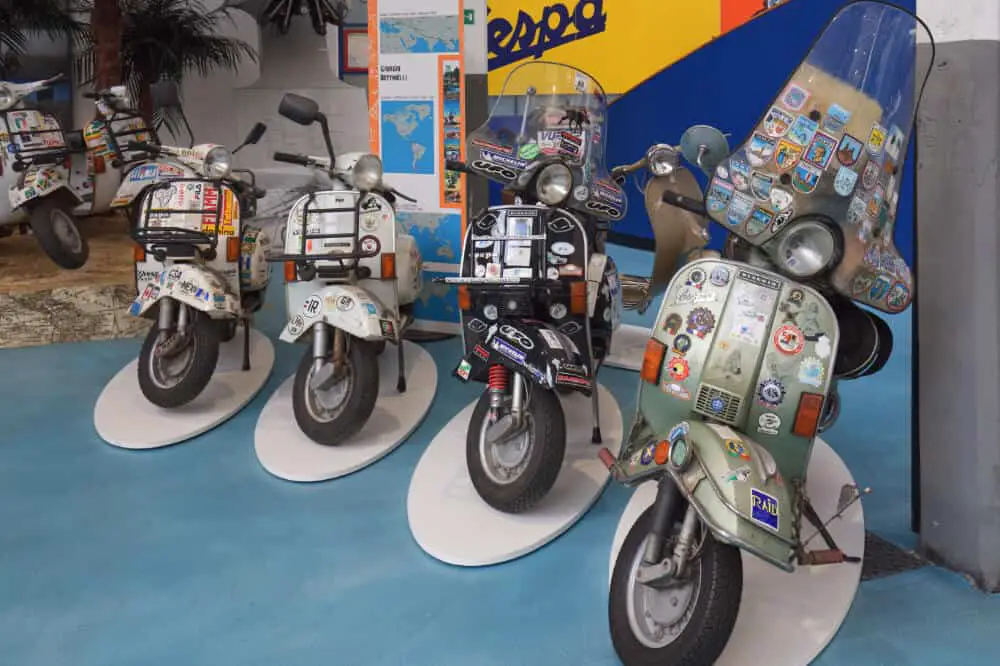 Pontassieve
Contributed by Jennifer from Outdoor Families Magazine
As my family planned our first Italian vacation, one goal was clear; We were in search of a true Tuscan countryside encounter. I yearned for an experience that was a clear departure from our daily routine back in sunny California, where we would have the opportunity to truly bond with locals, explore new customs, and participate in the harvest while laughing through conversations full of my dreadfully broken Italian. What I didn't expect was for all of it to actually happen. Enter Pontessieve, Tuscany.
Located an hour outside of Florence, the misty hills of Pontassieve are best known for Chianti Rufina. Mother nature welcomed us, with layers of rosy pinks and indigos over the Chianti hills, to our home for the next 4 days. I Veroni, an award-winning winery and agriturismo whose history dates back to the Middle Ages, was the epitome of laid back Tuscan life of our dreams.
Our I Veroni host-guided explorations led us down the gently rolling hills of ancient vineyards, across muddy olive tree groves, and when little 3-year-old legs got tired, we rested under the shade of primitive oaks, snacking on fennel growing wild by our feet.
We learned that this region's citizens had recently banded together to develop environmental, economic, and social sustainability programs in the territory, and I found hope in knowing that the farmers here are prioritizing the creation of cultural and educational programs that teach tourists and locals the value of stewardship and the importance of preservation.
How to get there and where to stay
Trenitalia, the national Italian railway company of Italy, runs approximately 53 trains per day between Florence and Pontassieve. Average travel time is 17 minutes and ticket prices can start from as little as €3.60 when you book in advance, in addition to discounted tickets for young people under 30 and people over 60. If you prefer to have the freedom of a rental car, simply take the Strada Statale 67 (SS67) from Florence to Pontassieve, about a 30-minute drive.
Our farm stay at I Veroni, surrounded by unspoiled nature and vineyards, was just 24 kilometers from the bustling streets of Florence. This affordable agriturismo offers guests a luxuriously rustic feel, free WiFi, free parking, an outdoor pool, and the most welcoming hosts we have come across in a very long time.
If you want to stay central, a good option is to stay at the eco-friendly property Albergo I Villini.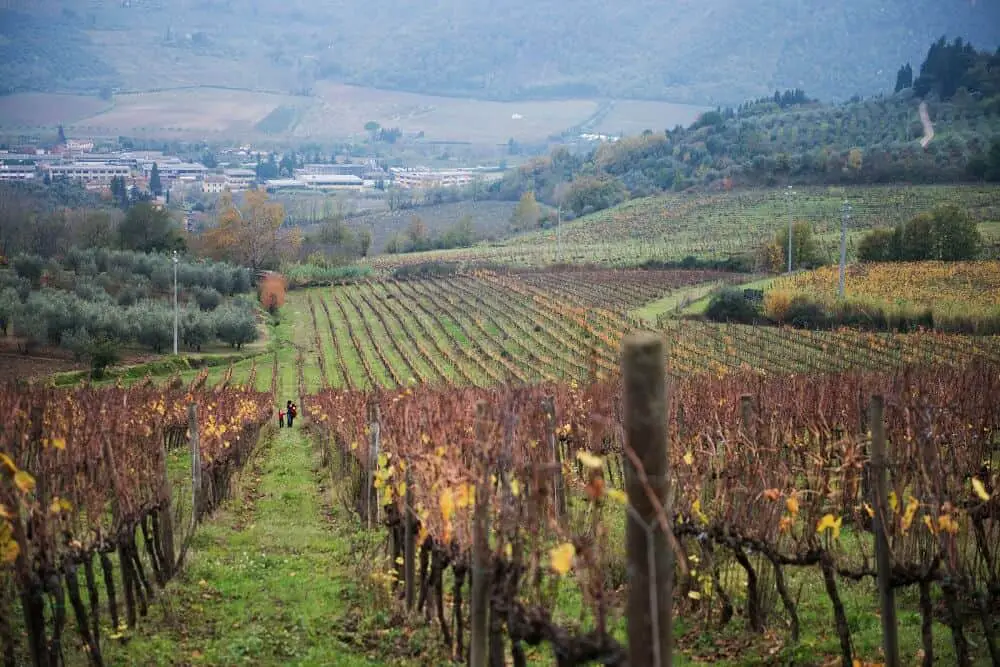 Be a responsible tourist while visiting the charming towns in Tuscany
As with any other destination, it is important to be a responsible tourist while visiting the towns in Tuscany. Here are 3 simple steps to being a more responsible traveler.
Shop locally
There are so many cute little boutiques and local produce shops in Tuscany. By buying in them you ensure that your tourist money stays locally. This is a great way to support the locals in the area. Also, there are incredible wineries in the region that only waits for you to explore.
Don't leave any trash behind
Whether you visit the towns in Tuscany or the beautiful landscapes between them, make sure you don't leave any waste behind. There are large numbers of tourists visiting Tuscany every year and it is so important to leave as little trace as possible. By doing so, you reduce pressure on the locals and the environment as well as you ensure a more pleasant experience for future travelers.
Bring a reusable water bottle
By bringing a reusable water bottle you reduce single-use plastic by not buying water bottles on your trip. The water in Italy is mostly drinkable so you don't need a filter. I love the Eco-Friendly Greens Steel Water bottle. However, if you prefer to drink filtered water you can get a LifestrawGo for your trip.
I hope you enjoy your trip to Tuscany!
You might also like: Day trip to Toledo Spain: Getting wonderfully lost in Medieval Spain.
Pin it for later!