Siena is one of the most beautiful towns in Tuscany and can be a good base for seeing other parts of the region. But you should definitely spend at least a day in Siena itself and you'll fall in love with this wonderful Tuscan corner.
By using it as a base, you can spend the evenings getting lost in the old, narrow streets that are so packed with history you almost feel the medieval times closing up around you.
Pizza shops, boutiques, and bars are all filling small locales in the ancient buildings. There is enough charm here for a lifetime, but it is still possible to see Siena in one day and it's a must-stop on any road trip through Tuscany.
Disclosure: This post may contain affiliate links. That means that if you make a purchase through one of those links, I will get a small commission at no extra cost to you.
How to get to Siena
Siena is easily accessible with both car and public transport. Worth noting is that the city center is closed for traffic, so you'll need to park outside. Yet, it is popular to go on a Florence to Siena day trip.
The closest airport is Florence Airport (FLR) and it takes about an hour by car or 1 hour and 30 minutes by bus to get from the airport to Siena. You can book your flight here.
How to get to Siena by train
Siena is connected by train to the main cities and you can travel from cities like Florence, Pisa, or Rome. Remember that you need to validate tickets before boarding the train. You can do this at the machine or at the platform.
Worth noting is that Siena train station is situated 2 kilometers outside the city, which means you'll probably have to grab a bus or a taxi the last bit.
Florence to Siena by train takes about 1 hour and 30 minutes with the direct train and an extra 15 minutes if you have to change train in Empoli. There are two trains an hour.
Pisa to Siena by train takes nearly 2 hours with a change of train in Empoli. Trains leave twice an hour.
Trains from Rome to Siena are not as frequent and they take 3-4 hours with a change in Chiusi.
Book your train ticket to Siena here.
How to get to Siena by bus
You can also travel to Siena by bus. You need to get the bus tickets stamped on the machine once you board the bus.
From Florence, it takes less than an hour with direct bus but can take up to one and a half hour with stops.
The direct bus from Pisa to Siena takes about 2 hours and 20 minutes. It's also possible to get a bus change in Florence, which will be about 2 and a half hours.
There are also buses from Rome to Siena. The journey takes just under 3 hours from Autostazione Tiburtina in Rome.
Book your bus tickets here.
---
READ: 4 day Rome itinerary
---
How to get to Siena by car
Siena is sitting nicely between Florence, Arezzo, and Grosseto and is surrounded by nice roads. It is easy to get to Siena by car from pretty much anywhere.
Here is the approximate driving time from the surrounding cities and towns:
Florence to Siena: 1 hr 10 min
San Gimignano to Siena: 45 min
Arezzo to Siena: 1 hr 5 min
Pisa to Siena: 1 hr 40 min
Montepulciano to Siena: 1 hr
Rome to Siena: 2 hr 40 min
Book your rental car here.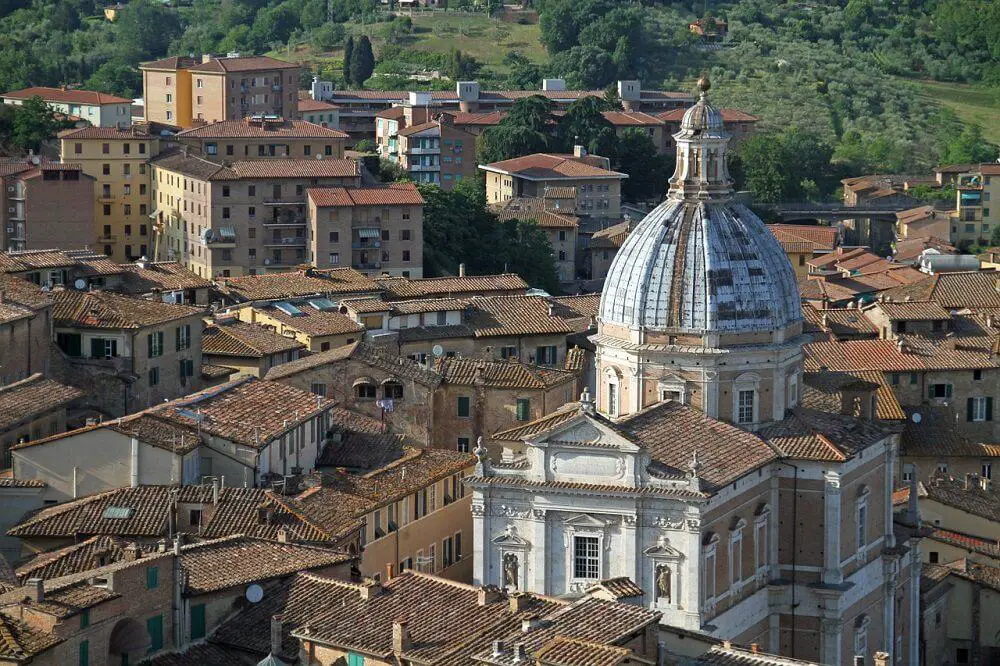 ---
Are you heading to the Amalfi Coast too? Check out my posts:
---
Where to stay in Siena
Here are some options for where to stay in Siena if you use the city as a base during your Tuscany itinerary.
Albergo Chiusarelli
This beautiful boutique-style hotel is well situated in the historic old town close to the bus station. Includes parking and a wonderful breakfast and if you're traveling with your furry friend, they're a great pet-friendly alternative.
Hotel Italia
Hotel Italia is about a 20 minute's walk from Piazza del Campo. It has vegan options for breakfast and if you tell the staff, they might just have extra vegan delights they bring out to you. Also this hotel accepts pets and offers parking.
Villa Tuscany Siena
This quiet hotel is nicely decorated with pictures of Tuscany. Less than a kilometer from the historic center, it's location is excellent. You can bring your pets and car. It also offers facilities for disabled guests.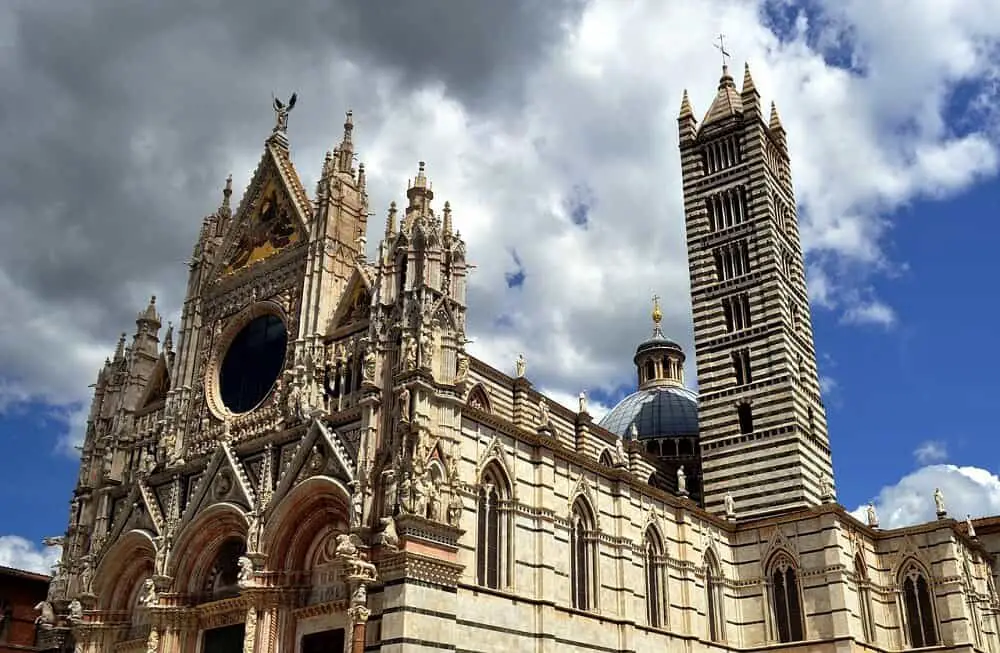 ---
RELATED POSTS ON TUSCANY:
---
One day in Siena itinerary
The top things to do in Siena can be crammed into one day, so I've created this Siena itinerary for you that's going on a day trip to Siena or that plan to use the town as a base when visiting other beautiful places in Italy like San Gimignano, Volterra, or Montepulciano.
Piazza del Campo
The shell-shaped Piazza del Campo is the center of Siena and one of the most recognized landmarks in Italy. This is also where the famous Palio de Siena takes place every 2nd of July and 16th of August.
The square is surrounded by bars and restaurants and is perfect for people watching. The most dominant building on the square is the Palazzo Pubblico with Torre del Mangia towering above Siena's rooftops.
Worth visiting is also the Civic Museum inside Palazzo Pubblico. The museum showcases a resplendent collection of the art history of Siena.
Don't miss out on Fonte Gaia, the beautiful fountain on the square, which is decorated with reliefs of Madonna and the child and other saints. You can also see wolfs sprouting water which represents the she-wolf that raised Romulus and Remus, the founders of Rome.
Climb Torre del Mangia
The most dominant land mark in Siena, sitting on Piazza del Campo is the Torre del Mangia. The 102 meter tall secular tower, is one of the highest in Italy.
As a symbol equal power between the state and the church, the tower was built in 1338-1348 to be exactly the same height as Siena Cathedral.
One of the highlights when exploring Siena in one day is climbing the over 400 steps to the top of Torre del Mangia for the spectacular views.
You can buy tickets directly in the ticket office. You can also buy tickets that includes the Civic Museum.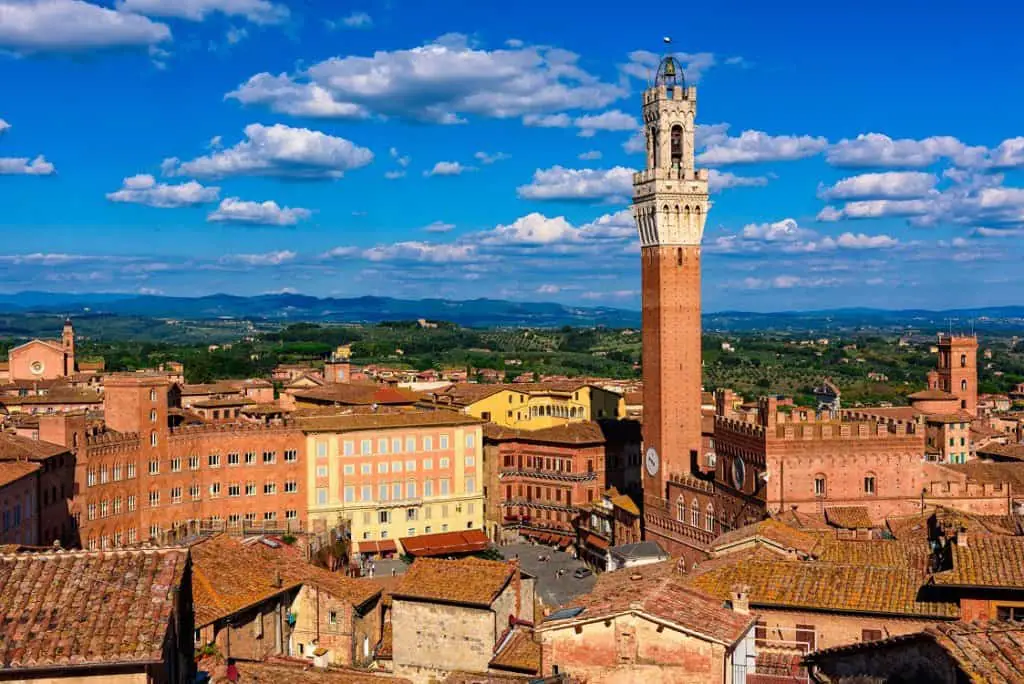 Lunch
Make time for lunch at one of the restaurants on Piazza del Campo before you head to the cathedral. This is the perfect place to people watch and get a feel of just how big this popular square is.
---
RELATED: How to have a perfect day trip from Florence to Lucca
---
Duomo of Santa Maria Assunta
After lunch, head to Piazza del Duomo to explore the astounding cathedral of Siena. This is really a whole complex combining the cathedral, the Baptistery of San Giovanni, Libreria Piccolomini, the Crypt, and Museo dell'Opera.
Make sure you visit all of it.
Duomo di Siena, the cathedral itself, is one of the most beautiful in the country as a noteworthy example of Romanesque-Gothic style. Displaying statues by Tuscan artists Michelangelo and Donatello, among others, astounding frescoes and stained glass windows, and incredible mosaics, it is a true national treasure.
In Libreria Piccolomini you can admire splendid frescoes by Pinturicchio. Also, take a look at the Baptistery at the back of the cathedral with its stunning staircase.
One of the most important archaeological discoveries in the last years, is the crypt, said to date back to the 13th century.
Finally, make your way up to the top of the cathedral for the unforgettable views of Siena and the surrounding countryside.
You can find All Inclusive Pass, updated prices and opening hours here.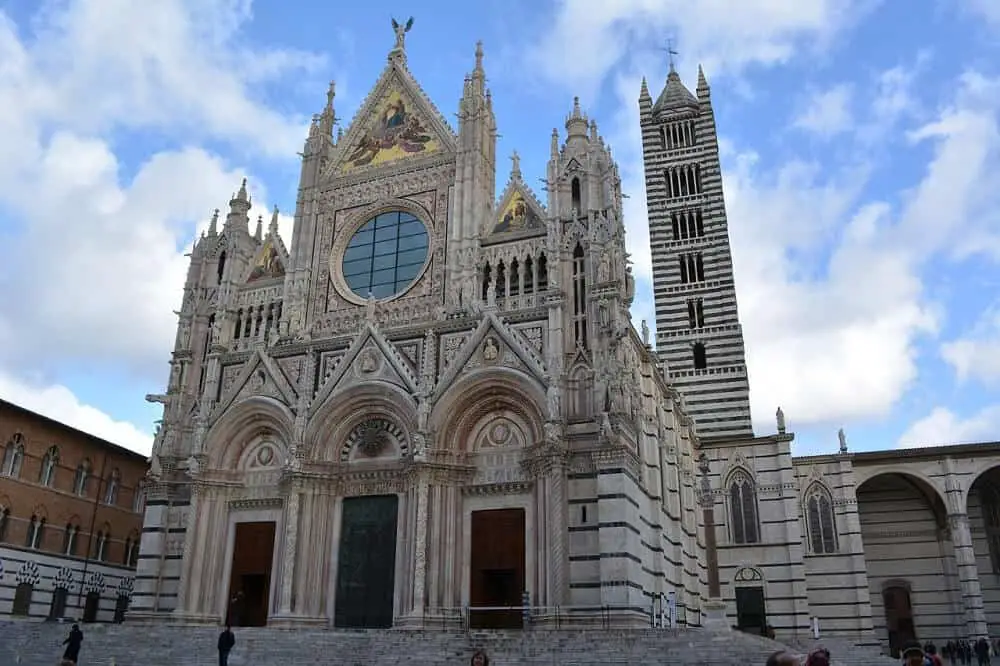 Dinner in old town
Walk the narrow streets in the old town to find a traditional restaurant to have the perfect pasta or pizza to end your one day in Siena itinerary like a champ. If you feel in the mood, go for a couple of drinks in one of the cute bars – maybe you find live music too! The evenings are perfect to explore the narrow, cobbled streets.
---
YOU MIGHT ALSO LIKE: Things to do in Porto Venere
---
Responsible travel tips for Siena in one day
Visiting Siena in one day will give you a good feel of the quaint town, but you're not the only one spending a day in Siena as part of a larger Tuscany trip, in fact, Tuscany is one of the most popular long weekend breaks in Italy. So remember to act with respect to the locals and play the role of a visitor.
To reduce waste, avoid take away and plastic straws, and bring a reusable water bottle so you can refill it throughout the day. Taking the time to sit down in a bar or a restaurant to eat, gives the luxury to enjoy the place a lot more as well as relieving the planet.
Finally, respect boundaries at any attractions where you're not allowed to touch. These rules are set in place to maintain the artifacts and paintings for future generations to enjoy.
I hope you have a lovely trip to Tuscany!
---
READ NEXT: Italy off the beaten path