San Gimignano is one of the most visited towns in Tuscany and famous for its 14 remaining towers rising dramatically over the medieval town. They are the reason for its modern nickname, The Medieval Manhattan. Originally there were 72 towers, all of them built by the town's patriarch families in a competition to show the most wealth. With a lot of history, architecture and breathtaking views of the surrounding Tuscan countryside, there are plenty of things to do in San Gimignano.
The historic center is declared a UNESCO World Heritage site. Surrounded by 13th Century stone walls, the village takes you back in time while the many boutiques remind you that this town is serving high numbers of tourists all year round. It's one of the most popular stops on a Tuscan road trip and not without a reason.
At its height in the Middle Ages, San Gimignano was situated along the pilgrim route to Rome and also the main trade route for saffron. With faster roads, the town's wealth weakened. Yet, numerous Renaissance artists found their way to San Gimignano and their work can still be appreciated inside the town's churches and historic buildings. Today, San Gimignano is most renowned for its white wine, Vernaccia, which is made from locally cultivated grapes of the same name.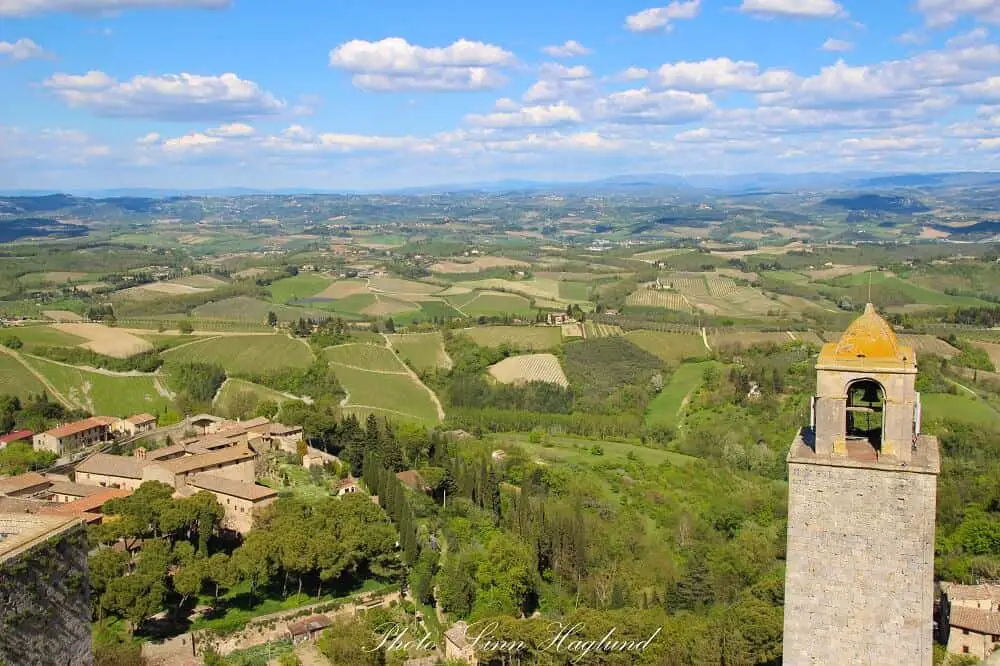 Disclosure: This post may contain affiliate links. That means that if you make a purchase through one of those links, I will get a small commission at no extra cost to you. If you have any questions about these services or products, feel free to ask me.
RELATED: How to see Florence in 2 days
How to get to San Gimignano
San Gimignano is situated only 56 kilometers from Tuscany's capital city, Florence, and is well commuted with both Florence and Siena. Florence has an international airport that has flights to and from most of Europe.
Check flight prices and availability here
By car
If you are doing a road trip through Tuscany it's easy to find your way to San Gimignano. From Florence, you follow the main road Raccordo Autostradale Firenze-Siena towards Siena and turn right towards Poggibonsi-Nord and continue to San Gimignano. The drive only takes a bit over an hour.
From Siena, you take the same route, though northbound towards Florence and turn towards Poggibonzi-Nord to continue to San Gimignano. The drive from Siena takes about 50 minutes.
San Gimignano is surrounded by public parking lots, though they get full in summer, even then you will find a spot with some patience.
Do you need a rental car? Check prices and availability here.
By train
There is no train station in San Gimignano, so you have to take the train to Poggibonsi and change to bus 130 to San Gimignano. There are frequent trains to Poggibonsi from both Florence and Siena.
---
YOU MIGHT ALSO LIKE: Day trip from Florence to Lucca
---
By bus
The easiest way to get to San Gimignano by bus is from the nearby town of Poggibonsi where you can take the 130 bus.
From Florence, you can take bus number 131 to Poggibonsi and from Siena, you can take bus number 130/A which sometimes takes you directly to San Gimignano, so ask on the bus if you need to change in Poggibonsi or not.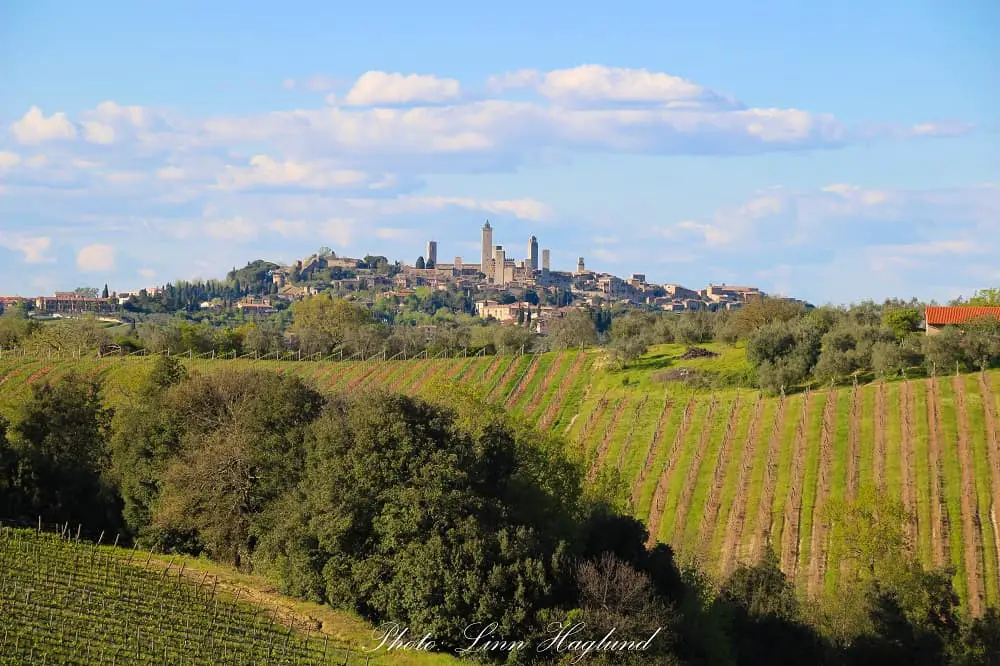 READ: Best sustainable backpacks for travel and day trips
Best time to visit San Gimignano
San Gimignano has a Mediterranean climate with hot summer months from June to August with temperatures up to 30 Degrees Celsius.
The shoulder seasons from April to May and September to October are the most pleasant as temperatures don't get too high or too low which makes it perfect to wander the streets of San Gimignano.
November to March can be pleasant at day time while the nights get pretty chilly, whereof December to February has the lowest temperatures and you will need a good jacket. However, this is the period with fewer tourists and the lowest hotel prices.
Where to stay in San Gimignano
There are a few places to stay central in San Gimignano, but if you have a car, I would suggest you get out of the village and stay at one of the charming rural farm hotels within the wine yards. Even though you want to leave your car behind to enjoy some local wine in San Gimignano, you can make it a scenic walk through the green countryside from your accommodation. Here are a few suggestions to where to stay in San Gimignano and around.
Hotels in San Gimignano
A la Casa Dei Potenti
A la Casa Dei Potenti is a beautifully situated historical building in the heart of the historical center of San Gimignano. Each of their rooms are unique and furnished with antique furniture. Great value for money for anyone that wants to stay central.
Book your stay with A la Casa Dei Potenti here.
La Locanda di Quercecchio
La Locanda di Quercecchio is also situated in the middle of the historic center. The hotel offers rooms and one-bedroom apartments and is a favorite among travelers for the location and its charm.
Book your stay with La Locanda di Quercecchio here.
Farm stays outside of San Gimignano
Fattoria San Donato
Fattoria San Donato is situated in the lush countryside only 3,6 kilometers from San Gimignano and offers a true Tuscan experience. The rooms have all rugged stone walls and antique furniture. There is a free pool for guests which is a delight on hot summer days. The farm produces its own olive oil and Vernaccia wine all from organic farming.
Book your stay with Fattoria San Donato here.
Agriturismo le rote
Agriturismo le rote is another farm about 4.3 kilometers from the center of San Gimignano. This place offers rooms with a kitchen, seating area, sofa, and a balcony with garden views.
Book your stay with Agriturismo le rote here.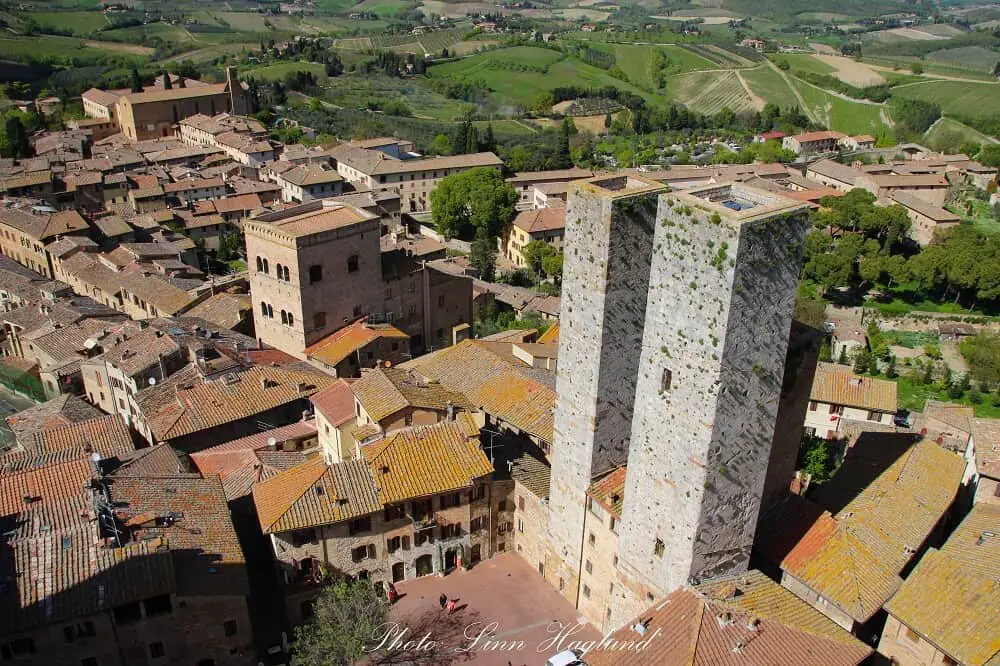 ---
Are you headed to Liguria too? Read my guides here:
---
Remember travel insurance
Do you really need travel insurance when visiting Tuscany and San Gimignano? Absolutely! Make sure you find a good travel insurance company that covers theft, sickness, and baggage loss and damage on your trip.
Personally, I prefer World Nomads Travel Insurance as they are so easy to deal with in every step from getting a quote to the unwanted case of an insurance claim. Have you started your trip already? Don't worry, you can still get your insurance with World Nomads here.
You might also like: Toledo itinerary: Getting wonderfully lost in Medieval Spain.
Things to do in San Gimignano
Now that you are all set up for your trip, let's look at what to do in San Gimignano.
Climb Torre Grossa
Dating back to 1298, Torre Grossa is the tallest of the 14 remaining towers in San Gimignano with its 54 meters. This is the only tower open to the public and has mesmerizing views of the village and surrounding countryside with its rolling green hills covered in wine yards. Climbing the 200 steps to the top for those views is one of the best things to do in San Gimignano and totally worth the 9 Euros entrance fee, which also gives you access to several other attractions in town.
Piazza della Cisterna
In the heart of the historic center, you will find this charming square, Piazza della Cisterna. Surrounded by towers and their remains, the triangular square is easily recognized by the iconic stone well in the center. This is the place to people watch and to
The 13th Century square used to be the crossroad where Via Francigena and the road connecting Florence and Siena met. It was the market place as well as the center for festivals and tournaments for the public. It still is a connection point in the little town and you often see tourists take a break by the ancient well before they continue exploring the rest of San Gimignano.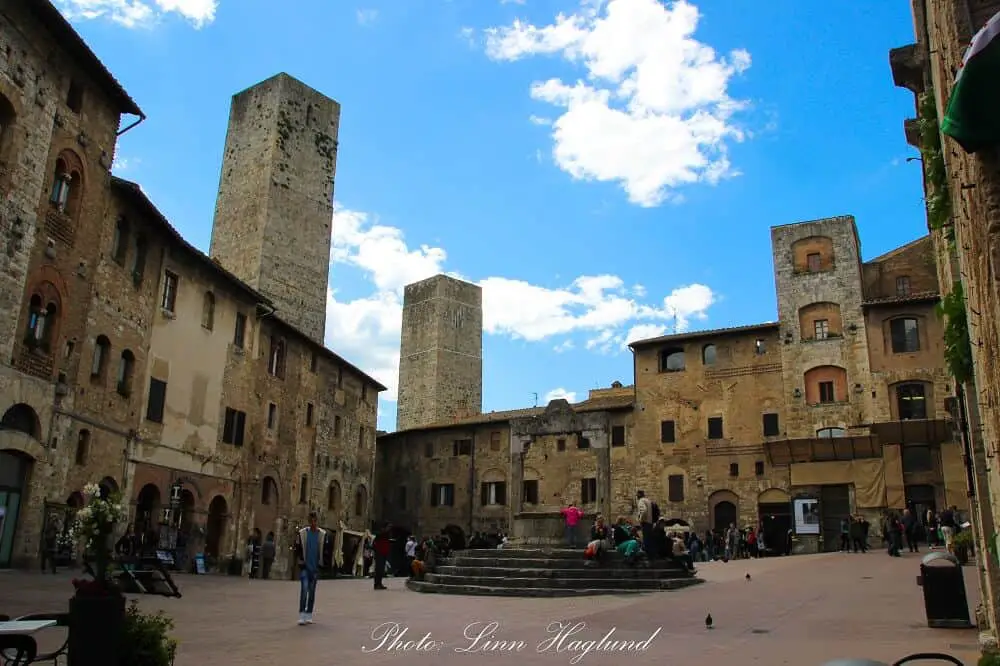 Duomo di San Gimignano
The 12th Century church, Duomo di San Gimignano is situated in Piazza del Duomo which connects with Piazza della Cisterna. Also known as the church of Santa Maria Assunta, the basilica was enlarged in 1457 when Giuliano da Maiano added the side chapels to the original building. Beautifully decorated with outstanding frescos painted by some of the most famous Tuscan artists, Duomo di San Gimignano is well worth a visit.
---
READ: Rome 4 day itinerary
---
Palazzo del Popolo
Next to Duomo di San Gimignano on Piazza del Duomo, you find Palazzo del Popolo which has been the Municipal Government Office since it was built in the 13th Century until this day. Also this building has paintings and frescos by important Tuscan artists including a museum and art gallery.
Torre e Casa Campatelli
Joined with the tower, Torre Campatelli, the museum of Casa Campatelli is furnished with original furniture from medieval times when it was inhabited by a noble family. You can learn about the culture and history of San Gimignano and the surrounding area. The museum has an entrance fee of 5 Euros.
Stroll around the historic center
The historic center of San Gimignano is filled with medieval buildings and towers. If you are looking for relaxing things to do in San Gimignano, walking through the cobbled streets, visiting the tiny boutiques while eating gelato is a great way to slow down. There are numerous bars to have a glass of Vernaccia to get a taste of the local wine too.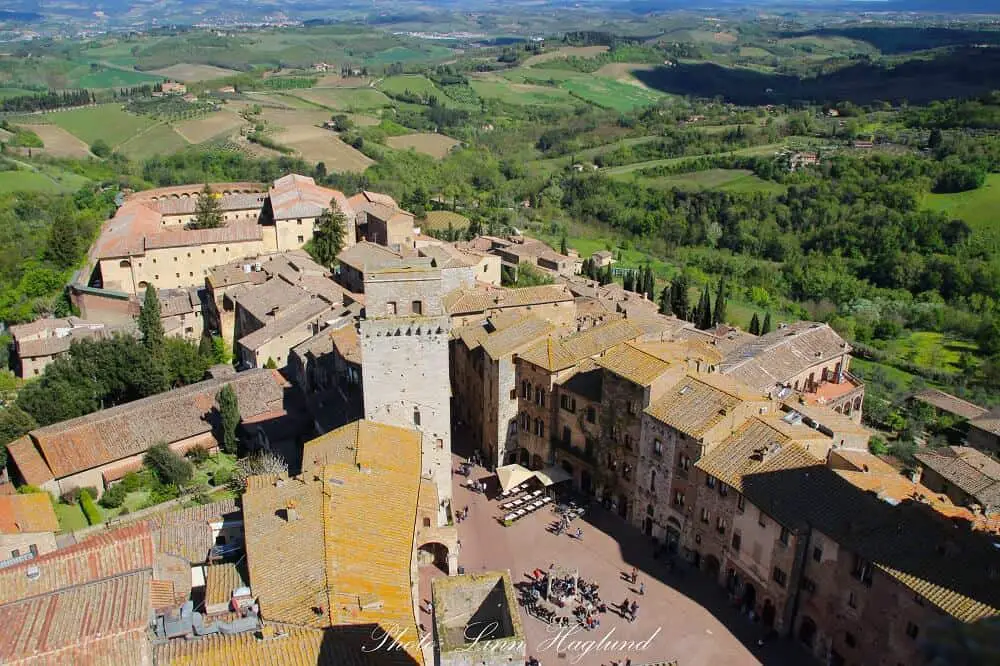 La Rocca di Montestaffoli
Only a few remains of the ruins of the ancient fortress, Montestaffoli, who was built to protect San Gimignano from Siena, are found. This is still a nice, green space with magnificent views over the town and the nearby Valdelsa. If you plan on a picnic with a bottle of Vernaccia wine, this is the perfect spot.
---
READ: Things to do in Lucca
Take an organized tour in San Gimignano and the surrounding towns
There are plenty of organized tours you can do in San Gimignano and the surrounding towns. Here are a few you can choose from.
Responsible travel in San Giminiano
The most important thing to do in San Gimignano as anywhere you travel is to be a responsible traveler. Sustainable tourism is more important than ever and not only for the planet but for the local community in your destination.
Bring a reusable water bottle
Before you go, make sure you get yourself a reusable water bottle so you don't have to buy single-use plastic water bottles during your trip. This way you save a lot of plastic waste and money. If you don't have one from before, my favorite is the Greens Steel water bottle. The eco-friendly steel water bottle comes with a lifetime warranty and keeps the water cold up to 24 hours. It's true, I've tested it on extremely hot days!
Get your Greens Steel water bottle here.
Most of the water in Italy is safe to drink so there is no need for a water filter. However, if you still want a filtered water bottle, the LifestrawGo is a great option! Not only does it filter the water perfectly with a filter that can filter up to 1000 liters of water, but for each purchase you do with any LifeStraw product you give clean water to people that need it through the many clean water projects they run around the world.
Get your LifeStrawGo filtered water bottle here.
Don't litter
An obvious one, but it is so easy to let go of that small piece of plastic on the road. Look for the closest bin and why not pick up a piece of rubbish from the ground too while you're at it?
Avoid those small single-use containers
An obvious one is to avoid using all the small plastic containers for shampoo and soaps at the hotels. Instead, bring your own eco-friendly soap and shampoo. This way you don't only avoid plastic waste, but you also avoid chemicals flushed into the ocean. But there are other single-use containers to be aware of too. Many places you buy a coffee or a tea and get the sugar in small portioned packs. Ask if they have a bowl of sugar instead, many places actually do. Where ever you get served portion packs, ask if they have an alternative. Even if they don't, with enough people asking for it they might consider it for the future.
Ask first!
When I travel, I often get super-excited about taking those impressive photos of the locals doing their thing and wanting to capture the culture of my destination with the camera lens.
But before taking that photo of the cute old man on the bench it is so important to ask for permission!
How would you feel sitting on a bench in your home town and suddenly a tourist stuffs their camera up your face and snaps away? I have had that happen to me, mostly in India but also other places that tourists from other parts of the world, not used to seeing white people, suddenly shoots a million photos of me without asking. Honestly, it isn't that pleasant. But when people ask, I say yes. Most of the time.
Now, imagine that you are in your house looking out of the window and someone snaps that photo of you. Would you feel intimidated in your own home? Maybe, maybe not. That is individual. But keep in mind the individuals that don't like it.
Rounding up your San Gimignano visit
Now that you have all the information you need to spend a perfect time in San Gimignano I hope you enjoy your trip! Please shoot me a comment below if you have any questions or you want to share a tip about the town.
Buon viaggio!
Read next: 2 day Amalfi Coast itinerary
Pin it for later!