Peru is a true paradise for outdoor lovers with incredible nature ranging from the dense Amazon to incredible beaches, and dramatic mountain ranges. Adventure travelers seek the famous Andes mountains and it's not only the Inca Trail that has gained a name among the many routes you can take to the world-famous archaeological site. There are so many hikes in Peru that will totally blow your mind away that it's hard to know which ones to choose.
Here are the best hikes in Peru according to travelers and outdoor enthusiasts who have hiked these themselves. I'll be starting by presenting my childhood dream and the most incredible positive surprise I had when hiking in Peru.
Get ready to crave the outdoors with these legendary Peru treks!
Disclosure: This post may contain affiliate links. That means that if you make a purchase through one of those links, I will get a small commission at no extra cost to you. As an Amazon Associate, I earn from qualifying purchases.
Best hikes in Peru
Inca Trail
Distance: 40km/24.9mi
Hiking time: 4 days
Type of hike: Linear
Start/end of trail: Outside Ollantaytambo to Macchu Picchu
The most famous and epic of all Peru hikes is without a doubt the classic Inca trail! 4 days of following in the Inca's footsteps is a dream hike for many, but it's also a hard trek due to the altitude that reaches 4.215 masl/13.828 ft at the Dead Woman's Pass.
Passing through lush cloud forests, climbing across steep mountain passes with majestic Andean summits surrounding you – sunrise at the Sun Gate with an unforgettable view of Macchu Picchu after passing numerous fascinating, yet infamous Inca ruins along the way. This is a trek Peru has all the reasons to be proud of!
It's important to acclimate to the altitude before starting the Inca Trail. Thus, it's recommended to stay at least 2-3 days in Cuzco before starting the trek.
To hike the Inca Trail you need to book a guided tour with a reputable tour company. They only let in 500 people a day to do this famous trek. Porters, guides, and cooks included.
There are many companies that run tours, so make sure you choose an ethical company that takes care of their porters, cooks, and guides. In choosing an ethical option, the cheapest is not always the best.
It fills up quickly, so it's recommended to book about 6 months before you plan your trip, especially if you're tight on schedule with the dates you can go. It's highly recommended to plan for this so you don't miss out on some of the best hiking in Peru.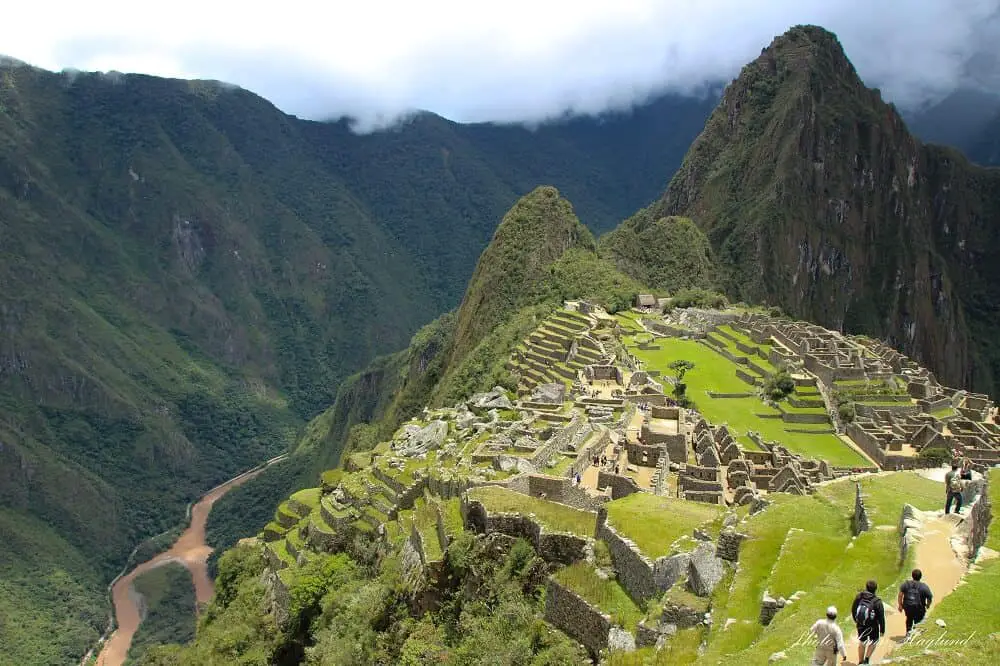 Colca Canyon
Distance: 36.2km/22.5mi
Hiking time: 2 days
Type of hike: Circular
Start/end of trail: Cabanaconde
Another epic trek in Peru is the second deepest canyon in the world, Colca Canyon. This unforgettable 2-day adventure is easily done with a tour company from Arequipa which includes bus to the trailhead, which is pretty much on the side of the road and pickup the next day.
Apart from the bus and guide costs, you'll have to pay an extra 70 soles to enter the actual canyon. This is usually paid when you enter and not to the tour company.
The first day is long, slowly descending the valley, walking along lush fruit trees along the bottom of the valley until you reach the oasis where you'll spend the night. If you'r lucky you might spot condors too. One of the biggest bird species in the world.
If you don't, there's no need to worry as you're likely to stop at Cruz del Condor Viewpoint on the way to the hike. This is a spot where it's a high possibility of seeing these giant hunters float above the canyon looking for breakfast.
The second day starts at 4 am with a grueling ascent of 1300 meters – in 3 hours. But the breaks you take along the way reward you with unforgettable views as the sun slowly paints the valley in gold. Or you might experience an epic cloud inversion that will blow your mind once you climb above it.
Hiking Peru's Colca Canyon is for sure one of the best experiences you'll have in the country.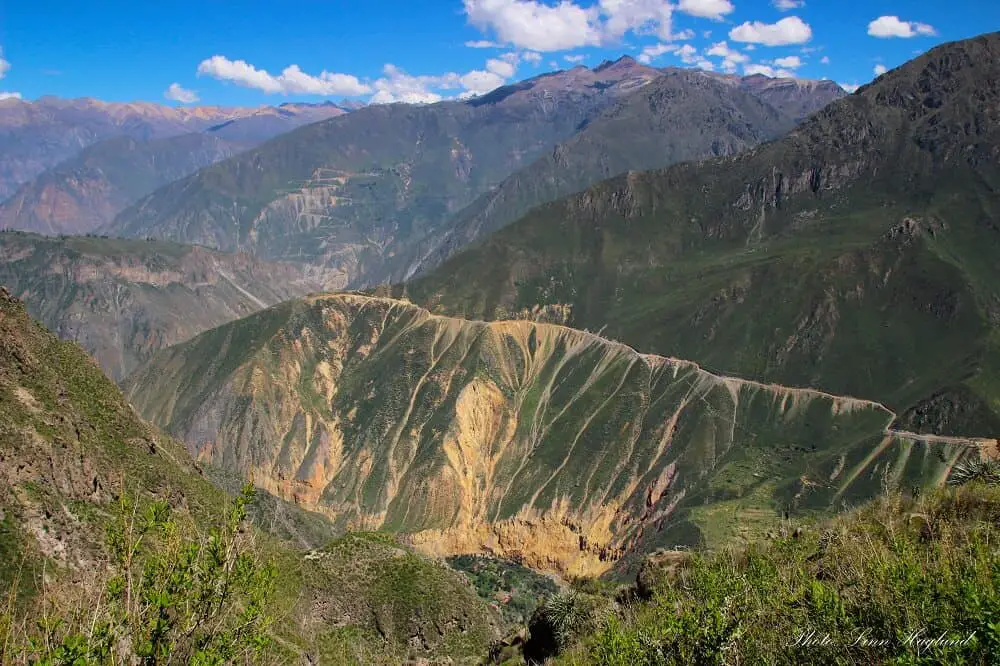 Ausangate Trek
Recommended by Megan of Packing Up The Pieces
Distance: 72.5km/45mi
Hiking time: 4-6 days
Type of hike: Circular
Start/end of trail: Upis to Pacchanta
One of the most scenic, yet challenging hikes in Peru sits a few hours to the south of Cusco: the Ausangate trek. This rigorous hike never dips below 4,000 meters, but boasts epic rewards like multiple alpine lakes, towering glacial mountains, alpacas, and a truly off the beaten path adventure.
Ambitious hikers can include a detour to the popular Rainbow Mountain and Red Canyon, which feels like gazing upon Mars. Visiting these sites independently means that more than likely you will experience the magic of these places without the crowds.
While the altitude is one of the biggest challenges, these staggering mountain passes provide epic views of one of Peru's most beautiful areas.
Make sure to be properly acclimated and carry coca leaves to help combat altitude sickness. If you feel confident in your hiking abilities, it's possible to do this trek without a guide. Those who aren't comfortable with offline maps and multi-day treks may fare better with a guide.
The village of Tinki is the gateway to the trek and can be reached from Cusco via public transportation. From there, either walk or grab a taxi to the trailhead in Upis. The trail circles around the towering mountain of Ausangate.
There are no villages en-route, so you will have to pack all your gear and food for the entire trek; however, you're more than likely to cross paths with lone shepherds caring for their massive herds of alpacas.
The trail ends in the small village of Pacchanta, which has warm thermal baths to dip in upon arrival, a couple of small restaurants, a hostel, and taxis that transport you back to Tinki.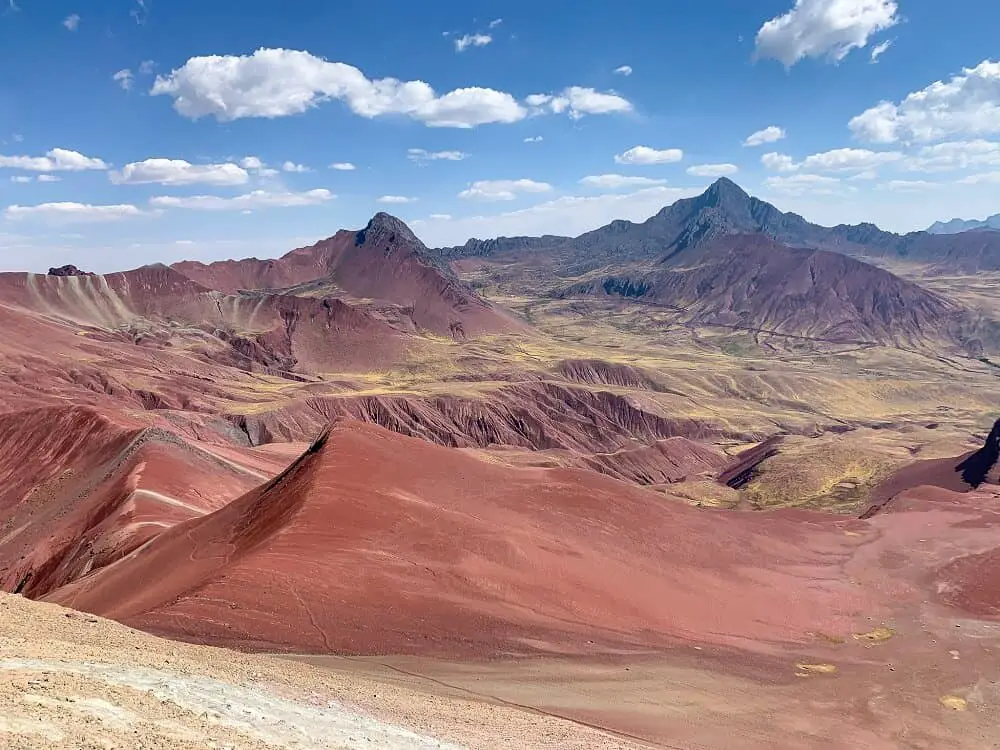 Rainbow Mountain
Recommended by Ben of Ticket 4 Two Please
Distance: 10km/6.2mi
Hiking time: 6 hours
Type of hike: Circular
Start/end of trail: Qesoyuno parking lot
Located roughly 85 miles, or 3 hours, Southeast of Cusco, Rainbow Mountain is one of the premier destinations to visit in Peru and hiking alongside the incredibly vibrant mountain will certainly last long in the memory.
It is generally recommended that visitors plan for a 6-hour round trip hike when visiting Rainbow Mountain (Factoring in time at the top of the trail to appreciate the Mountain itself). Despite it only being 10km, the significant altitude makes the 10km hike a much tougher task than would be expected closer to sea-level.  
The Rainbow Mountain hike typically commences in the Qesoyuno parking lot where the well-maintained trailhead begins. Here the altitude is around 4250m above sea level and the trail starts off with relatively simple flat terrain for a few kilometres.
The second half of the trail is where the hike really begins. A series of steps, challenging switchbacks to conquer before you reach the main viewpoint for Rainbow Mountain. At the viewpoint, the altitude is roughly 5200m above sea level, showing the significant altitude gain you will have made since the trailhead began back at the parking lot. 
Thankfully, the simple out-and-back nature of the hikes means you will soon be heading straight back to the parking lot where your body will be able to reacclimatise thanks to the fall in altitude. 
The hike itself is well-maintained and signposted and could easily be navigated independently. Due to the unique challenges that are faced at higher altitudes, however, it is recommended that you are accompanied by a knowledgeable guide when completing the hike. 
The Rainbow Mountain hike requires visitors to have a moderate degree of physical fitness, though the hike itself can be done at a pace to suit any physical level.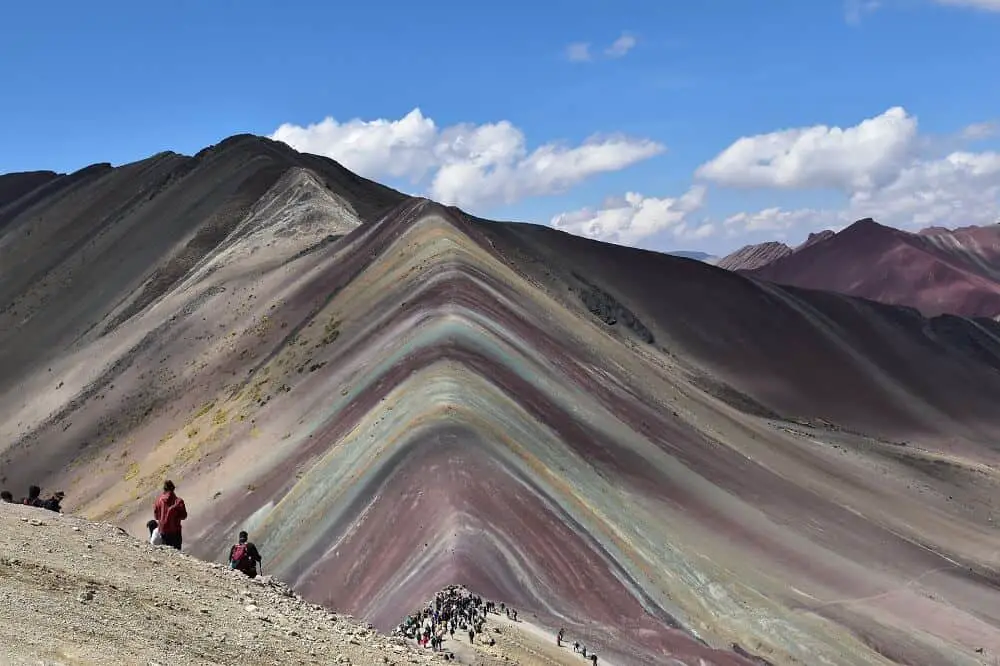 Salkantay Trek
Recommended by Bailey of Destinationless Travel
Distance: 74km/46mi
Hiking time: 5 days
Type of hike: Linear
Start/end of trail: Mollapata to Macchu Picchu
The Salkantay Trek is one of the most popular (and beautiful) ways to get to Machu Picchu. As a cheaper, slightly more difficult, alternative to the Inca Trail it's a great choice.
The Salkantay route is 74 km (46 miles) long and climbs up over 4580 meters in elevation. This is said to be the route the religious leaders took to get to Machu Picchu because the high elevation took them closer to the gods. 
The Salkantay Trek is typically hiked over 4-days. However, the tours are almost always 5 days long since hiking takes 4 full days, and the last day is spent at Machu Picchu.
Although rumor has it that it's possible to complete the Salkantay without a guide, it is definitely not common. Tours include guides who know the route as well as transport from Cusco to the starting point and back from Machu Picchu (the ending point.) 
Along the way, highlights include the Humantay Lagoon, a bright blue lake where you'll camp near on the first day; and Santa Theresa hot springs, beautiful hot springs that make for a great place to soak on your third day. There is also the option to do ziplining or a side trip to some ancient ruins.   
The Salkantay Trek is doable all year round. There also aren't limits on the number of tourists who can do this trek (unlike the Inca Trail) which keeps prices reasonable.
For a tour with food included expect to pay around $200 USD, however, this does vary based on the group size, inclusions, time of year, and many other factors.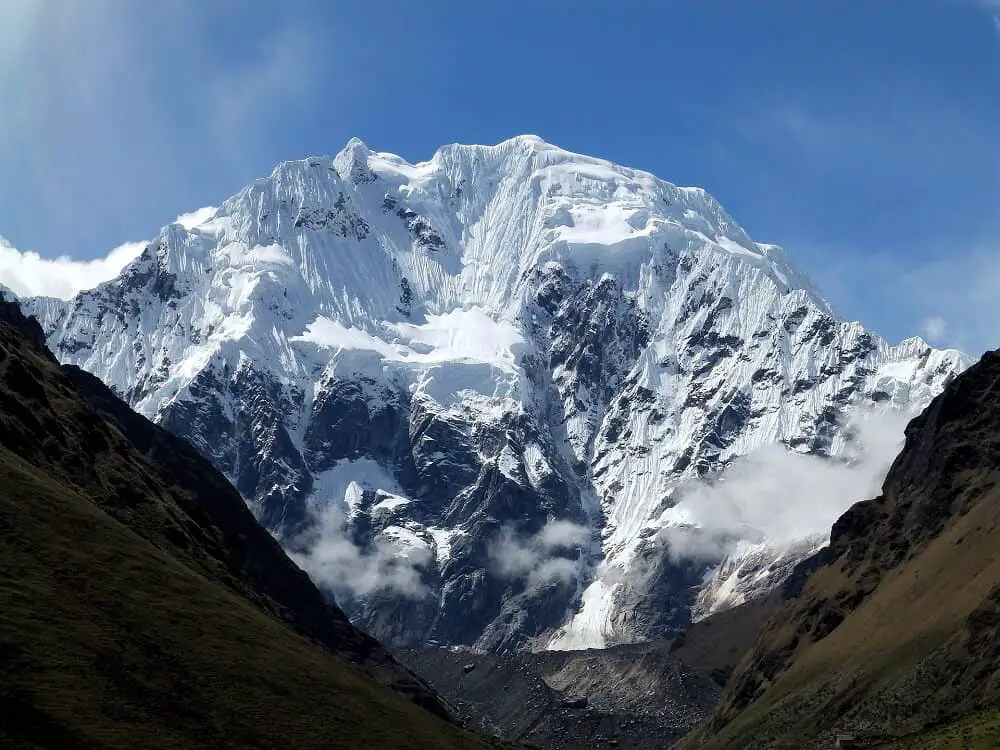 Waqrapukara Trek
Recommended by Megan of Packing up the Pieces
Distance: 24km/15mi
Hiking time: 2 days (or a LONG day hike from Cusco)
Type of hike: Linear
Start/end of trail: Sangarará to Huayqui
One of the best "up and coming" hikes in Peru is the stunning Waqrapukara trek. Also known as the "horned fortress," this Pre-Inca site is double the altitude of Machu Picchu and sits at an impressive 13,580 feet.
Like many old Incan trails, there are many routes to reach Waqrapukara, but the trail that begins from Sangarará and continues to Huayqui is completely accessible via public transportation with Cusco and is somewhat marked with simple, painted, white arrows.
What makes this trail one of the best hikes in Peru is the diversity of the trail. The trail twists through the Andes with high-altitude passes and continues into the picturesque Apurímac Valley. The valley boasts some breathtaking rugged cliffs and epic views.
It's possible to do this hike completely independently or utilize the help of a guide. The biggest challenge of this trek is the altitude, with the highest mountain pass reaching almost 15,000 feet. It's important to be completely acclimated to the climate before embarking on this hike.
The Waqrapukara Archaeological Park is small but is lined with Inca terraces and ruins that reach almost all the way to the top of the horns. The site is absolutely free to enjoy and includes a complementary campsite with running water and basic toilets.
The actual site will blow your mind, but it's the energy of this place that will leave you scratching your head, and questioning what this magical place was used for.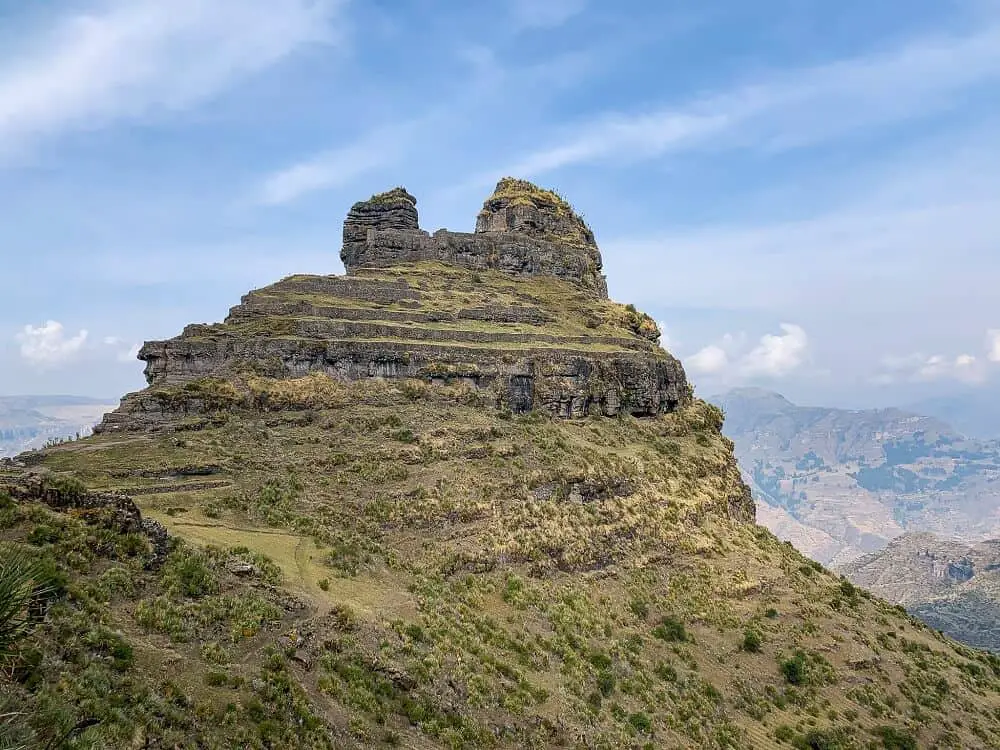 Chachani trek
Recommended by Jen of Dabbling in Jet Lag
Distance: 12km/7.5mi
Hiking time: 2 days
Type of hike: Linear return
Start/end of trail: Arequipa
Towering over the beautiful Arequipa at 6057 meters lies Chachani. This stratovolcano holds the title of the world's easiest six-thousander, and rightly so. Climbing Chachani does not require any mountaineering skills, making the climb relatively easy if you are well-acclimatized. You can even climb Chachani without a guide, but most hikers opt for one.
The journey to the summit begins with a 3-hour bumpy jeep ride to the base of the volcano. From there, the hike to the base camp takes roughly 2.5 hours over mixed terrain. Be prepared to climb over large boulders while carrying your own equipment (i.e., tent, 4L of water, etc.). And, at an elevation of 5000 meters, it's a tough workout!
When you arrive at base camp you will have the afternoon to relax and take in the spectacular desert scenery.
The final climb starts early in the morning around 1 am and involves a seemingly endless series of inclining switchbacks. After 4-5 hours, you will arrive at the summit and be greeted with magnificent 360 panoramic views. On a clear day, you can even see Arequipa!
To get back to base camp you can skip the switchbacks and slide down a parallel trail made of sand and scree. From base camp, you will hike back to the starting point to meet your ride to Arequipa.
While the hike is not technically difficult, the extreme elevation is. But if you are up for the challenge and love adventure, climbing Chachani is definitely worth it!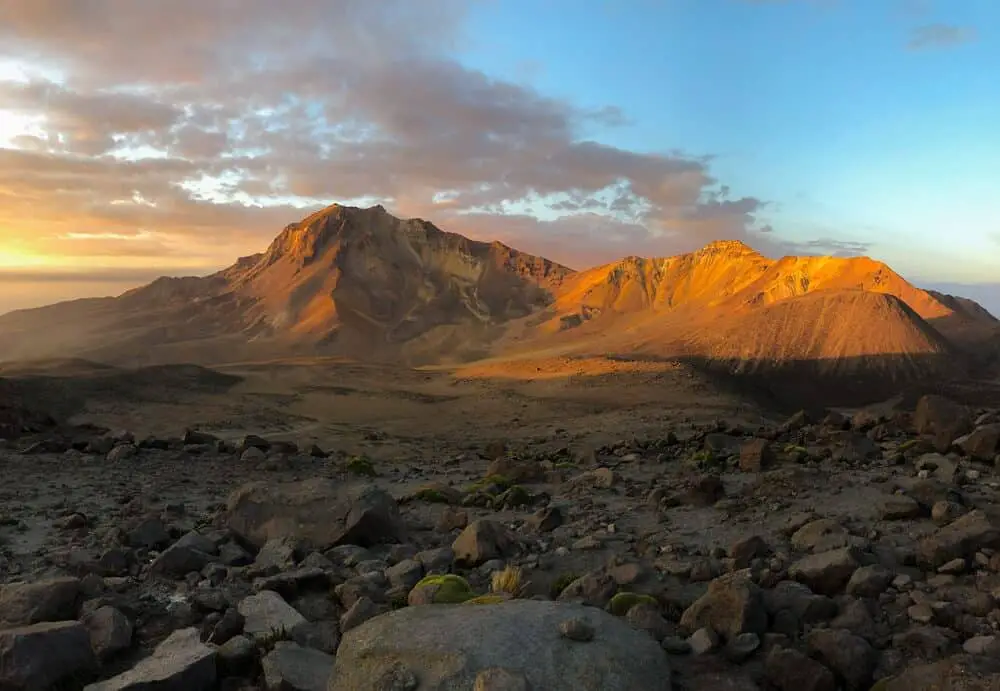 Laguna Wilcacocha 
Recommended by Jacoba of Op reis met Co (Travel with Co)
Distance: 6.6km/4mi
Hiking time: 2-3 hours
Type of hike: Linear return
Start/end of trail: at the Santa River (the bus from Huaraz will drop you off at the right spot)
The town of Huaraz is one of the best places to go to hike in Peru. The town is located at an altitude of more than 3000 meters so it's smart to get used to the altitude first before you do any big treks. 
One of the things you can do to get used to the altitude is to go on a short acclimatization hike. The hike to Laguna Wilcacocha is perfect for that.
It's quite short, only 3.3 kilometers to the lake (which makes the total hike 6.6 kilometers return). You have to climb 585 meters since the lake is at an altitude of 3700 meters. 
The trail is easy to follow and very scenic. You're surrounded by the mesmerizing snow-capped mountain tops in Parque Nacional Huascarán.
During the hike, you might meet some of the friendly locals, who are dressed in typical Peruvian costumes.
Laguna Wilcacocha itself is also a sight to see, and since it's pretty small, it's also easy to hike around it (this only takes 15 minutes).
The hike to Laguna Wilcacocha is perfect if you like to experience your first hike at a higher altitude and enjoy a very scenic view.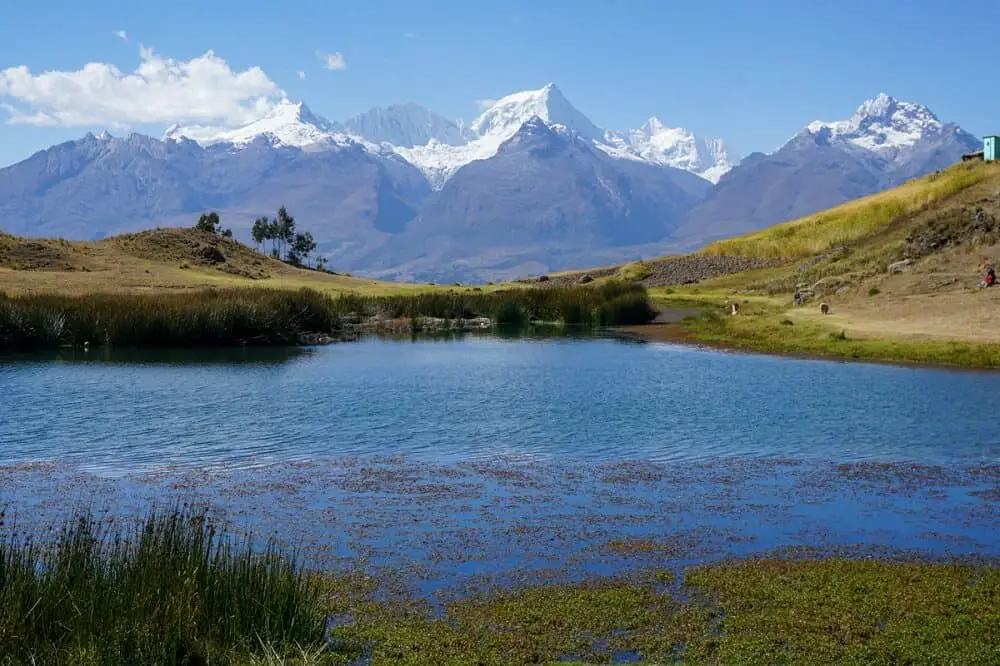 Choquequirao trek
Recommended by Alya of Stingy Nomads
Distance: 58km/36mi
Hiking time: 4-5 days
Type of hike: Linear return
Start/end of trail: Cachora
The Choquequirao trek is one of the best hiking trails in Peru. The route goes through the Sacred Valley and offers breathtaking scenery; a lush green jungle, deep canyons, magnificent mountains, and beautiful local villages. 
The highlight of the trek is the Choquequirao Ruins. The ruins are often called the little sister of Machu Picchu. Unlike the famous Inca ruins, Choquequirao has significantly fewer visitors.
The main reason it's so unspoiled is that there's no road or railways to the ruins; walking is the only way of getting there. This also makes the Choquequirao trek one of the most unique hikes in Peru.
The Choquequirao trek is a high-altitude route, the highest point is Morampata, at an altitude higher than 3000 m.
It's important to be properly acclimatized before attempting the hike. It's a moderate/difficult route, the most challenging part of it is a steep 1500 m ascent from the bottom of the canyon to Morampata.
The ascent is usually done over 2 days. There are several campsites along the route with basic facilities and in-door accommodation options. Hikers can make their own food or buy meals at campsites/homestays. 
The trek can be done independently, with a guide/porter, or in a group. No special permits are required.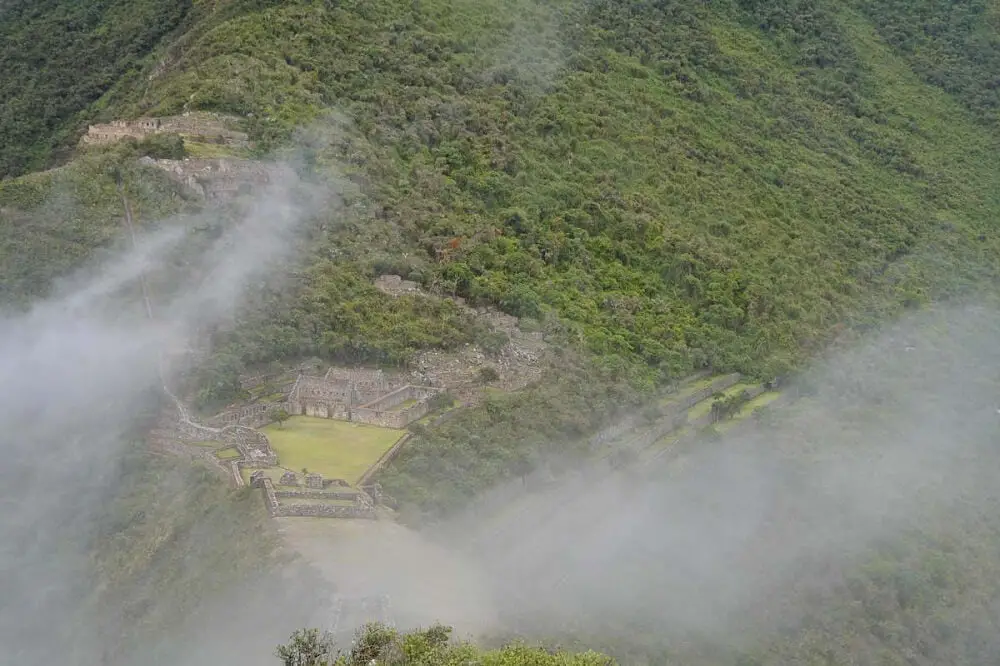 Pumamarca
Recommended by Megan of Packing Up The Pieces
Distance: 13.5km/8.4mi
Hiking time: 4-5 hours
Type of hike: Linear return
Start/end of trail: Ollantaytambo
Hidden in the hillside above the charming and preserved Inca village of Ollantaytambo is the Pumamarca Archaeological Park. This site is unique to most places in the Sacred Valley as it houses Pre-Incan (Wari) ruins that eventually became part of the mighty Inca dynasty.
The hike to the Pumamarca ruins can easily be done without a guide. The trail is well marked and has signage along the path. Find the trail well marked with multiple sign boards along the path.
Next, the trail passes by Inca terraces with a slight incline that boasts views of the valley, winds through a small forest, and continues along ancient Inca water canals.
The site of Pumamarca was believed to be a fortress and later converted to a ceremonial site, which explains why the buildings are so tall.
Pumamarca is still off the standard tourist path in Peru, so these ruins are usually empty, except for a few llamas that occupy the grassy park.
These ruins are said to resemble the shape of a Puma, so make sure to climb to the viewpoint to decide for yourself.
Pumamarca has a small admission fee of 10 soles ($2.50 USD), which goes directly to the nearby mountain community that resides next to this sacred site. The hike boasts stunning views and makes a perfect half day or full day trip from adorable Ollantaytambo and makes one of the best hikes Peru has to offer.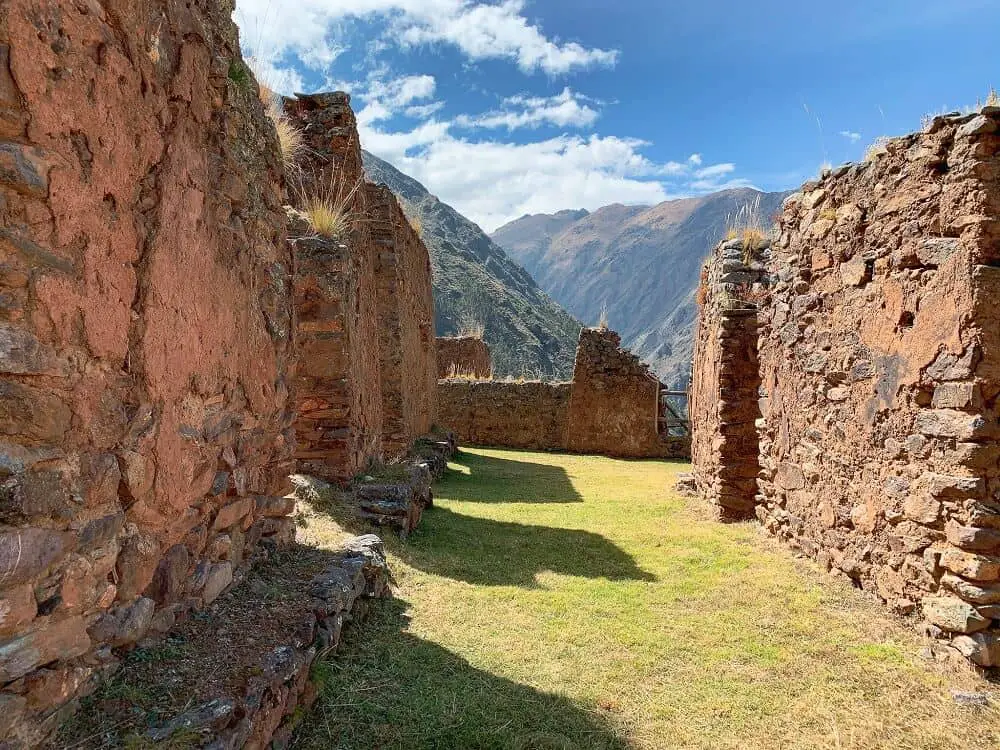 Laguna 69
Recommended by Sean of Living Out Lau
Distance: 13.8km/8.6mi
Hiking time: 6 hours
Type of hike: Linear return
Start/end of trail: On Highway 106
The Laguna 69 hike is arguably the best day hike to do in Peru and a must on any Peru itinerary. Located at 4600 meters in elevation inside the Huascarán National Park, Laguna 69 is a glacial lake with turquoise blue waters.
Surrounding the lake are some of the most stunning alpine peaks in Peru, many of which are snow-capped and enhance the beauty of the landscape.
Witnessing Laguna 69's beauty with your own eyes is no easy task, as the out-and-back hiking trail takes a total of 6 hours.
Hikers will gain 700 meters in elevation (one way) and reach a maximum of 4600 meters, an elevation that could prove difficult even for the most experienced hikers.
Because Laguna 69 is nestled inside the wild Huascarán National Park, it is highly recommended that you take a guided tour from the city of Huaraz.
It's possible to do the hike on your own, but that would require your own vehicle. It is impossible to take public transportation to Laguna 69. Luckily, tours to Laguna 69 are abundant and affordable in Huaraz.
Laguna 69 is the most difficult day hike from Huaraz, so remember to take a few days to acclimatize to the altitude before attempting the hike. It is quite common for travelers to catch severe cases of altitude sickness there.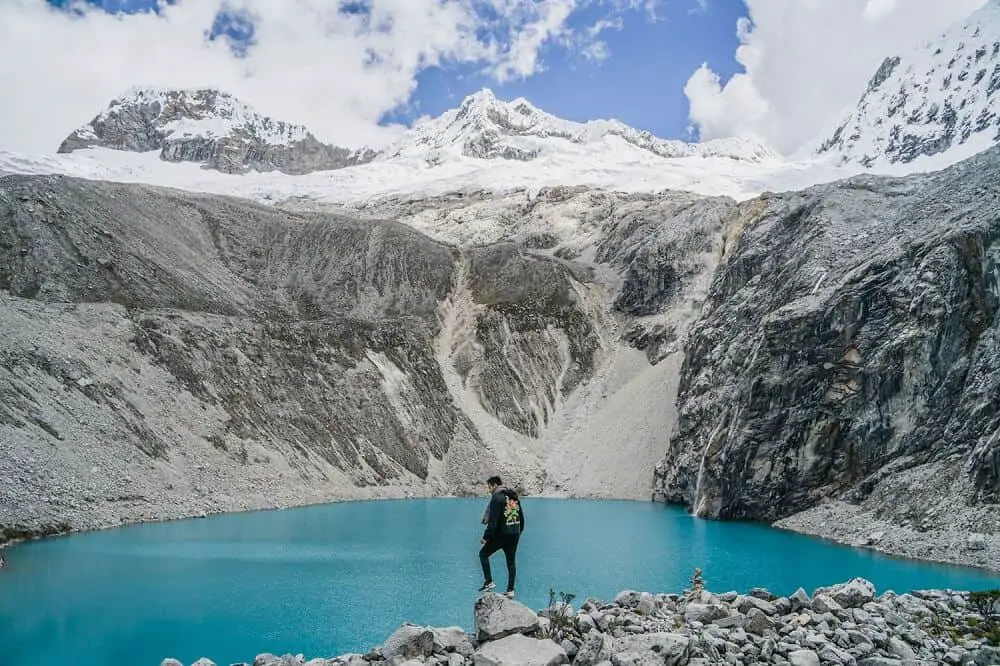 Maras and Moray
Recommended by Vicki of Vicki Viaja
Distance: 17km/10.5mi
Hiking time: 2-3 hours
Type of hike: Linear
Start/end of trail: Casita Media Luna (Ollantaytambo) to Moray
Maras and Moray are two of the most popular destinations in the Sacred Valley of the Inca and one of the most beautiful treks in Peru.
While most people visit these two fascinating places as part of a tour, you can also easily see them on your own during a hike. This way, you can enjoy the spectacular scenery of the Peruvian Andes even more.
The best place to start the hike is from Casita Media Luna, a few minutes drive from Ollantaytambo. To get here you can travel from Cusco or Ollantaytambo by Colectivo or taxi.
From Media Luna, it takes about 40 minutes uphill to the Salineras de Maras. The imposing salt mines are a popular tourist attraction in the region and an essential source of income for several hundred years. This is because the salt mines produce a large portion of the region's salt.
From the Salineras de Maras, you continue upward toward Maras Pueblo. In Maras, it's worth stopping for lunch and something to drink. Here you can also enjoy some shade, as there are few shady spots along the way.
From Maras, you continue to the impressive Moray. To enter this site, you will need to purchase the Boleto Turístico (the tourist ticket for the Sacred Valley).
In Moray, you can find different Inca agricultural complexes in the form of terraced fields. Apart from the fact that the terrace complexes look absolutely impressive, it is hard to imagine how advanced the Incas were already in their time building something like this.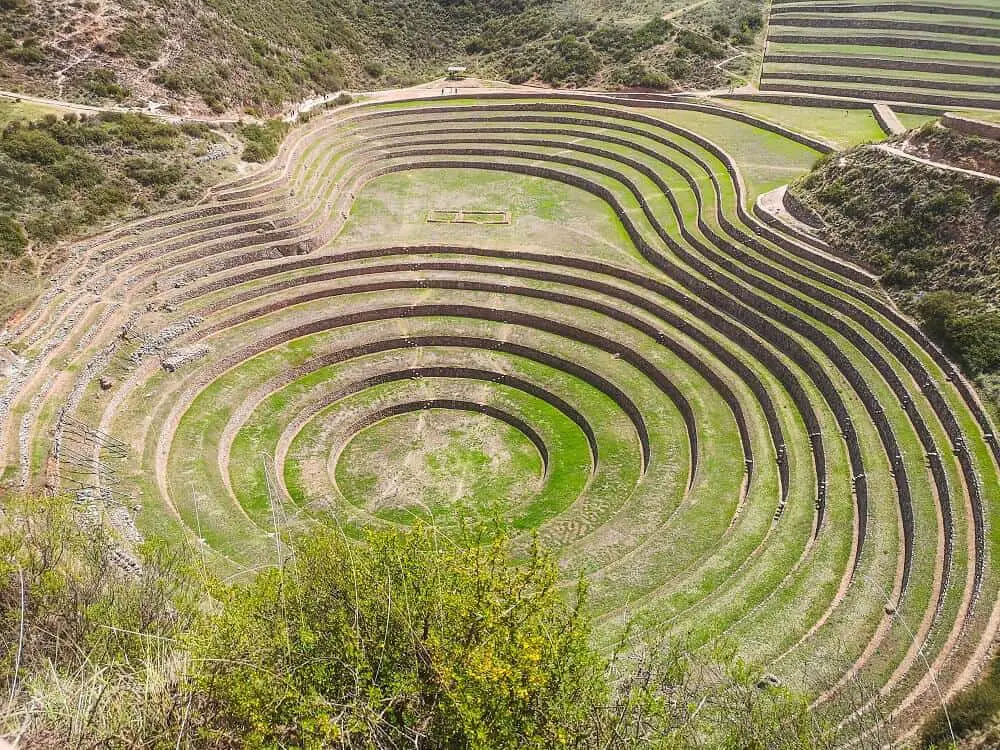 Lares trek
Recommended by Ariana of World of Travels with Kids
Distance: 41km/25mi
Hiking time: 3 days
Type of hike: Linear
Start/end of trail: Lares to Ollantaytambo
If you want a cultural immersion experience while trekking in Peru, then one of your best options is the Lares region, near Cusco.
This area is populated with local Quechua people who live in stone huts high in the mountains, and you can take any number of routes by following the trails to their villages.
It is interaction with an ancient way of life that is the most outstanding feature of this trail – there aren't any superbly spectacular mountain passes, though the pale blue alpine lakes are pretty impressive.
As the Lares hike doesn't follow one route, I will talk about what is known as the Lares (start point) to Ollantaytambo (end point) route, that starts at the hot springs of Lares, and then passes Huacahuasi and either the settlements of Ipsaycocha or Chaullacocha (Cocha means lake in Quechua!)
Thought the climbs are gradual in the Lares region, the high points are a whopping 4400 masl on the Ipsaycocha route, and 4300 masl on the Chaullacocha route, which are both substantially higher than the Inca Trail. 
It is possible to do the Lares trek on your own – especially if you are an experienced hiker, and speak some Spanish to ask the locals for the way. However, if you would like a more interactive experience look for a responsible and ethical travel agency that has relationships with the people.
Lares is one of the best routes for trekking with children in Peru. It's also the best of the wet season hikes when the Inca trail is closed as it's not as risky as most of the other Peru treks in the Cuzco area.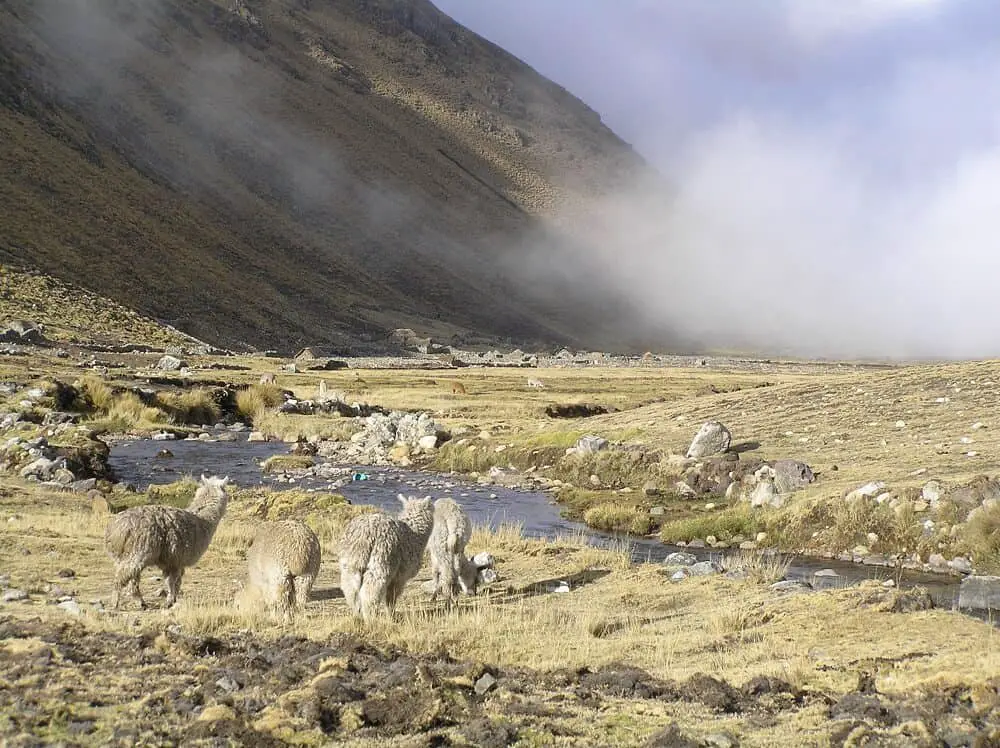 Chinchero
Recommended by Heather of Conversant Traveller
Distance: 8.9km/5.5mi
Hiking time: 4 hours
Type of hike: Linear
Start/end of trail: Chinchero/Urquillos
There are lots of Inca trails in Peru, not just the famous one that ends up at Machu Picchu. One of the more rewarding is the Chinchero to Urquillos hike, which takes you on a little-known route into the heart of the Sacred Valley. Few visitors know about it so it's unlikely you'll meet anyone on the trail.
This day hike begins in the weaving town of Chinchero, high up on the Andean plains. It's worth spending an hour or two exploring the settlement beforehand, which has a plaza, market, and museum to check out.
To find the trailhead, make your way to the archaeological site and then just follow the path downhill all the way to Urquillos. You can see sections of the original Inca trail with ancient irrigation canals running alongside.
The terrain is very steep in places, so taking walking poles is a good idea to keep your knees in good shape. All around you'll enjoy dramatic scenery, with plunging ravines and sheer mountainsides. If you have a head for heights, you'll love this route!
From Autumn through Spring you will see the snow-capped peaks of the Andes on the horizon, providing plenty of photo opportunities.
It isn't necessary to take a guide, since the trail is easy to follow. Yet having a local to point out things you might otherwise have missed can be a real bonus. They can also assist in sorting out onward transport once you reach the bottom at the charming village of Urquillos.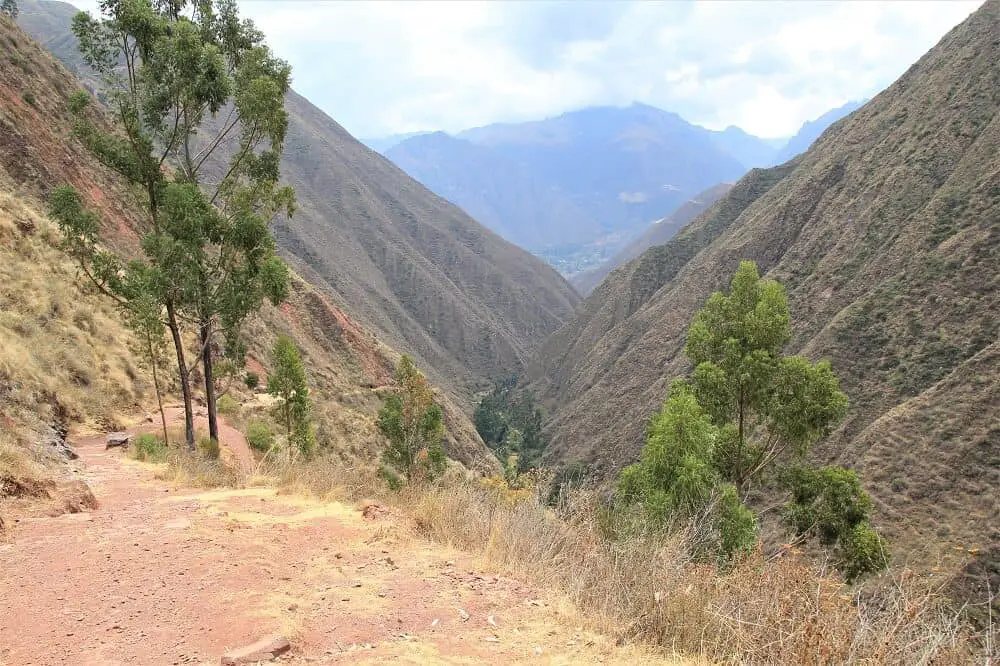 Reflections on hiking in Peru
If a Peru hiking trip or two isn't on your bucket list by now, I don't know what will make you go walking in Peru or any other part of the world. The bewildering landscapes you can encounter in this unique country full of cultural heritage and archaeological sites are beyond amazing!
With these epic Peru hiking trails you should have enough to do during your trip to this small but naturally rich South American country. But make sure you're prepared physically for the challenging hikes.
And for all the high altitude hikes, you need to acclimate a few days before you start your trek and it's important not to push yourself too hard. It's better to walk slow and steady.
Altitude sickness i serious and if you start feeling any symptoms, you should walk down. This is also one of the reasons it's a good idea to go on a guided tour, especially if you're not used to hike in high altitude, as the guides will be trained and have oxygen with them.
All seriousness aside, trekking Peru is one of the most amazing things you'll do in your life! Just make sure you travel responsibly, especially when heading to rural areas.
Pin it for later!