As a less common term, mindful travel brings out a lot of the same feelings as responsible travel. Though it probably also makes you look within yourself and not only at everything around you. There are so many perspectives of responsible travel, so why not start within?
I thought the perfect person to tell us more about mindful travel would be Lucile Hernandez Rodriques, yoga teacher and mindfulness coach.
Meet Lucile Hernandez Rodriguez
Lucile is a registered yoga teacher and mindfulness coach. She focuses on mindful habit building for internet entrepreneurs, digital nomads or people aspiring to have an innovative business while pursuing their love of travel. She writes about it and gives concrete resources on her blog.
Lucile is a French and Spanish national who has spent a lot of time living in the US and the UK. She now alternates between her career in Tech Paris and her travels that take her all over the world. She strongly believes that travel is a lifestyle that needs to be sustainable for ourselves, others and the planet.
What does travel mean to you?
Travel has always been part of my life. I grew up in two different cultures, so I was always curious about how people lived in different countries. I've spoken three languages at a native level since a young age so traveling always seemed possible to me.
Travel is an awesome way to get out of my comfort zone and to have new experiences. I enjoy trying the things I already love but with a local touch: I've been exploring what wellness looks like in other cultures. I've been to all kinds of local spas (Onsen in Japan, Hammam in Morocco…), healers (from Thai Massage to Balians) and tried every herbal tonic under the sun.
Travel is a way to understand the world better and to learn about others. I love connecting with people and see that we all have something in common. This makes me more mindful and open-minded.
I love physical activity too so I am always on the lookout for ways to try new workouts in cities or enjoy the beauty of nature through hiking, cycling, diving, and surfing.
What does responsible tourism mean to you?
Travel is of course about discovering new cultures and experiencing new things but I also see it as a lifestyle that needs to be sustainable for me and for others. Responsible tourism is all about traveling mindfully and making conscious choices along the way. I love it because I can be learning instead of just passively consuming. Of course, I am not perfect, so I just try to show up and do my best every day. It is better to have everyone commit to tiny changes than a few people doing extreme ones.
My main rule is to leave things at least as they are and not have a negative impact. I try to become aware of what is happening around me and I do believe everyone is voting with their money each time they make a purchase. This is very powerful because I can use my purchasing power to encourage people who are doing an awesome work that resonates with my values.
I mostly focus on local culture and economy (am I respecting the people who live there and encouraging their sustainable growth?) as well as the environment (am I protecting our planet?).
Since I see travel as a lifestyle rather than just a two-week break once a year, it needs to be sustainable for me as well. That's why I also focus on wellness travel to keep up with my productive habits and stay healthy. In each place I go to, I look for places to workout, try new sports, quality local food and markets to buy local fruits and veggies. These wellness choices are part of traveling in a way that is true to me.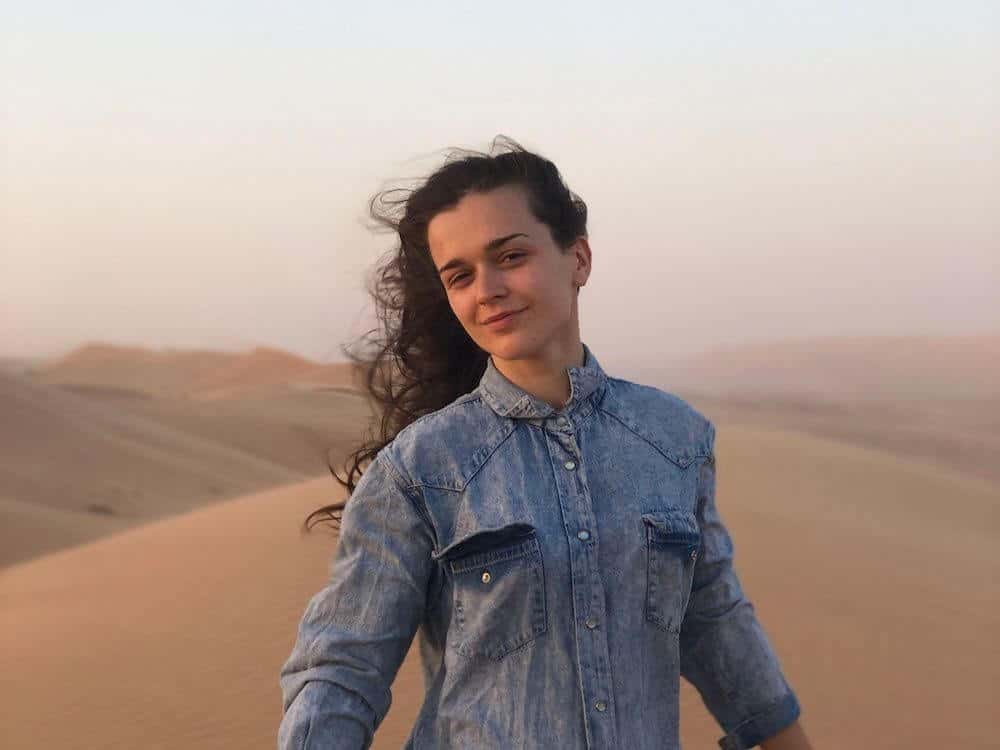 When did you first start to be conscious about the way you travel and the effects your travels have on your destination?
I've always been very eco-conscious but I was unaware of how bad the issue in some places is. I was used to preserved natural spaces, good quality organic food and easy access to recycling in Europe.
One experience that shocked me was when I was doing a day trip to a beautiful island in Cambodia. I was getting bored with the beach and decided to hike around the island, only to find myself walking on endless piles of garbage. The island didn't have a waste management system. Only the tourist side of it was a paradise while locals lived on piles of plastic waste.
This really opened my eyes to the importance of investing in preserved areas and of skipping places that are not doing this work.
I have noticed this as well with diving: the sea is too often treated as our biggest dumping ground. When you dive, you are directly in contact with breathtaking marine life… and with trash freely floating around our ocean.
These two experiences entirely changed my perception of the urgency of the ecological issue and the way I travel.
Have you traveled to a specific destination that you found especially sustainable that you would like to recommend to other travelers?
I feel any destination can be sustainable if you do a bit of research and commit to spending your money wisely.
There are a few destinations that make the job easier: you can travel through most of Europe in a very sustainable way and have easy access to the local culture.
I recently went to Bali and it became one of my top mindful travel destinations. It was so easy to find organic local products, ecological accommodations, and to support the local economy. I would say this was thanks to the research I made and the commitment of trying to engage with activities and products that respect my values.
I loved how easy it was to have access to the local culture. I was afraid this would not be the case as the island is a hotspot for tourism. I was there at a time of religious celebration and was invited to a traditional parade by locals.
Of course, not everything is awesome in Bali, and there is still a long way to go! As travelers, we can be part of this sustainable progress by looking out for the places that are bringing real value to locals while protecting our planet.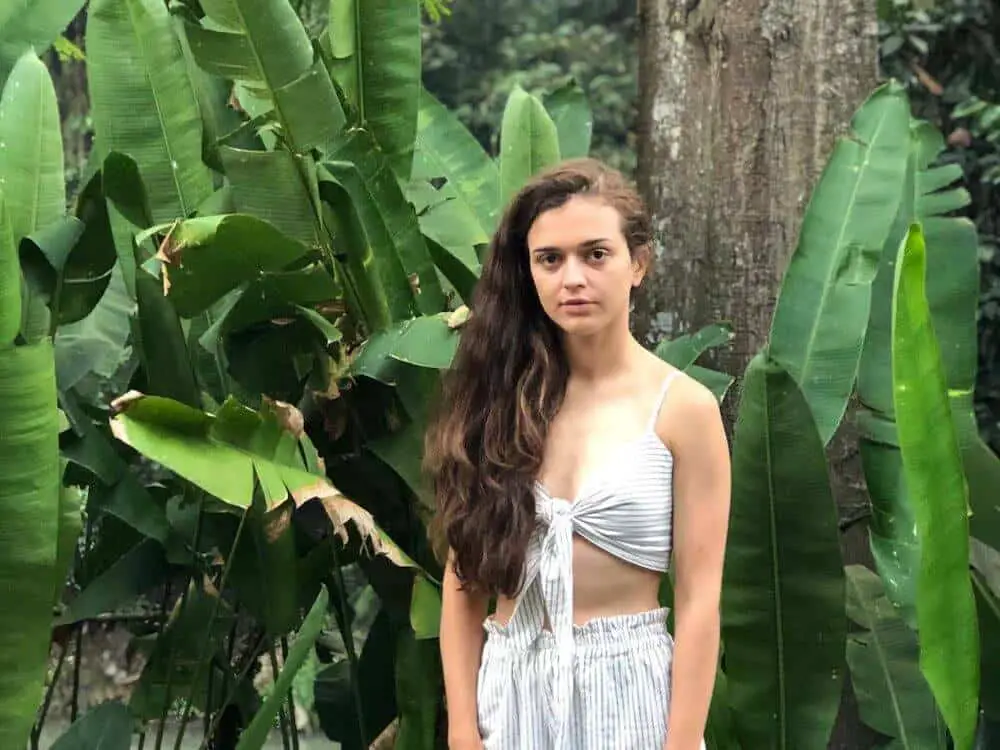 What do you do to travel responsibly?
Overall, I try to be mindful of how I spend my money and to use it in a way that supports the local culture and the environment.
More concretely here are a few tips I use:
I educate myself on local issues with basic internet searches: this one seems silly but it is the most important one! Even good intentions can have negative consequences: I have seen child trafficking being encouraged in some countries by an influx of tourists who came to volunteer.
I keep my mindful healthy habits: bringing my reusable water bottle and boiling water rather than using plastic bottles, saying no to takeout as much as I can, bringing my reusable bags for shopping, packing my ecological toiletries instead on relying on hotels. These tiny actions go a long way!
When I can, I eat organic, home-made or local foods and this supports my wellness habits too.
I choose activities in nature wisely: these activities can really encourage environmental protection… or destruction! I look online for places that are doing something good at taking care of the local wildlife. There are so many of them!
Most of all I avoid tourist traps and try to meet locals instead: I travel a lot with Couchsurfing and I also meet with travelers at home.
I am aware of what I could do better: currently, I am taking way too many flights.
None of these tips are expensive: responsible travel doesn't cost much more money but it sure takes a bit of research!
What are your top 3 advice to travelers that want to travel more responsibly?
It is not hard to travel more responsibly:
Meet locals and travel like you're going to someone's home
Live slow and keep your habits
Do a bit of research and trust your gut: if it doesn't feel responsible it probably isn't!
You might also like: Zero waste travel – An interview with Kendal Karstens
See more from Lucile Hernandez Rodriguez
I would like to thank Lucile for taking her time to share her thoughts on mindful travel. I hope you got just as inspired as I did on her view on responsible travel!
For more inspiration from this conscious lady, make sure you check out her blog or follow her mindfulness journey on Instagram.
Is there anything you wish I had asked Lucile about? Feel free to ask in the comments!
Read next: An interview with Lauren Yakiwchuk about Kind Travel
Pin it for later!