"The main principle of responsible tourism should be putting the destination you're visiting and its inhabitants before your personal wants and desires!"
I couldn't agree more with Josh and Sarah on this one! I'm super excited to chat with these energy-filled vegan adventurers, founders of one of my favorite responsible adventure travel blogs out there, Veggie Vagabonds.
In March 2019 they set off from their front door in the UK to cycle to India. 10 months later, they were still exploring France, but their plans to continue their journey across the Alps into Italy, Slovenia and then Eastern Europe in April, got aborted when the whole world went into lockdown.
Though they sent their bikes and all their gear back to England and followed after in public transport, their journey hasn't ended.
I'm thrilled to get to know these guys more and learn more about their take on responsible travel. Are you ready for an adventure filled interview with Josh and Sarah?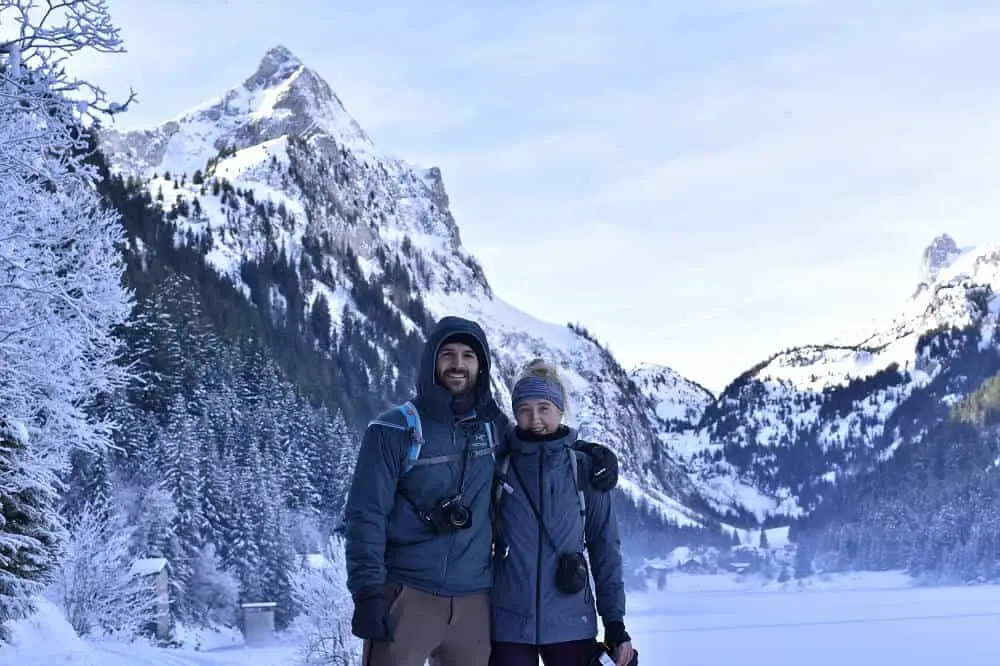 Meet Josh and Sarah
Josh and Sarah are two adventure-hungry tree-huggers that spend as much time as possible out in nature.
Before the global pandemic hit, they spent their time exploring the natural wonders and outdoor opportunities in the French Alps. They both do freelance writing besides running Veggie Vagabonds.
Their mission with the blog is to help people embrace the natural world and make that as easy as possible with a sustainable vegan lifestyle.
It's hard to find more positively minded influencers out there! Instead of moaning about the recent lockdown in England, these guys went happily camping in the garden!
An interview with Josh and Sarah
What does travel mean to you?
Travelling has always seemed very obvious to us. In our minds the world is filled with so many incredible things, foods, places, mountains, experiences, people etc. to just stay in one place. It's always been our ambition to create a life where travelling and the outdoors could be the priority.
This drive, I guess, comes from how great travel makes you feel: new experiences, feeling free and being on the road. There's something very special about just travelling, besides actually getting somewhere. Just the act of being on the road, moving from place to place, with the opportunity to go or do whatever you feel is damn exciting.
What does responsible tourism mean to you?
Personally, we think the main principle of responsible tourism should be putting the destination you're visiting and its inhabitants before your personal wants and desires.
Whether it's local communities, animals or the natural environment, there are so many places around the world where you can see tourism is having a negative impact, in one way or another.
Lots of this seems to be from people not really considering their impacts. I think traveling responsibly means thinking about your actions and then prioritizing the things you could affect. 
This doesn't have to ruin traveling! We've always found it actually makes more of a rewarding experience, giving you a better insight into your surroundings.
When did you first start to be conscious about the way you travel and the effects your travels have on your destination?
Hmm, we were both brought up pretty environmentally-minded but I guess the first big decision was going vegan 5 or 6 years ago. Though this wasn't directly travel-related, it was done to have a less harmful impact on animals and the environment – it has definitely changed the way we travel.
However, it was our time living in Asia that really sparked our change in mindset. There are not many places in the world where you can see such damage from pollution, climate change and overtourism like South East Asia.
Whole regions ploughed by deforestation, corals completely bleached, islands with no natural water sources left because of over-development, biodiversity loss and just general inconsideration from travellers towards the natural world – it really opened our eyes to many of the issues our natural world faces.
It all truly hit home after spending a year living in Hanoi: it's one of the most exciting cities we've ever visited but the pollution was out of this world.
Animals and vegetation almost don't exist, lakes and water sources are poisoned and, most shockingly, the air pollution was so bad that on days you couldn't see 100 metres in front of you. It was like nothing we'd ever seen before.
Sometimes it can be easy to underestimate how much our environment is changing when you live in places like the UK. Going and experiencing it in South East Asia was enough to spark real change in our lifestyles. 
Have you traveled to a specific destination that you found especially sustainable that you would like to recommend to other travelers?
Of all the places we've visited, I think some parts of South America has probably had the best attitudes towards environmentalism. Pachamama is seen to be the Earth Goddess by traditional communities in the Andes and this seems to have created a real respect for the natural world. It's very beautiful to see.
Now we've spent some time in the Alps it's also obvious that the mountain and outdoor communities take climate change seriously. 2019 saw a number of ancient glaciers officially die and this has stopped a lot of people in their tracks, making them realise 'shit, this is all really happening'.
For a recommendation, I'd suggest finding an alternative destination. Sometimes it's the places you've never heard of before which can be the most exciting!
What do you do to travel responsibly?
After our experiences in Asia, it was time to reconsider travelling as we knew it. In 2017 we committed to stop flying and since then have been exploring different ways to travel.
This is what originally started the idea for cycling around the world, though we had also considered walking or hitch hiking.
All of our travels are focused around the outdoors and I think this is a really important step. The more time you spend outside the more you feel compelled to protect it. This is the whole ethos behind Veggie Vagabonds really: trying to help people get outdoors and get back in tune with nature.
What are your top 3 advice to travelers that want to travel more responsibly?
Think first! Just pausing and considering your impacts can make a huge difference. This can also be doing some research before to find out any environmental issues your destination/s might be facing.
For example, is there a month which has very high levels of visitors and puts a strain on local communities? It can help you travel more responsibly and also get you excited to hit the road.
Remember that we're lucky – at its simplest, we're damn lucky to have a world filled with so much beauty and things worth protecting. And more than that, just the ability to travel and explore the world is such an awesome privilege that only a small percentage of us have. We find it helps keep things in perspective.
Don't be afraid to do things differently – with social media, it can be really easy to follow current trends without even realizing. I think living more adventurously and reconsidering travel can result in much more environmentally-friendly journeys and life-changing experiences.
Yes, seeing all the famous sights around the world would be exciting but what about skateboarding/hitching/walking/paddling/cycling/swimming your way around a neighboring country? Yes, it's not as conventional but it will be more sustainable, cheaper and completely unforgettable.
And as a bonus tip: Remember, the power lies in you – Leo Tolstoy has a quote we love: "Everyone thinks of changing the world, but no one thinks of changing themselves". Be proactive with your morals and lead by example, small changes can be profound.
See more from Josh and Sarah
Did you get just as inspired about getting out on sustainable adventures as I did? These guys are truly inspirational!
Though Josh and Sarah are back in England at the moment, searching for local travel adventures, they'll surely be back on the bikes, direction India as soon as it will be safe.
If you want to follow their vegan adventures, you find them blogging on Veggie Vagabonds, where you find all the resources you need to go on your own ethical and vegan adventures.
Make sure to join their active communities on Instagram, Facebook, Twitter, and Pinterest too!
If you are a vegan outdoors enthusiast, you might even be interested in joining their engaging Facebook Group.
Pin this for later!