The fun city of Copenhagen doesn't only offer great things to do in the city itself. There are so many fun things to do nearby and you can easily escape for a day trip to surrounding towns or landmarks.
With astounding castles, historical heritage, and Sweden only a stone's throw away there is no doubt there are many options and it can be hard to pick where to go.
With the help of other travel experts, I have narrowed it down for you to the 5 best day trips from Copenhagen.
Following is your responsible guide to Copenhagen day trips and how to get there so you don't have to worry about anything else than enjoying your vacation.
Disclosure: This post may contain affiliate links. That means that if you make a purchase through one of those links, I will get a small commission at no extra cost to you.
How to get around on day trips from Copenhagen
It's fairly easy to get around on Copenhagen day trips either by car or public transport. Here are your options, though if you plan on going on weekend trips from Copenhagen as well as day trips, you might want to opt for a rental car so you get more freedom.
However, Denmark has a good network of public transport and it's easy to opt for the more eco friendly solutions.
Get a rental car
The roads in Denmark are good to drive and it's easy to get a rental car for your day trips from Copenhagen if you like the freedom of leaving when you want, stopping where you want, and returning when you want.
---
---
Bus
It's easy to get around from Copenhagen by bus too. There are daily departures to multiple destinations from Copenhagen Ingerslevsgade Bus Station next to Copenhagen Central Station.
---
---
Train
Also trains are frequent and Copenhagen is even connected with Sweden and Germany by train. There is no problem finding trains from Copenhagen Central Station
Ferry
Depending on where you're going you might be able to take ferries too. Denmark is surrounded by water and though you can travel by land most places, there are shorter routes by taking ferries across the pond in several places.
Best day trips from Copenhagen
With extra time on your Copenhagen itinerary, you'll surely want to explore more of the beautiful county of Denmark.
Here are some of the best day trips from Copenhagen, starting with the neighboring country and one of the top places to visit in Sweden which surprisingly is closer than many destinations in Denmark.
Malmo
A Copenhagen to Malmo day trip is almost a must while in the Danish capital city. The Øresund Bridge makes it so easy to cross and trains are leaving regularly from Copenhagen Central Station. The journey only takes 45 minutes and you're in Sweden's third largest city.
The coastal city of Malmo offers everything from a trendy cafe scene with delicious vegan food to cultural heritage.
Stroll down the streets to Stortorget, the city's largest and oldest square. The most spectacular building on the square dating back to the mid-1500s, is the City Hall, built shortly after the square itself.
Proudly towering in the middle of the square is a statue of King Karl X Gustav who claimed the province back from Denmark in the 17th Century.
Close to Stortorget, you find Sodergatan shopping street. Not only is it one of Malmo's oldest streets, but it is also the city's first pedestrian street.
Have lunch at the historic Lilla Torg while admiring the old charming buildings surrounding the cobble-stoned square.
Stroll through Malmo's oldest park, Kungsparken, dating back to 1869-1870, and enjoy the relaxed romantic English-style garden.
You'll also want to get a glimpse of Malmo's oldest building, the 14th-century-old Sankt Petri Church.
But Malmo also has a modern side to it and the Turning Torso is the physical symbol of it. West of Västra Hamnen harbor, you find the 190-meter tall building and Scandinavia's highest skyscraper, built in the 2000s.
Malmo also boasts beautiful beaches that can be enjoyed on a warm summer day.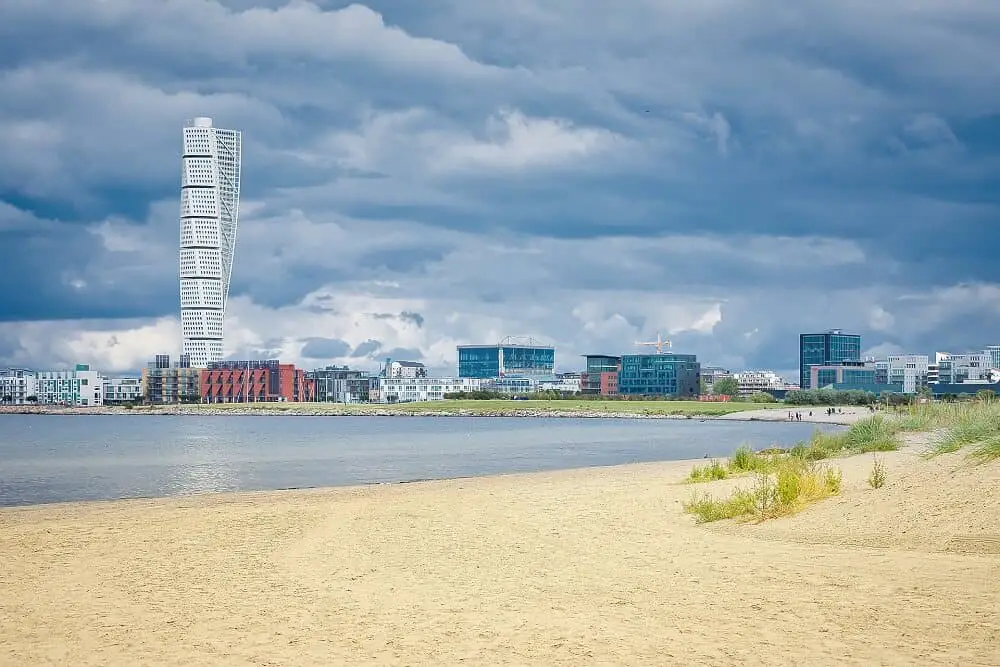 Roskilde Cathedral
By Tom of Travel Past 50
If you're a history fan, the Roskilde Cathedral (Domkirke) of the ancient capital of Denmark makes a great short day trip from Copenhagen. The unique church–the first Gothic cathedral to be built of brick–is a UNESCO World Heritage Site.
Built during the 12th and 13th centuries, the cathedral once featured extensive frescoes on the walls and ceilings. Unfortunately, during the Reformation furor of Northern Europe, the Roskilde Cathedral suffered a "makeover" by the iconoclastic Protestants.
In the case of the Domkirke, this meant all the original frescoes were whitewashed over. Later, there was an attempt to uncover some of the frescoes, but the task was mostly in vain. In one chapel where the attempted restoration was done, you can see the pale simulacra of the original works.
For some reason, when the Roskilde Cathedral was vandalized by the Protestant reformers, they left the slightly crude, but nevertheless beautiful carvings over the choir seats. The carvings below them, though, were removed, and replaced with bland wooden panels.
The various chapels of the cathedral now serve as the burial vaults for Danish kings, right up to the current day. The grave memorials themselves are a veritable art history lesson as the installations date from the 13th to the 20th Century.
Roskilde can be reached easily by car from Copenhagen in about half an hour. Alternatively it is an easy train trip from Copenhagen Central Station and be in Roskilde in about 24 minutes.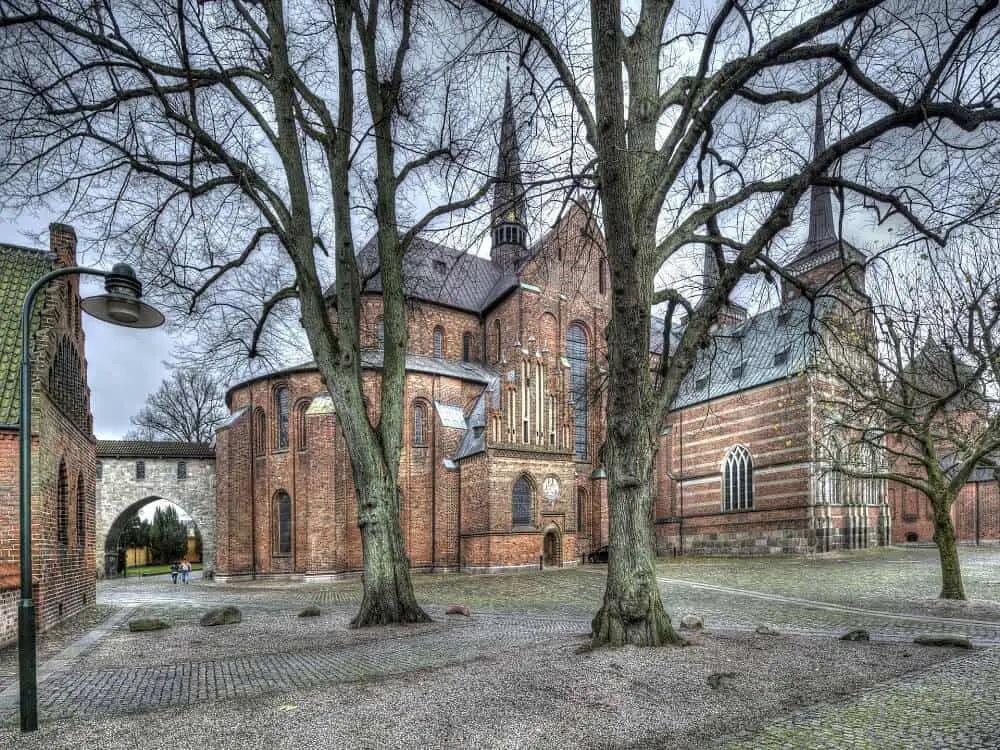 Dragør
By Anjali of Travel Melodies
Dating back to the 12th century, the Danish fishing village of Dragør is as charming as it gets. With just a super short (20 minutes) drive away from Copenhagen, there's no way you can miss this beauty when in the Danish capital city!
If you don't have a car, catch bus 29 from Copenhagen Central Station, then make a change at Tårnby to the bus 250S. Alternatively, you can take bus 35 from Kastrup airport.
Dragør charms its visitors with a unique mix of historical, cultural, and natural affluence. A quiet stroll along its narrow cobbled streets lined with age-old tinted yellow thatched roof houses introduces you to the village's rich history. The boxes under the colorful windows filled with lilacs give extra oomph!
Walk along the historic harbor, gawk window shop at cute galleries and shops, enjoy a cup of coffee with a cake at one of the adorable sidewalk cafes, bike along the beautiful coast, and eat the local food while drinking in the stunning views of famous Oresund Bridge at Dragør Røgeri.
Whatever you do, Dragor promises you an experience you will cherish for life.
Summer brings a host of food, music, and art festivals in Dragør while winter brings a charming Christmas market.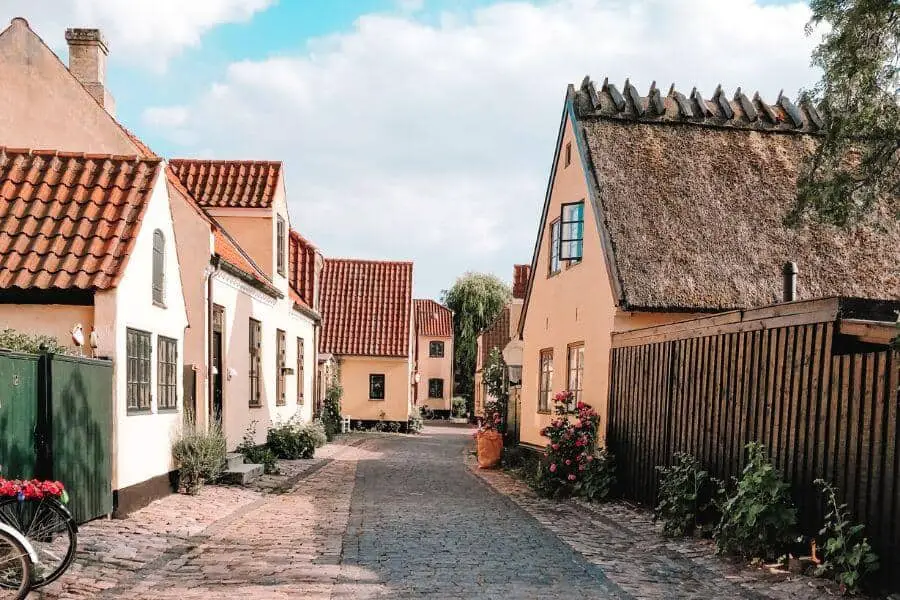 Kronborg Castle
By Elaine and Dave of Your Ireland Vacation
The ancient castle of Kronborg on the north coast of Denmark is a fantastic day trip from Copenhagen. The castle is also known as Hamlet's Castle due to its association with Shakespeare's Hamlet play. 
The castle was inscribed as a UNESCO World Heritage Site in 2000. The town of Helsingør, where Kronborg is located, was once one of the most important strategic locations in Europe. Ships passing into the Baltic Sea had to pass Kronborg and pay a toll to access the waters.
Today, Kronborg Castle is one of Denmark's best-known castles due to its setting for Shakespeare's Hamlet. In the play, the town of Helsingør is known as Elsinore which became the English name for the town. It is not thought that Shakespeare himself visited the castle but that one of his actors did.
Visitors have the option of taking guided tours of the castle or navigating the castle through a self-guided visit. Tours run throughout the day year-round and some are included with the admission ticket. There are three tours available and those under 18 have free admission.
Make sure to visit the crypt of Kronborg which is home to the mythical stone statue of Holger the Dane. Legend has it that if Denmark is ever in trouble he will rise to defend the country.
For those who plan to visit during the summer, the castle runs the very popular Shakespeare Festival which hosts live performances of Shakespeare's best-known plays.
The easiest way to reach Kronborg Castle from Copenhagen is by car. It is around a one hour drive from Copenhagen city center. There is ample parking at the castle which is a short walk from the car park.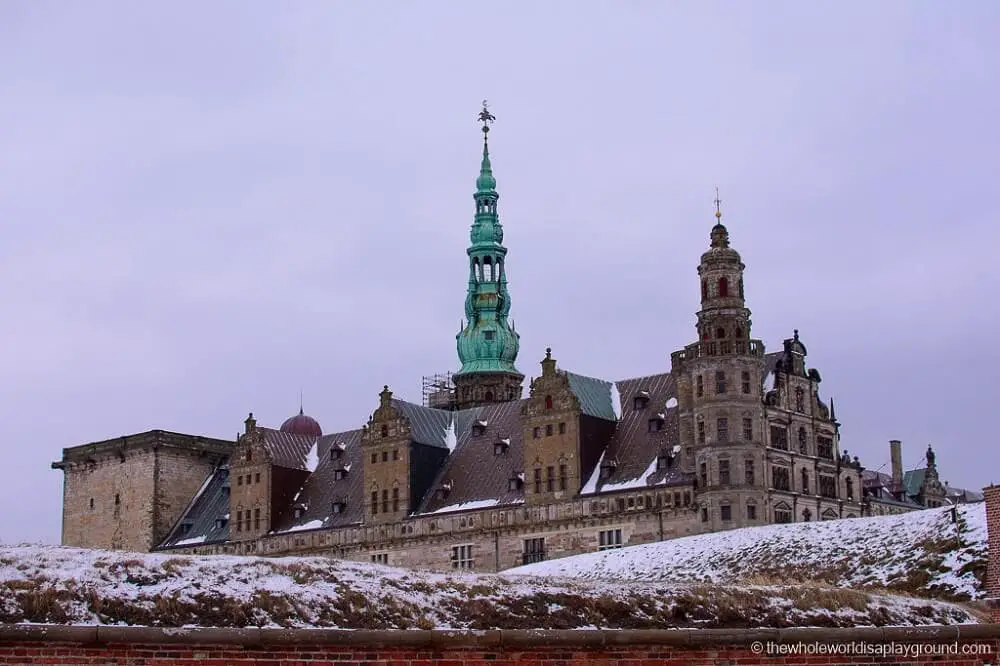 Dragsholm Castle
By Derek and Mike of Everything Copenhagen
One of the most interesting castles to visit in Denmark is also a perfect day trip from Copenhagen. It's called Dragsholm Castle and it's located a little over an hour's drive from the city center. You can also reach Dragsholm by transportation which is a longer journey to the coastal fort.
Dragsholm Castle is a 13th-century baroque fort with a fascinating history. It was built by the former Bishop of Roskilde but became property of the Danish King during the Reformation.
Over the years it has been leveled by the Swedish and rebuilt. It was used as a noble-class prison and even held the third husband of Mary Queen of Scots, The 4th Earl of Bothwell.
He's said to still haunt the premises and is reportedly riding through the courtyard with a full horse and carriage in spirit form. 
Two other spirits are said to haunt the castle, a gray lady and a white lady. Psychics and witnesses have recorded the activity and it's a popular place to visit in the autumn months before Halloween.
If you visit Dragsholm Castle hoping for your own paranormal experience you can book a room at the castle for an overnight stay.
In modern times it's been converted to a hotel with a Michelin restaurant and beautiful facilities on the North Sea coast.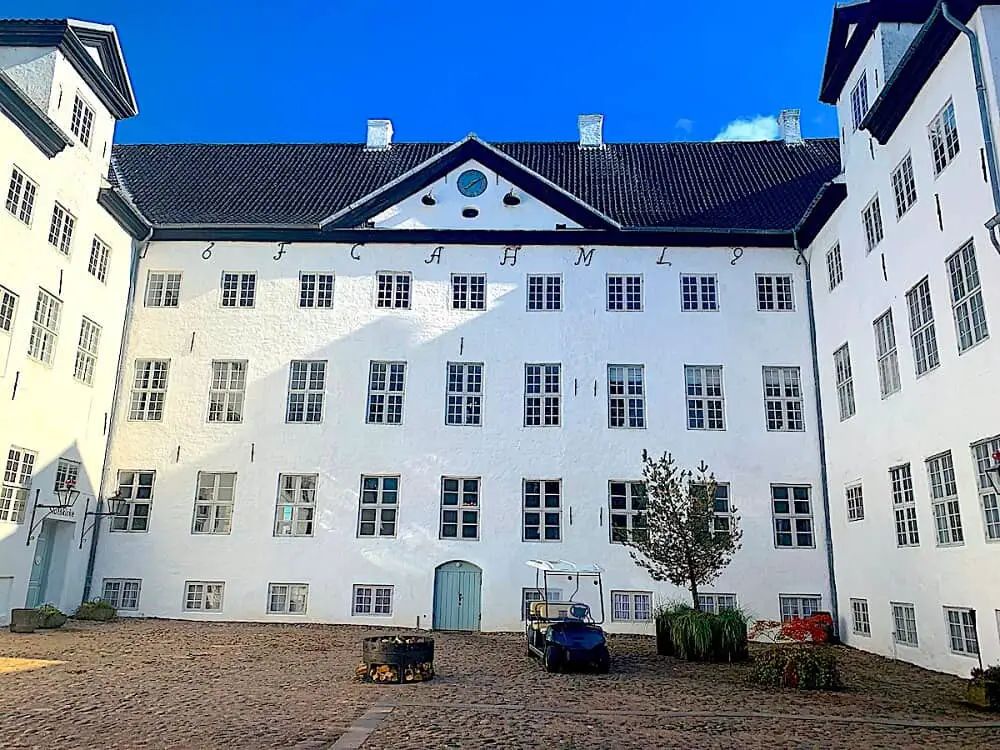 Conclusion on Copenhagen day trips
There is no doubt there are great day trips from Copenhagen and they are all easy to explore with the great public transport network the city has to offer.
To make the most of the Copenhagen day trips and to make the most for the environment, bring a reusable water bottle so you avoid buying plastic bottles.
Denmark is also a clean, environmentally friendly country so make sure you use the trash bins where you find them and if there is none around, bring it with you until you find one.
No need to say, the Danish people (and the Swedish, if you happen to go on a day trip to Sweden) are extremely friendly. Respect them and be friendly in return so that they will enjoy your visit as much as you enjoy bein gthere.
---
You might also like: Best sustainable backpacks for eco friendly travelers
---
I hope you found a few great Copenhagen day trips in this post. Happy travels!
Pin it for later!