Copenhagen is a great city to spend some time in. It is bike friendly and relaxed while it still has everything you want from a city.
You can fill your Copenhagen itinerary with plenty of fun things to do. However, if you stay for a while, you should check out some fun weekend trips from Copenhagen to see more of the country.
Denmark has such an incredible diversity, so I reached out to a few of my travel blogger friends to give you some of the best long-weekend and weekend getaways from Copenhagen.
Get ready to explore endless sand dunes, idyllic vineyards (yes you heard me right!), super cute old towns, jaw-dropping cliffs, and even the neighboring countries.
Disclosure: This post may contain affiliate links. That means that if you make a purchase through one of those links, I will get a small commission at no extra cost to you.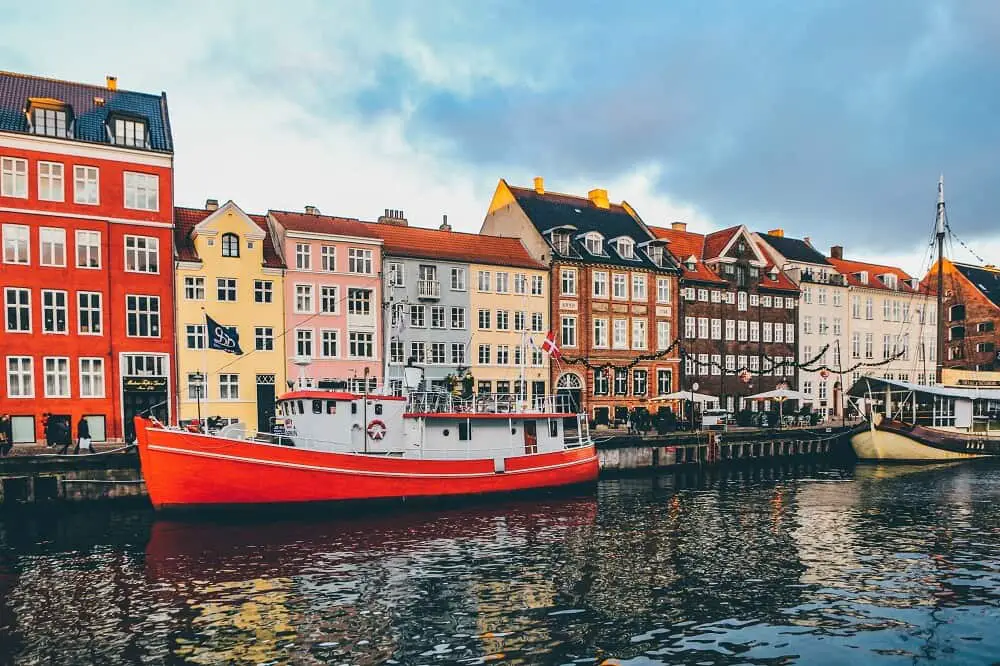 How to get around Denmark
Denmark is easy to get around, much thanks to a well-functioning network of public transport, but also well maintained roads.
Car
Traveling around Denmark by car allows you to be much more flexible when it comes to places to go, when to go, and where to stop on the way. Personally, I love traveling around Denmark by car with the freedom it gives. You can also easily combine it with ferry trips that can save you quite a lot of time on your journey. Denmark has right hand drive.
---
---
Train
The main train station in Copenhagen is Copenhagen Central Station and a great starting point for many of the weekend trips from Copenhagen.
---
---
Bus
The main bus station in Copenhagen is Copenhagen Ingerslevsgade Bus Station. It is not a complex like you might expect, but a modest stop just behind Copenhagen Central Station. From here you can find buses to most destinations.
You can buy tickets on ticket machines inside Copenhagen Central Station.
---
---
Ferry
With that much water around and between, Denmark is well commuted with ferries too, and some drives can be cut with a fair bit of kilometers by taking the ferry.
Weekend trips from Copenhagen
I've split it into weekend trips and long weekend trips as some of these go to the neighboring countries and you'll get much more out of them if you stay longer. However, they are absolutely doable within the weekend too.
Aarhus
Aarhus is an incredibly charming city for a weekend trip from Copenhagen. You can get there by car and ferry in just over 3 hours. Drive from Copenhagen to Sjælland Odde where the ferry leaves. It's only over an hours drive and the ferry is 75 minutes. There is also a bus-ferry combination that goes from Copenhagen Ingerslevsgade Bus Station.
Aarhus har a beautiful coast line and if the weather allows it, you can go for a refreshing swim.
One of the highlights in Aarhus is Den Gamle By which is a huge open air museum with 75 authentic structures. You can experience the life in Denmark from the 18th Century until the 1970s and get a true insight in Danish social history.
Not too far from Den Gamle By you find Aarhus Botanical Garden that includes a really cool tropical house with different tropical plants and fictional animal sounds to top up the experience. Other than that, there are different areas that resembles different natural areas in Denmark.
Worth seeing is also the Aarhus Domkirke, originally from the 1200s that god a Gothic facelift in the 1400s. The inside is full of mesmerizing frescoes.
Musikhuset Aarhus, the Concert Hall, is the most important piece of modern architecture in Denmark and was built in 1982. Check out what's on and maybe you can join a fun concert during the weekend!
To get around in Aarhus, you can either walk or you can pick up a free bike from one of the bike stands around the city. It's a truly delightful city to be in and a perfect weekend trip from Cpoenhagen!
Where to stay: Hotel Royal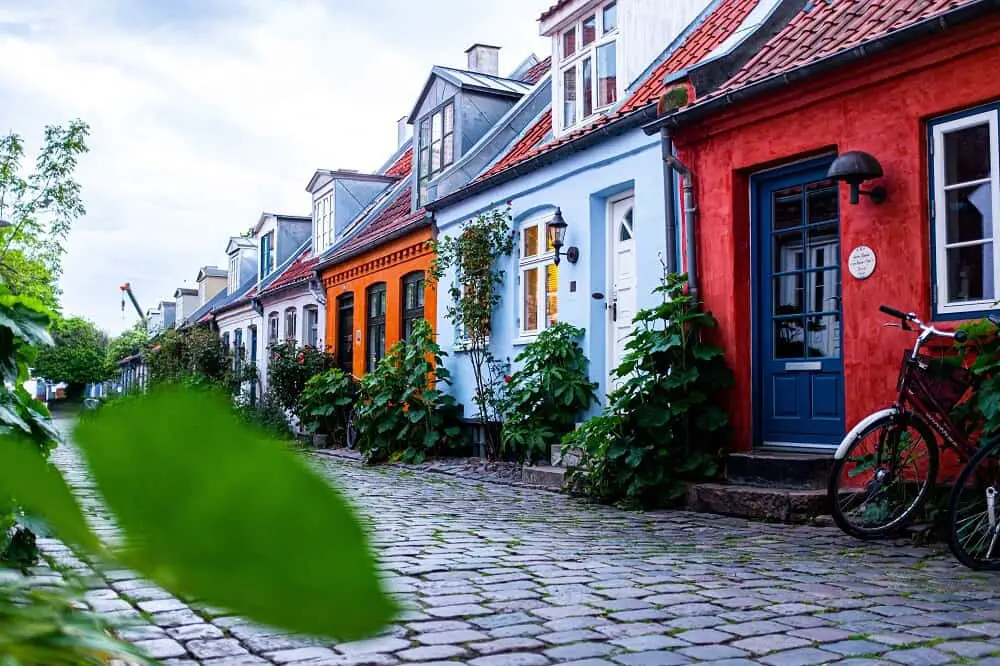 Skagen
By Nick of The Danish Nomads
Skagen is the name of a small town located at the northernmost point of Denmark. It's an interesting town, but the real draw is the unique natural landscape surrounding it.
You'll see things that can be found only a few other places in Europe, and certainly nowhere else in Denmark. This especially goes for Raabjerg Mile.
Found just outside Skagen, this is the largest migrating sand dune in Denmark and it's definitely an impressive sight. Walk all the way to the top for immense views of the flat surrounding landscape.
Visiting Skagen, you'll soon realize why there are so many sand dunes in the area. There is a lot of wind coming in from the Atlantic sea to the west, so the air feels incredibly fresh.
The wind is usually not a major problem, though, because Skagen is also statistically one of the sunniest places in the country.
Hopefully, during your own visit, you'll be able to take a long walk in the sunshine on one of the beautiful beaches found up there. If you're lucky, you may even spot a seal frolicking on the golden sand!
Skagen is quite far from Copenhagen, over 400 km in fact, but it's well worth the trip. Rent a car and expect a 5 hour drive.
Consider stopping over in Aarhus on the way, the second largest city in the country, and/or breaking up the trip by taking the "Molslinjen" ferry some of the way. It'll save you 200 km on the road.
Where to stay: Hotel Marie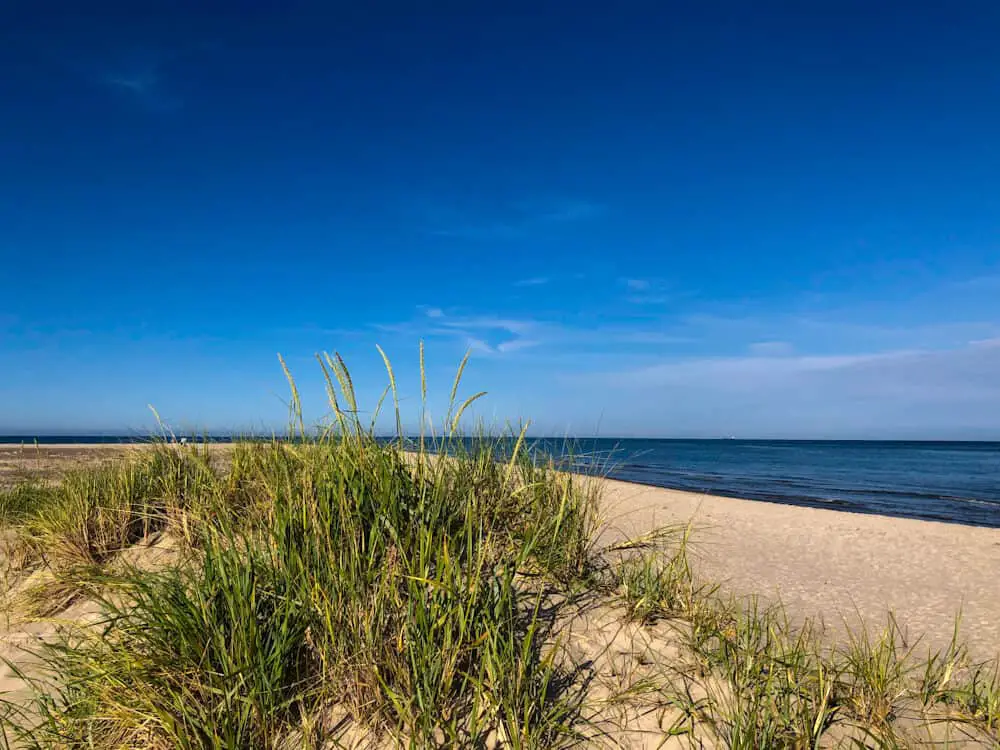 Møns
By Mike and Derek of Everything Copenhagen
A perfect weekend getaway from Copenhagen is the gorgeous island in the southeast of Denmark, Møns. The island is quaint, serene, and a brilliant destination to escape city life for some laid-back relaxation by the sea.
Møns is a quintessential small town in Denmark and is full of charming boutiques, cafes, and restaurants. The enchanting town is most known for its natural landscapes, most notably the white chalk cliffs of Møns Klint. 
Møns Klint is a bit of a hidden gem in Denmark, in fact when you visit, you will barely feel like you're still in the country. The cliffs formed millions of years ago as glaciers receded and the steepest slopes drop 120 meters into the Baltic Sea. 
There's a lot to do in the area which is surrounded by woodlands, ponds, and rolling hills. Møns Klint also included a GeoCenter for science exploration and fossil exhibits that were recovered in the cliffs.
The hiking along the 6 km cliff face is among the best in the country and includes well-cleared trails and boardwalks to ascend and descend the face of the cliffs.
Besides hiking, take to the water and consider a sailing or diving excursion in Møns. The island is famous for both activities and you can book sailing and diving trips in town.
There are hotels and rental properties as well as several campgrounds and glamping facilities to plan your weekend accommodations in Møns.
Where to stay: Klintholm Bed & Breakfast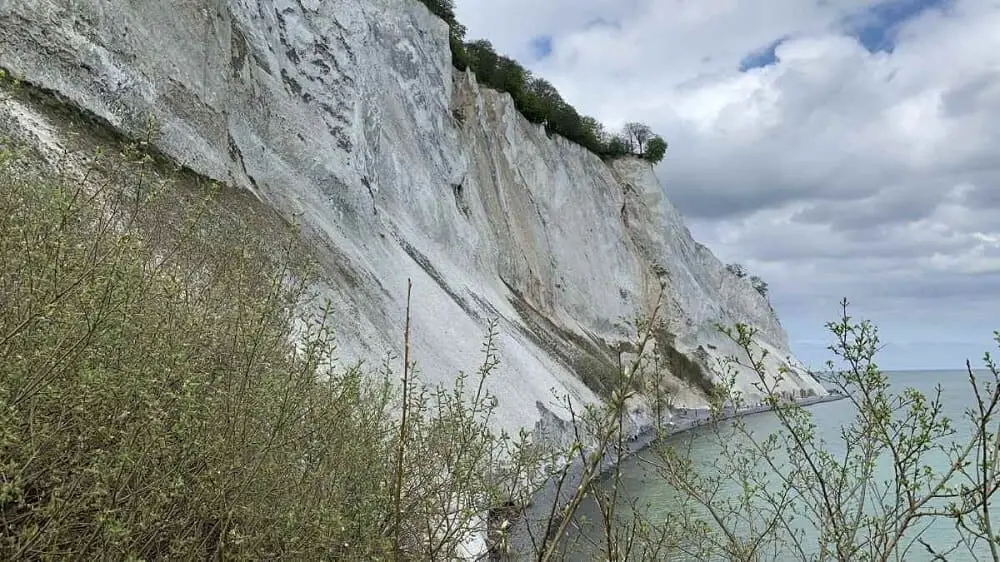 Ribe
By Cathy of Mummy Travels
Denmark's oldest town dates back around 1,250 years and Ribe is easily one of the prettiest spots in the country – reason enough to travel from Copenhagen in the east to Jutland in the west. Just over three hours by train or car, the journey takes you right across Denmark.
Wandering the cobbled pedestrian center of Ribe, brightly painted buildings and crooked little historic houses lining the winding streets, it's hard to believe it was once home to a tenth of the country's population.
For somewhere with so much history, there's no better introduction than taking the free Night Watchman's tour to find out more: the post used to be a genuine one, with watchmen helping keep the peace for centuries until the official duties ended in 1902.
Now, the 45-minute walking tour takes you past the imposing cathedral and some of Scandinavia's oldest buildings – including the oldest school – as well as the City Hall, and one famously crooked building.
Take a look inside the cathedral, where you can climb the tower, or grab an ice cream and stroll the streets, spotting waterwheels in the river and huge old doors in 16th century buildings off the main square.
Don't miss the Ribe Vikingecenter, just outside the town, which is based on three genuine archaeological sites, to show how a farm, a town and a marketplace would have looked in Viking times. You can see crafts made using traditional methods, and visit houses, the painted church and a sacred bog.
Where to stay: Den Gamle Købmandsgaard Bed & Breakfast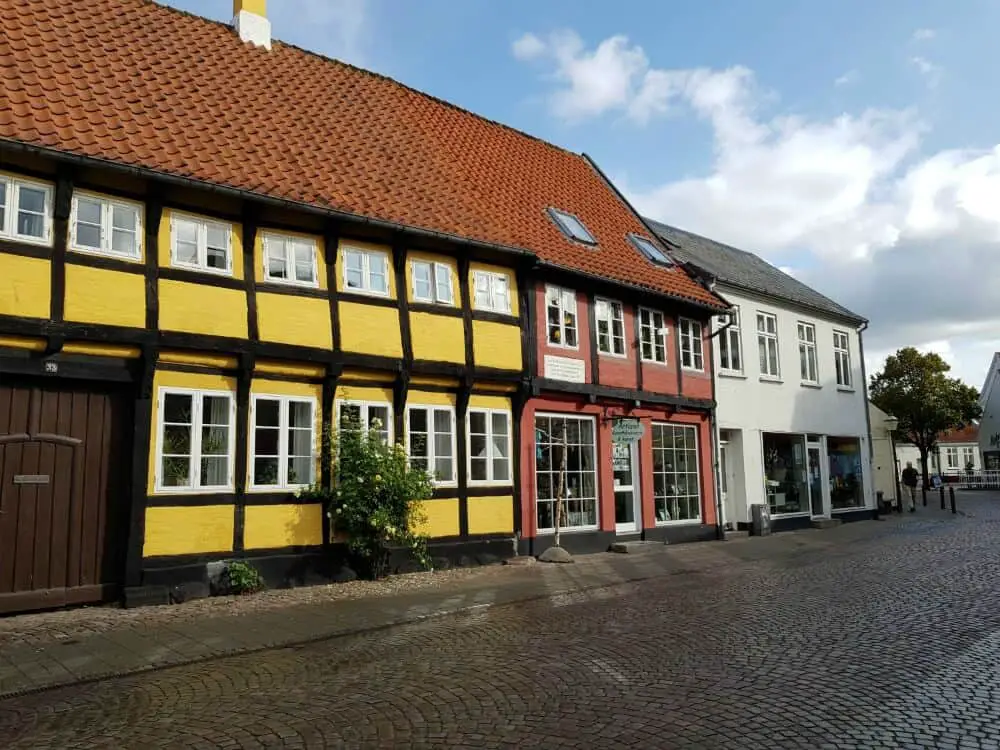 West Zealand
By Derek and Mike of Robe Trotting
One of the best weekend trips from Copenhagen is to visit the Danish wine country. It may not be the obvious destination for a wine trip, but there is a blossoming cold-weather wine industry in the Nordics. You'll love spending a weekend in the countryside for a Denmark winery getaway.
One of the best places to book a Danish wine weekend is the Røsnæs peninsula on the west coast of Zealand. It's about a two hour train ride from Copenhagen and an area of Denmark that receives an extra 100 days of sunshine per year.
This micro-climate has become one of the world's emerging wine producing regions and has four vineyards within 15 kilometres along the gorgeous coastline.
The largest of the four vineyards is Dyrehøj, where you can book a tour, tasting and have lunch or dinner at their restaurant.
The Røsnæs peninsula is full of sweeping views of the Kalundborg fjord, fields of wild flowers and well-planned bike lanes. Cycling around the peninsula from vineyard to vineyard is the perfect way to spend a weekend outside of Copenhagen.
A retreat to the natural landscape of the Danish countryside is unbelievable. Combine that with wine tastings at picturesque vineyards and your weekend is complete.
Where to stay: Kongsgård Bed & Breakfast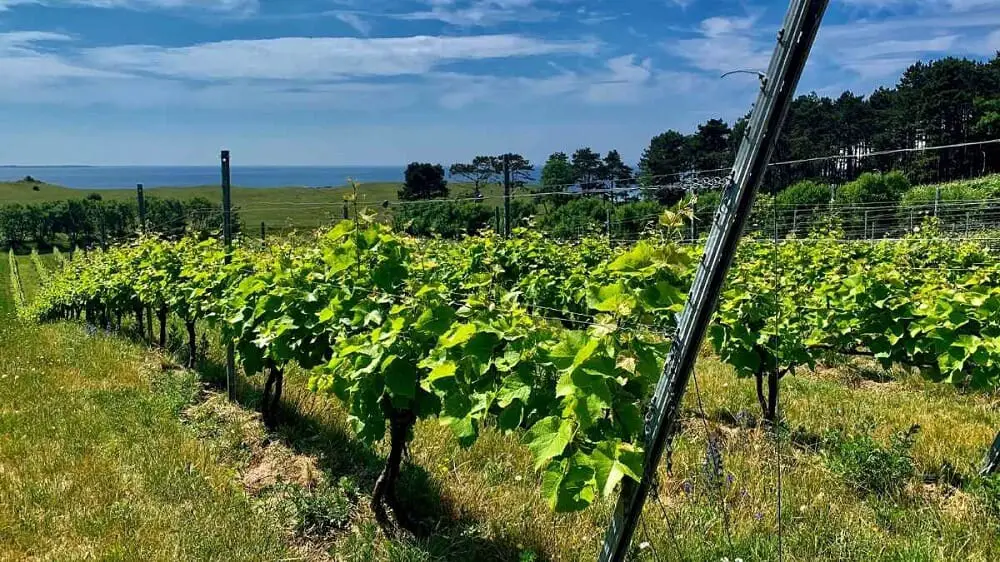 Long weekend trips from Copenhagen
Oslo, Norway
By Megan of Megan Starr
One of the best long weekend getaways from Copenhagen is the Norwegian capital city of Oslo.  While it may seem far and a bit remote compared to Copenhagen, Oslo is rather easy to get to by boat (or even bus or train!). 
There are ferries running to and from Oslo on a daily basis and it is a rather popular trip for Norwegians to make the trip to Denmark to take advantage of the duty-free shopping on the ferry. 
However, going the reverse route will allow a different experience for those living in Copenhagen.  Sure, Oslo has higher prices, but the nature opportunities in Oslo and its surrounding areas are incredible and deserve a visit. 
Alternatively, take the train to Oslo from Copenhagen and make a stop in Gothenburg, Sweden if you have extra time!
Summers in Oslo are pleasant but can be a bit crowded. Visit Oslo in winter or the shoulder season and you'll find stunning autumn colors, spring flowers, or a city doused in snow with endless cross-country skiing opportunities. 
Oslo is one of the few cities that you can take the subway (t-bane) right up to places where ski trails exist. 
After a day out in nature, there are many other opportunities to keep one busy such as visiting SALT (an art and cultural project right on the fjord across from the Operahus), having a bite to eat at Vippa (food hall), or hanging out at one of the cool bars in Oslo like HIMKOK or Torgata Botaniske.
While Copenhagen is a place where one can feast, Oslo offers a different experience and one will certainly come away raving about how cool of a city Oslo is.
Where to stay: Camillas Hus
---
---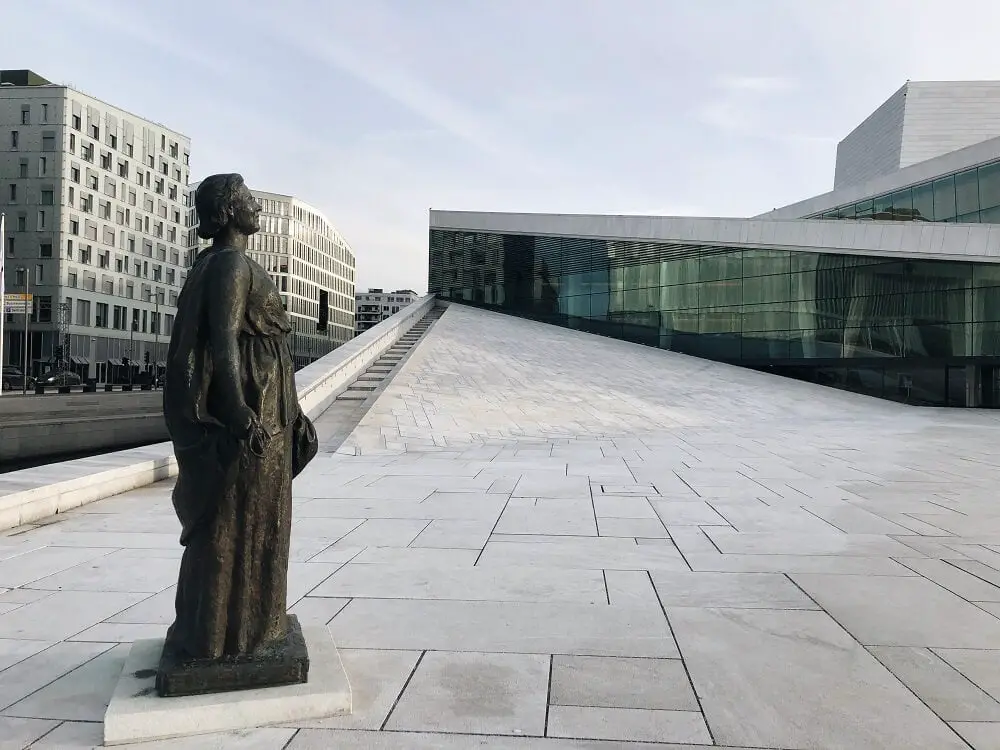 Fjallbacka and Weather Islands, Sweden
By Melissa of Parenthood and Passports
The west coast of Sweden is one of the most relaxing places to go for a long weekend trip from Copenhagen. Less than 5 hours north of Copenhagen, you'll find the quiet village of Fjallbacka, one of the most beautiful places to visit in Sweden.
The small fishing village with less than 1,000 residents is a popular summer destination for many in Scandinavia and northern Europe.
It is famously known as the fictional setting in Camila Lackberg's best-selling crime novels. Literary fans of Lackberg flock to the town each year to see some of the real sites depicted in the grizzly, fictional novels.
The town has capitalized on the popularity of the books by offering murder mystery tours throughout the city. The one-hour walking tour highlights some of the spots showcased in the books and provides some history and background on the town itself.  
After learning about the village, head to the Kungsklyftan, or King's Cliff, for a fun, scenic hike through a narrow canyon with massive boulders suspended above between the canyon walls.
The short trek takes you to the top of a rocky hill where you'll have panoramic views of the Weather Islands.
The islands were once believed to be uninhabitable, and most of the 365 islands that make up the archipelago remain that way. However, you can visit and even spend the night on one of the rugged islands.
Accessible by a 30 minute ferry ride from Fjallbacka, a trip to the Weather Islands is a great way to round out your weekend and connect with nature.
Where to stay: Villa Evalotta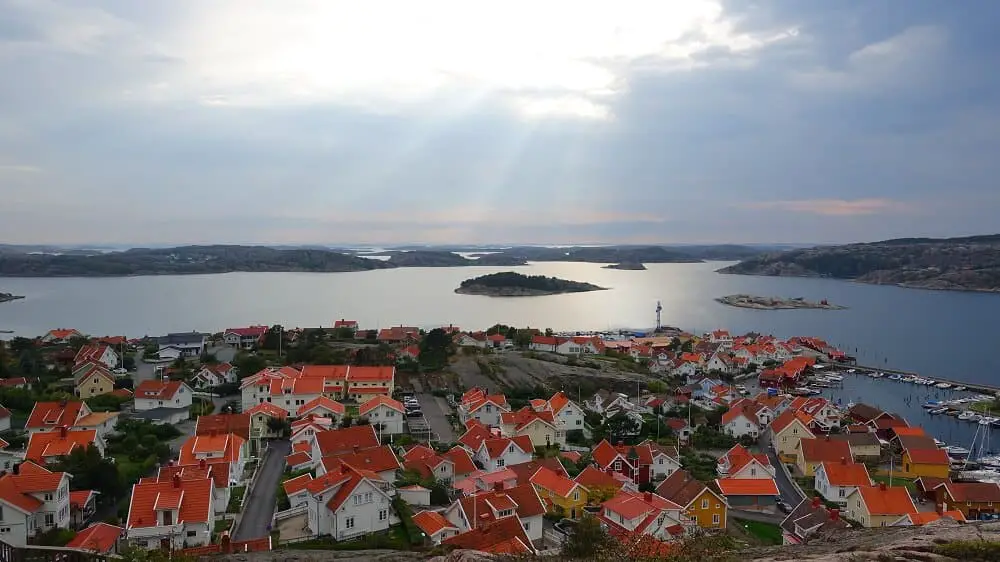 Hamburg, Germany
By Manpreet of Your Vegan Adventure
Located just 5 hours by rail from Copenhagen is the popular city of Hamburg. With many departure times every day, the journey takes about 4 hours 30 minutes, with the first train heading out before 8am.
There are many popular tourist locations in Hamburg, as it's famously known for its commercial routes into Europe. Speicherstadt, or the Warehouse City, is recognized as a World Heritage Site due to its importance in history.
The beautiful red brick buildings are now home to residents with the famous canal flowing through it. Oh, by the way, did you know Hamburg has the most bridges of any city in the world? Approximately 2,500 of them!
One of the most iconic buildings in Europe and something you may never see anywhere else in the world, is the Elbphilharmonie. This is a beautiful concert and opera hall which has been built on top of an old warehouse!
After spending the days sightseeing, head over to Reeperbahn, which is a popular street for nightlife with many clubs, bars and restaurants.
Where to stay: Lindner Hotel Am Michel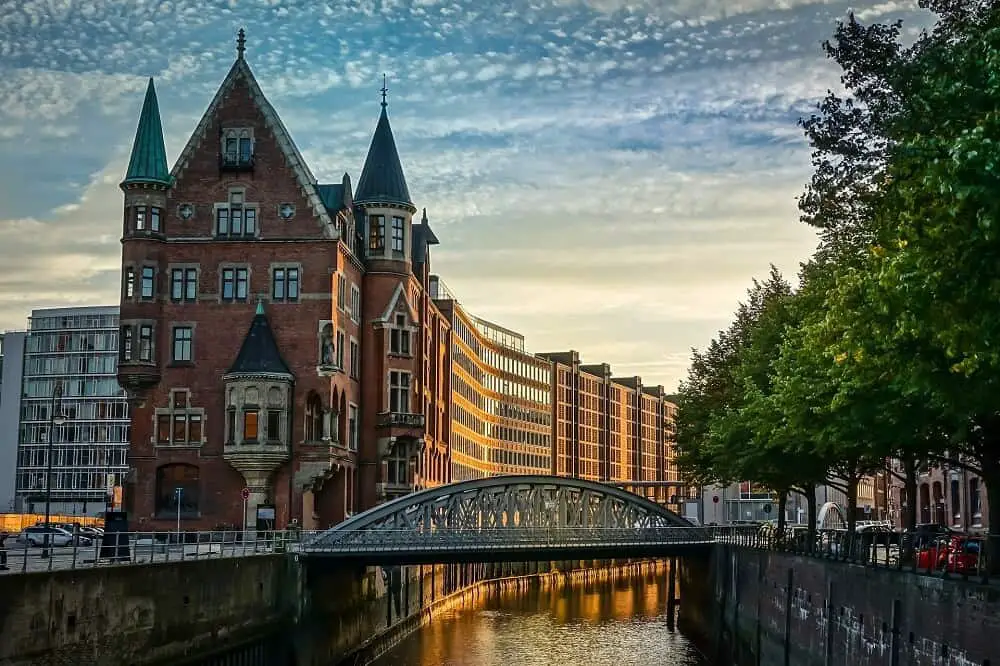 Be respectful during your weekend getaway from Copenhagen
When you go on weekend trips or day trips from Copenhagen make sure you act like a visitor and respect the people and nature as well as animals to make it a pleasant trip for all parts involved.
Some rules of thumb that can be good to keep on hand are:
Respect the local norms
Be friendly to people you meet
Walk or cycle around your destination when possible
What is your experience with Denmark? Let me know in the comments!
Pin it for later!