The popular capital in the Netherlands sees unimaginable amounts of tourists every single day and there is no arguing that overtourism takes its toll on the locals.
But does that mean you should not visit Amsterdam? Not at all. But you should definitely think about your motivation to go there and consider How you travel there.
With this 2 day Amsterdam itinerary you'll get the guidelines you need to be a responsible tourist when visiting this amazingly beautiful city.
With charming canals, Dutch Baroque houses that look like they come straight out of a movie, and the accessibility to explore the city by bike are all reasons to fall in love with Amsterdam.
The astounding city brings travelers back and back again. And not only because of the coffee shops and free use of cannabis. Before we look at how to spend 2 days in Amsterdam, let's go through some practical tips.
Disclosure: This post may contain affiliate links. That means that if you make a purchase through one of those links, I will get a small commission at no extra cost to you. As an Amazon Associate, I earn from qualifying purchases.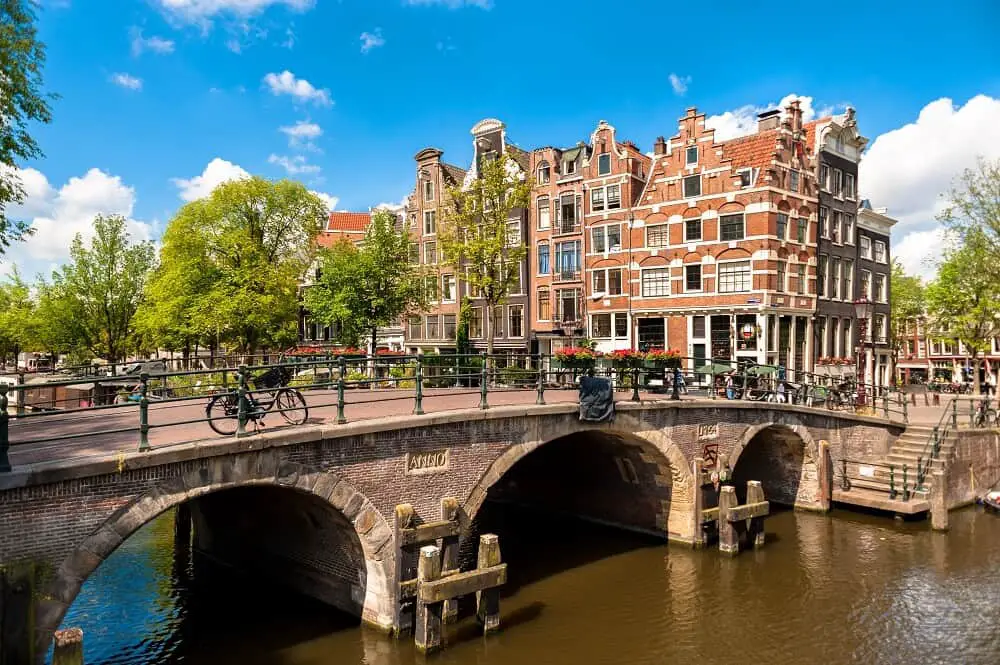 What to consider before traveling to Amsterdam
First of all, I want you to think about why you want to go to Amsterdam. The locals are getting exhausted by overtourism. There is also a large amount of weed tourism that is taking over their coffee shops and streets.
Imagine if you couldn't go to your local coffee shops anymore because they were packed with wasted travelers. If this is your Only reason to go to Amsterdam, maybe reconsider if you can stay at home doing your business instead or at least go outside of the peak season.
The good news for the locals is that Amsterdam is considering banning tourists from entering cannabis cafes as a strategy to control mass tourism and protect the inhabitants.
Amsterdam has for years encouraged tourists to go elsewhere and it's a direct result of bad tourist behavior (in great numbers), reckless drunk tourists taking over the streets, showing disrespect in the red-light district, and literally puking all over people's doorsteps.
Luckily, guided tours through the red light district are being banned and the city has doubled the tourist hotel taxes, and they prevent new tourist shops to open. The city has in general taken several steps to make it a more sustainable tourist destination.
So think for a moment, what are your reason to go to Amsterdam, and will you respect the locals when you go?
If you're happy with traveling respectfully to Amsterdam, I'm happy to share my Amsterdam 2 day itinerary with you. And if you have a few more days, you should also go on a few day trips from Amsterdam to explore more of this amazing country.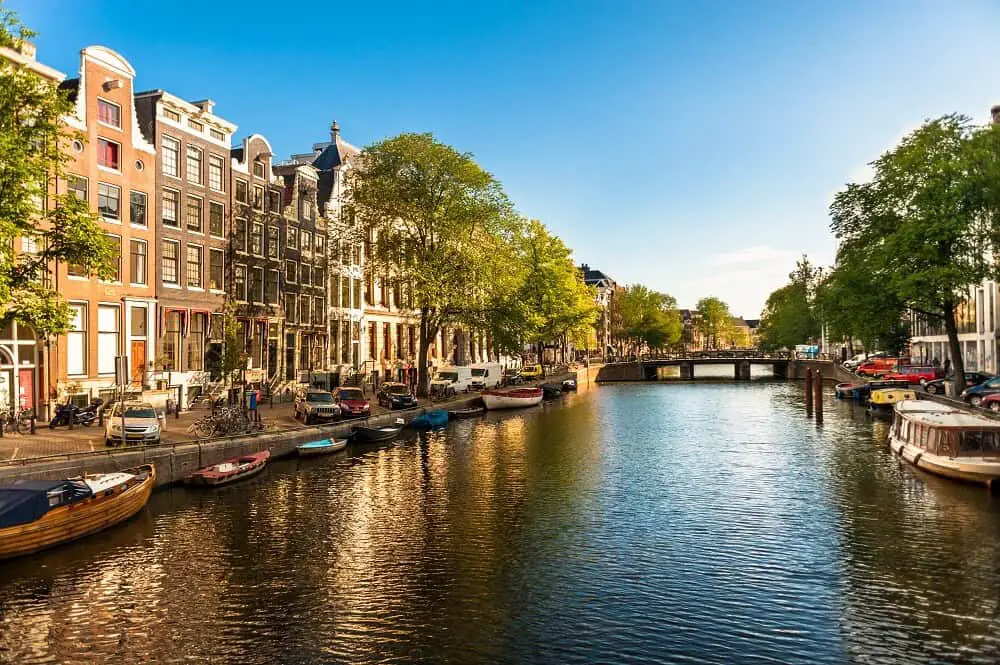 How to get to Amsterdam
Amsterdam is a major hub in Europe and it is easy to get to by plane, train, bus, and car. So here is how to get to Amsterdam.
Amsterdam Airport Schiphol
The main airport is Amsterdam Airport Schiphol, and most international flights land there.
From Schiphol Airport, you can get to Amsterdam city by train from platforms 1 and 2 at the train station which is located below the airport. It only takes 17 minutes from the airport to Amsterdam Central station.
You can buy train tickets online here or at the big yellow vending machines at the train station.
Alternatively, you can take the bus. You have the Amsterdam Airport Express (line 397), which departs from platform B15-B19. It takes 30 minutes and leaves you at Museumplein (Museum Square).
You can buy tickets online here or by card on the bus.
There are also taxis which charge between 45-60 Euros to the city center, depending on the traffic. Without much traffic, you can get into the city center in about 25 minutes.
If your stop in Amsterdam is part of a road trip around the Netherlands and you're picking up a rental car, I recommend you find a hotel with free parking included, as it can get expensive parking in Amsterdam city center for 2 days. Another option to save money is to pick up your rental car when you leave Amsterdam.
Rent a car here.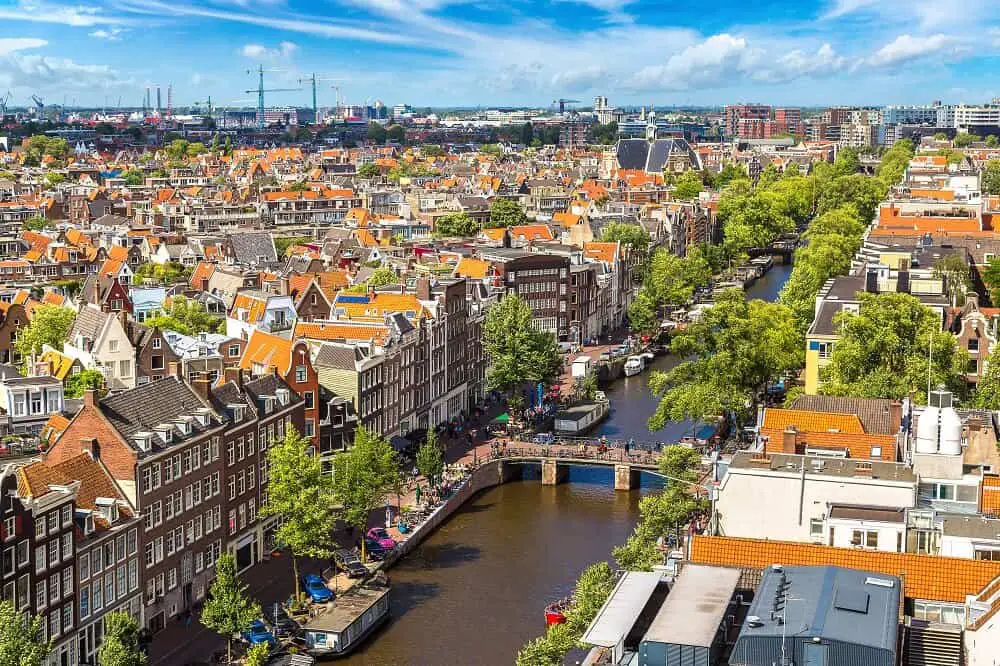 Amsterdam Central Station
If you arrive in Amsterdam by train or bus, chances are you'll arrive at Amsterdam Central Station, the main transportation hub in the city.
From here, you can continue by bus, boat, tram, or metro into any part of Amsterdam city center.
---
YOU MIGHT ALSO LIKE: What to do in Gdansk Poland: A complete city guide
---
Responsible travel insurance
Make sure you don't forget to get travel insurance. To make the most of it, make sure you buy travel insurance that has a good insurance policy that covers what you need and one that's socially responsible.
World Nomads travel insurance is all of that. You can add everything you need to cover in your insurance, but you can also give back when you buy insurance.
They support sustainable development projects around the world and you can give a micro-donation to a project of your choice. They also educate about responsible tourism on their site.
Book travel insurance with World Nomads here.
How to get around Amsterdam
Amsterdam is a very walkable city and you can easily put on some good walking shoes and walk everywhere on this 2 day Amsterdam itinerary.
Other than walking, it's popular to cruise the city by bike. But boat, bus, tram, and metro are also options to consider if you get tired of walking and just want to enjoy the view out of the windows.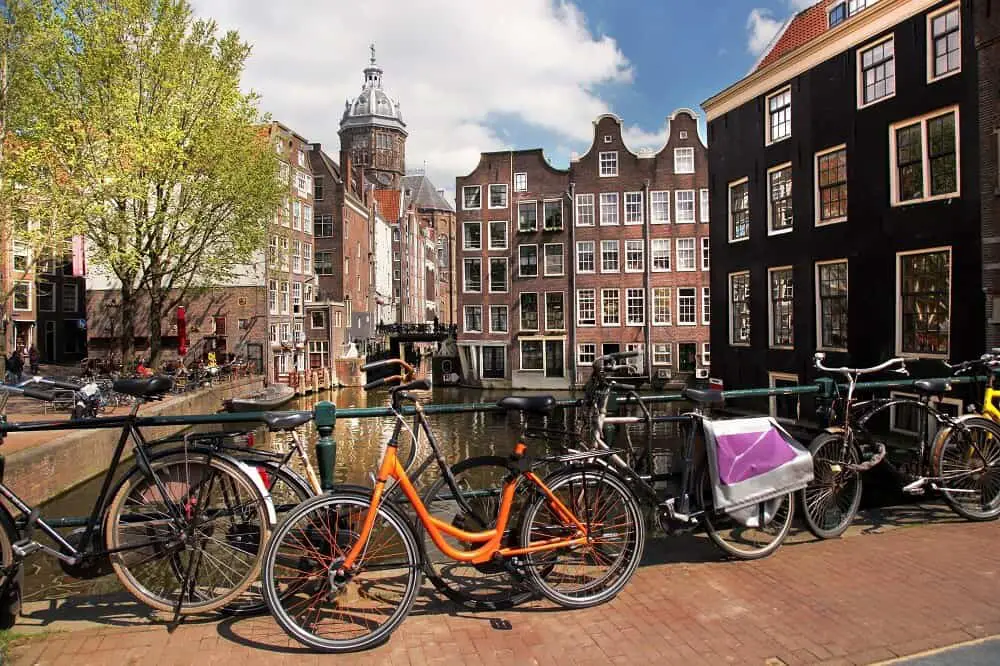 Where to stay in Amsterdam
There is a myriad of hotels to choose from in Amsterdam but I've narrowed it down to a couple of centrally located hotels that are really great.
Hotel Estheréa
This cute hotel is situated centrally along the Singel Canal close to Dam Square, yet in a quiet area. The colorful boutique-style rooms are perfectly decorated and with canal views. They serve breakfast, room service, and have a bar.
The hotel has private parking too, if you travel to Amsterdam by car.
Hotel Luxer
Surrounded by bars and restaurants in the city center, Hotel Luxer offers clean, modern rooms, breakfast, and a bar. They also have facilities for disabled guests. The perfect location if you want to be where things happen.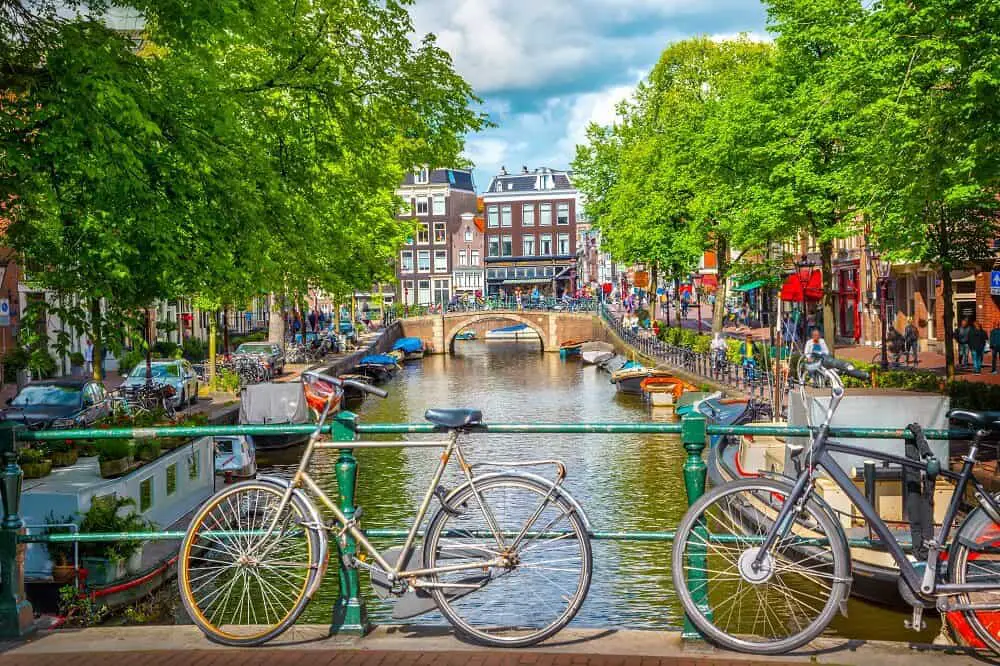 ---
RELATED: Best weekend getaways from Amsterdam
---
2 day Amsterdam itinerary
Whether you spend a couple of days or a weekend in Amsterdam, there are a lot of things to do. It can be daunting to figure out what to do in Amsterdam in 2 days as it's a city that deserves so much more time.
I've narrowed this Amsterdam itinerary down to get the best of the city but still get enough time to enjoy being there and wander around the streets taking in the city vibe.
I do recommend you get up early, though so you don't have to stress. And just a heads up, make sure you're not hangover on day 2 as it starts with a canal cruise.
Day 1 – Dam Square – The 9 Streets – Markets – City views
Dam Square
After breakfast, start your 2 day Amsterdam itinerary by going to Dam Square. this is in the heart of Amsterdam and a place where there's always something going on from street performers, artists, and even demonstrations. It's a melting pot of tourists and locals rushing in all directions.
Go for a stroll on the square and check out what's going on the day you're there. Stop up and soak in the energy of everything around you. The Royal Palace of Amsterdam is situated on one side of the square and the National Monument on the other side.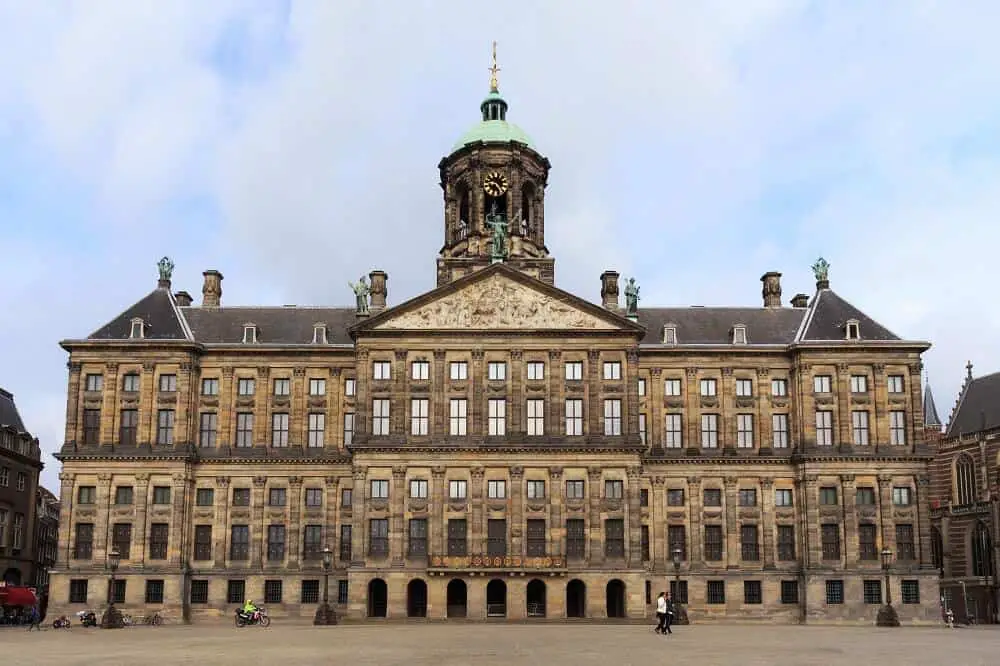 Head to The 9 Streets (De Negen Straatjes)
Take the walk from Dam Square to De Negen Straatjes, known as The 9 Streets in English. This is a network of 9 picturesque streets along and crossing the canals packed with quirky shops, lovely restaurants, and cafes.
This area is perfect to walk around a couple of hours and have something for lunch before heading to the Flower Market.
Floating Flower Market (Bloemenmarkt)
The Floating Flower Market (Bloemenmarkt) in Amsterdam is the world's only floating flower market and it's a wonderful place to look around and maybe even buy some seeds to plant your own flowers at home.
It's quite a long market so you can spend anything from half an hour to an hour here – or even longer if you're passionate about flowers.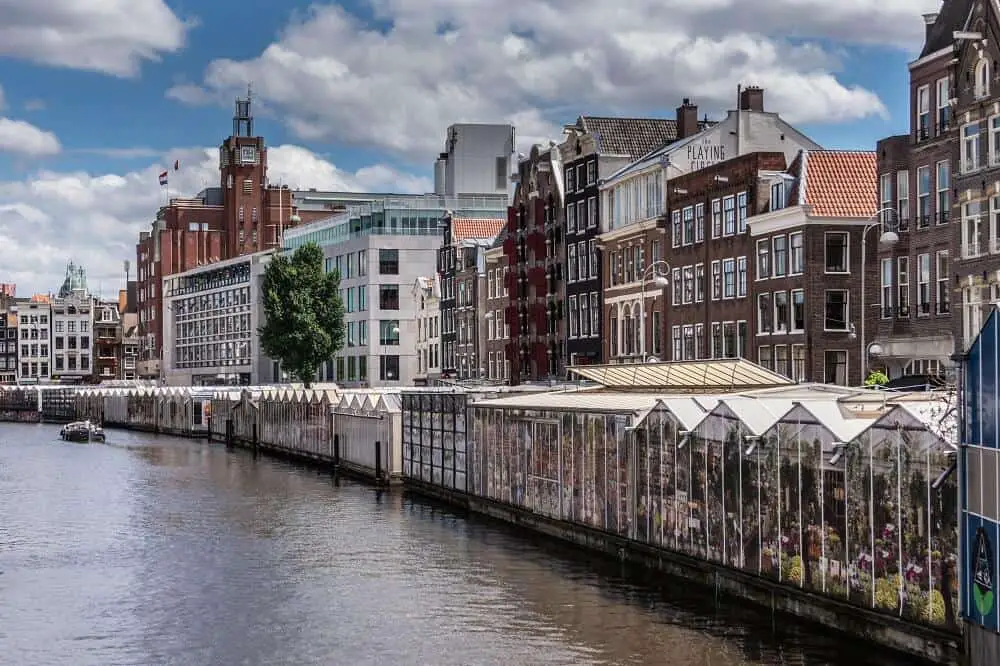 Waterlooplein Flea Market
Head to Waterlooplein Market, the country's oldest flea market a short walk from the Floating Flower Market, and get lost among the 300 stalls with anything from antiques to the latest fashion for a cheap price.
The world famous market hides some pretty valuable items that you can be lucky to stumble across if you take your time. There are also food trucks with tasty street food from different cuisines.
Open Monday to Saturday 09:30-18:00.
A'Dam Tower
Walking to the A'Dam Tower from the Waterlooplein Flea Market takes about half an hour from here. Head to the Centraal Station to take the ferry across the river.
When you get off the ferry, A'Dam Tower is just a couple of minute's walk to your left. The modern observation deck of A'Dam Tower boasts Amsterdam's best views of the port, historical center, and many canals.
At the top, you can even try Europe's highest swing over the edge of the building. This is definitely not for the faint-hearted, but a pretty cool activity and definitely an Amsterdam bucket list adventure!
There is a restaurant and rooftop bar here, so if you're hungry, you can eat, otherwise, you should at least have a drink to these stunning views.
Opening hours is 11:00-19:00 with the last admission at 18:30. You can get more information about pricing here.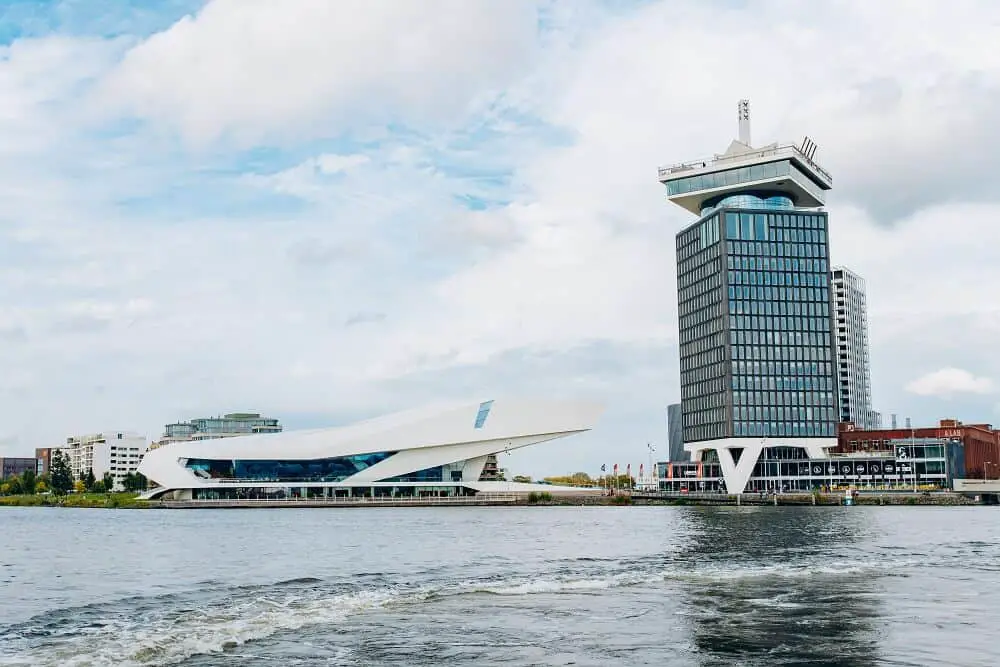 Have dinner and wander the streets at night
If you haven't had dinner yet, head over to the city center again and find a nice restaurant for dinner and spend the night wandering the streets.
Amsterdam at night comes to life in a different way and it's a wonderful city to wander the streets and soak in every impression around you. Have a drink and enjoy one of Europe's most vibrant night scenes.
Day 2 – Canal cruise – Jordaan – museums
Canal cruise
Start the day after breakfast with a canal cruise to see the city from a different angle. Cruising the canals of Amsterdam is one of my favorite things to do in Amsterdam.
I recommend you find a smaller boat with fewer tourists on to get a better experience. If the weather is nice, make it an open air boat if you can.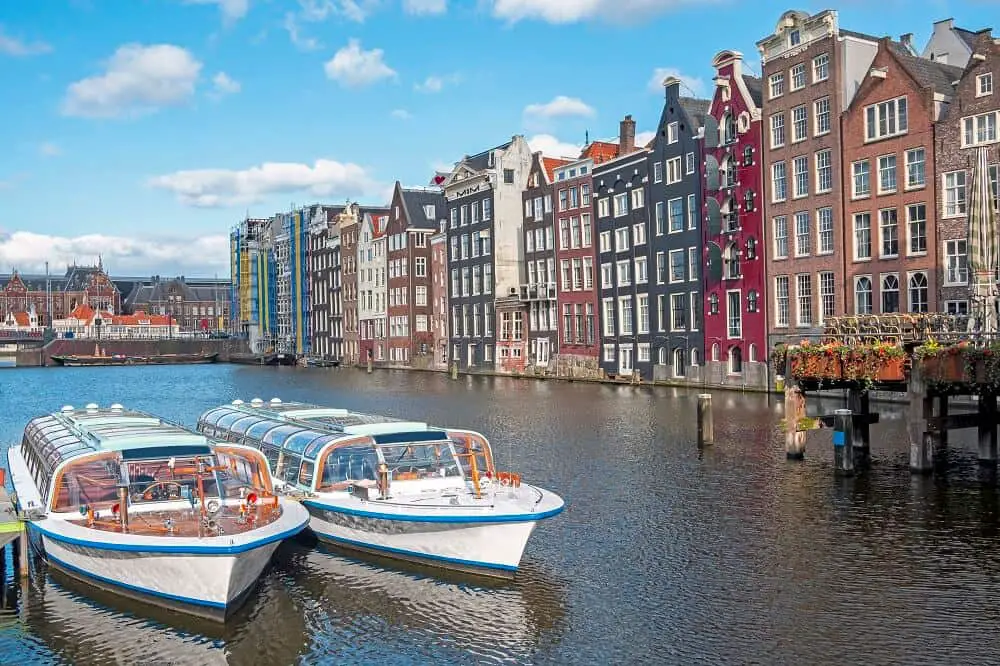 Get lost in Jordaan
After the boat cruise, head to the charming district of Jordaan. Get lost in narrow streets and cross the cute bridges over the canals. Step inside antique shops, unique art galleries, and discover hidden courtyard gardens.
There are tons of cute cafes and restaurants in the area so you'll definitely find a nice spot for lunch here while you wander around. If you find outside seating you can spend the time people watching and soak in even more of the place.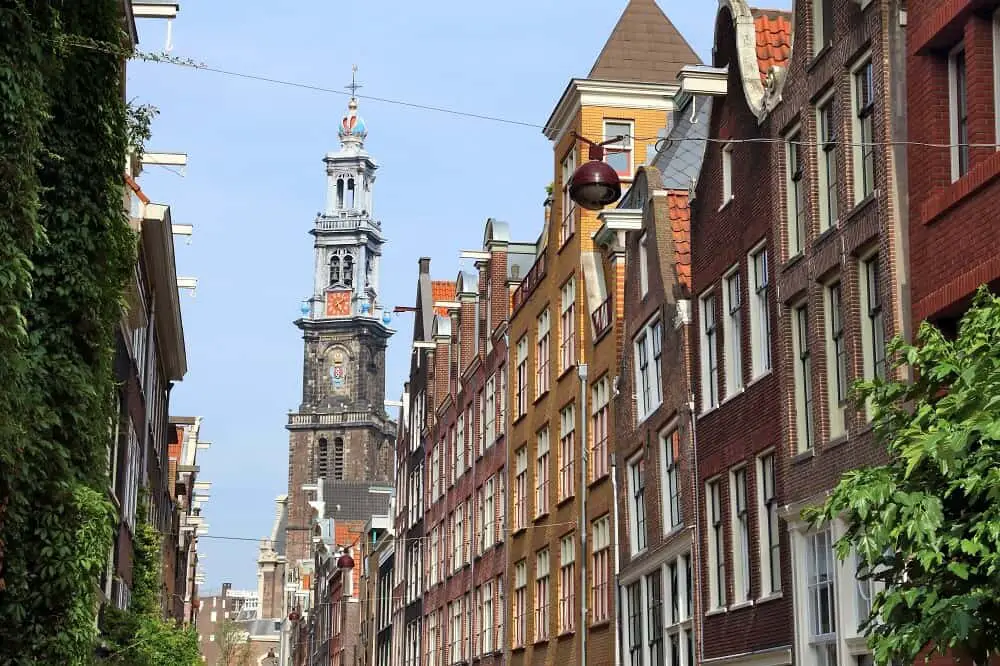 Visit Anne Frank House
Head over to the Anne Frank House to see the house where the world-famous little girl wrote her diary while the Nazis swept across Europe spreading fear and horror.
It does look like a normal, modern museum on the outside but once you enter and get to the back, it's preserved like it was when Anne Frank was hiding from the Nazis during the war.
The queues here are usually endless so I highly recommend you book tickets in advance. You can find prices and updated opening hours on their official website here.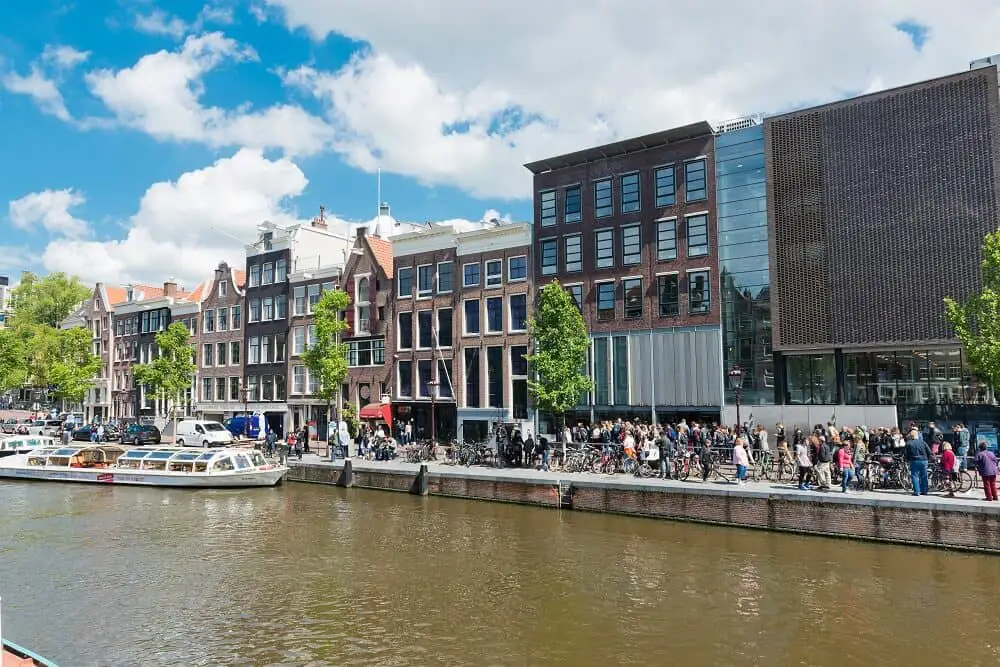 Woonboot Museum
Just a five-minute walk from Anne Frank House you can visit the world's only houseboat museum. It's a pretty fun way to see how it is to live in a houseboat.
In it's early days, the boat, Hendrika Maria, was used as a cargo ship and the skipper lived on board with his family. Originally built in 1914, it was restored and modernized in 2008. As a result of people being curious on the lifestyle and how it is to live in a house boat, the museum was opened.
Dinner in Jordaan
Go for dinner in Jordaan and explore this part of the city by night too. It's so beautiful when the lights turn on at night.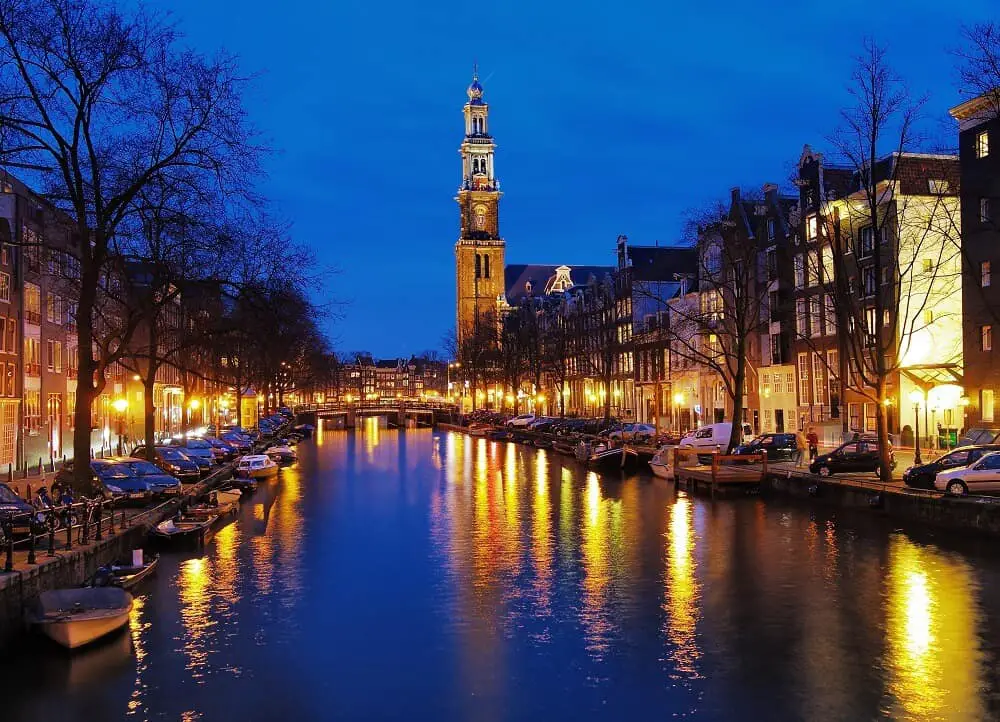 Responsible tourism in Amsterdam
Other than considering your reasons for traveling to Amsterdam, there are a few things you should think about so you act responsibly.
Living in an overtouristed area myself, I know everything about how AirBnB can press out the locals from a place. So choose wisely when finding your accommodation and try to stay in actual hotels when in Amsterdam so you don't contribute to the trend. Luckily, the city is doing a lot of good things to regulate the situation.
Other than that, there are the usual things you should think about everywhere you travel.
bring a reusable water bottle
bring empty containers if you plan on having take-away or street food
bring your own reusable coffee cup for your take-away coffee
bring a reusable straw
use the rubbish bins for what they're meant to
watch your alcohol intake so you don't embarrass yourself and others
show respect to the locals (and other tourists)
shop in local shops instead of international chain shops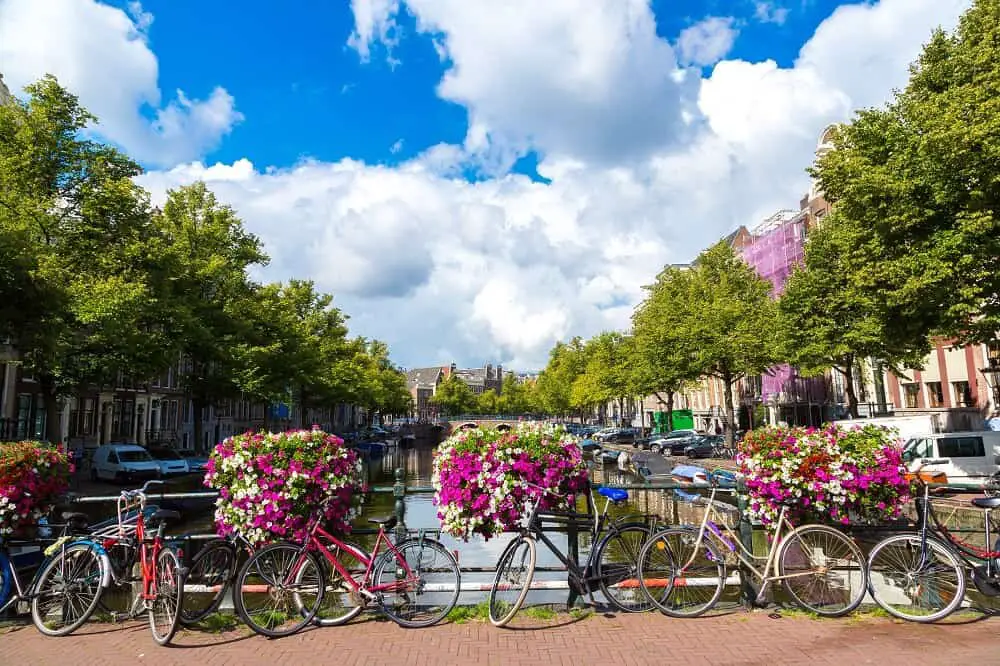 Reflections on this Amsterdam itinerary
There are a lot of things to do in Amsterdam in 2 days, yet there is only that much you can fit in if you want to really experience the city without just running around. Feel free to skip any activities or swap them with others if you prefer.
The most important thing is that you go back home after your Amsterdam 2 day itinerary with a lot of good memories and that you feel that you really enjoyed your stay.
I did mention it above, but if you want to see the Anne Frank House (which I really recommend), you should get tickets in advance as the queues can be painfully long and chew up your whole day destroying your Amsterdam itinerary, and you don't want that.
Finally, have a wonderful trip to this amazing city!
Pin it for later!