Full of mysticism, ancient history, jaw-dropping nature, unique wildlife, and extraordinary cultures, large parts of Asia draw a lot of tourists. As the continent I might have traveled the most through (except Europe because I grew up there) it has really grown on me.
Nonetheless, the continent is so different from place to place and it's hard to just pick one place to travel. So here is the ultimate Asia bucket list so you can start dreaming, planning, crossing off, and go experience for yourself!
Where ever you go, make sure you always practice responsible tourism and take caution in overtouristed areas – and when possible travel offseason.
Disclosure: This post may contain affiliate links. That means that if you make a purchase through one of those links, I will get a small commission at no extra cost to you. As an Amazon Associate, I earn from qualifying purchases.
Asia bucket list
To fill in on the perfect Asian bucket list, I've asked for help from fellow travel bloggers who have been to some amazing places. Get ready to find new experiences, hidden gems, and amazing Asia landmarks for your next adventure.
Myanmar
Bagan temples
One of the world's most amazing places is without a doubt Bagan in Myanmar. With the remains of more than 2200 pagodas and temples spread over an area of 104 square km. Throughout the 9th to the 13th century, Bagan was built to be the capital of the Pagan Kingdom with more than 4400 temples and stupas.
What makes Bagan so special, is that there are hardly any tourists there and you can explore the pagodas without the crowds. A truly magical place to add to your bucket list. You can easily travel from Mandalay or Yangon to Bagan by bus, train, or plane.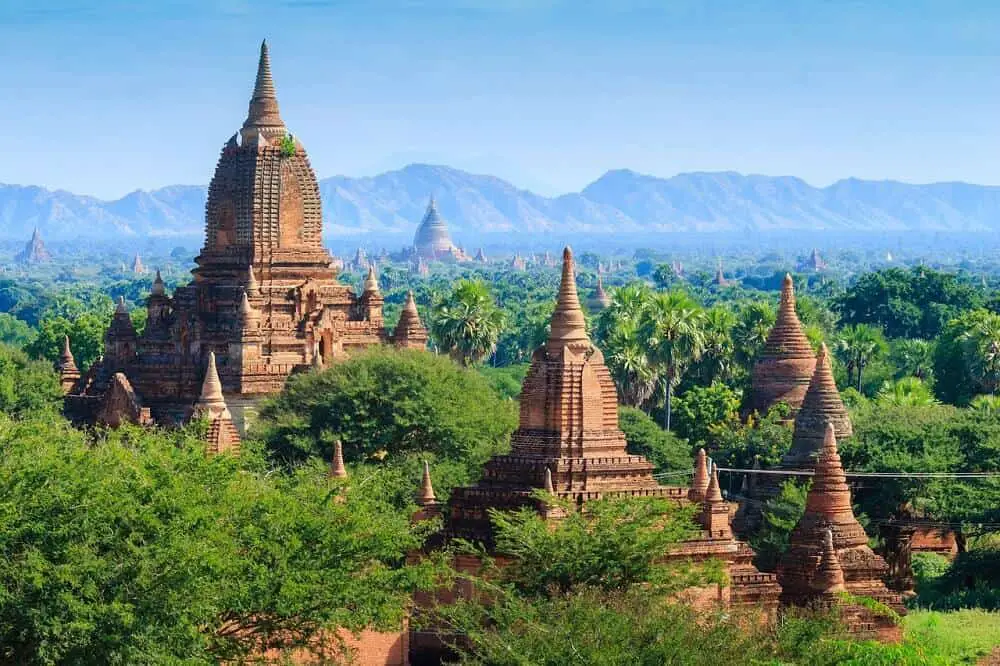 Take the boat from Bagan to Mandalay
Traveling on the Irrawady river by boat from Bagan to Madalay is one of the best experiences you can have in the country. Slow traveling through the most important life source in the country, will show you the rural life along the river bank.
It's definitely a different way to travel between places and the best of it all is that there are mostly locals on the boat. So it's a nice, local experience too.
The boats leave before sunrise, so you'll get the most astounding sunrise from the river. The journey takes between 11 hours and 2 days.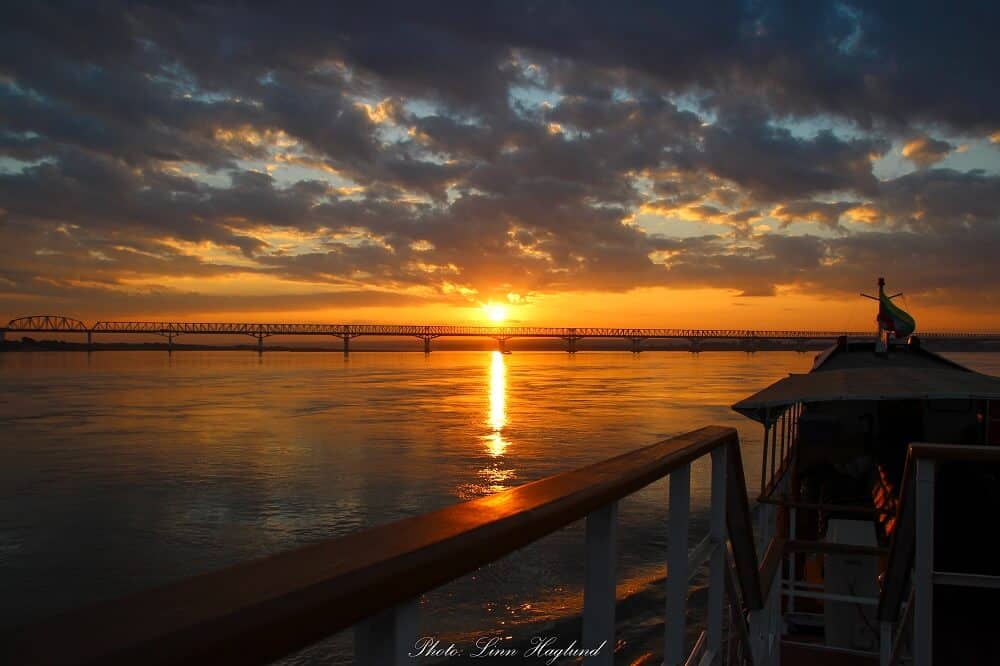 Visit golden pagodas in Yangon
Myanmar is full of golden pagodas, especially Yangon. It's an amazing experience walking around the massive complexes dedicated to Buddha.
The most spectacular is Shwedagon Pagoda, where there are numerous temples inside the enormous open space area. It's said to be Myanmar's oldest and most sacred pagoda and it's believed that the relics of four Buddhas are there. Thus an important pilgrimage site for Buddhists.
Other important pagodas worth visiting are Maha Wizaya pagoda, Kaba Aye pagoda, and Kyauk Taw Gyi pagoda. In Chauk Htat Gyi pagoda you find one of the largest reclining Buddha images in the country, with its 65 meters.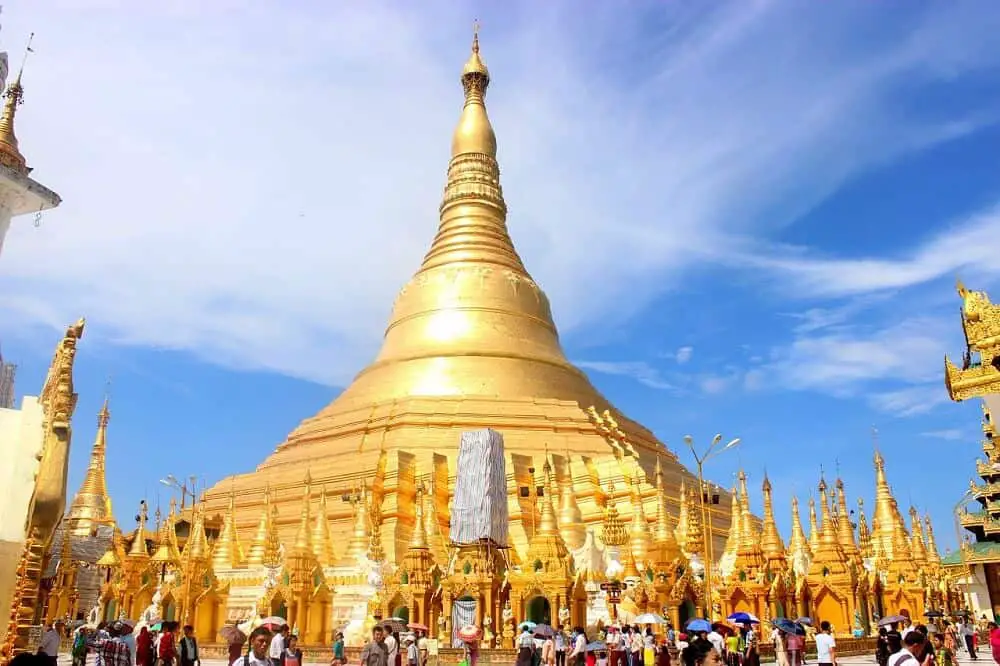 Philippines
Dive with Thresher sharks
One of the most amazing experiences for any diver is to dive with Thresher sharks in Monad Shoal just off Malapascua Island in the Philippines.
These gentle, long-tailed sharks with big curious eyes show themselves at 30 meters deep water to clean themselves in the early morning. They take advantage of the tiny Cleaning Wrasse that eats their dead skin. You can think of it as a shark spa.
Usually, they live and hunt on water deeper than 50 meters. Their hunting isn't as gentle as you'll experience them when hanging out during their morning routine, though. They use their long tails to slap schools of fish so that they can indulge the fainted fish.
Luckily, they're not hunting at Monad Shoal, so divers can sit quietly by the sandbank and admire these incredible giants that can get up to 6,1 meters long.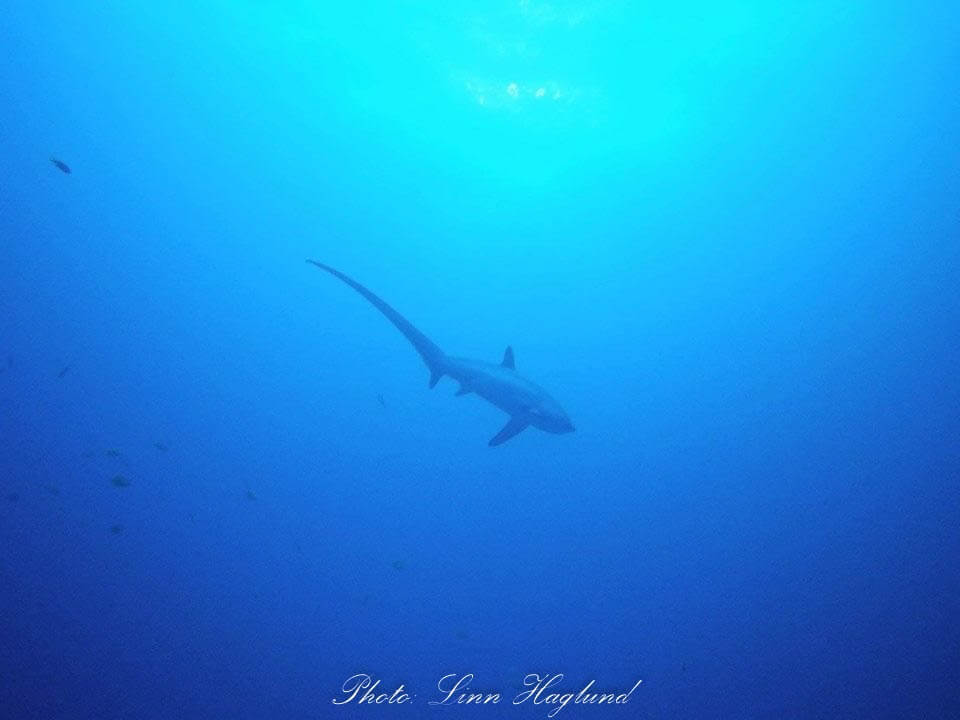 Hike Taal volcano
There are many exciting volcanoes to climb in the Philippines, but one of the most accessible and unique ones is Taal Volcano, which is actually a volcano inside a volcano inside a volcano.
Ok, I'll explain. The big outer crater is filled with water, so you'll have to take a boat for 10-15 minutes on the lake inside the crater to get to another smaller crater inside the big one. That's where you hike for another 40-50 minutes to get to the top of that crater.
Once you're at the top, you get the view of the lake inside this crater too. With a tiny crater inside. Thus it's a volcano inside a volcano inside a volcano.
It seems quite innocent, especially considering that it's filled with water. But Taal volcano is actually the 2nd most active volcano in the Philippines.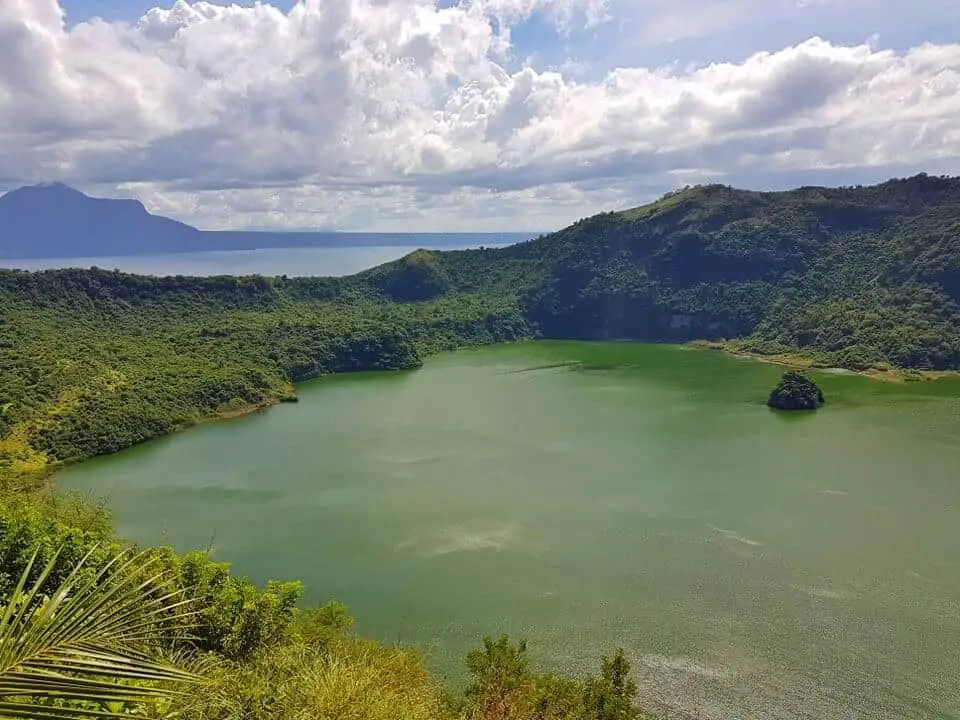 Kayak in Sohoton Natural Bridge National Park
One of the best things to do in Asia is to get off the beaten path in the Philippines and kayak in the Sohoton River to the natural bridge in Sohoton Natural Bridge National Park in the Eastern Visayas.
Trips go from Sohoton Visitor Center by Basey (tickets can be bought in Basey Tourist Office), where you first have to board a Bangka to the Panhulugan Cave, which is also worth visiting.
From there, you continue by kayak along tall limestone walls wrapping both sides of the river to the natural bridge, a mesmerizing limestone tunnel taking you to a fresh water hole where you can go for a swim before returning. A truly magical kayak destination.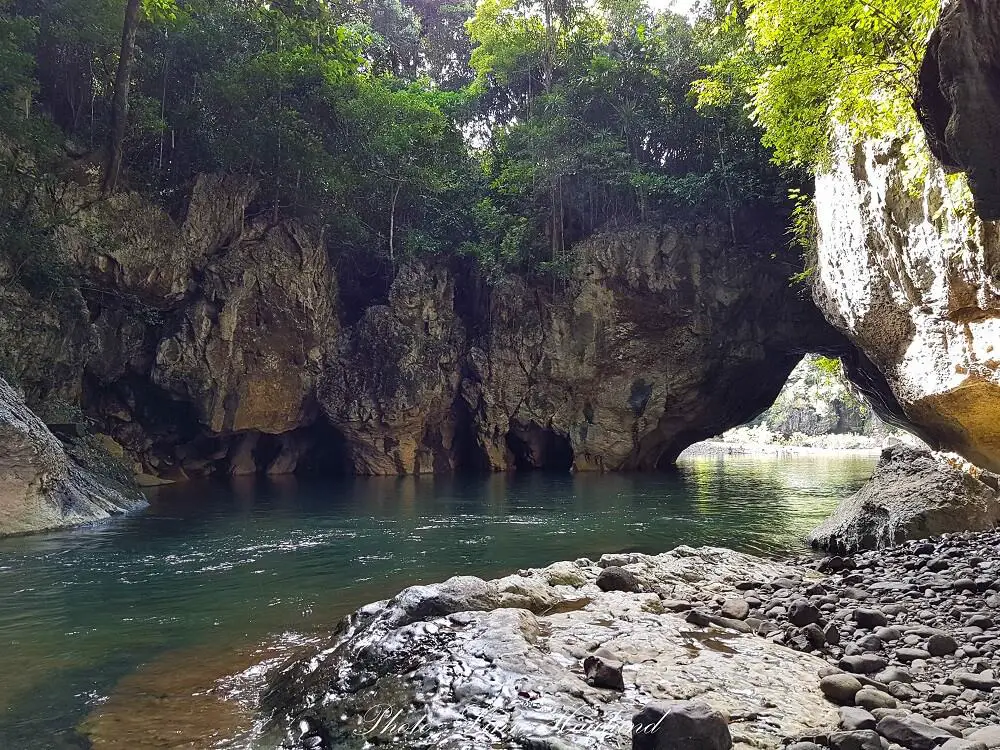 Chocolate Hills
Imagine 1500 rounded hills sticking up above dense jungle, some of them as high as 120 meters tall. In the dry season, these balls turn brown, thus the name Chocolate Hills.
This unique landscape, covering 50 square meters of jungle, has become a major tourist attraction, yet it's an amazing experience getting to the top of the 214 steps to the viewpoint.
While there's a lot of things to do in Bohol, the Chocolate Hills might be one of the top attractions. But Bohol can also brag about some of the best beaches and waterfalls in the Philippines. There are amazing diving opportunities around the island for all levels as well as fun boat trips to surrounding islands.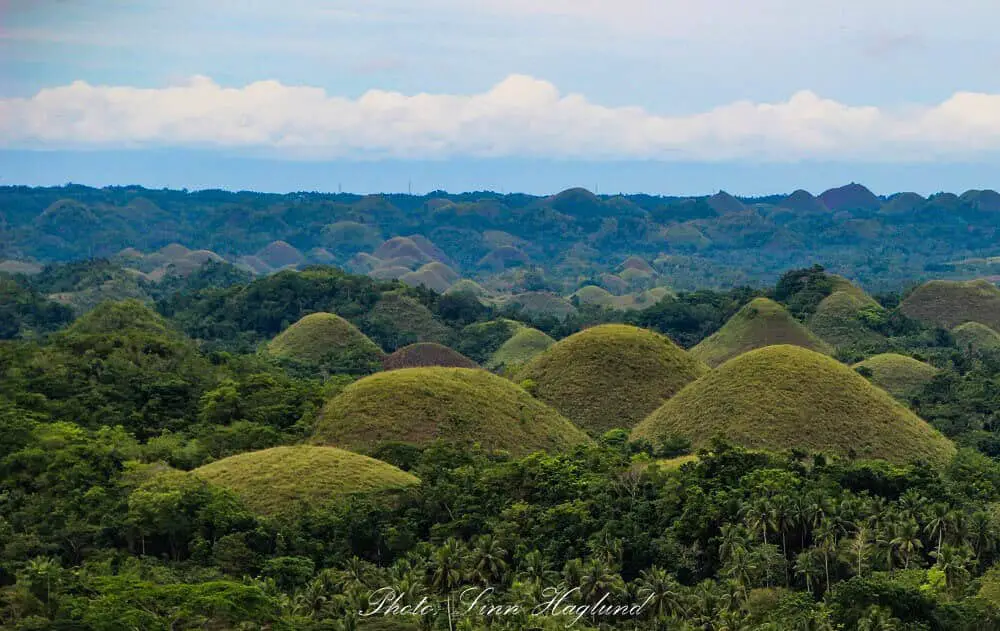 ---
READ: Why you should never pet a Tarsier
---
Malaysia
Cameron Highlands
Known for its tea plantations, jungle trails, and strawberry farms, Cameron Highlands is situated at 1500 meters of altitude. The area was put on the map by the British government surveyor, William Cameron, in 1885 and resulted in popularity among the British because of the cool temperatures. Today, there are still English cottages around the area.
Most travelers visit a strawberry farm, honey bee farm, and a rose garden. But there are also a few Orang Asli (Aborigine) villages spread across Cameron Highlands where you can experience traditional village life.
But make sure you go with a tour company that promotes and works for ecotourism in the area so any village visits are sustainable for the people that live there and for nature.
Other attractions are the Sam Poh Wan Futt Chi Temple, Sri Thandayuhapani Swamy Temple, and Time Tunnel Museum featuring more than 1000 artifacts that all function as educational about Cameron Highland's history.
Jungle camping in Kiulu, Sabah
Recommended by Sundeep and Bedabrata of Delhi-Fun-Dos
Kota Kinabalu, the capital of Sabah is a city with all modern amenities, yet so connected to nature. Approximately 60 km away from Kota Kinabalu is the Kiulu Valley. The Kiulu River runs here.
Kiulu is the perfect site for jungle camping trips. A two days trip to Kiulu ensures an adrenaline rush coupled with a vivid understanding of the rich biodiversity of this part of Malaysia.
Kota Kinabalu to Kiulu is a short drive and you can stay at the aesthetic bamboo huts lining the river bank. Trekking in the jungle should be an ideal start to the trip.
A naturalist or a trained guide can acquaint the visitor with the local vegetation and its uses still prevalent in Malaysia.
Spend the evening enjoying local food and music under the open sky. Campsites sometimes organize fun activities such as live cooking sessions with whatever you have collected from the jungle during the day, like tapioca roots or herbs.
White water river rafting in Kiulu River is the climax of the trip. River rafting companies provide trained instructors, safety guidelines, helmets, and life-jackets along with the raft.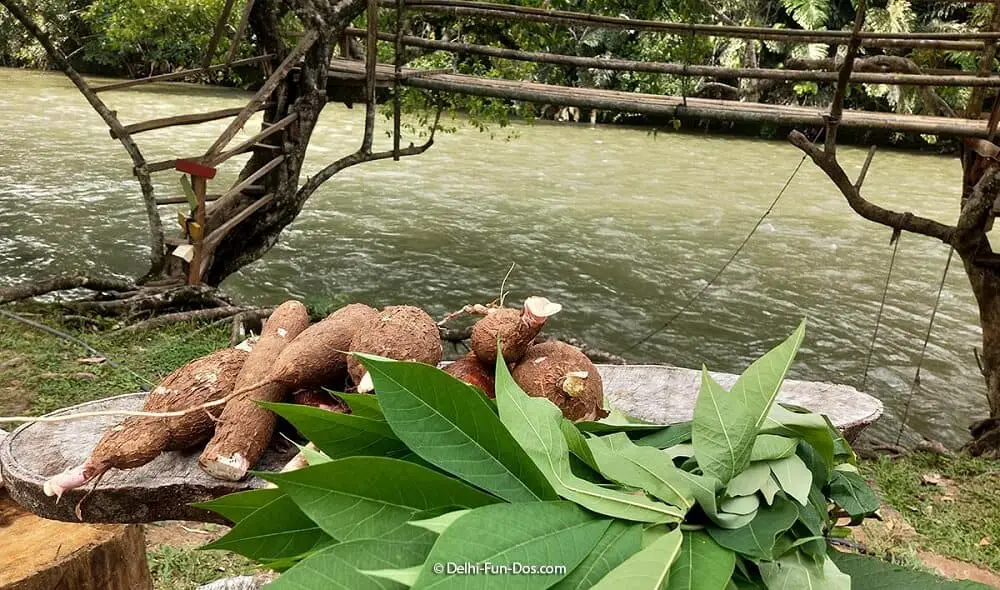 Hiking in Penang
Recommended by Marco of Penang Insider
There are many things to do in Penang, especially around its  UNESCO World Heritage city of George Town. Penang Hill, a former British Hill Station, is firmly on the tourist trail thanks to the funicular train that whisks visitors to the top at 830-meters of height.
But fewer people know that Penang Hill is also home to a bounty of hiking trails, from half-hour walks, to day-long expeditions.
A good place to start is Penang Botanic Gardens, which can be reached by bus (Penang Rapid bus route 10) or ride-hailing services like Grab car from George Town.
Two hundred meters before the gardens' gate is Moon Gate, a circular Chinese archway that once was the access gate to a millionaire's bungalow.
From here, a series of trails of different difficulties snake up the hill until the top station, where you'll find a few restaurants, tacky souvenirs, and tourists shops, and the excellent The Habitat, a nature park with a guided walk, ziplines, Penang's highest observation point and the Langur Way, the only two-span ribbon bridge in the world set 40-meters above pristine rainforest.
There are several "stations" along the hill, like Station 5, 39, and 46. You can also connect with a myriad of other routes.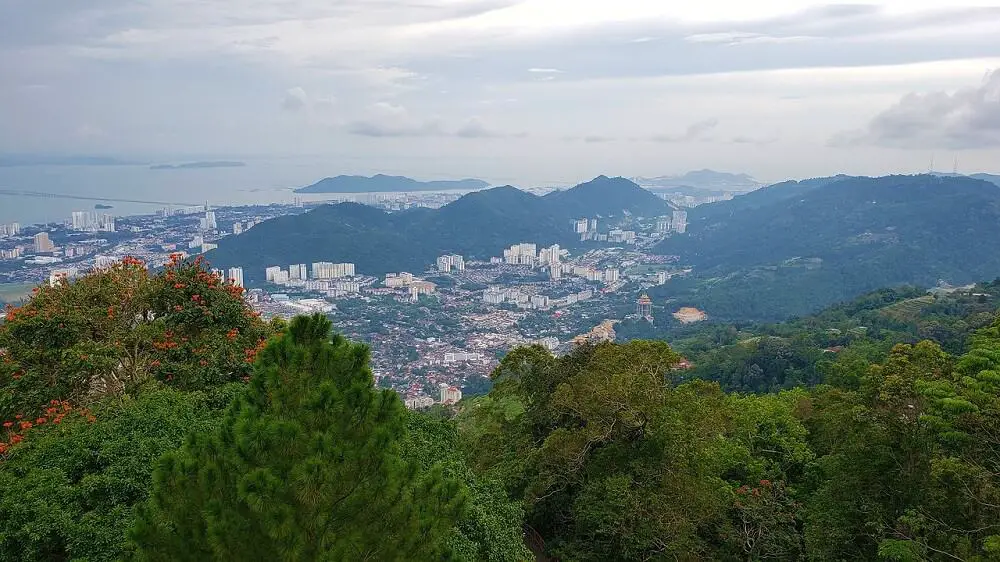 Diving in Sipadan
Recommended by Campbell and Alya of Stingy Nomads
The reef surrounding Sipadan island near Borneo Malaysia is seen as one of the most spectacular dive spots in the world.
There used to be hotels on the island, but the Malaysian government declared it a reserve in 2004 only allowing 200 day-visitors with permits to dive here each day. 
The island is surrounded by a coral wall dropping down to the ocean floor at a depth of about 300 meters. A strong current flows past the island creating spectacular wall dives at several dive spots with massive schools of fish swimming past.
Floating past the coral wall at 'Barracuda Point' divers usually meet schools of thousands of barracudas and enormous schools of big eye trevally.
Sometimes barracudas spiral around the diver to form a large 'barracuda tornado'! Diving on top of the reef, divers often see big green turtles and hawksbill turtles, big herds of bump head parrot fish feeding in the shallows, and groups of white tip reef sharks hunting on the reef.
Sipadan is also a fantastic place to snorkel, with many of the large animals and schools of fish seen close to the surface by snorkelers. It is a bucket list item for divers with good reason and permits have to be secured ahead.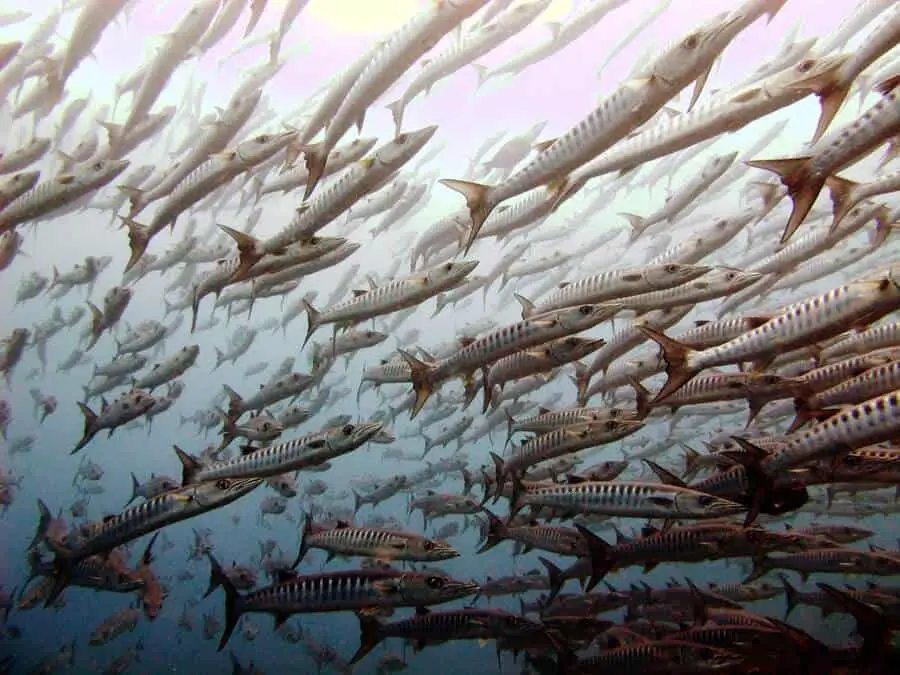 Borneo
Hiking Mt Kinabalu
Recommended by Martina and Jürgen of PlacesofJuma
One of the most breathtaking places to visit in South East Asia is for sure Mount Kinabalu in Borneo (Malaysia) and truly worthy your Asia bucket list.
This spectacular mountain is the landmark of Sabah and with a height of 4,095 meters the highest mountain in Malaysia.
Since 2000, Mount Kinabalu has been included in the UNESCO World Heritage List and visitors from all over the world come to experience these stunning mountain landscapes.
The hikes always start in the morning with a group and takes about 4-5 hours until you reach the middle station. After a few hours of sleep, you will continue at about 1-2 o'clock in the morning to reach the summit in time for sunrise.
That's a really unique experience and if you are quite fit you should definitely put that activity on your Borneo itinerary.
To go on this hike it is compulsory to book a 2-days guided tour including a guide and the stay in a base camp.
While hiking you will pass many different landscapes, starting from the deep lush jungle with carnivorous plants and ending up at the rocky top of the mountain where you can enjoy the most incredible mountain views.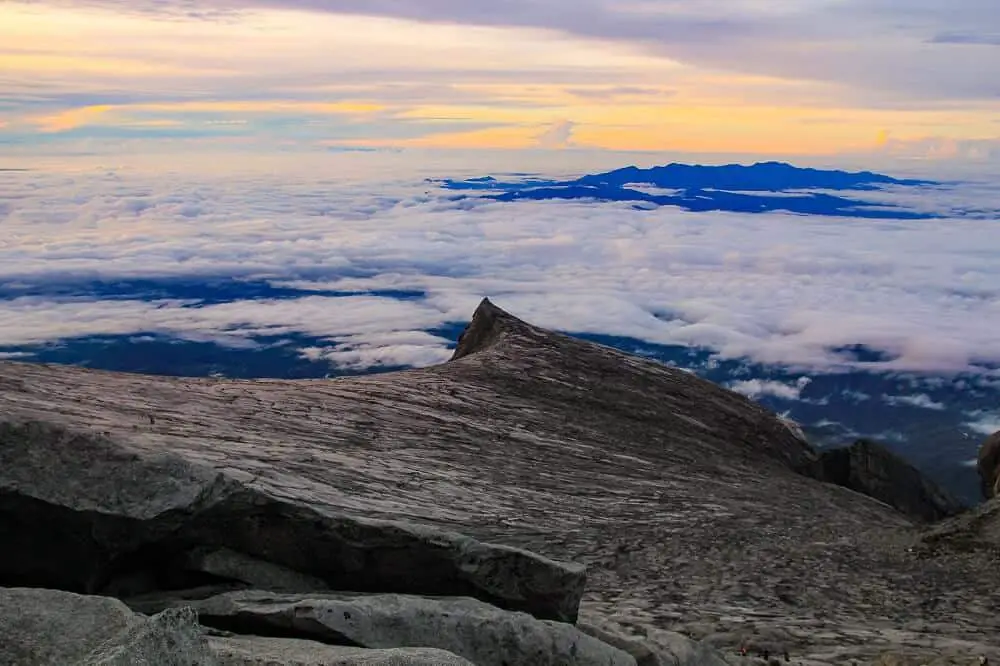 See wild orangutans
Recommended by Lora of Explore with Lora
One of the most exciting things to do while visiting Asia is to encounter some of the magnificent wildlife there, and one experience that you'll want to put your Asia bucket list is to see orangutans in the wild.
While you used to be able to see orangutans over a much greater range in Asia, they are now only found in Borneo and Indonesia. This is due to deforestation and habitat loss, which has put orangutans on the brink of extinction.  In the last 30 years, orangutans have lost around 80% of their habitat.
Still, there are a few remaining protected places where you can see orangutans. One of the best places to see them in the wild is on the Kinabatangan River in Borneo. It's home to over ten different primate species including the probosci's monkey and the orangutan, as well as more than 50 mammals, including the Borneo pygmy elephant! There are several eco-lodges you can stay right on the river, which is a wonderful experience.
Another great place to see orangutans in Borneo is the Sepilok Orangutan Rehabilitation Center. The center was founded in 1964 to rehabilitate injured, orphaned, and rescued orangutans, and today, visitors can come and watch the orangutans and learn about the conservation issues that they face. It's so much fun to watch them play with each other!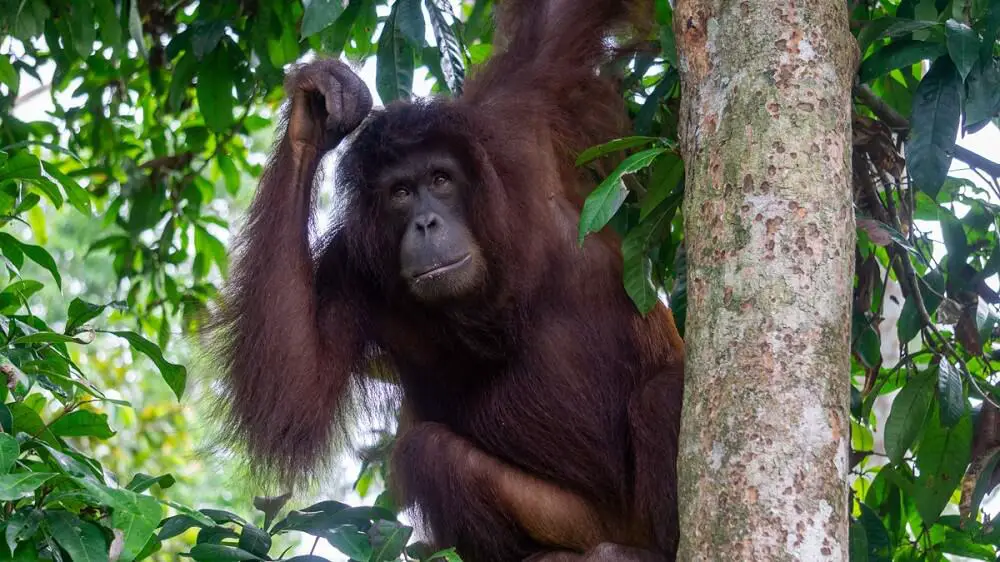 Cambodia
Angkor Wat
Angkor Wat means the city of temples, and it truly is. The 163-hectare area is the largest temple complex in the world, built in the 12th century. It's discussed if Angkor Wat should be included in the 7 wonders of the world or if it's the eight wonders. There is no wonder why.
The complex is situated just outside Siem Reap and you can visit by tuk-tuk or bike. The area is pretty much too big to get around on foot. It's recommended to go there by sunrise, for a crowded view of the main temple mirroring in the lake, while the colors in the sky play with the still water.
To get the most out of Angkor Wat, you'll need two days, though the main sites can be done in one without problems.
Visit Kampong Khleang Floating Village
Recommended by Nic of The Roaming Renegades
Kampong Khleang is one of several villages often known as "floating villages" that exist around the edge of the huge Tonle Sap Lake, the largest freshwater lake in Southeast Asia.
This lake is the lifeblood of Cambodia, a biodiversity hot spot and home to many groups of people.
Given the yearly monsoon season of the region, the people who call the lake home live in wooden stilted houses only accessible from the road for half of the year, making small boats the main method of transport for the residents.
Several of these villages are accessible from Siem Reap but unfortunately, the ones closest to the city have become tourist traps and rife with scams.
Kampong Khleang being further out and slightly harder to reach, it remains largely untouched by hordes of tourists and remains an authentic way to see the unique way of life for the villages living and working on the lake.
Island hopping
Recommended by Rachita of MeanderWander
Cambodian Islands are not quite popular among the tourists which is a shame because they are not only gorgeous but secluded too.
One of the best ways to explore these islands is by joining an Island Hopping Tour from Koh Rong Island. You can reach Koh Rong Island from Sihanoukville by ferry, which takes 1.5 hours.
On these island hopping tours, you have the option of choosing different islands and activities to indulge in during the day.
While Koh Rong is a backpacker paradise and party island, Koh Rong Samleom is more secluded and quiet.
Then, there are Koh Thmei and Koh Ta Kiev that are secluded and have good forest hiking and snorkeling.
If you are short on time, you can always take the short day tour that comprises of a visit to the floating village – Koh Touch on Koh Rong, snorkeling, bonfire, fishing, and swimming with plankton.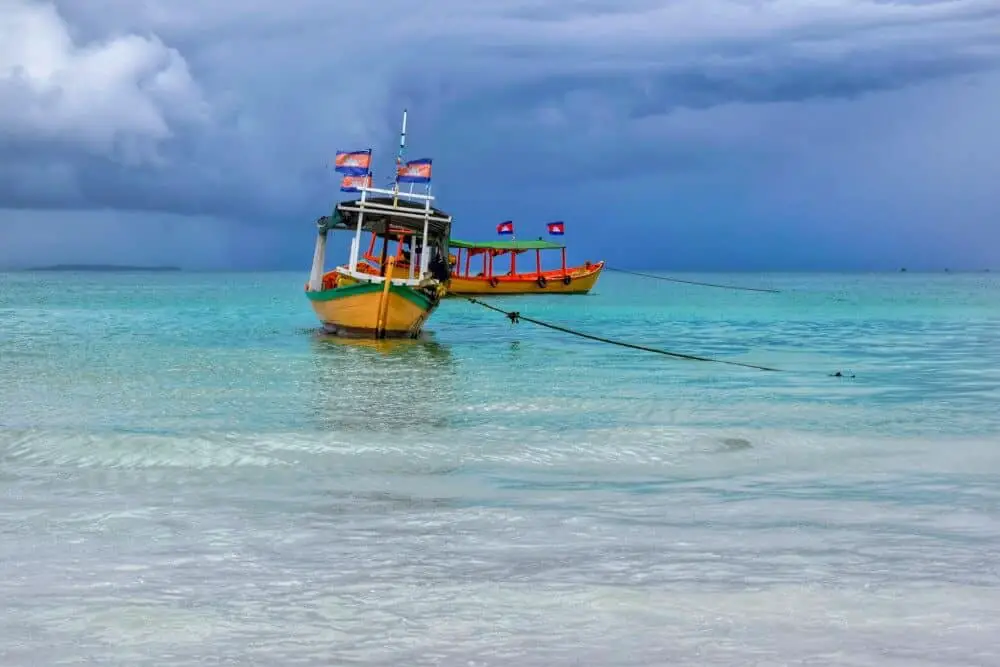 Thailand
Island hopping
One of the top things to do in Asia is island hopping in Thailand. With 1430 islands, there is not much stopping you from spending parts of your Thailand itinerary island hopping from one stunning place to another.
Turquoise water, limestone islands, top snorkeling and diving spots, hidden caves, and friendly locals, what isn't there to love about Thai islands!
The popular tourist destinations might be known as party islands like Phi Phi island, Koh Samui, or Phuket, though there is so much more to these islands. Further, there are a lot of hidden gems in Thailand, like Koh Mook or Koh Ngai worth visiting for the adventure seeker.
There are ferries going to the main islands, but if you want to go to more secluded islands, you might have to go by longtail boat, which just adds to the experience.
Make sure you choose local as much as you can so that you support sustainable tourism in Thailand on your trip.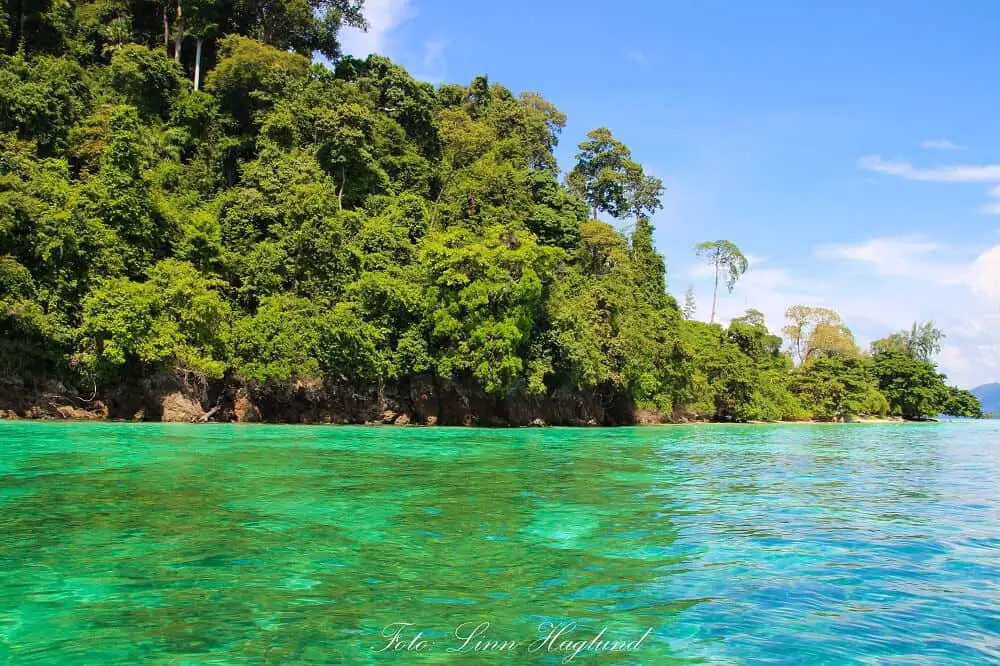 Visit Ayutthaya
Thailand is packed with temples and ancient sites. One that is really worth your Thailand bucket list is Ayutthaya, the old kingdom of Siam that thrived from the 1350s.
The UNESCO World Heritage site was once the largest city in the world but fell to the Burmese in 1767. Today you can still witness the ruins of the grandeur it once held in Ayutthaya Historical Park just north of the capital city, and a day trip there is one of the best things to do in Bangkok.
The most fascinating and photographed attraction is the head of Buddha which is tangled in living tree roots covering a brick wall. Ayutthaya is best explored by bike or by scooter so you easily can move between the sights and in my opinion, it makes for one of the best places to visit in Thailand for first timers.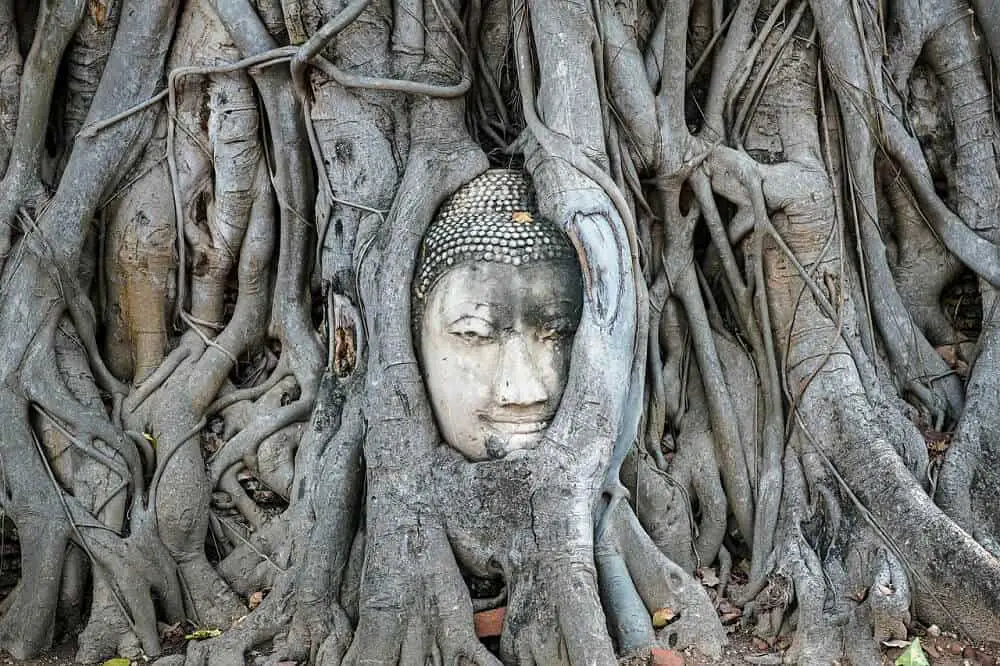 Kayak to Emerald Cave, Thailand
Recommended by Abi of I'm Going On An Adventure
The Emerald Cave on the island of Koh Mook in Thailand is one of those fascinating natural wonders and to those in the know, one of Thailand's most loved sites. The cave is absolutely stunning, created by a sinkhole forming within the karst mountains typical of the Thai region.
Visiting the Emerald Cave is typically done by boat on a day trip from the mainland or from another larger island close by. However, to make visiting the Emerald Cave a sustainable activity it's possible to rent kayaks from the nearby beach – Charlie beach – on the island and kayak to the cave. This can be done alone or in a group but the best thing is that it's completely environmentally friendly!
The kayaks can be rented for 100 THB per hour and seat two people making it an economical way to explore the caves too. The journey along the beachfront toward the rugged limestone cliffs is breathtaking and makes the whole experience incredible, not to mention the beauty of the cave itself.
Koh Mook island deserves a mention as a fantastic place to visit for an eco-friendly travel experience too. There are no cars on the tiny island with most people opting to walk or cycle around and since the island is so small most people come here to disconnect and enjoy lazy beach days while supporting the local community.
There are a few sustainably orientated accommodations on the island too; check out The Tropical Koh Mook where you can stay in beautiful beachfront bungalows.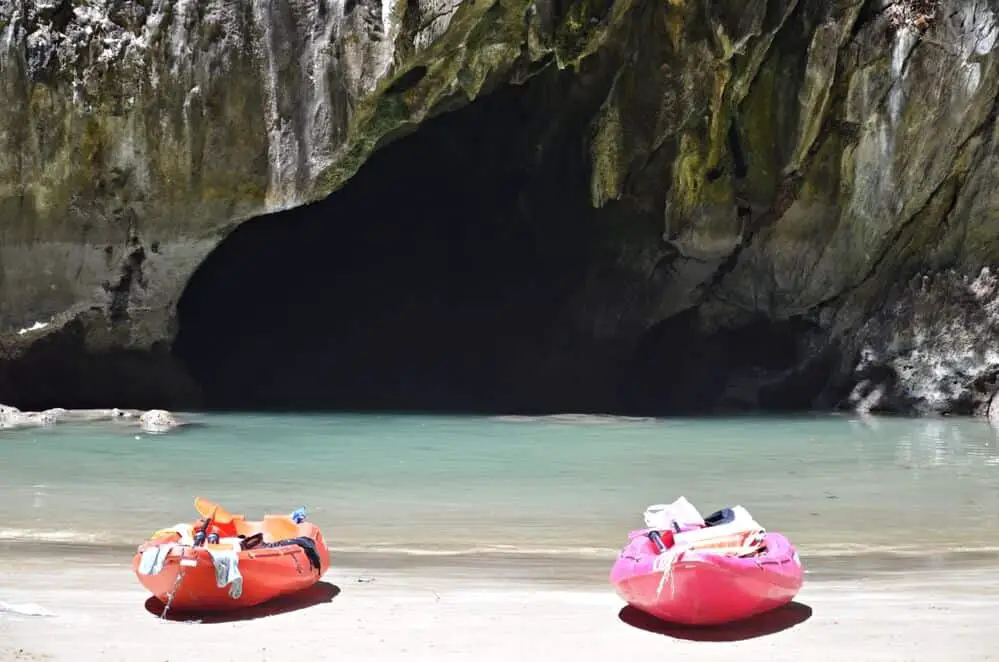 Canoeing in Phang Nga Bay
Recommended by Harshi and Aman of Trot.World
Asia is full of mesmerizing experiences and one such experience that needs to make it to the top of your bucket list is canoeing through the Phang Nga Bay in Thailand.
This full-day environmentally responsible trip with John Gray's Sea Canoe starting from the Ao Pier in eastern Phuket is sure to take your breath away at every moment.
Floating over emerald green waters, gigantic limestone cliffs encircling you, ducking while you canoe through tight caves, and landing up in serene lagoons on the other side is a true treat to the eyes and soul.
On this trip, you even get an opportunity to make your own Loi Krathong and partake in this spiritual Thai festival while being responsible for picking your groups' offerings back from the water and cave after the ceremony.
As the night sets in on your way back, you'll find yourself canoeing through glittering bio-luminescent plankton.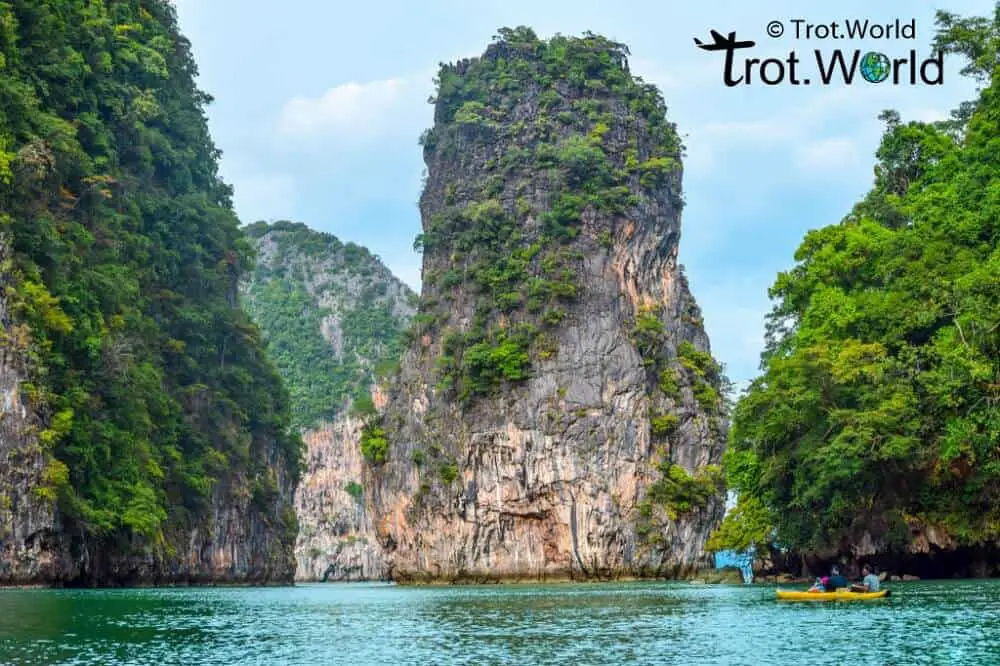 Elephant Nature Park
Recommended by Bec of Wyld Family Travel
Ethical elephant experiences are hard to come by. You can never know exactly what you are going to get or what the elephant has gone through.
Elephant Nature Park just out of Chiang Mai is a replace where you can be certain that the elephants have now found their forever safe home.
Money raised from ticket sales go back into saving elephants.
You can feed the elephants and observe them closely but you are not able to ride them or to bathe them. This is an excellent example of ethical animal tourism.
Watching these amazing creatures is an experience like no other. There are also opportunities to stay the night at Elephant Nature Park as well as a visit during the day. Going to sleep listening to Elephants trumpets is the most amazing way to fall asleep.
A large staff family is also created once an elephant chooses its mahout. The mahout's family moves to the park's community where the children go to school and the rest of the family has an opportunity to work in the park.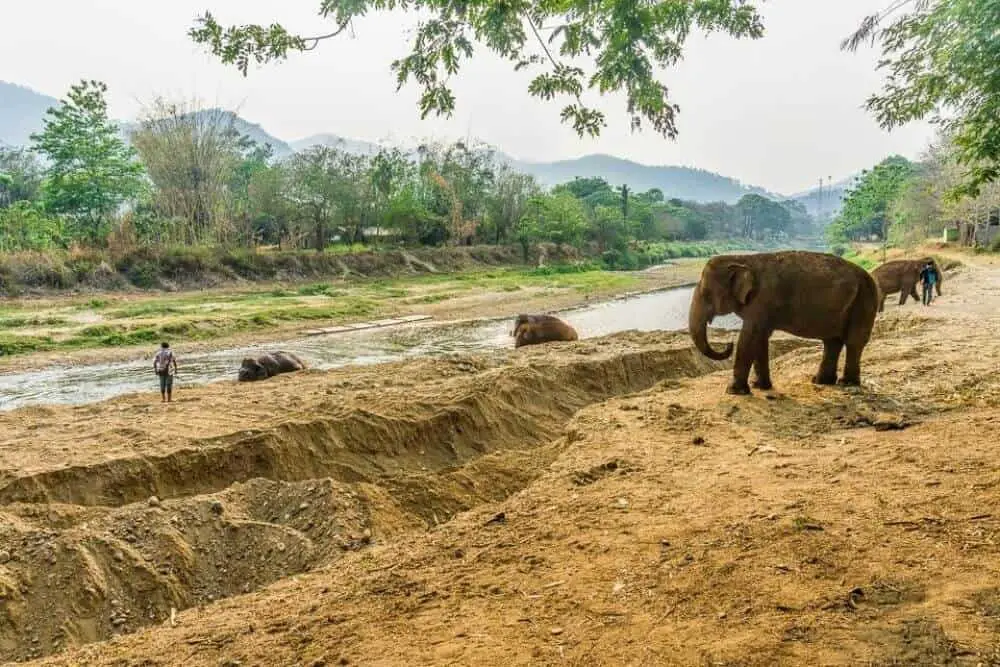 India
Explore Rajastan
Messy, wonderful, and colorful, that's Rajasthan. The Land of Kings in north-western India. There are so many beautiful places in Rajasthan that you could gladly spend a month or two touring this region alone.
Among the most popular cities worth visiting are the pink city of Jaipur and the desert city of Jaisalmer with its astounding fort. Spend at least 2 days in Jodhpur, the blue city with its magnificent fort and many palaces.
The holy city of Pushkar should also be on your Rajasthan itinerary. The city where one of Asia's biggest camel fares take place every year and where it isn't allowed to serve or eat meat.
Unfortunately, Rajasthan is selling camel tours in the desert as a huge tourist attraction, especially in places like Jaisalmer. This is far from ethical animal tourism, so please avoid these activities.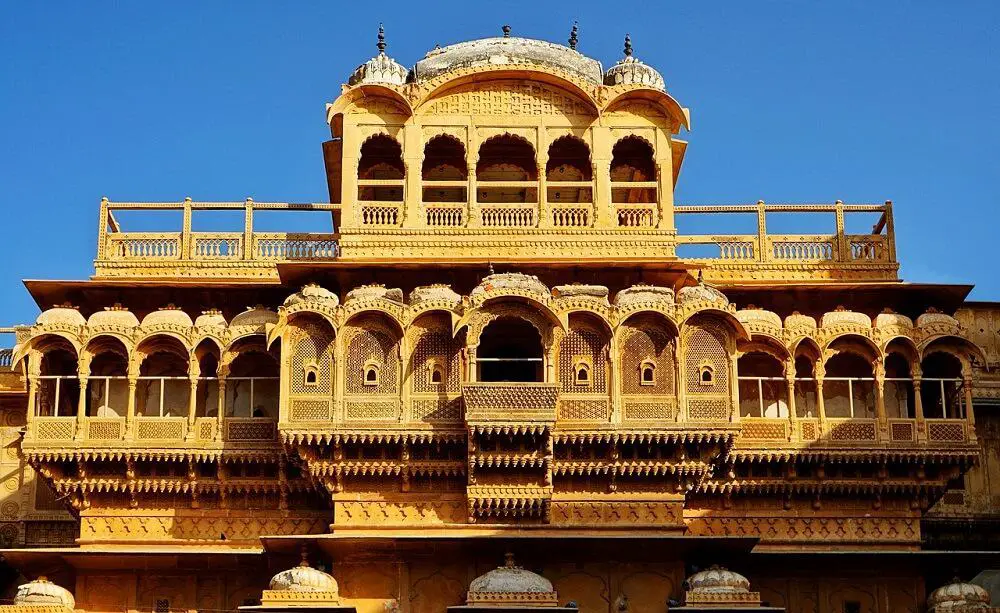 Stay the night in a houseboat in Kerala
Kerala in the south-west of India is very different from the rest of the famously busy and messy country. And staying in a houseboat in the backwaters is the farthest you can get from what most people expect from India.
Staying in your own private houseboat, cruising slowly through the quiet backwaters, only passing other houseboats, getting up for sunrise, and looking out on the calm, foggy water spotted with local fishing boats is a wonderful and most likely well-needed break in your otherwise busy India itinerary.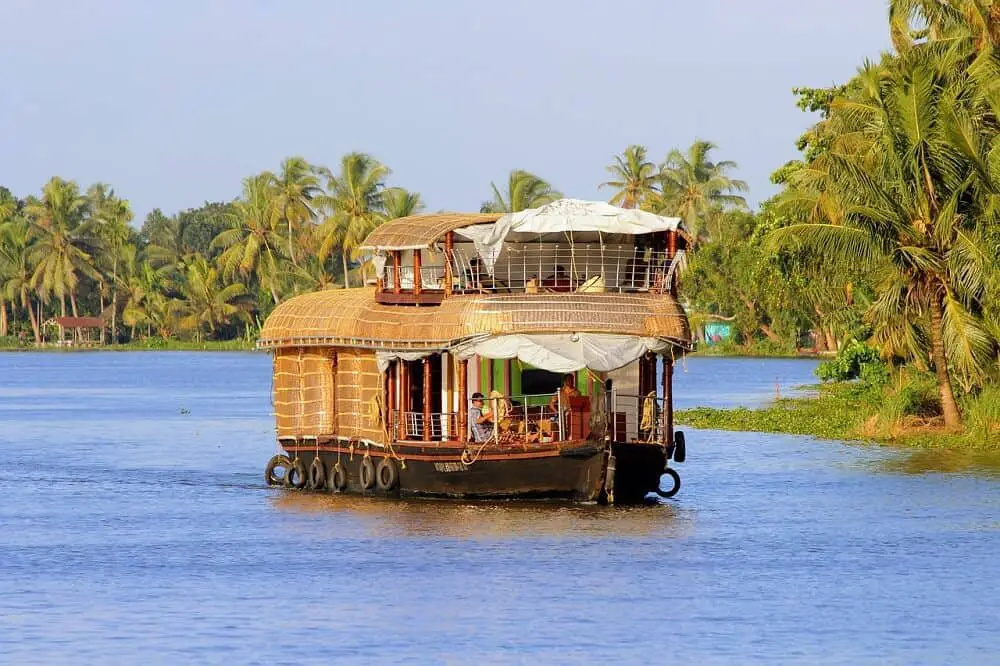 Hike to the Living Root Bridges of Meghalaya
Joydeep of The Gypsy Chiring
The living root bridge of the Khasis of Meghalaya in north-eastern India epitomizes the sacred relationship between humans and nature. The bridges are made of the roots of a rubber tree (Ficus elastica), which fully grows within 15-20 years sustaining it for centuries against flash floods and harsh climatic conditions.
A popular hiking destination among Indians, the hike to the Double Decker living root bridge involves a descend of 3500 steps starting from the Tyrna Village till the Nongriat Village of Cherrapunji (Sohra), Meghalaya.
Blue natural pools and mesmerizing sceneries guide you along the way. There are a number of such living root bridges nearby too. The hike can be completed within a day.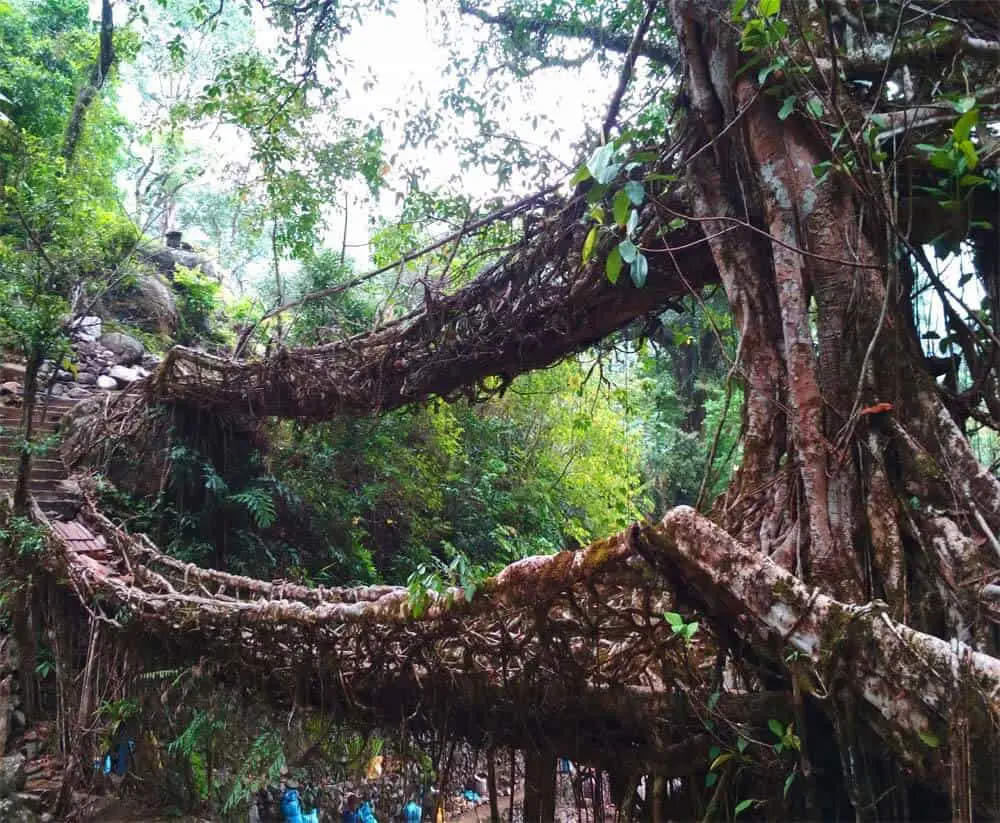 Iran
Stay in an oasis in Garmeh
Iran is definitely one of the most underrated off the beaten path destinations in Asia, if not the whole world. For a unique experience in Iran, stay at a desert oasis!
Garmeh was once abandoned by its inhabitants traveling to the cities for work. But one of the locals turned it all upside down by opening a guesthouse, creating work, and now the little community has started to thrive again.
Garmeh is the perfect place for a different experience wandering through lush date palms stumbling upon old clay ruins of what used to be houses and gardens.
It's also the perfect base for going on a desert tour, whether you go on a day trip or an overnight trip.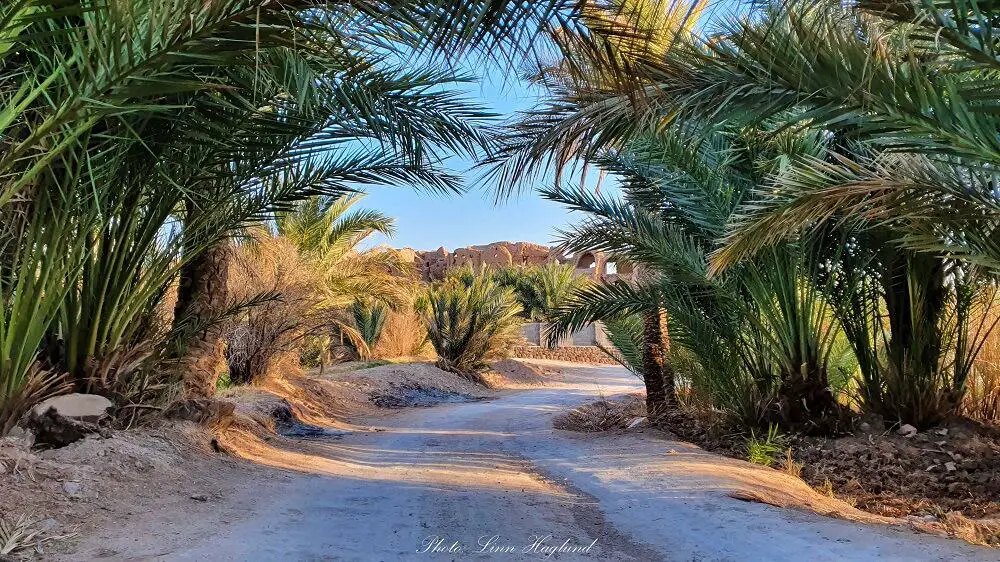 ---
RELATED: Reasons to travel to Iran
---
Explore the mosques of Isfahan
Isfahan might just be one of the most beautiful cities in Iran. With an abundance of mesmerizing mosques, bridges, museums, and squares, there are a lot of things to do in Isfahan. But the mosques here are really worth your time.
The most famous is Shah Mosque. Towering on the far end of Naqsh-e Jahan Square, the city's main square, it stands out with blue and golden mosaics.
Only a short walk away, on the long side of the square, is the Sheik Lotfollah Mosque, dedicated to the women. It's golden dome and simplicity leaves you in awe once you enter the dome chamber. With golden sun rays flowing through the windows and lightening up the otherwise dark room, it feels absolutely magical.
Lastly, a walk through the bazaar from Naqsh-e Jahan Square, you get to Jameh Mosque, which used to be the main mosque in the city. With a massive wooden interior, the mosque has a beautiful mix of blue, turquoise, and golden mosaics and the middle square is enormous.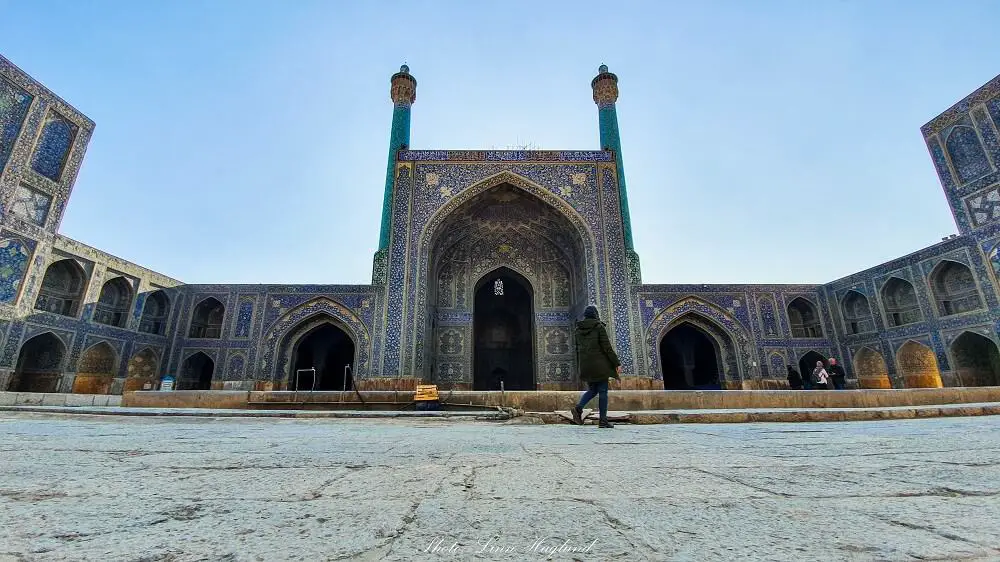 Hike in the Alborz mountains
Any outdoors enthusiast should add a hike in the incredible Alborz mountains north of Tehran on their Iran itinerary.
Only a few minutes by bus from the northern-most metro line in Iran's capital city, Tehran, you get to a small neighborhood at the foot of the mountains. From there, you can either start hiking or take the chairlift to the trailheads.
There are various hiking routes from a couple of hours to multi-day treks going from here. If you need hiking gear, there are several small shops selling everything from hiking boots to backpacks and the necessary camping gear. You can also find hiking guides here if you haven't booked in advance.
The most demanding peak – definitely an Asia bucket list challenge – is Mount Damavand (5610m), the highest peak in the Middle East. The same peak overlooking Tehran, which surely will give you a status among Iranians once you've climbed the peak.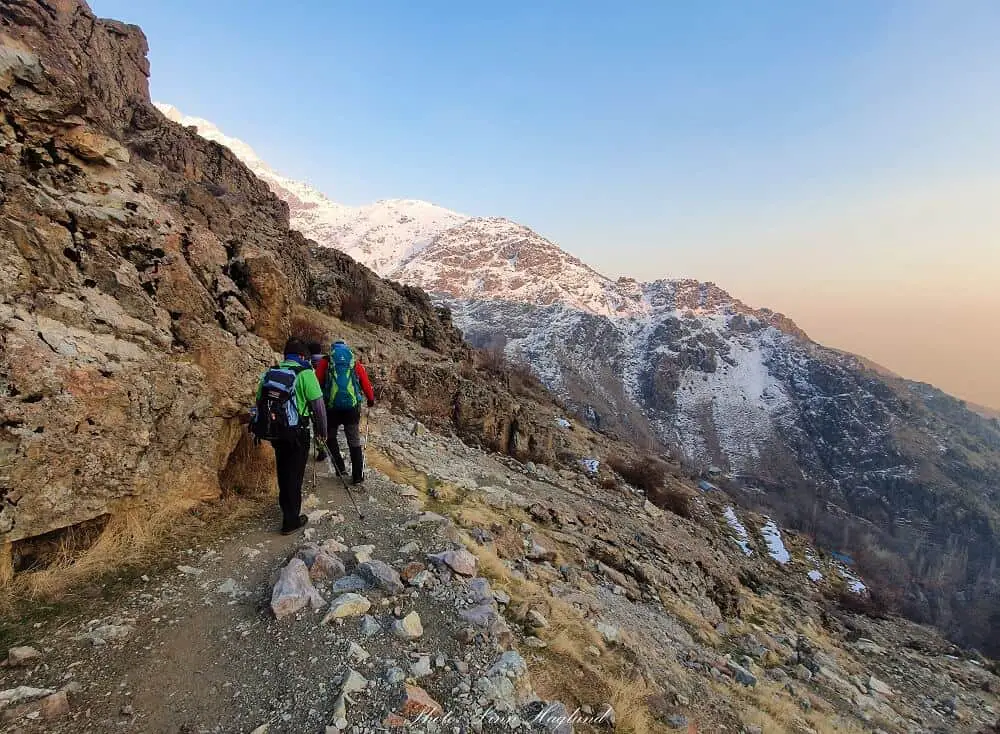 ---
READ: All you need to know before traveling to Iran
---
Japan
Fushimi Inari
Recommended by Cecilie of Worldwide Walkers
The Fushimi Inari shrine is one of the most unique places to visit in Asia and should definitely be on your Japan itinerary. It's a sacred place in Kyoto that consists of more than 10.000 orange torii gates. The torii gates form an incredible trail, which leads into a forest and up a mountain.
Following the Fushimi Inari trail to the top of the mountain should be on any traveler's Asia bucket list. During the hike, you can visit many small forest shrines and if you are lucky, you might even spot wild boars or monkeys.
Fushimi Inari is a very popular tourist destination, so it's easy to get there by train. You can either take the train to Inari Station or Fushimi-Inari Station. Because of its popularity, you can expect a lot of tourists at the beginning of the trail, but the crowds thin out the further up the mountain you go.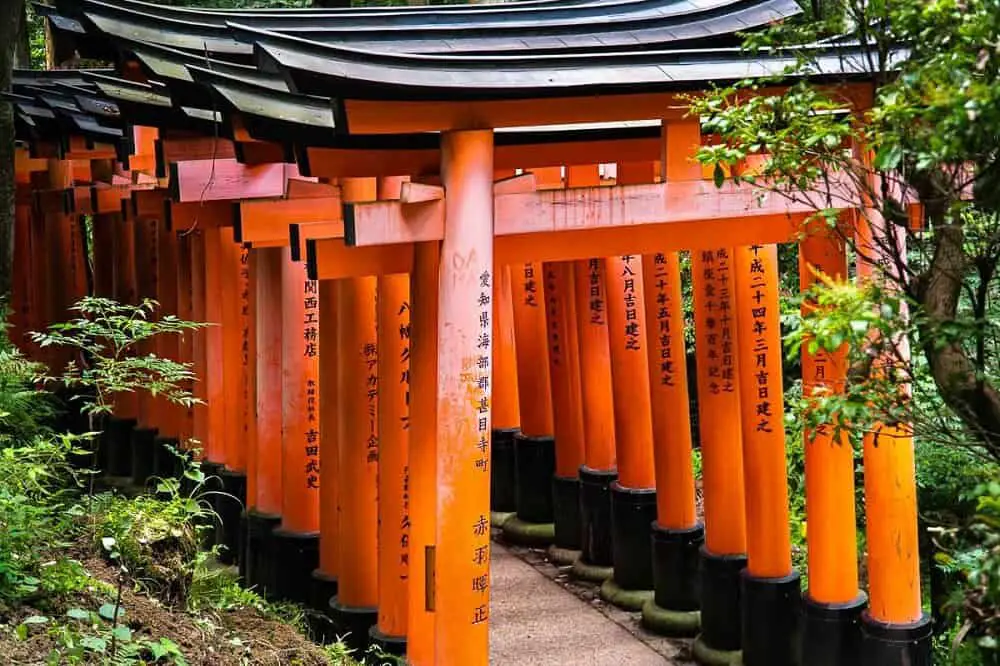 Climbing Mt Fuji
Recommended by Stephanie from Poppin' Smoke
If you're an active traveler, add climbing Mount Fuji to your bucket list! One of the most iconic symbols of Japan, Mount Fuji is featured in countless images, and a trek up the mountain is considered a once-in-a-lifetime pilgrimage for the Japanese.
As the saying goes, "A wise man climbs Fuji once. Only a fool climbs it twice."
Indeed, if you are not well-prepared, even a single climb will be more than enough. You must be in good physical condition and carefully plan the logistics of climbing Mount Fuji in advance.
While you do not need to go through a tour or outfitter, you should figure out which trails you want to use, whether you will climb during the day or overnight, what to wear and pack, and of course, how you will travel to and from the trailhead.
The research and preparation required to have a successful, enjoyable climb up Mount Fuji are well worth the effort. The views from the trail are stunning, and summiting this famous mountain is an experience you will treasure for the rest of your life!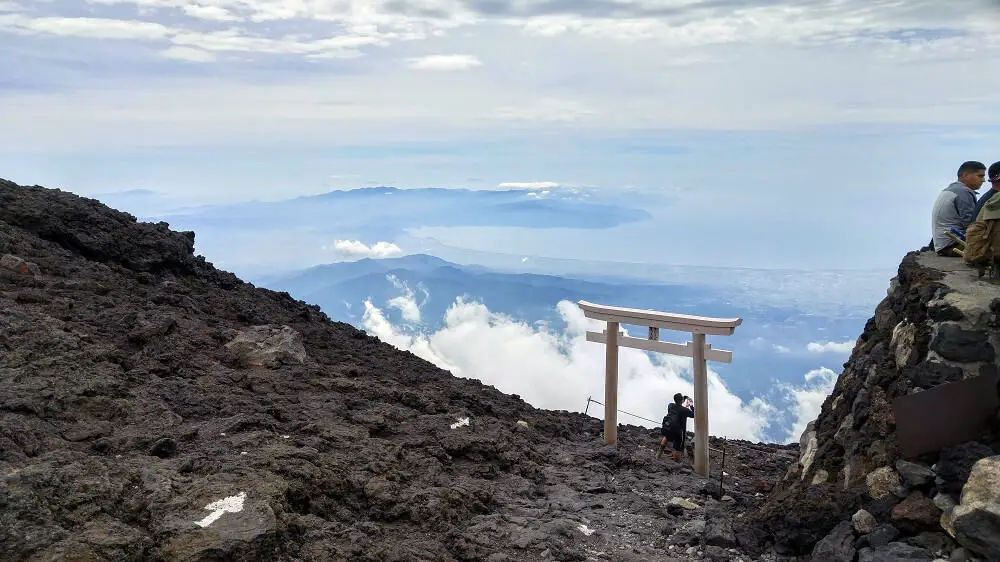 Miyajima Island
Recommended by Sydney of A World In Reach
If you've ever seen photos of some of the best places to visit in Japan, chances are you've seen a picture of a giant orange torii gate that looks like it's floating in the water. That torii gate is located right off of Miyajima Island, a small island that is worth a spot on your Asia bucket list.
Miyajima is best known for the torii gate at Itsukushima Shrine. At low tide, you can walk right up to the gate, but it truly becomes magical at high tide, when the rising water makes the gate look like it's floating.
The floating torii gate is recognized as one of the top three most beautiful views in Japan, so you won't want to miss it!
There are plenty of fun things to do in Miyajima other than the shrine and floating torii. Much like Nara, Miyajima is inhabited by tame deer that will walk right up to you.
Other fun things to do in Miyajima include hiking up Mount Misen or walking along the main pedestrian street.
Indonesia
Hiking Mt Batur volcano
Recommended by Ilse of Digital Travel Couple
Bali is a wonderful Indonesian island and has a lot of variation in nature and things to do. One of the most popular tourist activities is hiking the active but sleeping Mount Batur volcano.
You can do the hike up to Mount Batur volcano best before sunrise which gives an incredible view of the crater lakes below and Mount Agung volcano in the distance. 
It takes about 2 hours to hike up the volcano with a 700 meters incline. There are a few flat parts but most of the hike is a steep incline. The last part to the summit is a real climb over uneven rocks and slippery ground.
Yet, it's all worth it when you see the first sunlight and the silhouette of the surrounding volcanoes getting visible.
On the way back you can walk all the way around the crater to descend alongside the hot springs and crater lake. This part is super slippery because of loose gravel, so be careful and be prepared!
From Ubud, it's about a one hour drive straight to the entrance of the hike up to Mount Batur.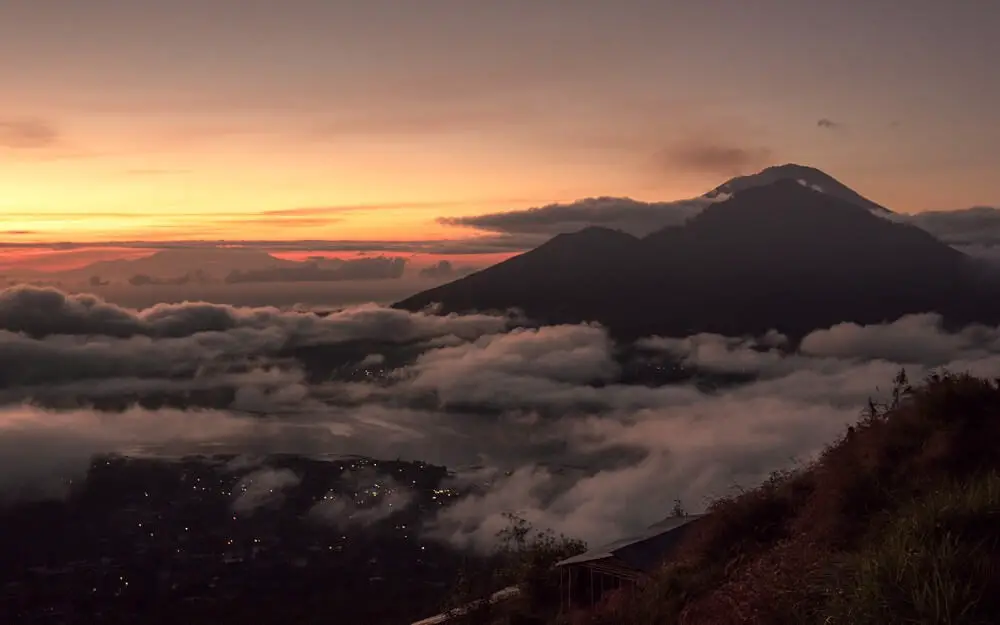 Explore the island of Java
Recommended by Jacqueline of The Travel Deck
The Eastside of Java island in Indonesia is a land unlike any other and is home to some of the country's most stunning natural wonders.
East Java can be reached either by a 30-minute ferry from West Bali or through Juanda International Airport in Surabaya.
Plan to spend at least 3 nights and start off by hopping on a 2-hour train from Surabaya to Malang. Here you can walk around the colorful neighborhood of Jodipan village and get to know more about how a slum turned into this beautiful village.
2 hours drive from Malang is Tumpak Sewu which translates to 1000 falls. Tumpak Sewu is arguably Indonesia's most stunning fall. This fall is literally a sunken hole with water cascading all the way around 120 meter high cliffs.
Ijen crater is the world's most acidic crater located about 5 hours drive from Tumpak Sewu. The highlight here is to wake up in the middle of the night to witness the blue flame and a stunning sunrise.
Indonesia is the land of volcanos and one of the most popular is Mount Bromo about 4 hours drive from Ijen. Bromo is an active volcano and walking on the ridge you will actually hear the rumble from within its mouth.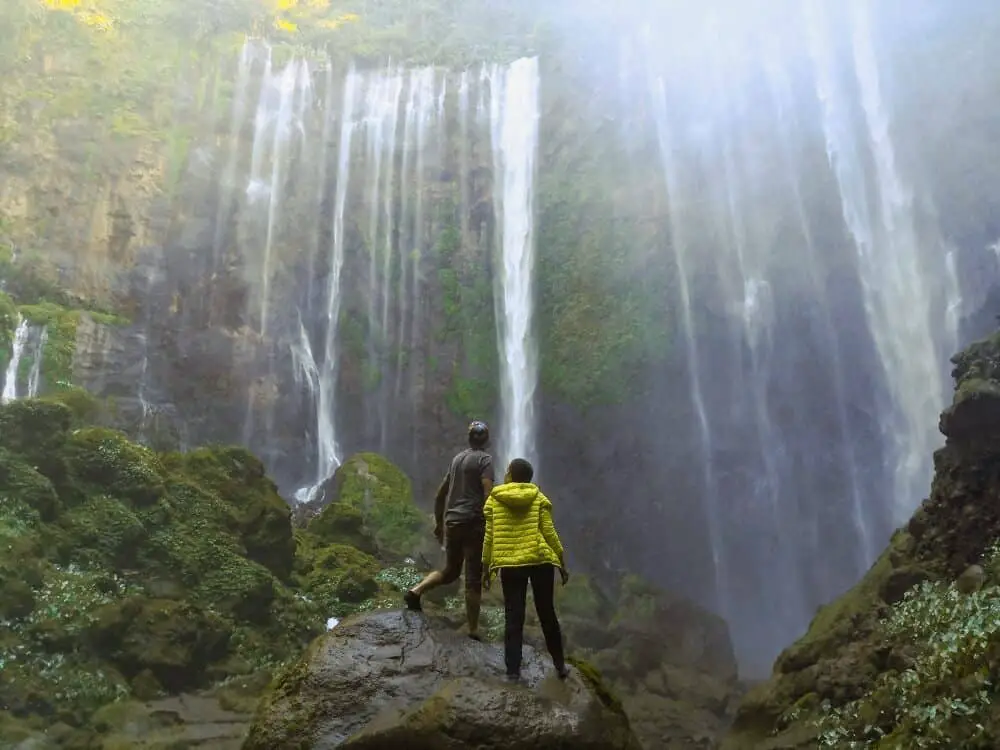 Trekking in Gunung Leuser National Park
Recommended by Carly and Agung of We Are Sumatra
Few places in the world are as magical as the Gunung Leuser National Park in Sumatra, Indonesia. It's straight out of the pages of The Jungle Book – only better.
This UNESCO-listed tropical rainforest sprawls across the island of Sumatra, straddling the border between North Sumatra and Aceh.
Brimming with an incredible diversity of flora and fauna, trekking here is a must-do for nature lovers.
This is the last place in the world where Sumatran orangutans, tigers, elephants, and rhinos co-exist; it's also home to unique plants such as the enormous Rafflesia bloom.
Fly into the major city of Medan and secure transport to one of the various entry points, such as the tourist hot spot of Bukit Lawang or lesser-visited villages like Tangkahan, Batu Katak, or Ketambe.
Trekking here is unforgettable, but bear in mind that to protect the habitat and animals you're on the lookout for, you should engage the services of an ethical guide who doesn't approach, touch, or feed any of the animals.
Even though it's illegal, this practice is rife in well-trodden areas, so do your research before selecting your guide. The beauty and rarity of these animals must be preserved and supporting responsible tourism and only ethical animal tourism is the best way.
Kyrgyzstan
Altyn Arashan
Recommended by Krasen of Journey Beyond the Horizon
There is a deep alpine valley with gorgeous grasslands and forests, surrounded by sharp summits and a magnificent snow-capped peak. A furious river flows on the valley with yurts scattered at its banks, horses and sheep herds wander on the steep slopes. This is Altyn Arashan – a fairy tale place in Tianshan, the "Heavenly Mountains" in Kyrgyzstan.
In the northeastern part of Kyrgyzstan, on the northern slopes of the Tianshan's range Terskey Alatau, there are several incredibly beautiful alpine valleys, descending to the Kyrgyz "sea" Issyk Kul. One of them is Arashan Valley.
It's a fantastic place, offering hiking, camping, and other adventures. But the most significant spot on the valley is Altyn Arashan- a small mountain resort at 2450 m altitude. What makes it significant is its mineral springs, providing wild and exotic spa pools with 38°C warm water, right beside the icy waters of the river.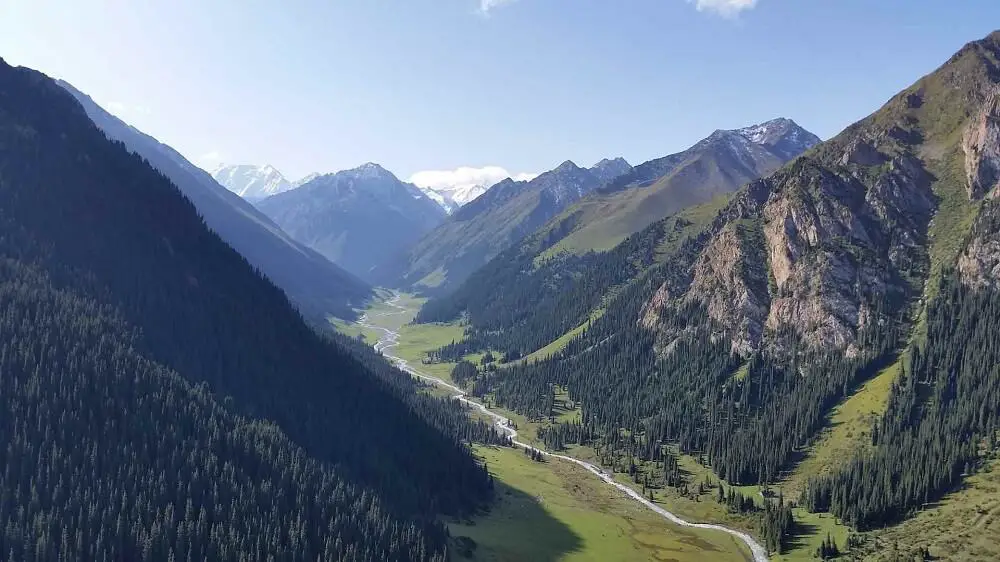 Ala Archa National Park
Recommended by Ellis of Backpack Adventures
Ala Archa National Park is only a stone's throw away from Bishkek, the capital of Kyrgyzstan. However, with snow-capped mountain peaks, raging rivers, and pine tree forests it is a completely different world from the bustling city.
What makes this day trip from Bishkek a perfect bucket list adventure is not only its accessibility but also its natural beauty. The park is part of the majestic Tian Shan mountain range with its unique flora and fauna. Wildlife includes mountain goats, deer, marmots, and the extremely rare snow leopards.
You will enter the park through the Ala Archa Gorge with the fast-flowing Ala Archa River. From there you can start different trails for both amateur and professional hikers. From a leisurely walk to a waterfall, to challenging hikes to glaciers and mountain peaks.
Before you know it you are surrounded by high altitude alpine mountain views. It's hard to believe you are only 40 kilometers south of Bishkek. To get to Ala Archa National Park you can take a taxi from the city center to the start of the hiking trails.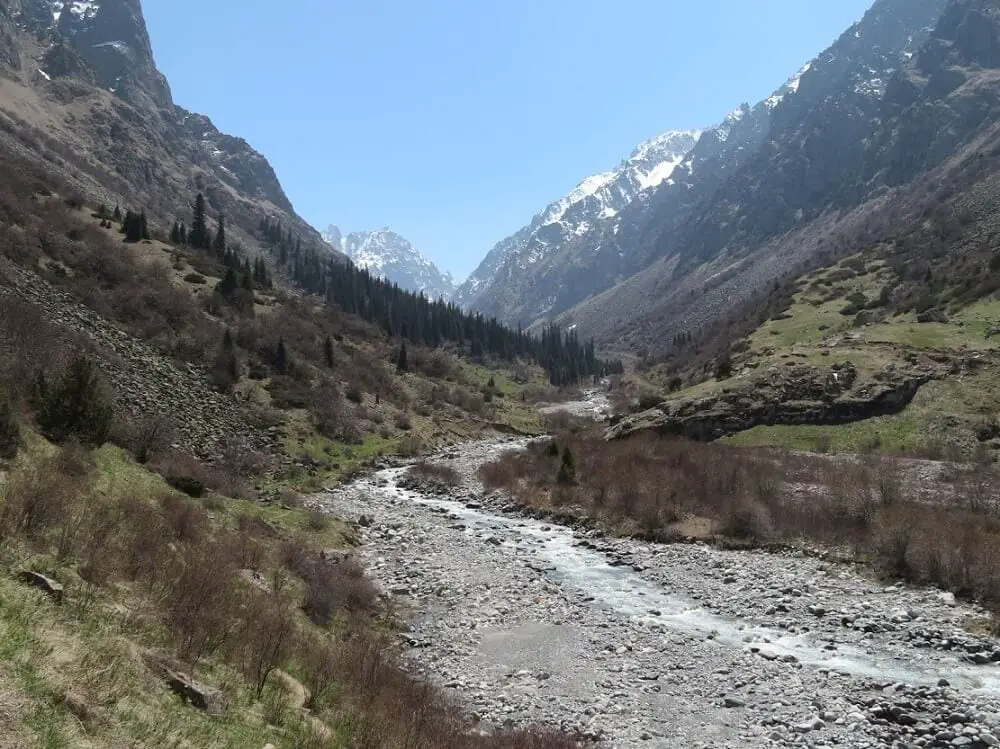 Nepal
Hiking the Annapurna Base Camp
Recommended by Paula of Paula Pins The Planet
Hiking the Annapurna Base Camp (ABC) in Nepal is a bucket list adventure for many travelers and for a reason. It is considered one of the most beautiful and life-changing experiences you can have. 
Annapurna is one of the tallest mountains in the world (8.091 m), and the Annapurna Sanctuary National Park is a diverse climatic zone, from tropical to freezing alpine peaks.
When hiking Annapurna expect to have long days of intense hiking, while you enjoy the stunning views of the Himalayas and the hospitality of the Nepalese people and their quaint mountain villages. 
It takes from 6 -10 days to hike the ABC, it will depend on the route you choose and your speed.
It is advised that you have a good fitness level and follow a hiking fitness plan before you go. Considering that you will be hiking in high altitudes, at least 4-8 hours a day and with little rest. But the trails are some of the most inspiring and challenging you will ever encounter and getting to the base camp is so rewarding.  
Several local agencies in Pokhara offer the package, and you can buy the all-inclusive with a guide, porter, and accommodations at guest houses. You still need to pay for your food and water.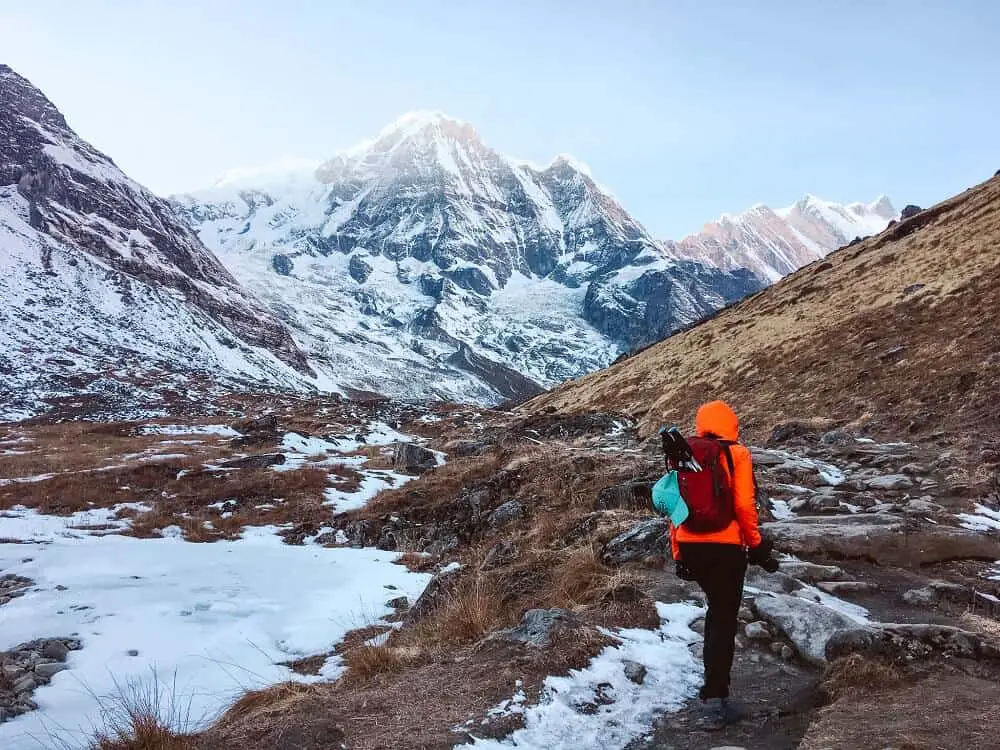 Hiking Everest Base Camp
Recommended by Marco Sison of Nomadic FIRE
The idea of an adventure in the Himalayas is a common bucket list item for both travelers and early retirees who have moved to Asia. Nepal and the trek to Mount Everest Base Camp (EBC) beckon adventurers, thrill-seekers, and nature lovers alike.   
The trek follows an 80 mile / 130 kilometers (round trip) trail up Mount Everest from Lukla.
Many naive hikers may scoff that the EBC trek is "Only 80 miles." At the average walking speed of roughly 4 miles per hour, the math says a brisk walk can cover this distance in 20 hours. Nope!
The big story is the climb. The hike starts at the airport at roughly 9,300 feet. The final altitude at Base Camp is 17,600 feet. The 8,300 feet / 2530 meters of elevation gain is what makes the EBC trek a real Asia bucket list challenge.
A quick word of warning for anyone thinking about this trek: the trek to EBC isn't a leisurely stroll. Base Camp sits above 17,500 feet /5180 meters.
Ascending faster than 500 meters per day without altitude acclimation can cause acute mountain sickness (AMS) on even Olympian level fitness athletes. AMS can cause fluid buildup in the lungs and brain. Left untreated, AMS can lead to death.
Seeing several helicopter evacuations is a common occurrence during an EBC trek. Go slow. Stay hydrated. Descend if you start to feel lightheaded or nauseous.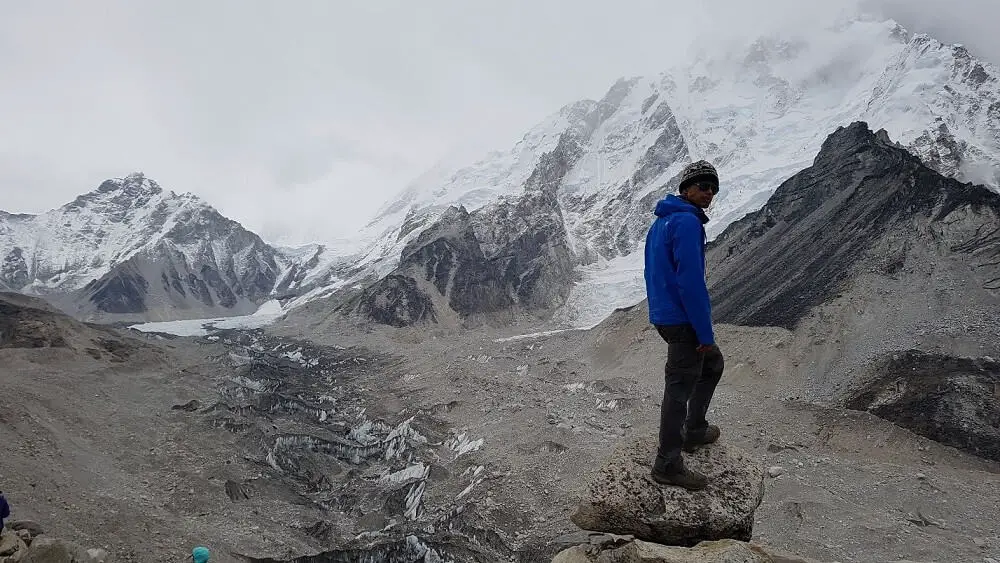 Taiwan
Fo Guang Shan Monastery in Kaohsiung
Recommended by Erica of Travels With Erica
Fo Guang Shan Monastery in Kaohsiung, Taiwan is the birthplace of a modern humanistic form of Buddhism known as Fo Guang Shan.  It quickly became the most popular form of Buddhism in Taiwan and is now practiced across the world.
The monastery is open to the public all year around and is free to visit.
Fo Guang Shan has two sections: the working monastery where monks live and practice, and the Buddha Museum where guests can learn more about Buddism and Fo Guang Shan. 
Most tourists only go to the museum, but the monastery is worth visiting as well.
The museum is home to the Big Buddha, the largest sitting bronze Buddha statue in Southeast Asia and is over 40 meters tall!  It's the main reason Fo Guang Shan Monastery is such a popular tourist attraction.    
The monastery is 45 minutes outside of Kaohsiung.  You can take a direct bus 8501 or the Hafo Express from Zuoying Station. The first bus departs at 8 am. The monastery is extremely busy so arriving early is a good strategy.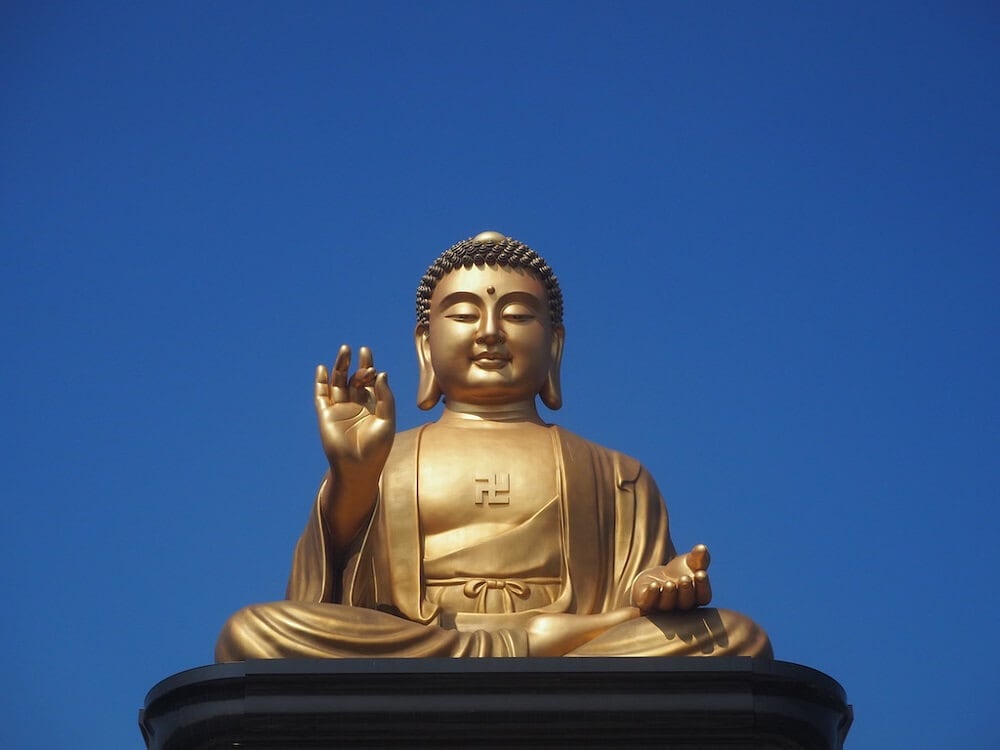 Taroko Gorge
Recommended by Nick of Spiritual Travels
Taroko Gorge has been called "the Grand Canyon of Taiwan." The dramatic natural wonder is located in Hualien County on the wild and stunning east coast of Taiwan, just three hours from Taipei City by train.

Taroko Gorge is carved out by the Liwu River as it travels from the 3000+ meter peaks of the Central Mountain Range to the Pacific Ocean. The 19-kilometer section referred to as Taroko Gorge features sheer vertical cliffs of marble and gneiss, with Highway 8 providing access to vehicles and cyclists.

A whole day is needed to explore Taroko Gorge. Some mandatory stops include Eternal Spring Shrine, which was built to honor those who died constructing the highway, Swallow's Grove, a section with especially awesome views, and Tunnel of Nine Turns, which was recently reopened after being destroyed by a typhoon years ago.
There are also some spectacular hikes in Taroko Gorge, including death-defying Zhuilu Old Trail, the sapphire blue waters of the Shakadang Trail, and the waterfalls of the Baiyang Trail. When you're all done, make sure to seek out the semi-secret Wenshan Hot Spring for a soak.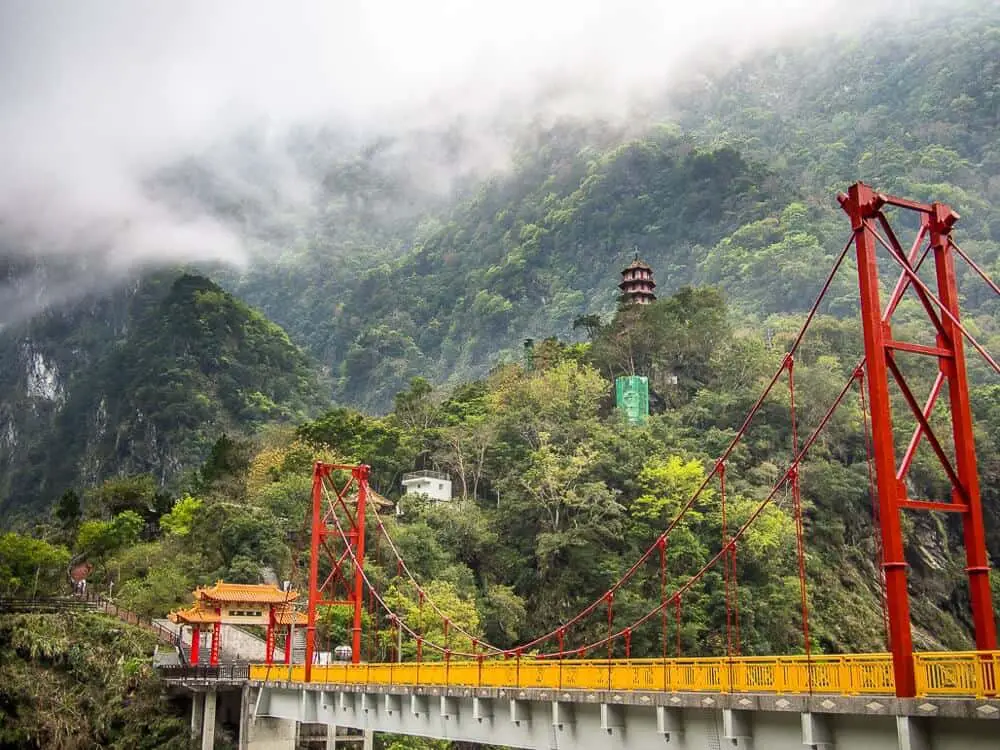 Jiufen
Recommended by Caroline of CK Travels
Jiufen is a beautiful mountain town located on the northern coast of Taiwan and is apparently the inspiration for Studio Ghibli's animated film Spirited Away. The town was originally built by the Japanese during their occupation in 1893 after the discovery of gold in the area. Gold mining activities stopped shortly after the end of World War 2 and many buildings in the town remain unchanged to this day.
Jiufen is now a popular tourist destination and famous for its narrow alleyways, teahouses, street food stalls, souvenir shops, and sweeping views of the mountains and sea. Many locals and tourists visit Jiufen as an easy day trip from Taipei or for a weekend stay (there are lots of boutique hotels and guesthouses in the area).
The main street is the most popular spot in town to visit with a variety of great Taiwanese restaurants and gift shops, but there are also lots of waterfalls you can visit and scenic hikes you can do around nearby Mt. Keelung.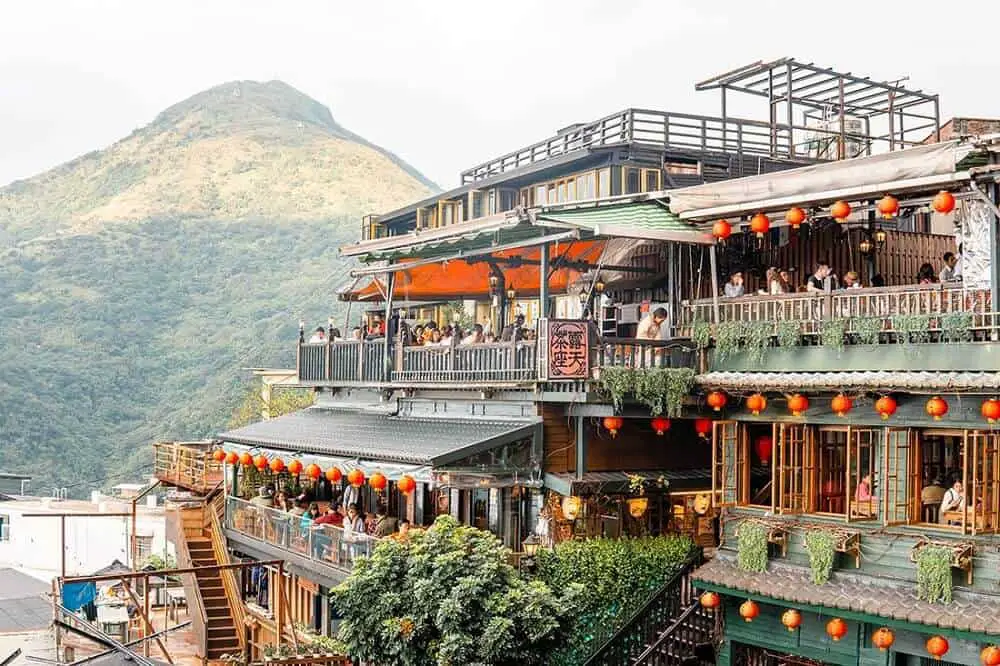 Vietnam
Ha long Bay
Recommended by Sally of Our 3 Kids V The World
Halong Bay, located in the North West of Vietnam and designated a UNESCO World Heritage Site in 1994 is a top Asia bucket list location when visiting Vietnam.
Known for its emerald waters and limestone islands the area is of pristine natural beauty. Halong Bay is approximately 3 hours of travel from the Northern Capital of Hanoi.
There are various ways of getting to Halong Bay and it all really comes down to budget. A private vehicle will set you back around 70 USD while a local train will be around 3.50 USD. 
The best way to see Halong Bay is by taking a cruise. Let getting there, cruises will also depend on your budget.
There are backpacker cruises that come very cheaply for a 2 or 3-day cruise or you can book a high-end luxury cruise almost like a floating 5-star hotel. 
Many of the more expensive cruises will include private car transfers from Hanoi to Halong Bay in the cruise booking. Most cruises include the same sights and experiences, so it's just the level of comfort and hospitality that differs.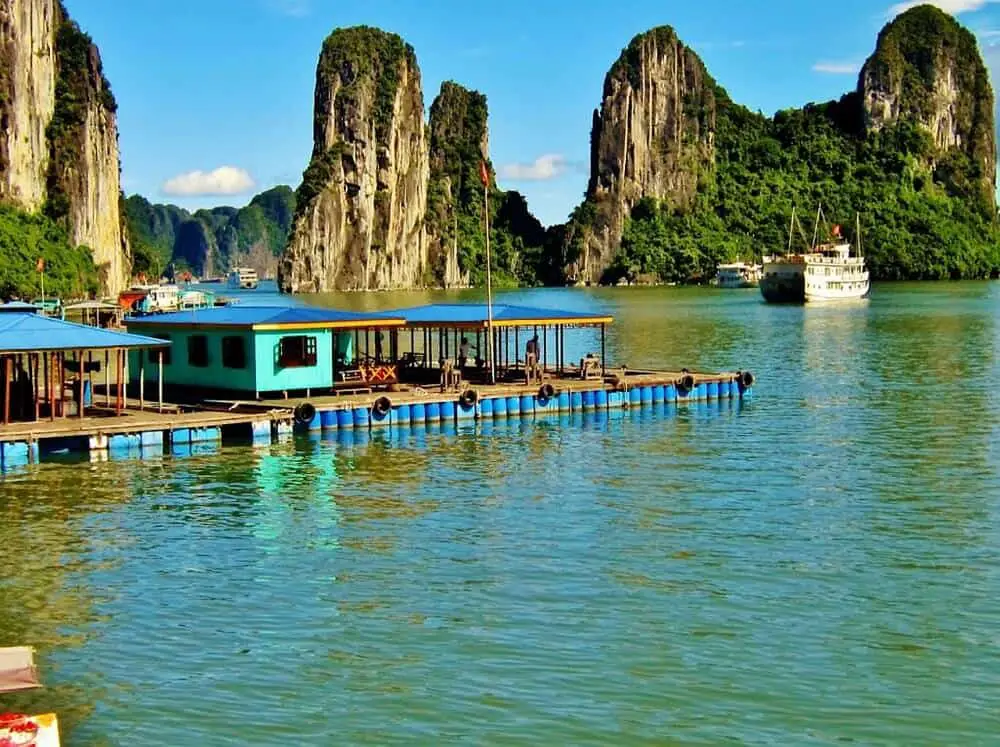 An Giang province
Recommended by Marya of The Beau Traveler
An Giang province may not be the most popular destinations in Vietnam for international tourists, but it is an excellent alternative for anyone planning to continue their trip to Cambodia from the southern part of Vietnam.
Chau Doc and Long Xuyen City are the best cities to stay in the province. There are a few bus options from Ho Chi Minh City to choose from to go to An Giang province. The journey to Chau Doc takes around 5-6 hours from the capital city, with beautiful scenery along the way.
Not only is it where the highest mountain in the Mekong Delta, Sam Mountain, is located, but the province is also rich in cultures.
Cham Village is where the majority of the Muslim population lives in Vietnam. While at the top of Sam Mountain and around the city center, you can also find many temples with beautiful architecture. This is a melting pot of a diverse community with a lot of things to offer.
One of the must-visit spots in An Giang province is Tra Su Cajuput Forest and Bird Sanctuary. Situated around 20 kilometers from Chau Doc, you can rent a boat to stroll around the Melaleuca forest while enjoying the birds sing in their natural habitat.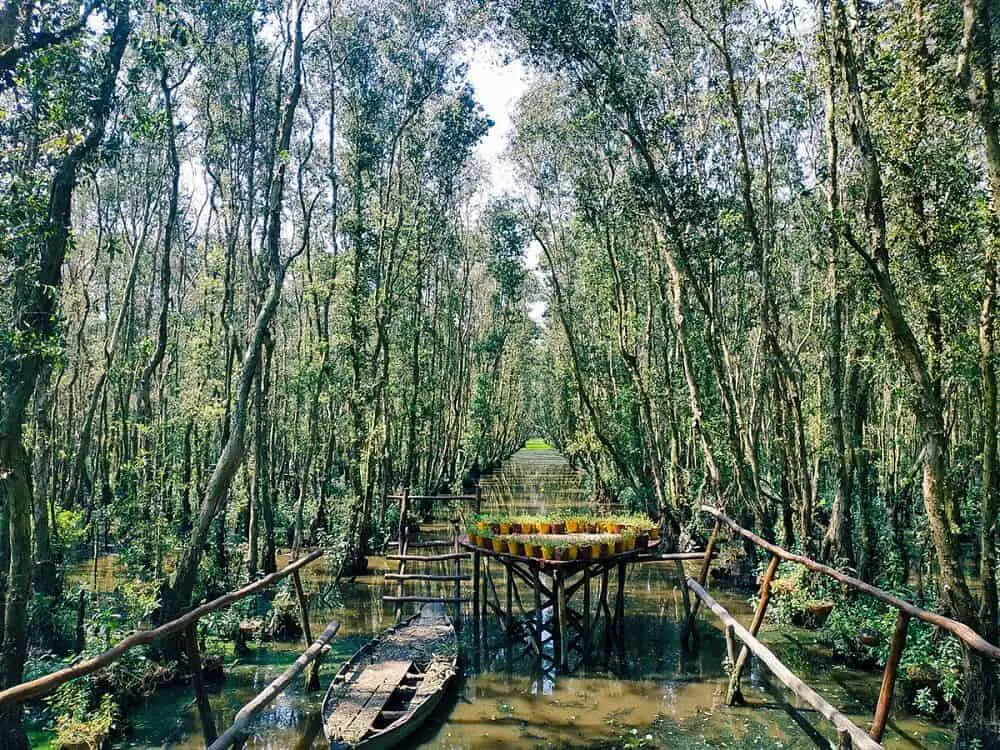 Cu Chi tunnels
Recommended by Nichola of Family Hotel Expert
Visiting the Cu Chi tunnels, just outside of Ho Chi Minh, is a must if you're traveling to Vietnam. This warren of hand-dug tunnels criss-cross the countryside around an hour outside of the city and where the base of the Viet Cong for the Tết Offensive in the Vietnam War in 1968.
Today you can go into these small tunnels, which in this region spread across 75 miles, and work your way through the land, imagining what it must have been like to have been squirreled away here, waiting to attack.
As well as the tunnels you can also see displays of some of the booby traps that were used. This is an evocative and incredibly thought-provoking place.
Take a boat up the river to the tunnels or a bus tour, or you can visit independently and make your own way to the site. Whether you're visiting on a solo trip or taking a family holiday to Vietnam Cu Chi will give you a real insight into the Vietnam War and some of the horrors that went on here.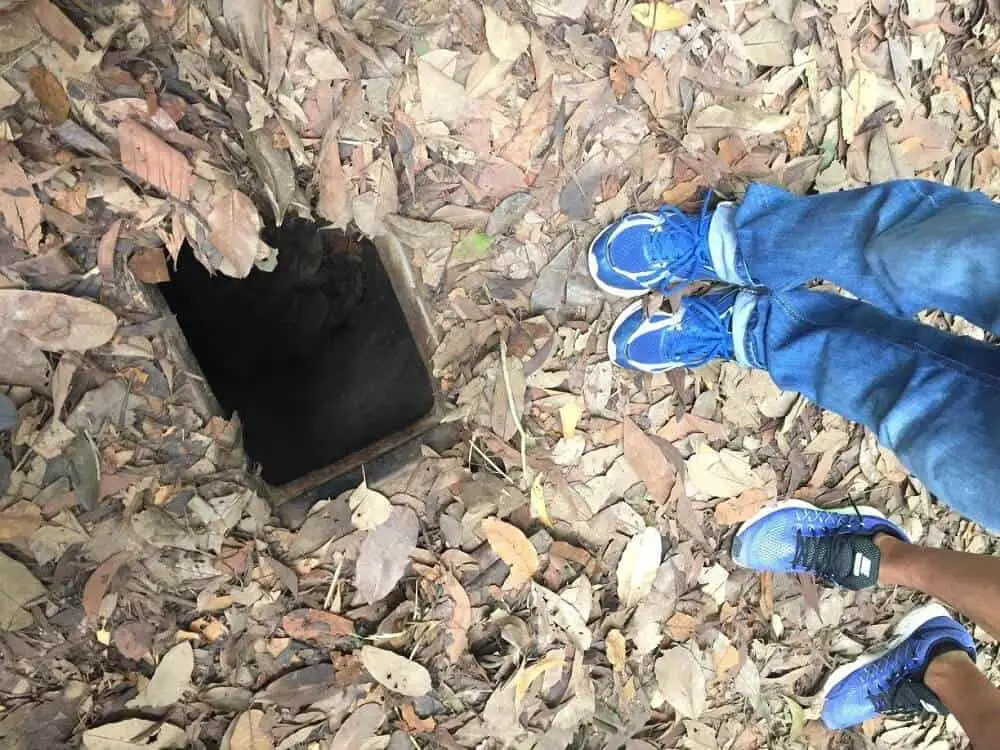 Iraq
Ruins of Babylon
Recommended by Christian of Unusual Traveler
Babylon, few other places in the world have a more famous and important place in history than these ancient ruins located in the southern part of Iraq.
Once the most important city in the ancient world, and believed to be the home to the legendary Hanging Gardens of Babylon, one of the original wonders of the world.
But after years of destruction lasting from the Saddam Hussein's area to the destruction by the American forces during the Iraq war, the ruins of Babylon are finally getting recognized and protected. And with the security situation in Iraq improving, it's now possible to visit the historical place.
While visiting Iraq is still a nightmare when it comes to getting a tourist visa, it's well worth the effort when you finally get it and are able to walk around Babylon, as one of very few tourists over the last decades.
And if you get some spare time when visiting the ruins of Babylon, you and also visit one of Saddam Hussein's personal palaces which overlook the ruins of Babylon.
Pakistan
Explore the montains
Recommended by Samantha of Intentional Detours
One thing that every Asia bucket list must include is a journey through Pakistan's stunning mountains. The infrequently-visited country is home to 108 peaks that sit above 7000 meters, and the villages, valleys, and rivers that exist beneath them offer some of the most stunning vistas and experiences in all of Asia. 
Pakistan's most beautiful mountainous hamlets can be found all throughout the Gilgit-Baltistan territory, as well as Upper Chitral, a district within Khyber-Pakhtunkhwa province.
Pakistan is untouched by mass tourism, and Pakistani hospitality is reason enough to visit: the locals that live in these regions are some of the most generous and friendly people that one could meet. 
The Rakaposhi Basecamp Hike, Nanga Parbat Basecamp Hike, and the Karambar Lake hike are just three highlights of the many trails that exist in Pakistan. The latter is in one of the most beautiful and remote regions of the country, Broghil Valley. 
While domestic tourism exists, foreign tourism is just re-starting. Whether you choose to head to the Yarkhun Valley in Chitral or Gojal in Hunza, Gilgit Baltistan, it's not uncommon to go days or weeks without meeting another foreign traveler. 
Due to extreme weather, exploring these regions is only possible from April- November.
Explore Lahore
Recommended by Jiayi of The Diary of a Nomad
One of the best adventures you can have in Asia is to experience the incredible culture and architecture of Lahore, Pakistan.
Lahore is an extremely cultural and historical city, and it's a wonderful place to experience local life in Pakistan. In fact, it is dubbed as the food capital of the country, with lots of flavorful food.
If you're wondering about what to see in Lahore, the attractions are plenty. Start off by visiting Badshahi Mosque, a jewel of the 16th-century Mughal Empire.
The architecture there is simply spectacular; filled with intricate patterns and stunning red sandstone carvings. Don't forget to stop by Lahore Fort, Masjid Wazir Khan, and the Tomb of Jahangir as well for some more history lessons and jaw-dropping monuments.
For a change of scenery, take a walk at the Anarkali Bazaar and the market at Delhi Gate. This is where you can meet lots of friendly locals and get a glimpse into local life in the city.
Getting to Lahore isn't difficult. You can either fly into the local Allama Iqbal International Airport if you're coming from outside of Pakistan or use a bus service called Faisal Movers ⁠if you're coming from other cities within Pakistan.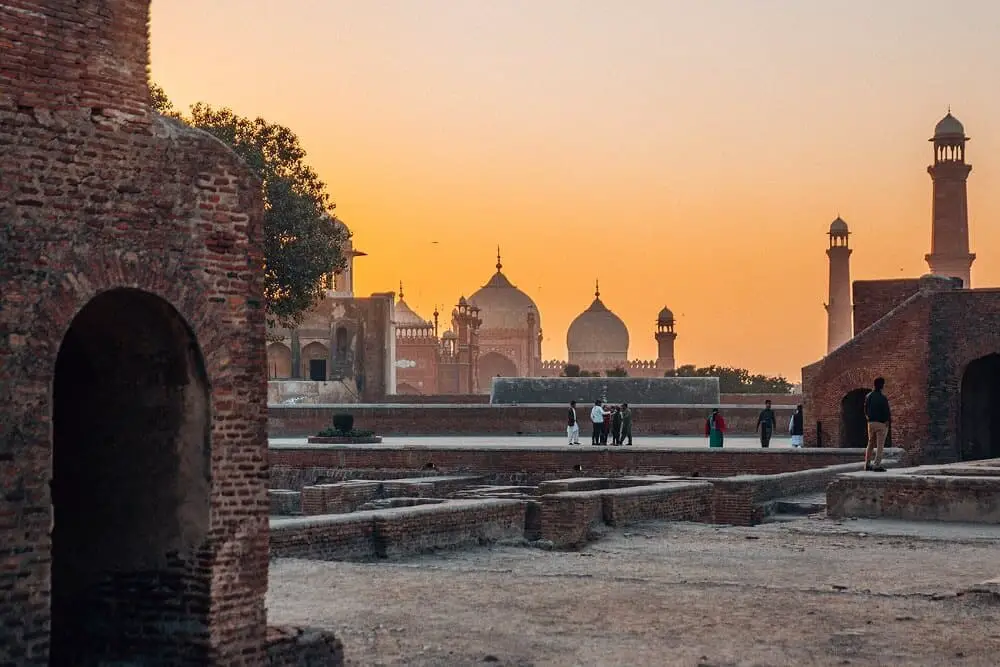 China
Tiger Leaping Gorge trek
Recommended by De Wet and Jin of Museum of Wander
If the name wasn't enough to put the Tiger Leaping Gorge in Yunnan province on your Asia bucket list, then the spectacular scenery will. It will simply knock your socks off.
The Tiger Leaping Gorge is one of the deepest canyons in the world and reaches a depth of over 3000 meters from mountain top to riverbed.
You'll be rewarded with stunning natural scenery of cliffs dropping into raging rapids below, lofty mountain peaks, and friendly locals along the way. The Tiger Leaping Gorge is a UNESCO world heritage site as it's a hotspot for biodiversity.
What makes the hike itself so alluring is the fact that it's quite straightforward, easy to reach, cheap, and not overrun with tourists. There are several cozy guesthouses along the way where you can get a good rest, a hot shower, and tasty food. 
These guesthouses are a great introduction to local hospitality while supporting local communities at the same time. By doing the hike independently you will be supporting the local economy directly, rather than just paying the middleman in a big city somewhere.
The Tiger Leaping Gorge is situated about 2 hours away by bus from Lijiang.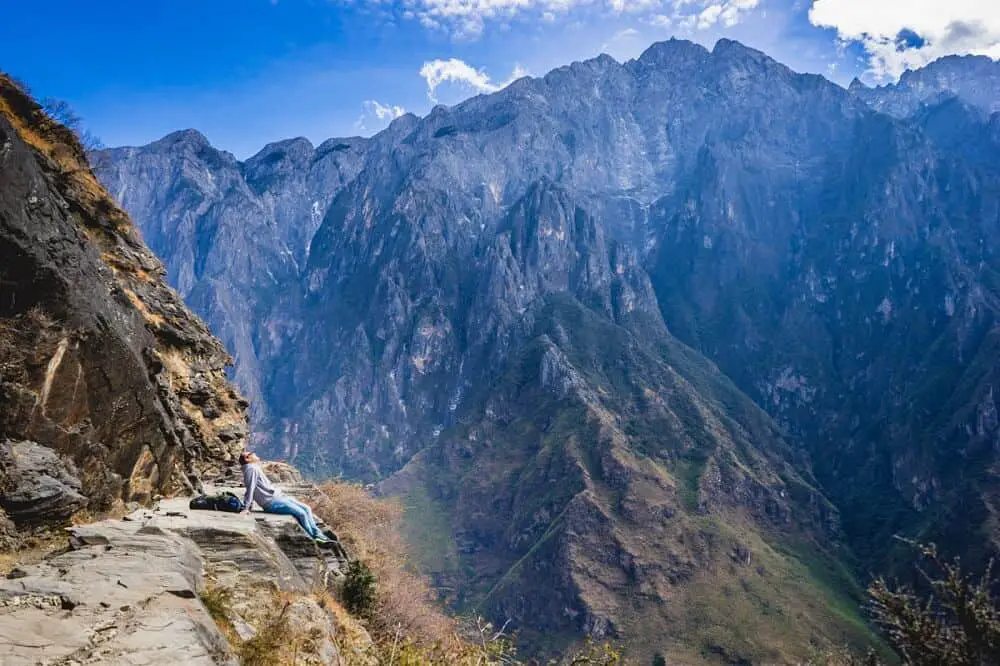 Tang Paradise in Xian
Recommended by Mark of Wyld Family Travel
Xian is an amazing city to visit in China. The Tang Dynasty ruled China from Xian for over 200 years from the 6th century through to the 8th century.
Tang Paradise reconstructs many great buildings and traditions from the Tang Dynasty for people to experience on one large parkland site in the middle of Xian.
You can explore reconstructed copies of original buildings, you can take in a historic show featuring actors and dancers. Stroll through gardens and tea houses at this amazing attraction.
All this is situated on the banks of a picturesque lake that is the centerpiece of this world from another time.
Tang Paradise is one of the best things to do in Xian. Unless you speak and read Chinese, Tang Paradise is best reached by Taxi. Get your hotel or hostel to write it down in Chinese for you.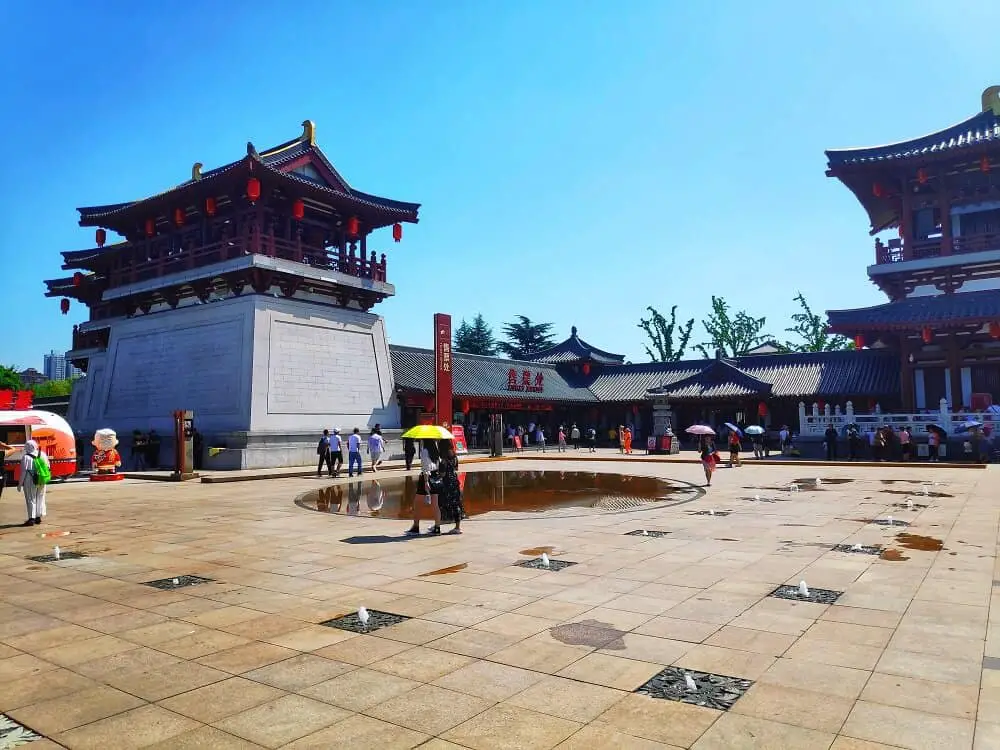 The great wall of China
Recommended by Dymphe of Dymabroad
One of the most exciting things to do in Asia is walking on the Great Wall of China. It is a fortification originally built to defend the northern borders of the country.
Different parts of the wall were created during different time periods, with the earliest being constructed around 700 BC and the last in the 17th century.
It is such an impressive structure and it is one of the New 7 Wonders of the World. You have to visit it! There are several places where you can visit the wall and walk upon it.
The most visited section of the Great Wall of China is Badaling. Every year millions of people visit this part and very famous people have gone here.
It is about 75 kilometers from Beijing and you can go there by train or bus. The train is the fastest option, taking only around 30 minutes. The bus journey is 1 to 1.5 hours.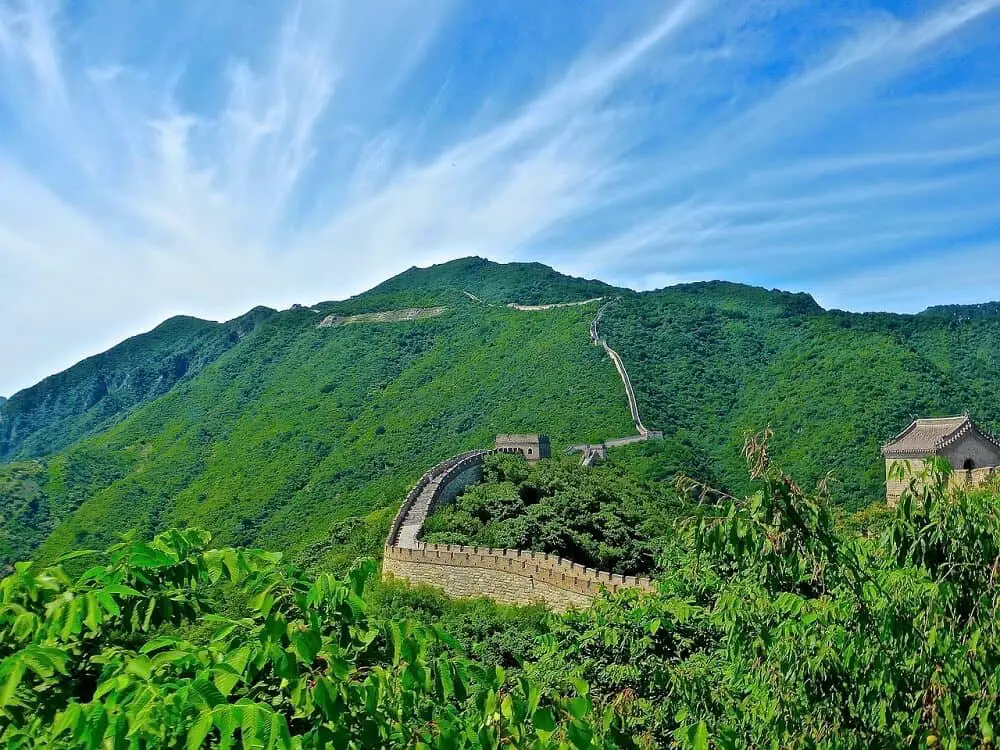 Zhangjiajie National Forest Park
Recommended by Cecily of Groovy Mashed Potatoes
The giant pillars of Zhangjiajie, known as the floating mountains of China, are one of the most otherworldly and breathtaking sights. So much so, they are what inspired Pandora's mountains in the movie Avatar.
As you hike through China's first national park, you will be amazed by the thousands of spires that have been shaped over millions of years by erosion. It's the ultimate bucket list item if you are a nature lover.
Top activities to add to your Zhangjiajie itinerary include hiking up Tianzi mountain for stunning views and take the scenic gondola back down. Also, hike up to the Back Garden and Hallelujah Mountains in Yuanjiajie, the most famous and scenic section of the park. Walk the Golden Whip Stream to see monkeys diving and swimming into the water.
To get to Zhangjiajie National Forest Park, you'll need to fly to the Zhangjiajie Hehua International Airport. From there, it's about an hour's drive to the town of Wulingyuan, which is right beside the park. Busses to the park leave from the Wulingyuan bus station.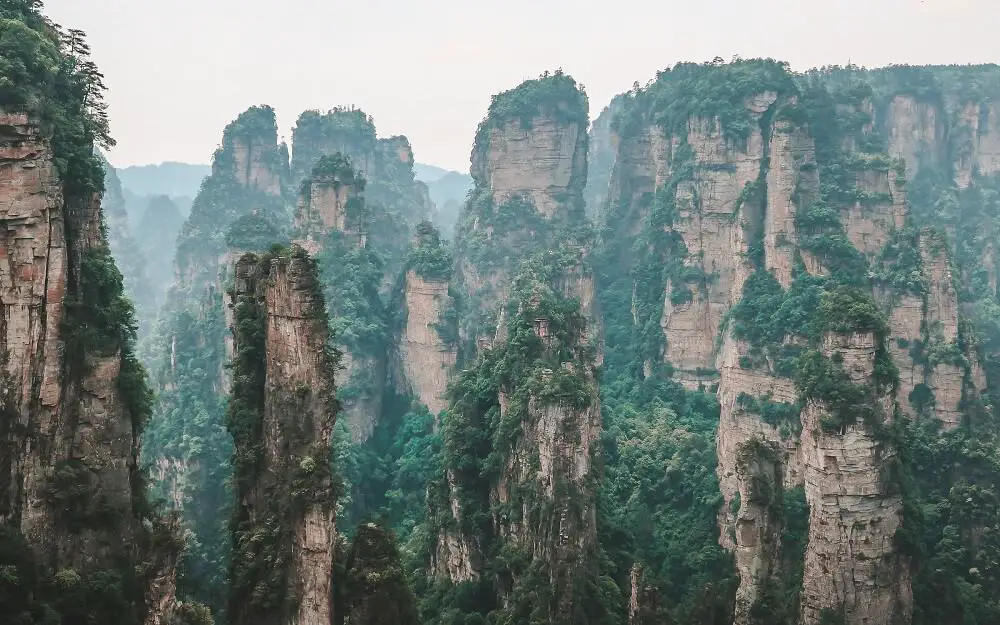 Tibet
Taking the Qinghai-Tibet Railway to Lhasa
Recommended by Sasha of Mog and Dog Travels
Reaching the 'roof of the world' was once an arduous task attempted only by the boldest adventurers willing to brave driving thousands of kilometers on often dangerous roads. In 2006, all this changed with the advent of the Qinghai-Tibet railway that finally connected Tibet with the rest of China. 
Spanning a mammoth 1956 km, the Qinghai-Tibet railway is an engineering marvel. During its construction, engineers grappled with how to build railway tracks across permafrost and at extremely high altitudes without harming the fragile environment.
The end result is the world's highest railway line: some sections of the route reach an altitude of over 5000 m and the Tanggula Railway station is also the world's highest railway station, at an eye-watering 5068 m above sea level. 
If record-breaking train journeys aren't enough to get this on to your Asia bucket list, then the epic scenery on route is what truly makes this an unmissable adventure. Most passengers spend all of their time glued to the large windows, as the train glides past the seemingly endless Tibetan plateau, skirting around towering snow-capped mountains, glaciers, and azure-colored lakes glinting in the sun.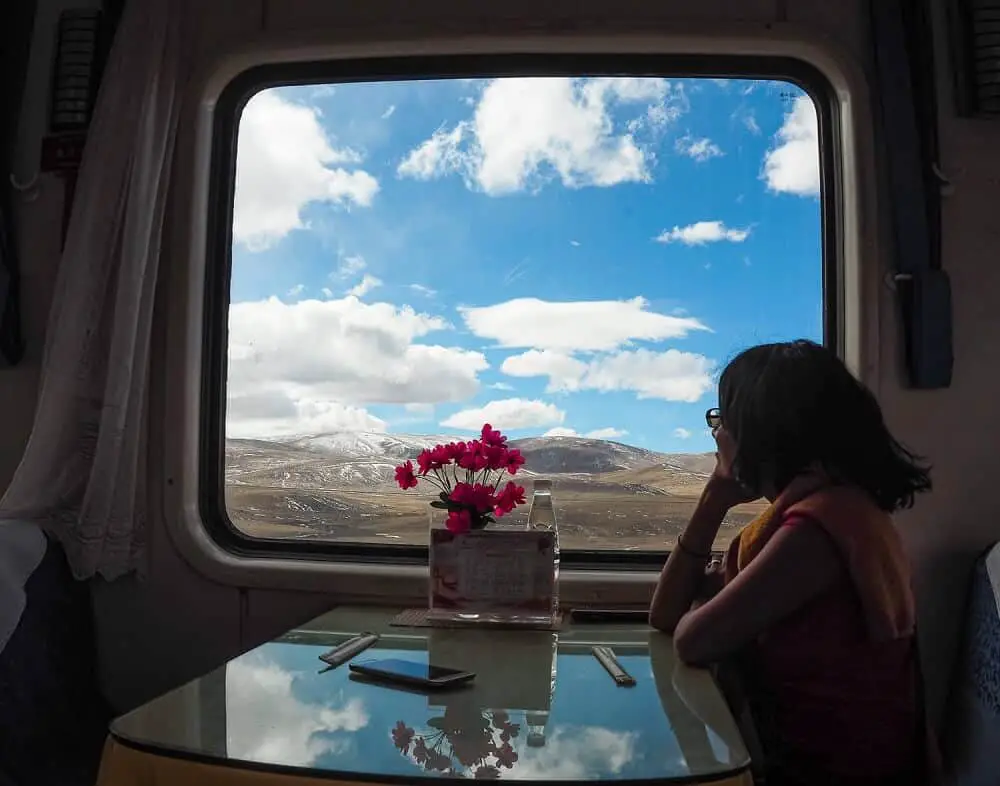 Sri Lanka
Lion's Rock
Recommended by Lara of The Best Travel Gifts
Lion's Rock (officially known as the Ancient City of Sigiriya) is a must-visit in Sri Lanka for all history, architecture, and world-heritage enthusiasts.
It's a giant rock near Sigiriya on top which you will find the ruins of an ancient city that dates back to around 475 and was list as UNESCO's world heritage back in 1982.
If history, culture, and architecture are not really your thing, perhaps the stunning views from the top of the rock will convince you?
It's a bit of a climb to get to the top (about 1270 steps) and it can get quite hot and humid in Sri Lanka, which is why it's wise to either climb in the morning or late afternoon.
As it's a world heritage site you need to pay an entry fee of 4500 LKR (around 30$), which includes entry to the museum and the rock.
Alternatively, you could climb the cheaper Pidurangala rock which offers amazing views of Lion's rock, but you won't be able to see the Ancient city and the museum itself.
Lion's rock is easily accessible by foot, bike, or tuk-tuk from any hostel or guesthouse in Sigiriya.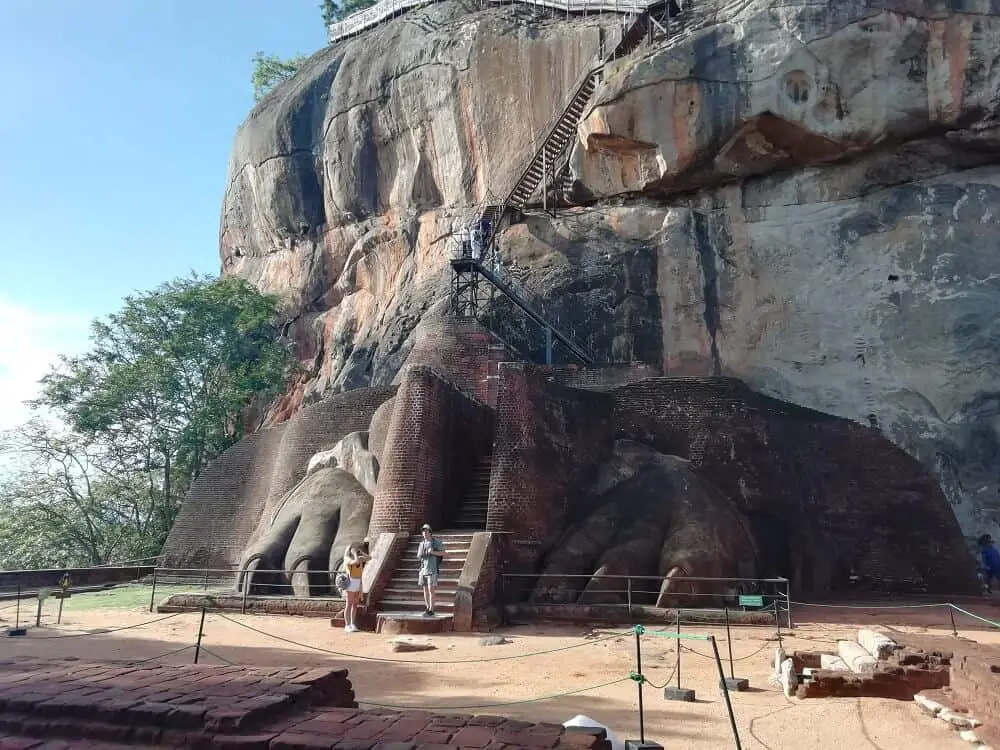 Ella to Kandy train
Recommended by Luke and Roxy of The Coastal Campaign
One of the most beautiful train rides in the world runs from Ella to Kandy in the mountainous tea regions of central Sri Lanka. This 7-hour train ride winds over mountains, through endless tea plantations, and passes several waterfalls. It's an amazing experience and one of the highlights of any trip to Sri Lanka.
As well as being a beautiful journey, another reason this trip is so popular is because it's an open door train. This allows you to hang out the side of the train as it travels through the amazing scenery and this makes it such an exhilarating experience.
The train can be quite crowded so you may have to wait for a while to have one of the open doorways to yourself but on a 7-hour long train ride, this will happen eventually. And once it does you can enjoy sitting on the edge of the doorway, watching the world go by.
This is quite a popular trip in Sri Lanka so you will need to buy your ticket a few days in advance and we recommend starting from Ella as this is the less popular direction to take. Make sure this train ride makes it into your Sri Lanka itinerary when you visit this incredible country.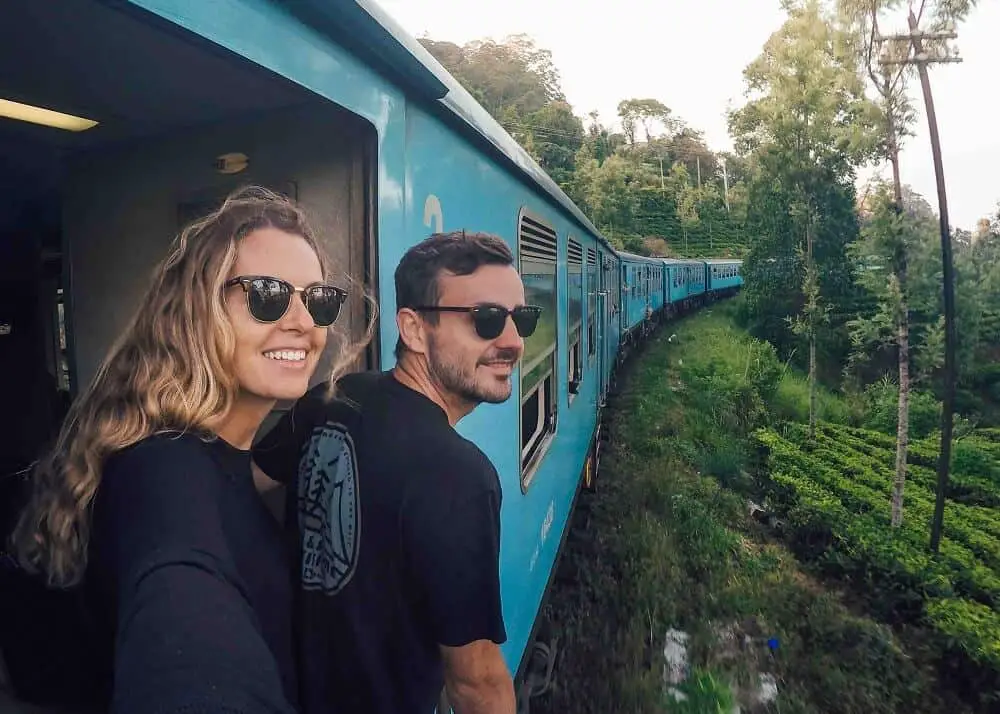 Laos
Hiking up Kuang Si Falls
Contributed by Heather of Conversant Traveller
About 18 miles southwest of Luang Prabang, not far from the mighty Mekong River, is the hidden forest gem of Kuang Si Falls.
Popular with tourists and locals alike, visiting here is something you should definitely add to your Southeast Asia bucket list if you go to Luang Prabang.
You can go on a Kuang Si Falls day trip by road or by boat, and the tour can be combined with the Tat Kuang Si Bear Rescue Center which is based near the falls.
The falls themselves are a stunning set of plunge pools and impressive cascades, with plenty of places for swimming in the turquoise waters.
Intrepid adventures should head to the trail that winds its way up the left side of the falls, and tackle the steep, muddy scramble up to the top.
It's not for the faint-hearted, especially outside of the dry season, but the views out across the jungle are well worth the effort and it will probably be the best thing you do on your entire trip.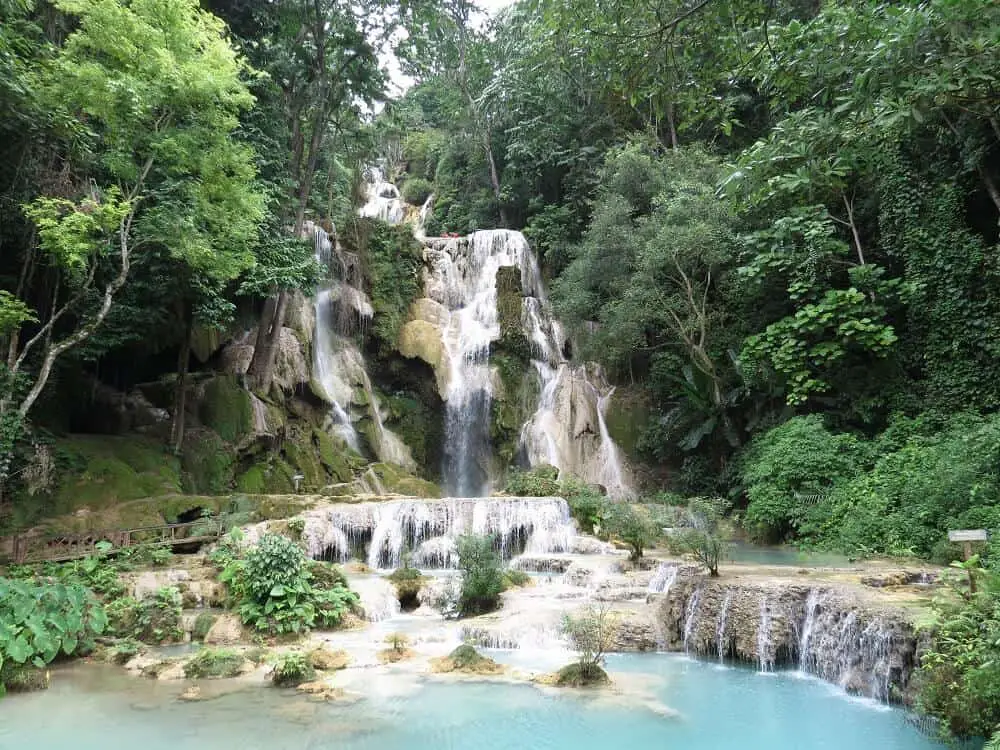 Luang Prabang
Recommended by Sam of My Flying Leap
Luang Prabang is a sleepy town that shows what Southeast Asia was like before it became popular with tourists.
There are over 30 Buddhist temples in the historic center to see. Climb Mount Phousi to visit the temple at the top and take in amazing sunset views of the area. 
Shop at the night market to buy locally-made items directly from the artisans. This is not the high-pressure experience you might see in other areas.
Visit the magnificent Kuang Si waterfalls with their sparkling turquoise cascades. Enjoy a Laos massage, and for something a little different, visit the Living Land Farm to learn how rice is cultivated. Hint: for such a staple food, it's much harder than you might think!
For a unique experience, participate in the alms-giving ceremony, a tradition dating back to the 14th century where hundreds of Buddhist monks from the local monasteries collect gifts of rice, fruit, and other snacks for their daily sustenance.
Luang Prabang has a small international airport so it's easily accessible. Or, take buses from the other cities in the region or a boat on the Mekong River from Northern Thailand. Luang Prabang is a special place worth a place on your Asia bucket list.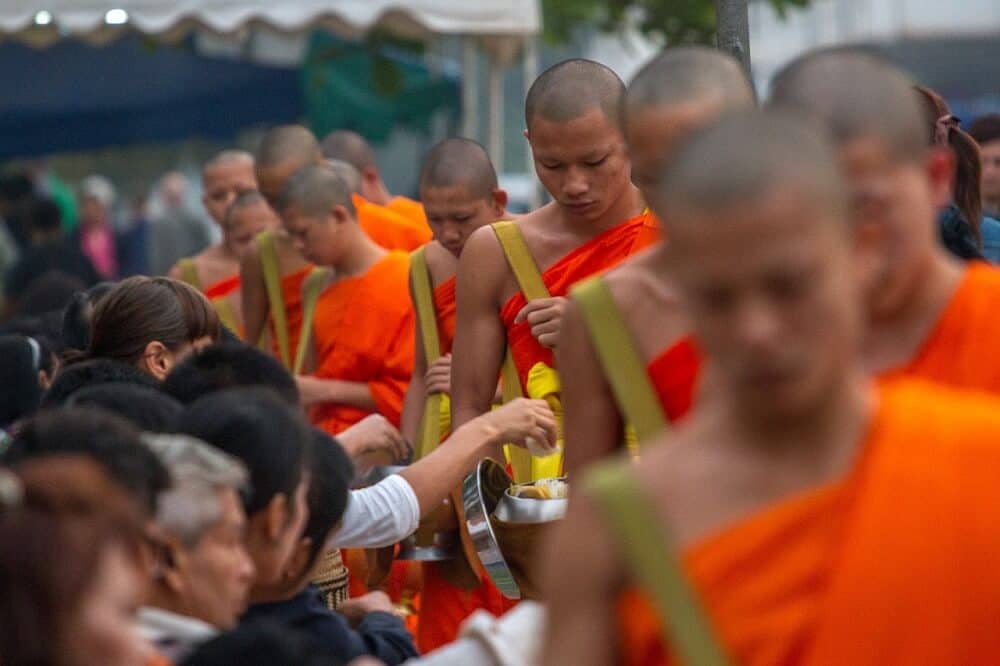 Buddha Park in Vientiane
Recommended by Milijana of World Travel Connector
Buddha Park in Vientiane is one of the most amazing places to see in Laos and a true Southeast Asia bucket list adventure.
The Buddha Park is a spectacular sculpture park with more than 200 statues of Buddha, Vishnu, Shiva, various gods, animals, demons, and some truly quirky creatures.
Unique, eccentric, mystical, sensational, out-of-this-world are the adjectives best describing Buddha Park in Vientiane.
This surreal place was created by a man called Luang Pu Bunleua Sulilat in 1958. He was a mystic, artist, and spiritual leader who was born as a Buddhist in Thailand but studied Hinduism in Vietnam. He lived most of his life in Laos where he advocated a mix of Buddhism and Hinduism and he got many followers who called him Luang Pu – the priest. 
The Buddha Park is a park, but also a temple where people go to show their respect, to pray, and meditate. Thus, it's also called the Spirit City Temple or Wat Xieng Khuan in Lao. Nevertheless, the Buddha Park is an extraordinary and unparalleled place to see in Laos.
The park is located on the outskirts of Vientiane and is easily accessible by public bus No. 14 from Talat Sao, Vientiane's central bus station.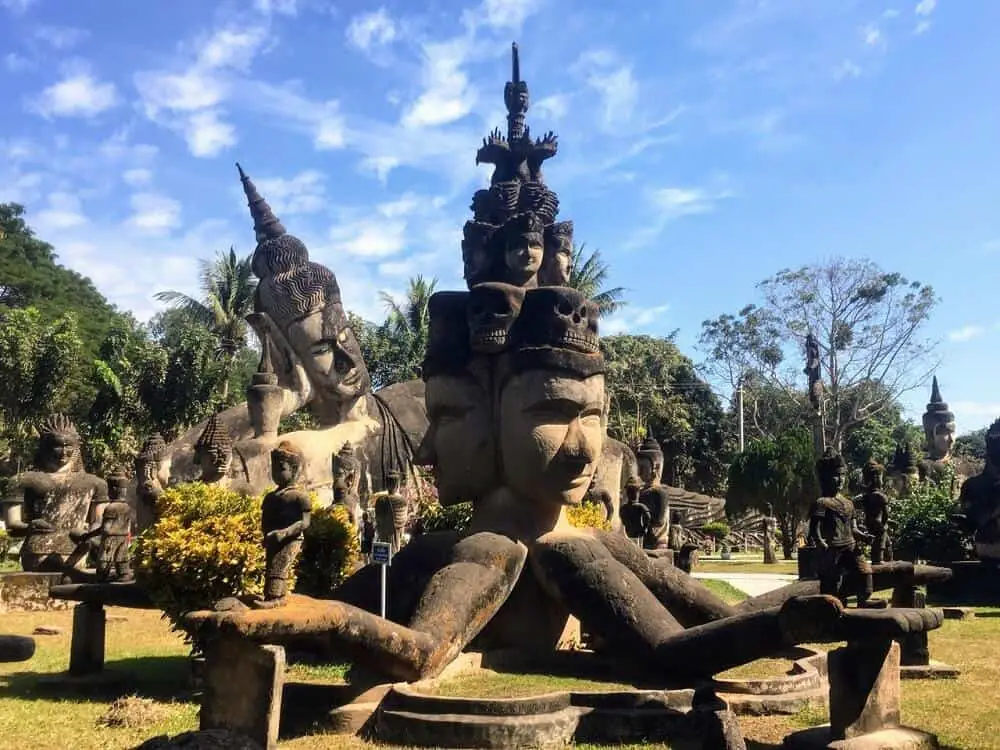 Bhutan
Tiger's Nest Monastery
Recommended by Subhadeep of My Travel Frames
Paro Taktsang, popularly known as Tiger's Nest Monastery, is the iconic landmark of Bhutan. The monastery is located 10 kilometers north of Paro which is the only international airport of Bhutan at present. It is situated on a precarious cliff at 3,120 meters from sea level, about 900 meters above the Paro valley.
Taktsang literally means "Tigress Liar". It is believed that Padmasambhava (Guru Rinpoche) came to this place from Tibet on the back of a tigress. In one of the caves here, the Guru then meditated and emerged in eight incarnated forms (manifestations) and the place became holy.
The hike to Tiger's Nest Monastery is the best activity one can experience in Bhutan. The path to the monastery is a well-laden dirt trail and it takes 5-6 hours to complete.
The Tiger's Nest Monastery itself has four temples inside with different forms of Guru Rinpoche. The main shrine of the monastery – the prayer wheel is located in the courtyard of the temple.
In the hall of Thousand Buddhas, which is carved into the rock, a large statue of a tiger is located. The tiger is respected as the symbol of Paro Taktsang because of the legend.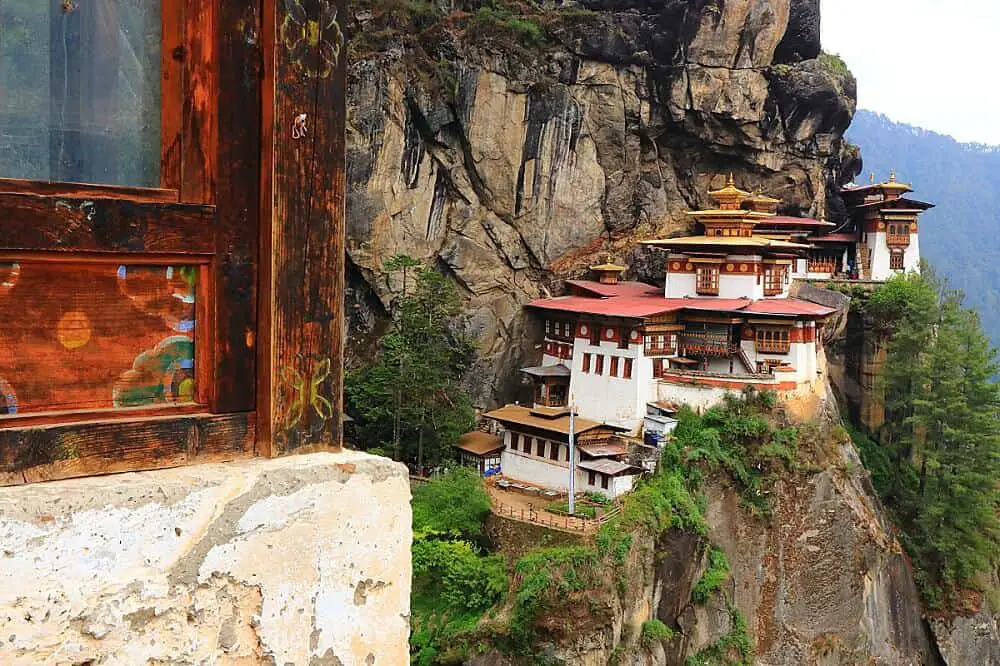 Tango Monastery
Recommended by Mayuri of Fernwehrahee
If you are visiting Bhutan, you may have heard about Thimphu, Paro, and Tiger's Nest mostly but there are so many other beautiful places in Bhutan.
One of the top things to do in Thimphu is visiting Tango and Cherry Monastery as a day hike. The Tango Monastery is located 14 km from Thimphu and the road towards the monastery runs parallel to the river along with the forest.
As you reach, first you will come across a cherry Monastery and then Tango Monastery. To reach the Tango Monastery, you need to hike for 1-1.5 hours from the base.
It is a simple hike with fewer difficulties and it has a well-paved Path that follows through the forest. You will come across many locals along the way.
The Tango Monastery is a sacred place blessed by Guru Rinpoche. The monastery is a center for Buddhist studies and the views are breathtakingly beautiful from the above.
You can do the Tango and cherry Monastery hike in a day from Thimphu.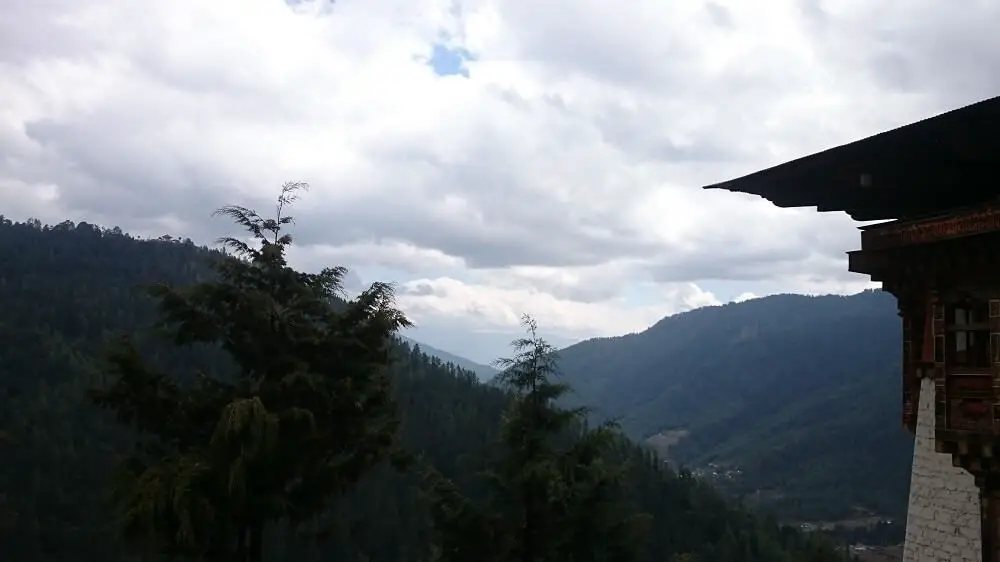 Choki Traditional Art School

Recommended by Dagney of Cultura Obscura

A visit to Choki Art school is one of the best things to do in Thimphu for ethical tourists and culture lovers.
Cultural heritage is extremely important in Bhutan. At Choki Art School, students are offered free education, room, and board in order to learn different Bhutanese art forms and carry on their country's traditions.
What makes this such a great ethical experience is that although visitors are welcome, they can ONLY visit during pre-arranged tours with the school.
This means you go when it works for the staff and students and must be shown around rather than wandering into classrooms and disrupting the students.
On the tour, visitors can observe students (who are told ahead of time) as they work on different projects. The students all specialize in one subject and can choose from several different art forms, including weaving, sculpting, painting, and carving.
However, in order to truly master one subject, students are encouraged to take courses throughout multiple disciplines.
After being shown around and introduced to the different specializations, visitors are able to buy art from the gift shop. All of the art here is made by the students, who receive 100% of the proceeds.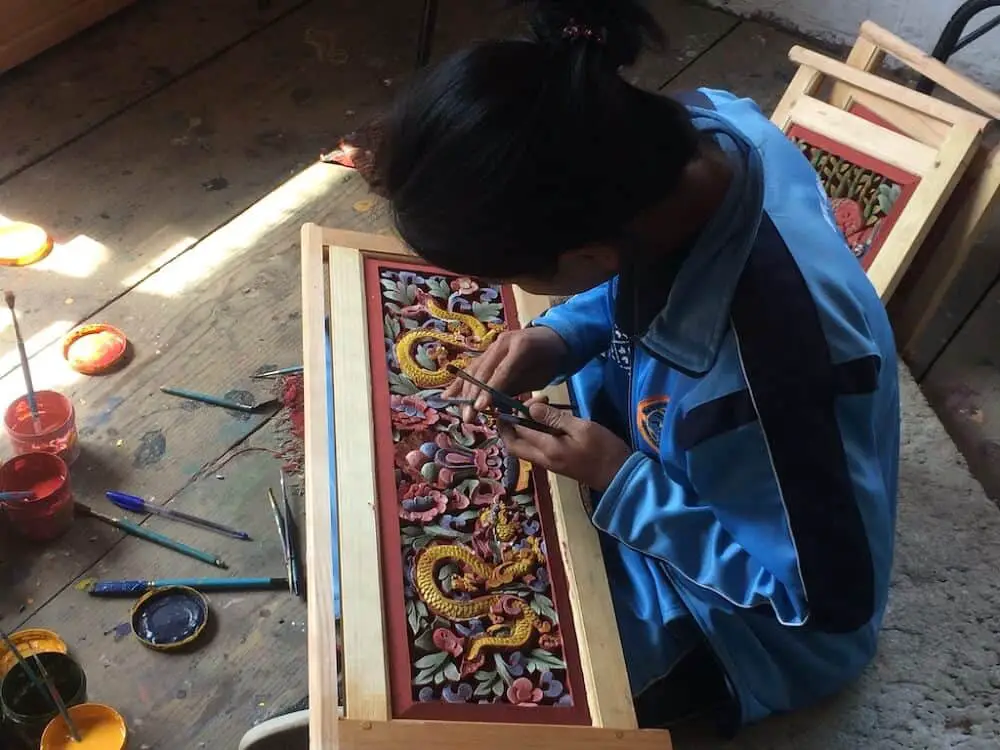 Chimi Lhakhang
Recommended by Neethu of Our Backpack Tales
The Chimi Lhakhang is a fertility temple located in the Punakha District of Bhutan. Dedicated to saint Drukpa Kunley, the one whom the Bhutanese people lovingly call the 'Divine Madman' the temple is often visited by childless couples and families with children alike.
The village at the foothills of the hillock housing the Chimi Lhakhang is popularly known as the 'Phallus Valley'. This is because the walls of the buildings in this village are painted with vivid and colorful images of the 'winged phallus' in honor of the Divine Madman.
One of the best parts of visiting the Chimi Lhakhang is to take a walk through the Sopsakha village through the paddy fields. This walk gives the visitors a chance to witness the day to day life of the villagers and the village live paintings.
The temple itself is very simple and is built in the traditional Bhutanese style of architecture. As you step into the temple courtyard, you will see a huge Bodhi tree at the center and several colorful prayer flags around the temple.
The entry is free and shoes must be removed before entering the temple. The best time to visit is during the autumn season when the paddy fields are a mix of a beautiful golden and rich green.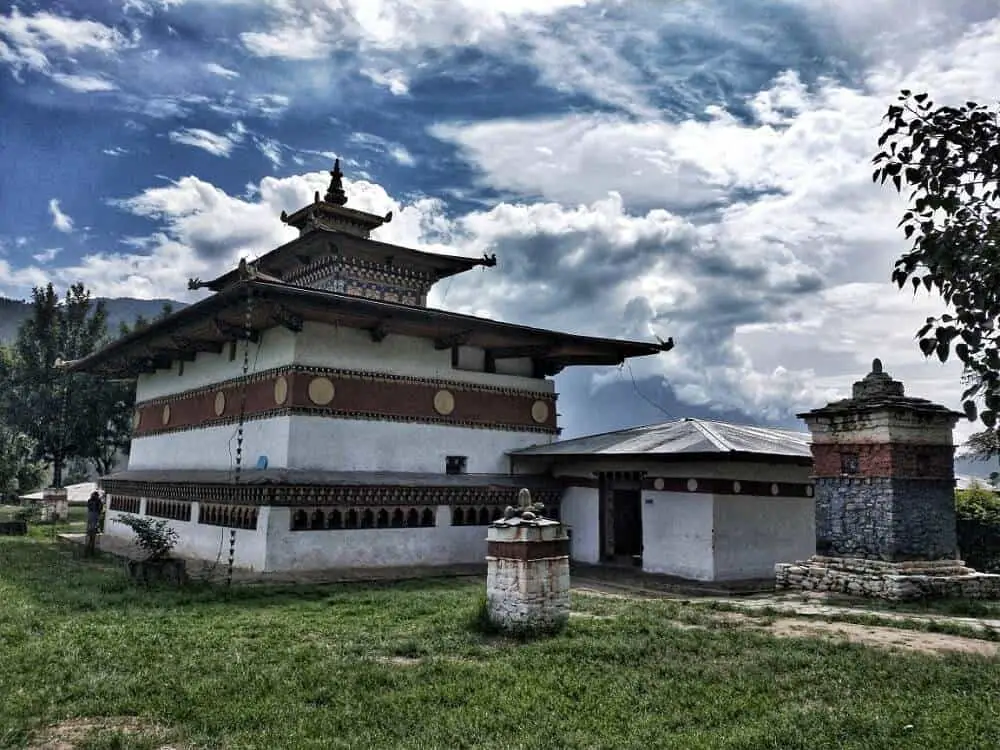 Mongolia
Visit a nomadic family
Recommended by Patricia of Spanish Nomad
Nomadic pastoralism, like any other type of rural lifestyle, is disappearing around the world in favor of a modern lifestyle.
In Mongolia, around 30% of the population still lives a traditional semi-nomadic lifestyle, which, unfortunately, is under threat due to climate change and overgrazing.
Experiencing this ancient way of life which is the basis of today's Mongolian society is one of many unique cultural experiences that not everybody will have the luxury to witness.
Remember that visiting a nomadic family is not a tourist attraction but a privilege that you may or may not have the opportunity to experience. Thus, it is important to be considerate and respectful. A family is opening their doors to a group of strangers and will host you in their house, so show appreciation for what is given to you instead of asking for things.
It's also custom to bring gifts that are not readily available in the countryside as a token of appreciation.
Some great ideas are fruit and vegetables that don't easily spoil, and gifts for kids like toys or coloring books. Avoid candy and chocolate. If they kill a mutton for you, pay the price of the animal as thanks.
Keep in mind that both parts should benefit from the encounter, not only you. So make sure you act like a responsible traveler and show respect.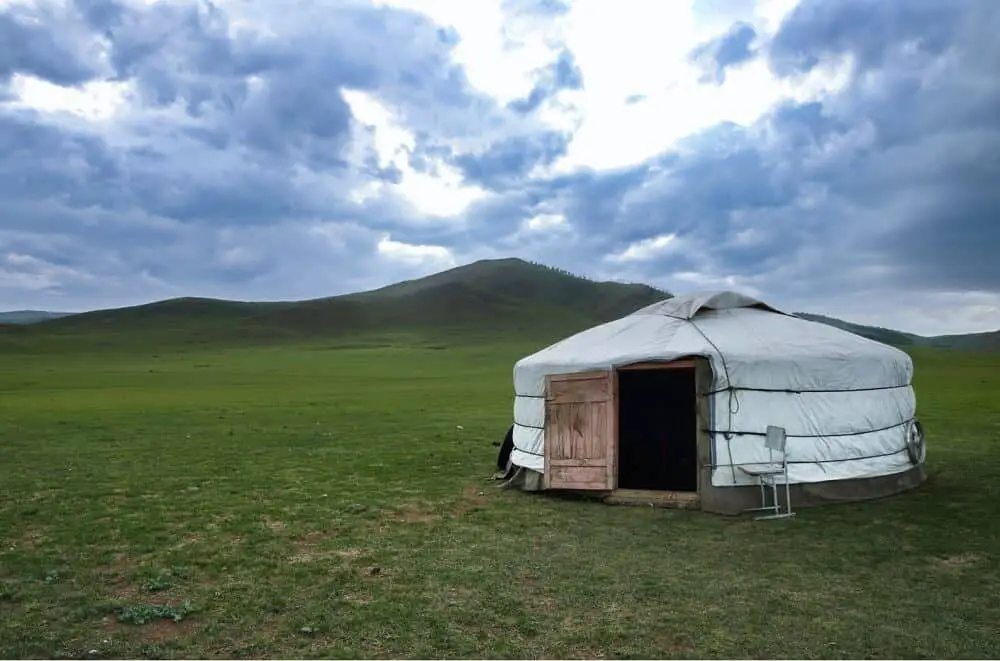 Pin it for later!