2 days in Malta might sound like plenty as it is such a tiny island. However, a Malta weekend break rewards travelers with immense history and culture, likely making you want to go back for more.
The cosmopolitan capital Valletta impresses with grand palaces and churches, while seaside villages charm with pastel houses and fishing boats.
Beyond urban areas, Malta's rugged countryside and cliffs conceal 5,000-year-old megalithic temples. Pretty beaches with crystalline waters beckon for swimming against backdrops of limestone walls and fortresses.
With over 7,000 years of enthralling history and culture, you'll wish for more time. But it's possible to experience Malta's highlights in just a fun weekend if planned right.
I spent a month and a half exploring Malta and it's safe to say that I fell in love with the small archipelago. In this ultimate weekend in Malta itinerary I will help you make the most of 48 hours on this magical Mediterranean island.
While there are plenty of things to do in Malta in 2 days, I've left some options open for you to choose from. Let's start planning your quick but amazing Maltese adventure.
Disclosure: This post may contain affiliate links. That means that if you make a purchase through one of those links, I will get a small commission at no extra cost to you.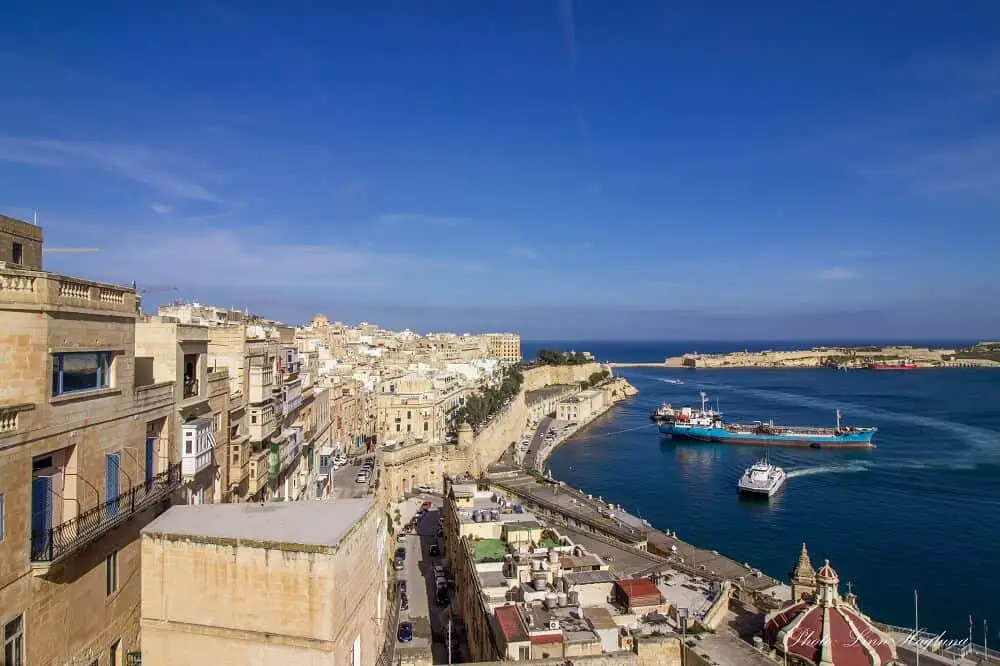 How to Get to Malta
Malta is well connected by both air and sea, making it easy to arrive for your Malta weekend trip. Here is more information about how to get to Malta.
By Plane
The island is connected to major European cities by direct flights to Malta International Airport, located near Luqa on the main island.
From London, you're looking at a roughly 3-hour flight, while from Rome it takes about an hour to reach Valletta. Despite being small, Malta's airport is easy to navigate.
Once you arrive, you can take a taxi or bus to Valletta, St. Julian, or your accommodation. Be sure to agree on the fare beforehand if taking a taxi. The bus from the airport to Valletta takes around 45 minutes.
By Boat
As an island nation, Malta can also be reached by sea. Frequent ferries run from Sicily, namely from the ports of Catania and Pozzallo, taking around 2 hours.
Opting to arrive by boat allows you to bring a car which is great if you're traveling by campervan in Italy and want to take a quick weekend break to Malta.
The ferry disembarks in Ċirkewwa on Malta's northern coast, from where you can drive anywhere on the island.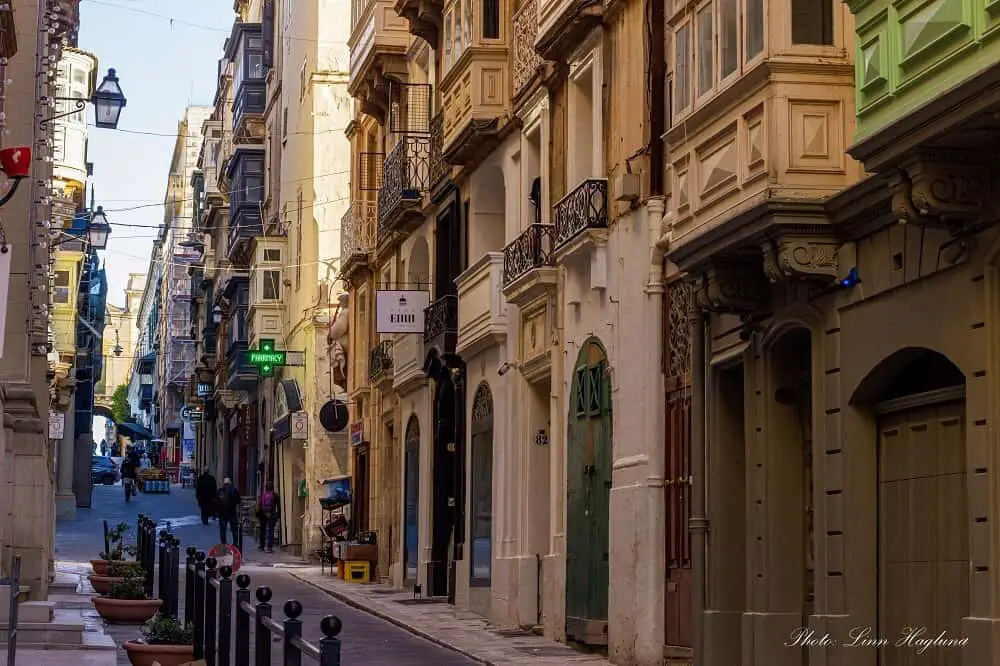 Getting Around Malta in 2 Days
Malta's compact size makes it easy to get around the main sights in just a weekend. While public transport is good on the main island, I suggest renting a car if you want to see as much as possible on this Malta 2-day itinerary. Here are the best transportation options for two days in Malta.
Public buses
Malta's bus system connects most of the island. Fares are cheap at around €1.50, and buses run frequently from around 5:30 to 23:00. Most tourist sights will be along bus routes. There is free Wi-Fi onboard and a bus ticket lasts for 2 hours from first use.
I spent most of my period in Malta traveling by bus (or hiking) and though it takes you to most places, you could be stranded in remote locations if you don't check the bus tables for your return, so always check upfront at the bus stop. Especially if you travel off-season.
Taxis
Taxis are available at the stands or can be booked by phone. Set rates apply between destinations. Taxis are useful for short trips not covered by buses. Agree on the fare beforehand.
Bolt
The best alternative to Uber on Malta and Gozo and can easily be booked through the app. It's usually cheaper than taxis too. I used it a couple of times and they had cars everywhere on the islands of Malta and Gozo.
Rental cars
Having a car allows maximum flexibility for 2 days in Malta. Keep in mind that driving is on the left and roads are narrow. However, the landscape is beautiful making a Malta road trip a dream.
International driving permits are required unless you hold a European driving license and you must be between 21 and 70 years of age to rent a car in Malta.
Tours 
Book a day tour to see top attractions with ease. Many companies offer flexible small group tours perfect for a weekend. This way, you can see attractions outside Valletta without thinking about transportation.
Ferries & boats 
To visit Malta's smaller islands, Gozo and Comino, take one of the regular ferries from the north of the island. Fares start from just €1.50 one-way. There is a ferry between Sliema and Valletta too if you decide to base yourself there.
You can also hop on boat tours taking you to the most popular attractions like sea caves, arches, and the Blue Lagoon on Comino Island.
I found this a great way to save time on organizing while seeing the top sights in a fun way.
POPULAR BOAT TOURS
On foot
Malta is very walkable, especially in the cities. Wear good walking shoes as there are hills and stone streets.
You can also walk between most of the towns in Malta, though I would say it's a bit tight with time for it.
However, some of the best hikes in Malta are from one city to another with splendid coastal trails (YES! I did walk around most of the three islands while I was there!)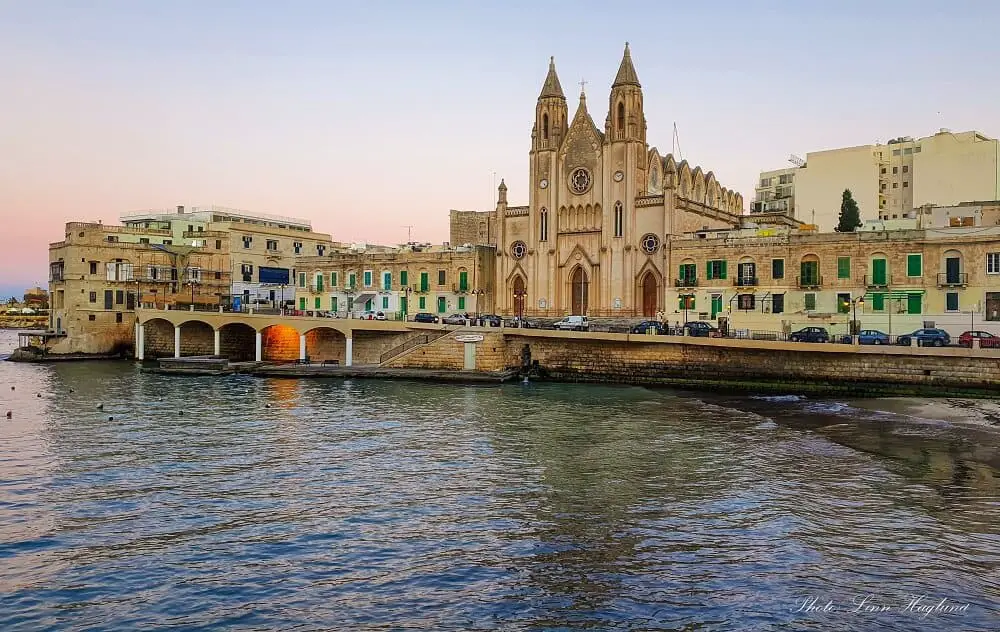 Best Time to Go on a Malta Weekend Trip
With Malta's sunny Mediterranean climate, any time is a good time to visit Malta. However, spring and autumn are ideal for avoiding the crowds of summer or the cooler days of winter.
Spring (March to May) brings pleasant temperatures, fewer tourists, and beautiful wildflowers blooming. Highs are around 18-25C.
Summer (June to August) is hot and dry, with highs of 30-35C. All attractions will be open and the beaches full of swimmers. It's peak season so book ahead.
Autumn (September to November) still has warm weather, with highs of 25-30C, but fewer tourists. The sea remains warm for swimming through October.
Winter (December to February) is the low season with possible rain or wind. Yet, winter in Malta can be incredibly pleasant with warm, sunny days. Temperatures average 12-18C. Some hotels or restaurants may be closed.
Whenever you visit, be sure to pack sunscreen and a hat, as the sun is strong year-round. Swimwear and beach gear are essentials too for enjoying Malta's scenic coastline.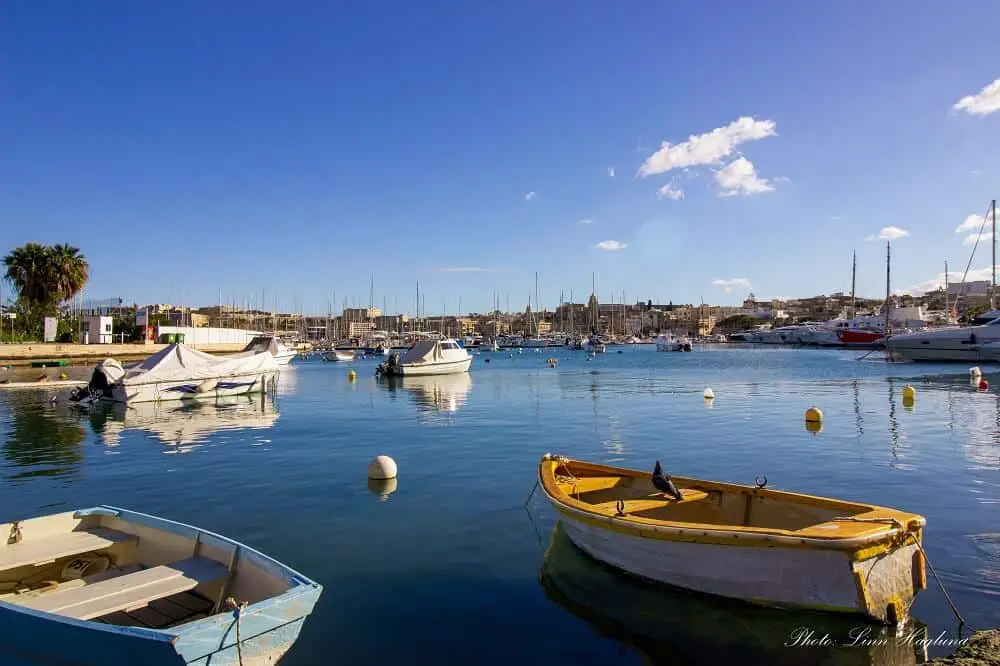 Where to Stay in 2 Days in Malta
With limited time, it's best to stay in a central location to minimize transit time when visiting Malta in two days.
Book accommodation early, especially in summer. Boutique hotels and guesthouses provide a nice ambiance and local flavor.
Here are some top options for where to stay in Malta.
Valletta
Malta's capital has boutique hotels and apartments right among the top attractions. Staying here avoids transport time and lets you enjoy Valletta's nightlife. Here are the top pics for every budget.
Luxury: Rosselli – this 5-star hotel is set in a 17th-century palace that once belonged to the Knights of Malta. It has a rooftop pool and pool bar, two restaurants, and excellent service.

Mid-range: The Capital Boutique Hotel – a lovely boutique hotel in the heart of Valletta in a quiet street. Some rooms have covered balconies and the beds are super comfortable.

Budget: Casa Asti – a rustic hotel in the center of Valletta where you easily feel at home. Some rooms have a balcony.
Sliema
Just across the bay from Valletta, Sliema offers seaside promenades, shops, and restaurants. It is also a budget-friendly place to stay with several budget hostels if you're looking for cheap Malta short breaks.
Sliema is well-connected by bus and ferry. and in a short walk from St. Julians where you fins nightclubs and casinos for late nights out.
Mid-range: 1926 Le Soleil Hotel & Spa – a great hotel with a spa, an infinity pool, and a private beach area. They offer private parking for an extra fee.

Budget: Marea Boutique Hotels – a great hotel centrally in Sliema with restaurants and shops nearby. The hotel has bike rental which is great if you want to get into Valletta the scenic way.

Hostel: Hostel On – for solo travelers wanting to meet other travelers, this is a good hostel choice with clean common areas and a big kitchen. They have 6-12-bed doms.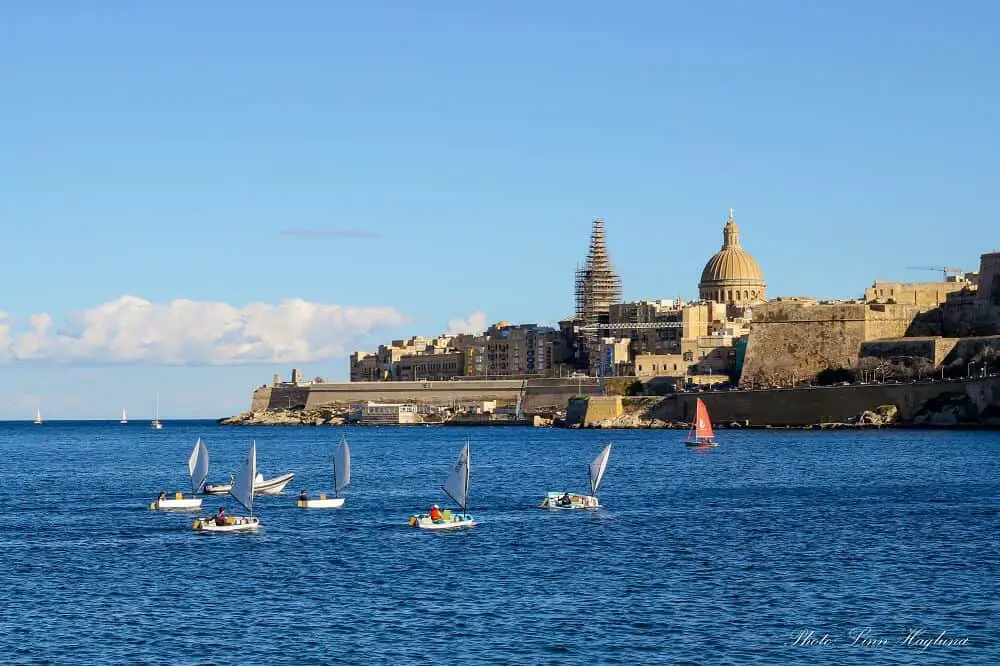 Day 1: Weekend in Malta Itinerary
There's no better place to begin your 2 days in Malta than in the country's capital, Valletta. Spend your first day uncovering its magnificently preserved Baroque streets and forts.
Make sure you wear comfortable walking shoes and have a good breakfast before you start the day.
Stroll around the Upper Barrakka Gardens
Start your day at the Upper Barrakka Gardens for panoramic views across the Grand Harbour and The Three Cities. Watch the colorful dgħajjes boats zip by as you admire landmarks like Fort St Angelo.
Stroll down Republic Street into the heart of Valletta, stopping for pastries and coffee at a local cafe.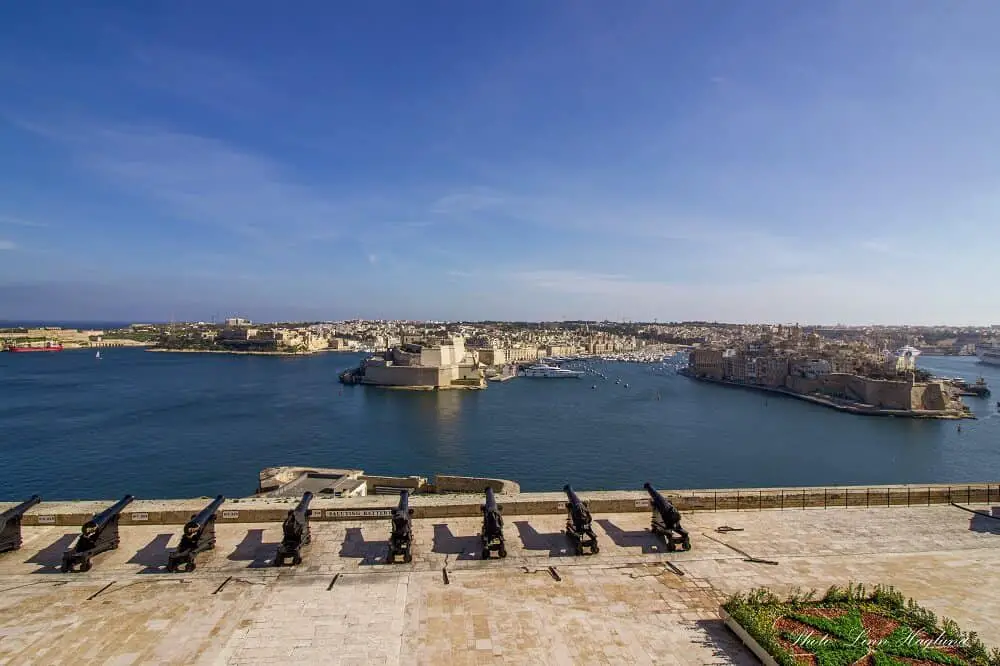 Visit St John's Co-Cathedral
Admire the exterior of St John's Co-Cathedral before visiting the opulent interior with Caravaggio paintings and ornate tombs.
This elaborate cathedral dates to 1577 and contains extravagant art and architecture being one of the most beautiful and underrated cathedrals in Europe.
Marvel at the intricate marble tombstones, carved wooden choir stalls, and huge canvas paintings by Caravaggio including his famous Beheading of Saint John. Don't miss seeing the ornate gold ceilings either.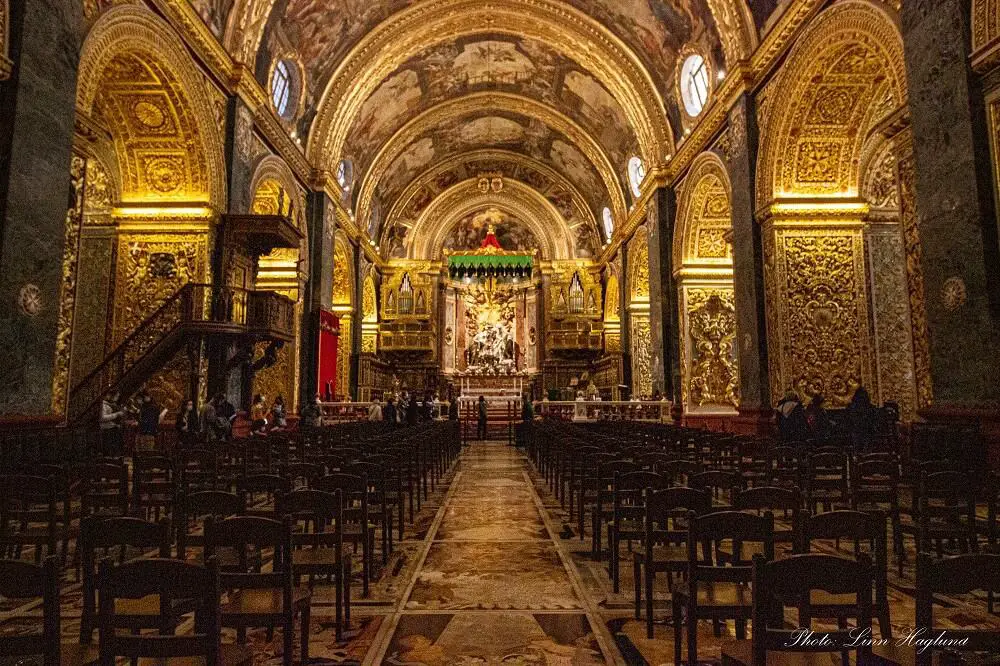 See the Grandmaster's Palace
Head to the Grandmaster's Palace to explore this 16th-century palace that was once home to the Knights of St John.
Dating to the 16th century, this palace lets you imagine the lavish lifestyle of the Knights of St John who once lived here. Wander through the opulent State Rooms with decorative tapestries and painted ceilings.
The Palace Armoury contains over 5,000 pieces of armor and weaponry providing some cool insights into the military history of the Knights. Don't miss the views from the outside Upper Courtyard.
Have lunch in the old town
Have a tasty lunch at one of Valletta's restaurants. Try traditional specialties like Ftira sandwiches or pastizzi pastry. There are also a few vegan-friendly restaurants in Valletta that you can try out.
Wander Valletta's Alleyways
Spend the afternoon wandering Valletta's narrow side streets.
Weaving your way through Valletta's narrow mazes of streets reveals beautiful Baroque palaces, statues, iron balconies, wooden doorways, and more surprises around every corner.
Walking these atmospheric alleys, like St Ursula Street, lets you admire the timeless magic of Malta's capital up close.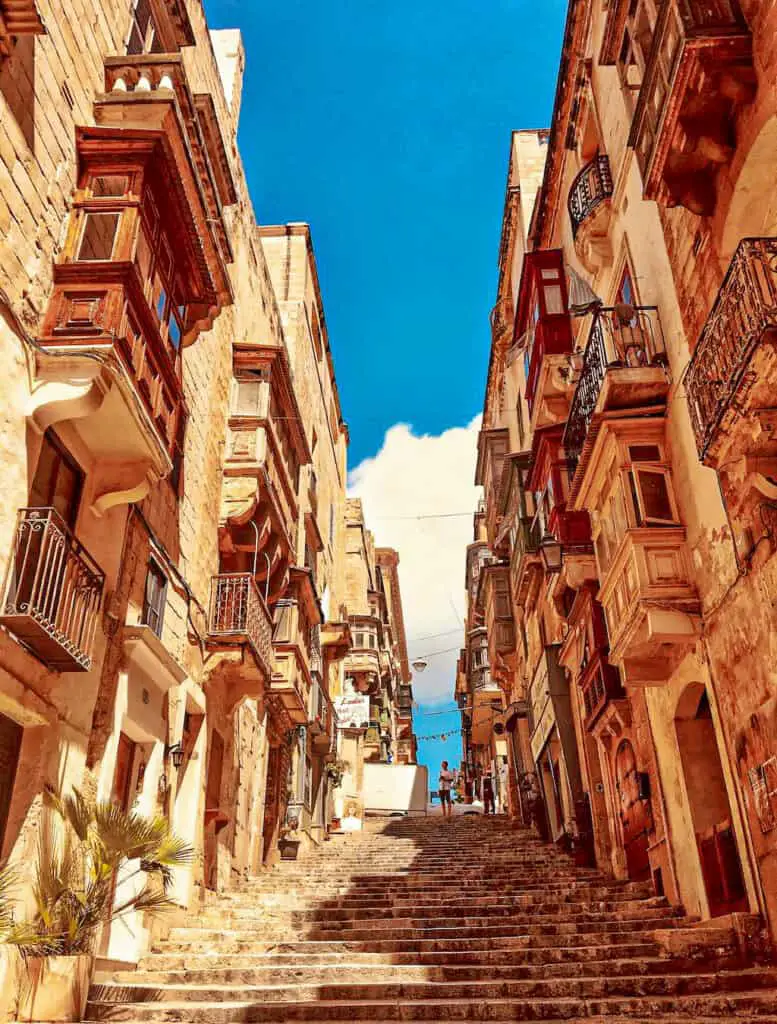 Stop by the National Museum of Archaeology
Visit the National Museum of Archaeology in the Auberge de Provence to see artifacts spanning Malta's full history back to 5200 BC. Don't miss the intricate stone temple models.
This is a highlight of a 2 days in Malta itinerary for any history buff with all the history that the incredible country hides.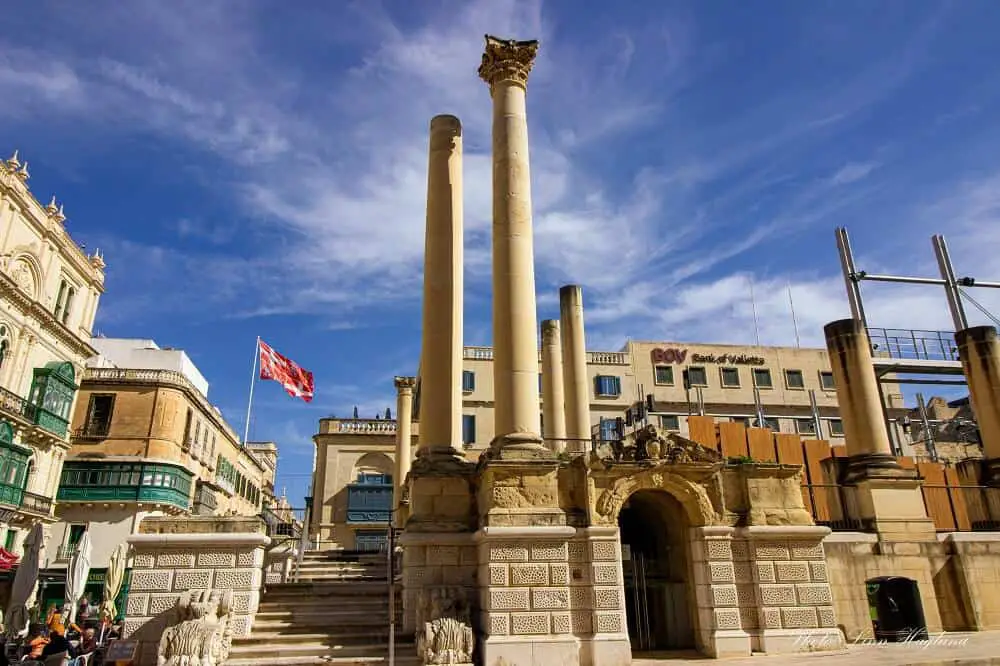 See the Lascaris War Rooms
In the late afternoon, take a taxi to the viewpoint at the Lascaris War Rooms for panoramas from outside Valletta.
This underground war complex housed Britain's secret command center for the defense of Malta during WWII.
While closed to enter, the hilltop vantage point offers sweeping panoramic views over Valletta's fortifications and the Grand Harbour, providing context for Malta's strategic military importance.
When done, head back to enjoy the magic golden hour views over the Grand Harbour with a drink in hand.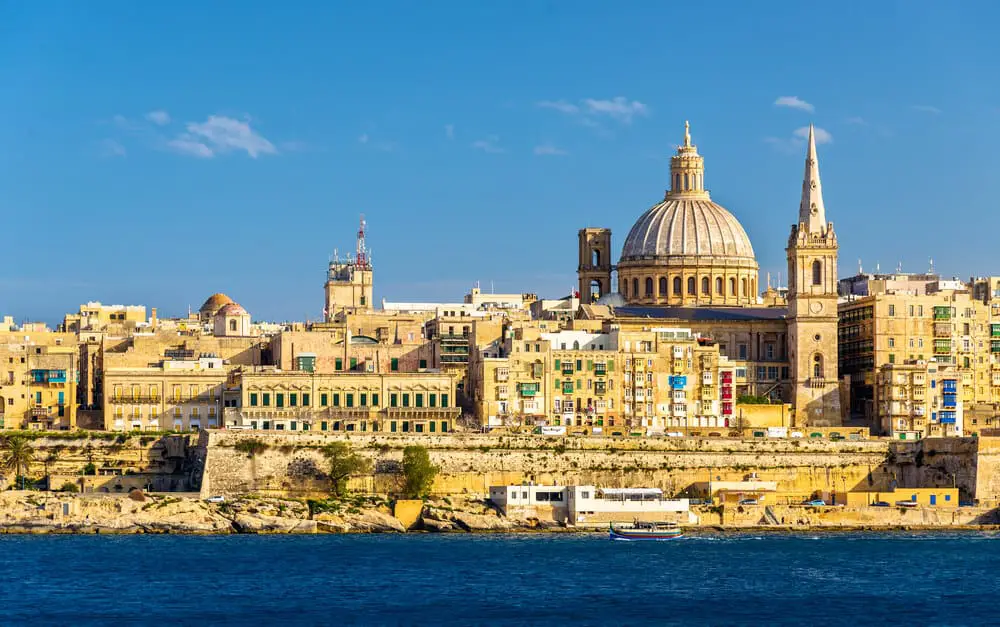 Watch a show at the Manoel Theatre
For a special evening, book tickets to an opera, concert, or theater show at the historic Manoel Theatre. Otherwise, opt for dinner at one of Valletta's romantic restaurants to round off the first night of your weekend break in Malta.
Day 2: Weekend in Malta Itinerary
On your second day, discover Malta's iconic ancient temples before exploring Gozo Island. Having a rental car makes it possible to reach these sights across the islands in one day if you get up early and don't spend too much time in each location. Feel free to skip any activities if you feel that the day gets stressful. You are on vacation after all!
Note! If you travel by public transport, you must choose between the activities you do due to bus connections and extended travel time. Here are your options:
1. Visiting Gozo on a day trip from Valletta by bus and ferry or alternatively a boat trip including Comino Island.
2. Taking the bus to the Blue Grotto and the temples and head back before lunch in Valletta, then take a bus to Mellieha where you can take a bus to the Popeye village and back. Alternatively, you can take the bus to Mdina after lunch, which is an incredibly charming town.
Explore open caves at Blue Grotto
Start with an early morning by seeing the famous Blue Grotto. This natural wonder alone is one of the top reasons to visit Malta. This unique natural grotto on the southern coast of the island forms a spectacular sea cavern beneath the cliffs.
Take a small traditional boat for the opportunity to enter the Blue Grotto and see the otherworldly blue illumination of the water inside created by sunlight passing through underwater openings.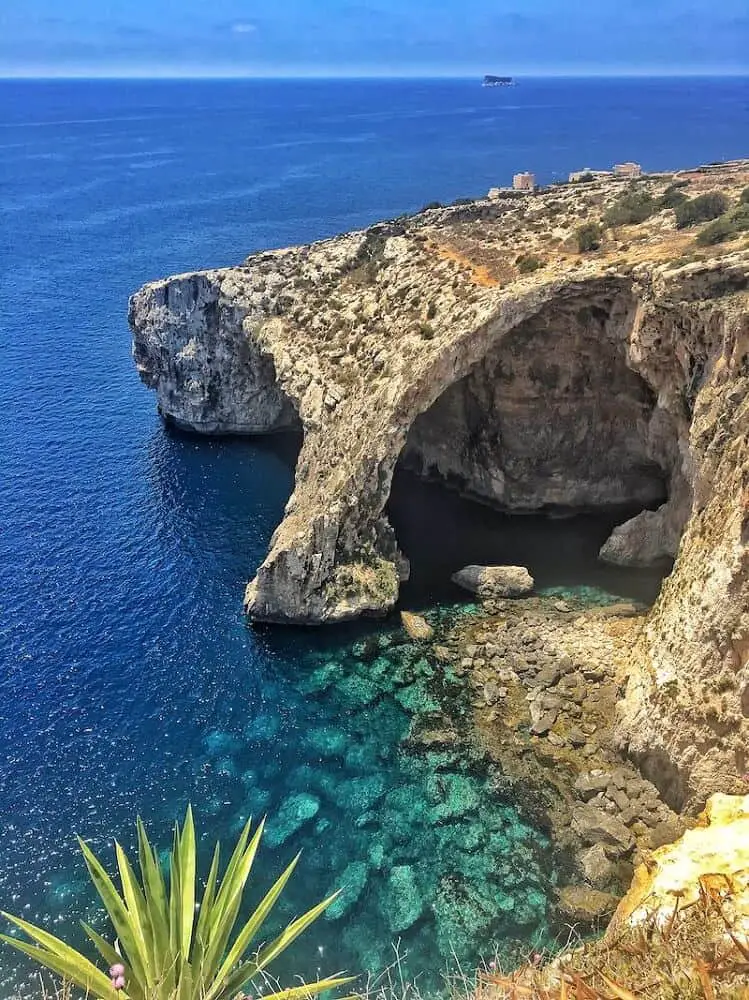 Explore Ħaġar Qim and Mnajdra Temples
Next, pay a visit to Ħaġar Qim and Mnajdra Temples which are a few minute's drive north of the Blue Grotto.
These Megalithic Temples on Malta's southern coast are UNESCO World Heritage sites dating back over 5,000 years, making them the oldest freestanding structures in the world.
Walking around these stone temple complexes gives you a glimpse into the ingeniousness of Malta's ancient inhabitants. Don't miss the informative museum exhibits too.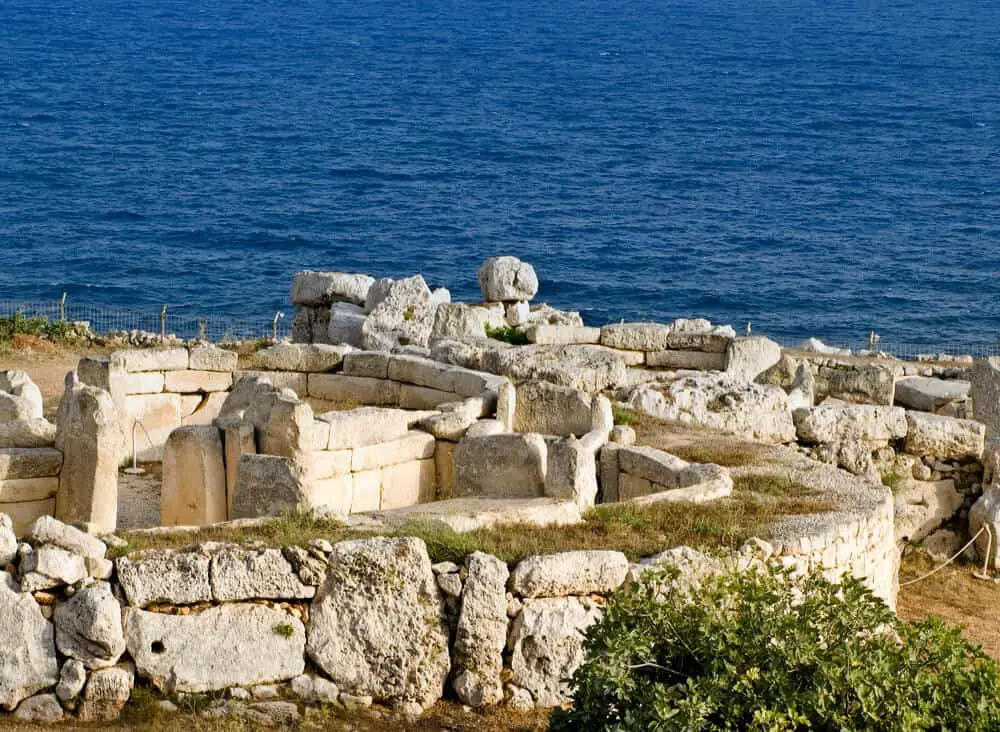 Visit the Popeye Village
Consider a quick morning stop at the popular Popeye Village attraction. This quaint, cheery village filled with colorful wooden huts was the set for the 1980 musical film Popeye starring Robin Williams.
Wandering through the village feels like you've stepped into the movie set. Have fun spotting recognizable landmarks from the film and seeing how the set was adapted to create the imaginary village of Sweethaven.
If you're wondering what to see in Malta in 2 days with kids, this is the ultimate attraction!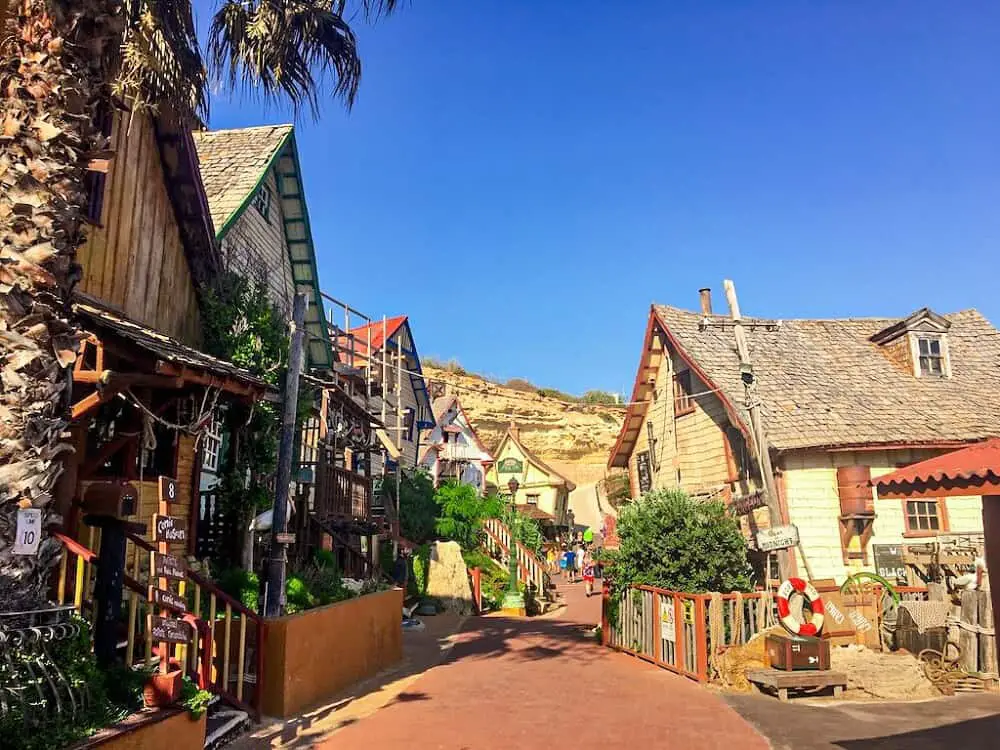 Experience Gozo Island
After grabbing a seaside lunch in Mellieha, head to Malta's sister island of Gozo for the afternoon. Catch the 25-minute ferry from Ċirkewwa to Mġarr harbor.
You can purchase the ticket directly on the ferry stop and the ferries leave regularly all day. Make sure you check when the last ferry back goes so you don't miss it.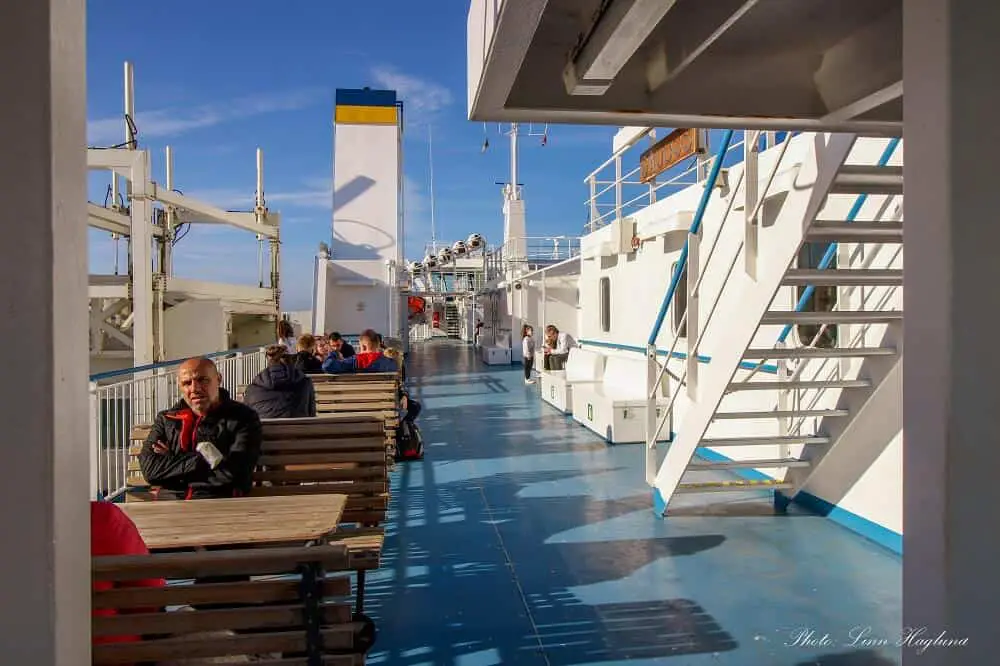 Walk around Victoria
Victoria is the biggest town on Gozo and holds an incredible charm. Strolling around the old town peeking into churches, and visiting the big Citadella fortress.
It is also worth stepping inside the 13th-century Cathedral of the Assumption in one of the central squares.
There are plenty of restaurants and cafés to grab a bite to eat or a coffee with a sweet treat.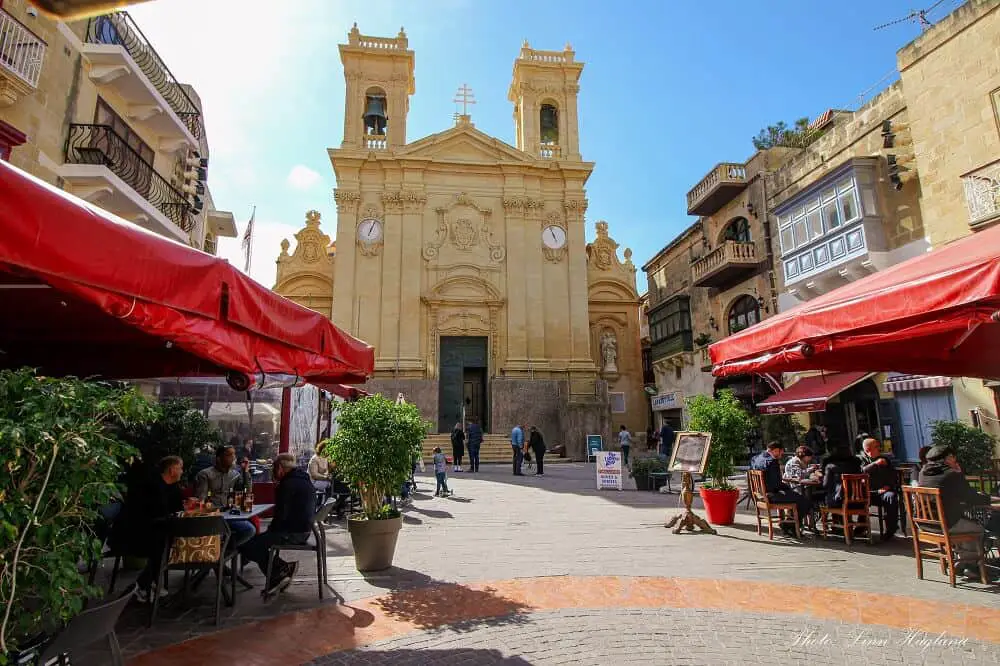 Marvel at Ggantija Temples on Gozo
If you haven't had enough temples during your 2 day itinerary, Malta's little brother, Gozo, gives you a great opportunity to visit the Ggantija Temples.
Built around 3600 BC, these two temples on Gozo predate Egypt's pyramids by over 500 years. Ggantija provides insight into the spiritual beliefs and community life of Neolithic Gozitans.
Walking between the huge stone walls, you can only imagine how ancient people maneuvered and stacked such colossal limestone blocks.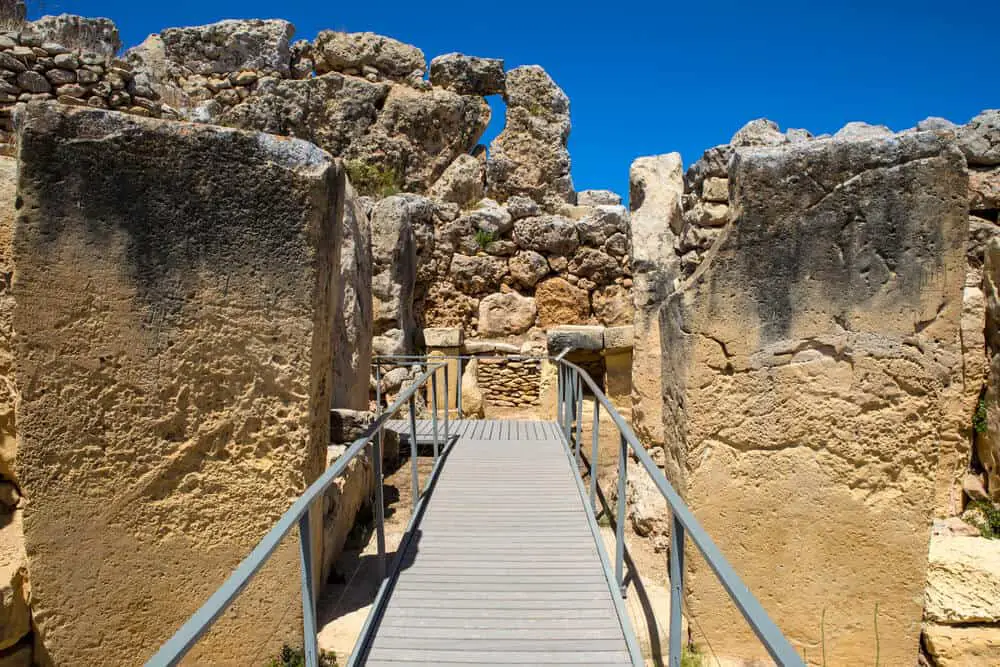 If you have more than 2 days in Malta
If you have more than 2 days in Malta, you can add some of these places to your itinerary.
Relax at the Blue Lagoon
End your Malta weekend soaking up the sun at the Blue Lagoon beach on Comino Island. Swim in the brilliant turquoise waters of this protected bay.
Enclosed by striking limestone cliffs, the turquoise waters of Blue Lagoon on Comino Island create a protected swimming and sunbathing paradise.
Rent a beach chair or floaty and soak up the stunning scenery of this unmissable spot during your Malta weekend. Come early to beat the crowds.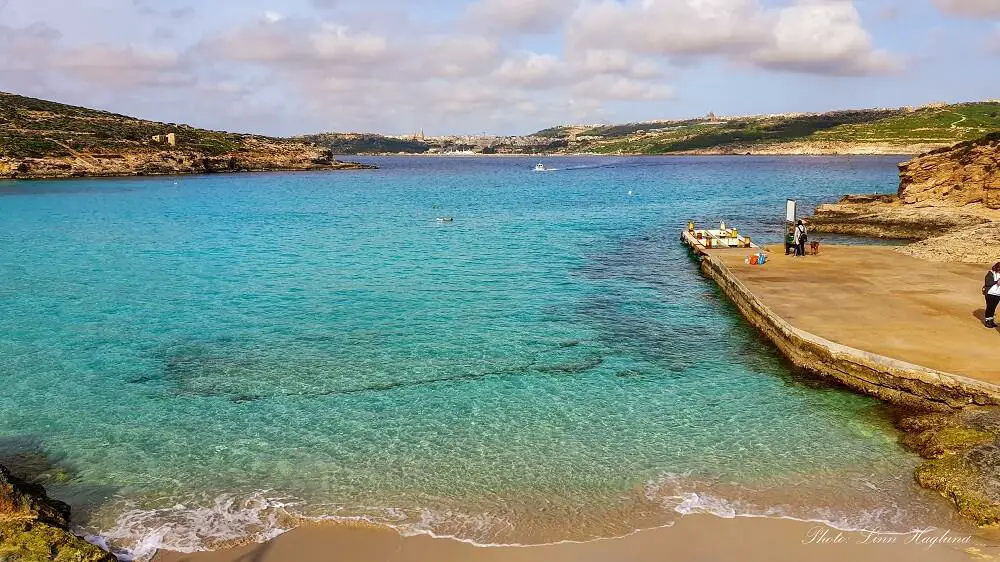 Go scuba diving or snorkeling
If you have time on your Malta weekend trip, don't miss the opportunity to go scuba diving or snorkeling. The clear Mediterranean waters around Malta are excellent for underwater exploration.
Scuba diving sites like the HMS Maori wreck off Valletta allow you to marvel at colorful coral, fish, and even underwater relics. Snorkeling is also fabulous from many rocky coves and beaches around the islands.
Visit Mdina
Mdina is one of my favorite towns in Malta with its ancient city wallsprotecting narrow streets, and beautiful churches.
You can easily combine a visit there with St. Paul's Catacombs in Rabat. The two towns are basically glued together and make for a perfect day trip.
There are buses from Valletta if you don't have a car making it easy to get there.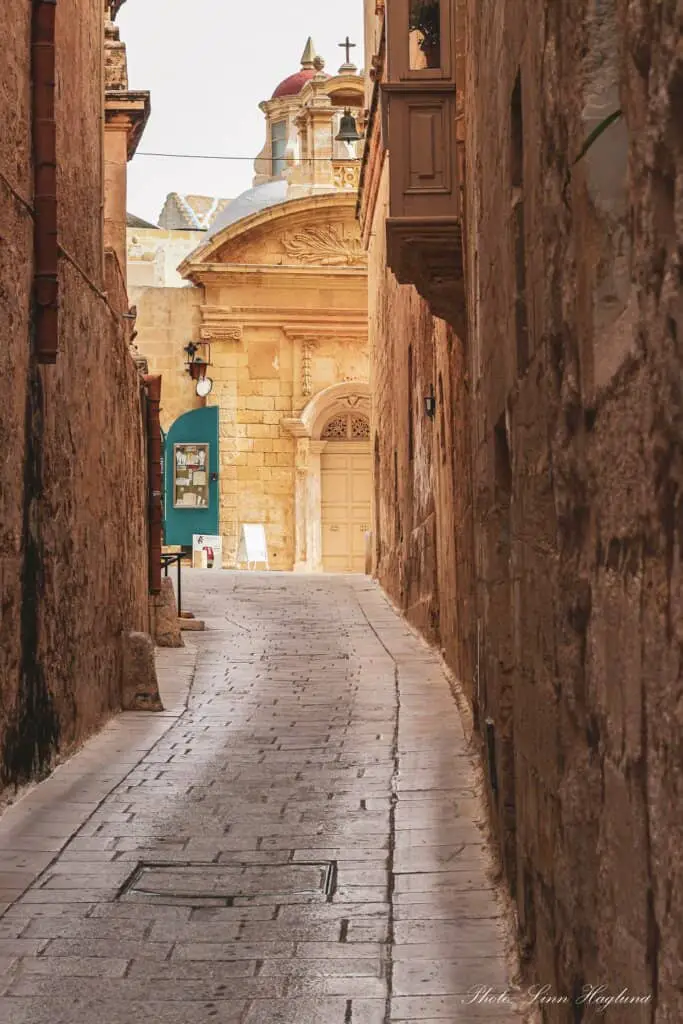 Conclusion: Malta Weekend Break
For such a small island, Malta provides immense diversity perfect for a short weekend break. Malta's capital Valletta impresses with its Baroque beauty and living history.
Beyond the cities, Malta's temples transport you back thousands of years, while scenic cliffs and golden beaches beckon.
In fact, the tiny size works to Malta's advantage, in the sense that it allows you to see and do so many things in a short space of time due to the short journey time from one side of the island to the other.
With some savvy planning, you can see the very best of captivating Malta in just 48 hours. There's no doubt you'll be longing to return to uncover more of this magical Mediterranean island nation.
Malta Weekend Itinerary FAQ:
How many days do you need in Malta?
While ideally, 4-7 days are best to see Malta, you can still experience the top highlights in a busy 2 days if you carefully plan where to go and how to get around.
What is the best area to stay in Malta for 2 days?
For a weekend in Malta, stay centrally in Valletta to be within walking distance to top attractions, or Sliema for accessibility to ferries and buses to explore further.
Is Malta worth visiting for a short break?
Yes, Malta is absolutely worth a short 2-3 day trip to marvel at its history and culture like Baroque Valletta, ancient temples, seaside villages, and lovely beaches.
What is there to do in Malta in 2 days?
Top sights in 2 days include Valletta's museums and palaces, day trips to ancient temples and the Blue Lagoon, plus enjoying Malta's scenic coastlines and villages.
How do I get around Malta in 2 days?
Use buses, boats, and optionally pre-booked day tours or taxis to maximize sightseeing, as Malta's public transport is limited. Stay centrally to minimize transit time.
Where should I stay for a Malta weekend break?
The best places to stay for a Malta weekend are Valletta, Sliema or St Julian's to be centrally located near top sights and transport options.
What is the best time of year to visit Malta for 2 days?
Spring and autumn offer pleasant weather and fewer crowds, though Malta has a sunny climate year-round ideal for a quick winter or summer weekend getaway.