Looking for the best things to do in Paris in December? Look no further! Paris, the city of light and love, comes alive during the holiday season.
With Christmas markets, ice skating rinks and festive decorations adorning every street corner, December is a fantastic time to visit the city of Paris. In fact, it's one of the best places to visit in winter in France.
The wintry chill in the air doesn't dampen the romantic allure of Paris in December. In fact, it adds to it by providing the perfect atmosphere for enjoying cozy and comforting activities.
Visiting Paris in December also means you'll be visiting during the off-season, which translates into fewer crowds and more affordable prices for your French vacation.
So, if a wintry Paris vacation is in the cards for you then read on for how to make it a memorable one.
Whether you're embarking on a solo Paris trip, visiting with friends and family, or with a partner you'll find plenty of fun things to do in Paris in December.
Disclosure: This post may contain affiliate links. That means that if you make a purchase through one of those links, I will get a small commission at no extra cost to you.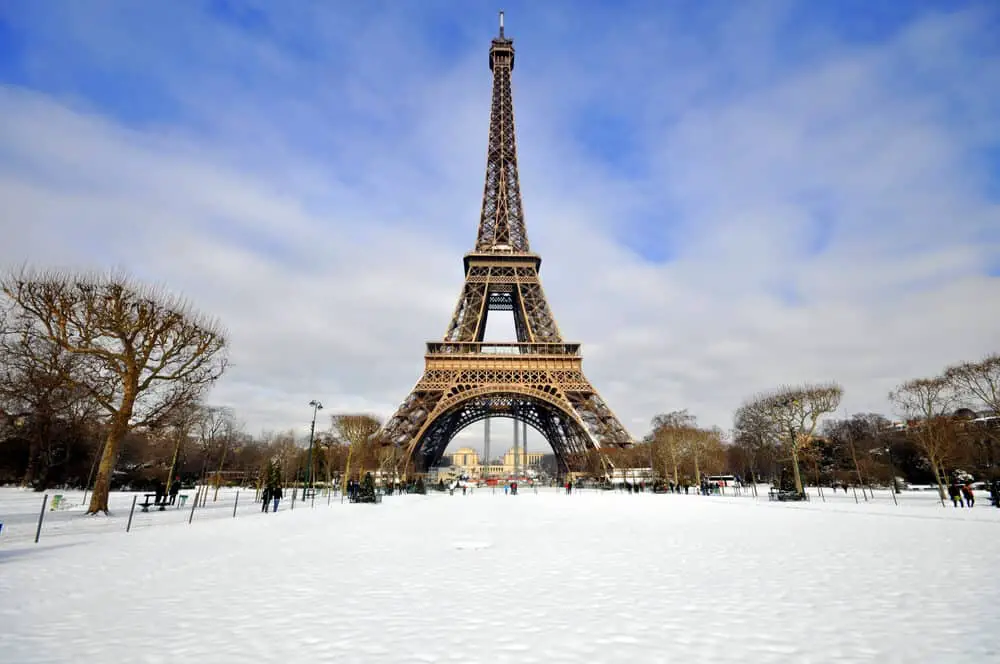 This is a guest post written by Nausheen Farishta of Globe-Gazers.
Paris December weather
As you plan your travel to Paris in December, you're likely curious about what to expect in terms of weather.
After all, the answer will certainly help determine what you should pack. The coldest winter month in Paris is January.
If you're visiting in December, you should still expect cold weather. But what does that mean? At the end of the day, 'cold' is a relative term.
To put it in more specific terms, the average temperature in Paris in December typically ranges between 3-8 degrees Celsius (39-47 degrees Fahrenheit).
You can also expect a mix of cloudy and clear days, so you usually get a peek at the sun on some days.
Regarding precipitation, it rarely snows in Paris enough to stick. What you should prepare for, though, is some rain.
Overall, the climate in Paris in December is bearably chilly and perfect for cozying up with a large scarf, layered sweaters, stylish yet comfortable boots, and a chic coat as you explore the city.
Bring along an umbrella that's easy to fit in your bag and pull out only as needed.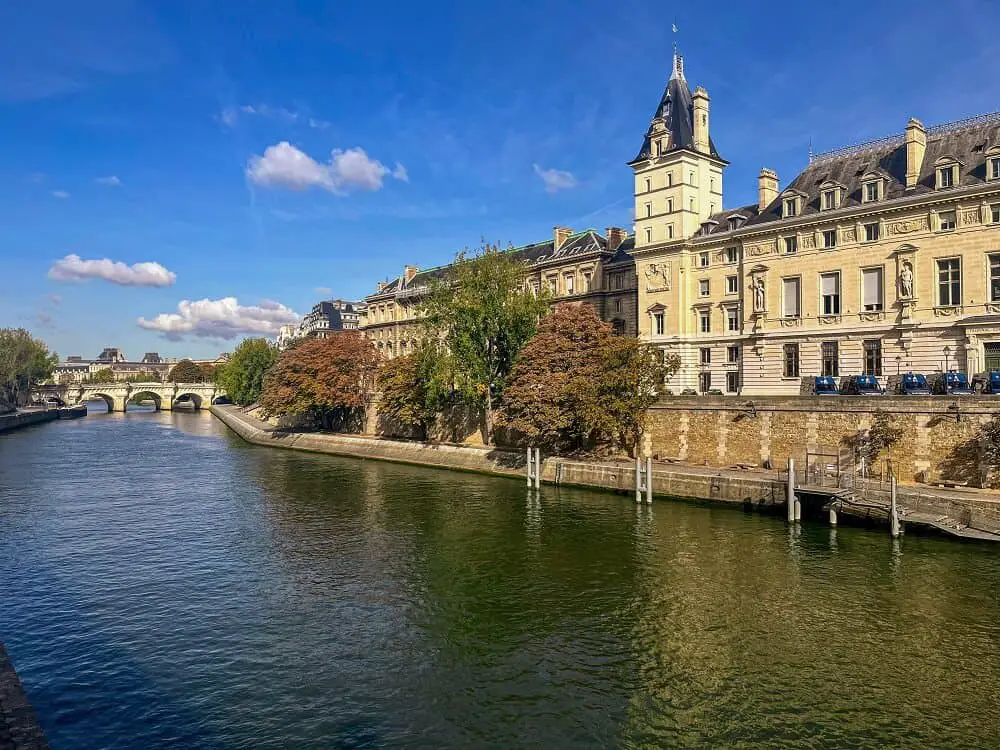 Where to Stay in Paris in December
When determining where to stay, it's important to consider your goals. If you plan to do a lot of walking or to take advantage of the public transportation system, then you'll want to opt for a more central location with nearby metro stops.
If you're visiting Paris for the very first time, you might consider staying in the 6th arrondissement. This area is walkable enough to some key sights, is lively without being overwhelming, and has plenty of charming cafes nearby.
The 6th arrondissement is a favorite among first timers making it one of the best places to stay in Paris for first-time visitors. Other favorites include the 1st, 4th and 5th arrondissements.
If you've visited Paris before and seen most of the typical tourist sites, you may want to stay further from the center for a different experience. Consider staying in Montmartre, the 18th arrondissement.
While this location would be more of a trek for anyone wanting to walk to many of the main Parisian landmarks, it is very well connected by metro making it easy to get anywhere in the city fairly quickly. Plus, there's a lot to explore in charming Montmartre itself.
MY TOP HOTEL PICKS IN PARIS

LUXURY: Hôtel D'Aubusson – relax in the pool or get a massage in the spa at this luxurious hotel set in a 17th-century mansion.

MID-RANGE: Relais Hôtel du Vieux Paris – quirky decor and excellent service centrally located near Notre Dame.

BUDGET: Hotel Cluny Square – centrally located with plenty of restaurants and bars nearby, this is a great budget option with metro right outside.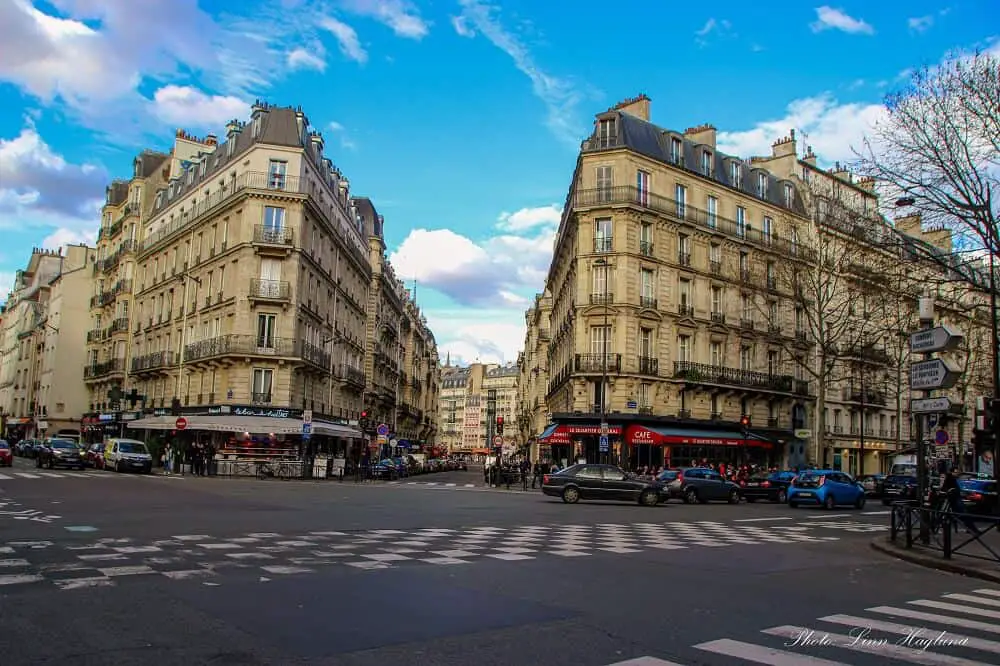 Things to do in Paris in December
There are plenty of wonderful things to do in Paris in December. Any one of these would be worth adding to your Paris itinerary.
Explore the Museums
If the chill in the air starts to get to you in December in Paris, a world of art awaits you behind the doors of many of Paris' spectacular museums.
The Louvre, the Musée d'Orsay, the Orangerie, and plenty of lesser-known but equally worthwhile museums are open year-round to visitors.
One of the best things about traveling to Paris in December is that you can often avoid the typical long lines at popular tourist attractions.
Take advantage of this to get into Paris' impressive museums and spend a leisurely morning or afternoon strolling through the city's cultural artifacts.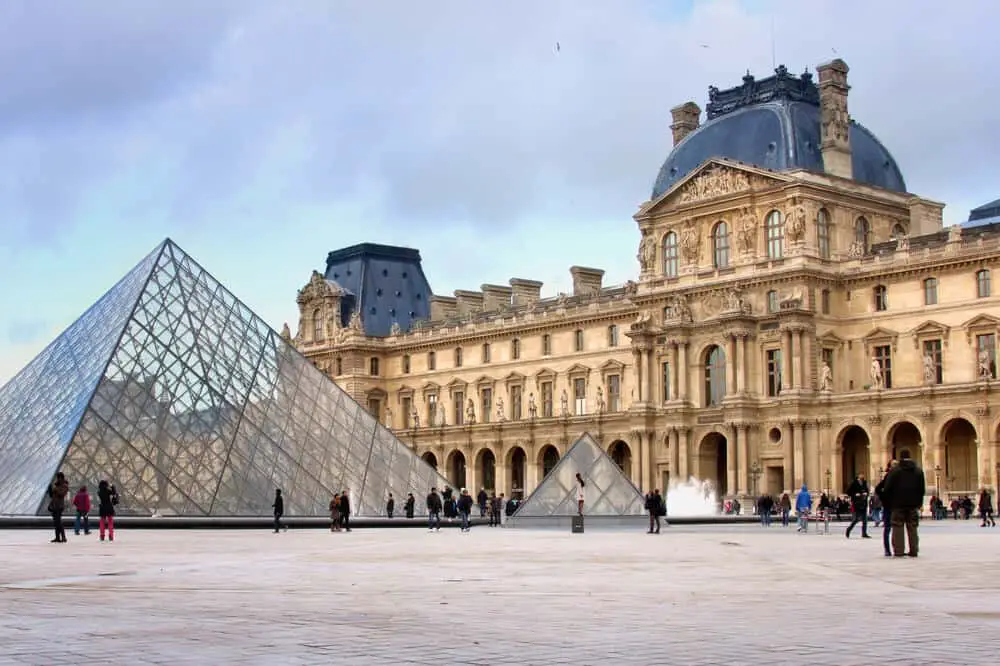 Go Holiday Window Shopping Along Champs Élysées
The Champs Élysées, known as the most beautiful avenue in the world, transforms into an even more magnificent sight during the holiday season.
It's decked with dazzling Christmas decorations, creating a shimmering ribbon of light that stretches from the Arc de Triomphe to the Place de la Concorde.
Every year, the Christmas market at Champs Élysées attracts both locals and tourists, offering a variety of gift stalls and food vendors.
Grab a cone of hot, roasted chestnuts and some vin chaud (mulled wine) as you browse the artisan crafts and unique gifts available.
For a special touch, don't miss the Ferris wheel at the Place de la Concorde. From up on the wheel you'll get a breathtaking view over Paris, all lit up with its city lights in the evening.
Have Hot Chocolate
You might've seen videos on social media of tourists reveling in Paris' hot chocolate scene. There is some debate about where to get the best cup of hot chocolate in Paris, with many giving credit to Angelina.
But another must-try for a decadent cup is Carette. The location at Place de Vosges is particularly atmospheric, as it looks out onto the pleasant square and feels a bit more tucked away. 
Spoon in a dollop of thick, whipped cream and order a pastry to complete the sweet treat as you sip in the warmth to take the edge off the crisp air.
There's only one way to know which establishment serves the best-tasting hot chocolate – a self-guided taste test across the city, of course. So no more wondering what to do in Paris in December; Go hot chocolate hunting!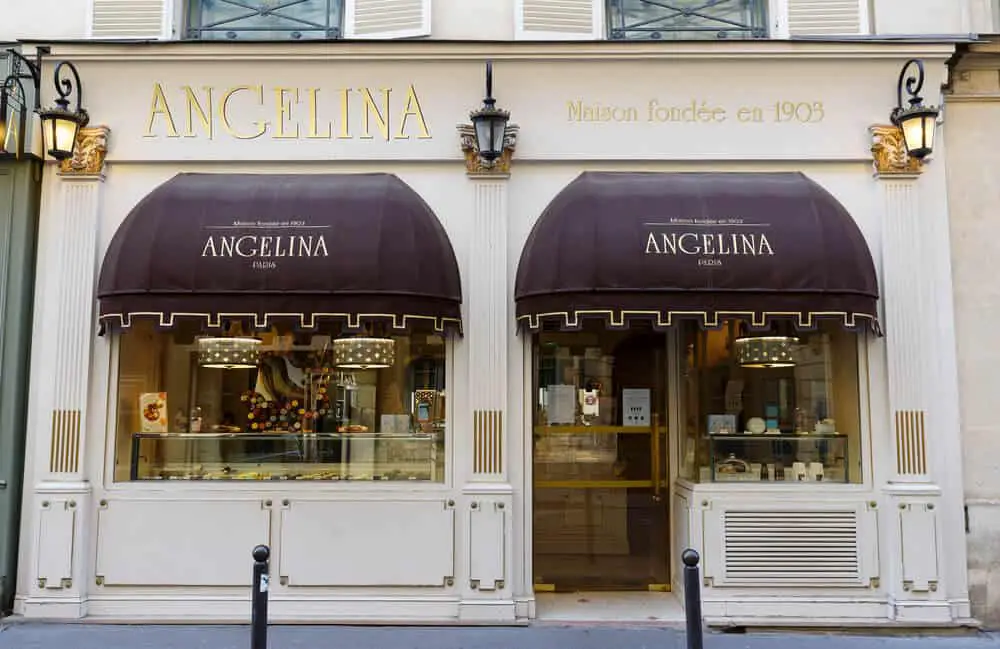 Have Hot Crepes in Montmartre
Another treat that's especially fun to enjoy on a Paris December day is a hot sweet or savory crepe. 
Pop into Breizh cafe in the Marais neighborhood, popular with both locals and tourists, for a dine-in experience. Be sure to order some cider to go with it, as crepes are often paired with cider.
Alternatively, you can order a crepe from one of the street stalls you're bound to run into around the city.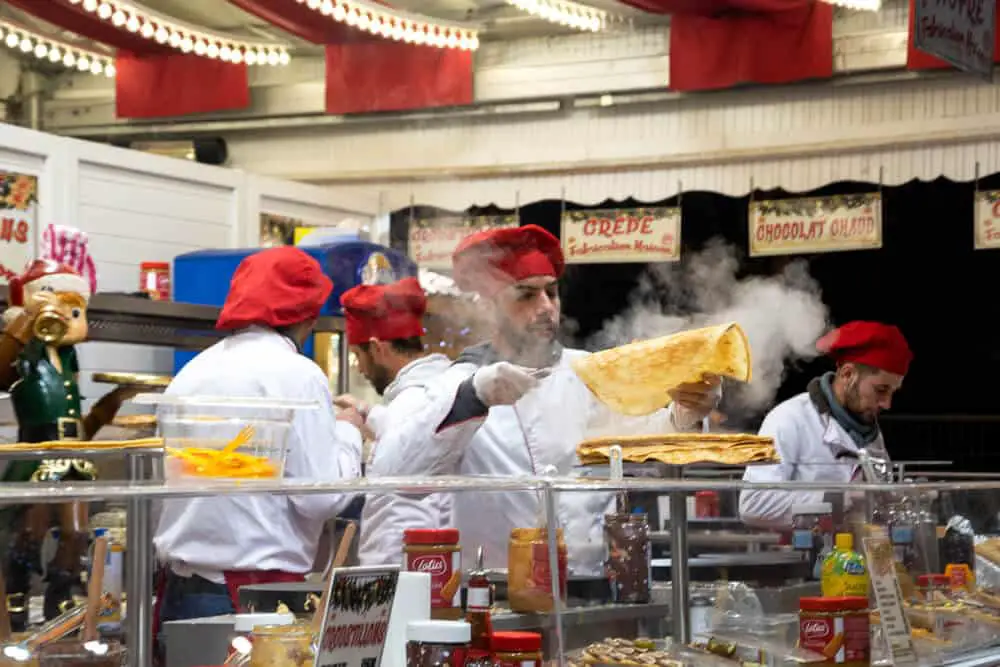 Take a Champagne Day Tour
Did you know that Paris is only a short train ride away from the birthplace of Champagne? Reims is known as the capital of the Champagne region and it's well worth a visit for anyone who loves bubbly. There are several great champagne day trips from Paris to choose from.
Taking the train out in the countryside of Paris will give you a chance to appreciate beautiful winter scenery before spending a day tasting a variety of champagnes.
Whether or not you already enjoy champagne, you haven't really tried it until you experience it in Reims and you might be surprised by what you try.
A visit out to Champagne also includes a visit to Dom Perignon's former home and resting place – an interesting opportunity for history buffs.
Warming up with several glasses of bubbly is certainly one of the best things to do in Paris in December.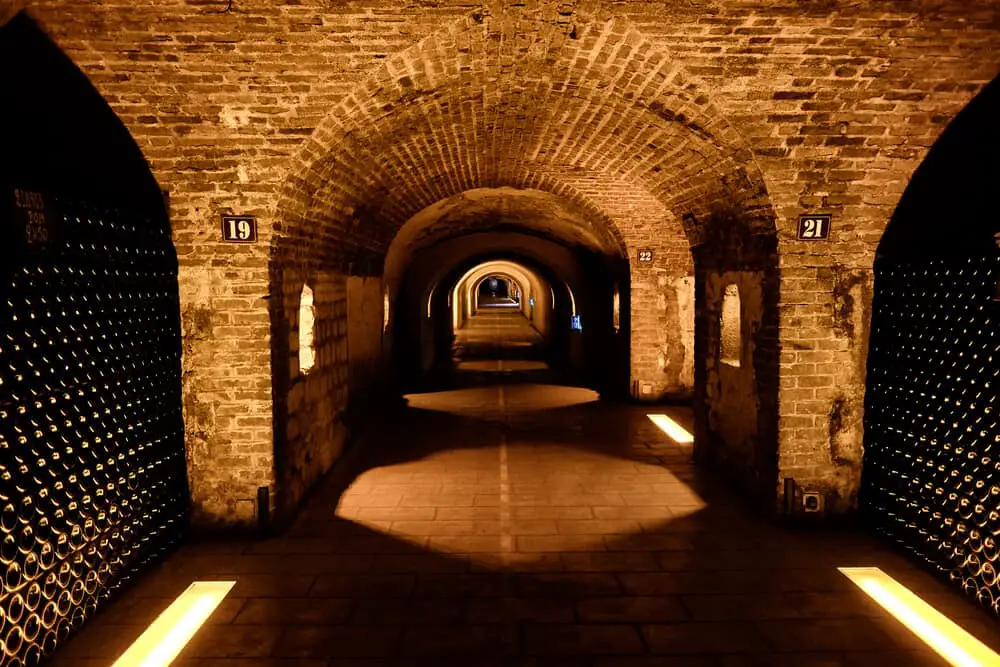 See the Eiffel Tower
No trip to Paris in December or any other month is complete without seeing the Eiffel Tower. Whether you're in Paris for the first time or the fifth, I'm pretty sure you'll want to go by the iconic tower if just for a quick peek and a picture.
The famous Eiffel Tower was finished in 1889 and has been a symbol of the city of love ever since. You can climb the tower either by walking all the way up or taking the elevator partially up and walking the last bit.
Just a warning – if you've got vertigo, those steps are pretty scary as you can see straight down between the metal! Yet, the views from the top are spectacular and you get a true bucket list item crossed off the list.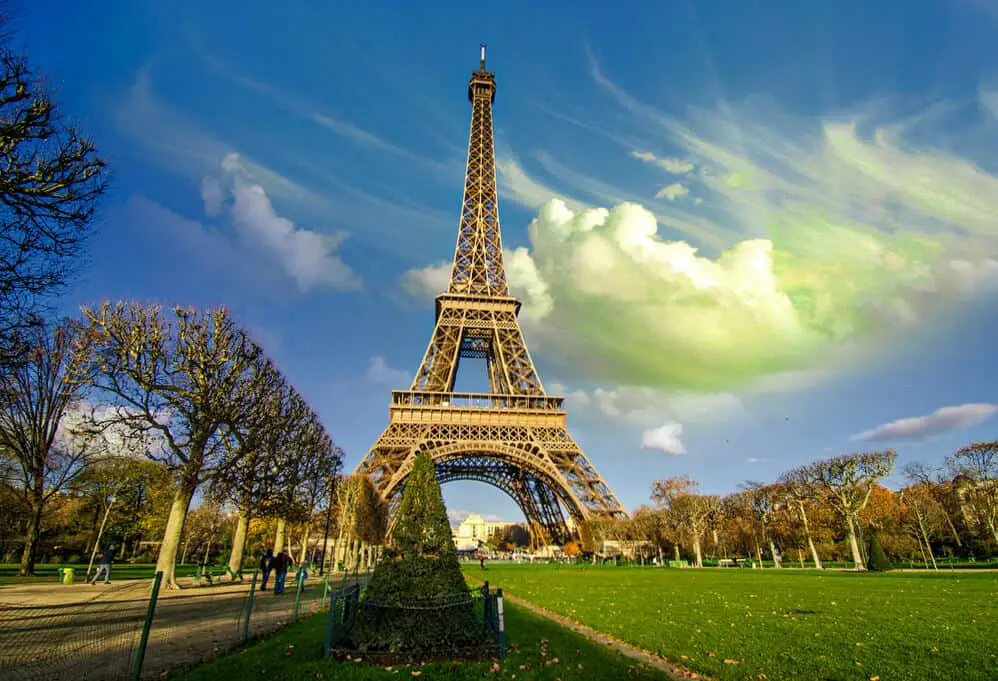 See the Christmas Windows at Galeries Lafayette
One of the best parts of visiting Paris in December is the chance to join in on the festive cheer. Visiting Galeries Lafayette during the holiday season is a must. Stroll along the elaborately decorated Christmas windows and take in all of the holiday decorations that light up the area.
Inside, admire the large Christmas trees erected to celebrate the season. If your budget allows for it, do some Christmas shopping while you're there as well.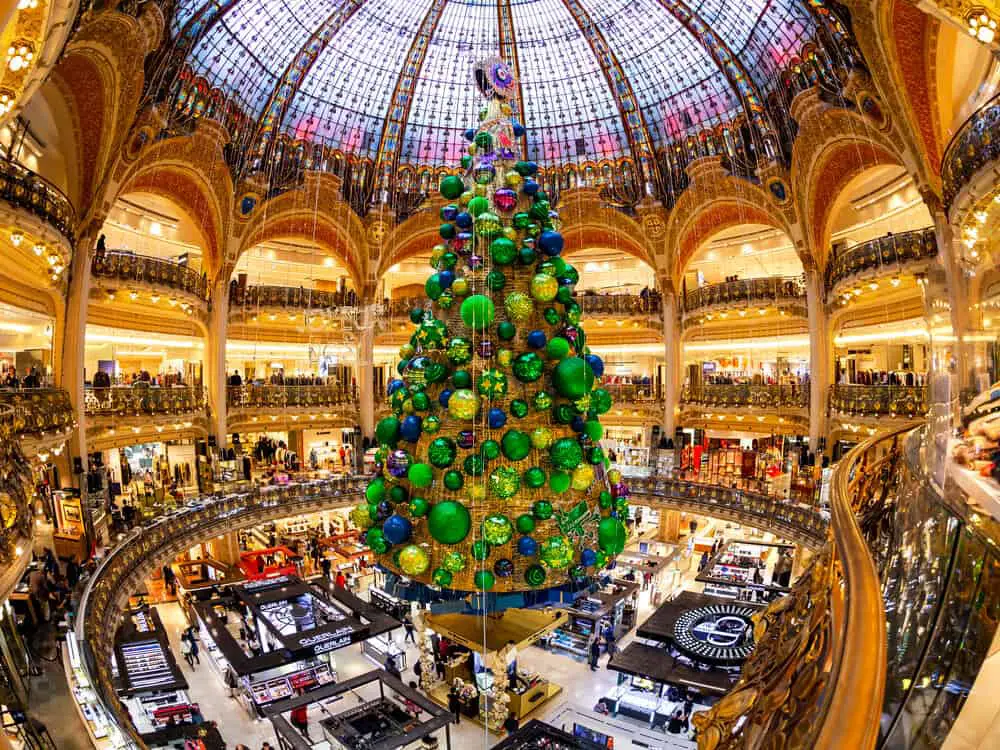 Enjoy the views from Sacre Coeur
Sacre Coeur offers some of the most emblematic views of Paris and is a must-see if you have more than one day in Paris.
The entrance to climb the dome is on the left before entering the basilica doors, but you gotta be prepared – there are 300 steps to the top so you really get to work that bootie.
That said, you'll be rewarded with sweeping views of the city making it one of the best views in Paris.
The interior of the basilica is spectacular and also worth the visit with colorful frescoes and majestic columns. Experiencing Sacre Coeur is a top thing to do in Paris France in December.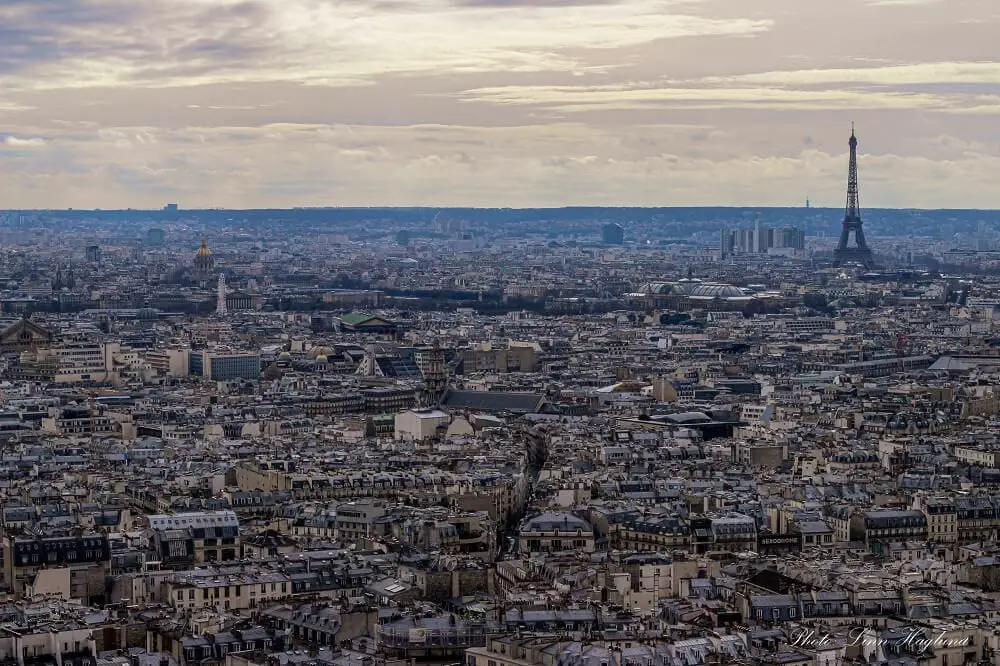 Go Ice Skating
Paris offers several ice-skating rinks that are set up throughout the city in December. Some of the most popular places to ice skate in Paris in December include the Eiffel Tower and the Grand Palais.
The Eiffel Tower's rink, located on the first floor of the tower, offers a unique skating experience with stunning views of the city. Ice skating at the Eiffel Tower certainly sounds like a bucket list experience!
Then there's the Grand Palais which transforms into the world's largest ice-skating rink every winter. Its stunning glass ceiling makes skating there a truly magical experience, especially when it snows.
If you're looking for a memorable activity when you visit Paris in December, add ice skating to your itinerary for sure.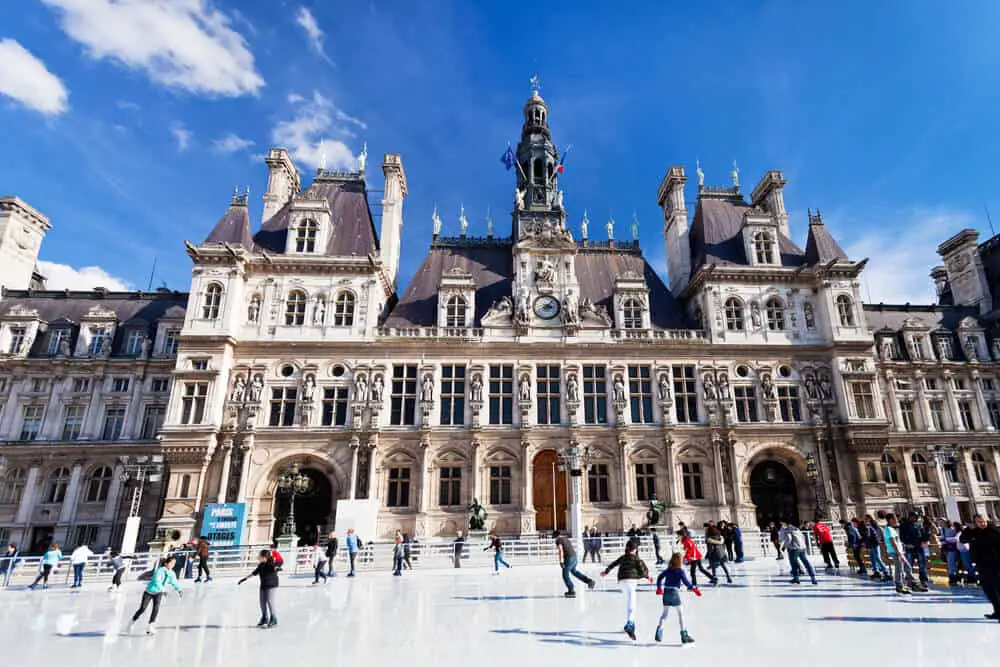 Attend the Festival of Lights at Jardine des Plantes
Among the top places to visit in Paris in December is the Jardine des Plantes which presents you with the unique chance to experience one of Paris' biggest winter festivals.
Held at the Botanical Gardens in the 5th arrondissement, the Festival of Lights is a lovely showcase of artistic expression through creative displays.
This is a great activity for families or solo travelers, to be able to walk through the beautiful gardens on a crisp winter evening engulfed by festive feelings.
Enjoy the Saint-Chapelle Christmas Concert Series
Another Parisian activity you can only enjoy in December is the Saint-Chapelle (Holy Chapel) Christmas Concert Series.
The chapel itself offers stunning, Gothic French architecture with vaulted ceilings and stained glass.
There are a variety of concert options to choose from, all featuring lovely classical music. You can also purchase add-ons to your ticket to further elevate your experience with a glass of champagne or the addition of wine and tapas.
Attending a Christmas concert at the Holy Chapel is truly an elegant way to spend a December evening in Paris.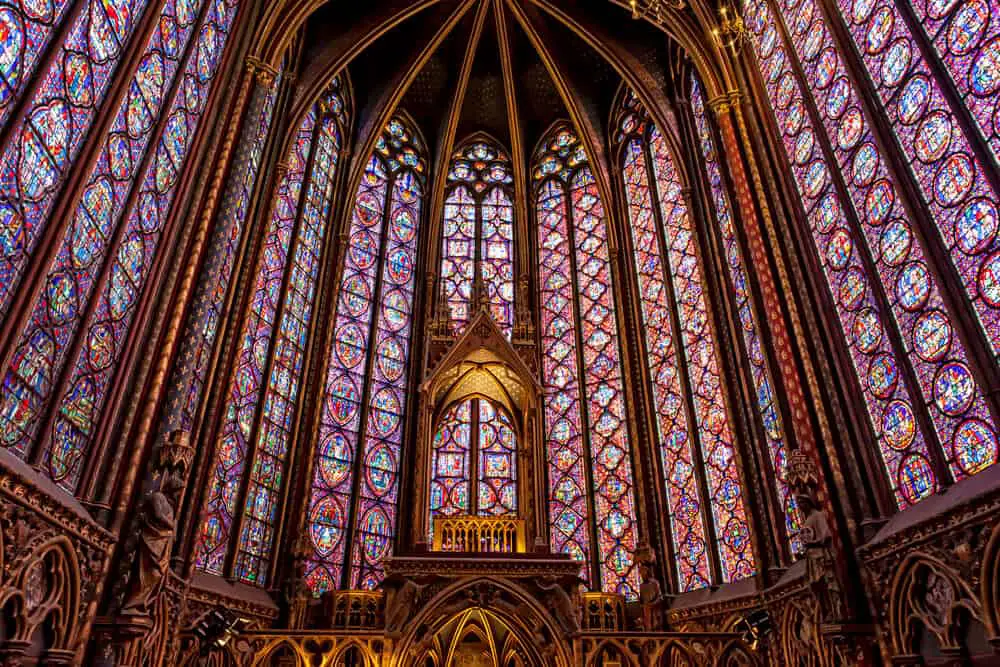 Have a Magical Experience at Disneyland Paris
December is one of the most magical times to visit Disneyland Paris. Twinkling lights, festive decorations, and the ambiance of holiday cheer make the Disney experience even more magical this time of year.
While ramping up the entire park for Christmas, you can also expect several Christmas Parades with your favorite Disney characters.
And of course, visiting in winter generally means you can enjoy the park with fewer crowds. That's magical in and of itself!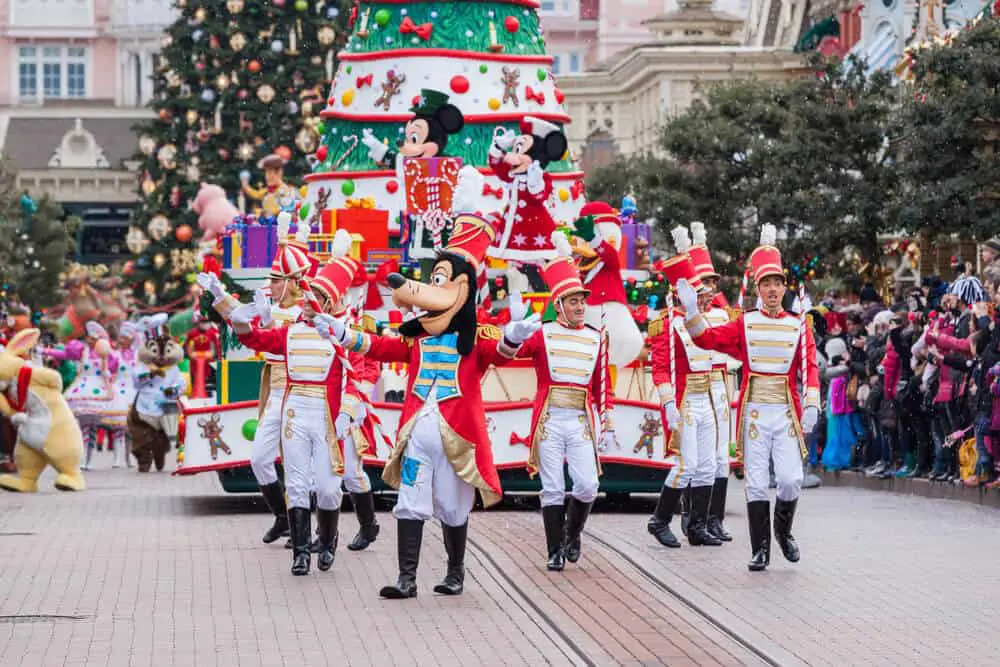 Ring in the New Year at Arc de Triomphe
If you'll be in Paris for New Year's Eve, make your way to the Arc de Triomphe for a light and fireworks show to ring in the new year with a celebratory crowd.
Looking for a quieter scene? For a meaningful entrance into the New Year, attend midnight mass at the Notre Dame Cathedral. It is still closed after the fire but is expected to re-open in 2024.
Reflections on Visiting Paris in December
Visiting Paris in December is just as romantic an experience, if not more so, as visiting at any other time of the year.
There are so many great things to do in Paris, December being no exception, that will ensure your trip is enjoyable and memorable.
Whether you're enjoying a delicious crepe, getting lost in the classical melodies of a Christmas concert, reliving your childhood at Disneyland, or welcoming the New Year under the Arc de Triomphe, December in Paris promises to be an epic experience.
The climate of Paris in December, while it can feel cold, creates the perfect cozy atmosphere for indulging in warming foods and festive activities.
So, if you're considering visiting Paris in December don't hesitate! It's sure to be a great experience.
FAQ: What to do in Paris in December
Is Paris cold in December?
Paris is generally cold in December, but temperatures hardly ever go below freezing point. If you decide to visit Paris, December is a great time of the year as the holiday lights will give the extra sparkle that the cool temperatures need to be comfortable.
What is Paris like in December?
You can expect temperatures above freezing point and festive activities in Paris France, December is a lovely month of the year to visit the city.
Is December a good time to visit Paris?
December is a great time to visit Paris if you want to experience the holiday season in the city of love. There are plenty of Christmas activities like markets, shopping, and ice skating.
How cold is Paris in December?
Paris usually has above zero degrees, but sometimes it can crawl down to around zero and you get snow.
---
Author BIO: Nausheen is a solo female traveler sharing travel itineraries, tips, and inspiration from around the world. You can read her blog or follow her on social media @globegazers.
---