One of the worst things when it comes to camping for the first time is setting up the tent. Things can get quite complicated and you'll soon be looking for the easiest tent to set up. 
Do you love camping, but hate all the time spent figuring out how to set up the tent? Or maybe just wished there was a quicker way to do it? Then read on as I've decided to list the best pop up tents out there. 
I am a big nature lover and camping is my favorite way of traveling. From mountains to beach camping, I just love these city getaways. 
But even if you are an experienced camper, setting up a tent is very time-consuming. And frustrating when things seem to not work as they should. Especially when car camping, you want the easiest tents to set up as it doesn't matter as much with the packed size.
Thank goodness for the invention of instant tents. 
Disclosure: This post may contain affiliate links. That means that if you make a purchase through one of those links, I will get a small commission at no extra cost to you. As an Amazon Associate, I earn from qualifying purchases.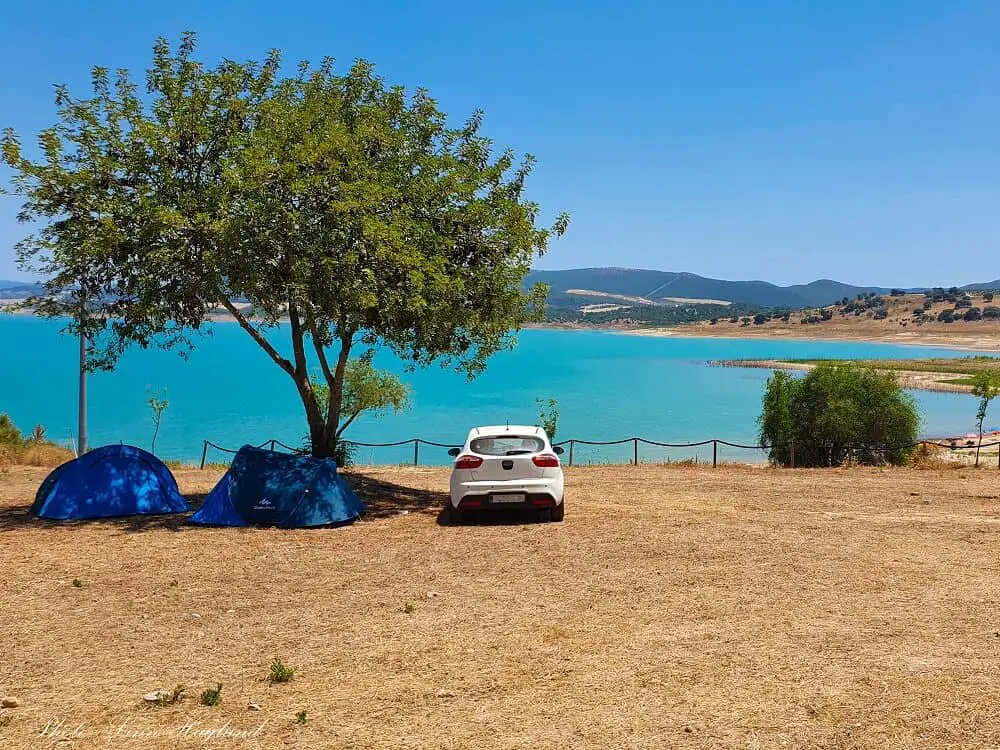 How to choose the best instant tent
Unfortunately, it seems like pop up tents haven't really gone eco yet – which is a big factor I consider when buying camping gear. My favorite eco brands do not offer this kind of tent and options are quite limited.
Even though it can be hard to find eco-friendly options, there are a couple of things to consider when choosing a more sustainable tent.
Durability – As a general sustainable rule, you wanna look for things that will not need to be replaced anytime soon. Before recycle comes reuse! If you can use it for a long time, you will reduce your waste. So look for instant tent options that are good quality and will last longer.
Material – The second thing you should pay attention to is the material that it's made of. Unfortunately, even though we want a durable quick tent, few things last forever these days. So you want materials that are easier to recycle when your tent's life comes to an end.
Apart from that, you should consider your own needs for the tent.
How big do you need it to be?
Which weather conditions will it be used in?
Will you use it mostly in mountains? Beach? Festivals?
Will you be camping mostly alone or with friends and family?
Knowing these answers will help you narrow down your options and make a good decision. You don't want to be crammed inside the tent with your friends and gear for choosing a small-sized tent.
But you also don't want to be carrying unnecessary weight for going too big. If you usually camp alone, like I do, you want to look for the easiest tent to set up by yourself.
Of course, the tent will be used in different situations, but consider your travel style and think about what you'll most likely need.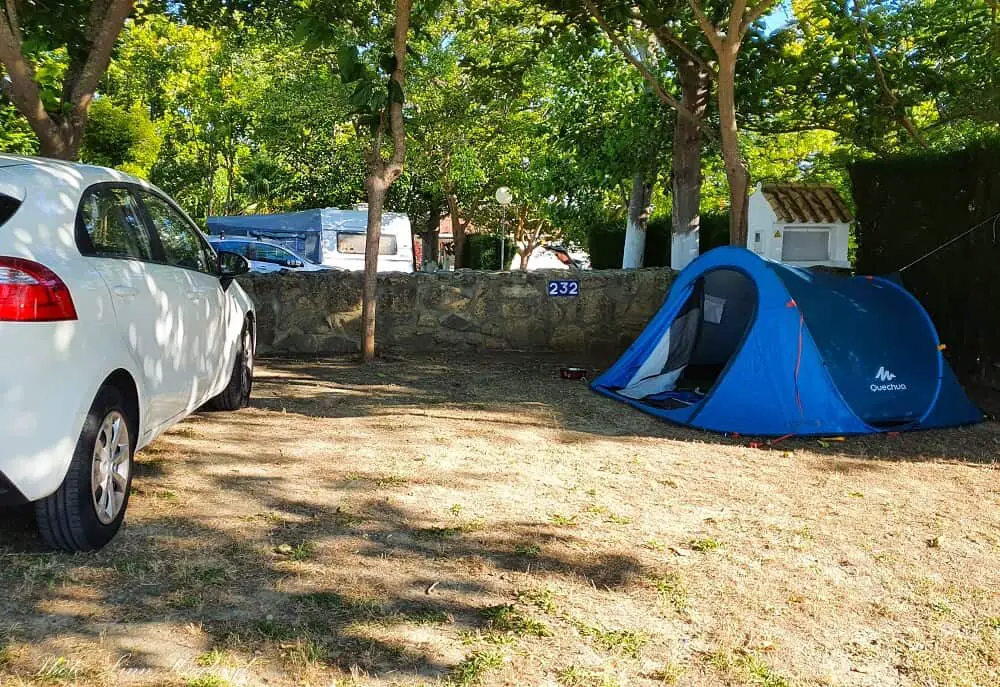 Pros and Cons of instant tents
Nothing in life is perfect, so even though instant tents are great to save time (and stress), there are also some downsides to them. Let's go through the pros and cons and make sure you find the best pop up tent for you.
PROS 
Quick set up – This is a given, but the biggest pro of instant tents is .. surprise, surprise – they are instant! Jokes apart, they're most definitely the easiest tents to set up. Some of them you can just throw in the air and it's done. 
Great for beginners – If you'd love to go camping, but not sure you can (or want to) set up a tent, pop up tents are a great start. They require absolutely no complicated instructions to get up. It can be tricky to put some of them back in the bag though, but nothing a youtube video can't fix.
Kid-friendly – If you're camping with kids, they're also a great choice. They are much simpler to put up and don't require extra gear, like poles and cords. This way the little ones can help with the process safely and you'll avoid any accidents with stumbling in the tent cords.
Perfect for solo campers – If you camp alone, it's so much easier with easy tents to put up that don't require two people to get it done properly. Trust me when I say my pop up tent has made my life so much easier (Ayla is great to bring camping, but she helps more with eating all the food than setting up the tent!)
CONS
Size and weight – Instant tents are designed for being practical and easy to set up. On the other hand, they're not the best option if you're looking for something lightweight and compact. Other than for car camping, they become too bulky to carry around.
Wind and water resistance – Even though a lot of them advertise as waterproof, in reality, few will actually hold up against big winds and rainstorms. The truth is most of them are held up by flexible fiberglass poles. So generally, I wouldn't recommend them for winter. For light summer rain, on the other hand, my experience is that they do well.
Pack back into the bag – All the happiness from having your quick set up tent erected in seconds can quickly go away when packing it back into the bag. Don't panic though! It's just a matter of understanding how to fold them. My best advice to fix this is just to watch some videos and practice before going away on your camping trip. Most of them have their own tutorial video on this. It's actually not hard once you understand how to do it, but can be extremely frustrating if caught off guard. Trust me! I spent various camping trips before I managed to pack it myself!
So basically, I wouldn't recommend pop up tents for hiking and trekking as they tend to be heavy and bulky. These are not what you look for when walking for miles on uneven ground. Unless it's a trail you know to be easy and short. I've carried it a few times on 15-20 minutes hikes to my campsite, which can be a hassle.
On the other hand, they are amazing for summer camping, road trips, festivals, and even yard camping if you just miss being outside.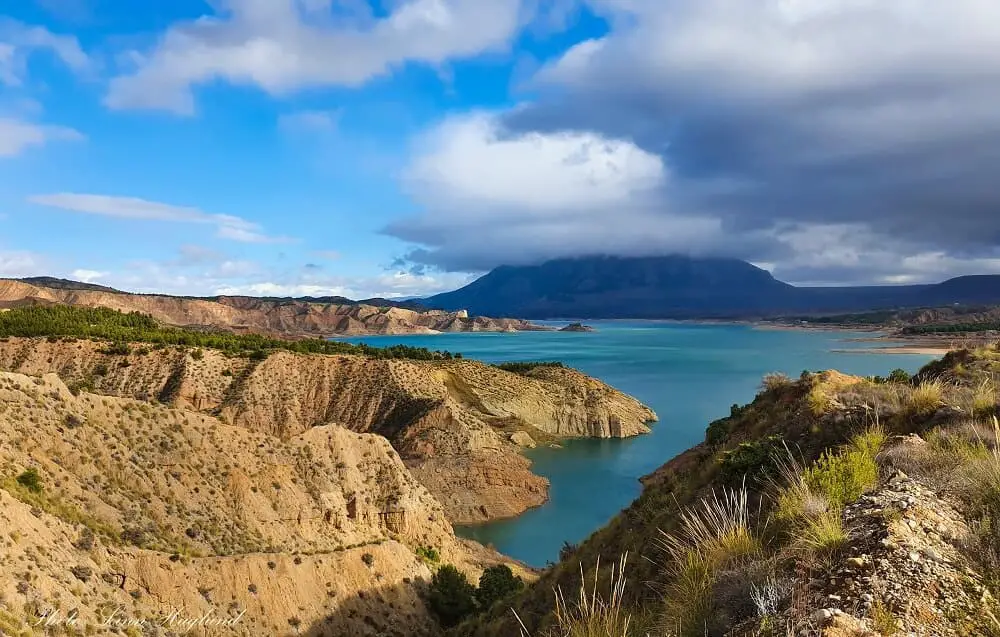 Things to consider before buying an instant tent
Before we have a look at the best options available right now and all the features they have. A couple of things to consider when checking out this list and making your choice:
Size – Remember that the number of people listed on the tents does not consider gear. So if there will be two people sleeping inside + you want to keep your bags and gear inside too, go up one or two sizes and choose a 3-4 person tent. Otherwise, it will not be a comfortable night. I have a 3 person tent for Ayla and me and I love the space!
Stand-alone tents – fast set up tents are in general stand-alone tents. Meaning you don't need ropes and pegs to get them up, so they can be set up in any terrain. BUT if you need to add a rain cover or will be camping in somewhat windy weather, consider that you'll need soft ground to fix the pegs.
Weather – As I mentioned before, instant tents will not be your top pick for rainy and extreme weather. You can make them more waterproof by adding a rainfly or a tarp to your checklist though. Some of the options below already come with a rainfly, so you don't need to purchase it as an extra.
Set up style – In this list, you'll find two kinds of instant tents. Throw-in-the-air pop-up set up, which is the quickest tent to set up, as it's up pretty much as soon as you remove the rubber band. the other one is rapid or instant set up, where the tent and poles are pre-attached. This style will take you 1 or 2 minutes to set up, so not bad either.
So let's get to it!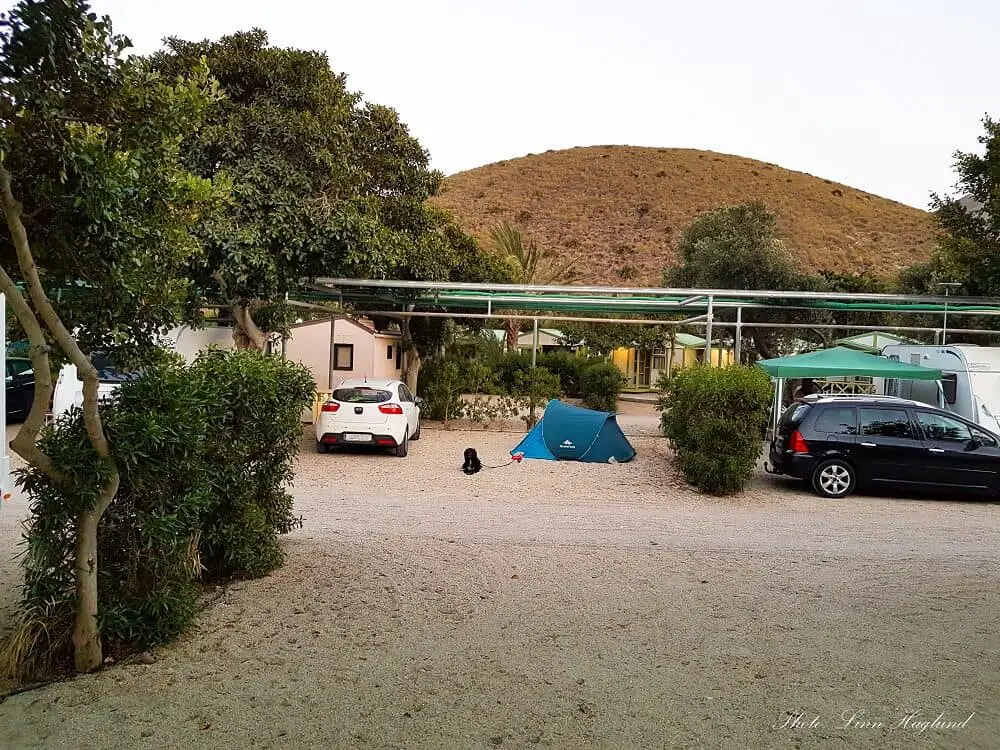 ---
YOU MIGHT ALSO LIKE: Road essentials including printable packing list
---
Best pop up tents
Quechua Waterproof Pop Up Camping Tent
Type: Pop up
Capacity: 2 or 3 people
Fabric Material: Polyester
Weight: 8 lbs
Packed Size: 30.3 x 3.9 inches
This is my favorite option and an upgrade from what I've been using for years. Quechua is a great cost-benefit brand and in my experience, their products are of good quality. To assemble this tent all you have to do is throw it in the air. 2 seconds and you're done. 
The best features of this option are the Fresh and Black interior. This means the fabric will keep the inside of the tent 99% dark, even in broad daylight. It also has fly sheets on both sides, which allows air to come in for freshness. It also helps to limit the annoying condensation inside when sleeping.
This tent has been tested under tropical rainstorms and 50km/h winds, so it is fairly resistant. It's also quite lightweight for an instant tent, so it checks pretty much all the boxes. It is a great 2 man pop up tent.
as mentioned, I've been using this easy set up tent from Quechua for a few years now and it did take me a while before I managed to pack it up by myself. It can feel clumsy until you get the hang of it, but once you do, it's super easy! Now I have no idea what I did before when I coudn't pack it up.
---
---
Coleman Cabin Tent with Instant Setup in 60 Seconds
Type: Instant setup – 60s
Capacity: 4 people
Fabric Material: Polyester
Pole Material: Steel
Weight: 18 lbs
Packed Size: 48 x 12.1 x 10.7 inches
Coleman is a pretty popular brand for quick tents. It's not a throw-in-the-air pop-up like the option above, but it's still super easy to set up. It has steel poles taht are already integrated with the tent. So all you need to do is push them up and it's done. 
It's got some pretty cool features, similar to the Quechua tent, it offers 90% protection against light and it has great airflow. It's also fairly resistant when it comes to rain and wind, so that's a big plus. Let's be honest, there's nothing worse than a flooded tent. 
You can choose from 3 different sizes, so it gives you a nice range of options depending on your needs. The specifications above are for a 4 person tent, but they also have 6 and 10 person options if you go with bigger groups.
---
---
Ozark Trail 11 Person 3 Room
Type: Instant setup – 2min
Capacity: 11 people
Fabric Material: Polyester
Pole Material: Steel
Weight: 16.75 lbs
Packed Size: 29.69 x 11.89 x 11.81 inches
Now if you really want to go big, I am amazed at this large pop up tent for up to 11 people. Wouldn't think it to be possible to set up an 11 person tent in under 2 min, but seems like we can! I am also surprised by how light it is for such a big tent. 
Just be aware that this quick tent will probably not hold up against extreme weather, but it can be a great option for going to festivals or summer camping in big groups. It has two optional room dividers if you want to separate the tent into rooms or you need a tent for camping with dogs. Or you can leave them open and have one big space. 
---
---
Eackrola Pop Up Tent for Camping
Type: Pop up – 10s
Capacity: 4 people
Fabric Material: Polyester
Weight: 7 lbs
Packed Size: 36.6 x 36.6 x 1.6 inches
Another throw in the air set up tent, you will be done within seconds. A big plus of this tent style is definitely the weight. This Eackrola tent is also pretty light compared to others on this list of the best instant camping tents, which makes it much easier to carry around.
What makes it stand out here is that it has two doors, so coming in and out of the tent is much easier. Reduces the need to step over your friends to exit and more doors means more air coming through. It also has mesh windows, which is really great to get some air in without room for bugs to crawl in for a visit. 
It has some waterproof coating and will hold up well in moderate weather. This also comes with ropes and pegs that are not mandatory to use, but will help keep it stable when it's windy. 
---
---
OT QOMOTOP Tents, 4 Person 60 Seconds Set Up Camping Tent
Type: Instant setup – 60s
Capacity: 4 people
Fabric Material: Polyester
Pole Material: Steel
Weight: 16.75 lbs
Packed Size: 32.7 x 7.1 x 7.1 inches
Big range of sizes on this option too, you can choose from 4, 6, 8, or 10 person tents. This is quite a spacious tent with a good ventilation system. It also has storage on the top and sides, which gives you more room to keep things organized inside. 
If it's a beautiful and starry night, you can leave aside the rainfly and just enjoy the view through the mesh windows on top. Probably my favorite feature in this tent, you can literally sleep under the stars. 
With the rainfly, it makes for a water resistant tent and should keep you dry in moderate weather and summer rainstorms. There's no doubt this is one of the best pop up tents out there!
---
---
CORE 6 Person Instant Cabin Tent
Type: Instant setup – 60s
Capacity: 6 people
Fabric Material: Polyester
Pole Material: Steel
Weight: 24.5 lbs
Packed Size: 48 x 8.25 x 8.25 inches
A spacious tent with a high ceiling, you can easily stand up and move around inside. It also has an amazing hanging wall organizer and internal storage space, so your essentials can be easily accessed.
This is a really comfortable tent with lots of space, large front door and adjustable ventilation system. It also has a power port whole to connect things when inside.
It comes with a removable rainfly to make it more water resistant. And like the tent above, it also has mesh windows on the top. In good weather you can stargaze from inside your tent. How great is that?
---
---
Pick the best instant pop up tent for you 
I hope this helps you choose the best instant tent for your traveling style and your needs. Picking out gear can be really difficult and time consuming. There is a lot to consider and trying to figure everything out on your own can be overwhelming. 
Just remember to go over your likely needs and what's important for you. 
If you need something lightweight, weather resistant and not so big, you can go for the Quechua or Eackrola options. 
Now if you'll be traveling in groups and space is more important than weight Ozark and Core 6 tents can be great choices. 
I hope this guide made it easier for you to choose between all the alternatives of quick tents to set up so that you can focus on heading out on your next adventure!
READ NEXT: Best eco friendly camping gear
Pin it for later!