There are endless hiking opportunities along the east side of the US, with landscapes of rolling hills, rugged cliffs, forests, rivers, and waterfalls.
This side of the country has it all. Hiking has always been one of my passions when traveling, and while I didn't get the chance to do the Appalachian Trail while visiting the country (trust me when I say it's on my bucket list!), I did do a few smaller walks to get a glimpse of that beauty.
I just wish I was more prepared!
To give you the opportunity to plan ahead, I asked other outdoor lovers about their favorite hikes on the East Coast.
I know that I got inspired to go back to do more hiking, so let's have a look at the best hikes on the East Coast so you can do it too!
Disclosure: This post may contain affiliate links. That means that if you make a purchase through one of those links, I will get a small commission at no extra cost to you. As an Amazon Associate, I earn from qualifying purchases.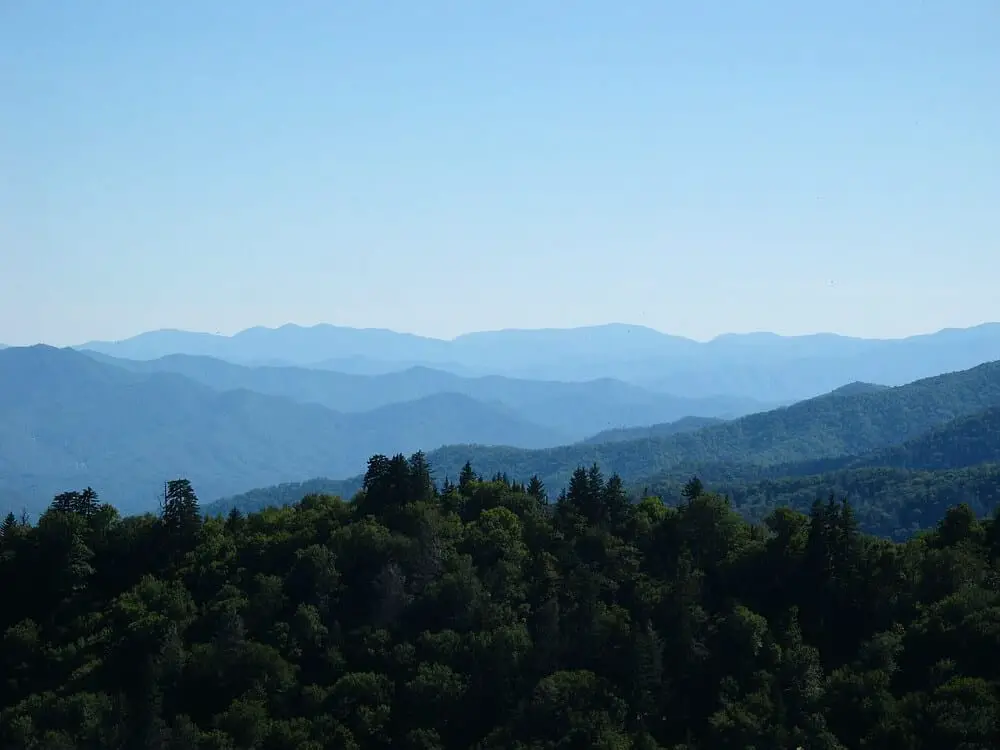 Best hikes on the East Coast
Appalacian Trail
Recommended by Alice of Adventures of Alice
Length of hike: 2190-miles/3524 km
Hiking time: Depends on which part and ranges from 2 hours to 5/7 months to complete the entire trail
Trail start and end: It starts in Georgia's Springer Mountain and ends at Maine's Mount Katahdin. However, you can join the train in different sections all over 14 states in passing through.
Type of hike: Linear
A trail to rival all others, the Appalachian Trail is a feat only those with an iron will can accomplish. Spanning four states and 2,190 miles of backcountry America in its entirety from Georgia's Springer Mountain up through Maine's Mount Katahdin.
The trail passes through 14 states: Georgia, North Carolina, Tennessee (you know what they say about the South), Virginia, West Virginia, Maryland, Pennsylvania, New Jersey, New York (30 miles from the Big Apple), Connecticut, Massachusetts (don't forget to visit!), Vermont, and last but not least Maine.
If you're looking to see some of the East Coast's most beautiful landscape, there is no better way than to hike the Appalachian Trail.
The trail runs through several gorgeous state parks with thick forests full of wildlife and beautiful lakeside vistas that go on for miles. You can start up in Greenwood Lake right down near Bear Mountain State Park then take your hike all the way into Connecticut if you're feeling really adventurous.
If you're spending some time in New York, then it's not too far of a ride from Grand Central Terminal on the Harlem Line. There are all sorts of trails at different lengths to choose from.
The shorter ones can range between 2 miles up to around 10-15 depending on how hard you want it or what type of scenery you like most. Longer trips could be as much as 90 miles long if you're adventurous enough for such an endeavor!
However, the Appalachian Trail covers a lot more than New York. A few of the other highlights in other states include Dragon's Tooth viewpoint in Virginia, The Pinnacle in Pennsylvania, Baldpate in Maine, and many more spectacular views along the entire 2190-mile trail.
If you opt for the entire hike, make sure you plan it well and don't lack anything on your Appalachian Trail gear list, so you don't run out of supplies.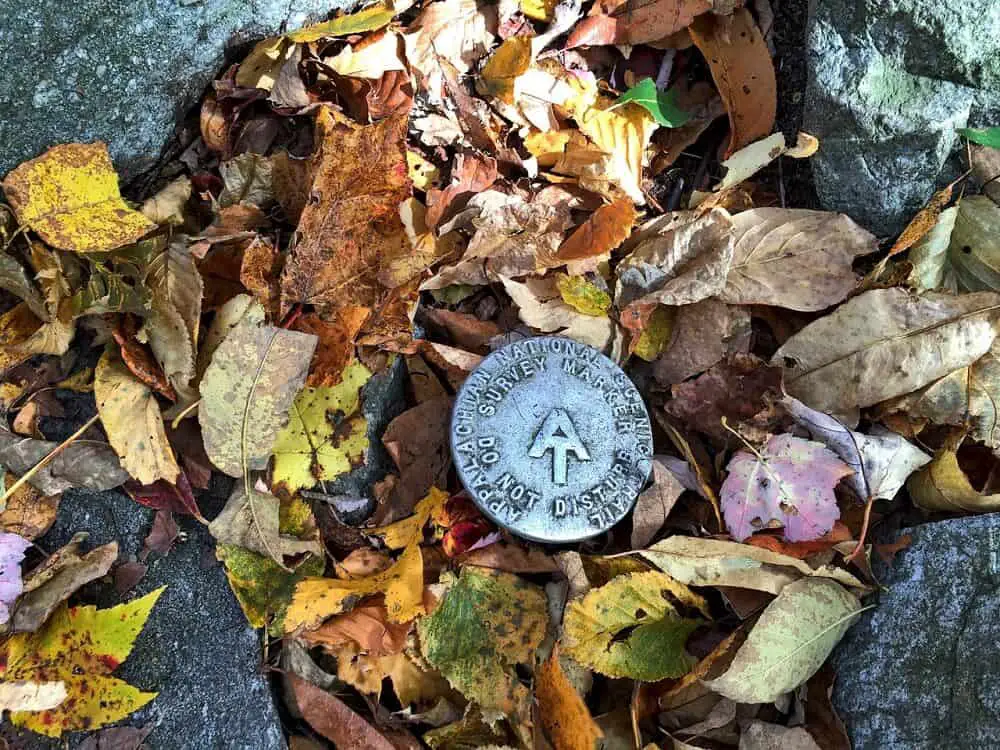 Old Rag Mountain Loop, VA
Recommended by Sumeeta of Sumeeta Seeks
Length of hike: 9.5 mi/15.3 km
Hiking time: 5-7 hrs
Trail start and end: State Route 600, Etlan, Virginia
Type of hike: Circular
Old Rag Mountain Loop is the most famous hike in Shenandoah National Park in Virginia, and those who have traversed it know why.
This hike is not for the faint of heart and requires a fair bit of ascent and technical scrambling over boulders to make it to the summit. But the reward for all that effort is jaw-dropping 360 degree views of the Shenandoah Valley.
The loop is a nice change of pace from other popular hikes on the East Coast due to the diversity it offers – it begins as a more traditional hike with a gradual incline. Then you come upon the boulders which can be intimidating until you get the hang of them, followed by the stunning summit.
Finally, you'll have a very mellow stroll down an old fire road back to the parking lot. So once you reach the summit, you can rest assured that the hard part is over.
The parking lot is located at State Route 600 in Etlan, Virginia. It's a very popular hike and the lot fills up quickly, so be sure to go early in the morning to snag a spot.
Even better, go on a weekday if you can for easier parking and fewer people on the trail. Be sure to bring at least 2 liters of water and plenty of snacks.
Despite the difficulty and the crowds, Old Rag definitely lives up to the hype and is one of the best hikes on the East Coast for sure. You'll not be disappointed!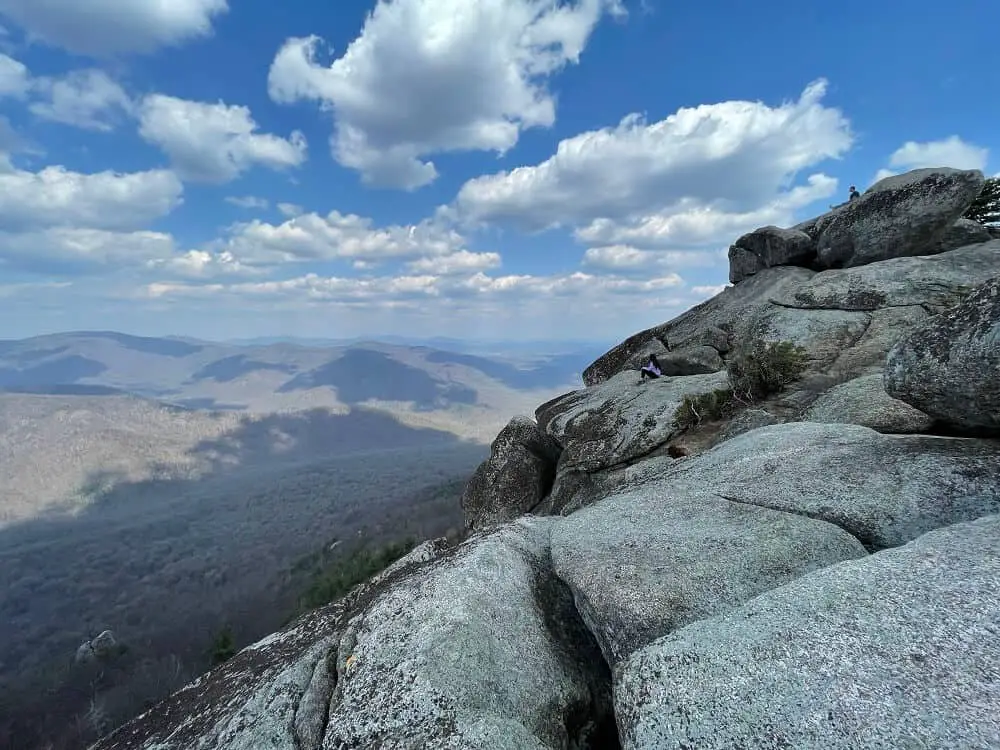 West Rim Trail, PA
Recommended by Samantha of PA on Pause
Length of hike: 30.5 miles/49.1 km
Hiking time: 2-3 days
Trail start and end: North trailhead in Ansonia, PA to South trailhead near Blackwell, PA
Type of hike: Linear
For a two to three-day backpacking trip, consider heading to the West Rim Trail at the Pennsylvania Grand Canyon. Over 30 miles in north central PA, there is plenty of elevation change to keep things interesting. Plenty of campsites can be found all along the trail, making this a manageable overnight hike for most.
The trail features spectacular views of the 1,000 feet deep Pine Creek Gorge, also known as the PA Grand Canyon. The northern stretch of this trail, in particular, has many impressive vistas which makes it one of the best backpacking routes the East Coast has to offer.
As this hike is linear, if you are coming from out of town or do not have access to two vehicles for this hike, contact Pine Creek Outfitters. Located just a short distance from the Ansonia trailhead, they offer both shuttle and car delivery services along the trail.
Hiking in either direction is possible, but beginning at the south trailhead and proceeding north is the typical route.
The West Rim Trail can be hiked at any time of year, but fall is the best time to visit the PA Grand Canyon and take in the beautiful colors, despite larger crowds.
Winter access can be tricky due to snow and ice, so plan and prepare accordingly. Spring and summer lay out lush greenery, but can sometimes be overgrown and insects can be an annoyance.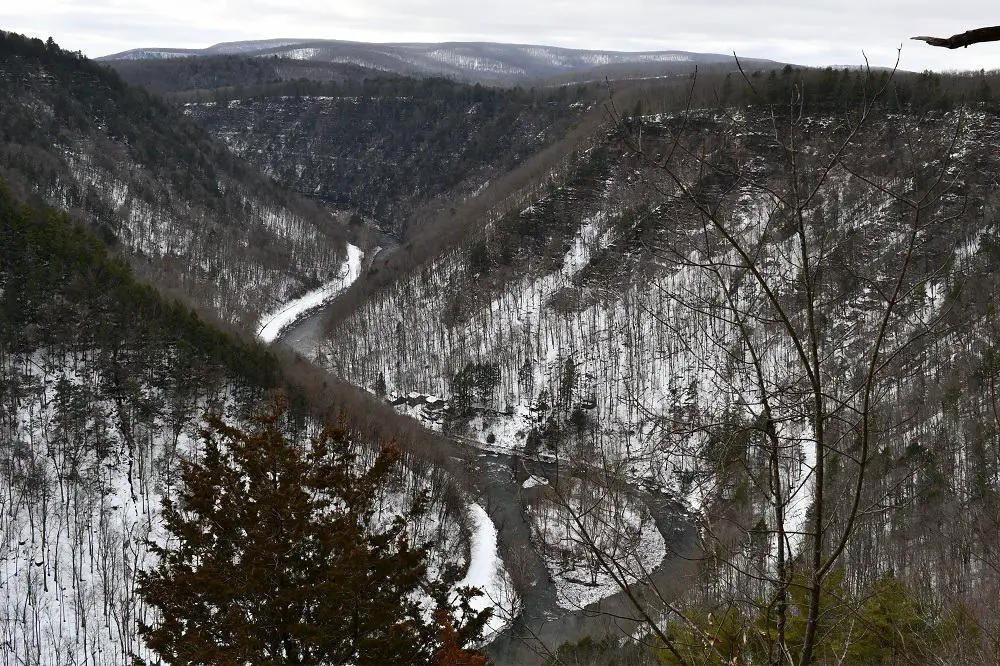 ---
IF YOU GO CAMPING MAKE SURE YOU CHECK OUT THE FOLLOWING POSTS:
Best sustainable camping gear and accessories
Best tents for camping with dogs
---
Fires Creek Falls Trails, NC
Recommended by Paula of Paula Pins the Planet
Length of hike: 7.6 miles / 12 km
Hiking time: 3-4 hours
Trail start and end: Fires Creek Recreation Area, part of the Nantahala National Forest, in Hayesville, NC. 
Type of hike: Loop
The United States is a paradise for outdoor lovers, with a large variety of areas to go hiking. If you're looking for great hiking on the East Coast, the Smoky Mountains offer some of the best hikes in the country.
The Smoky Mountains National Park is situated between the states of North Carolina and Tennessee, and it's the most visited national park in the United States for a reason. It is also one of the most epic national parks to visit in winter.
With over 150 hiking trails to choose from in a large variety of difficulty levels, you can find a hiking trail for everyone and there's no wonder why it's on so many people's USA bucket list.
Among the hidden gems are the Fires Creek Falls Trails. This area offers a number of excellent hikes opportunities, with different trails to choose from. The main trail is a loop of 7.6 miles, with great views of the forest and waterfalls, and it's also dog-friendly. This area is very rocky, and you can see a variety of drops and cascades along this beautiful hike.  
If you decided to venture on a longer hike in this area, the Fires Creek Rim Trail is 25 miles (40 km) long, and pretty much a loop. It starts at the Fires Creek Picnic Area and ends just up the road.
First, it follows the Valley River Mountains, and then it crosses a bridge connecting the Valley River Mountains to the Tusquitee Mountains, following the Tusquitee Mountains for the rest of its route.
Situated in one of the most epic national parks on the East Coast, there is no doubt this is one of the most beautiful hikes in the Smokey Mountains.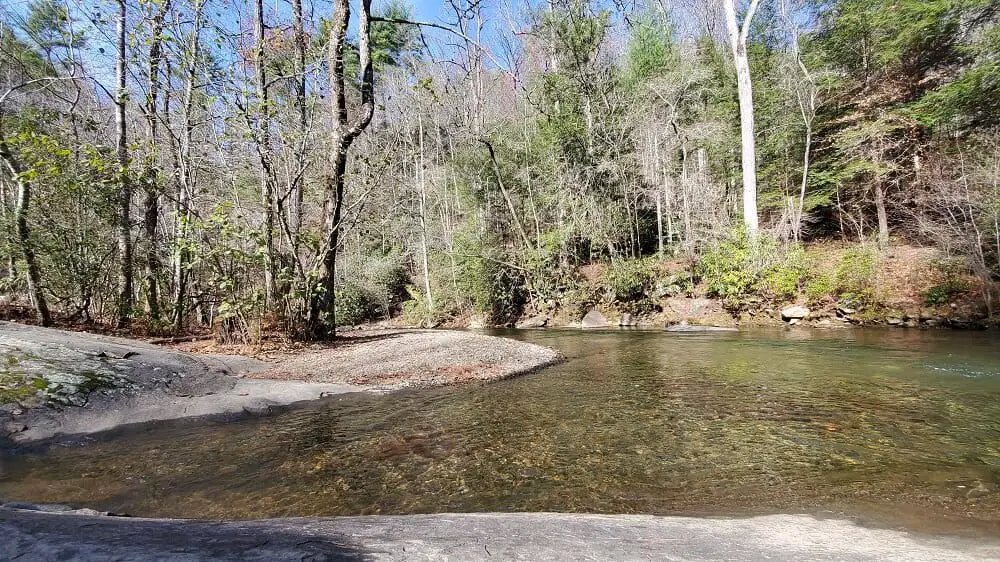 ---
More hikes in North Carolina: Best waterfall hikes near Brevard
---
Great Channels, VA
Recommended by Erin of Go Hike Virginia
Length of hike: 6.6 miles/10.6 km
Hiking time: 4-5 hours
Trail start and end: Channels Natural Area Preserve 
Type of hike: Linear
In Southwest Virginia, the 6.6-mile round-trip hike to the Great Channels of Virginia along the Brumley Mountain Trail at Channels Natural Area Preserve is a stunner, leading hikers to a breathtaking 20-acre maze of sandstone slot canyons.
Take it slow as you make your way to the slot canyons or you may miss one of the most fantastic viewpoints in Virginia. At the 3.0-mile mark, a hidden overlook lies tucked behind rocks and brush. Make your way out onto gigantic rocks to savor wide-open views of Mount Rogers and Whitetop Mountain, Virginia's two tallest peaks.
Continue on, walking just under a massive fire tower, to reach the quizzical slot canyons. Plan to duck, squeeze, climb and crawl with child-like curiosity as you explore this sand-floored labyrinth atop Clinch Mountain within Channels State Forest.
This other-worldly sandstone maze was allegedly created by ice wedging and permafrost 10,000 years ago, much to the delight of present-day visitors.
A word to the wise. Leave a backpack or water bottle at the entrance to the slot canyons as a marker to help you find your way out when you're ready to return to your car. It's incredibly easy to get turned around inside these mysterious and fascinating slot canyons. There is no doubt this is one of the best East Coast hikes!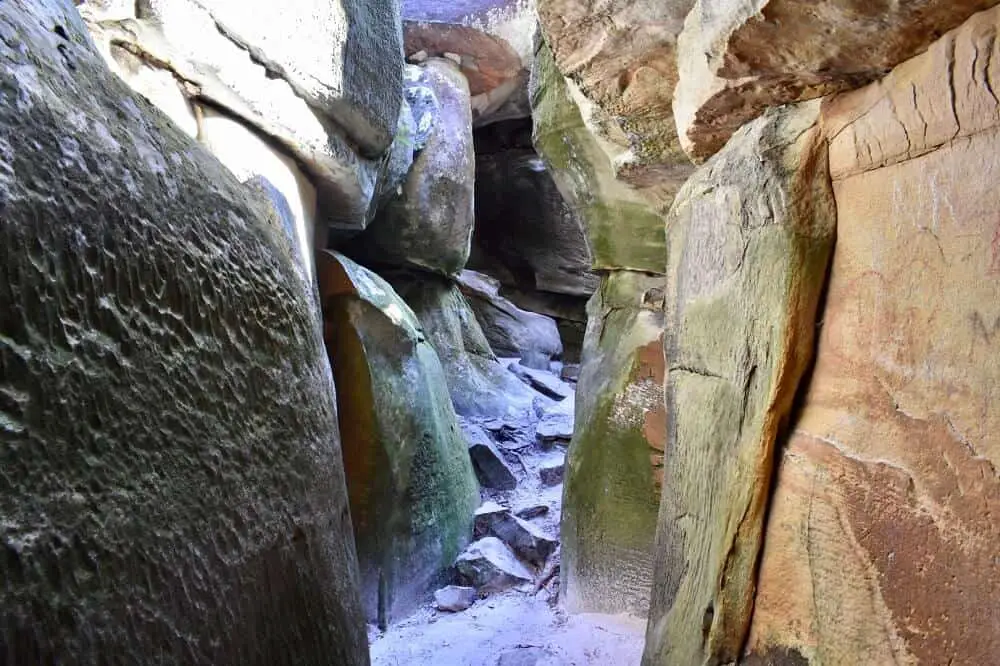 Maryland Heights Overlook trail, WV
Recommended by Jordan of The Solo Life
Length of hike: 4.5 miles/7.2 km
Hiking time: 3-4 hours
Trail start and end: Maryland information center
Type of hike: Linear
One of the most underrated and best hikes on the East Coast with a spectacular vista as payout is the Maryland Heights Overlook Trail, located across from Harpers Ferry, West Virginia.
Technically located in Maryland, this trail is found at the junction of three states, Maryland, Virginia, and West Virginia, and two rivers, the Shenandoah and Potomac.
The main attraction of this hike is the stunning overlook at the top, which offers views of both rivers as well as Harpers Ferry National Historical Park. The hike and view become even more gorgeous during the fall, when the foliage puts on a show.
Parking is sparse at the start of the trail, so the best choice is to park across the Potomac River in Harpers Ferry, West Virginia and walk across the pedestrian bridge to access the trail. This also allows for the opportunity to explore Harpers Ferry National Historical Park, which has ties to the Civil War, the Niagara Movement, and the Appalachian Trail.
For a moderately challenging hike with a rewarding view at the end, the Maryland Heights Overlook Trail is a hike not to be missed.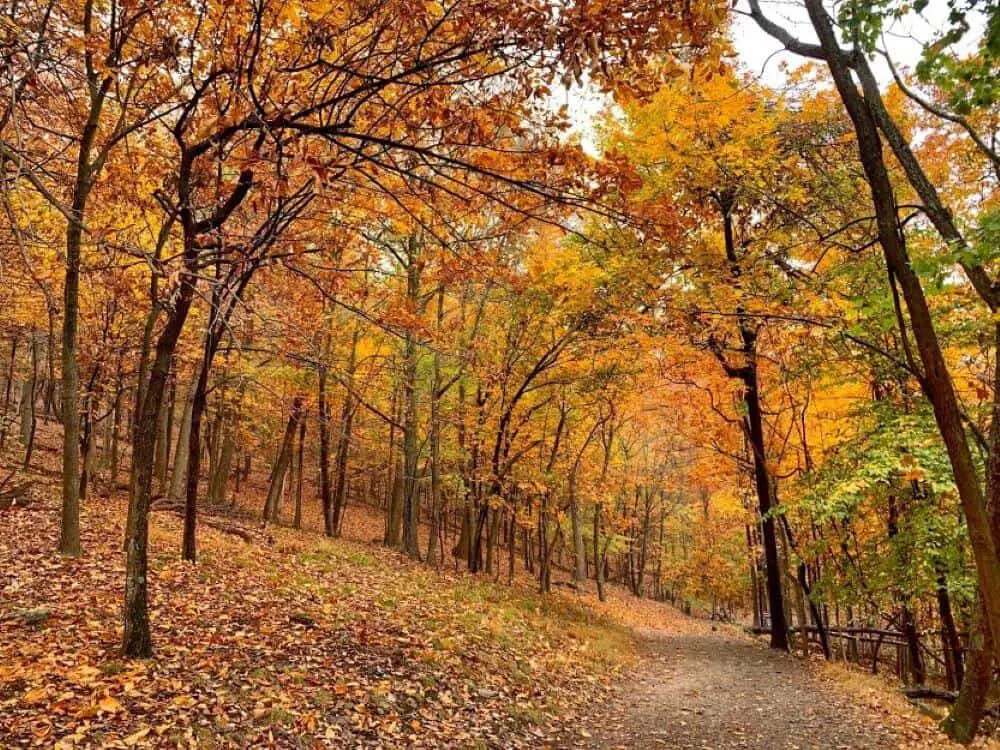 Mount Marcy, NY
Recommended by Mark & Kristen of Where are those Morgans?
Length of hike: 14.8 miles/23.8 km
Hiking time: 7-11 hours
Trail start and end: Adirondack Loj parking lot / Van Hoevenberg Trail (start and end)
Type of hike: Linear return
Mount Marcy is the highest of High Peaks in New York's ultra-popular hiking arena: the mighty Adirondack Mountains and without a doubt one of the best hikes in New York State. 
Located just 10 miles south of "miracle-on-ice" Winter Olympic host village Lake Placid, Adirondack Loj parking lot and the Van Hoevenberg trailhead await hikers' arrival around 5am each morning.
Hiking to the top of New York's tallest peak is a long and strenuous day, taking anywhere between 7-11 hours depending on hike pace and stops taken. 
But a stunning rolling hills landscape as far as the eye can see in all directions is more than worth the effort. On a clear day, views stretch as far as Montreal's skyscrapers and Vermont's Green Mountains.
Mount Marcy's Van Hoevenberg trail is a slow and gradual hike through dense forest and alongside gushing creeks. However, the last mile is completely open and exposed to harsh elements. Strong winds, rain, snow and ice are common outside of Summer months, requiring careful consideration.
Indian Falls waterfall marks the only real landmark of note along the Mt Marcy hike, located around the halfway point.
Summiting Mount Marcy is not just about far reaching views, it's a tough hike and a real accomplishment to stand on top of the highest point in New York. 
Now there's just the 7.9 mile descent to contend with!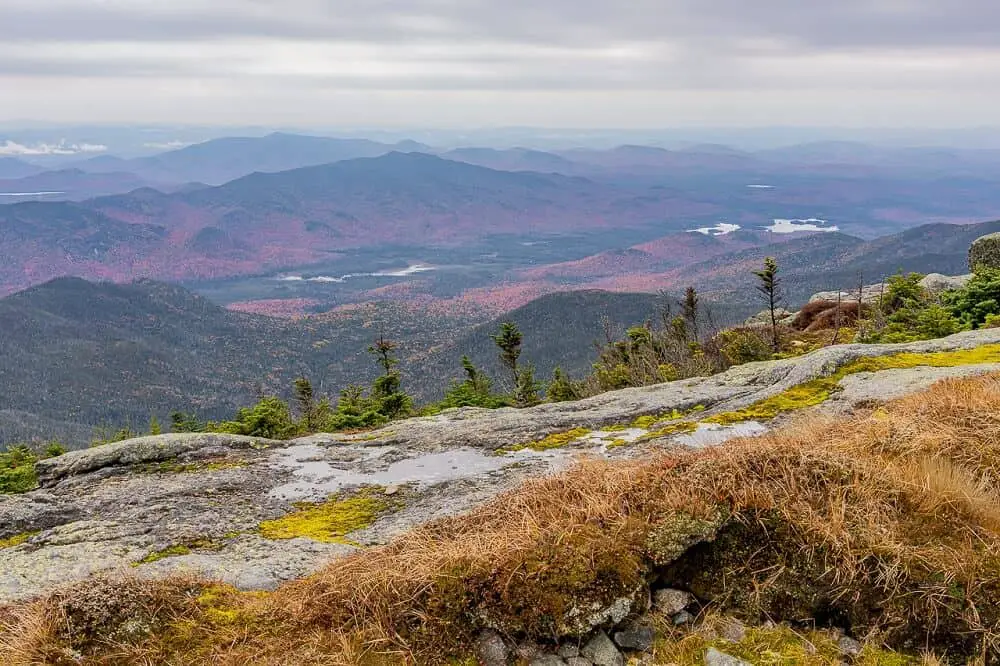 Three Ridges Loop, VA
Recommended by Cecilia & Scott of Lovicarious
Length of hike: 14 miles/22.5 km
Hiking time: 6-7 hours
Trail start and end: Reed's Gap trailhead
Type of hike: Loop
Three Ridges Loop is a popular backpacking circuit along Virginia's Blue Ridge Mountains. The white-blazed Appalachian trail follows along the mountain crest offering three gorgeous vistas. At the same time, the blue-blazed Mau-Har Trail parallels Campbell Creek with several small waterfalls and natural pools.
Although the entire circuit can be completed in one day, many choose to divide the trail into two days with an overnight stay at one of the many dispersed campsites or Appalachian Trail shelters.
For some of the best backcountry camping along the east coast, set up camp along the scenic Mau-Har trail where the gentle sounds of the creek will lull you to sleep.
The Reed's Gap trailhead is located about 30 minutes south of Charlottesville along the Blue Ridge Parkway. The parking lot is quite small so it's recommended to arrive as early as possible. Head downhill along Beach Grove Rd. where you will see the trailhead for Three Ridges on the right.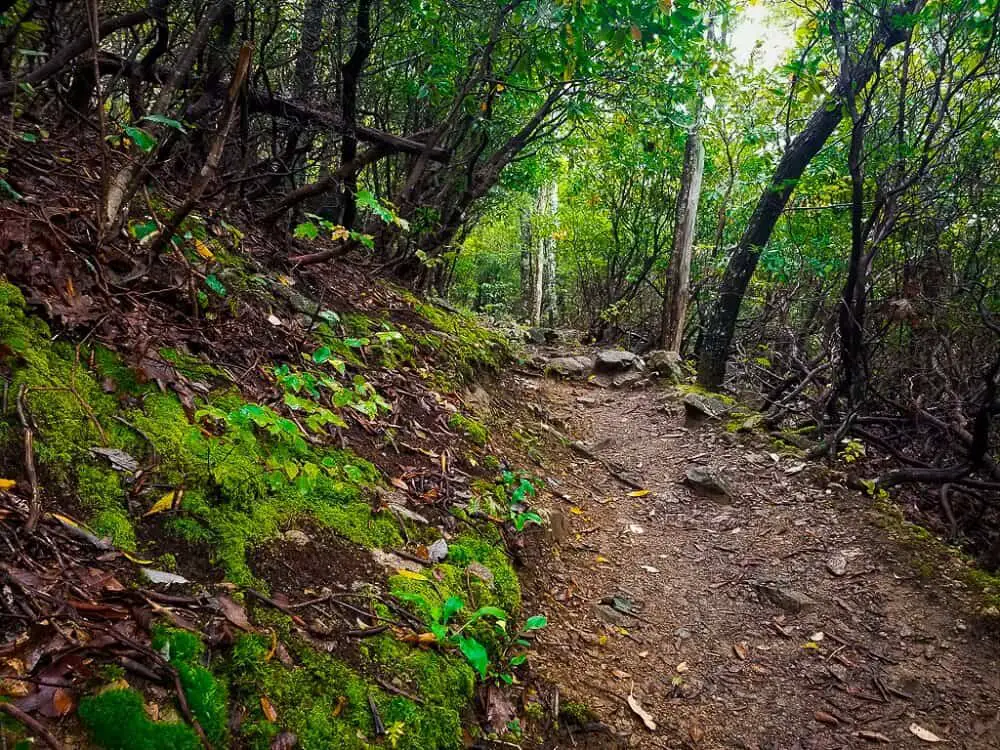 ---
Check out the best eco friendly camping gear here.
---
Lemon Squeeze, NY
Recommended by Taima of Poor in a Private Plane
Length of hike: 5 miles/ 8 km
Hiking time: 3-4 hours
Trail start and end: Mohonk Preserve Gatehouse
Type of hike: Loop
Located on the Mohonk Preserve in the Hudson Valley, NY, Lemon Squeeze is a fun and challenging hike for all ages. 
Unless you are a guest at the Mohonk House the best way to access this hike is to start at the Mohonk Preserve Gatehouse.
The hike starts and ends at the Mohonk Preserve Gatehouse and is approximately 5 miles roundtrip. Once inside the gatehouse, you will be given a map with directions. Follow directions for the Labyrinth, Lemonsqueeze. The first couple miles of the hike are pretty standard the fun begins as soon as you see the Mohonk House.
Continue to follow along until you reach the Labyrinth. This is the highlight of this hike. A 1-mile rock scramble that will have you twisting, turning, climbing, and crawling under rocks and finally squeezing through two boulders until you reach the Sky Top Terrace. 
The views from Sky Top are incredible so if you have friends or family that want to meet you up there and avoid the scramble there is an alternate route. 
Fees for this hike start at $22 per person but is a great thing to add to your list if you're visiting the Hudson Valley.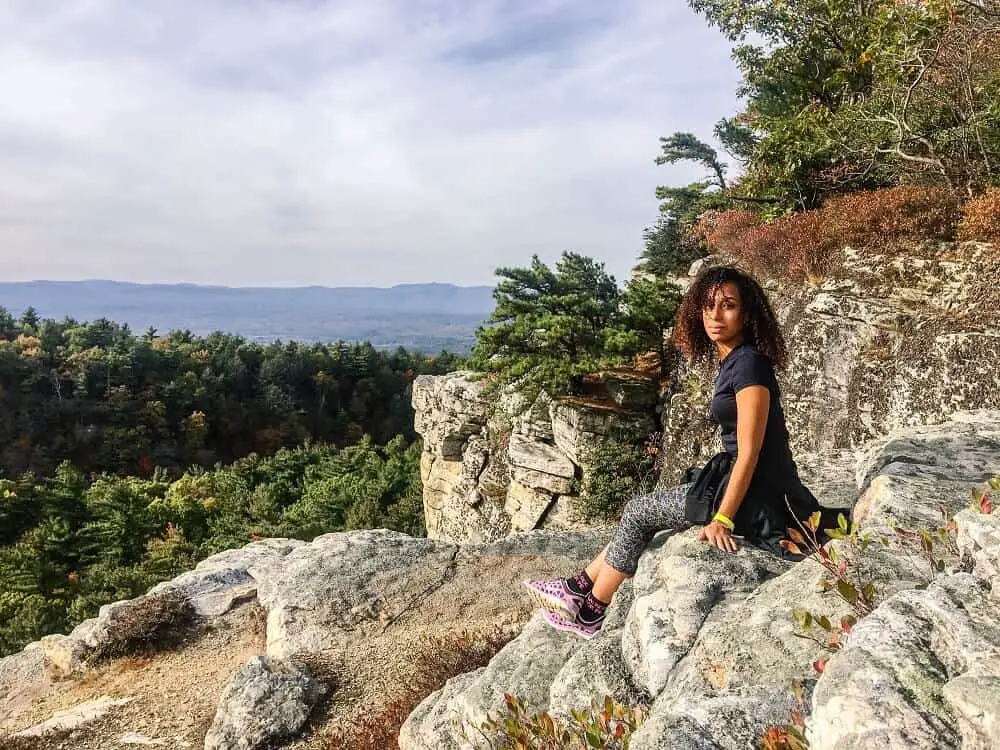 Bear Den Mountain, NY
Recommended by Maddy of Madelyne on the Move
Length of hike: 4.5 miles/7.2 km
Hiking time: 2-3 hours
Trail start and end: Bear Den trailhead from the Whiteface Mountain Ski Resort
Type of hike: Linear return
The Bear Den Mountain hike located in Wilmington, NY (just 15 minutes from downtown Lake Placid) is a must if you're in the area.
The easiest way to access the trailhead is from the Whiteface Mountain Ski Resort, which is conveniently located right around the corner from the Lake Placid/Whiteface Mountain KOA. The campground has RV sites, tent sites, and cabins if you're interested in camping in the area.
The trail starts along a river, but you'll spend most of the hike in the woods. Incredibly rewarding views at the end make this hike worth the effort.
After gaining 1,300 ft. of elevation, you'll reach a rock outcropping that offers sweeping views of the Adirondacks.
If you're there during the spring or summer, you'll see the mountains covered in beautifully lush trees. If you're there during fall or winter, you'll see stunning fall colors or snow capped mountains.
While you can't go wrong visiting the Adirondacks anytime of year, the incredible fall foliage is just one of many reasons to visit the Adirondacks.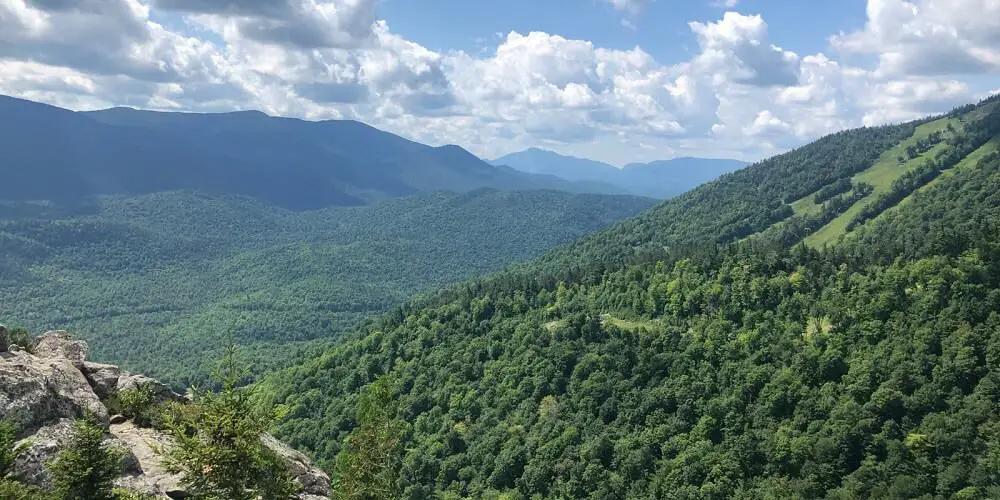 Babel Tower, NC
Recommended by Anna of PaddlingSpace
Length of hike: 1.3 miles/2.1 km
Hiking time: 2 hours
Trail start and end: Starts on Old NC 105 and ends where it intersects the Linville Gorge Trail
Type of hike: Linear
The Linville Gorge is located in the mountains of North Carolina and contains some of the toughest hiking in the state. It's known as the grand canyon of the east because of the steep canyon walls plunging down to the Linville River.
The Babel Tower hike begins right off of Old NC 105 which is a gravel US Forest Service Road. The trail is only 1.3 miles but it quickly descends to the river and there is an elevation change of 843 ft within that short distance.
The rhododendrons and trees along this trail are beautiful and there are multiple overlooks of the gorge along the way down. Babel Tower runs into the Linville Gorge Trail where you can walk along the river and lounge on a boulder or take a dip.
This is the perfect trail to pack a picnic and your hammock to make a day trip out of it. The hike down doesn't take long but the hike back out will likely take almost double the time.
There are beautiful wildflowers in spring and summer here and during the fall you won't find a prettier spot to see the changing colors.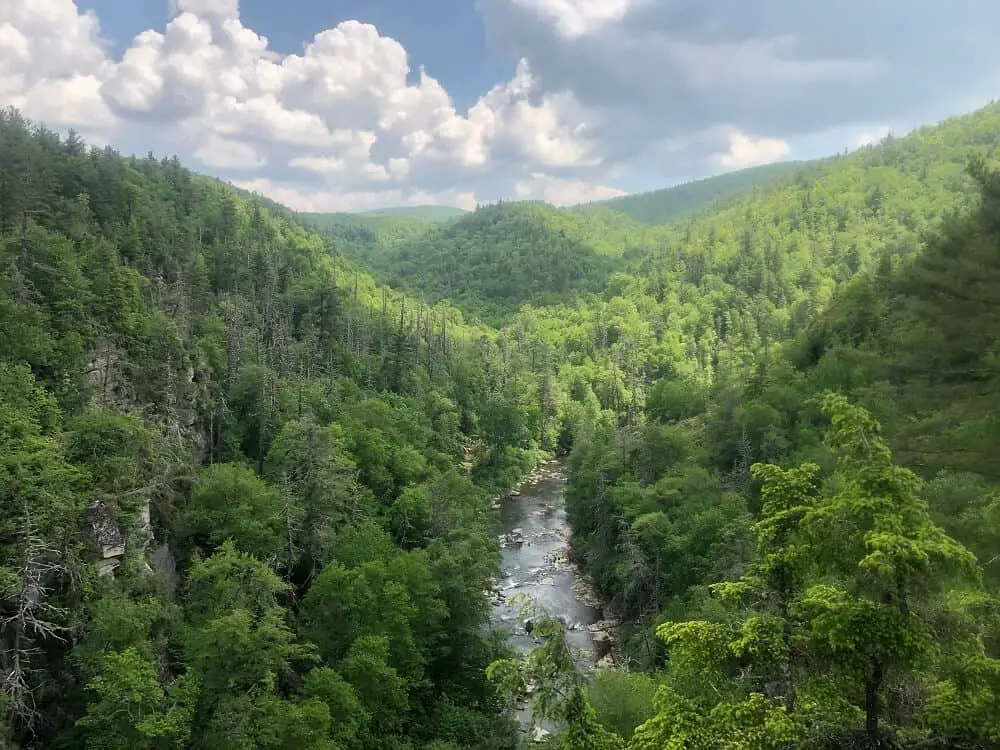 Shark Valley Trail, FL
Recommended by Martin of Travel Explorator
Length of hike: 15.8 miles/25,4 km
Hiking time: 4-6 hours
Trail start and end: Shark Valley Visitor Center
Type of hike: Circular
Shark Valley Trail is a well-known trail in the Everglades National Park of Florida. To get there, you need to take the Tamiami Trail (U.S. Highway 41) and reach the Shark Valley Visitor Center where you can start it.
The trail has a wide abundance of plant life and also offers a stunning view of wildlife. The Everglades national park is famous for its population of alligators that swim in the waters and are often found resting near the trails.
Apart from just gators, there are also various bird species that roam the park, plus turtles and fish. It's 15.8 miles long and loops around.
Halfway through the trail, you'll reach an observation tower that is 65 feet high and offers an incredible view of the green marsh surrounding the area. It's a suitable trail for all hiking levels, and the views it offers make it so that anyone of any age can enjoy it.
Apart from hiking the trail, you can also bike it if that's what you prefer. While you do need to pay an entrance fee ($15.00 if hiking or $30.00 per car) to enter the park, the views you'll get here are well worth the cost since you won't get them anywhere else.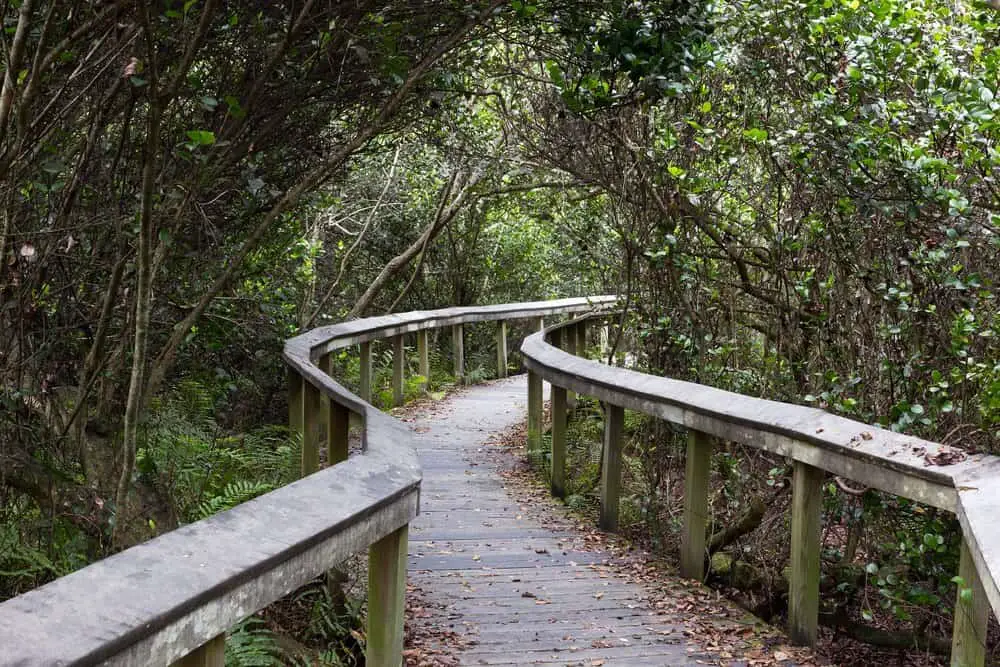 Gorge Trail, NY
Recommended by Neha of Travelmelodies 
Length of hike: 1.5 miles/2.4 km
Hiking time: 2 hours
Trail start and end: Starts at the Main Entrance and ends at the Upper Entrance
Type of hike: Linear
Watkins Glen State Park is one of the parks on the East Coast famous for its stunning natural beauty. The best way to explore the park is by hiking the 1.5 miles Gorge trail.
The trail begins near the Visitor Center at the Main Entrance and traverses through the beautiful waterfalls and caves in the park. There are 19 waterfalls, bridges and tunnels spread along the park. These provide some amazing photo opportunities with stunning views of the gorge. Most of the trail route is made of stone steps or even muddy puddles. There are around 800 steps to climb along the trail.
Some of the iconic stops along the trail are – Cavern Cascades, Glen Cathedral, Central Cascade, and Rainbow Falls.  It is amazing to walk behind the Cavern Cascade and Rainbow waterfalls. Central Cascade is the highest waterfall with a plunge of more than 60 feet. The last point is the Jacob's ladder that leads to the Upper entrance by climbing 180 steps.
Just standing and gazing at the water falling off, walking over the bridges, and passing through the tunnels, makes this trail unlike any other.

Summer season is the busiest time for the trail and it is advised to start the hike early in the morning. The trail opens from around mid-May to October depending upon the weather.
 Pro Tip: Wear sturdy shoes as parts of the trail are wet and tend to get slippery.
Note: There are no restrooms along the trail and pets are not allowed.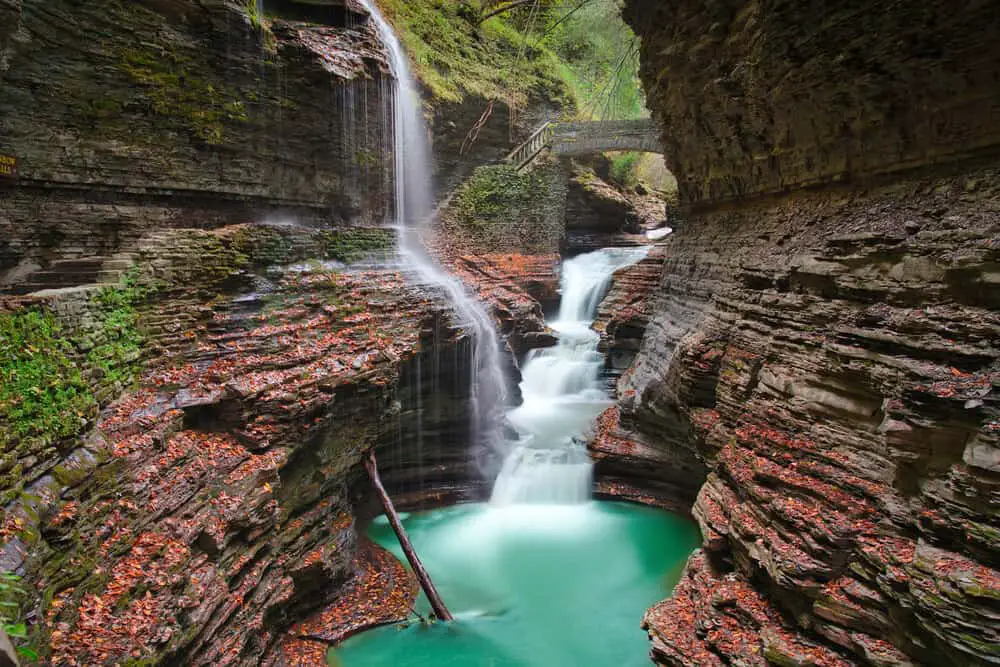 Hiking on the East Coast reflections
I think we can all agree that there are some pretty amazing hikes on the East Coast for all levels. With so varied terrain, this part of the country is awesome for hiking. Whether you like waterfalls, breathtaking views, or scrambling, the best hiking trails on the East Coast have it all!
Make sure you always follow the leave no trace principles whenever you spend time in the outdoors. No matter if it's a national park or not it's important to respect the natural wonder we are so lucky to call Earth.
Happy hiking!
Pin it for later!