Every time I head out camping I write a list of things to bring as I start packing. Every time I forget something essential. That's why I decided to write an eco friendly camping gear list so I won't forget anything ever again.
As I might not be alone about forgetting things, I thought I'd share my sustainable camping packing list with you so you can go camping confidently.
Going camping is my favorite way of local travel whether I go hiking, beach camping, or on a camp ground. It is such a great way to get close to nature and detach from the material world. Though I bring a fair bit of material with me when I look at this list (or when I see my car being over packed).
Disclosure: This post may contain affiliate links. That means that if you make a purchase through one of those links, I will get a small commission at no extra cost to you. If you have any questions about these services or products, feel free to ask me.
The importance of sustainable camping
First of all, let me shed some light on the importance of sustainable camping. Or call it no trace camping.
It is so important when we are out in nature that we leave it as we found it or it won't be very pleasant for others to pass by our camp in the future. But there are more reasons to be an eco friendly camper.
Zero waste camping
When you leave waste in nature you disturb the natural environment and ecosystem. I'm sure you're already well aware of the impacts of plastic and that you should lower the usage, so I won't go into detail on that.
But are you aware of the impacts of throwing organic waste like apple cores or banana peels in nature?
First of all, wildlife and bugs are attracted by the organic waste and it's not their natural diet. So, what happens when they eat that apple core or banana peel you left behind?
Their natural diet gets disturbed and in turn, the natural food chain gets interrupted.
Further, it can cause disease and change in habits which in turn puts the whole ecosystem these animals and bugs are a part of in unbalance creating a devastating ripple effect.
It can also make wildlife roam around camp sites where they would normally not be, looking for human food. A good example of this are the dingoes steeling food from campers in Fraiser Island in Australia.
Secondly, you might have brought non-ecological fruit on your camping trip which means animals and bugs get directly poisoned by eating it.
Another issue with leaving fruit rests in nature is that you might leave seeds in nature. Personally, I thought that was a great idea before I learned a bit more. Plant a tree, right?!
If apple trees are not native to the area you are, then you shouldn't plant apple trees there. This could make a huge impact on the other plants. Trust me, it makes sense as soon as you say it out loud.
You might not manage to make it a fully zero waste camping trip, but by keeping it in mind, you can get as close as possible. But you should definitely try make it as close to no trace camping as possible so you don't have to carry that much waste with you back.
A good tip is to bring an extra bag for all waste that you take with you back to a rubbish bin.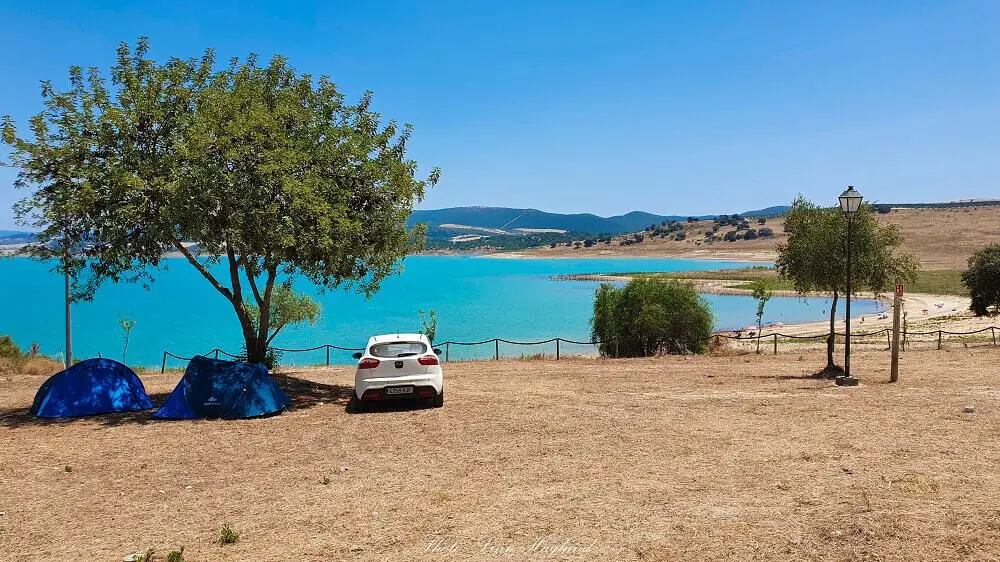 Campfires: Yay or nay?
Campfires are the best thing about going camping! But they're not always safe, responsible, or allowed. If you're at a camp site, it's often not allowed, but they might have a barbecue area where you can grill food.
Make sure you check the rules for campfires where you are and for the season. It can go extremely wrong if you lite up a campfire in dry season and there is a reason for the restrictions.
Trust me, you don't want to be responsible for a massive bush fire!
If you make a fire, make sure you build up a ring of stones around it to contain the fire, but also make it 4-5 meters from trees, tent, and bushes in case of wind.
Collect only dead wood from the area, don't cut living trees, you want to maintain nature as it is, right?
Make sure you don't leave the fire unattended at any time, and when you put it out. Also, make sure there are no embers left that can flare up after you leave.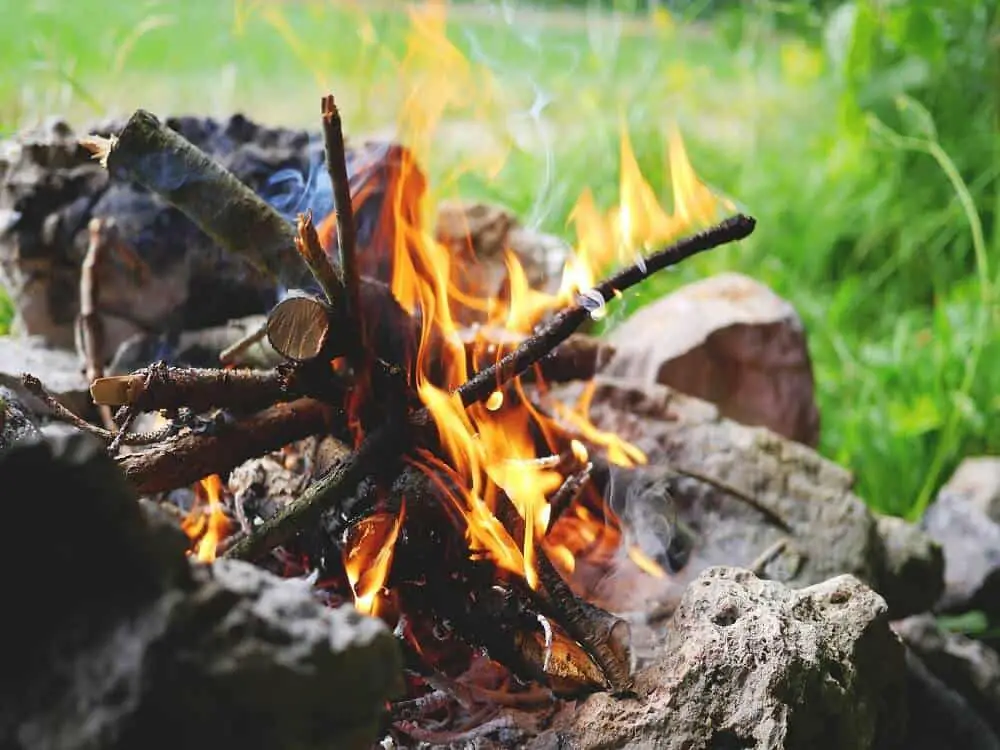 Use eco friendly products
When in nature, make sure you bring only eco friendly products. Unless you're at a campsite it's easy to think you'll brush your teeth outside your tent or wash your hands with soap or put on bug spray (Yes, that is needed).
Make sure you only have toxic-free products so that it's not harmful to the environment and wildlife.
An extra plus is if you get soap and shampoo bars to avoid plastic containers and you can even get toothpaste chewing tablets so you don't have to bring a tube.
Double check the camp site when you leave
Before you leave the campsite make sure you double check that you haven't left anything on the ground.
On camp grounds you can even take a look at the surrounding camp spots if your neighbors have left the campsite already. They might have forgotten to look over and left waste behind. You might as well pick it up while you're at it.
---
READ: Best sustainable backpacks for the eco friendly traveler
---
Eco friendly camping gear list
This is my absolute must bring camping gear list, depending on where and what time of year I'm camping. Not all my gear is sustainable or eco friendly brands, however.
It could be because I had a hard time finding it or simply because it's more eco friendly not to throw away what I already have to buy a new eco friendly substitute.
So, let's have a look at my eco friendly camping gear list.
Sustainable tent
A tent is essential for camping unless you're going with a camper van or sleeping in a hammock.
Finding a sustainable tent is not as easy as you would think. I have done some research for you so that you can make a choice. I'll be starting with a tent I've used myself for years and I really love.
Bergans Fjell 2 tunnel tent
This is a great tent, Bergans being a highly sustainable Norwegian outdoors brand. They are continuously working towards more sustainable products and a more sustainable production chain.
Bergans Fjell tent is perfect for shifting and windy weather with its low shape. Its high quality means that you're likely to have a tent for the rest of your life, which is sustainable on its own.
The only reason I have bought other tents is because I'm an outdoors gear nerd and also because I wanted a tent that was more spacious. This is still my go to tent when hiking and tenting in the wild.
---
---
Vaude Campo Compact dome tent
Also Vaude is a great sustainable outdoors brand that produces good quality tents. They focus on both sustainability within the products and the production. They also promote repairing the products instead of buying new ones for a longer lasting product life.
They have a few great sturdy tents to choose from, Vaude Campo Compact dome tent being one of them. It's got the space to sit up properly, which means you can actually change clothes in the tent without being awkward.
---
You can check out their Vaude Campo Compact dome tent here
---
The North Face Stormbreak tent
The North Face is also promoting sustainability in their products and production. That's why I've included their Stormbreak tent here as an alternative.
These tents are high quality and will probably also last a life time so you don't have to throw them away and buy new ones. In turn, creating less waste.
The Stormbreak tents are also high enough to sit inside.
---
Get The North Face Stormbreak tent here
---
Sleeping mat
There is nothing more annoying than forgetting to bring a sleeping mat. Especially now, that my back isn't what it used to be and I get easily uncomfortable (I actually do bring a duvet too to lay on top of the sleeping mat for extra comfort when I have the car close to my tent).
I love my self inflatable sleeping mat. Before, I used to just use foam mats, but they are bulky to pack and definitely no use when hiking. An inflatable sleeping mat is not only more compact to to pack, but also a lot more comfy!
You can get sustainable, self inflatable sleeping mats from Vaude.
---
Get your inflatable sleeping pad here
---
Sleeping bag
Whether you're camping in summer or winter, you'll want to bring a sleeping bag. Depending on how cold it gets in winter where you're camping you might need one for each season or you could use the same one all year around.
While I've been living in southern Spain, I only have a summer sleeping bag and I avoid camping when it's too cold. Which isn't large parts of the year anyway. But with good layering, it usually works fine even in winter.
---
---
Head lamp
Having a head lamp is essential item for your camping gear list as you don't want to keep one hand busy holding a flashlight all the time. When walking to the toilet, brushing your teeth, or walking around the campsite after dark it comes in handy.
I also think it is a good addition to a camping lantern when cooking at night, as you can focus extra light on what you are doing.
---
---
Lantern
Whether you're cooking food or chilling inside or outside the tent, it's great to have a lantern that can light up without having to deal with the head lamp all the time.
I like hanging it in the tent when I read a book or get ready for bed and I use it outside the tent when preparing food or chilling with friends on a blanket on late summer nights.
---
---
Cooler
If you want to bring food for your camping trip, it is necessary to bring a cooler to keep your food cold. It can also be nice to keep your drinks cold. I know for sure that the days I was happy with warm beer has ended!
I have looked for an eco friendly option, but can't find any large coolers with enough space for a camping trip's worth of food and drinks.
That's why I opt for a hard plastic one that I found are more durable whenever I go car camping. I had more than one cooler break, all of them with a zipper.
---
---
Ice blocks for the cooler
There is no use in bringing a cooler if you forget the ice blocks at home. Believe me when I say I've done it more than once.
You can always buy bags of ice cubes at the store, but they tend to leak and you end up with all your food emerged in water. Not much fun.
I also looked for eco friendly ice blocks, but haven't found anyone that seem to keep cold long enough, so unless you find it (please let me know!) I still use these plastic ones. The good thing about them, is that they have lasted me 15+ years and they don't seem to disappoint just yet.
If you stay at a camp site, you can ask if they can put them in the freezer over night and you can pick them up in the morning (I have never experienced that they said no, so just ask nicely). I have many, so I usually leave some in the cooler while I re-freeze the rest. And then I freeze the remaining ice blocks once I put the frozen ones in the cooler again.
---
---
Reusable water bottle
Another essential eco friendly camping gear for your packing list is a reusable water bottle. If you can get hold of safe drinking water, it is great to get one that keeps the water's temperature so that you don't end up with boiling hot water in summer or frozen water in winter.
However, if you go places where there isn't safe drinking water and can't bring enough water for your entire trip, I'd go for a reliable filtered water bottle like LifeStrawGo.
I usually bring more than one water bottle so I can bring as much cold water as possible from home. The insulated water bottles are saved for last so I have cold water on day excursions.
Though there is usually safe drinking water to get hold of in Spain, I did run into a couple of situations where I had to fill up non-drinkable water and I was so happy to have my LifeStrawGo with me.
---
Get your insulated water bottle here
---
---
Get a LifeStraw Go filtered water bottle here
---
Picnic blanket
A picnic blanket is essential if you want to chill outside the tent, prepare food or have drinks. It is also great to bring to the beach if you are close.
I forgot my picnic blanket earlier this year. Luckily, I had brought a beach towel, but without it I would have ruined the whole camping adventure (especially the days at the beach).
---
---
Portable phone charger
A portable phone charger is super important to have no matter if you have electricity on your campsite or not. You might be out exploring all day and battery levels go low somewhere without electricity available.
If you look for sustainable camping gear, why not make it a solar powered charger?
---
Get a solar powered phone charger here
---
Portable speaker
If you like to listen to music while camping, a portable speaker is a must. This sustainable Bluetooth speaker from Marley Chant is a great one!
---
Get a Marley Chant portable Bluetooth speaker here
---
Headphones
If you like to listen to music or an audio book before bed time you might not be able to have speakers on, either because of camping rules at night or because you have other people around you sleeping.
For me, it's a must to bring a good set of head phones while camping. If you have to hike to your camp site, a set of earbud headphones are better to save space and weight.
---
---
Camera
If you are like me and love taking photos, a good DSLR camera is a must. Every time I go without it, I regret it!
Remember fully charged battery and enough space on your memory card too. I swear to Canon, though it might be because I grew up with Canon in the family.
---
---
Mosquito repellent
If there is a slight chance of mosquitoes where you're going camping (or a big chance), then make sure you bring enough mosquito repellent! There is nothing more annoying than being eaten alive on the camp site.
---
---
Camping cooking gear list
If you plan to cook at the camp side, you'll need cooking gear. I used disposable barbecues before, which I really loved (because who doesn't love barbecued veggies on a camping trip?). But I decided to switch to more sustainable solutions instead.
Oh! And before we even start, if you want to enjoy a bottle of wine, don't forget a wine opener!
Cookware
Camping cookware is super important for your camping cooking gear list, but it needs to be lightweight too if you're going hiking for days.
You'll need a set of things depending on your needs, but here is my list:
The best mess kits for camping are usually the most simple and you can get good stainless steel ones without any plastic parts.
---
---
Get the cutlery separately, or just bring from home (I do that! And I bring one sharp knife to cut veggies too.)
---
---
Camp stove
There is no point in having camping cookware without a camp stove. Here is a lightweight alternative which I find great!
---
---
Lighter or matches
Without the matches you'll stay without a fire. So make sure you bring a source to make fire on your camp stove. I like the long lighters so I don't have to get my hands close to the fire, but often bring the small ones anyway because they take up less space.
---
---
Reusable storage bags for food
These are great to pack your sandwiches or lunch packs for the day excursions as well as store the food for your trip.
A good tip, if you bring beans, chickpeas etc. that comes in jars, you can drain them before you leave home and put them in one of these bags. This way you save the weight of the jar, space, and the excess waste to bring the jar back from your trip.
---
Get reusable storage bags here
---
Chopping board
Depending on what you plan to cook on your camping trip, you might want to bring a chopping board. To avoid the extra weight, I often just cut straight in the plate.
There are so many lightweight plastic options out there, but it doesn't cut it in a sustainable camping gear list. Instead, you can opt for a mini bamboo chop board which is much more sustainable.
---
Get a mini bamboo chopping board here
---
Camping clothes checklist
There is nothing more annoying than forgetting clothes you need for your camping trip. Even in summer, you might need a sweater or long pair of pants. Or on colder time of year, you don't want to freeze at night because you forgot warm enough clothes for sleeping.
I've done all of those mistakes! Here is my camping clothes checklist for summer and winter. The winter checklist is complete, so pick the relevant items depending on temperature where you're camping (as an example, there is a huge difference in winter camping in Norway and southern Spain).
Camping clothes checklist for summer
shorts
t-shirt/tank top
underwear
socks
bra/sports bra (most likely women only)
light long pants
sweater
flip flops
shoes
hat/caps
swim wear
sun glasses
light windproof jacket or rain coat (if chances for rain)
My top Amazon picks:
Camping clothes checklist for winter
When hiking in winter, make sure you always have an extra set of dry clothes as wet clothes don't dry so fast in cold temperatures, if they dry at all. You definitely don't want to get cold.
long inner layer, synthetic or wool for day and night
underwear
socks
additional warm socks for the night
fleece jacket
warm pants/water proof pants
soft shell jacket
wind jacket
gloves
beanie
scarf/neck gaiter
sunglasses
warm shoes (and water proof if possibilities of rain and snow)
My top Amazon picks:
Camping toiletries list
It's just as important not to forget your toiletries when camping, so here is your camping toiletries list, custom made for responsible camping.
Toothbrush
You don't want to go on a camping trip without your toothbrush. I recommend these bamboo toothbrushes which are 100% eco-friendly.
---
---
Tooth paste
Now you can get organic toothpaste as chewing tablets so you avoid the plastic tubes. Simply chew, brush, and spit it out. Can it get any better?
---
---
Deodorant
Make sure you remember deodorant on your camping packing list, you'll feel much better!
---
---
Soap bar
Bring an eco friendly soap bar, not only to avoid the plastic containers, but also so that the soap water don't hurt nature when disappearing in the water drain.
---
Get an eco friendly soap bar here
---
Shampoo bar
As with your soap bars, you can get eco friendly shampoo bars too. Perfect for your eco friendly camping trip as you won't get any leaking in you backpack.
---
---
Shaver
If you are at a campsite for a while you probably want to shave every now and then. With this Bambaw razor you don't have to worry about all the plastic waste that comes with the normal blades when you change them.
---
---
Hair brush (if you have hair!)
True story, I've had to brush my hair with my dog's brush while camping. You don't want that!
---
Get your bamboo hair brush here
---
Towel
You'll need a towel, but to keep the weight down and find a fast drying one, get a micro fiber towel.
---
---
Flip flops for the shower
Flip flops are bad for the planet. That's why I only buy high quality ones that I know will last me ten years.
My go to are the Havaianas Brazil flip flops. I use them a lot and they never fail. They last me ten years and I need to swap them simply because the sole is worn.
I'm sure that for someone that hardly ever put them on, they could last a life time.
---
---
Sunscreen
Whenever you go somewhere camping where the sun is out, you need to bring sunscreen. There is nothing more annoying that ruining your camping trip with a sunburn. And don't underestimate the sun when you're outside a whole day.
---
---
Menstrual accessories (women only!)
If you happen to go camping when you get your period, make sure you have everything you need. Menstrual cup or tampons, that's up to you.
If you tend to get heavy period pain, make sure you bring pain killers! There is nothing worse than screwing up your camping trip with period pain.
---
---
Dog camping gear
If you have been camping with dogs, you have probably realized you need a whole separate packing list for it apart from your own. I often forget things for Ayla too, which is not always fortunate. That's why I have included a dog camping gear list too.
I promise you, it's pretty annoying to go camping with your dog for the weekend when you have forgotten to bring the dog leash! So here is my dog camping gear list.
RELATED: How to chose the best tent for camping with dogs
Dog harness
Most places you go camping with dogs, you have to keep them in a leash. So make sure you have a comfortable harness for your dogs when you go camping.
EcoBark has a good range in eco friendly dog gear.
---
Get an eco friendly dog harness here
---
Dog leash
As mentioned before, I have gone away for the weekend without a leash for Ayla, which is more than annoying. Though the most essential of dog camping accessories, it needs to be written down!
Baloo's Chews Organic Hemp Leash is a great eco friendly alternative.
---
---
Long leash/training cord
If you want to let your dog move a bit around the camp site a long leash is necessary. I use one that is 15 meters long, meant for dog training, that I shorten to the length I want her to be able to move.
I also use it to hang up clothes and towel for drying when I leave the campsite.
---
---
Water and food bowls
When camping with dogs, don't forget that they need food and water. You don't want to improvise for this, so make sure you remember to bring their bowls. I have extra sets that don't weigh much that I bring camping. If I go hiking, I only bring a collapsible one.
And remember to bring their food too!
---
---
Portable water bowl
If you go hiking or want to bring a water bowl to the beach or anywhere else you need to carry it with you, it is super handy with a collapsible water bowl.
---
---
Blanket or pillow to sleep on
Your dog will be super happy if you bring a blanket or even a pillow it can sleep on in the tent. If I stay a few nights at a camping where I have the car next to the tent, I sometimes even bring her bed.
It is so rewarding to see how happy she gets when I install the dog bed on her side of the tent. However, for shorter trips I don't always bother. But a blanket or even just the pillow from her dog bed is more than welcome.
---
Get a camping dog blanket here
---
Biodegradable poop bags
The least sexy topic when talking about dog camping gear, yet the last thing you want to forget are poop bags.
Luckily there are many biodegradable brands out there now and it's easy to make your camping trip with your dog sustainable.
---
---
Conclusion
There are a lot of great alternatives to add to your sustainable camping gear list while other things are not that easy to get hold of.
I hope you found this camping packing list useful. If there's anything you think I've missed out on that should be on the camping gear list, please let me know in the comments and I'll add it!
READ NEXT: Why is sustainable tourism important
Like this? Pin it for later!